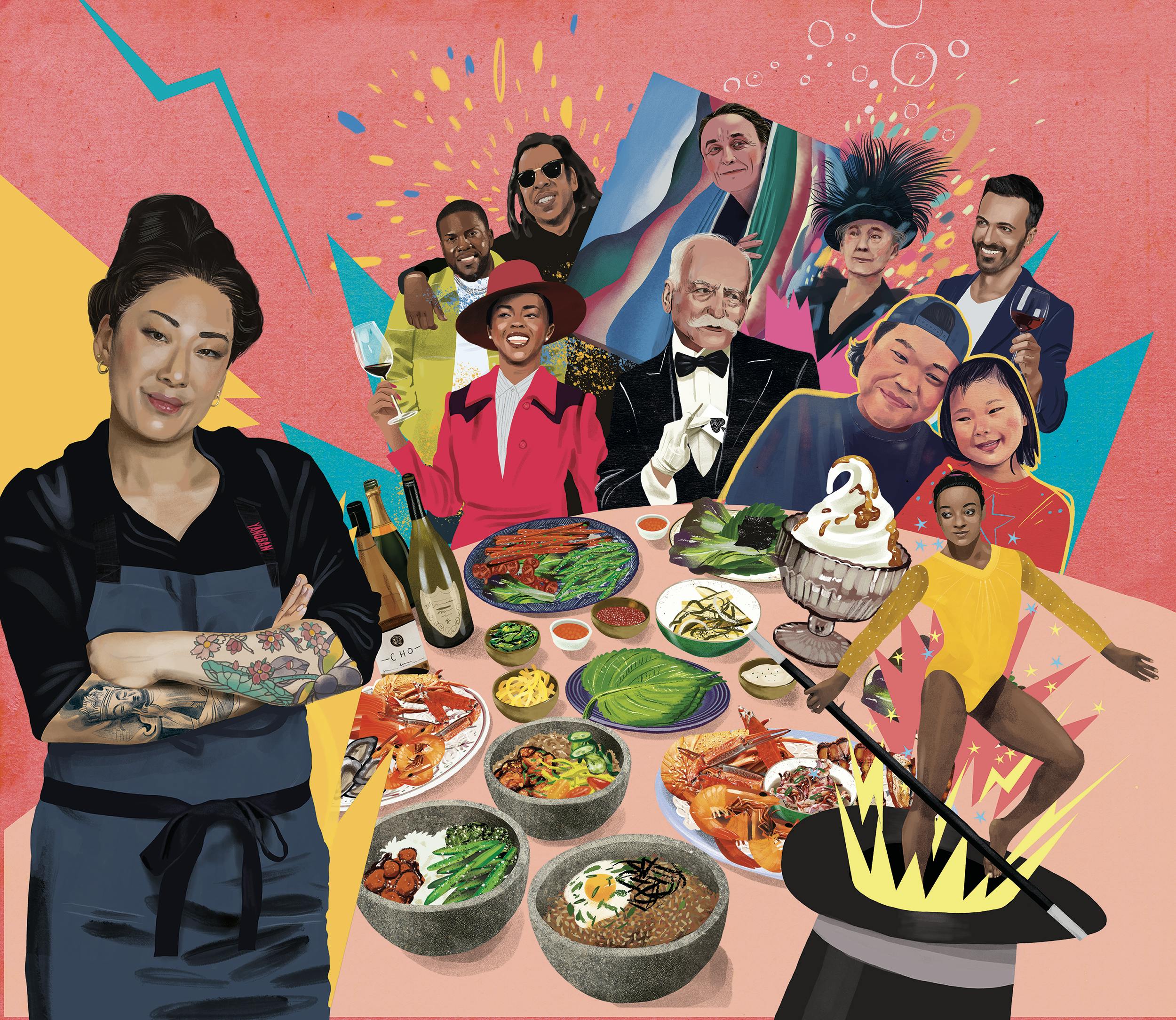 DINNER PARTY
CHEF KATIANNA HONG
Yangban's chef talks about the night market at Squid Game: The Trials and shares the guests and menu for her dream dinner party.
Katianna Hong, chef at Los Angeles's critically acclaimed Yangban, adored Squid Game long before Netflix reached out about a partnership on the immersive fan experience, Squid Game: The Trials. Squid Game: The Trials offers all the excitement and strategy of the original series without the danger — and this time, the payoff is a range of delectable Korean dishes curated by Hong. "We're thrilled to help evolve the night market program by infusing and injecting some of our signature flavors into the menu for fans to enjoy."
Here, Chef Kat sets the scene for her dream dinner party.
There's always some magic to a dinner party. We would start with an abundance of chilled seafood — oysters, crab, lobster, and shrimp. I'd serve the course with flavorful Yangban interpretations of all the quintessential expectations — horseradish, cocktail sauce, mignonette — and a side of perilla leaves so my guests could make ssam wraps. For this course, we'd be enjoying all the bubbles. 
The menu would then progress to plentiful salads, vegetables, some of our signature banchan we serve at the restaurant — kimchi, honey-glazed carrots, and grilled cucumber. Right now, we're working on a new kimchi, rice, and pork belly stone pot served with buchu (Korean garlic chives) and perilla leaves. The dish is served with kimchi juice, soy sauce, and sesame and would be [presented] in the stone pots, family-style, to keep the party feeling communal. I'd serve that with a riesling or maybe a wine from Cho Wines; they're this wonderful Korean couple producing in the Willamette Valley in Oregon. 
For dessert, we'd end on a sweet note with one of Yangban's signature Sujeonggwa sundaes, a buffalo milk soft serve with cinnamon, crystallized ginger, and toasted pine nut caramel. Traditionally, we would serve this individually plated, but for this party, we'd go over the top with one sundae, Great Gatsby style. 
I'd use creativity as the driving force for the guests invited, tapping into a bunch of the best in their individual fields: musicians like Jay-Z and Lauryn Hill, artists Georgia O'Keeffe and Mary Cassatt (my mom was an art teacher, and both were constant topics of conversation in our household). I was a gymnast growing up and as a chef, there's nothing I respect more than discipline, so we'd have to have Simone Biles there. You'd need some levity from a comedian, so I'm inviting Kevin Hart. I'd also include my brother, actor Reid Scott. If there was another chef at the table, I'd love to invite Auguste Escoffier; it would be such an experience to pick his brain. If there was still room at the table, my husband John and our daughter, Sia, could join us as well. 
We'd throw this dinner party at Yangban and shut down the restaurant for one night. I'd play 90s R & B and the classics, everything from Sam Cooke and Otis Redding to the Roots, Aaliyah, John Legend, Nas, and more. Anytime you take the time to sit down with a group, you get to bond, learn more about people, and share experiences you normally wouldn't have. Sharing a meal offers you a chance to learn a new perspective, and that's what life really is all about.