The Oscar-winning actor brings her signature dynamism to Todd Haynes's twisted melodrama, May December.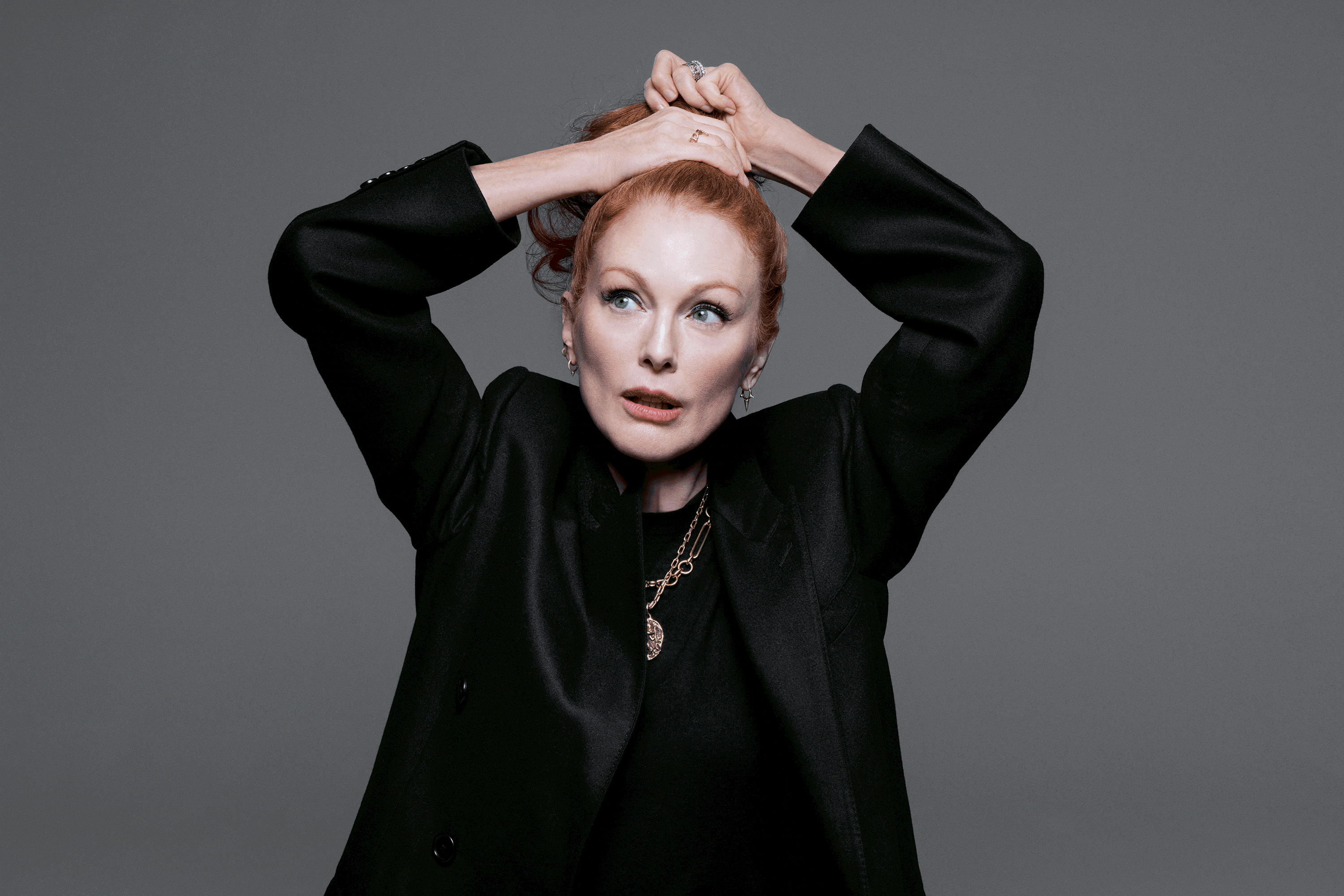 Not long after Todd Haynes first suggested Julianne Moore read Samy Burch's screenplay for May December, the Oscar-winning actor recalls feeling utterly captivated by the story, which turns on the tense relationship between a woman who was once at the center of a tabloid scandal and the television actor preparing to play her in an upcoming independent film. "I loved this script when I first read it," Moore says. "It's interesting. It felt slight at first. But the minute you get into it, it's unbelievably sturdy. It holds a tremendous amount of feeling and humanity and complexity."
Moore, of course, is famous for the humanity she's brought to a range of deeply complicated women in such films as 1998's The Big Lebowski, 2009's A Single Man, 2010's The Kids Are All Right, and 2014's Still Alice, for which she won her only Oscar to date, as a linguistics professor grappling with early-onset Alzheimer's disease. Equally adept at drama and comedy, onstage and onscreen, Moore has proven time and time again in her four-decade career that she's one of the most versatile and most watchable performers not only of her generation, but, perhaps, of all time.
Still, despite that wealth of experience, Haynes's latest character drama presented Moore with what might be one of the most challenging, yet rewarding, acting experiences of her career. The actor plays Gracie Atherton-Yoo, a master manipulator blinded by denial about the crimes of her past, seemingly oblivious to the emotional carnage she's caused and desperate to present an image of domestic perfection to the outside world. Portraying Gracie's emotional core on the big screen required Moore to balance a woman who is at once wildly insecure and supremely confident.
When May December opens, it's been almost two decades since a 36-year-old Gracie embarked on what she considered an "affair" with then 13-year-old Joe, a crime for which she served time in prison, where she gave birth to their first daughter. Now a relatively old married couple stuck in routine, Gracie and Joe — played with devastating pathos by Charles Melton — are preparing to send their youngest children, twins Charlie and Mary, off to college. That's when Elizabeth Berry, an actor played by Oscar winner Natalie Portman, arrives at the couple's Savannah, Georgia home, hoping to study Gracie's mannerisms and gain insight into her psychology as fodder for her own screen performance.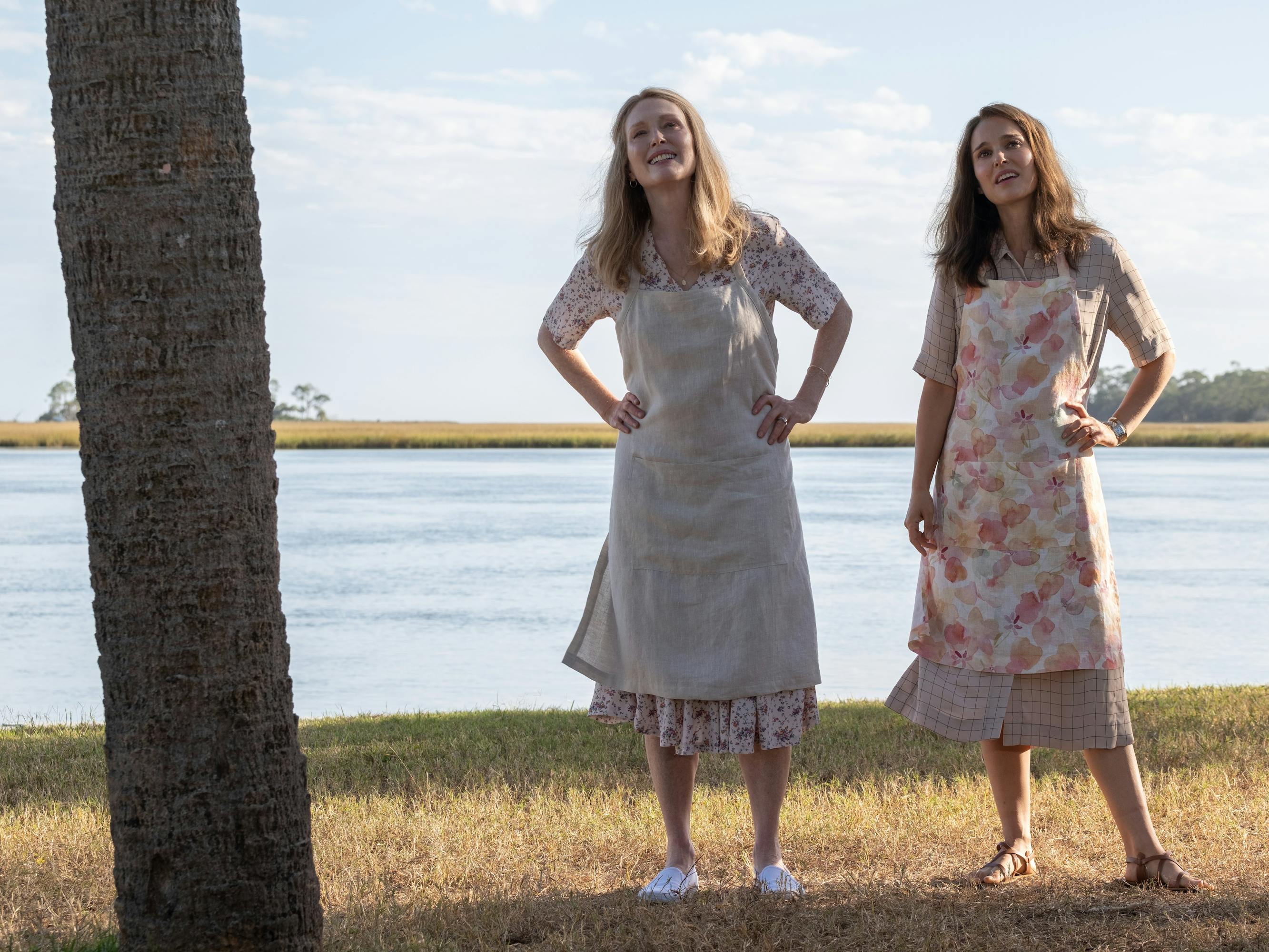 Photograph by Francois Duhamel
Julianne loves to enter into these places of inscrutability in her depictions of women — and in stories in general. She does not want to put the viewer at ease. How you ignite a viewer's thinking and questioning, that is opening up something that's incredibly potent and special, and a lot of movies sort of shut that down.
Observer and subject soon find themselves locked in a strange adversarial dance of mutual fascination and mistrust, as Gracie frustrates Elizabeth's attempts to look beneath her peaceful façade. "For Gracie, there's been a tremendous amount of judgment about her," Moore says of the characters' back-and-forth. "She wants to say, 'See me. Know who I am. Know why I've made these choices.' She wants to be known. I think that there's something really interesting about that, about letting somebody into your very, very private life to explore, to see who you are. But, of course, Gracie's also presenting a version of herself that she wants to be known. I think Elizabeth becomes more dangerous as Gracie realizes that she can't control her own narrative."
Performative femininity has been a throughline in Haynes's career, as has his decades-long creative partnership with Moore. May December is the fifth film that the pair has made since Haynes cast the actor in his paranoid character study, Safe. Moore was then a rising star who'd played small roles in such early 90s classics as The Hand That Rocks the Cradle and The Fugitive. The former army brat from Fort Liberty, North Carolina initially found her way to acting during her time at Boston University, then moved to New York to do theater Off Broadway after graduation. Roles on soap operas and in TV movies followed, but it was Haynes's 1995 film Safe, in which Moore played an affluent Southern California housewife who goes to extremes to protect herself from a mysterious allergen, that announced her as a preeminent talent and brought both Moore and Haynes Independent Spirit Award nominations.
Moore has said that she knew exactly how to approach her role in Safe from the moment she read Haynes's script. In her audition, she dressed entirely in white and diminished her voice to seem meek, like a woman wishing to be invisible. "It was an astonishing moment, a completion of a creative idea that became real in the room with this person," Haynes recalls. "It took such incredible courage and confidence and a sense of understanding the craft."
Producer Christine Vachon, Haynes's career-long partner behind the scenes, who reteams with him on May December, recalls Safe as the first vehicle that allowed Moore to truly demonstrate her formidable gifts as a performer. "I cut my teeth and grew up on that movie, and when I look back, when I read about Julie's career and things she's told me, she kind of did, too," Vachon tells Queue. "[Safe] was the first movie that Moore was truly the lead of. In some ways, it was her first time becoming the star she was destined to be and to carry a movie — to carry the whole damn movie."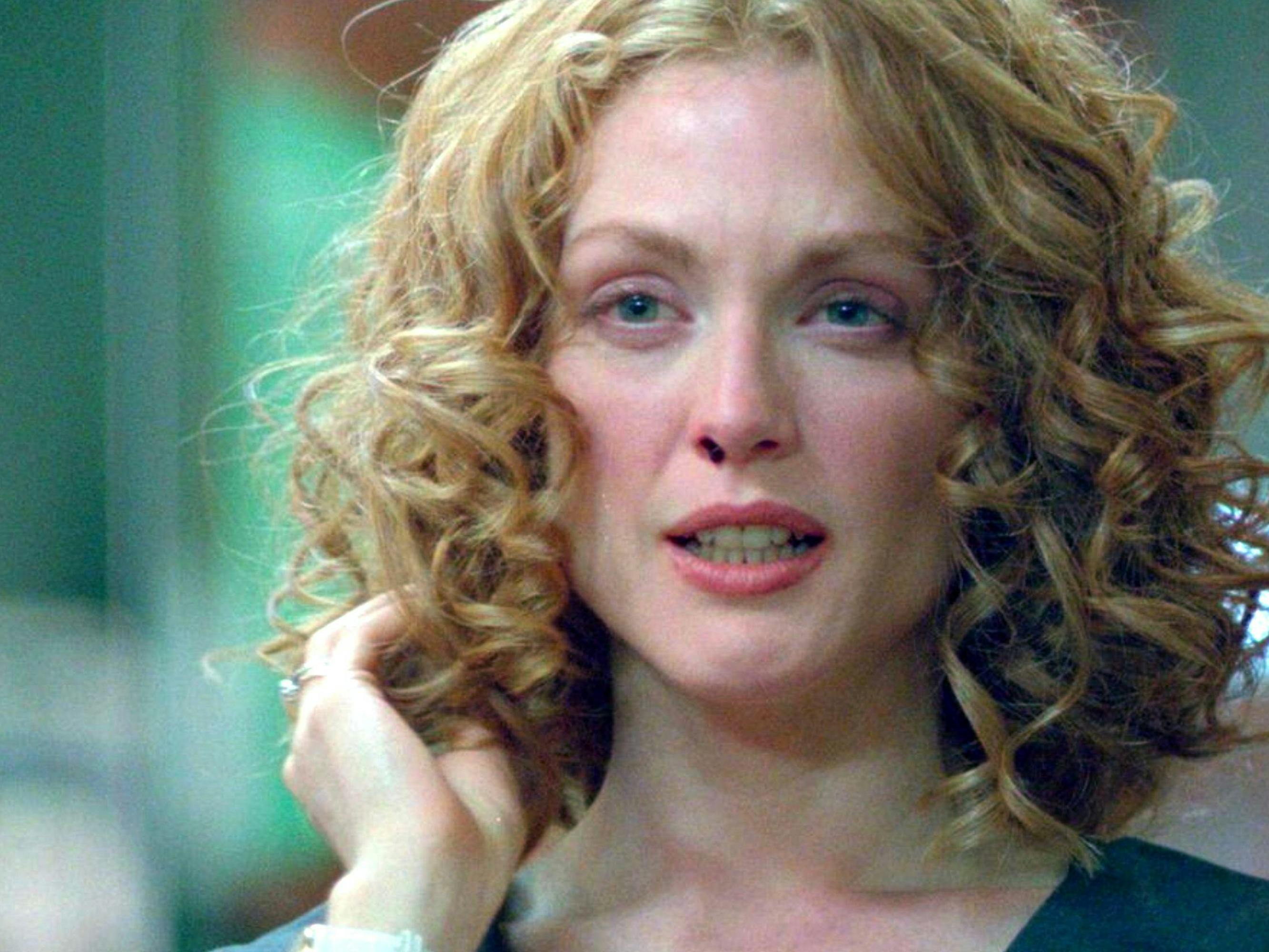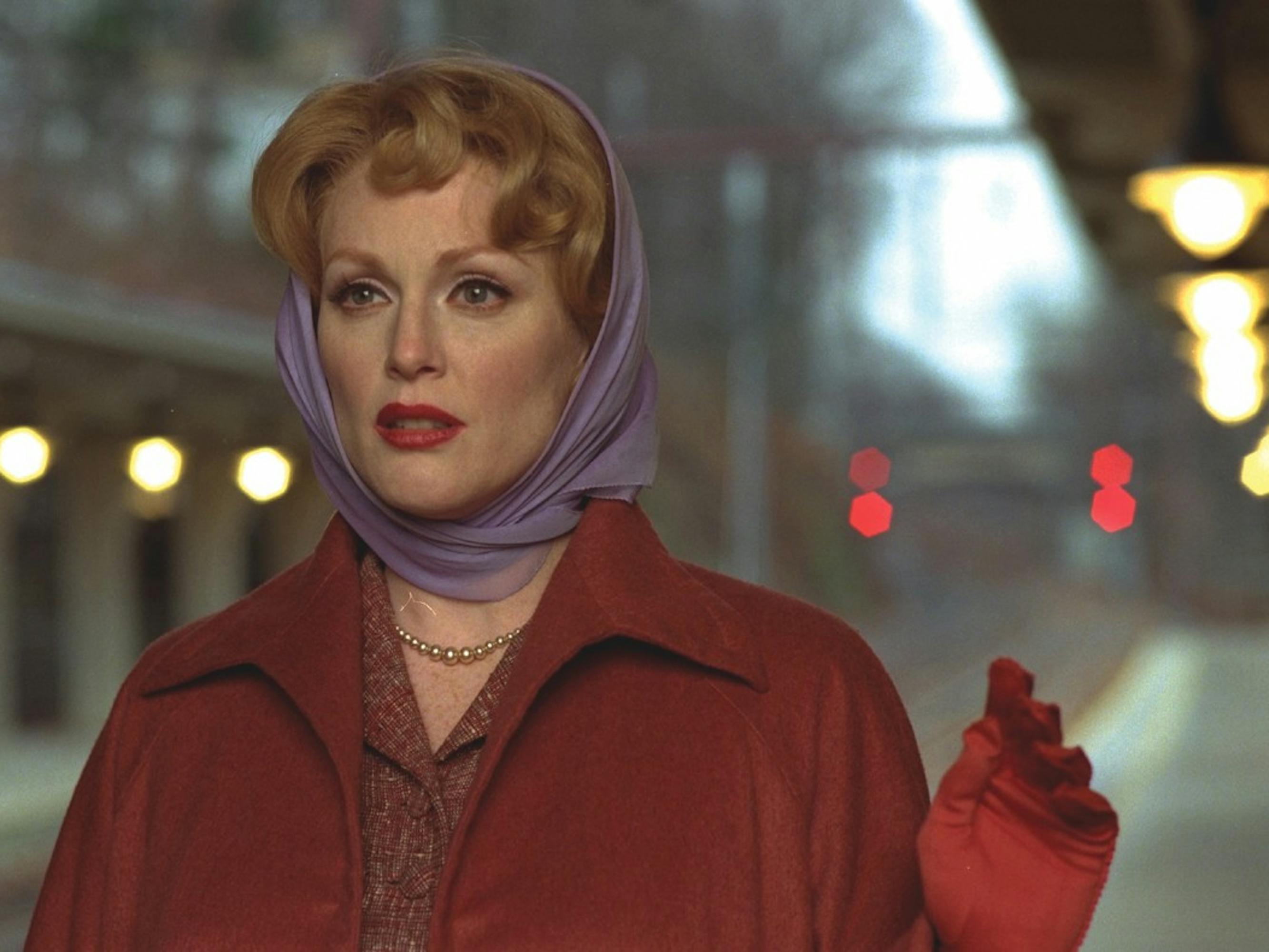 Photograph by Pictorial Press Ltd / Alamy Stock Photo
Photograph © Focus Features / Courtesy of Everett Collection
Moore quickly landed ever-meatier parts, including her supporting turn as Amber Waves, the matriarch of a found family of adult-film actors, in Paul Thomas Anderson's groundbreaking 1997's porn-industry epic, Boogie Nights, for which she was nominated for her first Oscar. Her second nomination came with her leading role as a terminally ill woman who has a passionate romance with Ralph Fiennes's novelist in Neil Jordan's 1999 Graham Greene adaptation, The End of the Affair.
Reuniting with Haynes in 2002 for the Douglas Sirk-style melodrama Far from Heaven, she played a white 1950s housewife trapped in a loveless marriage, whose life is complicated by the feelings she develops for her Black gardener (Dennis Haysbert). Her powerful starring turn was rewarded with a third Academy Award nomination — all the more remarkable considering that Moore's performance as another 1950s housewife in The Hours earned her a synchronous nomination in the supporting actress category. Moore is 1 of just 12 actors ever to be nominated in the lead and supporting categories at the Oscars in the same year.
"Julianne loves to enter into these places of inscrutability in her depictions of women, and in stories in general," says Haynes. "She does not want to put the viewer at ease. How you ignite a viewer's thinking and questioning — that is opening up something incredibly potent and special, and a lot of movies sort of shut that down."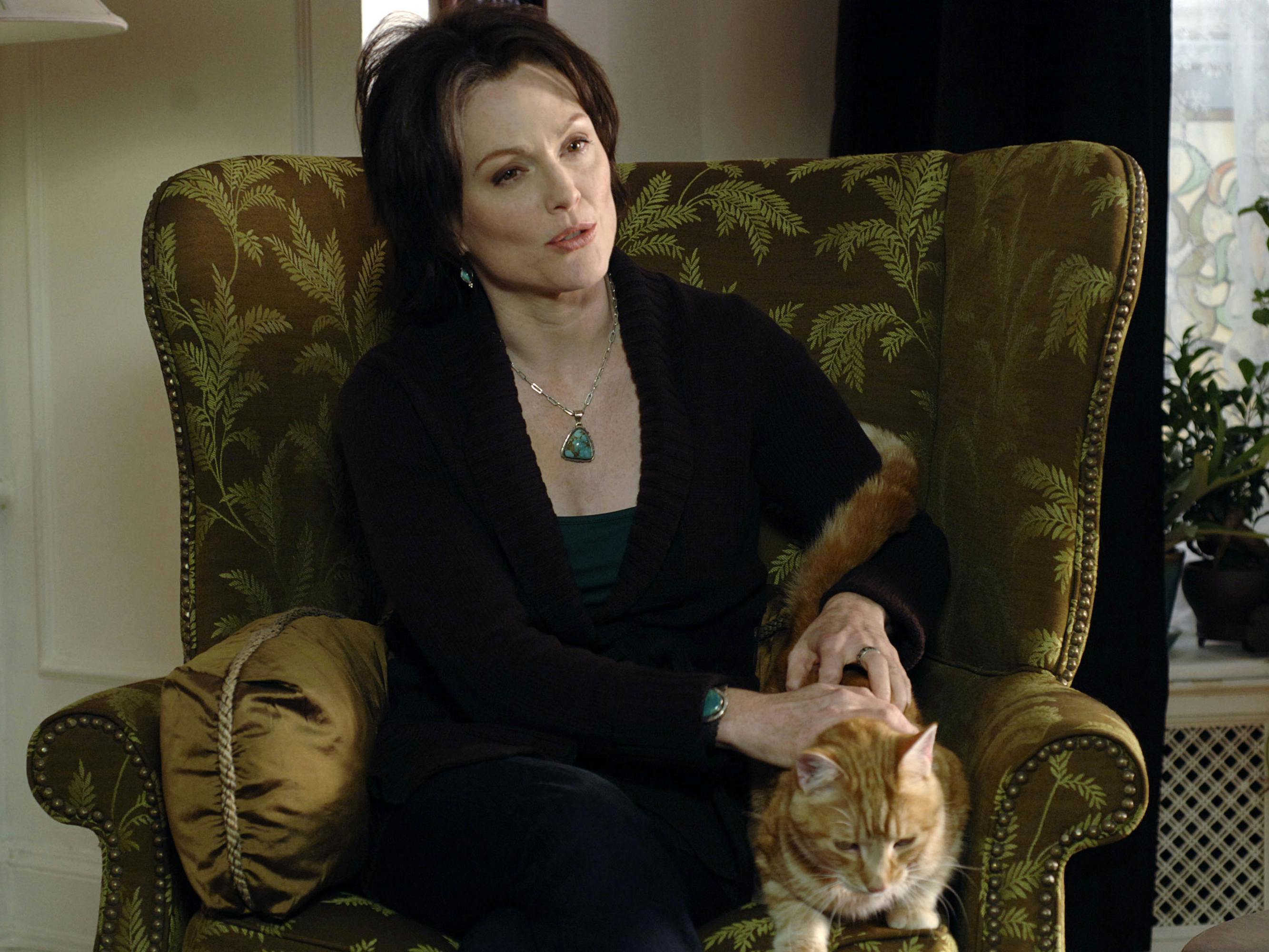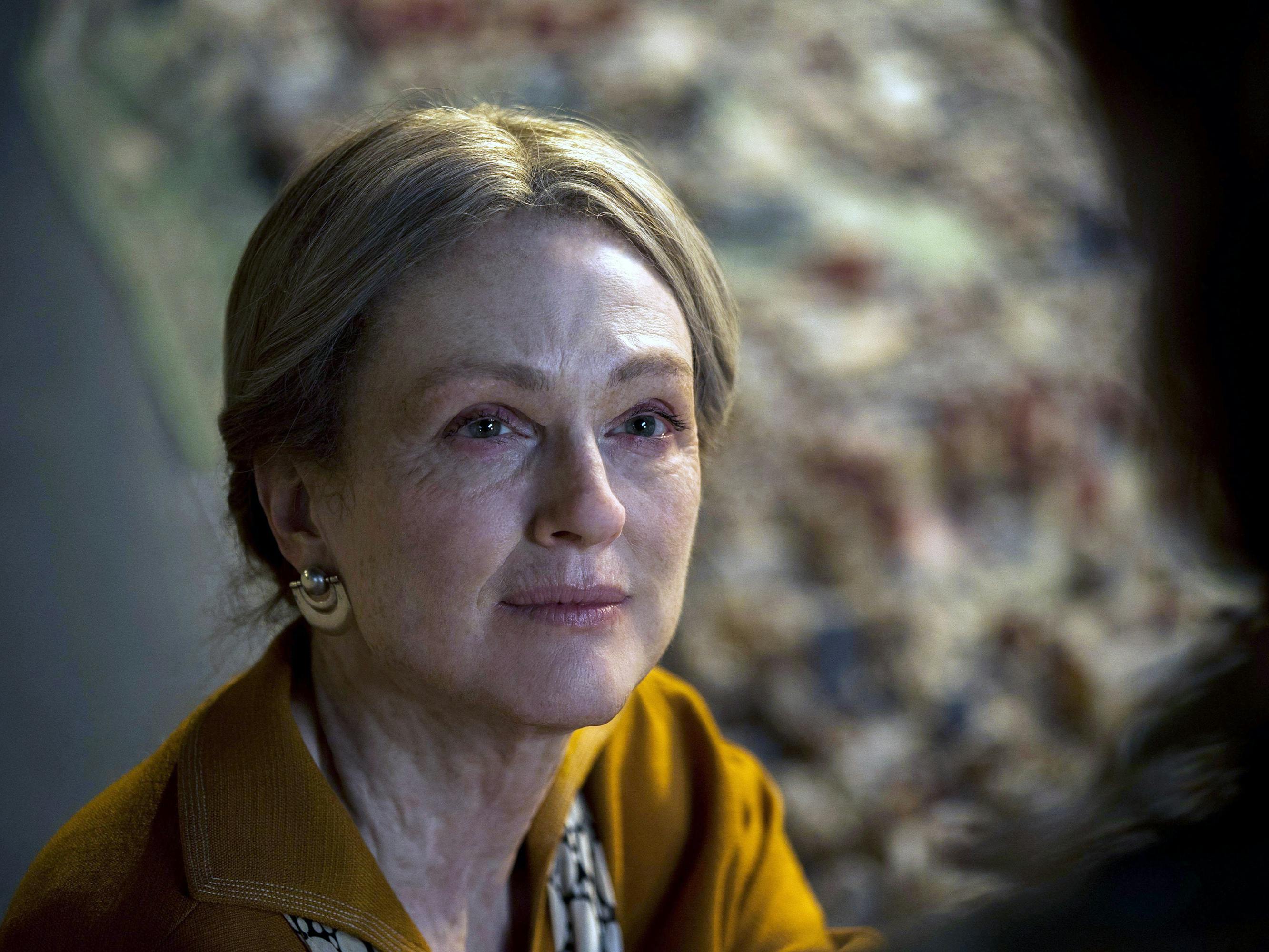 Photograph by Weinstein Company / Courtesy of Everett Collection
Photograph by Roadside Attractions / © Amazon / Courtesy of Everett Collection
As an artist, Haynes shares that sensibility. The director's films are always noteworthy for their salient explorations of gender and identity and their willingness to embrace risk. With 2007's I'm Not There, he crafted a surreal, episodic journey through the life of Bob Dylan, casting actors including Christian Bale and Cate Blanchett as various incarnations of the troubadour, with Moore playing a singer styled after folk icon Joan Baez. In 2017's Wonderstruck, he wove together disparate stories about two children whose adventures unfold decades apart; in that film, Moore plays Lillian Mayhew, an actress from the silent-movie era who becomes an object of obsession for a young, deaf girl living in 1927 New Jersey.
"Working with Todd is always just miraculous and wonderful, and I really do feel that he's just an extraordinary filmmaker," Moore says. "He's such a talent, and the fact that my creative life has collided with his at all has been a miracle. He knows who the characters are, he knows how he wants to frame things, he knows how he wants to edit things. And he's also great about communicating all the things that he's trying to do. Working with him, it feels — I don't want to say easy, because that's too slight a word — but the pure pleasure you get from working with Todd is unmatched." 
What does it feel like to have made this choice to be living this life and to believe in this life, when you've done something that society judges as truly transgressive?
Moore and Haynes's rapport served them well as they embarked on May December, which was shot in only 23 days in Savannah, Georgia during the latter half of 2022. "We just realized, Oh wow. Okay, we've got a moment. Let's make it happen," Haynes says. "The making of May December was a really spirited, invigorating experience for everybody involved, and it had something to do with the fact that it was sort of a surprise, that I hadn't been developing it for a very long time. We had to sort of jump on the moment." 
Adds Vachon: "Look, this wasn't the first teeny movie that we dragged Julianne into by any means. She'd been [there] with us before, but she just brings such a level of intelligent discourse to everything she does. It just makes it a pleasure."
Despite the astonishingly quick timeline, Moore relished the opportunity to dig into the thinly veiled feelings of jealousy, resentment, and animosity that Gracie harbors toward Elizabeth: "There's a line when Elizabeth is asking Gracie questions about her life, where I suddenly say, 'How is that  relevant?' It's a very, very serious moment in the middle of this meandering story that Gracie is telling. And I loved it. Todd and I, we both started laughing really hard because it's so direct and it's so wonderful and shocking."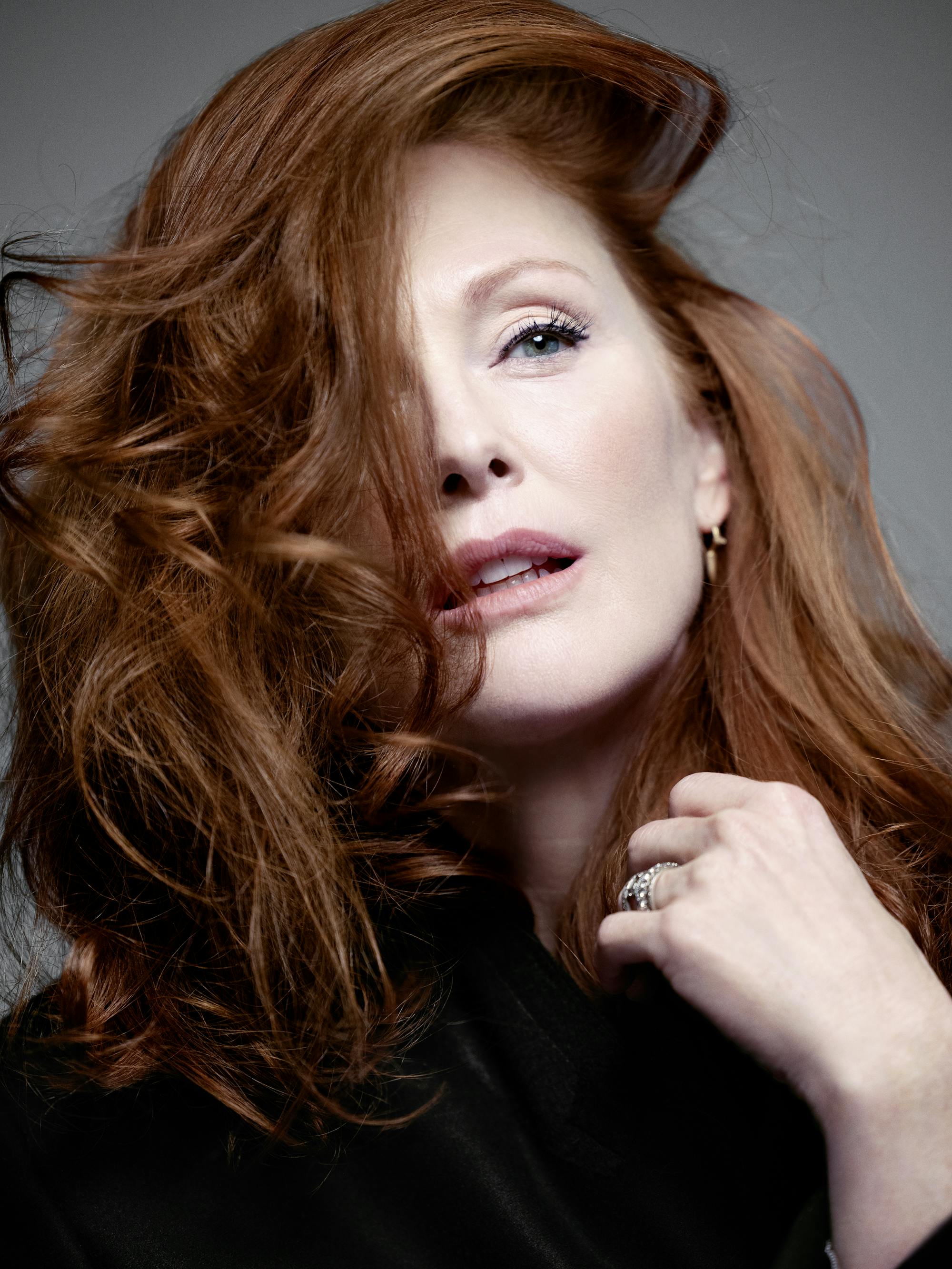 Photographs by Inez & Vinoodh / Trunk Archive
On set, Portman says she was constantly awed by Moore as a scene partner and by the way in which she and Haynes worked together. "I've admired Julie for so long, and particularly her work with Todd," says Portman, who initially brought the May December script to Haynes in 2020 and serves as a producer on the film. "Their collaborations have stayed in my mind as some of the highlights of films that I love. So, to get to be working with them together is absolutely a highlight of my life."
Vachon recalls Melton feeling similarly incredulous about working opposite both women in the film. "He is so good and he worked so hard," Vachon says. "I remember overhearing one of the financiers saying to him at some point, 'What's your dream role?' And Charles was like, 'This. Here I am in a Todd Haynes movie with Julianne Moore and Natalie Portman. How am I ever going to go anywhere up from here?'"
May December premiered this past May at the Cannes Film Festival, where the drama received a six-minute standing ovation and earned rave reviews for its tour-de-force performances — critics praised it as the rare film that is as entertaining as it is thought-provoking. Subsequently, it was selected to open the New York Film Festival, where it's certain to earn more praise for Moore as sharp, brittle Gracie.
Although the protagonist isn't easy to love, Moore says that the key to the character, for her, was to approach the role from a place of radical empathy. Seeing the world through Gracie's eyes yielded the perspective necessary to inhabit such an enigmatic woman. "When you work on a character, you are trying to put yourself in that person's position," Moore says. "So, with Gracie, I was attempting to put myself in [the mindset of], what does it feel like to have made this choice to be living this life and to believe in this life, when you've done something that society judges as truly transgressive? It's an interesting journey to take as an actor."

All content featured in this issue was captured in accordance with guild guidelines.