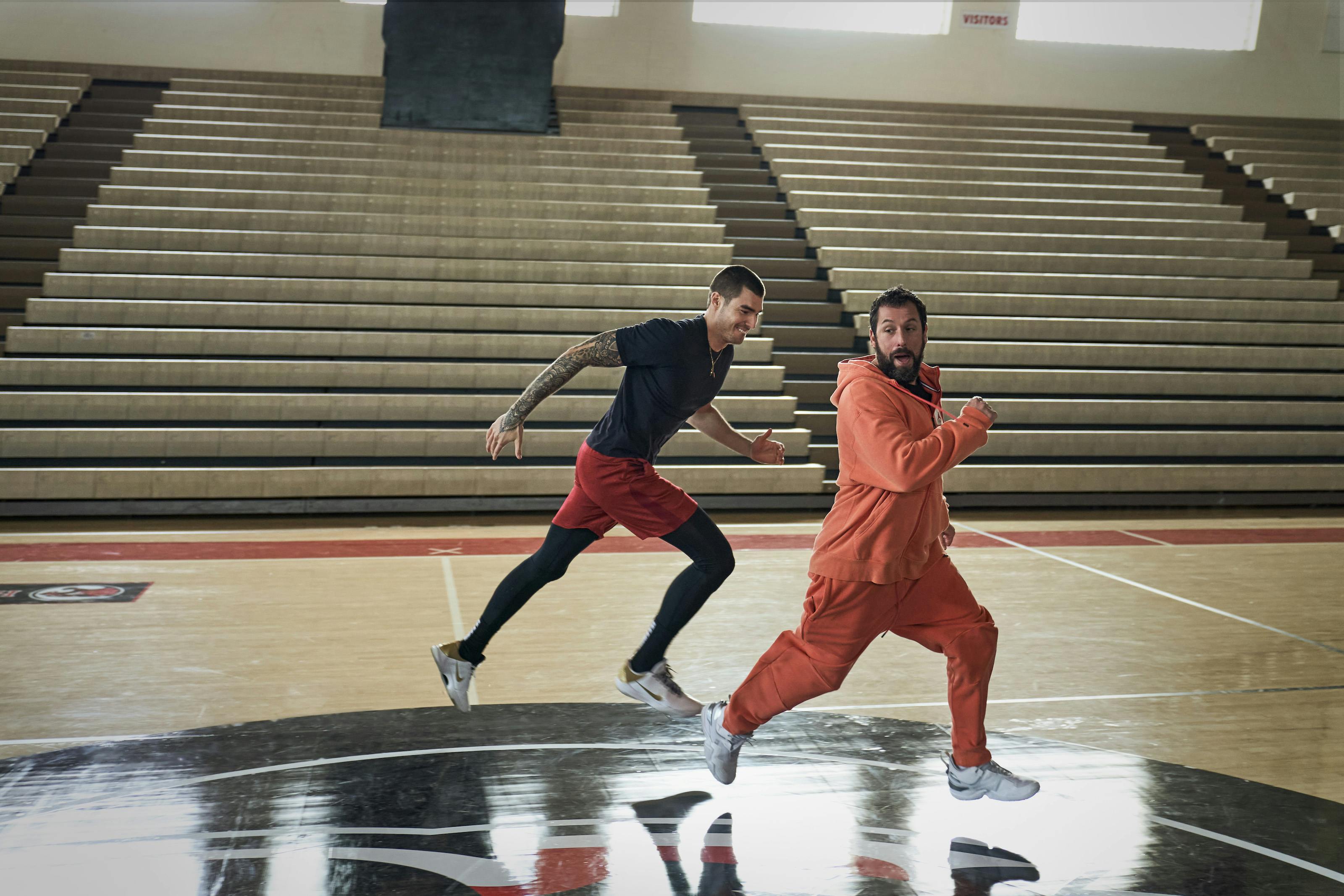 For actor and executive producer Adam Sandler, Hustle is a love letter to underdogs, the sport of basketball, and his beloved father.
Adam Sandler is an undeniable basketball fanatic. Throughout the actor-producer's wide-ranging, eclectic career, which spans blockbuster comedies (Happy Gilmore, Billy Madison, You Don't Mess with the Zohan, Murder Mystery, and the hotly anticipated sequel, Murder Mystery 2) and award-winning work with auteurs such as Paul Thomas Anderson (Punch-Drunk Love) and Noah Baumbach (The Meyerowitz Stories), Sandler's characters have frequently nodded to his sports fandom. In 2011's Jack and Jill, he delivered hilarious antics from the stands as both title characters. As a fast-talking jeweler in the Safdie brothers' Oscar-nominated 2019 film, Uncut Gems, Sandler gave us all anxiety with his nonstop NBA betting and his lending of a prized black opal to Celtics superstar Kevin Garnett in exchange for his championship ring. Offscreen, Sandler's a courtside staple at New York Knicks and Lakers games, he's popularized the "grocery-run look," which includes oversized basketball shorts and sneakers, and his affection for the sport often makes it into his standup sets. 

Sandler's latest project, Hustle, is both his most basketball-oriented and his most personal. "This movie meant a lot to me," he says. "I've been playing basketball, and have been a fan of the sport my whole life. So I walked into this movie just a lot more confident than I've ever been playing a character."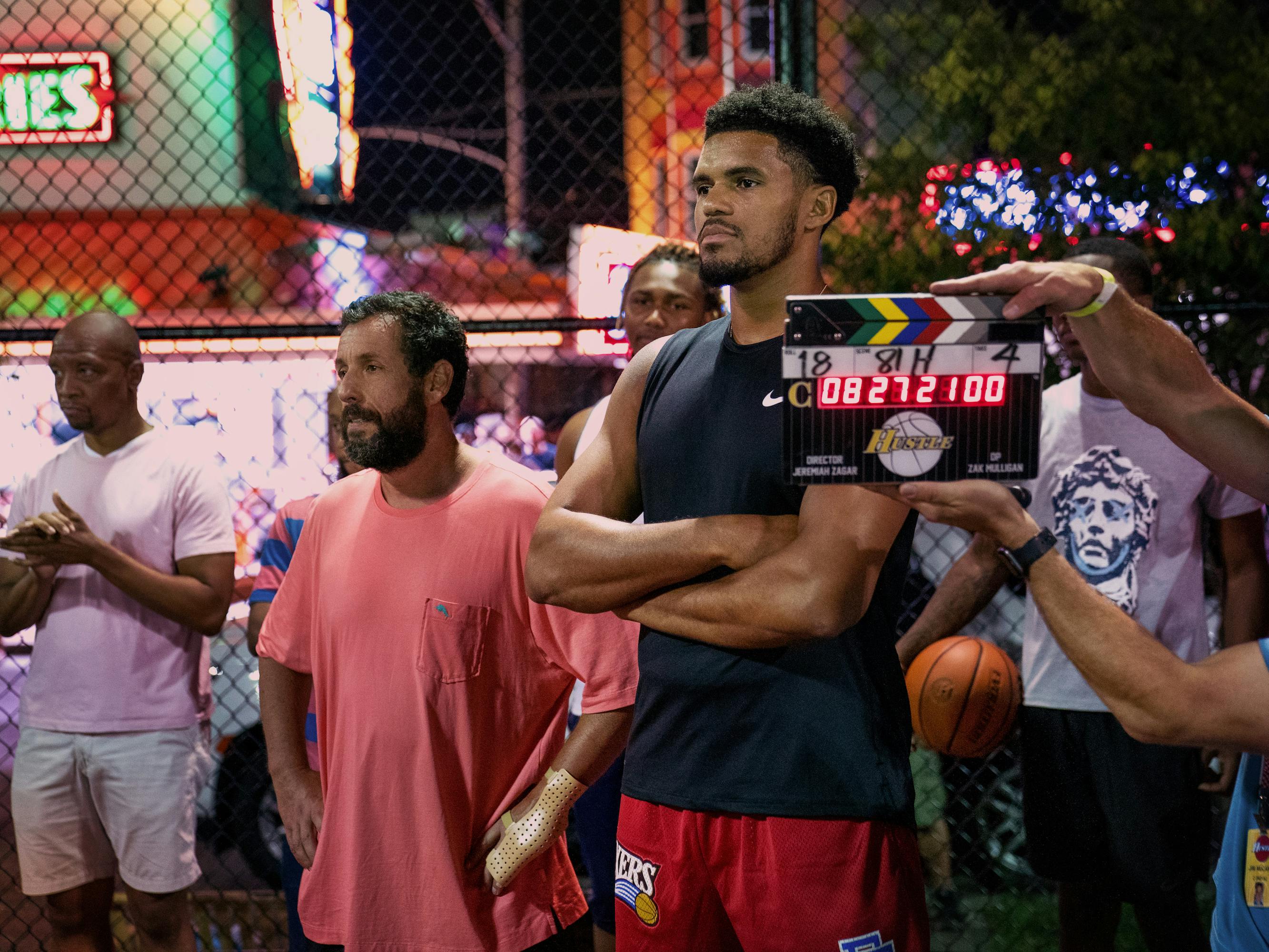 In Hustle, which he also executive produced, Sandler plays Stanley Sugerman, an assistant coach for the Philadelphia 76ers who is demoted to talent scout after the team's owner (Robert Duvall) dies and his son (Ben Foster) takes over operations. Stanley is promised his job back if he discovers the next best player for the down-on-its-luck team, which spurs a trip to Mallorca, Spain, and a chance meeting with Bo Cruz (played by real-life Toronto Raptors power forward Juancho Hernangómez) in a late-night pick-up game. 

Leaning into the underdog narrative of Philadelphia sports stories — at one point Stanley even cheers Bo on with, "Yeah, Rocky!" — Hustle brings realistic on-court action and sports drama to the screen with the help of NBA greats such as Julius "Dr. J" Erving and producer LeBron James. The stacked cast, which includes Queen Latifah as Stanley's supportive wife, and a buzzy soundtrack featuring Philly rapper Meek Mill, allowed director Jeremiah Zagar (We the Animals) to tell a feel-good story of redemption, complete with the type of laugh-out-loud moments promised by a Sandler production.

Following a screening of Hustle at the Director's Guild of America New York Theater, Sandler and his longtime friend and three-time costar (Blended, 50 First Dates, The Wedding Singer) Drew Barrymore, talked about what the lead character had in common with Sandler's father (also named Stanley), and how a love of basketball primed him to take on such a daunting role. 

An edited version of their conversation follows.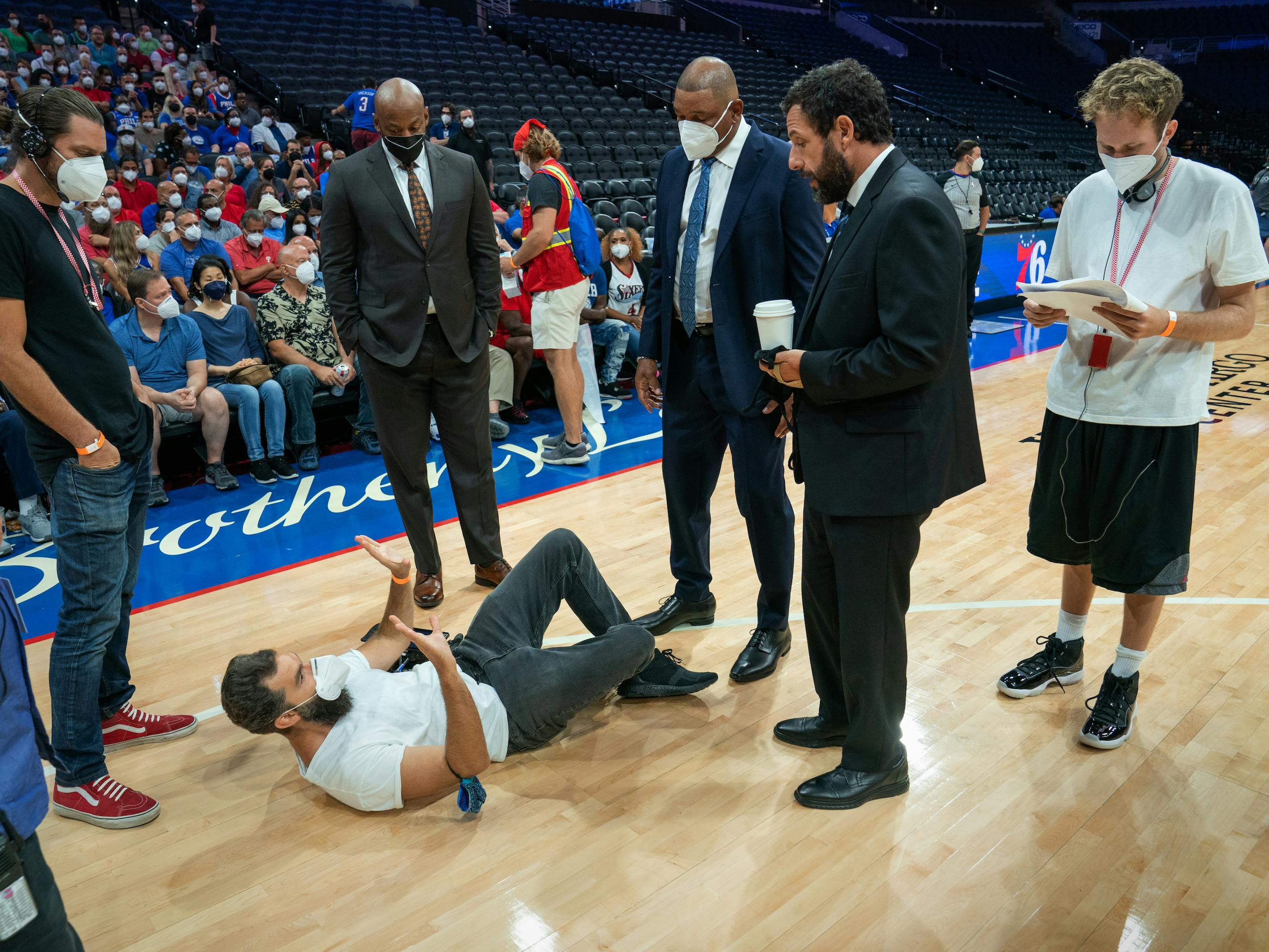 Drew Barrymore: I've seen every film you've made and have known you for 25 years — this character is your cadence; this is who you've grown into and become. How did you let your guard down and trust that you would be the best person to play this character?

Adam Sandler: I felt very comfortable with who this guy was, with the basketball of it all, and his being a guy that works hard, and nobody really talks about how much of a team player he is. He's finally at a place where he is like, I got to get noticed a little bit for what I've done over the years — I felt comfortable being that guy. I [also] felt comfortable coaching and finding somebody with a lot of talent and trying to encourage that person. What I loved is that he works hard and also has a family that loves and believes in him. I connected with that.

DB: Your father is such an important figure in your life and always has been. Did you consciously or subconsciously say, "I am ready to bring him into the fold?"

AS: Even when we were working on the script and working on what my look would be — my dad had a beard. I asked for the character to be called Stanley because he reminded me of my father a lot, whose name was Stanley. My father was very cool about trying to pull out the best in people. That's what I think my character was doing with Bo Cruz. One scene that I love in Hustle is when [Stanley] gets to [Bo's] hotel, at like 4:10 in the morning, and he's like, Let's go. We got to get working. That was my father with me. He never worried about setting an alarm for himself, he was just up. He never talked about himself and never said, Oh, I'm tired.
I've been playing basketball and have been a fan of the sport my whole life. So I walked into this movie just a lot more confident than I've ever been playing a character.
DB: Your company Happy Madison produced this film, and, I think, almost everything you do. Has there ever been a film where you were hands off, [where you said to the filmmakers] This is yours, I'm just going to show up?

AS: Sure, Uncut Gems, Punch-Drunk [Love], Funny People, Spanglish, Reign Over Me, The Meyerowitz Stories . . . [those films were all made by] directors who had a vision, and I loved being an actor for them. I feel very good just sitting back and letting everybody tell me what to do, and trying to do the best performance I can, trying not to let them down. But this movie was such a lucky thing. LeBron James and [producer] Joe Roth had this script. They knew I liked basketball. There are so many NBA people that are part of the movie — players, coaches, owners — all because LeBron is LeBron and everybody was nice enough to be a part of it. That's what made it very legit. It's a real basketball movie because of all the players.

DB: I think about [many] great filmmakers who've said, "90% of my job is done when I cast a film." How did you feel when you guys found Bo Cruz [Juancho Hernangómez]?

AS: They were looking for pro basketball players. Juancho wanted nothing to do with this. His sister said, Hey, there's this audition going around. Just do it. It's the pandemic we're not doing anything else. She read it with him, and he did it on Zoom. He was so natural and so smooth. That guy's a great ball player; it was crazy how good of an actor he was. He didn't even want the job. He's like, I guess. There's a scene when he is with his mom and he's crying — he did 20 different takes crying his eyes out. I said, "You were unbelievable today. Seeing you cry — how are you doing that?" He goes, "What? I don't know. I think of something sad, I guess." He's tremendous, but he literally just wants to play basketball.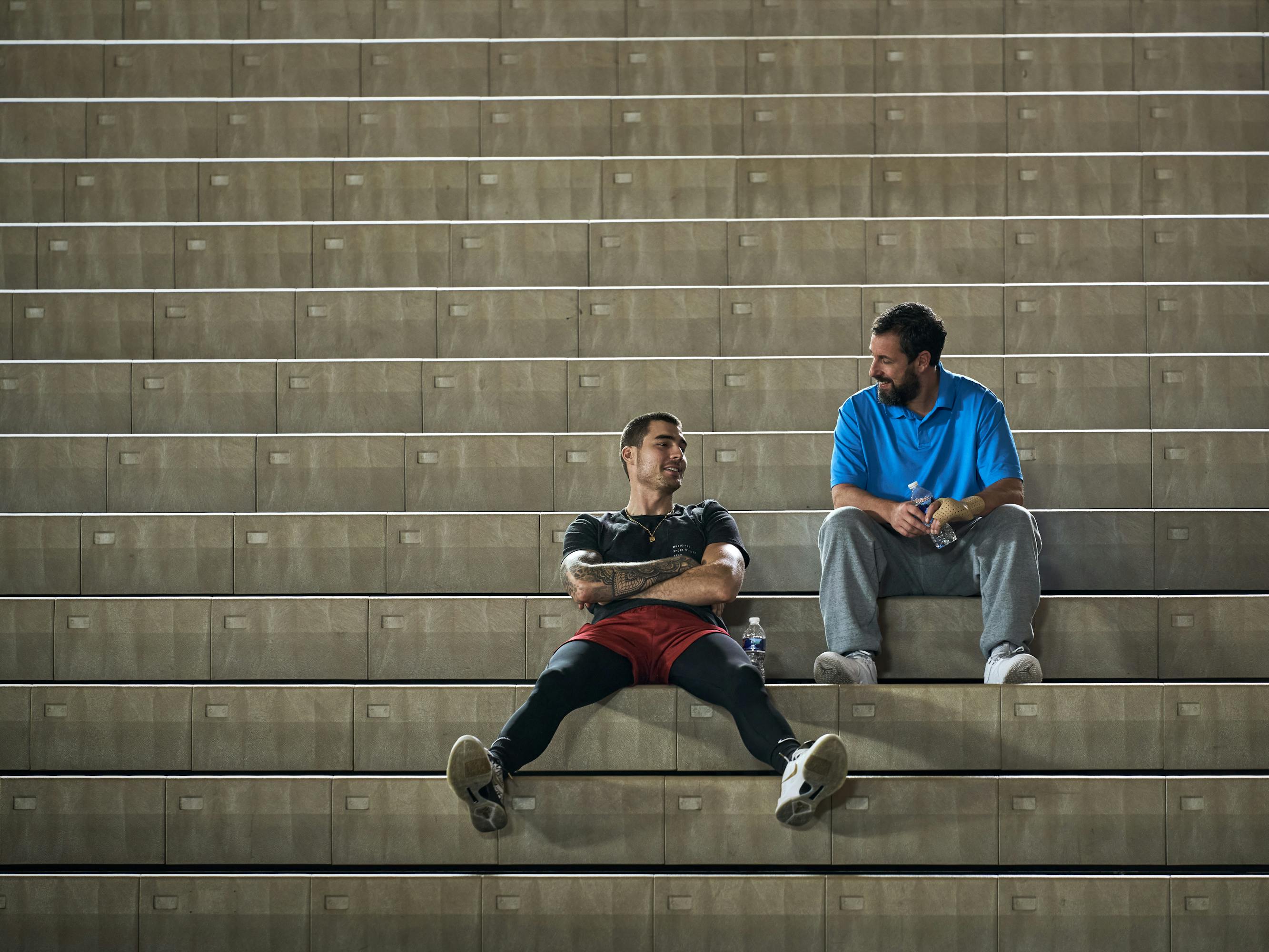 DB: The idea of casting points to something that's also true about sports: Casting is going out there and finding the person who can galvanize all of us. But Hustle really offers a valuable new perspective on the person who finds them, who gives us the hero. Who put you on the court for us to cheer on these last four decades?

AS: One hundred percent my upbringing was pretty damn nice. My parents, my sisters, and my brother always treated me like they thought I was something great. We'd drive somewhere, and they'd say, Adam, sing. Everyone in the car would be like, Ooh, he's good. So, they gave me some weird confidence. Lee Strasberg said — I'm not quoting perfectly but — "Sometimes a good actor is not the smartest guy or woman in the room because they don't have so many things to make them sensitive to other's thoughts. They just go and do the work and don't worry about the other stuff." I've got my family. My wife, she wants me to work my hardest, to be as good as I can be. And my kids are pretty damn nice to come home to at night. I got a good life. I lucked out.

DB: I don't know what luck is; I definitely think it's a real thing. But, one of my favorite words in the English language is, earn. And I think you have earned everything.