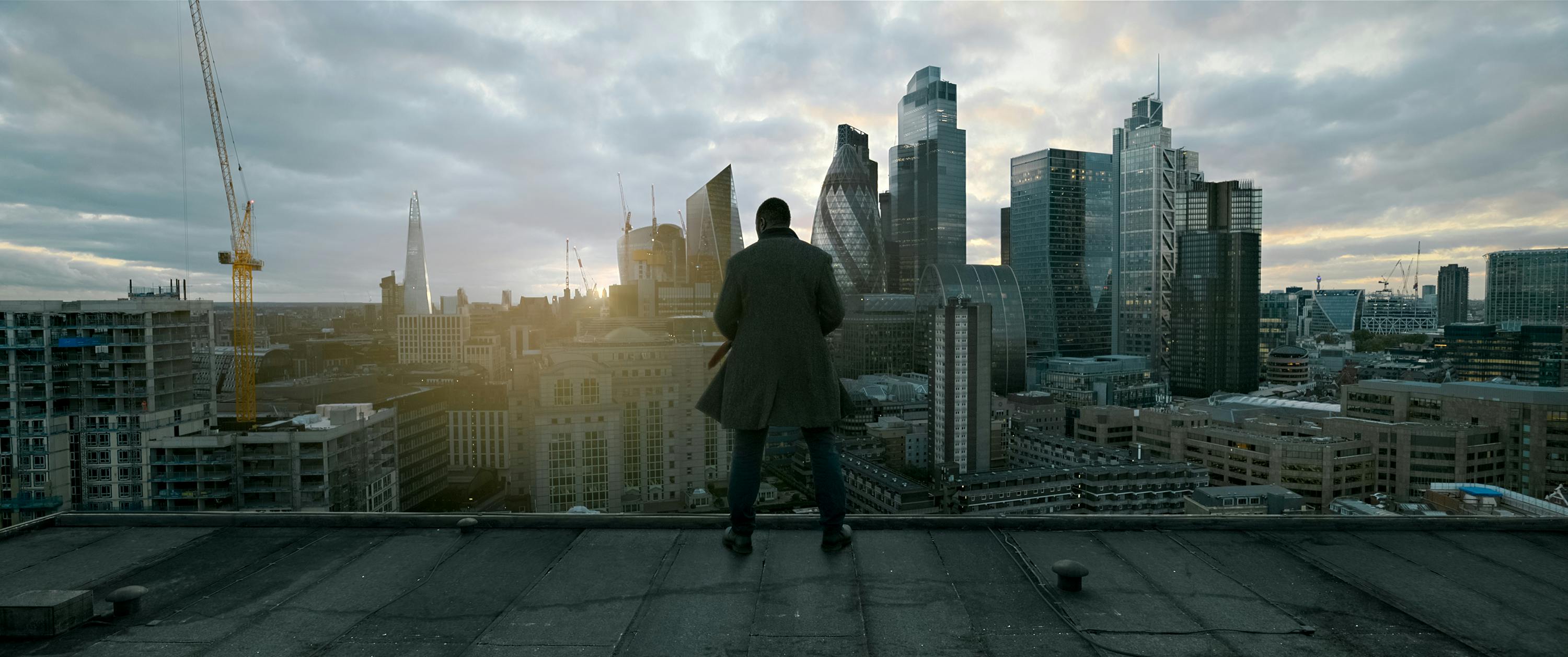 Luther: The Fallen Sun Resurfaces a Beloved Detective
The hit show comes back to life as a feature film in the hands of Jamie Payne.
Idris Elba's genre-spanning film career, from Mandela: Long Walk to Freedom to Thor to Zootopia, has made him a fixture in Hollywood and beyond. Is there anyone he can't play? But it's his role as the ruthless, damaged detective John Luther in the British crime drama series Luther that he's returned to time and again over the last 13 years. Since its debut in 2010, and over the course of five award-winning seasons, Luther has been unrelenting in his approach, bending the law in order to catch the killer. As Elba puts it, he's "a bull in a china shop for justice." Now, with Luther: The Fallen Sun, the franchise's first expansion into feature-length films, the actor brings his character to the big screen. "Each season, I tried to bring a freshness and honesty that would take the audience deeper," he says. "With this film, we go even further."
With the film, Luther's at-all-costs method of policing finally catches up to him. When the detective's past deeds are anonymously leaked to the public, he's not only fired but arrested. Luther is forced to wait and watch from behind bars as a gruesome serial killer manipulates the people of London, using their own secrets as blackmail to get them to commit heinous crimes. When Luther learns that the murderous psychopath was also responsible for having him locked up, the disgraced detective escapes confinement to become a fugitive, battling his own former colleagues to catch the man responsible for sowing so much chaos.
As both producer and star of the film, Elba was excited by the prospect of taking Luther's story, one he's come to know intimately, to a whole new scale, while still maintaining the tension, darkness, and, yes even humor, that fans have come to expect from the series. "I wanted to try and amplify what we've done with the television show," Elba says. "I'm inspired by the writing that Neil Cross does, which is really dark. It's a great examination of good versus evil, so that's why we're making these stories bigger." The final product, he believes, is genuine adult escapism.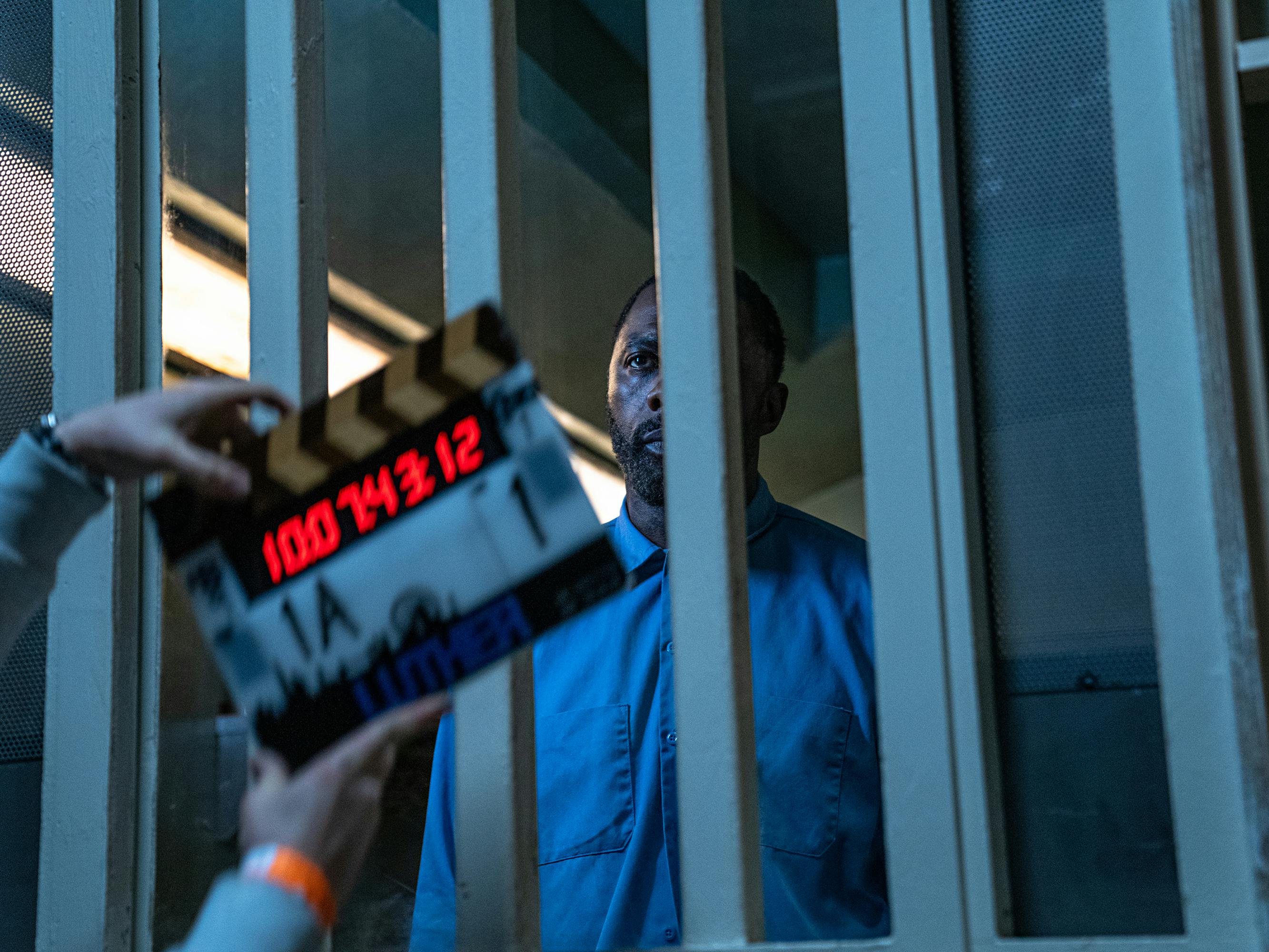 Cross, the show's creator and writer, has lived and breathed the world of Luther since he first wrote the original novel and series. And he's imagined a transition to the big screen for almost as long. The idea of a continuation on film was "to make Luther more itself, not less," Cross says. "We worked incredibly hard to make the TV show as ambitious and cinematic as we possibly could, but it was always my passionate conviction that John Luther was just far bigger than the limits of the medium allowed us to be." This ambition brought along new challenges, like creating a project that satisfied two distinct audiences: the one that has followed Luther from the very beginning, and the one that's new to this world.
For the uninitiated, watching Elba transform into the deeply complicated, deeply honorable, Harris Tweed-wearing John Luther is captivating. Partly, it's because of his physical presence, the way he towers over killers but sympathizes with victims. But what first attracted Cross to the character, and to Elba's portrayal, was his relatability. "One of the things I love most about John — and what the audience responds to — is that he's just a person," Cross says. "He has no superpowers. He's not a billionaire industrialist. He's not a super spy. He's not a god. He's just somebody with a profound sense of right and wrong and a compulsion to protect those who need protecting."
According to Cynthia Erivo, who plays D.C.I. Odette Raine, the detective who replaces Luther when he's sent to prison, the rare element that Elba brings to the character is his ability to project humanity. "He's able to convey the darkness and the trouble that Luther has within, but he's still able to get a warmth out of him," she says. Raine and Luther are reluctant allies throughout the film: Both want to catch the villain, a remorseless David Robey (played brilliantly by Andy Serkis), but Raine also wants to apprehend Luther, at least until Robey finds and exploits her weak spot.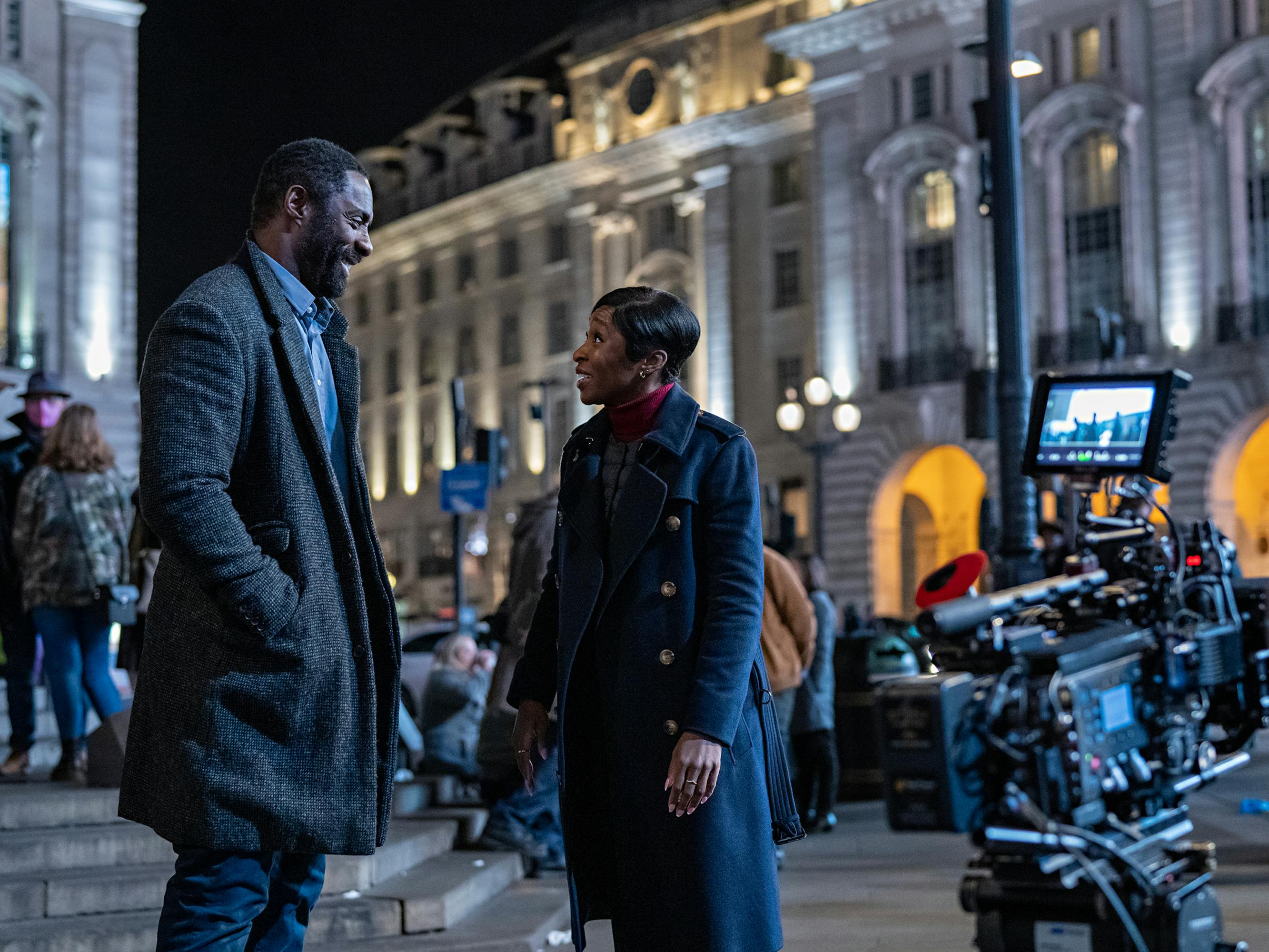 Elba fanboys when talking about his admiration for Serkis as an actor and innovator. "He's the nicest guy, but what's interesting is that he has this mysterious side, a twinkle in his eyes," Elba says. Serkis brings his "mad genius" to Robey, creating a character that is at once persuasive, likable, and terrifying.
 Ultimately, the power of Serkis's villain, and Luther's ability to understand him, comes back to Cross's script. "It's his world," says director Jamie Payne, admiring Cross's ability to "so brilliantly tap into our everyday fears" and spin a dark tale from them. His writing is "so intoxicating," Serkis adds. "He swims in the dark end of the swimming pool for sure." Cross has written every episode of Luther to date. This time around, his mind dives into how our private lives are not actually so private, thanks to the technology all around us. What happens when access gets into the wrong hands? The writer has devised a serial killer who preys on the ordinary moments of our intimate lives through our computer cameras and speakers — more fearsome than one that peeks between curtains. As Luther explains when he's connecting the dots between murders, "In the right circumstances, the fear of shame, the fear of being called out, the fear of being caught, is way more powerful than the fear of death." That notion is the propelling force behind the film, and the reason Robey is able to get his victims to come to him.
Since directing the entire fifth season of the series, Payne realized that "the Luther stories were bursting at the seams with potential." A movie would give these stories more space to breathe. He was excited, particularly, to explore a story that saw Luther on the other side of the law, untethered and with absolutely nothing to lose. "That's a great start for a fresh character study," Payne says. Luther: The Fallen Sun marks Payne's feature directorial debut.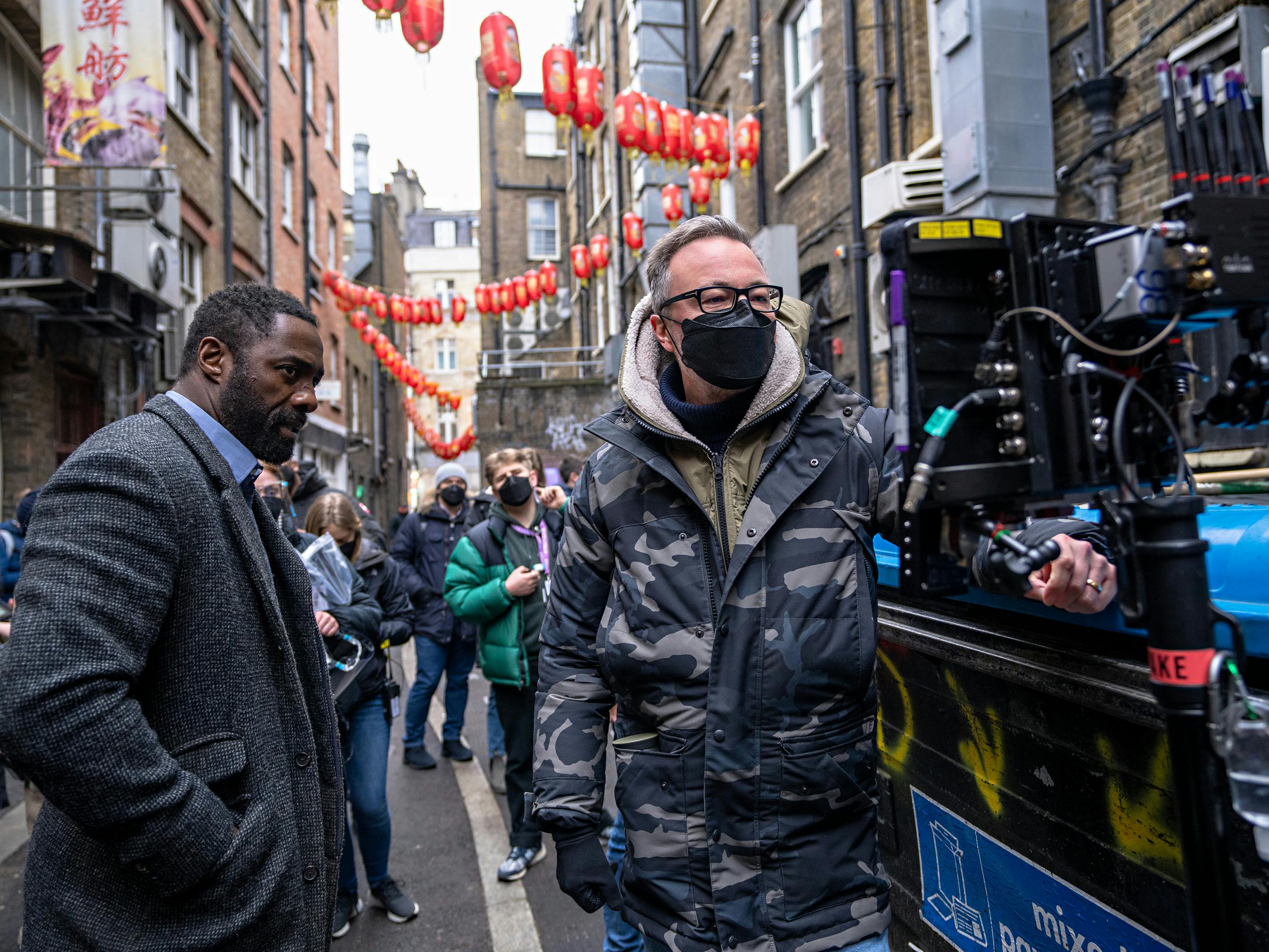 Since Elba, Cross, and Payne had previously collaborated on the series, they maintained a creative shorthand on set. Payne put months, if not years, of preparation into the job, Elba recalls. So much so, he adds, that "he really knows the DNA of Luther like no other besides Neil Cross and myself." In turn, Payne believes the film has brought out Elba's strongest performance as Luther yet. "Idris surprised me every single day," Payne says. "He has this extraordinary instinct, that when he starts to explore a scene, he'll show you things that you could spend five weeks on in rehearsal and you'd never find them."
Dermot Crowley, who plays Martin Schenk, Luther's boss in the series — and now his confidante and abettor — has developed an incomparable rapport and fondness with Elba that mirrors the best parts of their onscreen dynamic. Of Idris, his acting partner, Crowley says, "He brings high intelligence, he brings wit, humor, sexiness, and the ability to improvise and think on his feet. And he's just mesmeric."
Perhaps Elba is not so unlike Luther himself. As Cross says of the character, "He will just not stop until he's done what needs to be done. No matter the cost to himself, Luther just keeps on coming."