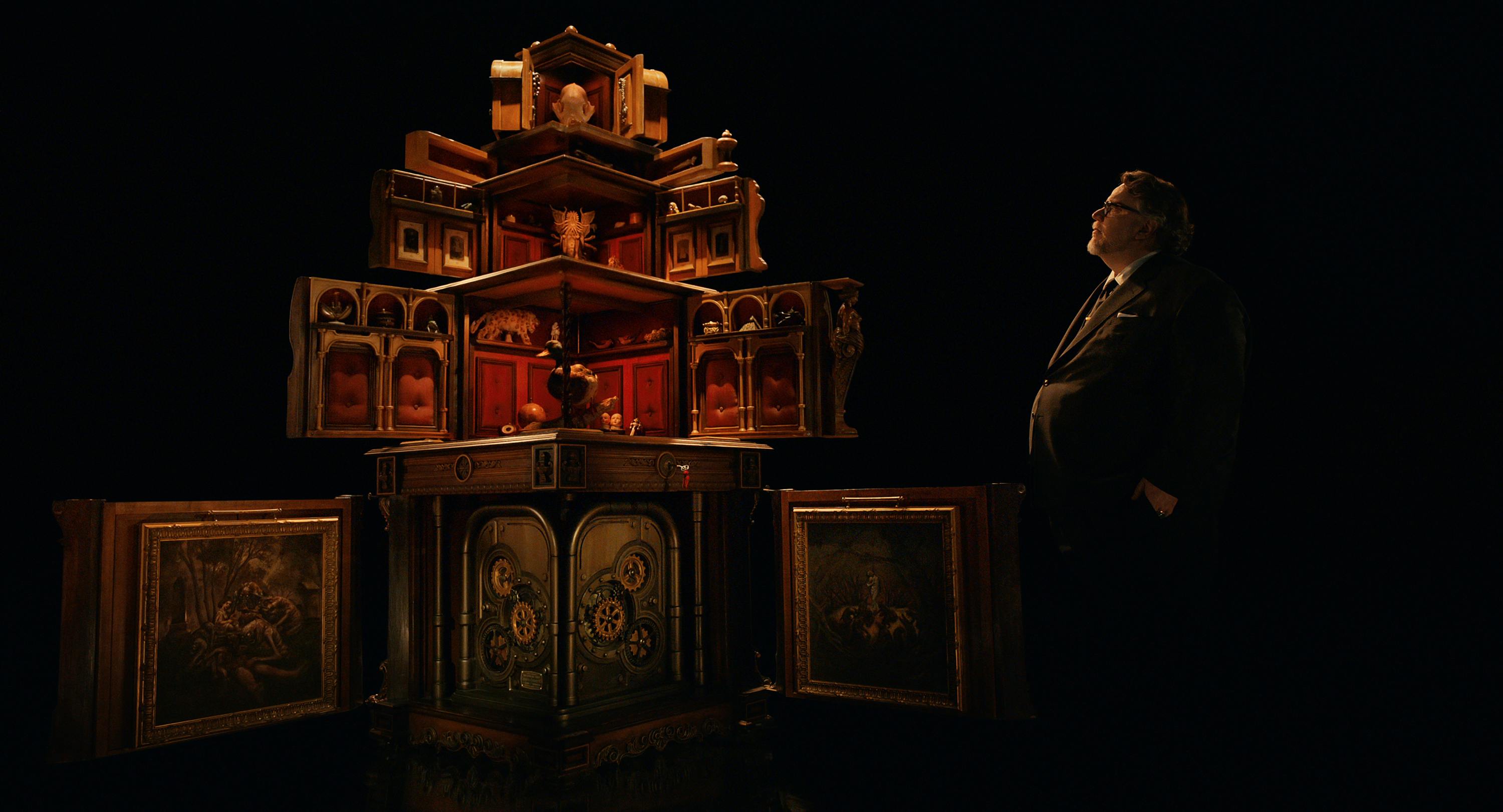 Guillermo del Toro's horror anthology series, Cabinet of Curiosities, brings together longtime collaborators to build inventive worlds. 
Before recruiting directors to helm the eight episodes of his horror anthology Guillermo del Toro's Cabinet of Curiosities, the Academy Award-winning filmmaker hired his longtime colleague, production designer Tamara Deverell. The pair's working relationship stretches back to Guillermo del Toro's 1997 English-language debut, Mimic. Deverell then served as the production designer for his vampire television series The Strain, and most recently, they collaborated on 2021's film noir thriller Nightmare Alley, for which Deverell received her first Oscar nomination.
"Working with Guillermo, [we] obviously shared inclinations and tastes and go-to design elements," Deverell tells Queue. "Production design is a big part of his vision. So as the caretaker of that vision, I really approached it from what
I thought Guillermo would want to see." The result is a collection of singular stand-alone stories that span a wide range of eras and locations yet still feel remarkably of a piece — the throughline connecting them is an exacting attention to craft. 
Deverell isn't the only long-standing collaborator of del Toro's to work on Cabinet of Curiosities: Along with the production designer, the installments feature the handiwork of costume designer Luis Sequeira, who earned Oscar nominations for del Toro's Best Picture winner The Shape of Water and Nightmare Alley. The creatures who lurk in the shadows of virtually every episode were crafted by del Toro's go-to prosthetics wizards, Mike Hill and Sean Sansom.
 "Guillermo knows storytelling; he understands the visuals," Sequeira says. "He also has faith in the people that he works with. He trusts the aesthetic that is being put [forward] by people like Tamara, myself, [co-set decorator] Shane [Vieau]. We understand his aesthetic, and what's wonderful is having the guidance and the freedom to bring it together." Adds Hill, "Guillermo is a big, big advocate of special makeup effects and [creating] physical creatures — he loves that stuff because he was brought up on it, so, it's wonderful working with him."
Queue spoke to the Cabinet of Curiosities team about their artistry — from building enchanted forests and haunted mansions to costuming the characters and designing the monsters that inhabit those spaces.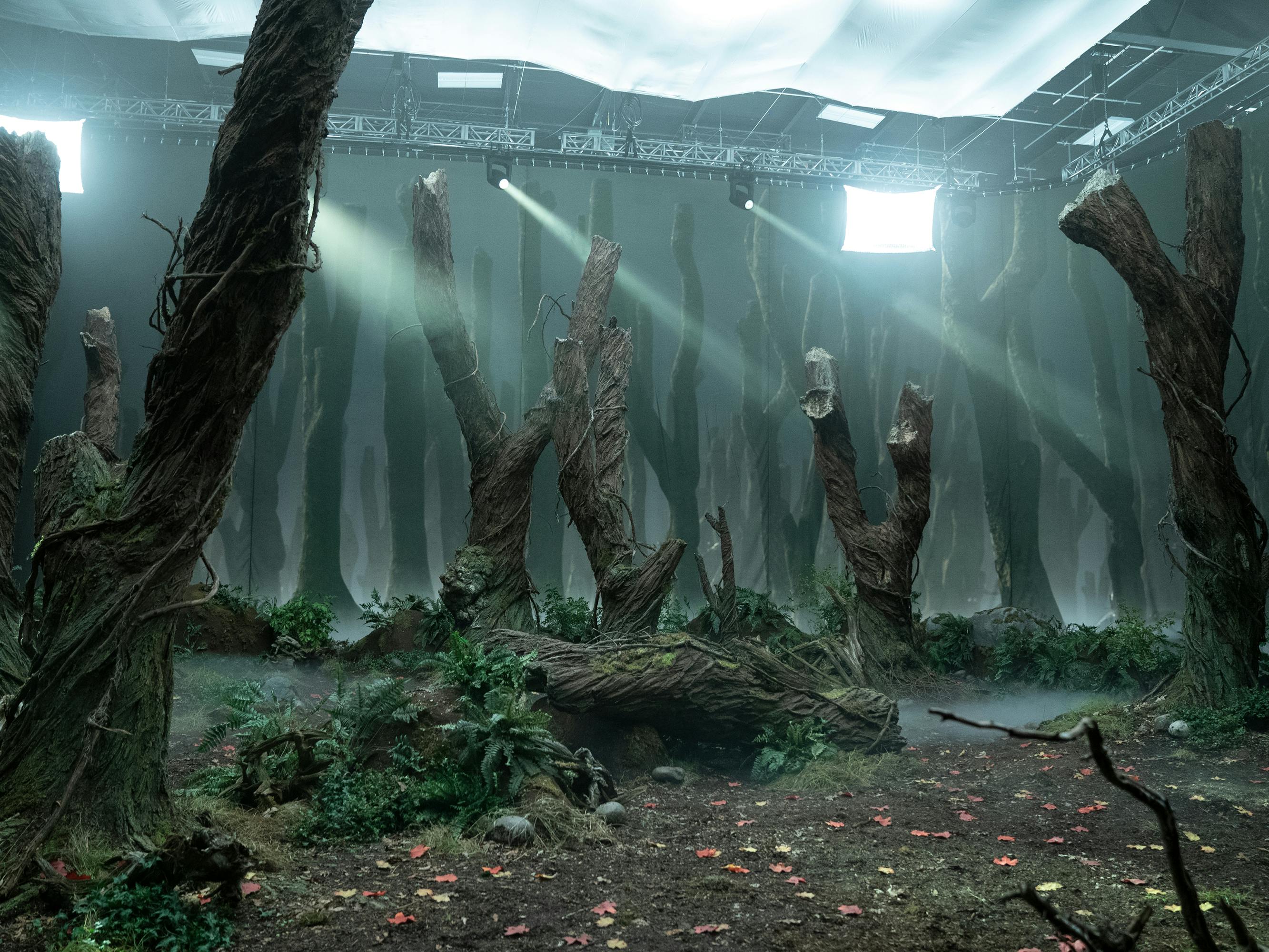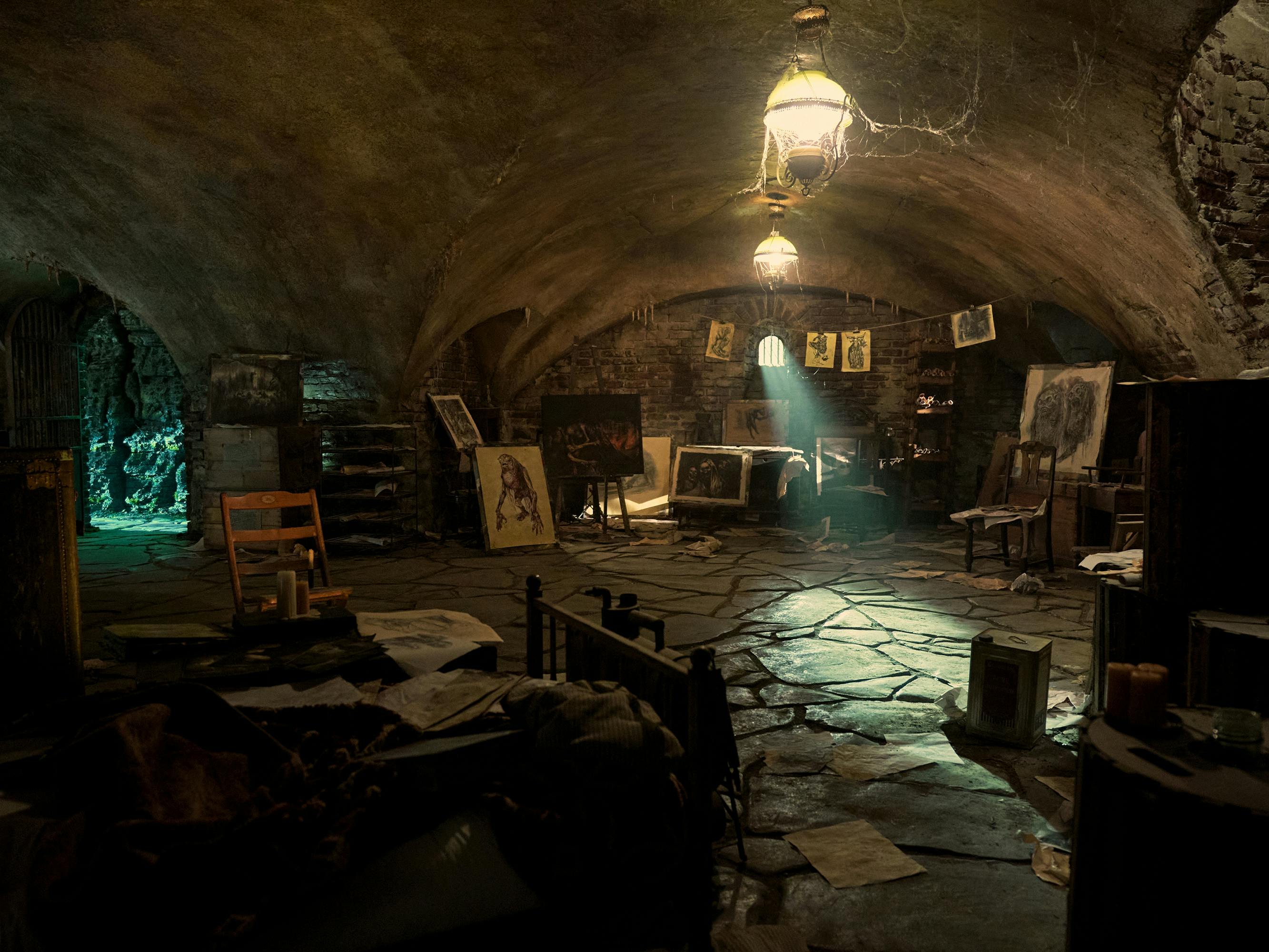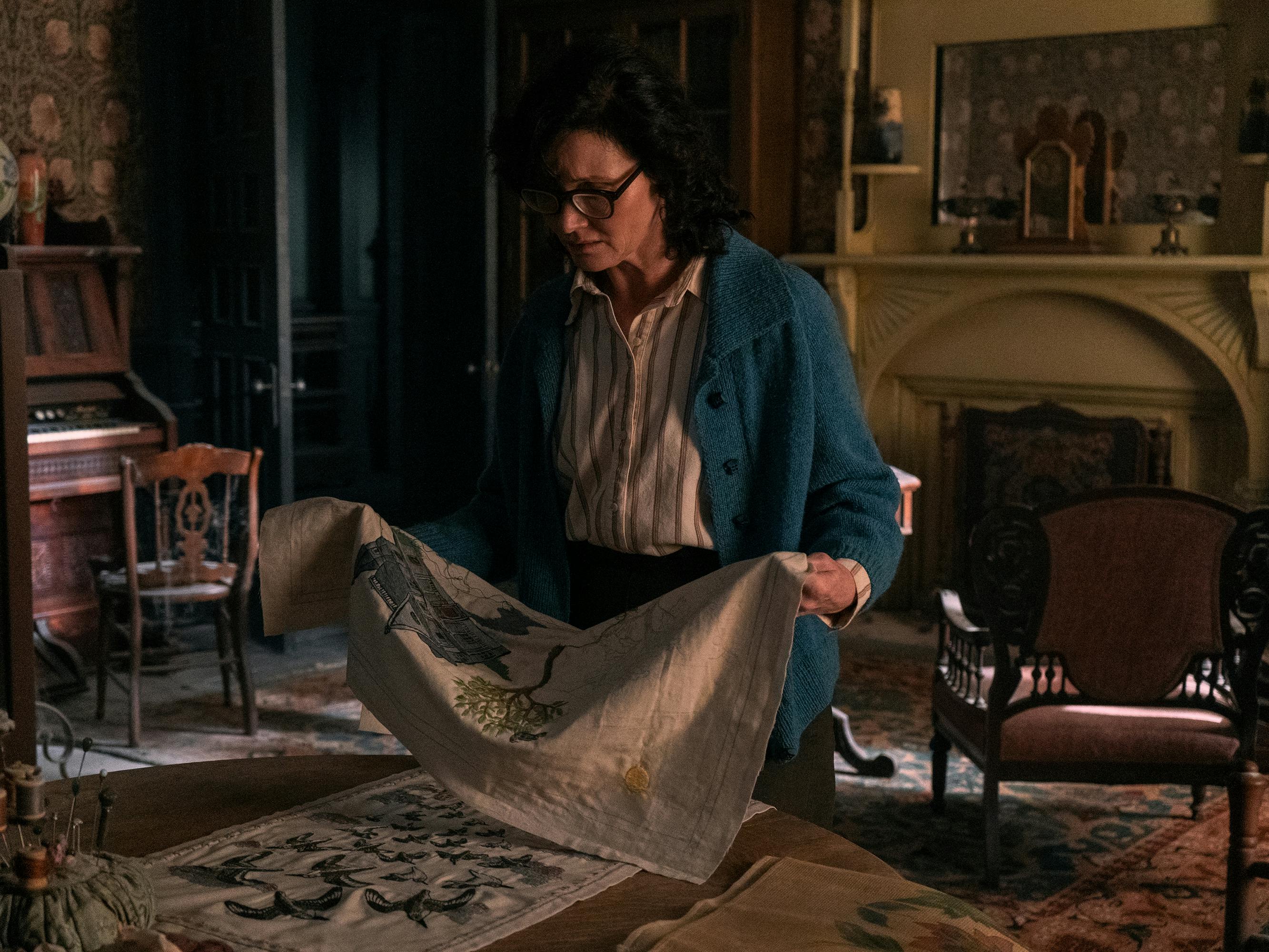 Photograph by Ken Woroner
Photograph by Ken Woroner
Given del Toro's admiration for the work of sci-fi writer H.P. Lovecraft, it was, perhaps, inevitable that Cabinet of Curiosities would adapt two of the author's short stories. For "Dreams in the Witch House," directed by Catherine Hardwicke, Deverell designed a heavily wooded netherworld where lost souls become trapped. "Catherine and I looked at real forests, [but] shooting outside in November in Ontario was not such a good idea," says the designer. "We decided to build a forest and to make the trees look like these cut-off, truncated tuning forks. At the same time we built them, we found real trees at one of our real exteriors, and we cast and molded the bark and used it to create our trees."
Directed by Keith Thomas, "Pickman's Model," is about an aspiring artist, William (Ben Barnes), whose reality is shaken after viewing the disturbing paintings of an eccentric acquaintance, Pickman (Crispin Glover). This episode sent Deverell and her art department scrambling to create the trove of otherworldly illustrations that were integral to the story. "We created about twice as much as we actually ended up using," she says. "Everybody in the art department was drawing. I was drawing on the walls with charcoal myself, so we could create this massive work."
For both that episode and director Jennifer Kent's evocative ghost story "The Murmuring" — which sees married ornithologists Nancy and Edgar, played by Essie Davis and Andrew Lincoln, moving into an abandoned house on a remote island to study migratory patterns — Deverell built impressive, imposing properties using the skeleton of a set from an earlier del Toro production, Scary Stories to Tell in the Dark. "It gave us doors, windows, and a set of stairs, and then we transformed that," says the production designer, adding that for Kent's episode, "I was able to expand on them, and we built the kitchen off [the living room] and the turret room." The rooms were then painted in shades of deep blue and finished with William Morris wallpaper. "We had so many meetings about wallpaper," Deverell recalls.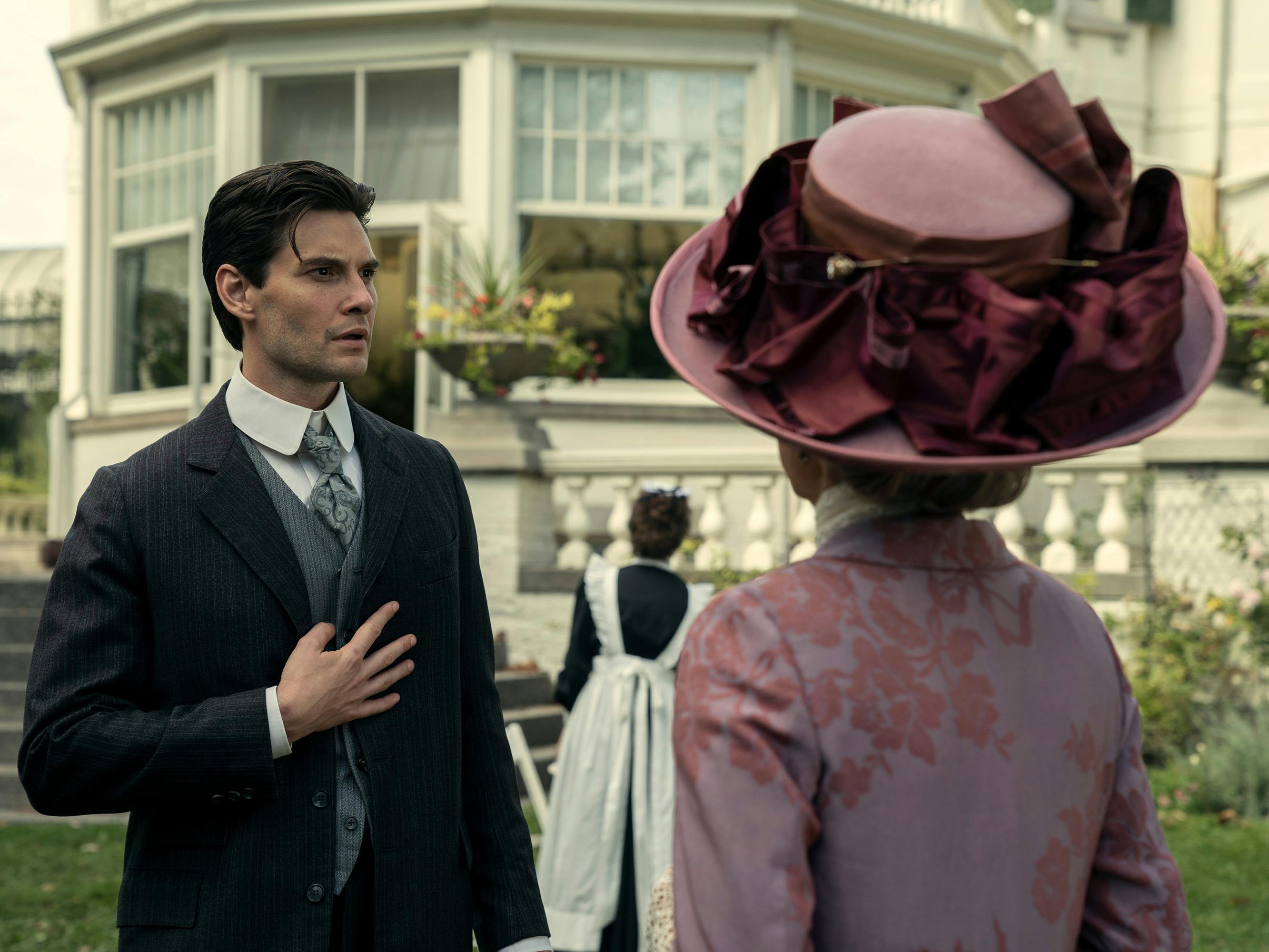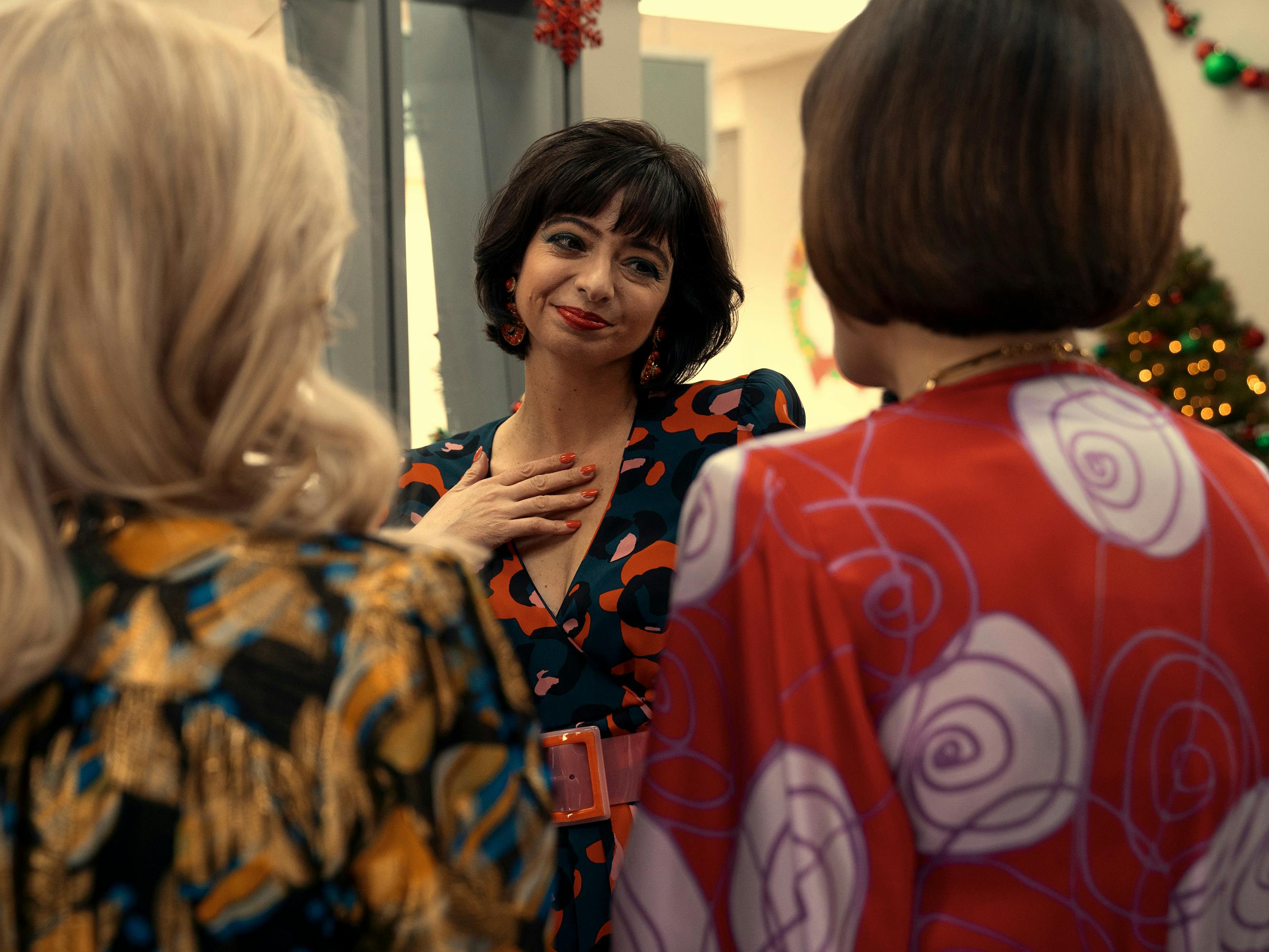 Photograph by Ken Woroner
Photograph by Ken Woroner
"Pickman's Model" also challenged Sequeira, who was tasked with creating more than 100 principal costumes spanning the years 1909, 1917, and 1926 for the episode. "What was interesting were those various time periods, and that we had two characters that were, in essence, dancing through the story, working against each other," he says. "[William] progresses in his style. His character had an arc, and we wanted to represent that in his costuming. Then we had Pickman, who was almost timeless and did not change."
Although many of the Cabinet of Curiosities episodes share a certain Gothic-inspired aesthetic, director Ana Lily Amirpour's "The Outside" bears the least resemblance to standard del Toro fare. For the gruesome fable of a naïve bank teller and taxidermy enthusiast (Kate Micucci) whose co-workers give her an expensive beauty product that promises a transformation of the mind, body, and soul, Amirpour worked with the department heads to create stylized visuals, hewing to a 1970s color palette. "The episode is an oddity because it is steeped in [TV soap opera] Dynasty glamor, mixed with 90s Fargo . . . a whole different vision to horror," Sequeira says. "We had crazy shoulders and prints and colors and metallics. You know, disco meets high fashion 2022."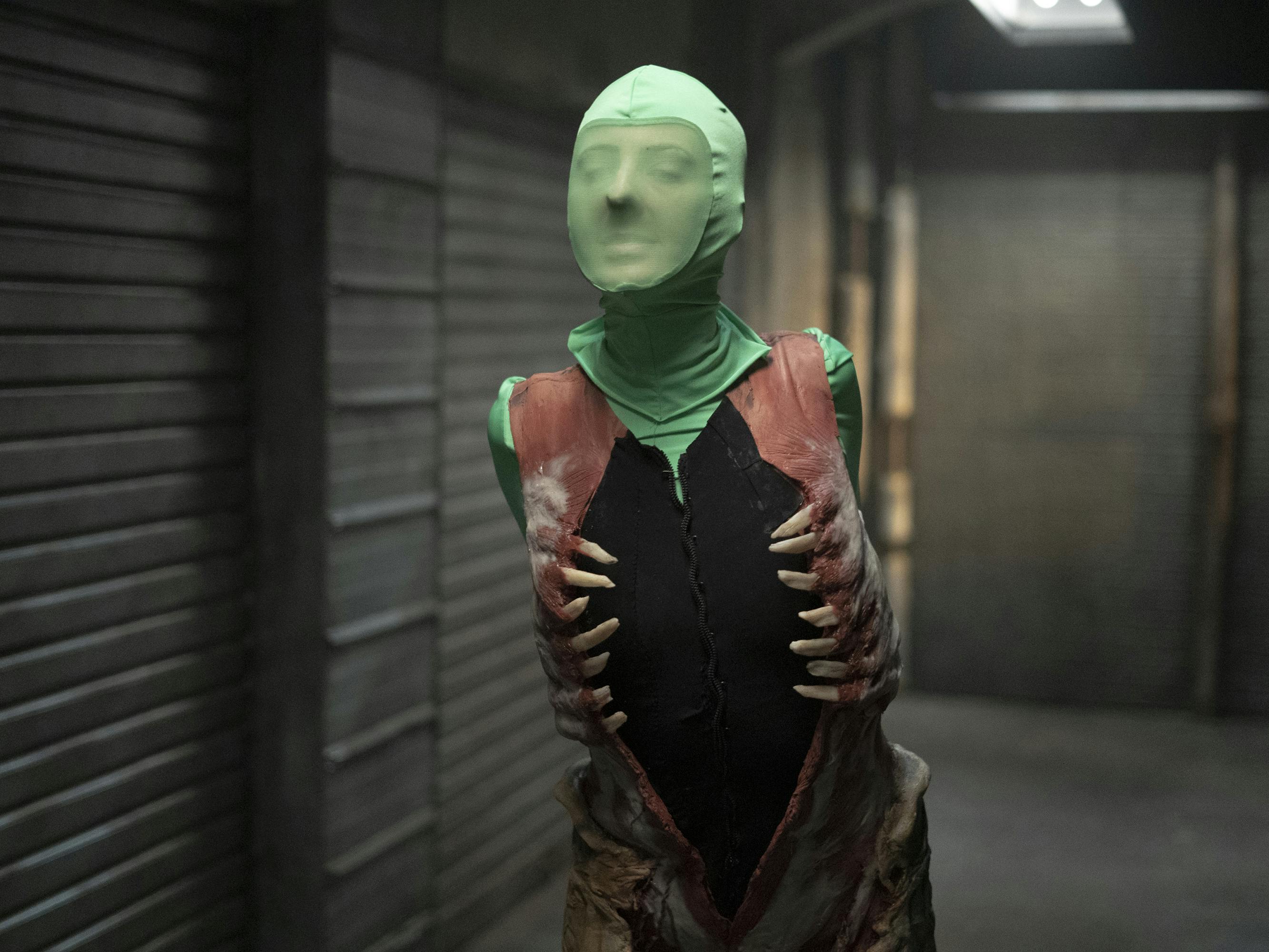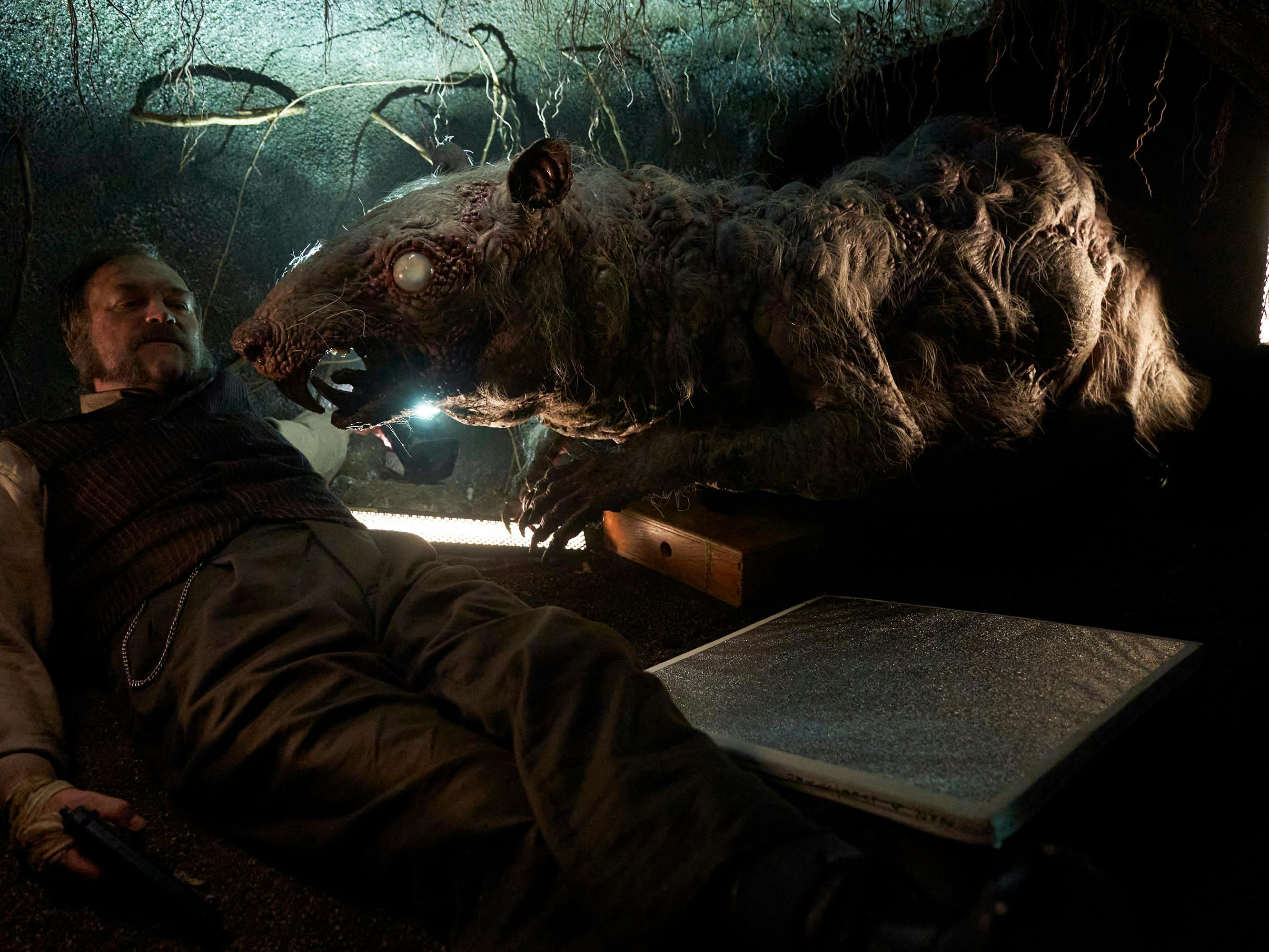 Photograph by Ken Woroner
Actor Tim Blake Nelson plays a man who comes face-to-face with a literal demon in "Lot 36," based on an original idea by del Toro and directed by Oscar-winning Pan's Labyrinth cinematographer Guillermo Navarro. Conjuring that demon fell to creature makeup designer Hill and prosthetic makeup department special makeup effects artist Sansom. "That was a big build for us because it was two full-sized suits, basically," explains Hill. "The character is strapped to the floor, and she's a very emaciated-looking lady with no face and this long red hair. Then, a tentacle comes up and splits her in half. She opens up and steps out of her own body, with her legs and all these tentacles writhing around."
Although the tentacles were courtesy of visual effects supervisor Dennis Berardi (another longtime del Toro collaborator) and his artists, Hill explains that the physical monster was sculpted from foam latex based on molds of actor Lize Johnston. "We molded her entire body, and from that, we produced a fiberglass positive. [Then] we came up with a foam latex suit, which [goes through] clean-up and patchwork, and then painting, which is the fun part." 
For Sansom, the show's most memorable creation was the enormous Queen Rat character built for director Vincenzo Natali's episode "Graveyard Rats," about a greedy grave robber (David Hewlett) who runs afoul of an even greedier nest of underground vermin. The creature had to maneuver through the elaborate tunnels that Deverell designed — "we were building these tunnel cave sets that had to all come apart, wheel, and connect. It was [like] a giant LEGO set," she says — so the production fabricated a rat suit that could be worn by a performer and controlled by a host of operators. Sansom, who is credited as playing the Queen Rat, remembers its specific capabilities, noting: "There was a drool mechanism so that when it opened its mouth, I could drool."