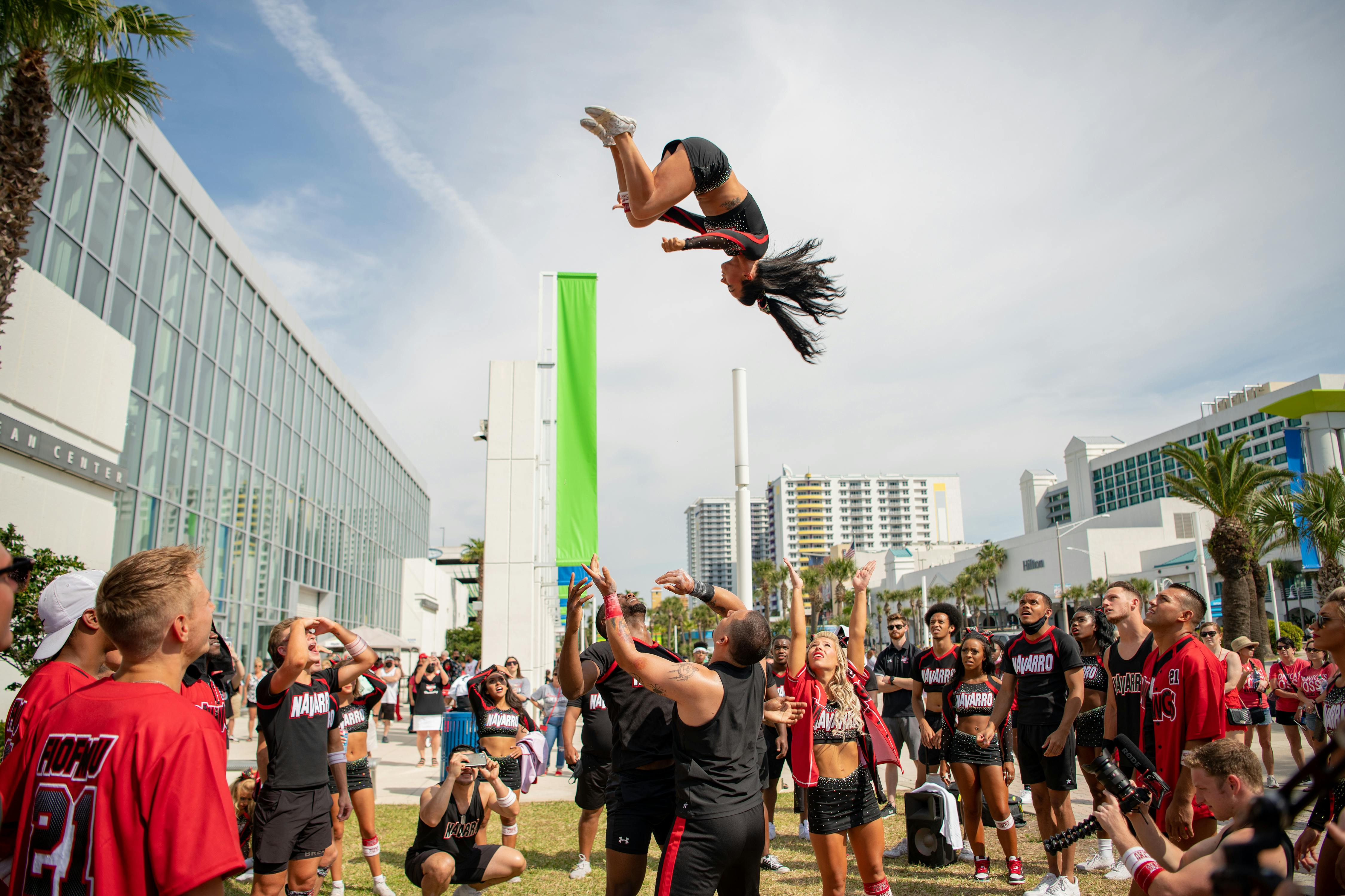 The second season of Greg Whiteley's Emmy-nominated docuseries Cheer returns with surprising sincerity.
When the first season of Cheer debuted in January of 2020, it immediately became a cultural obsession — the docuseries about Navarro College's award-winning, competitive cheerleading team inspired a hilarious Saturday Night Live sketch and an outpouring of social media love: GOAT gymnast Simone Biles tweeted, "I'm trying out for Navarro Cheer," while Oscar winner Reese Witherspoon chimed in, "At the end of Cheer, I cried big baby tears."
Directed and executive produced by Greg Whiteley, whose previous credits include the Emmy-nominated high school debate team doc Resolved and the Netflix series Last Chance U, about community college football, Cheer introduced viewers to the insular world of competitive cheer, a demanding sport that requires unwavering commitment and astonishing athleticism. "It's so niche that the vast majority of people that are even aware of it don't know the rules, the vocabulary, or the rituals that are associated with it," Whiteley told Queue. "There is something that's pleasing about taking a look behind the curtain of this thing that you think you know, to realize that you don't really know it at all." 
Working 10-hour days, six days a week, Whiteley and his small creative team chronicled the grueling practices required to craft the acrobatic routine for Navarro's performance at the 2019 N.C.A. & N.D.A. Collegiate Cheer and Dance Championship in Daytona, Florida. Led by hard-driving coach Monica Aldama, the students displayed unwavering commitment and endurance. Whiteley documented their trials and their triumphs, both on the mat and off, with "cheer-lebrities" like Gabi Butler speaking candidly about the hardships they've faced and how cheerleading helped them overcome adversity.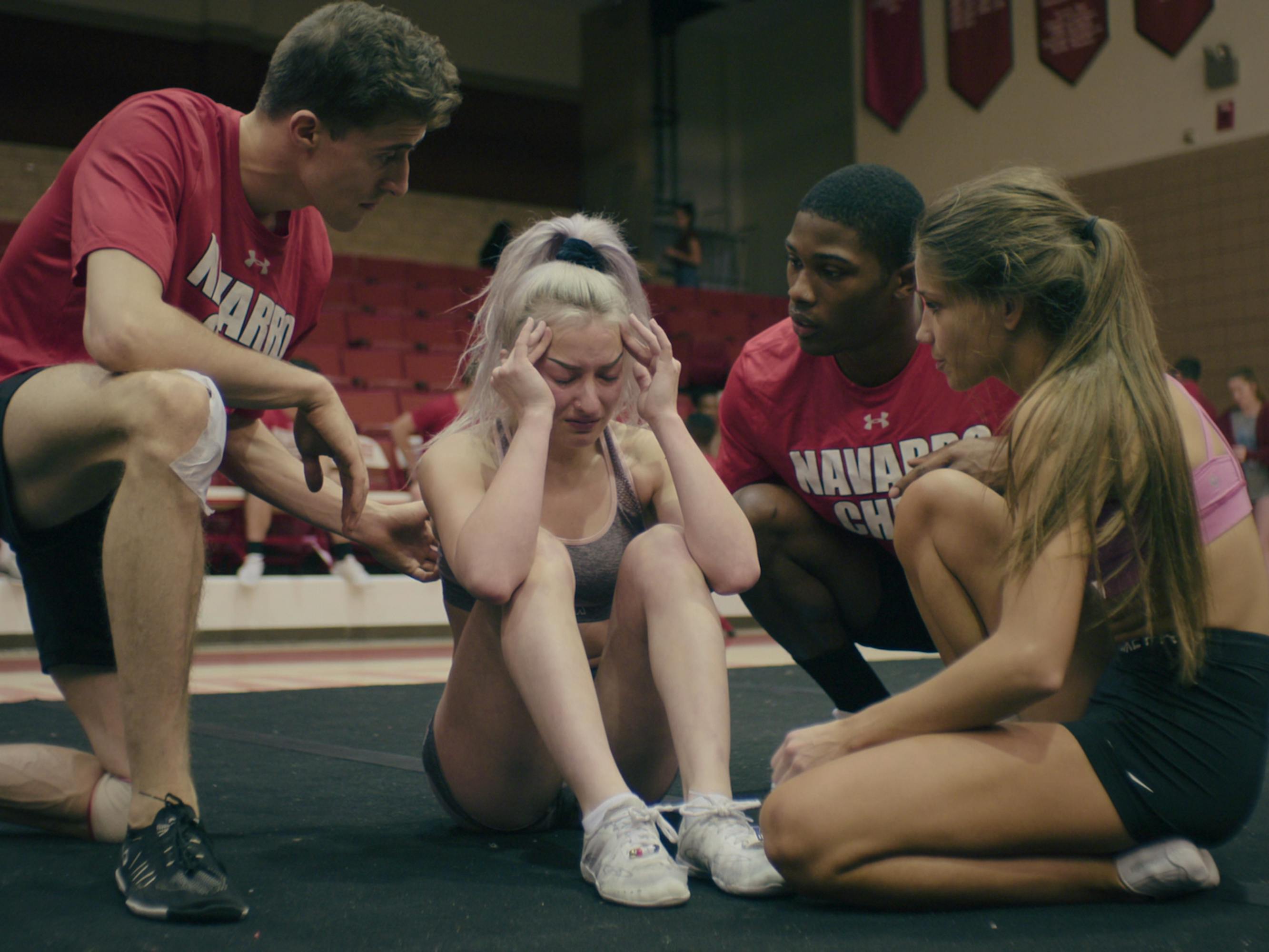 For Cheer Season 2, Whiteley expanded his canvas, chronicling not only the Navarro athletes but also their crosstown rivals at Trinity Valley Community College, as the squads prepared for the 2021 N.C.A. Championship. In the process, Whiteley introduced audiences to new star athletes, including Trinity Valley's Jada Wooten and brother-sister tumblers Jayden Rice and Angel Rice (the latter of whom has been described as "the Simone Biles of cheerleading"), as well as their committed coach Vontae Johnson.
Over nine episodes, Whiteley captured the jaw-dropping agility of these cheerleaders. Daily rehearsals saw both squads pushing themselves physically and mentally as they memorized intricate choreography and executed seemingly impossible tumbling passes. Although injuries were commonplace and tears were routine, the teens and early twentysomethings routinely pressed forward in their attempts to perfect gravity-defying stunts. 
The docuseries' second season tested Whiteley's mettle as a filmmaker in ways he hadn't anticipated. As he returned to Corsicana, he realized he needed to capture both the impact that the success of Season 1 had had on its subjects and the ways in which the COVID pandemic had upended the athletes' ambitions, robbing them of the joy of competition.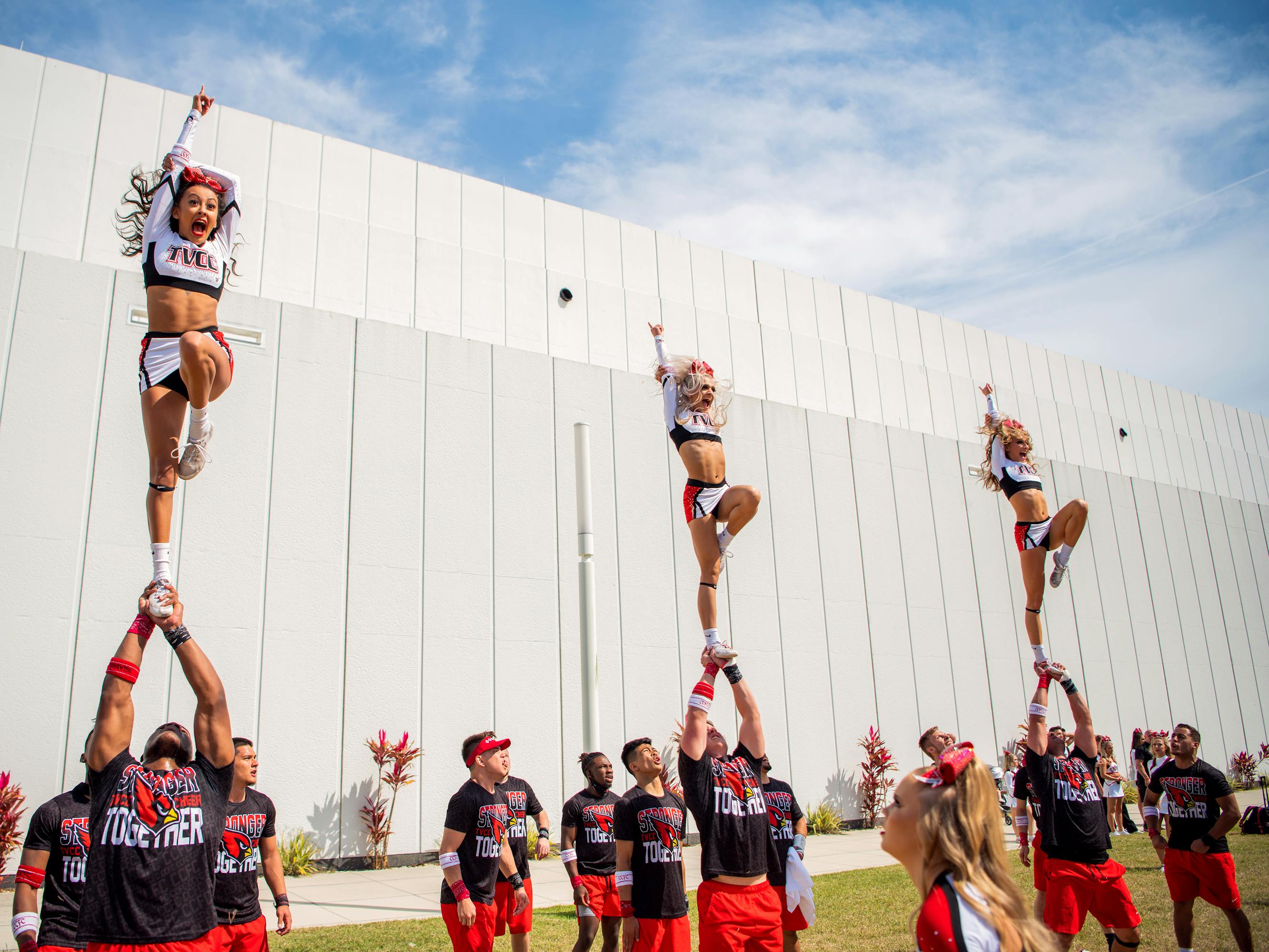 There was also a long shadow cast by trauma and tragedy, with the team reeling from accusations of abuse against one of their own. "It's not easy, but our job is to tell the story of that team," Whiteley says. "I think that the story is ultimately going to be the best version of itself when you are honoring what is true, and you're not running from it. I am a huge believer in the power of stories and trying to tell them honestly." 
Fortunately, Whiteley's subjects were willing to confront their sometimes complicated feelings on camera — about recent events and what the future might hold — with surprising sincerity. "There's something really magical about somebody when they're 18, 19, 20 years old," says Whiteley. "They're starting to entertain the bigger questions of life. It's such a privilege to be able to film people who are going through that time with the access they give us."
"When the show is special and moving, it's because the people we're filming have chosen to trust us with the vulnerable parts of their lives," he adds. "When that story is on display, it invites us to see the very best of our humanity in each other."