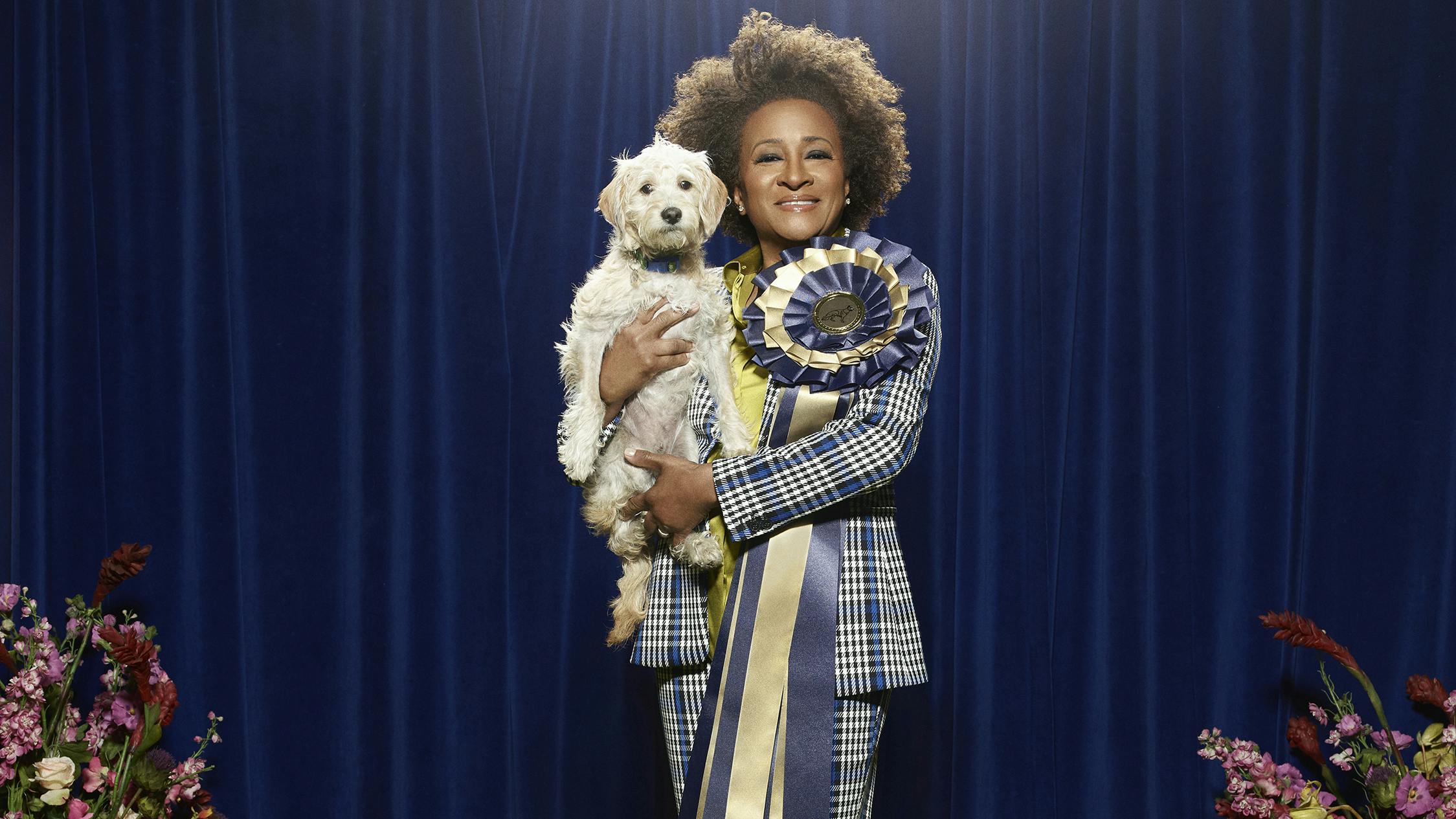 Groundbreaking, award-winning comedian Wanda Sykes is ruling Hollywood these days with a new Netflix series, a thriving production company, and an I.D.G.A.F. attitude. She recently sat down with Queue contributor Tre'vell Anderson to reflect on the path she traveled from funny Virginia teen to pioneering out-and-proud superstar.
Wanda Sykes has very little reason to be humble. Just look at the material: more than a hundred film and television credits as a writer, producer, or star; four successful stand-up specials, the last of which landed her two Primetime Emmy nominations, bringing her total to eleven since 1998; and she continues to pack out comedy shows some 30 years after her first time onstage. If she wanted to stunt on us, she could.
It's a wonder, then, that when people talk about the best comedians of our, and all, time, her name doesn't often come up. And if it does, she's not in that first round of mentions made. Her male and white contemporaries usually get more immediate adulation. Yet on a recent morning, Sykes tells me she's unfazed by it all.
"I'm not looking at what somebody else is doing," she says confidently, "because then I think you come across as ungrateful, like you don't appreciate what you have. But I mean, look: I did the White House Correspondents' Dinner for the first black president — as an out, black woman. That's pretty fucking amazing."
And, truly, a slight flex.
On break from rehearsals for her upcoming Netflix sitcom The Upshaws, Sykes and I are seated in a private greenroom at Hollywood's Sunset Gower Studios. The mother of two is dressed quite comfortably in a denim jacket, colored jeans, and simple sneakers. As she fires off a few last-minute texts before our interview starts, I comment on the worn Hampton University cap she's wearing, under which her signature coif is tightly pulled. I'm wearing a Spelman College sweatshirt and attended Morehouse College, so we bond over a mutual love of historically black colleges and universities. On the impact her alma mater had on her, she tells me that while she was always a proud black woman, "It solidified that belief that we are an amazing people."
"We're amazing in the things that we can do," she says. "It also taught me that we aren't all the same and have the same opinions."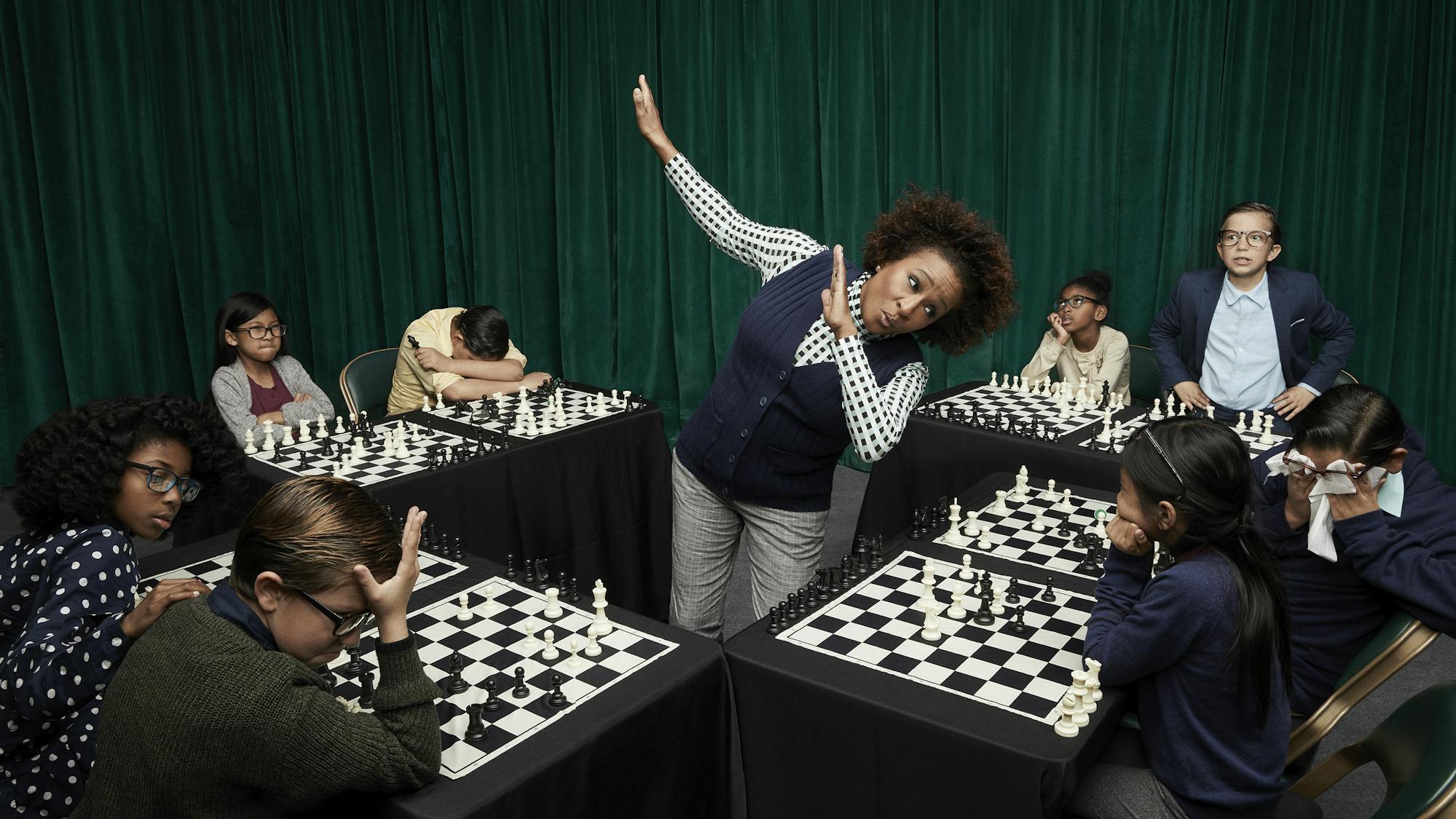 Attending Hampton was a starkly different experience for her than attending grade school, where she was always one of two black people. "It was always me and Brian Jackson," she laughs. "When it was time to go to college I was like, I wonder what it feels like to be around other black people in a school where I don't stand out? Because right now, if I'm absent, they notice."
Long before the Portsmouth, Virginia native arrived at Hampton to pursue a bachelor of science degree in marketing, however, she was making her friends and family laugh. In particular, she remembers attending a block party when she was around 13 or 14 years old. An older man who lived across the street fell and busted his head open after drinking too much. With all the adults inebriated, Sykes was tasked by her mom to ride along with the almost-sober neighbor who was driving the injured man to the hospital.
"We get to the emergency room, and the doctor's asking all these questions that we didn't know any answers to," the 56-year-old recalls, noting that the man "reeked of alcohol." "Then the doctor says, 'Well, what can you tell us?' and I was like, 'Well, I just wouldn't put him near an open flame,' and everybody falls out laughing. Because I just kept saying things as we're driving home, our neighbor kept telling me how I probably should be a comedian when I get older 'because you are so funny.' So, that kind of stayed in the back of my head."
But by the time she began thinking about life after high school, the way her parents had raised her had taken over. Her mother was a banker and her father was an army colonel at the Pentagon. Sykes knew she had to go to college and get a "real job." After Hampton, she joined the National Security Agency — yes, the N.S.A. — where she worked for five years, "because that's what you're supposed to do."
I did the White House Correspondents' Dinner for the first black president — as an out, black woman. That's pretty fucking amazing.
"Growing up in the part of Maryland that I did, you're supposed to go to college and get a job working for the government," she continues, smiling. "That's what you do until you make enough money to take care of yourself. Then you get to go do what you want to do."
Sykes started doing stand-up while working at the N.S.A. As she was cycling through the comedy clubs in Washington, D.C. and Baltimore, local comic Andy Evans brought her under his wing, letting her open for him as she was building experience. Once Sykes got to a place where she considered herself "a strong middle act, able to go onstage and do 25, 30 minutes and make some decent money," she'd hit the road on the weekends to perform. Eventually, her performance at the N.S.A. faltered.
"I was like, I think for the safety of our country, I probably should not be here doing this job right now," she says. "So I went to my boss at the N.S.A., and I asked him if I could take a leave of absence. I told him what I wanted to do, and he granted my request because that way I could keep my health insurance for a little bit."
Sykes never went back. In 1992, she moved to New York City — "Well, actually New Jersey, because I couldn't afford to live in the city so I lived in Woodbridge," she says — got an agent, and started booking college shows. Doing so allowed her to fully support herself on comedy alone as she worked toward her ultimate goal. "I wanted to get to the point where I could play theaters," she says. "I wanted to be . . . very, very funny, and one of the best comics, and be able to play theaters."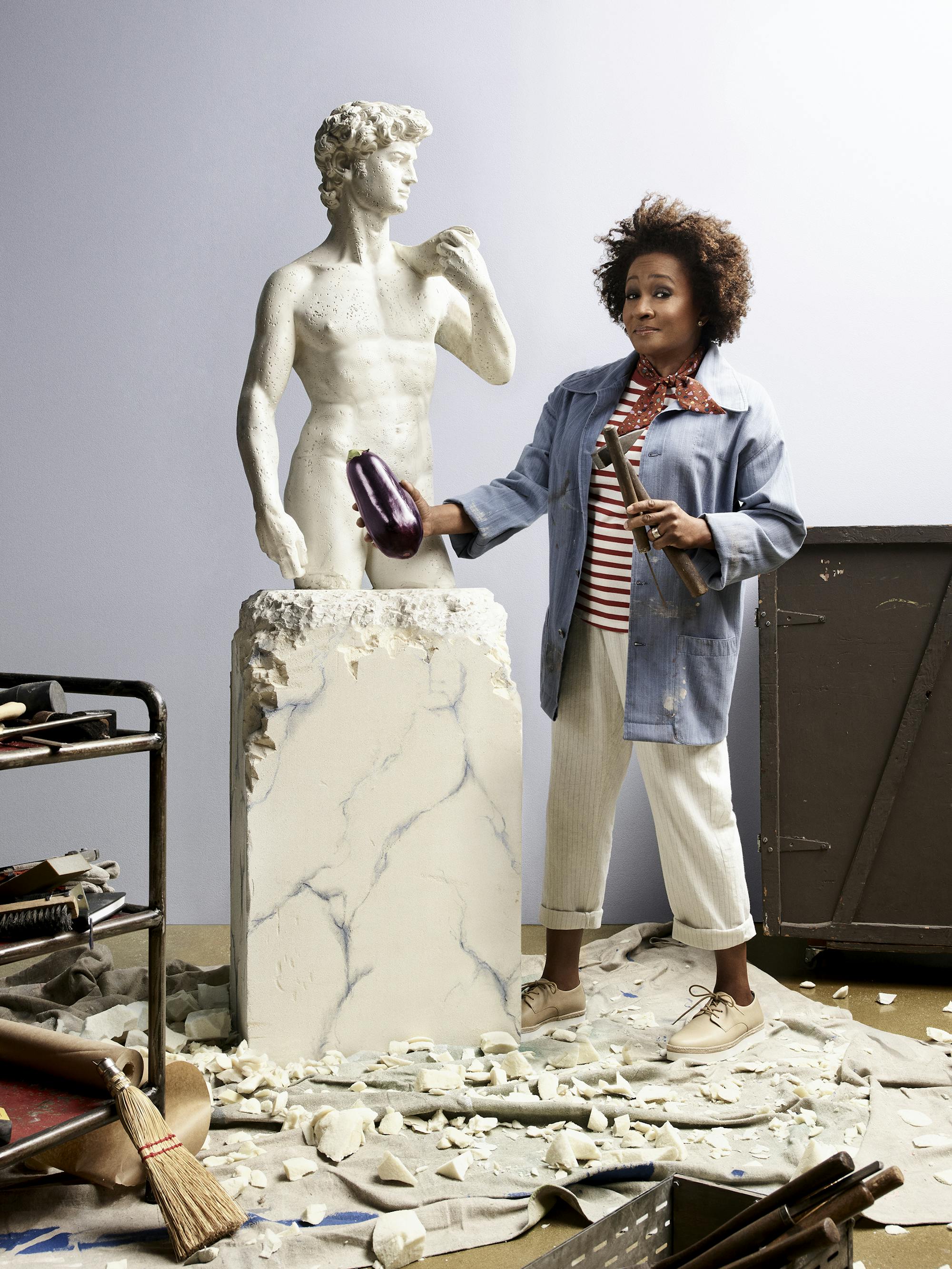 In retrospect, Sykes was dreaming too small. After she landed the opportunity to open for Chris Rock at New York's famed Carolines comedy club, she joined the writers' room of The Chris Rock Show, and also made appearances on camera. In 1999, the series won an Emmy for writing for a variety or music program; it was nominated in the category every year of its four-season run, jump-starting Sykes's Hollywood journey. In 2000, she popped up in Eddie Murphy's Nutty Professor II: The Klumps, and in 2001, she appeared in Rock's Down to Earth and Louis C.K.'s Pootie Tang. Since then, her credits have included The Drew Carey Show; 2005's Monster-in-Law, opposite Jane Fonda and Jennifer Lopez; 2007's Evan Almighty, with Steve Carell and Morgan Freeman; the Ice Age franchise; and black-ish, for which she landed another two Emmy nominations, for guest actress in a comedy series.
All the while, she continued perfecting her now-signature comedy style: straight-from-the-hip and unapologetically political. She tells me that early in her career, "It was just about the jokes." She would "put the jokes out front, but I'm back here — because if they don't laugh at those jokes, it's not me, it's the jokes."
"And then, as you get more confidence, you get a little closer to the jokes," she continues. "They become a little more personal. I think that's where I see my growth. Now, I'm also way more into the performance part of stand-up because I'm more comfortable, and the acting has helped with that."
For the safety of our country, I probably should not be here doing this job right now.
At this point, though, she's entered into the "I don't give a fuck" period of her career. While her 2006 special Sick & Tired was political in nature, she says it was 2009's I'ma Be Me that sealed the deal. She had told the world for the first time a year earlier that she was in love with a woman and had married her. "Well now it's totally, 'I don't give a fuck,'" she recalls of that shift in her comedy. "You know everything about me. I'm not backing down. This is who I am, and it is what it is."
A couple years later, Sykes became interested in taking greater control of her career and the projects she championed — something that had intrigued her during her Chris Rock Show days. "I just got such joy out of going, 'Oh, you know what? I'm going to call on my friend for this part,' or, 'Let's put so-and-so in this part.' And then you show up, and you look at all these people with jobs because of something that you thought of. I always loved that. I love hiring people, and that's why, I guess, I don't take it for granted, or [why] I'm going to try to make something the best that it can be — because people, their livelihood depends on this."
Around 2011, Sykes broached the idea of starting a production company with her friend, fellow funny woman and noted showrunner Page Hurwitz. The pair had met years earlier at a backyard party thrown by one of their mutual friends. "I told Wanda that I could throw a lemon across the yard and knock a beer bottle out of [another friend's] hand," Hurwitz says. "She dared me to do it, and so of course I did it. I hit the bottle right out of her hand, and we've been friends ever since."
Both Sykes and Hurwitz remember the first time they had dinner and talked about working together. Ultimately Sykes thought that "Page was showrunning for different networks, but was looking to create and produce more shows that she liked," and Hurwitz felt like Sykes "was getting to a place in her career where she wanted to start creating things for herself that she loved, as opposed to getting pitched ideas for her that she didn't." A couple years later, Push It Productions was born.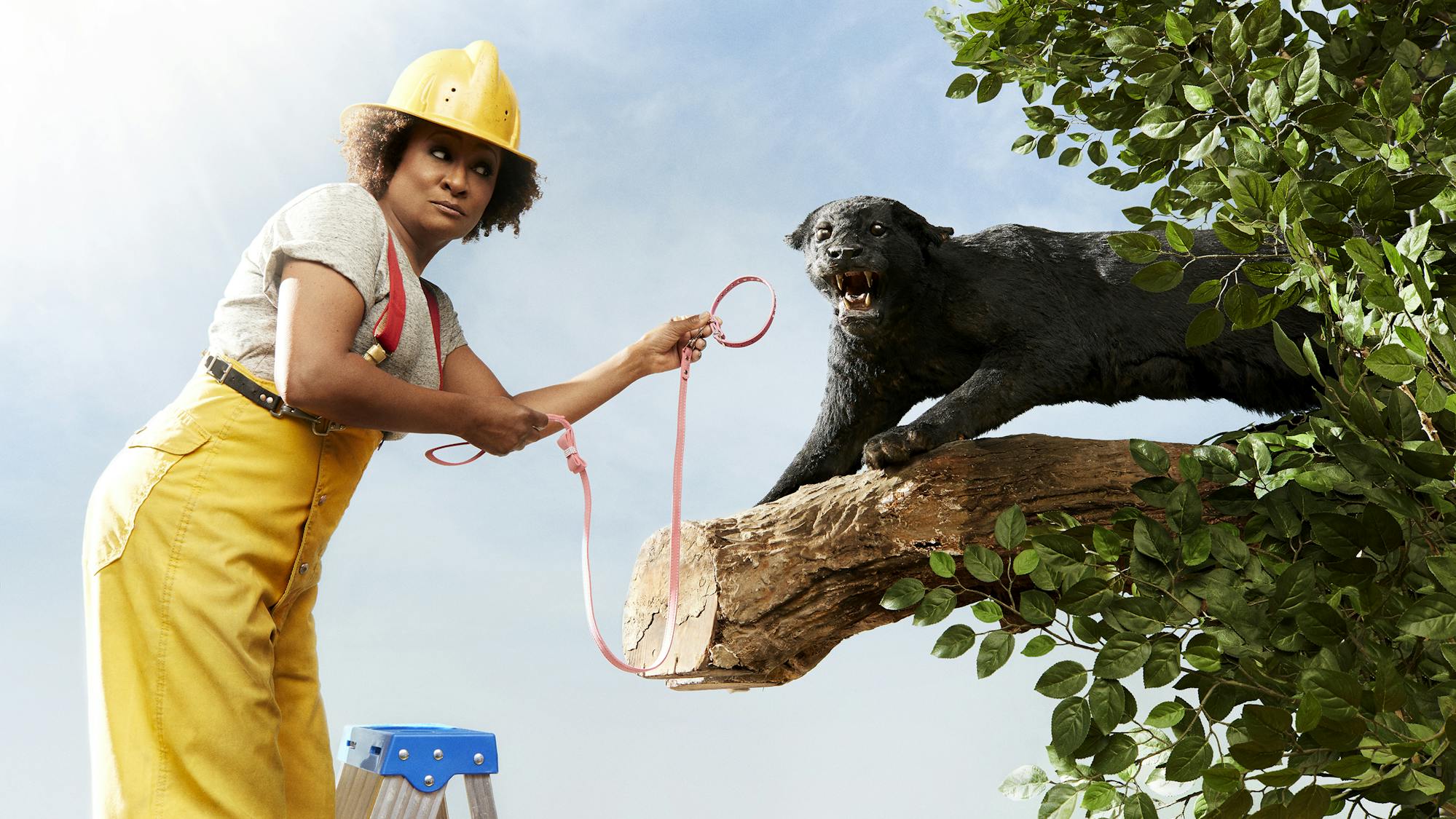 While the company name comes in part from the well-known Salt-N-Pepa track, it's also an acknowledgement of the places Sykes and Hurwitz occupy in the industry. "There aren't a lot of production companies that are owned and operated, number one, by women, but then, number two, by two gay women, one of whom is a black woman," Hurwitz clarifies. "So we're trying to swim upstream a little bit, and we know that. We also tend not to make the projects that are the bright, shiny objects that everybody's thinking about. We try to travel in our own lane. So to that extent, we are 'pushing it' a bit."
"Pushing walls, ceilings, envelopes," Sykes adds. "We're pushing everything. We want to make space for everyone, and we practice inclusion."
A sampling of their most recent projects includes not only Sykes's Emmy-nominated Not Normal special from last year, but also Tiffany Haddish's Black Mitzvah and They Ready specials, and Fortune Feimster's Sweet & Salty — all for Netflix. Hurwitz mentions they're also in production now on a special with Michelle Buteau. 
"I think it's critically important that we have . . . a diversity of voices represented in the television landscape," Hurwitz says. "As I always say, you should never underestimate the power of a funny woman with a microphone, because they have the ability to impact the culture. We have to use television as a tool because, unfortunately, television has been used as a weapon. Every single stand-up special has to be a tool not only to make people laugh, but to provoke them into thought, to challenge how people see the world and how we see each other."
Sykes says the same goes for the scripted content, bringing our conversation back to The Upshaws, an upcoming multi-cam sitcom about a working-class, black American family in Indiana "struggling to make it work and make it right without the blueprints to do it. It's something we haven't seen in a while. They're messy. They don't have their shit together, but it's real problems, and they're trying to do the right thing."
Sykes stars as the sister-in-law of Mike Epps's character, "and I can't stand his ass," she adds, comparing their onscreen relationship to that of Fred and Aunt Esther from Sanford and Son.
According to Regina Y. Hicks, who's serving as co-showrunner of the series with Sykes, it's a perfect vehicle for audiences to truly see Sykes's growth and expertise. "I think her humor is very specific, and maybe it's not been as 'mainstream,' but I think she's come into her own lately, and people are starting to see just how funny she is," Hicks says. "It's like every time you say her name, folks [automatically] start laughing. They know her, but I love that she has this platform to be front and center."
I like to look forward, because I know there's still work to be done.
With The Upshaws"it's a whole new ball game," Hicks adds, "and I think she is an important comedian right now. As an amazing voice for the black and L.G.B.T.Q.+ communities, she speaks truth in a funny way. In these sometimes-troublesome times, Wanda's smart levity is needed. That kind of humor brings people together."
As my time with Sykes winds down, I ask about what's left for her to conquer. "Well, porn is definitely out the window now," she jokes. "Baby, I can't be doing porn with the kids, man. They don't want to see mommy-boo's naked ass out there." She adds, more seriously: "But I try to do material and be in projects that, down the road, I can look back and still be proud of."
"Do you think about your legacy much?" I ask, given that she executive-produced the documentary series Visible: Out on Television, about the history of L.G.B.T.Q.+ representation on TV. "No," she says simply, her shoulders slightly shrugging. "I like to look forward, because I know there's still work to be done. I'm always thinking, Oh, how can we push this a little further?"
Pride and Joy
Producer Page Hurwitz specializes in bringing L.G.B.T.Q.+ comedy to the masses.
by Gina McIntyre
The first time Page Hurwitz performed stand-up at San Francisco's Josie's Cabaret and Juice Joint in the mid-1990s, the New York transplant knew she had found her calling. "As soon as I got onstage, I was like, Oh, this is what I'm supposed to be doing," says Hurwitz. 
Decades on, Hurwitz's passion for comedy remains as fiery as ever. As the co-owner of Push It Productions, founded with Wanda Sykes in 2013, Hurwitz has championed diverse comedic voices, bringing their work to the widest possible audience. "Stand-up is one of the last pure art forms," she says. "It's the one place where comedians can say whatever they want — for the most part." 
Before moving into producing, Hurwitz spent years honing her craft on the stand-up circuit, eventually scoring an invitation to write for the reality competition series Last Comic Standing. She soon became the show's supervising producer, booking such future superstars as Amy Schumer, Tiffany Haddish, and Roy Wood Jr. She's remained keenly attuned to the world of stand-up, overseeing numerous specials on the Push It Productions roster. 
These days, Hurwitz is particularly excited about the upcoming taped special event Stand Out, a "dream project" that will serve as a love letter to the L.G.B.T.Q.+ comedy community. "We're going to tell the history of L.G.B.T.Q.+ comedy for the first time," Hurwitz says. "If I do nothing else for the rest of my career, I'll be happy because I was able to do this."