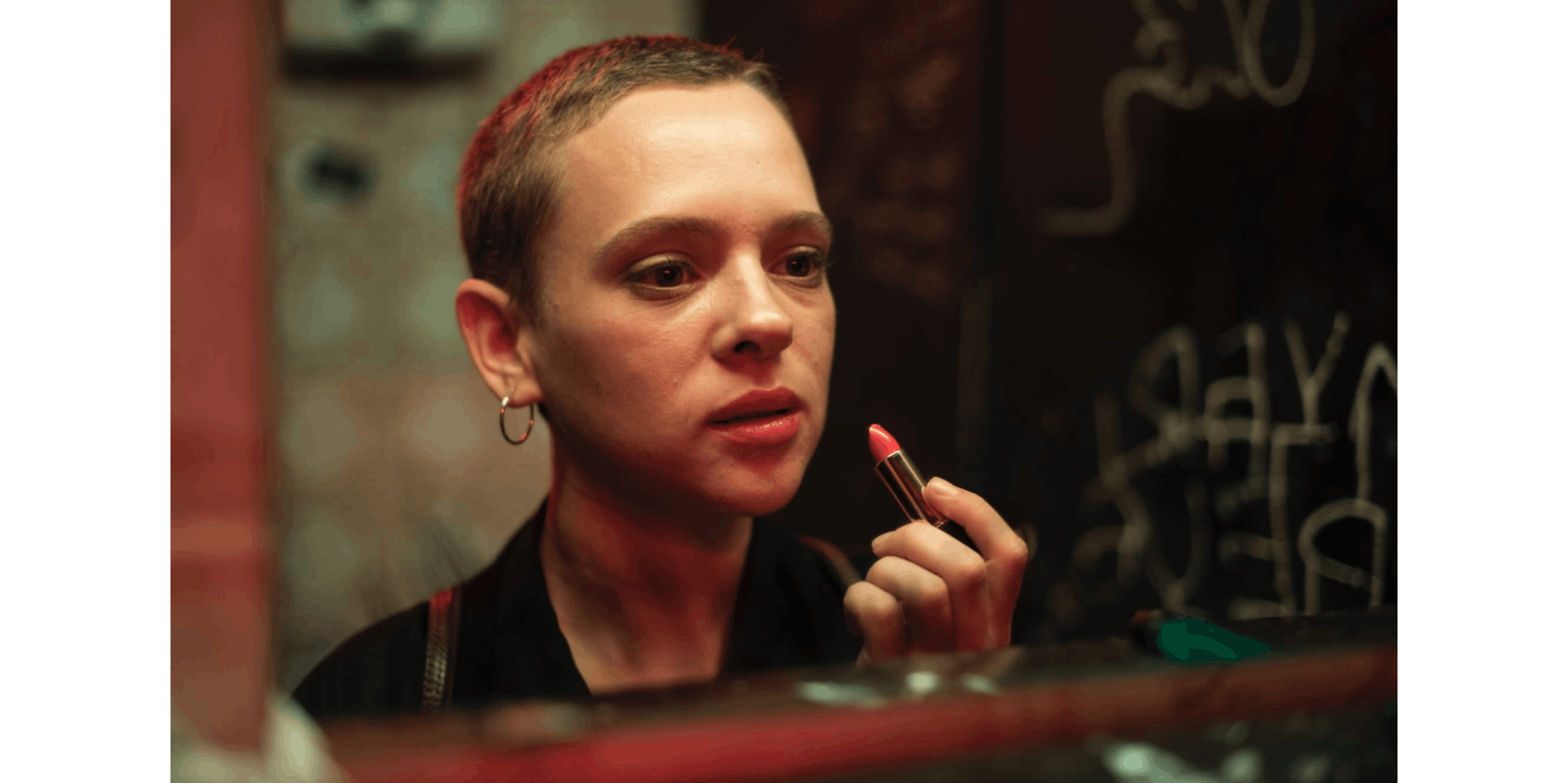 The team behind Unorthodox brings a striking story of self-discovery and freedom to the screen.
On her first day filming Unorthodox, Shira Haas appeared on set to have her head shaved. In one of her initial scenes, her character marks her status as a married woman by having her locks shorn and replaced by a wig. As Haas says, "It was one heck of a welcome." 
Fortunately, she had complete trust in the band of women who had shepherded the project from the page to the screen. Based on Deborah Feldman's 2012 memoir, Unorthodox: The Scandalous Rejection of My Hasidic Roots, the limited series revolves around Haas's character, Esther "Esty" Shapiro, a 19-year-old who breaks free from her Satmar Hasidic Jewish community in Brooklyn.
The battle cry of a woman escaping an oppressive patriarchy resonated deeply with viewers — and with Emmy voters; Unorthodox has garnered eight nominations, including one for Outstanding Limited Series and one for Haas's unforgettable lead performance. "Because we didn't have much rehearsal, it was all about talking and feeling comfortable," says the actress. That early rite-of-passage moment — which had the series' creators in tears — encapsulated the supportive environment on set: "It was a roller coaster: intense and emotional, and also amazing and empowering."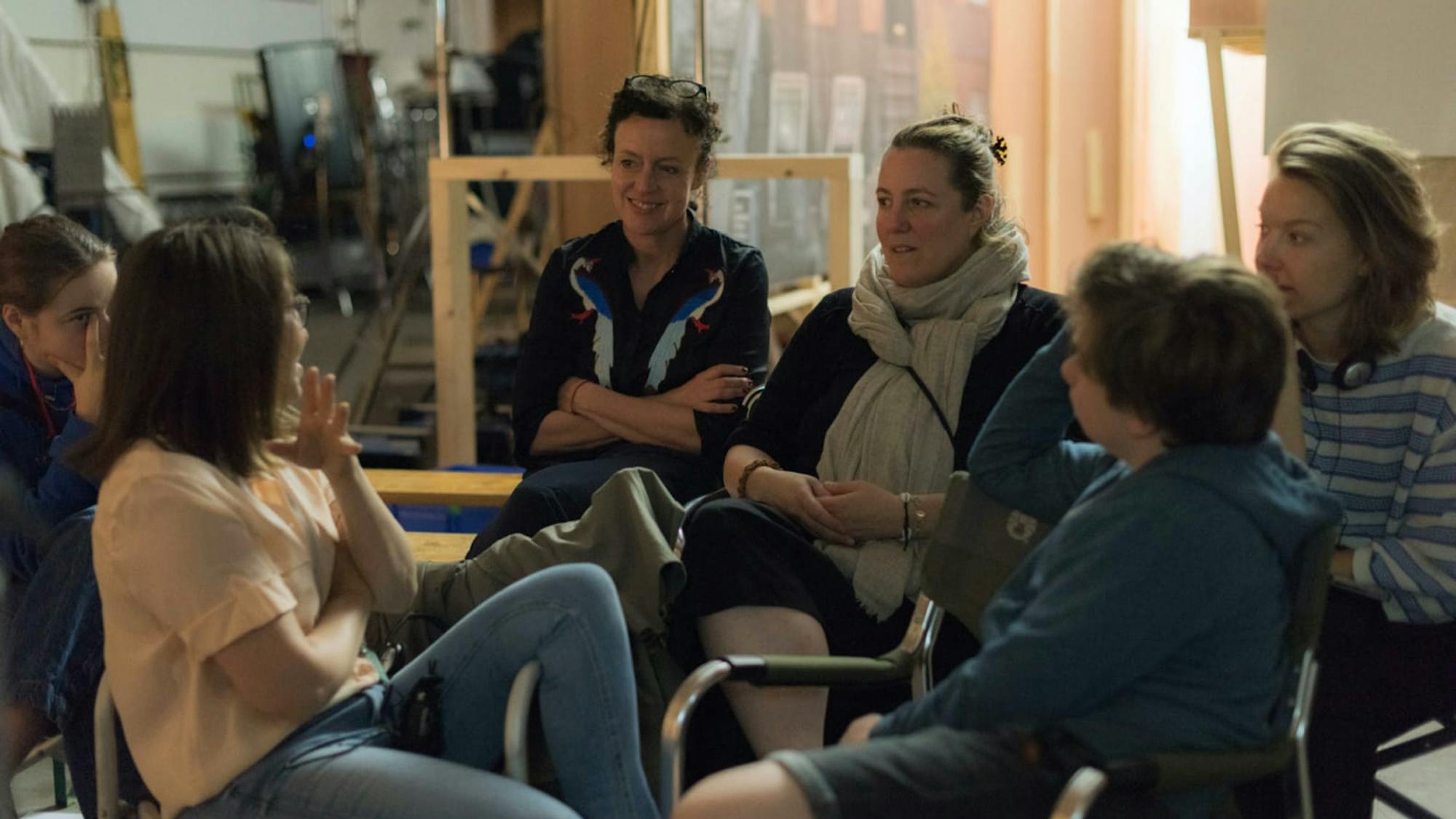 The four-part drama follows Esty as she flees her community after discovering she is pregnant on the same day that her husband, Yanky (Amit Rahav), asks for a divorce. She absconds to Berlin, where her mother (Alex Reid) moved years earlier. Esty finds refuge at a music academy, and she makes her first international and secular friends there. She's unaware that Yanky and his cousin Moishe (played by Jeff Wilbusch, himself a former member of a Satmar community in Jerusalem) have tracked her down and are determined to bring her and her unborn child back to Brooklyn. 
Co-creator and executive producer Anna Winger (known for the German television trilogy series Deutschland 83, 86, and the upcoming 89) began thinking about Unorthodox after a conversation with Feldman, whose children attend the same school as her own. When Winger told Feldman how much she admired her memoir, the writer suggested that she adapt it. Feldman had been approached with myriad offers since the book's publication, but, she says, "they were largely from big-name male producers who were outsiders looking in, and they were always slightly tinged with misogyny."
The timing was perfect: Winger and Unorthodox co-creator Alexa Karolinski had been talking about teaming up on a project — ideally one that addressed what it means to be Jewish and living in Germany. "When I became friends with Alexa and Anna," says Feldman, "I realized if anyone could ever grasp what this story is about, and execute it in a way that would have a positive impact, it was them."
It was like seeing Esther. There she was. It was love at first sight.
Director Maria Schrader, on Shira Haas
Winger and Karolinski were drawn to the idea of a character searching for a sense of belonging: "How far are you willing to go, and what are you willing to give up for that?" Karolinski muses. "These are questions we need to ask all the time, and the answers are not black and white." 
Esty's life in Brooklyn largely parallels Feldman's memoir, but the writer gave Winger and Karolinski carte blanche to fictionalize the narrative, especially in Berlin. "Esty's story needed to be different than mine so people would understand that while she's inspired by me, she is so many women," Feldman explains. "We talked through everything. It was clear to me that this was something close to their hearts. That was the only necessary ingredient."
Winger went to work writing the first episode in November 2018 (she and Karolinski simultaneously co-wrote the next three episodes), and the pair began hiring their crew. As director, they installed Maria Schrader, who stars in Winger's Deutschland trilogy and wrote and directed the acclaimed film Stefan Zweig: Farewell to Europe. "It immediately felt like the right thing," Schrader says. "My first movie was shot in Israel, and throughout my career as an actor I had also touched on German-Jewish relationships. This was so natural."
The trio agreed that only Jewish actors would be cast in Jewish roles. "Germany has a long history of making stories about Jews without having Jewish people in them," explains Karolinski. "If we hadn't made that decision, that would have made me very uncomfortable."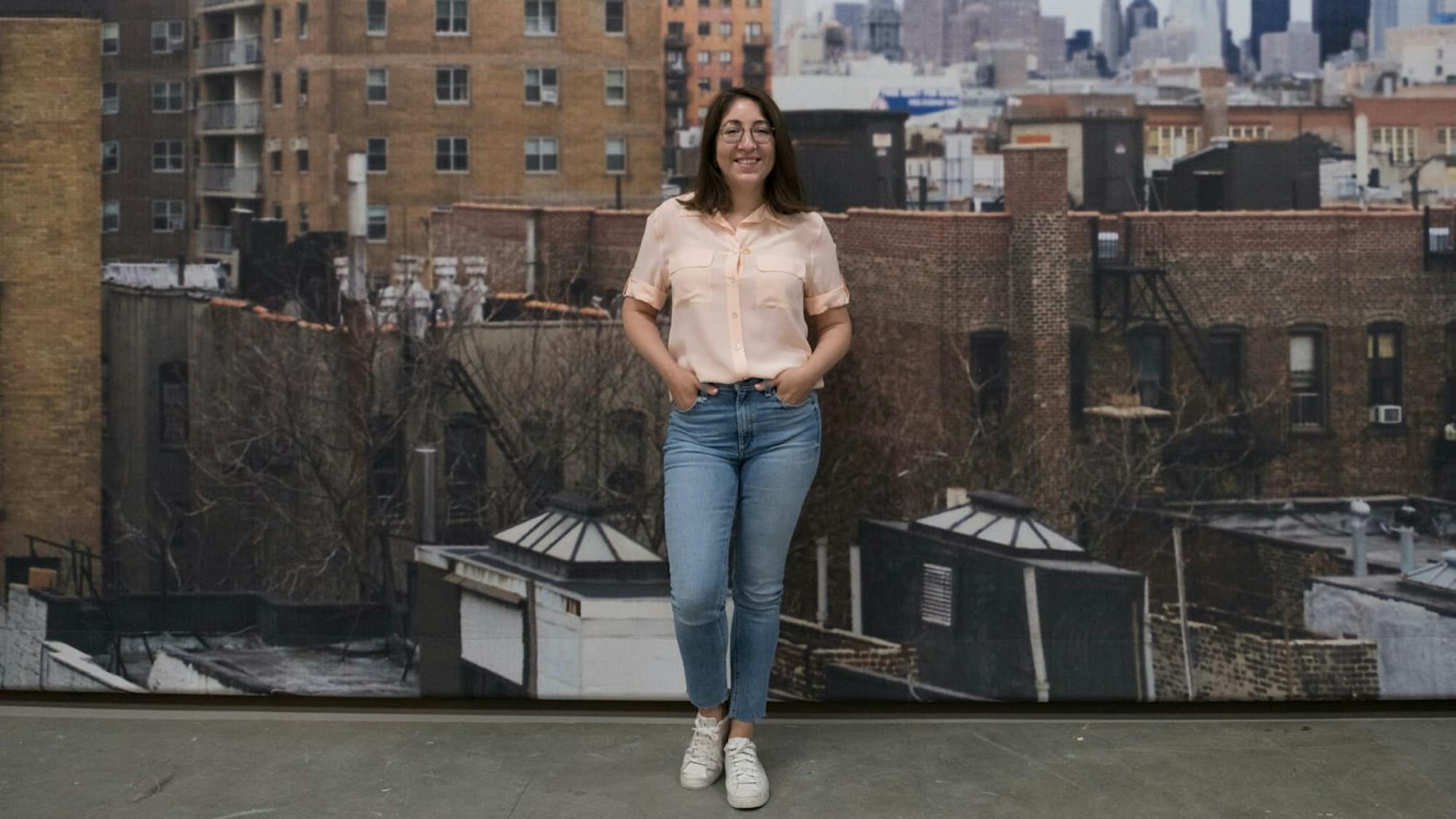 Auditions were held in New York, England, and Germany. In March 2019, still in search of the ideal Esty and Yanky, Karolinski flew to Israel, where Haas and Rahav — longtime friends and neighbors in Tel Aviv — auditioned. "We looked far and wide for an actress to play Esty," says Winger, "and the crazy thing was, we all saw Shira's initial casting tape and said, 'She's the one.'" Adds Schrader: "It was almost a physical reaction when I saw her. It was like seeing Esther. There she was. It was love at first sight." 
Before Unorthodox, Haas had already won the Israeli equivalent of an Oscar, and appeared in more than a dozen television shows and films, including The Zookeeper's Wife. Playing Esty had its own challenges. "She has so many conflicts within her," Haas explains. "Yes, she's a rebel and a rule breaker, but she is also very vulnerable and scared a lot of the time. You need to bring these tensions to everything."
For their auditions, Haas and Rahav were asked to perform a scene in Yiddish. Neither of them spoke the language, but they practiced on the phone with each other the night before. Once cast, they had the daunting task of learning almost 80 pages of Yiddish dialogue. "That was a challenging part of it: learning a language that you don't know at all, and also learning it hopefully well enough not to even think about it," says Haas.
To help the actors prepare, Winger and Karolinski hired Eli Rosen, an actor and specialist in Yiddish and Hasidic culture, whom Winger refers to as the film's "spirit guide." He not only translated the script and helped with cultural explanations, but also signed on to play the rabbi who presides over Esty's wedding. Former members of the Satmar community joined the project both in front of and behind the camera — additions that Schrader says "gave us the security to be truthful."
On May 20, 2019, filming began in Berlin, a city that the team saw as a nuanced character in its own right — the site of atrocities inflicted upon the Jews during the Holocaust, and a multicultural diaspora vibrantly recreating itself. "All love letters have darkness between the lines," Karolinski says of her birthplace, "and true love includes the darkness."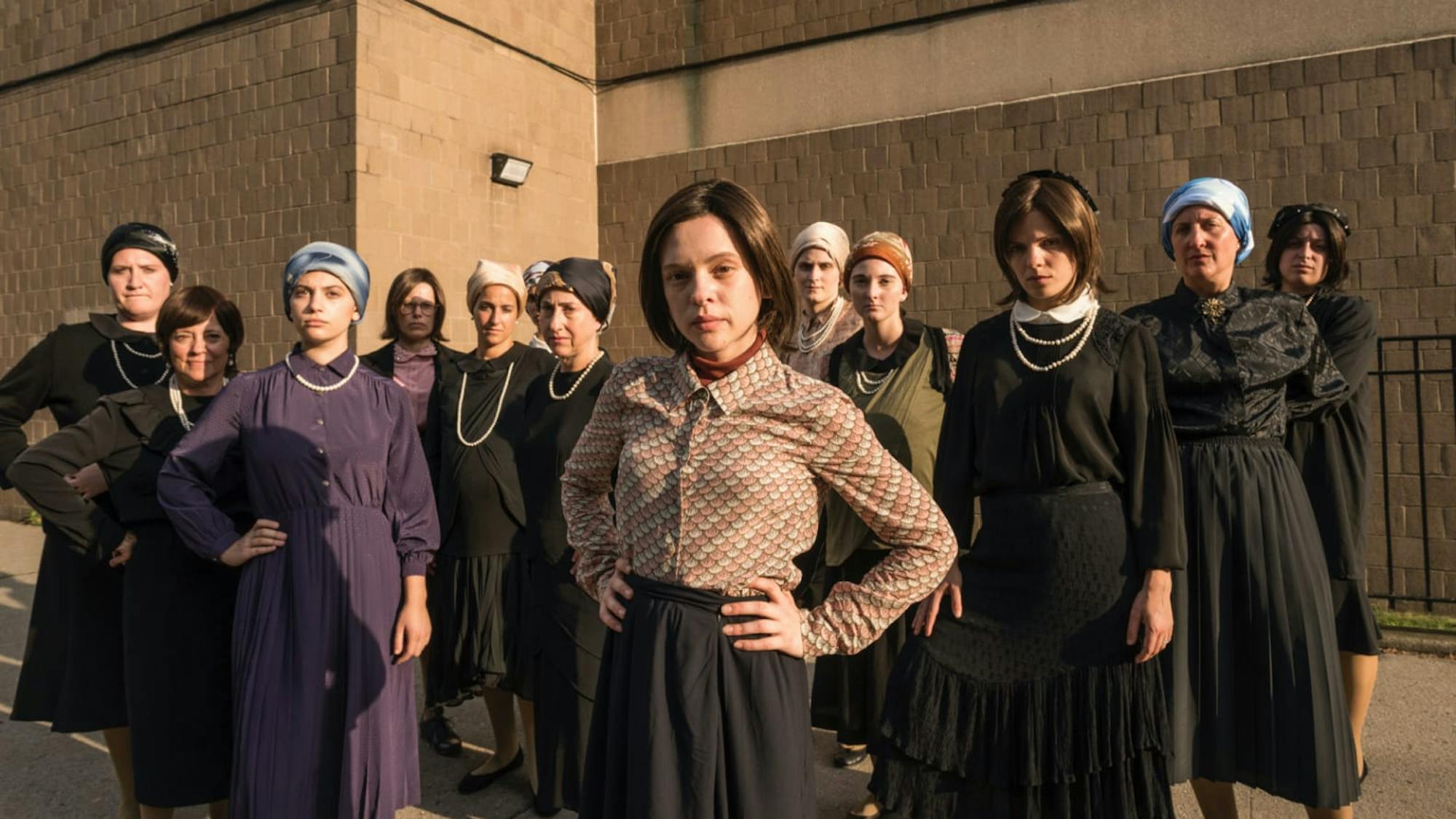 Ultimately, Unorthodox is a love story, and like most, it is filled with its share of tragedy and sacrifice. But at the end, there is a sense of redemption and hope, for Esty and for viewers. "I would love it if Unorthodox is able to connect people to each other, to reduce fear of the unknown, and to spread warmth and humanity," says Schrader. 
Testament to the resonance of Feldman's memoir is the exceptional work that it has inspired. In addition to Emmy nominations for Haas and for the series itself, Schrader has been recognized for her work as director; Winger for her writing; Justine Seymour for costume design; and Esther Kling, Cornelia Mareth, Maria Rölcke, and Vicki Thomson for casting.
Feldman says that Unorthodox succeeds not only in bringing her own experiences to light, but also those of anyone on a quest for self-discovery. "This story is like any other of freedom and emancipation," she says. "Even though the circumstances of human suffering are very different, the experience of human suffering is the same."
"What's important," she continues, "is to show that the other end of that story, where we're all going, is filled with endless possibilities."