Queue brought together the cast and creators of Unbreakable Kimmy Schmidt for a look back at how the unlikely story of a kidnapping victim's second chance at happiness became an inspiring fan favorite.
A woman emerging from a bunker 15 years after being imprisoned by a cult leader doesn't scream comedy. But in the hands of 30 Rock creators Tina Fey and Robert Carlock, it can be just that. The duo steered their Netflix series Unbreakable Kimmy Schmidt to an impressive 18 Emmy Award nominations. The series exploded onscreen in 2015 with rapid-fire jokes and a colorful, uplifting palette. It treaded lightly into the horrors of being held captive, while also painting protagonist Kimmy, played by a delightful Ellie Kemper, as a wide-eyed beacon of positivity.
After four seasons, Kimmy's story has wrapped up with a new interactive movie, Kimmy vs. the Reverend, that allows viewers to choose their own narrative. The approach gave the writers a chance to include more jokes than in a traditional episode, and to play out some truly surprising "what if" scenarios. Full disclosure: I was lucky enough to work on two seasons of the show, and when it comes to the special, take my advice: Wait for Mamadou twice. You won't regret it.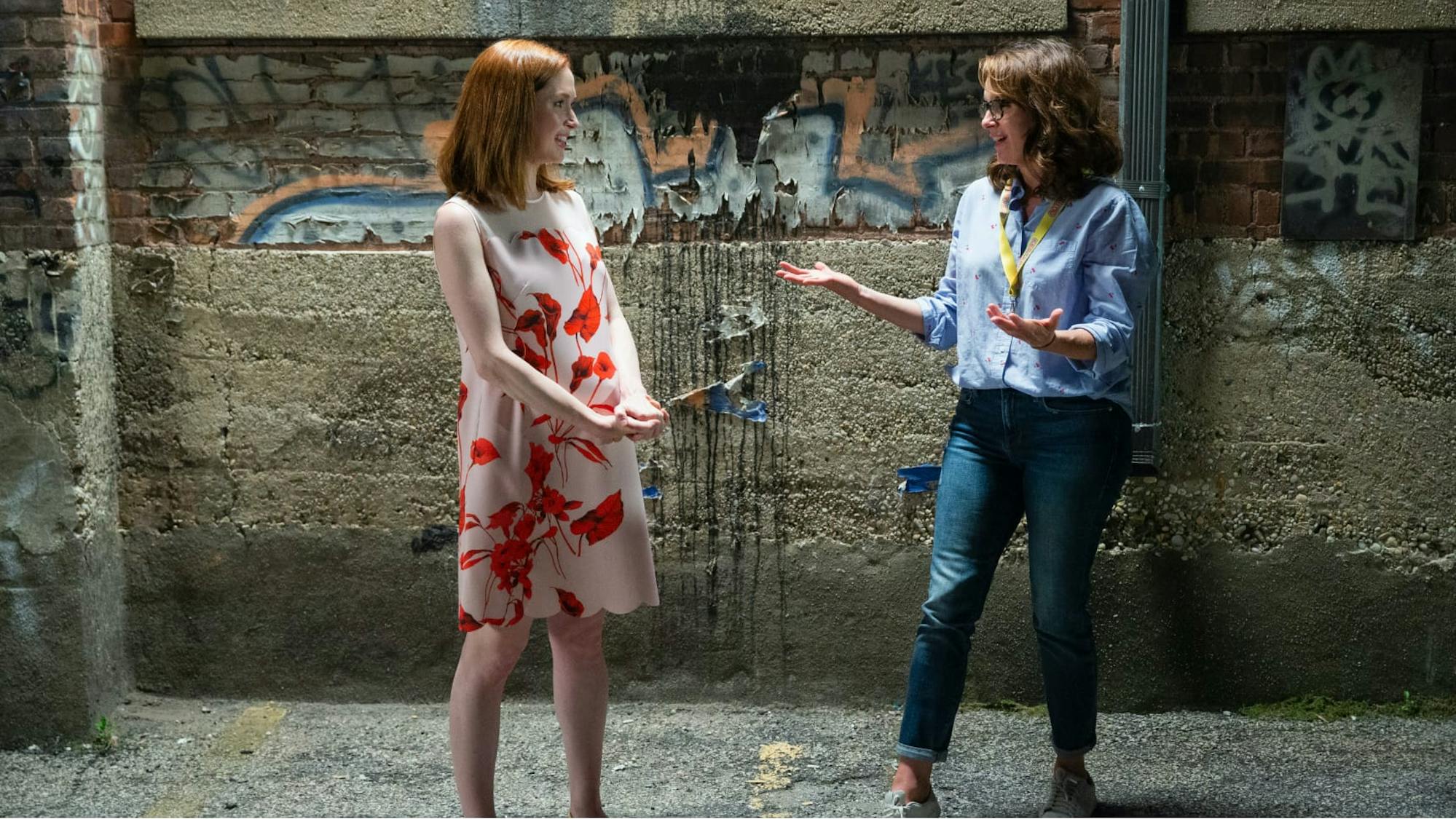 Creating Kimmy Schmidt
Coming off the enormous success of their landmark comedy 30 Rock, Tina Fey and Robert Carlock were musing over a new pilot they owed NBC. Ellie Kemper, recently finished with her run as loveable receptionist Erin on The Office, was also looking for a fresh project. Fey and Carlock decided to create a series well suited to her comedic talents.
Tina Fey (co-creator, executive producer): We had taken a little tiny office on 57th Street and were thinking about what our next pilot could be. Somebody mentioned Ellie Kemper, and we were like, "Yes! That lady's great." So we started thinking, What would it be fun to see Ellie Kemper play?
Robert Carlock (co-creator, executive producer): A lot of the ideas were people who somehow didn't know what was going on around them — and had missed out. We tried with a woman waking up from a coma. I think Tina's pitch was that she reconnects with her husband, and you realize that the guy's just tricking her; she had never been married.
Fey: Which is the plot of Overboard. Which is why we didn't do it.
Ellie Kemper (Kimmy Schmidt): My agent emailed me on a Friday: "You should meet with Tina and Robert, just to get to know them." An hour later, he sent me the details for drinks the next evening. I idolized them. I love30 Rock. So I was very, very, very anxious. A month later, they pitched the idea. I did think they were joking, because a woman who is held captive underground for 15 years does not sound like the premise for an NBC sitcom. I was like, I think they're pranking me. There's no way that this is the show.
Eric Gurian (co-executive producer): They loved this crazy idea. It was kind of dark, and they thought, Well, we like it, but I can't imagine NBC is going to want this. Then, of course, once they wrote it — Tina and Robert being Tina and Robert — it was hilarious and insightful and interesting. Anyone would have been crazy not to want it at that point.
Kemper: Only they could pull something like this off. I've often described it as magic, because there's nothing funny about the show's dark premise, but it's defiantly a comedy.
Gurian: The first time we ever read the show aloud, I believe I read the part of Titus. Robert and Tina didn't want to read the main parts, so that they could be listening more. It was one of those moments where Lauren Gurganous and I, who have worked together for a thousand years, both thought, Who knows if anyone will want to engage with the show? But it's the funniest thing I've ever heard.
Lauren Gurganous (story editor, writer): I remember playing a few parts and thinking that somehow this weird topic was so light and fun while also focusing on the trauma. It had such an upbeat, sweet feel to it.
Meredith Scardino (executive producer, writer): It's very dark subject matter, so we were trying to be respectful, but also to invent this crazy arrested-development character who is now seeing the world out of the bunker with such joy. Kimmy is sort of like a Will Ferrell in Elf mixed with a John McCain-P.O.W. interior.
Kemper: Kimmy encapsulates what it means to be strong. She is unabashedly girlish in many of her choices because she has this stunted development from being kidnapped at age 14. But her ability to persevere is just beyond enviable. She does not blame her outside circumstances. Instead, she takes what life gives her and she deals with it. Maybe bordering on cheesy, but when I am having a rough time, I do think: How would Kimmy be handling the situation? or, What lessons have you learned from her?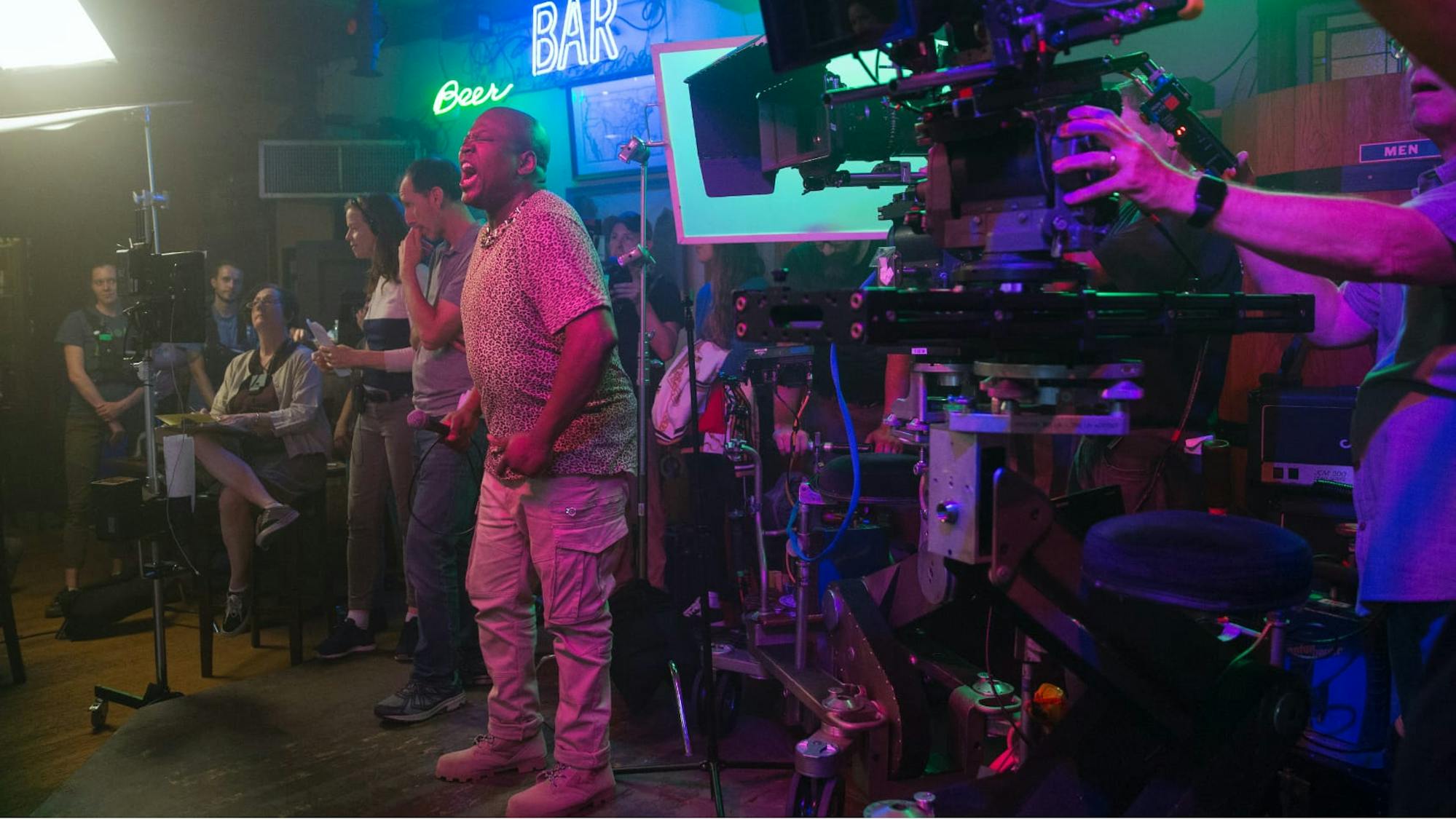 Casting Kimmy Schmidt
Cindy Tolan and Anne Davison were brought on to find the right actors for the show's ensemble of madcap characters, including Kimmy's roommate and confidante Titus Andromedon, a part written with Tituss Burgess in mind. The roles of Kimmy's moneyed Upper East Side boss Jacqueline White and of Kimmy's New York relic of a landlady Lillian Kaushtupper went to 30 Rock veteran Jane Krakowski and legendary actress Carol Kane, respectively. Jon Hamm, who also had a memorable turn as a guest star on 30 Rock, reunited with the showrunners to play charismatic cult leader Reverend Richard Wayne Gary Wayne. And in one unforgettable episode, actress Lisa Kudrow came on board as Kimmy's long-lost, theme park-loving mother.
Anne Davison (casting associate): I laughed more in auditions for this than any other project, just because the writing is so fun.
Cindy Tolan (casting director): Both Tina and Robert, being so specific with regard to New York and the theater scene, are very savvy when it comes to actors. As soon as you start to bring in the theater actors, it's like, O.K., we know this group will have the language skills, but will they have the comedy? And if you were looking at Upright Citizens Brigade people, we know these people will probably have the comedy, but will they have the language skills?
Davison: A lot of the fun of it was being able to explore people that were comfortable at U.C.B., and obviously drawing on people populating the 30 Rock universe and the S.N.L. universe, and bringing in people from downtown New York theater. It's about having strong language skills and getting the jokes — which sometimes, honestly, it took me a minute or some internet research to get some of the puns.
Kemper: Kimmy and 30 Rock are such wildly different shows, but there is sort of the same cadence in the dialogue and jokes. The number of jokes on a single page is so high that — especially when I'm first reading it — I don't quite understand the joke, and I have to Google something afterward. Sometimes I don't get it until I've seen it on camera. The writing is so precise, and the jokes are so finely honed, that it's almost like math.
Tituss Burgess (Titus Andromedon): When I heard the initial pitch, I was sure Tina worked for the government, because it was so detailed that I thought they had been following me. I'd lived in a basement apartment in Harlem. I hadn't had a job in years. All the specs were apropos.
Kemper: When I met Tituss at his audition, I loved him. I had seen him on 30 Rock, but I didn't know he was a Broadway star. So I looked him up on YouTube and was like, Oh, obviously he's going to play Titus.
Burgess: Two and a half weeks later, I was convinced that I didn't get the part. I was just drowning my sorrows in food like I always do. I got the call from my manager that I got the part, and I literally accidentally tossed my pizza onto the ground and hung up on her, called Pizza Hut to send me another pizza, and then called her back.
Teresa Mastropierro (production designer): I don't know if Tina told us that Titus collects Barbies, or if it's written in one scene — but it tells you so much history that informs how you make a character's world. That led us to Barbie displays for the china closet, which led us to an area for his Barbie beauty salon. It tells you he's the kind of person who's collecting Barbies.
Tina Nigro (costume designer): Tituss would literally just stand there and let me put clothes on him like he was a doll. He never said, "No, I don't want to wear that." I like when things are a little off and not perfect. So he was fun because, to me, that's what his clothes were — they were fashion, but the prints didn't mix, or he wore one too many accessories.
Burgess: People underestimate how much wardrobe and costume informs the character. It informs it just as much as the dialogue, just as much as the backstory. Once I saw Tina Nigro's renderings, I was like, Oh dear Lord. I was approaching this character all wrong. Honestly, when I put on that first costume that first day, it all sank in. I got it right away. She was as much Titus Andromedon as I am.
Jane Krakowski (Jacqueline White): On Wednesday, I got an email from Tina saying, "Would you like to come be on my new show?" I wrote back, "YES!!!" She said, "Well, you have to film Friday." So I went in on Friday, which was the first time they explained the part to me.
Carol Kane (Lillian Kaushtupper): I was just so happy, I was trying to act like a nonchalant grown-up. They described Lillian to me, and told me that they kind of saw me as her and her as me. They wrote such a fun character. She has not even an ounce of self-censorship. Whatever might flip through her brain is out of her mouth before anybody knows it. And she's so passionate.
Krakowski: One of my favorite scenes was the first time that Jacqueline interviews Kimmy to be her nanny. She offers her a water, and Kimmy says she doesn't want it, and Jacqueline just throws the unopened water away. She also asks her if she knows how to braid hair, and Kimmy says, "I'm awesome at it." Then my character says, "Of course, you'll have to meet the horses first."
Jon Hamm (Reverend Richard Wayne Gary Wayne): I remember Tina and Robert sitting in my apartment in New York City, pitching this aggressively funny idea and thinking, You want me to play a guy who kidnaps girls and puts them in a vault? But it's funny? It required a lot of trust. You just have to commit to the bit. There's a scene in Season 3 where Kimmy and the reverend are on the phone arguing and he says, "I'm not your enemy." She says, "Are too" — and I say, "D2," and there's a take of her looking confused. It's stuff like that, where it's out of left field but still really funny. Tracy Jordan [played by Tracy Morgan] has a line in 30 Rock where he says, "I don't even know what I'm going to say next. Volcano." It doesn't make any sense, but it works.
Tolan: My favorite guest casting was Lisa Kudrow as Kimmy's mom... just knowing how she hadn't been saying yes to things. That one was amazing.
Fey: It was a big deal. We sent Lisa a letter explaining the role and that it's a big speech on a roller coaster. The letter said, "Let me be clear: You never have to ride the roller coaster." She said that if I had not put that explicitly in the letter, she would not even have entertained the idea of playing the part.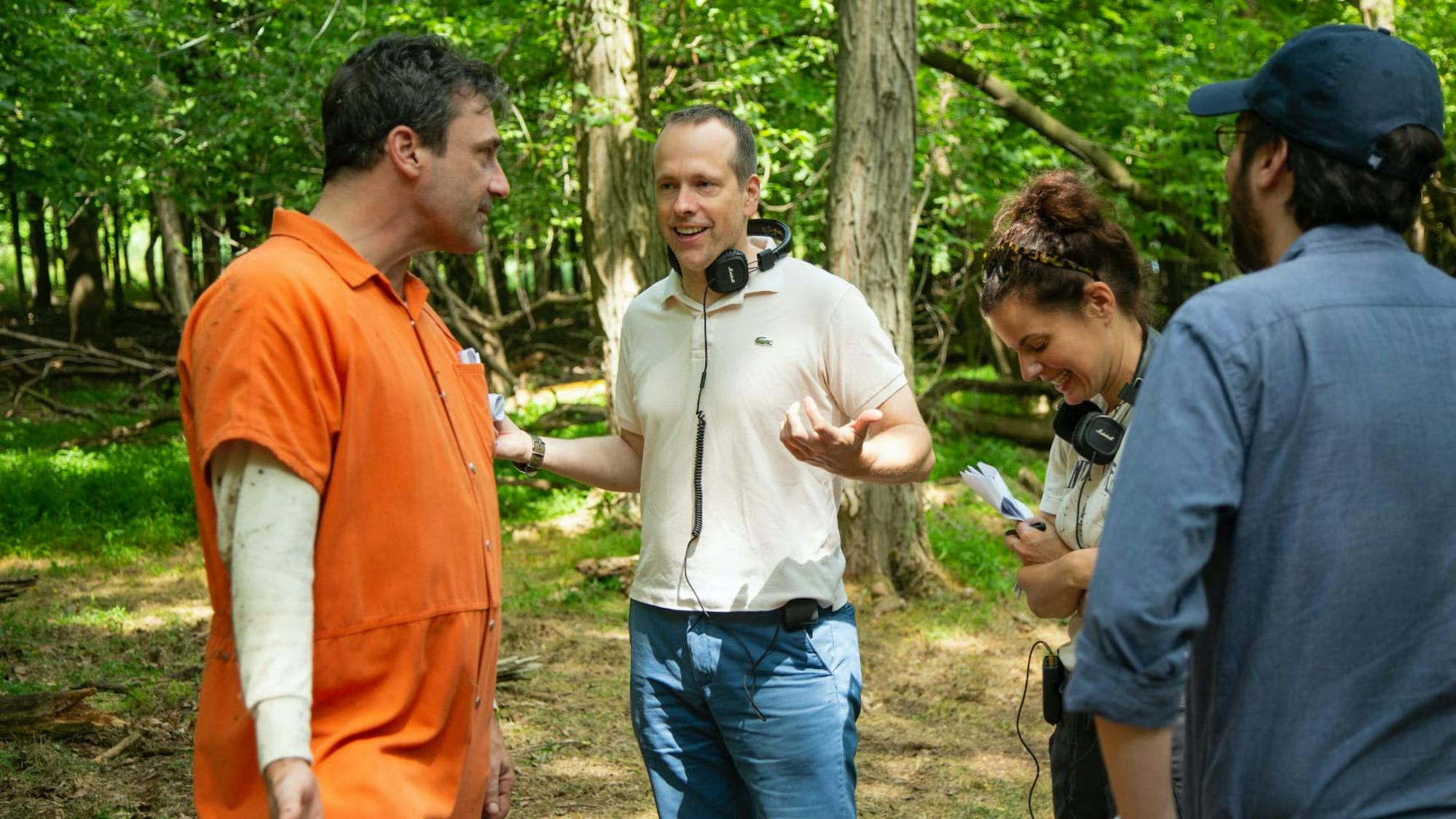 Making the Leap to Netflix
The show's creators initially feared that its premise might be too edgy for network television. As it turned out, they were right. But finding a new home for Kimmy Schmidt didn't take long.
Fey: NBC was terrified of the original pilot, understandably, and we re-shot it. After that, they were like, "We're really enjoying these." Nothing like a tone of deep surprise in your executive! Our dream was that they would air with the last Parks and Recreation episodes, but NBC still was like, "Maybe in the summer, after America's Got Talent." So we started to realize that maybe we should look for a better home. It's like if you had a boyfriend, and you were like, "We should think about seeing other people."
Carlock: NBC immediately said, "And here are some suggestions of people you should see." Netflix jumped on it.
Gurian: During our last week of filming, Ted Sarandos came to visit the set and decided to buy it, and an additional season, for Netflix, which was wild. We went from thinking, Well, maybe no one will ever see this show that we've just made, to, Oh, we're going to make another season of it already.
Jeff Richmond (executive producer, composer): At the time, we were in the middle of the editing for broadcast, where you have 21 minutes, 15 seconds for an episode. Robert Carlock, Tina Fey, and the writers who they hire, they like to cram the sausage full of meat and delicious jokes — and there's always trimming. You have all the time in the world for streaming, and I think that opened some doors to the way that we could build the show.
Fey: Netflix really hooked into the optimism. There was a little song, "Try Me On" by Karmin, in that first trailer. I remember thinking, This is a little bop. This is a good choice for our trailer. They figured out right away that it was O.K. to push the funniness, because Netflix audiences wouldn't be upset when there was also darkness.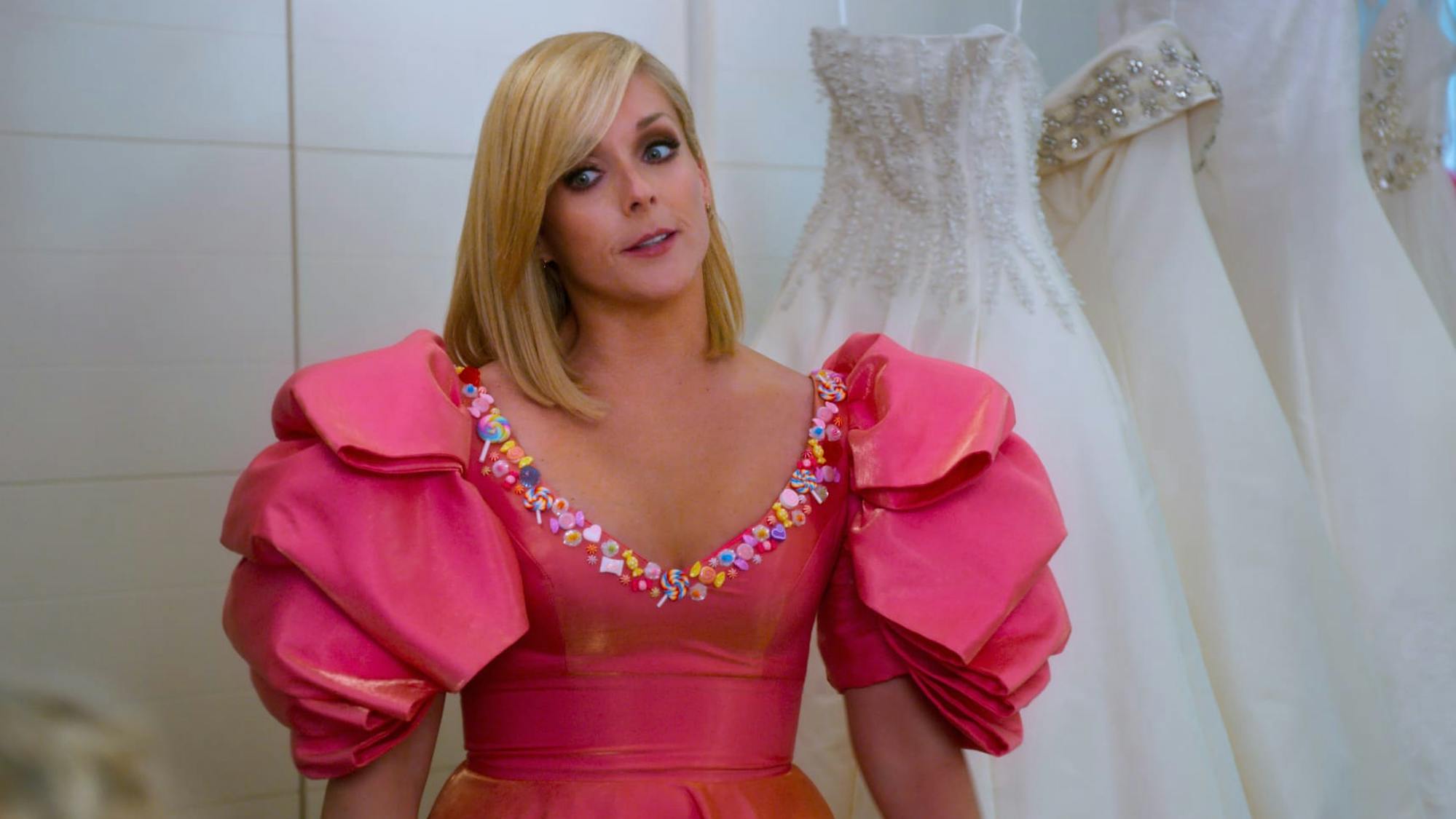 Females Are Strong as Hell: Theme Song and Music
The show's theme song was a viral sensation and began a long stream of unforgettable musical numbers composed by Jeff Richmond (who was nominated for four Emmys for his work composing for 30 Rock).
Richmond: It felt like one morning Tina and Robert were talking about the idea of the show, and by that afternoon they already knew what the concept of the theme song was. We were going to reverse engineer, retell the story every week with a theme song. It was jumping through hoops trying to figure out how to actually do that. But it was fun.
Burgess: At that time, the show was going to be on NBC, so I thought for sure that Titus's song "Peeno Noir" would get cut. I remember on the day we shot "Peeno Noir," we just went for it. When people saw me on the street and they were singing it back to me, I thought, Holy hell.
Sam Means (executive producer, writer): I distinctly remember coming up with "Peeno Noir" when we were working in Robert's office and thinking, There's no way we can do this on the show, but I have to say it out loud just to make everyone in here laugh.
Fey: "Lemonade" [Titus's homage to Beyoncé's visual album] was a huge challenge for Jeff, but once he started breaking it down, he had fun trying to simulate that sound — different enough that it was legal, but recognizable. I remember being in the booth with Tituss, and I was like, "Barely any voice on it. I want you to just whisper it. Just try to imitate the restraint of Beyoncé."
Carlock: [For the musical episode "Kimmy Gives Up!"] we ended up with Jeff writing parodies of Rodgers and Hammerstein and Sondheim and everything in between. There's a reason that musical theater works. It is a really fun and effective way to communicate emotion.
Richmond: With the song parodies that were in "Kimmy Gives Up!" we got to explore all these cool, very niche Broadway styles — like doing a Sondheim song from the musical Pinocchio, which was very funny to me.
Burgess: It was exciting to work with Richmond, who spoke musical shorthand and theory. We had a little boys' club there, and it was nice to create some moments that only another musician would understand. I'm forever grateful for that bond.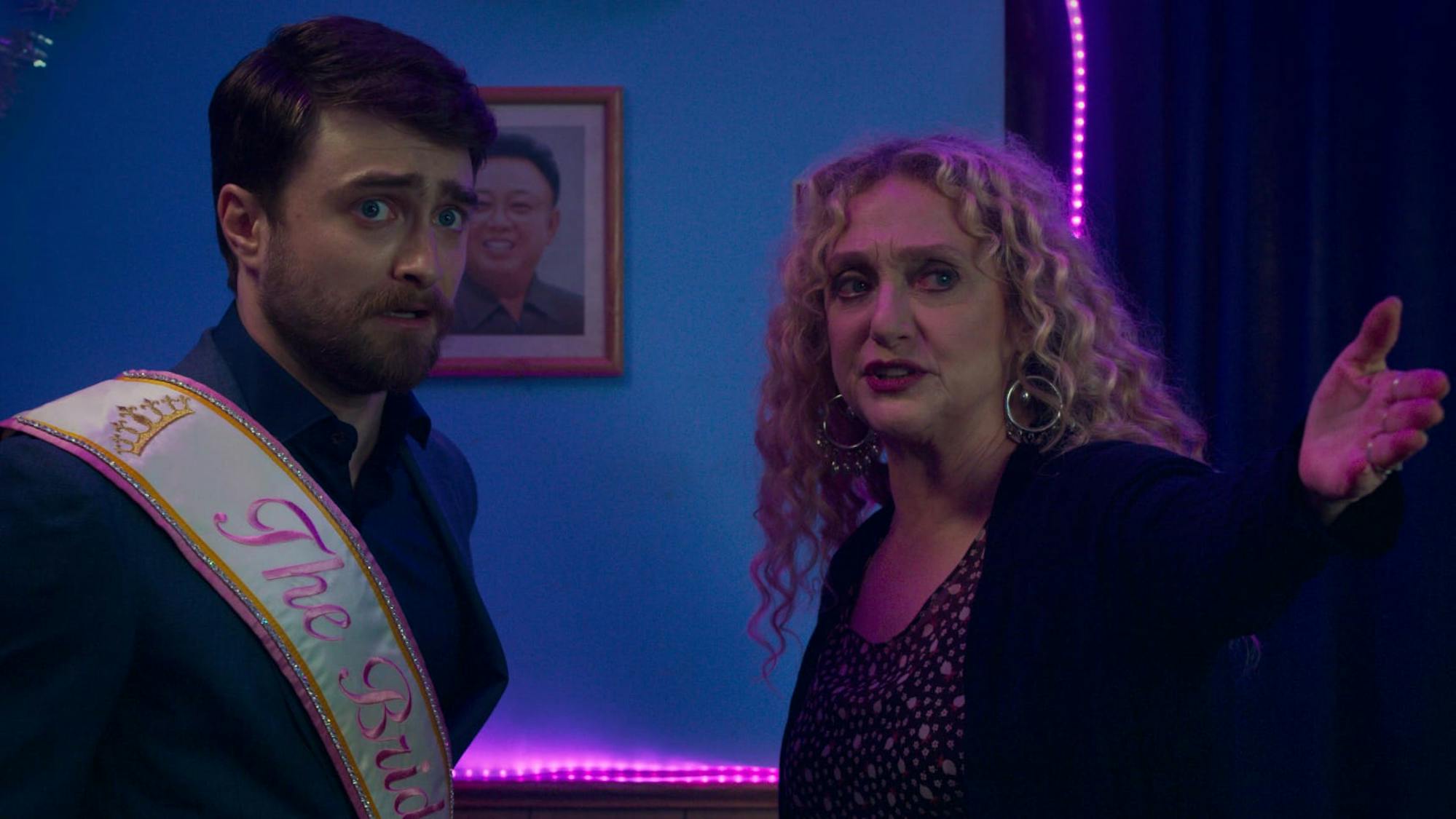 Inventing a Whole New Kimmy: The Interactive Special
Unbreakable Kimmy Schmidt ended its acclaimed run in January 2019 — but the irrepressible Kimmy wasn't gone for long. Fey and Carlock brought her back in the 2020 interactive special Kimmy vs. the Reverend. Using the same technology that the dark sci-fi series Black Mirror employed for its interactive offering Bandersnatch, the Kimmy Schmidt cast and creators came up with a hilarious adventure that sent their ever-optimistic heroine off to save another bunker of women just as she was about to marry Prince Frederick, played by Daniel Radcliffe. Viewers got the chance to guide the characters through the story, and the writers had the opportunity to mine the manifold plotlines for even more laughs.
Kemper: At the end of the fourth season, it felt like, Is it over already? I'm glad that we were able to do one more round.
Fey: It was nice to be able to separate jokes and make them a new surprise, as opposed to just giving you ten in one bite.
Means: We always write fifty jokes for every one that gets in the show, so just on that level we thought it was a fun opportunity to cram in more comedy. If you pick one path, you get one joke. If you pick a different path, you get a different joke. Double jokes!
Scardino: What was great about having an existing show with characters everybody knows and loves is you know how they might behave in the world. You know Kimmy is generally a good person. But in this, we got to let her make bad decisions, and then let you see the consequences in a way that you wouldn't normally.
Daniel Radcliffe (Prince Frederick): I had been a huge fan of 30 Rock. That and Arrested Development introduced me to a style of comedy that I hadn't seen before. This was such a brave thing as well. To come back and challenge yourself to put together what is essentially a comedy show but also a Rubik's cube, it's just such an incredibly ambitious thing to do.
Fey: We had written it for him and were like, Oh brother, if he doesn't want to do this, I don't know what we're going to do. If you're looking for a person who can hold their own with Kimmy in terms of weird childhood, combined with his actual skill set? He's precise, fast-talking, super-duper skilled — and so funny.
Radcliffe: My favorite sequence to film was the montage in the hotel room where Carol Kane is just throwing plates at me and shooting at the roof. At that time, she was also filming Hunters, working with Al Pacino in the morning and then coming over to us in the afternoon. She's an absolute legend. For the rest of my life I can say I worked with — and made out with — Carol Kane.
Kane: When I read that my character makes out with Daniel's character, I could not believe it. I guess it would be many women's fantasy, but I'm old enough to be his grandmother... But he's still an irresistible guy.
Saying Goodbye. Maybe.
The special was a raucous send-off, to be sure. But who knows? Maybe this won't be the last we see of Kimmy.
Kemper: To play this woman, specifically, over the past five years, I feel it was such a privilege. Kimmy encapsulates what it means to be strong. The biggest compliment of all is when fans of the show have said to us, "This got me through a tough time," or, "You made me laugh." It's a show about outsiders making their way in the world.
Fey: It feels like we got this extra time with the characters. I don't know that we have to say goodbye to them forever and ever and ever.
Carlock: I'm not tired of them, so maybe we'll see them in 20 years.
Kemper: Whenever they say "go," I'll be on board.