Costume designer Trish Summerville enters the world of black-and-white filmmaking for Mank.
The first thing Trish Summerville heard from her friends when she signed on to be the costume designer for David Fincher's Mank was, "That is going to be so easy for you!" People wondered how difficult it could possibly be to dress a cast for a black-and-white film set in the 1930s and 40s, about Herman Mankiewicz, the screenwriter who penned the first draft of what would become Orson Welles's Citizen Kane. "I kept hearing, 'You can just use any color you ever wanted and never worry,'" Summerville recalls, laughing at the thought. "That was definitely not the case."
In fact, it couldn't have been further from the truth. Summerville is a Hollywood force herself, having costume-designed films like The Hunger Games: Catching Fire, and Fincher's Gone Girl and The Girl with the Dragon Tattoo, among others. Before Mank, she had worked on projects that incorporated black and white through flashbacks, but she had never done a complete picture sans color.
She immediately immersed herself in the style and learned some tricks of the trade. For instance, a light blue might be beautiful in person, but it's going to look light gray onscreen. A true black can be too severe; navy reads as a softer alternative. A dark or saturated color that's striking in real life will seem equally flat in black and white. On top of that, some fabrics strobe and some patterns with contrasting colors resemble confetti. Even a color that looks great can distract an actor in a dialogue-heavy scene and should therefore be avoided.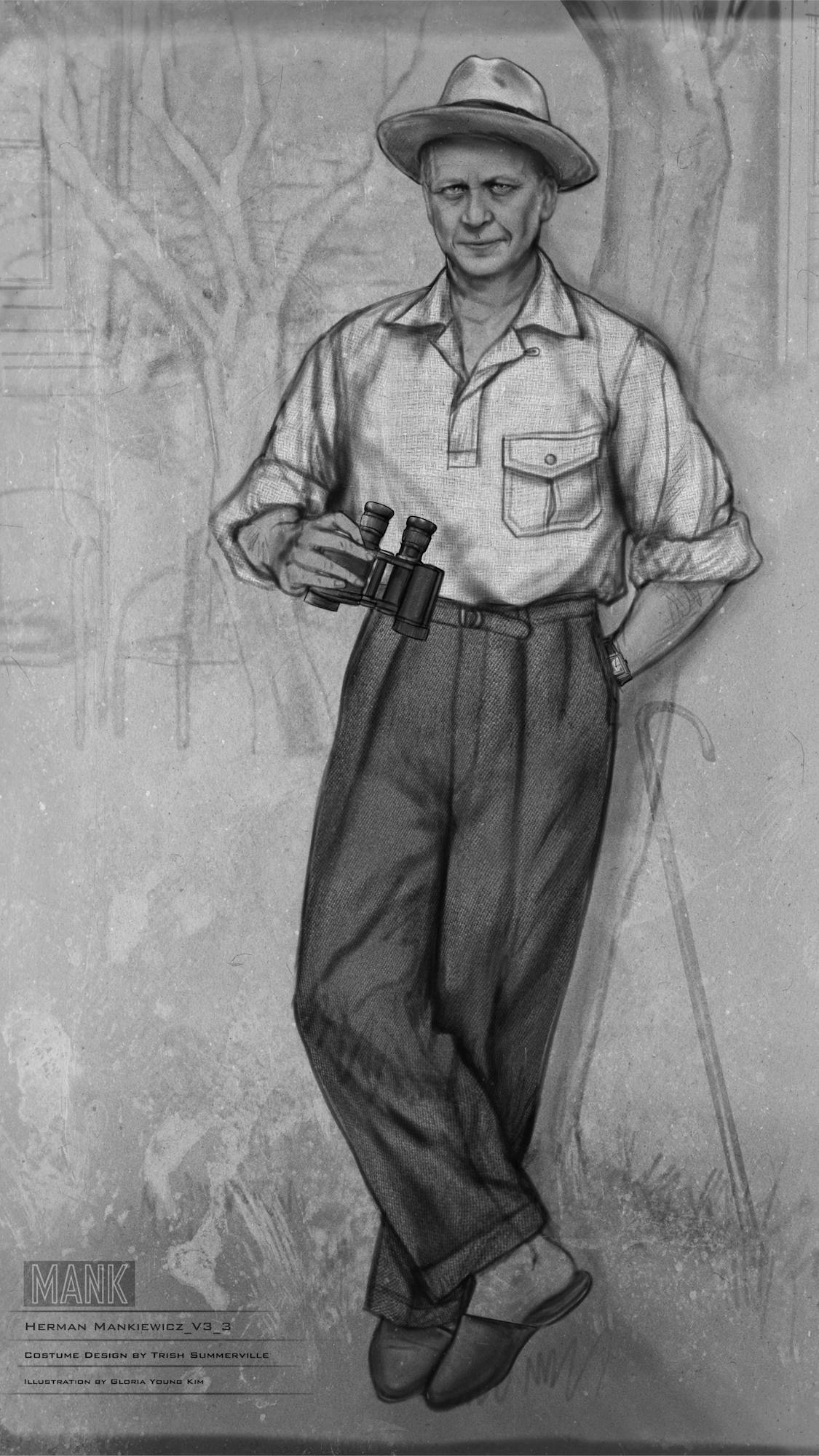 "Any project with Dave is a dream and you know it's going to be challenging and exciting, Summerville summarizes, calling me from the set of Slumberland, her next film, "but my brain definitely had to adjust."
She had some useful technology on hand. Before any color or fabric was given the green light, it was photographed with the iPhone camera's noir filter, which converted color to the black-and-white style Fincher favored for the film. Sometimes she would photograph fabrics side by side to see what worked best before her team embarked on the days-long effort of custom-sewing an outfit.
Of course, that meant finding plenty of fabric options, some of which were from the 21st century but looked of the era (think organza), and others that she sourced by scouring deadstock showrooms. (For those not fluent in costume design, "deadstock" just means leftover fabrics that never got used for their original purpose.) Though she promises she was never too obsessive about tracking down vintage pieces ("Let's just say I like my marriage," she jokes), she is particularly proud of finds like vintage sock garters from the 1940s and a $2.95-a-yard striped wool from around 1967 that she excavated from the legendary Western Costume Co. in North Hollywood.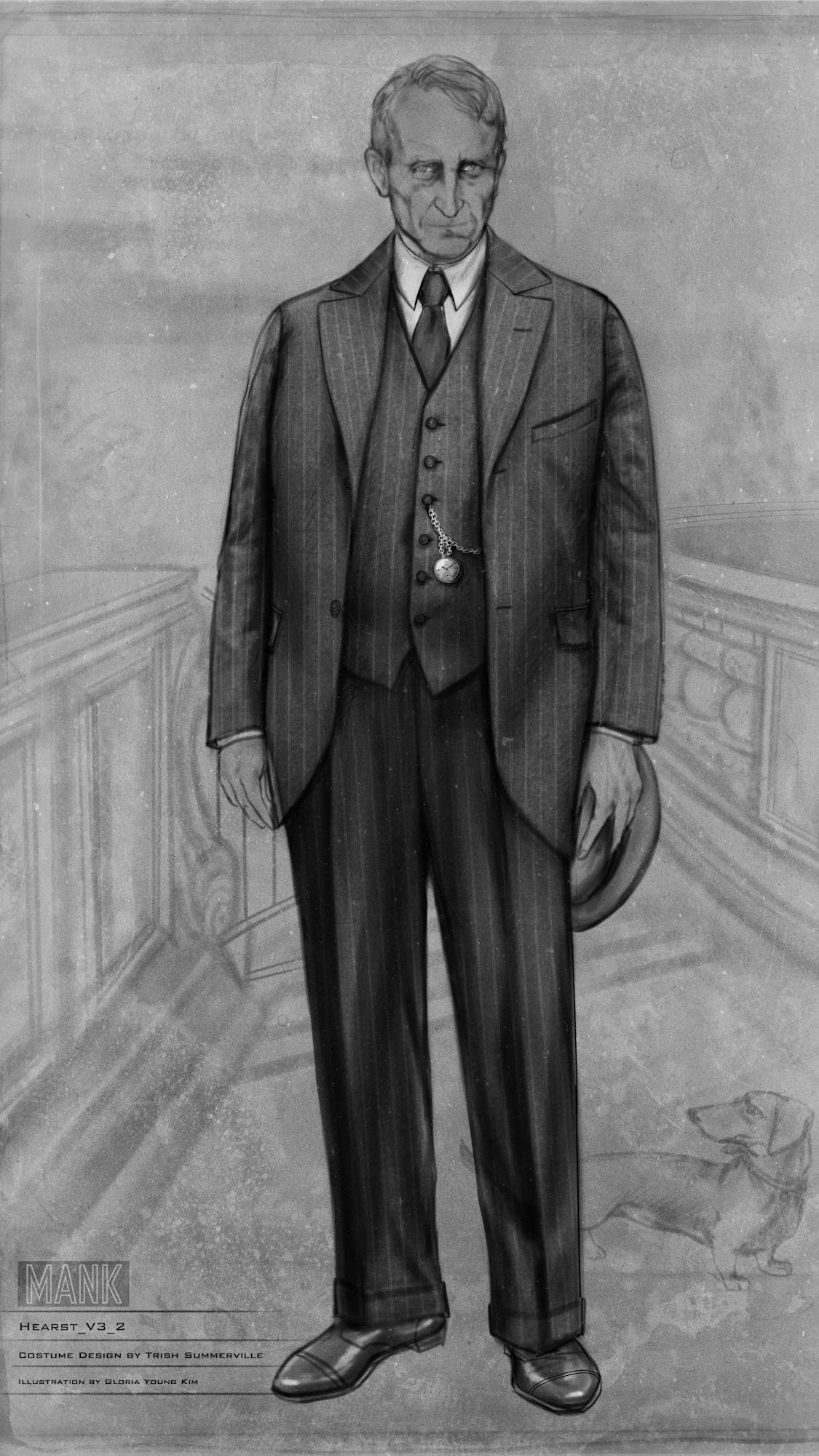 Of course, 50-plus-year-old material comes with its own baggage. "It was great to use vintage fabrics for all the men's ties," she shares, "but we'd always be walking around begging the sound department, 'Please don't tape the microphone on the tie!' The weave was so fine we didn't want anything to get ruined."
As she developed her vision for Gary Oldman, Amanda Seyfried, Charles Dance, and Tom Burke, she sifted through extensive historical footage to see how the actual Herman Mankiewicz, Marion Davies, William Randolph Hearst, and Orson Welles dressed. To create looks for other characters, like Rita Alexander, Mankiewicz's out-of-the-spotlight secretary played by Lily Collins, she pored over photography books about the era and studied old fashion photos. She considered even the smallest details, right down to how much of Rita's wardrobe the secretary would likely pack to go work for Mankiewicz for 90 days. (All of it, Summerville thinks.) "Watching the transformation from actor to character is a very satisfying place to be," Summerville says. "And as a costume designer, you get to witness it first and know that you've given the actors something useful."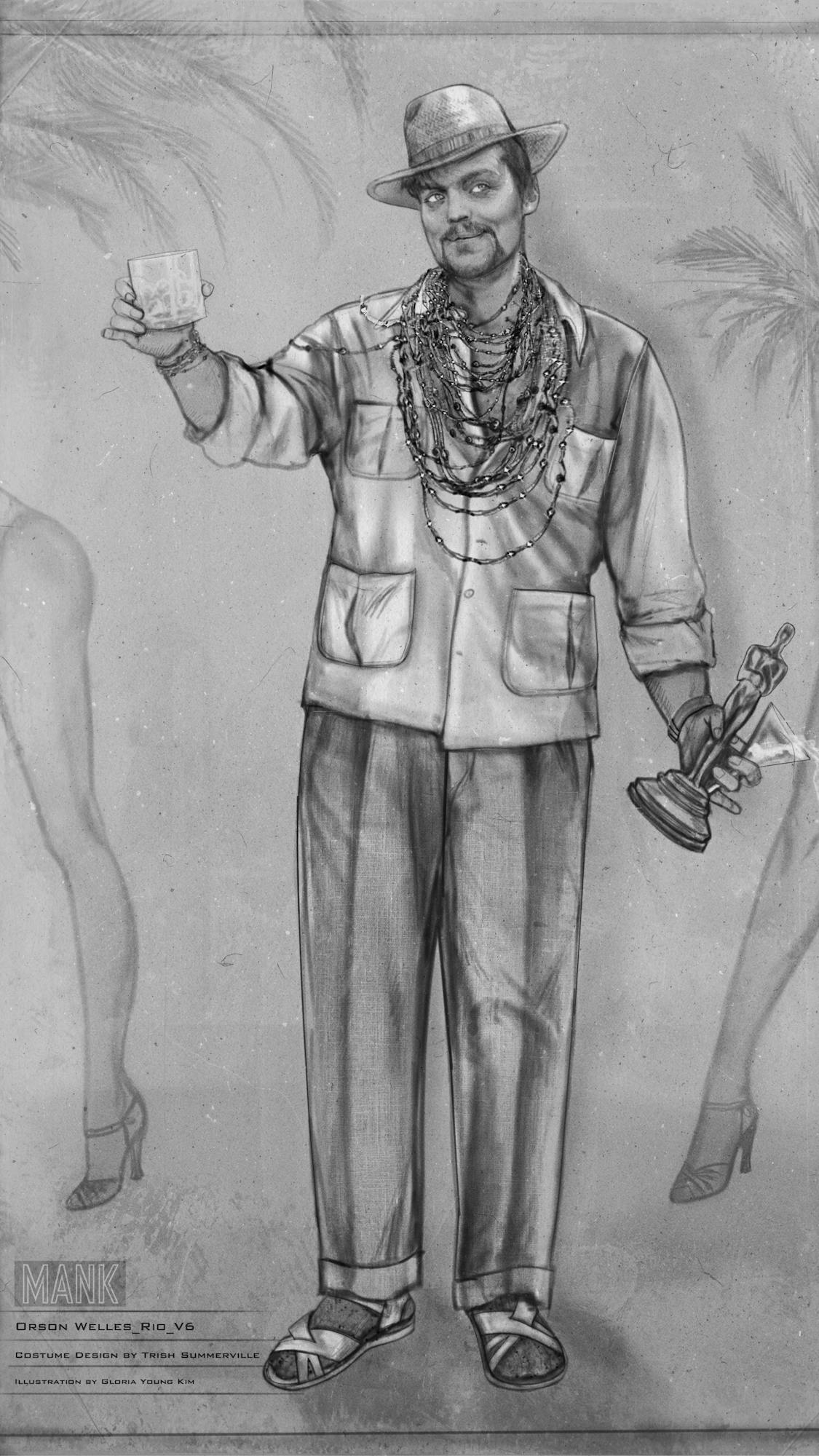 Indeed, when Oldman showed up, he asked if he could take his shoes home so he could get used to Mankiewicz's gait. "Gary is such a force in absorbing details and transforming himself into who the character is going to be," Summerville shares. "In real life he's very lean and fit, but he had to put on 12 to 15 pounds for this role. Even at 45, Mank looks much older than Gary looks in real life," The moment Oldman was dressed in a suit, though, she saw the shift before her very eyes: "His posture would relax, he would become more schlubby, his entire face would change, and he would talk differently."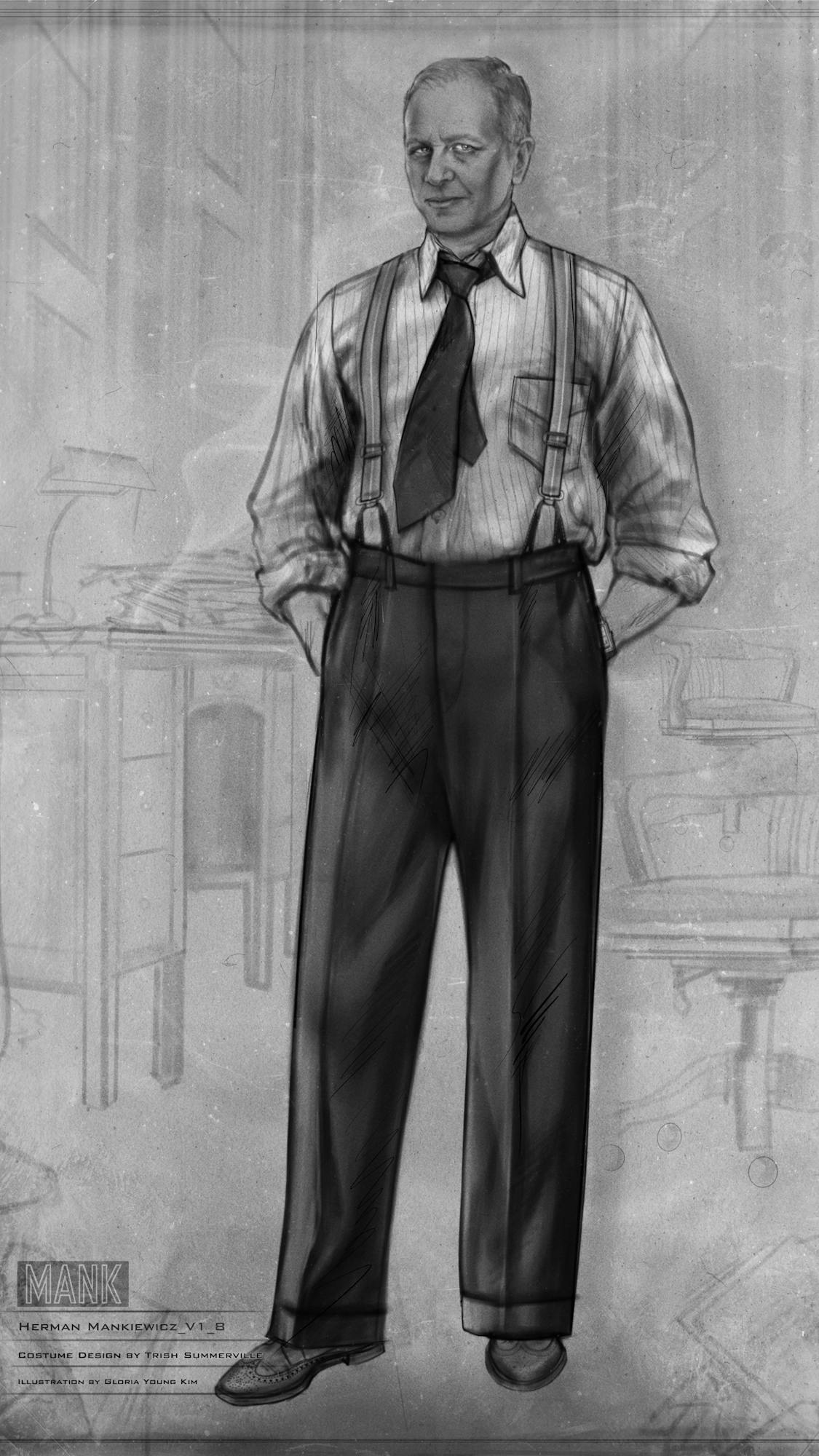 For the record, not all the men were Oldman-level committed to transforming their physiques. Summerville did convince Dance (Hearst) and Arliss Howard (who plays Louis B. Mayer) to blow off their core work for their craft. "They were way too fit and toned for characters with sloping shoulders and potbellies," she says. "We had to build out padding in those suits." Tom Pelphrey (who plays Mank's filmmaker brother, Joe) showed up for his first fitting with a long ponytail and bulging muscles, fresh off of filming Ozark. "I said, 'Tom, you have to stop working out,'" Summerville relates. "He did, and his transformation was fantastic."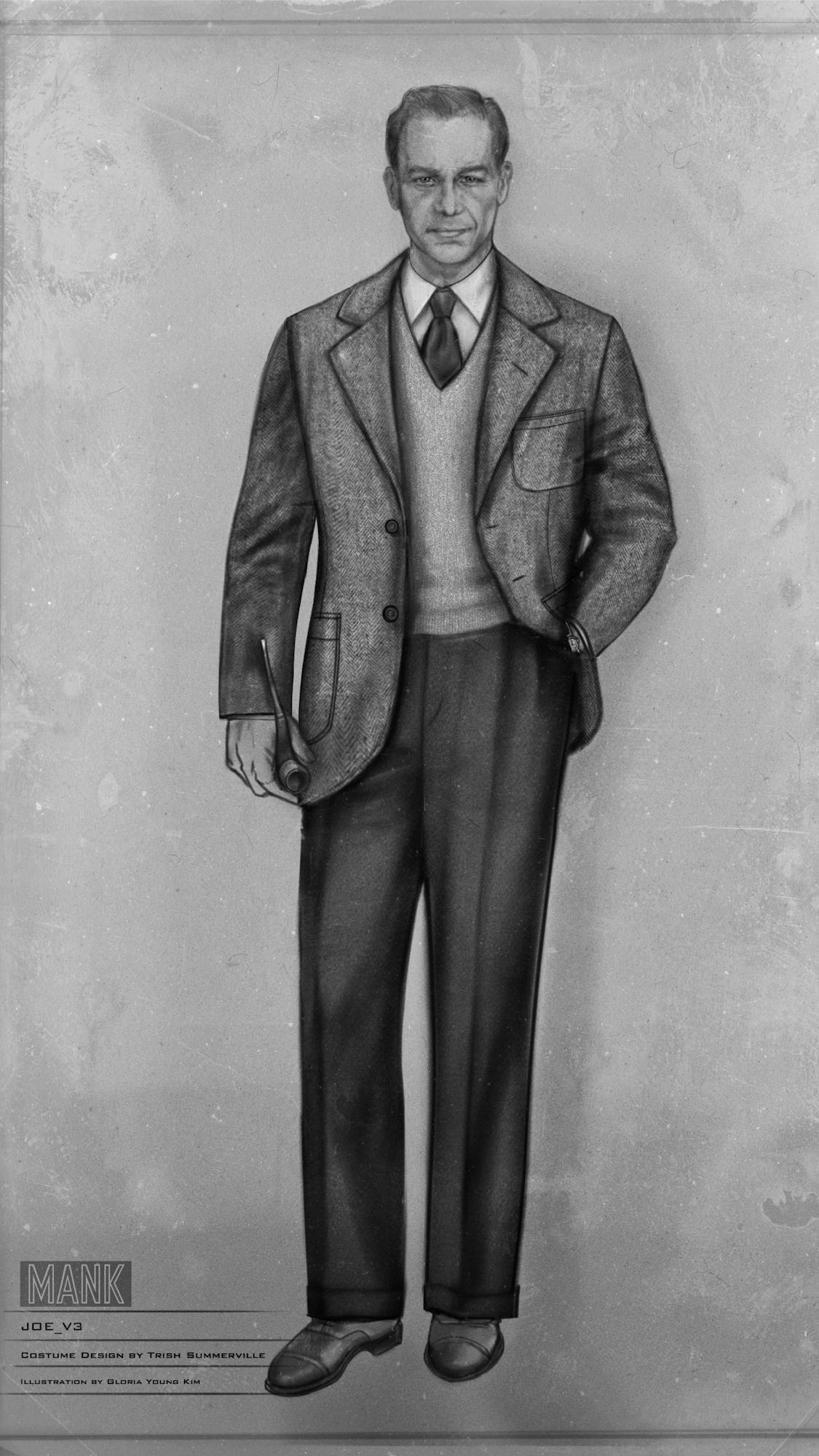 Collins's wardrobe, meanwhile, had to span the spectrum, from proper and professional in suits and stockings when she first meets John Houseman (Sam Troughton), to a more relaxed look with trousers and no jacket in the desert. "The weather in the desert was supposed to be quite hot," Summerville recalls, "but when we went out there it was so cold. Fincher wanted everyone to look hot and sweaty, but poor Lily must have been freezing."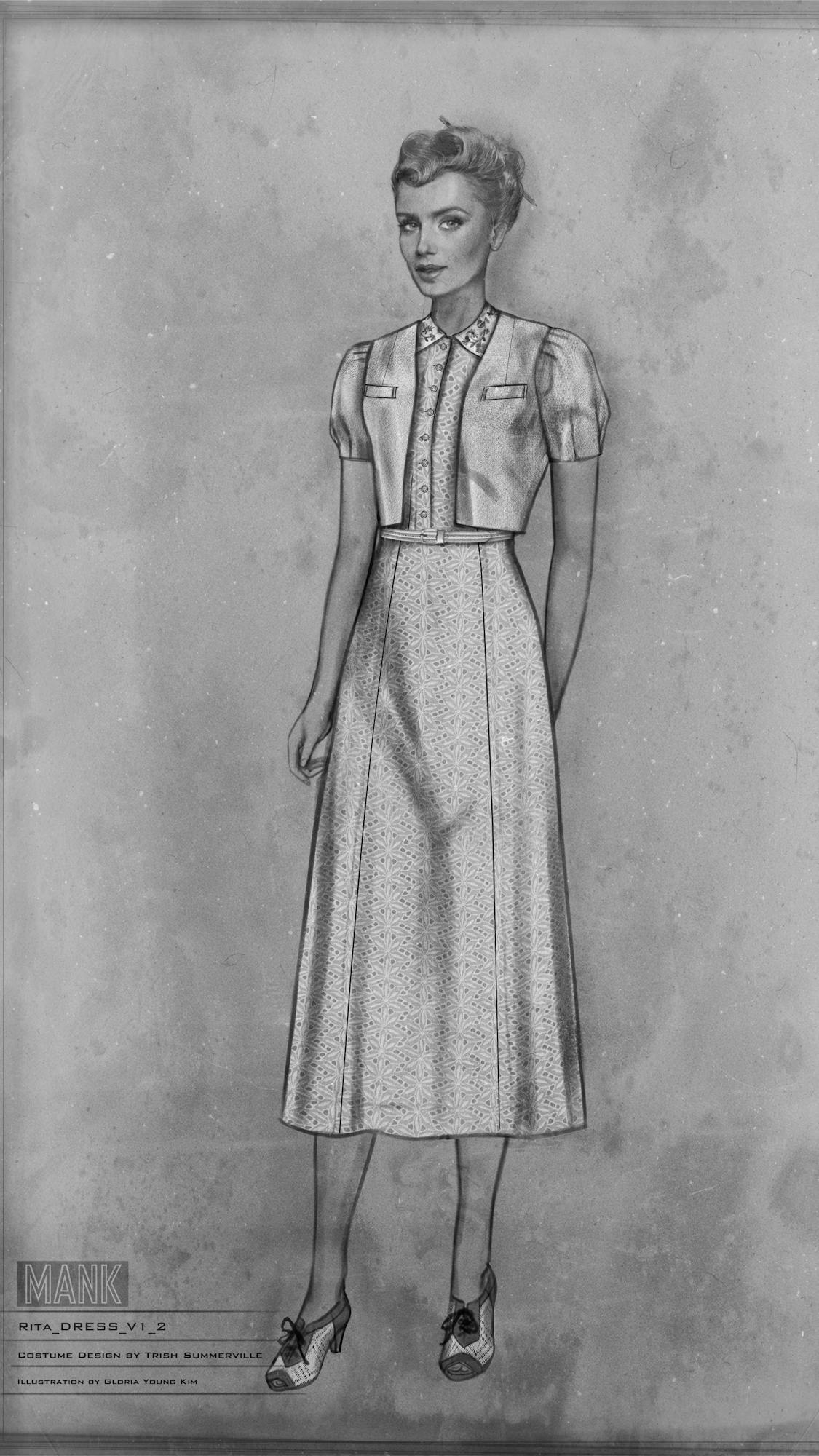 Still, no fitting compared to when Seyfried showed up, her daughter in tow, to try on the showstopping gold lamé dress that Marion Davies wears to Hearst's dinner party. "At that time, lamé was gaining popularity and was considered elite," Summerville says. "I came across an antique gold lamé, but it had a tiny crease in it."
She ran the grain one way and the other, and photographed it indoors and outdoors in moonlight through her black-and-white phone app. "It was then that I realized why hardly anything is made of this fabric," she laughs. "There's no room for mistakes with it. You see everything: a crease, the tiny pinholes from the sewing machines. But I needed Amanda to be stunning coming and going, and when she put this dress on it took my breath away."
Summerville wasn't alone. As she remembers: "Amanda's daughter looked up at her and said, 'Mama, you look so pretty!' And we all went, 'Awwww!'"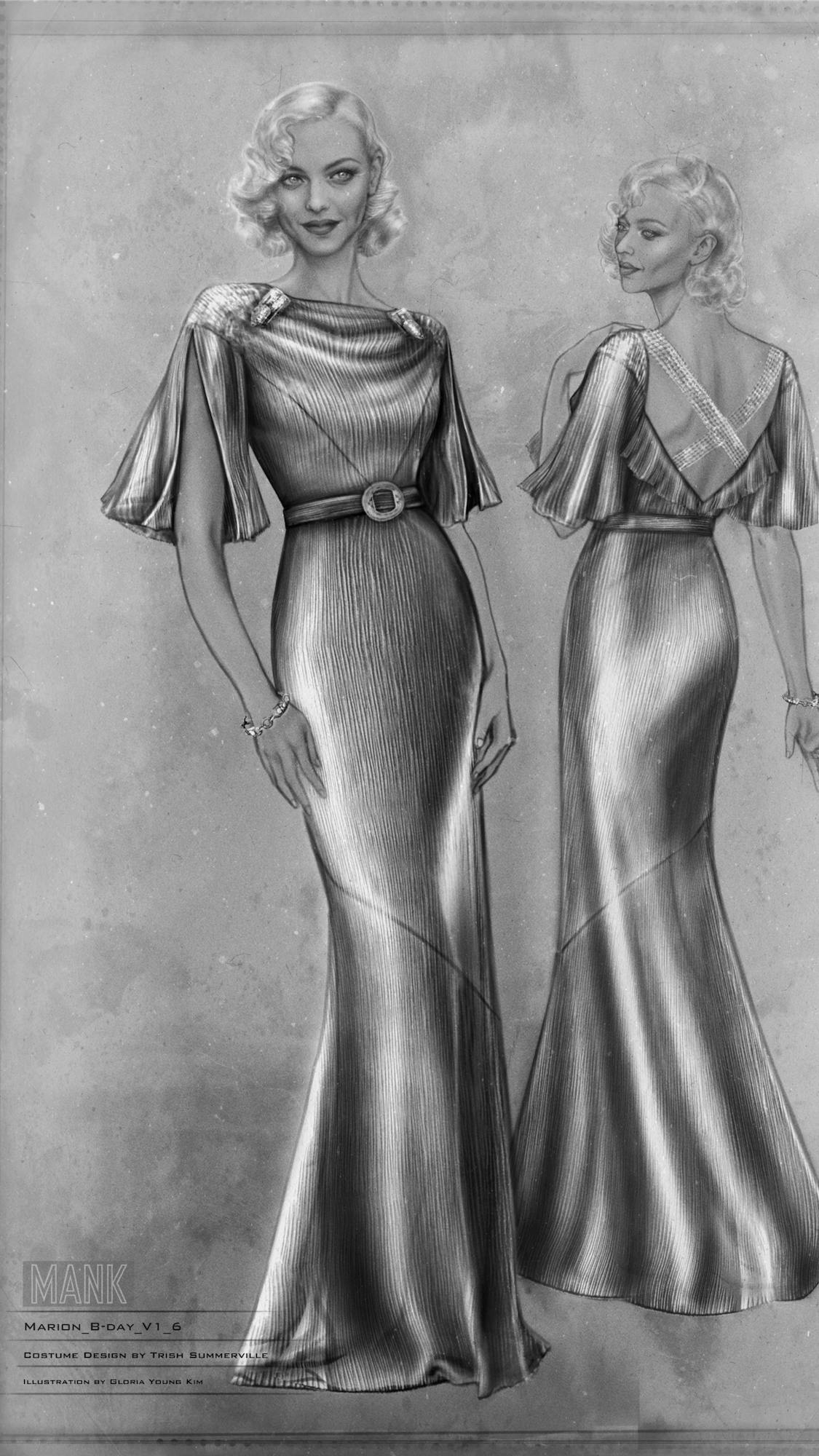 She let out a different kind of shriek the second night of shooting when — oops! — Seyfried sat on her foot as she was trying to prop herself up. "Her heel went right through the back of the dress. Thankfully, you couldn't really see it. But we ended up having to replace the back," Summerville says.
Summerville also favors the dress from the picnic — even if viewers only get a quick glimpse of its glory. "I love the black-and-white double-stripe organza. The fabric is so light and airy," she says. "Part of me wanted to ask Fincher, 'Doesn't she have to get out of the car and walk to the log so we can see the front and the back?"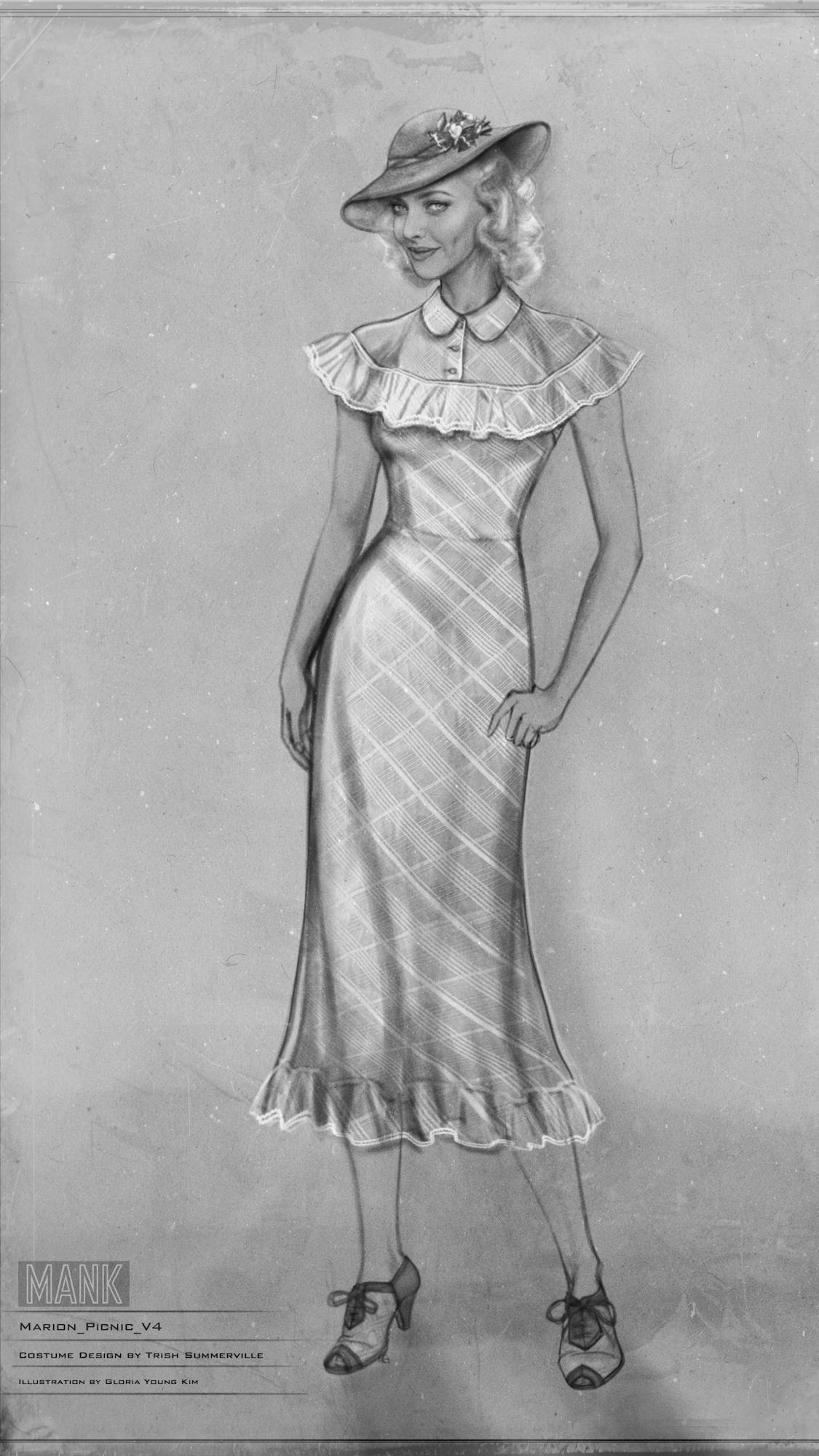 If Summerville has her way, we may yet get to see every delicious detail. "What I hope for is some sort of exhibit where everyone can see each piece," she says. For now, every article — Hearst's champagne-coppery jacket and pocket watch, the burgundy dresses and pinstripe suits that make up the funeral ensembles, the cornflower-blue number that Davies wears when she leaves M-G-M — is labeled and safely packed away. Summerville marked the suits that some of the men wanted to keep, until the actors realized their outfits were padded to make them look heavier. "Poor Arliss," she laughs. "He really wanted those plus fours that he wore to the home movie."
All the better for those of us who might someday like to see each and every item in its true colors and detail. "I really do pride myself on a piece not just looking good onscreen, but looking good to the naked eye out of context," Summerville says. "It's like seeing the Mona Lisa at the Louvre. Even though you've seen it before, it's different when it's right in front of you. I hope these pieces can have their Mona Lisa moment."