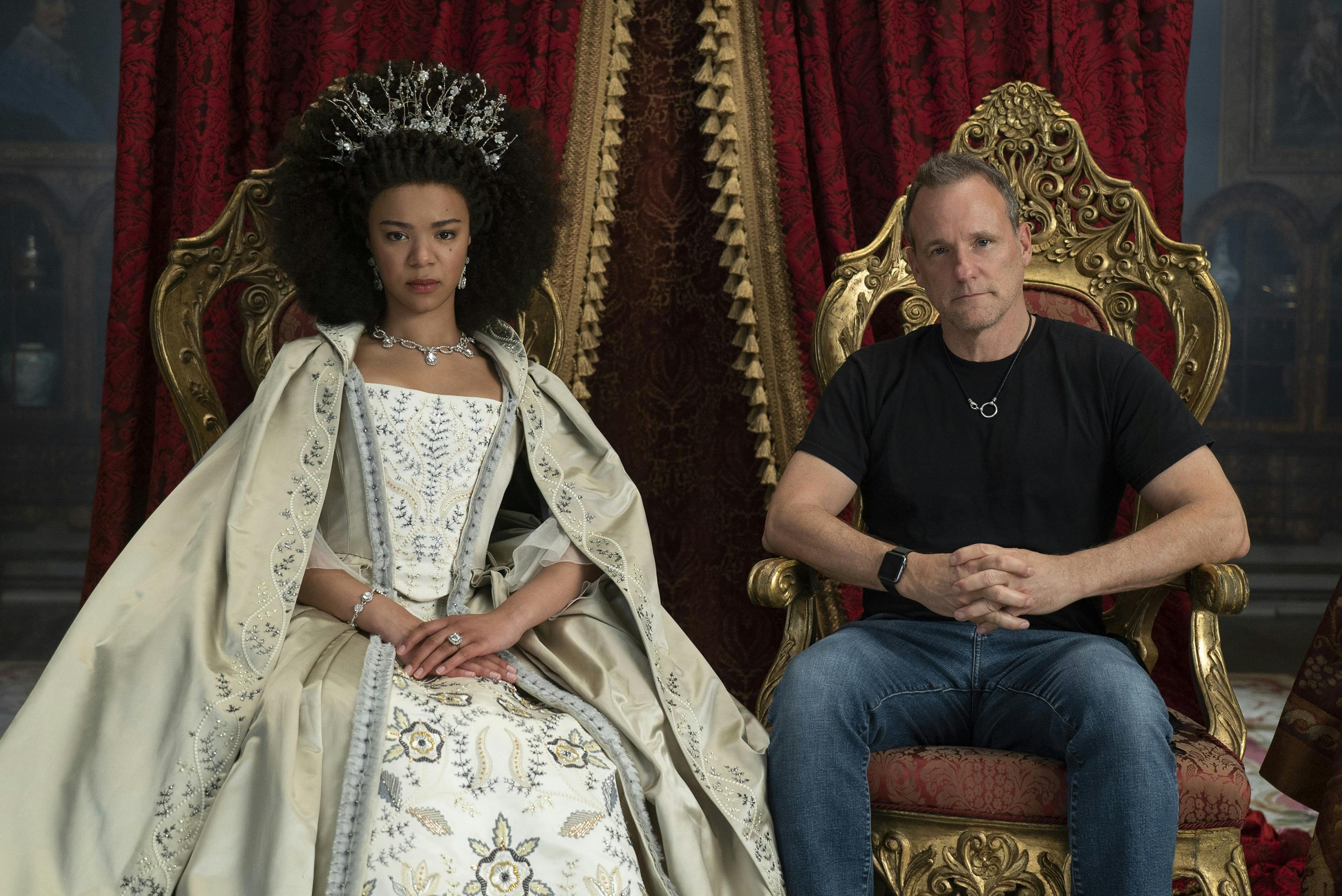 Tom Verica brings the magic of Bridgerton into its prequel, Queen Charlotte.
On Tom Verica's set, every day is a celebration. "I do little things like sing 'Happy Birthday' to somebody, whether it is their birthday or not, in the mornings," says the director and executive producer of Queen Charlotte: A Bridgerton Story. "It puts people in the mood and keeps levity with what we're doing because we do work long hours and people do get tired as the days go on." Keeping things fun and energized is a large part of the director's on set philosophy, in part because Verica — best recognized for his long-standing collaboration with showrunner Shonda Rhimes — knows what it's like to be an actor. 
Verica began his career in the 80s and 90s, acting in soap operas and television shows like All My Children, Central Park West, and L.A. Law before moving on to films from Zodiac to Die Hard 2. But it wasn't until he had a "very slow year acting-wise" that he turned to directing. "I think it was always there in me, and it wasn't obvious to me until the day it happened," remembers Verica. "I was always the child watching films like The Red Balloon, an old French silent film. I was a fan of the classic Italian films and Fellini — part of my Italian roots, I'm sure — and I really loved the visual language of a lot of these films." 
Eventually, the opportunity to direct an episode of Rhimes's Grey's Anatomy presented itself, and the director impressed the lauded showrunner by leaning into the comedic elements of the script. "I heard back that she saw it and said, 'This felt different. Who directed this show?' And then I was asked back to come and do another episode. For the next five years, I did five seasons of Grey's Anatomy, two episodes per season," says the director, reflecting on the early days of his partnership with Rhimes. 
I will look for those moments of spontaneity to try to elicit real, genuine reactions. 
That relationship evolved over the years, and in 2021, Verica became Shondaland's head of creative production. To date, he's worked on all but two of Shondaland's series, including four
episodes of Bridgerton, and even starred alongside Viola Davis in How to Get Away With Murder, among other guest roles. 
It seems only natural that Verica would join Rhimes for Queen Charlotte: A Bridgerton Story, starring India Amarteifio as the younger incarnation of the monarch and newcomers Corey Mylchreest and Arsema Thomas as the young versions of King George and Agatha Danbury, respectively. The series alternates between the older and younger casts to paint a more nuanced portrait of the beloved characters, particularly the early romance between Charlotte and George. 
"Once I saw [Shonda's] script and knew that this would be a more personal journey, taking a deeper dive into these characters and getting a little dirtier and grittier than the Bridgerton world," says the director of the series, which has earned three Emmy nominations, "I knew that it was going to be something very special." 
Verica spoke with Queue about his partnership with Rhimes and how he crafted the glittering visual world of the period drama from beginning to end. 
An edited version of the conversation follows.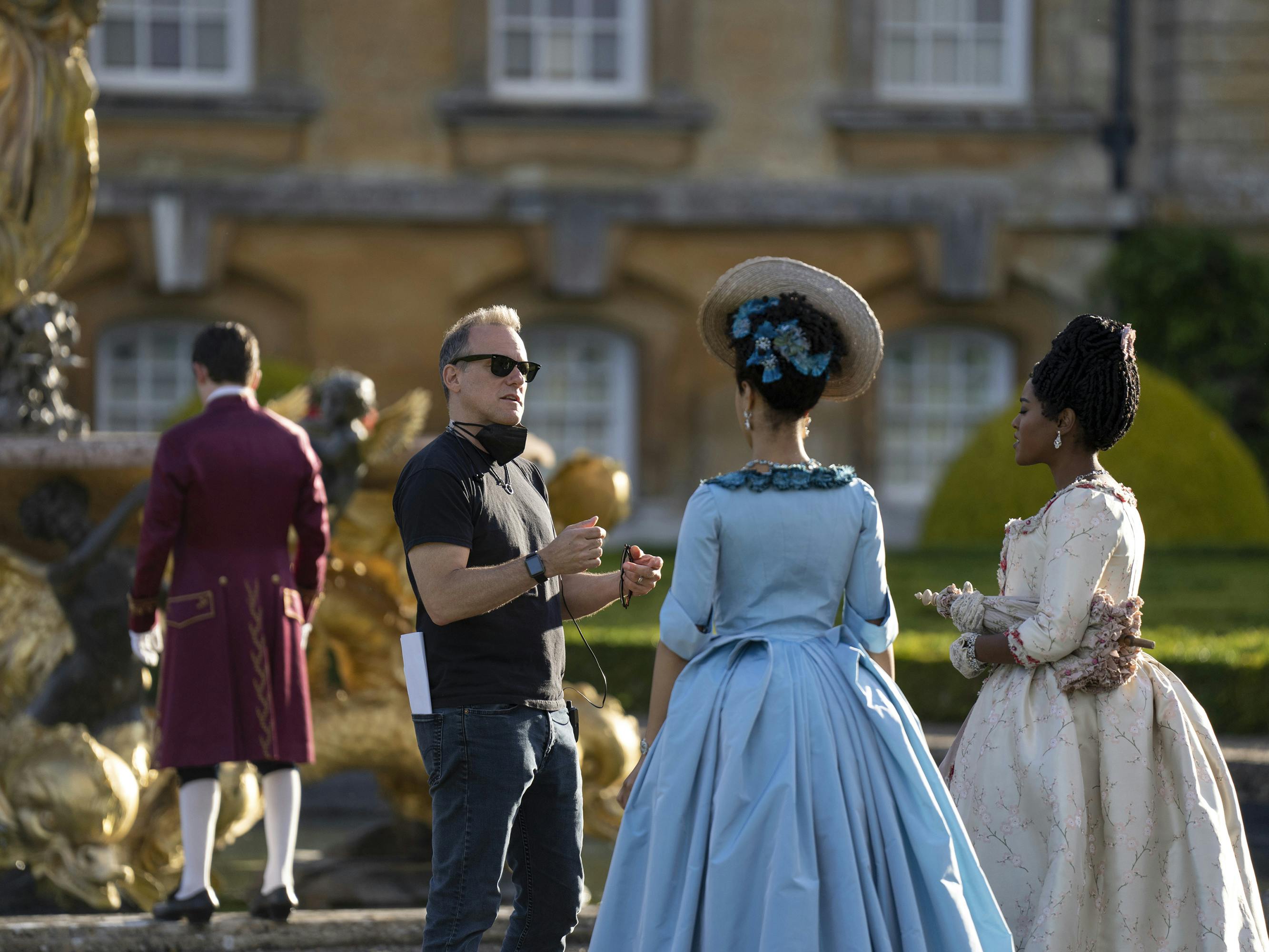 Photograph by Liam Daniel
Miranda Tsang: You began your career as an actor. At what point did you consider directing?
Tom Verica: I'd been kicking around in my head about picking up a camera, and my wife nudged me to finally dive in. I took this immersive eight-week course in visual storytelling and wrote and directed a couple short films. That really threw me into this very intense period of time, this awakening of diving into the films that I admired and analyzing them. So I utilized my position as an actor in television. I got cast on a show called American Dreams, and I really pushed hard to direct on that. That was the first opportunity that I had directing in television. And once I jumped in, I loved it and I didn't want to stop.
In addition to directing, you also had roles in some Shondaland shows. Was that your idea?
TV: Oh, no. When How to Get Away With Murder came about, I was immersed knee-deep in a final episode of Scandal. I just remember [Shonda] coming into my office and closing the door. I'm like, "Oh, shit. What the hell did I do?" Because that wasn't usual. And she says, "There's a role of Viola Davis's husband in the pilot of How to Get Away With Murder. Do you want to do it?"
And there's nothing about that statement that I would not want to do. But I was like, "That's fantastic, but I'm preparing to direct the finale and I really have no time." And they said, "We'll make it work." I couldn't think of a better acting partner and someone to play with than [Viola Davis]. So it was one of the most intense periods of time. I would fly back to Philadelphia [where How to Get Away With Murder was shooting] on the weekends and shoot Saturday and Sunday, and then [go] back to directing Scandal Monday through Friday. It was only supposed to be one episode. The series ended up going for six seasons.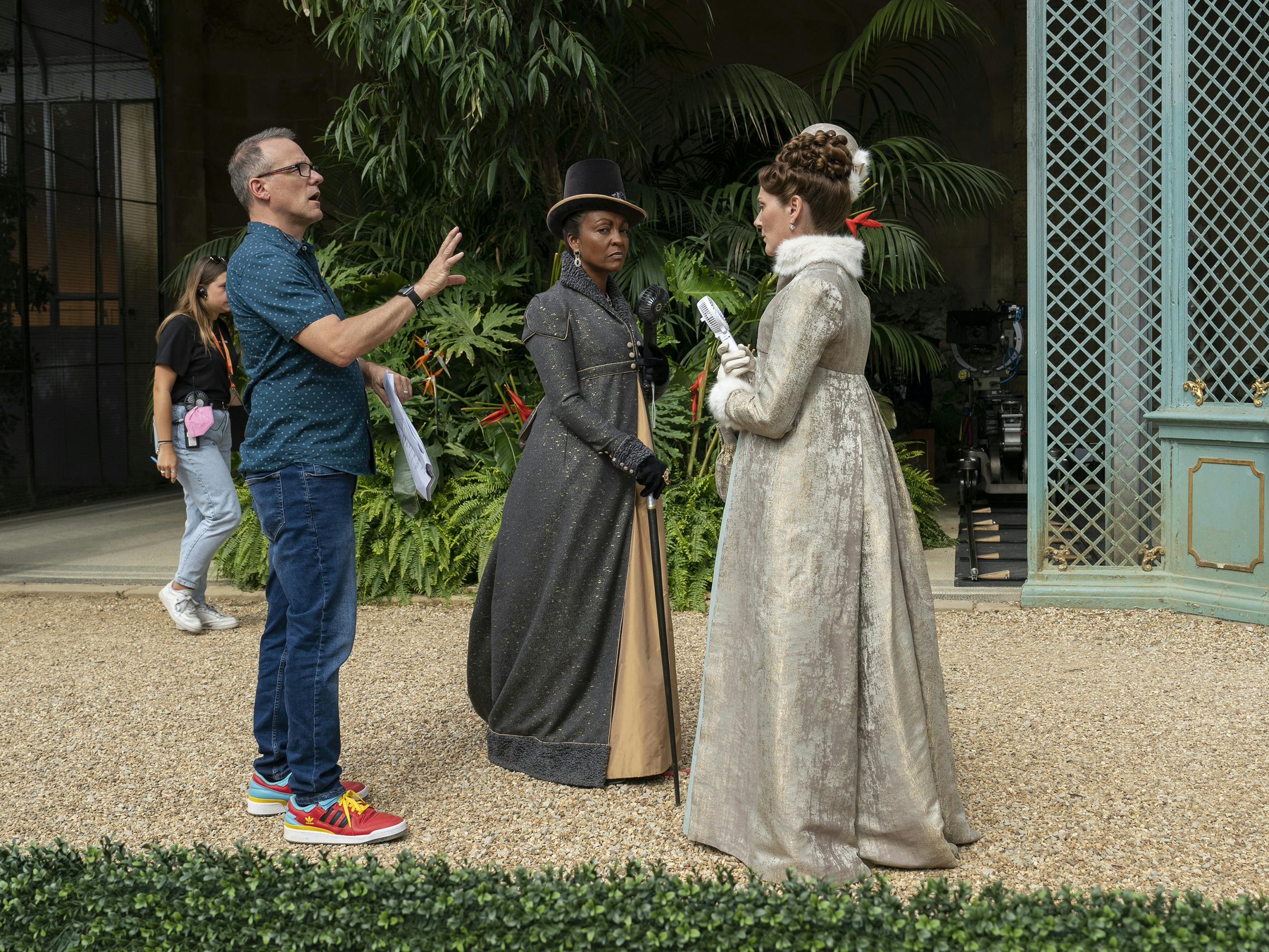 What makes you and Shonda such great partners? 
TV: I have such respect for everything: her writing, her leadership, her intelligence, what she sees, what she speaks to. There's always something underneath her writing that's multilayered. It's one of those partnerships that you just click and there's an ease in it. Without a lot of over-analyzing and discussion, I get it right away. There's a freedom in our partnership: We allow each other to stay in our lanes and I think we kick out something that works.
Queen Charlotte moves back and forth between the Georgian and Regency periods. How did you signal those changes visually?
TV: Director of photography Jeff Jur and I had a lot of discussions about how we were going to illustrate that. So we started off with color palettes. In the Bridgerton world, those [1810s] characters are in wintertime. So that enabled us to play a lot of the blues and the cooler colors with them. In the Georgian era, with our younger folks, it was summer, so we played with a lot of the warmer lenses, filters to bring that out. We also used anamorphic lenses that were primed for the younger period, and then used zooms, which are not as sharp . . . It's a subtle separation of those time periods.
Then we started talking about transitions, and we played a lot with dissolves, which aren't used a whole lot nowadays. One of the films we referenced was The Godfather II, which moved back and forth between two time periods. What we loved were those split screen images where the dissolve holds a lot longer, so it can really connect those periods. We were diligent in executing those and seeking out moments to find those transitions.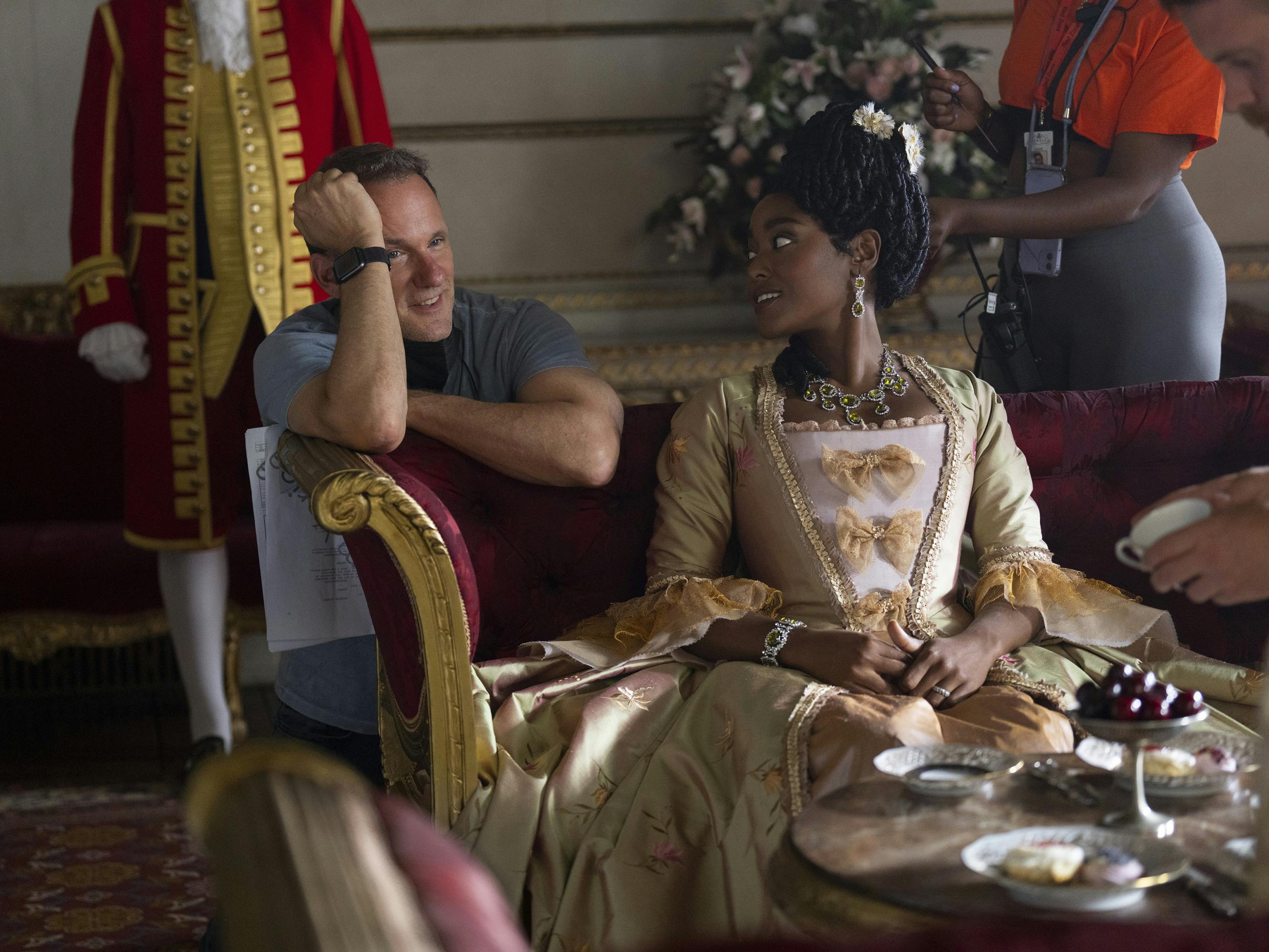 Did you set Queen Charlotte's younger timeline in summer because of the symbolism of summer versus winter years?
TV: Shonda wanted that. It also enabled us to give just a slight difference of costumes for our older characters in Bridgerton. They had fur on their costumes, thicker fabrics. So there was a definite palette for us to play with differently in that world, but also Shonda wanted to play those two time periods as that burgeoning love in the younger period when they first meet in spring and summer. 
With so many modern touches in the show, how do you get that visual language just right and not cross over too far into modernity?
TV: There's a little thing that I did in [Bridgerton] Season 1 with Regé [-Jean Page] and Phoebe [Dynevor] in one of their dance sequences. They all learn [the dances to] classical songs and the intention is to really get them technically comfortable and used to what is expected of the time, the formality of that. And, in Episode 3 of Queen Charlotte, George and Charlotte dance together at the Danbury Ball. About the fourth take in, I [usually] surprise the actors with a modern song to spark a freshness in their performance, something that's a parallel to what's happening in their relationship.
I was pulling up three-quarter times pop songs, and I came across Alicia Keys, "If I Ain't Got You." And I said, "That is perfect emotionally for what this moment is." So I gave the song to our sound mixer, and I told the actors, "Soon as you hear [this song], I just want you to feel it and dance. Just take it in, in a contemporary, modern way that you would in that connection." And what you see in the episode was that take.
So there are little touches that just give an edge of modernity to it. We weren't planning on using that song and then when we got in post-production, I couldn't hear any other song. So I talked to Shonda and said, "I think we should do a classical cover of it." And then, here it is, the 20-year anniversary of that song.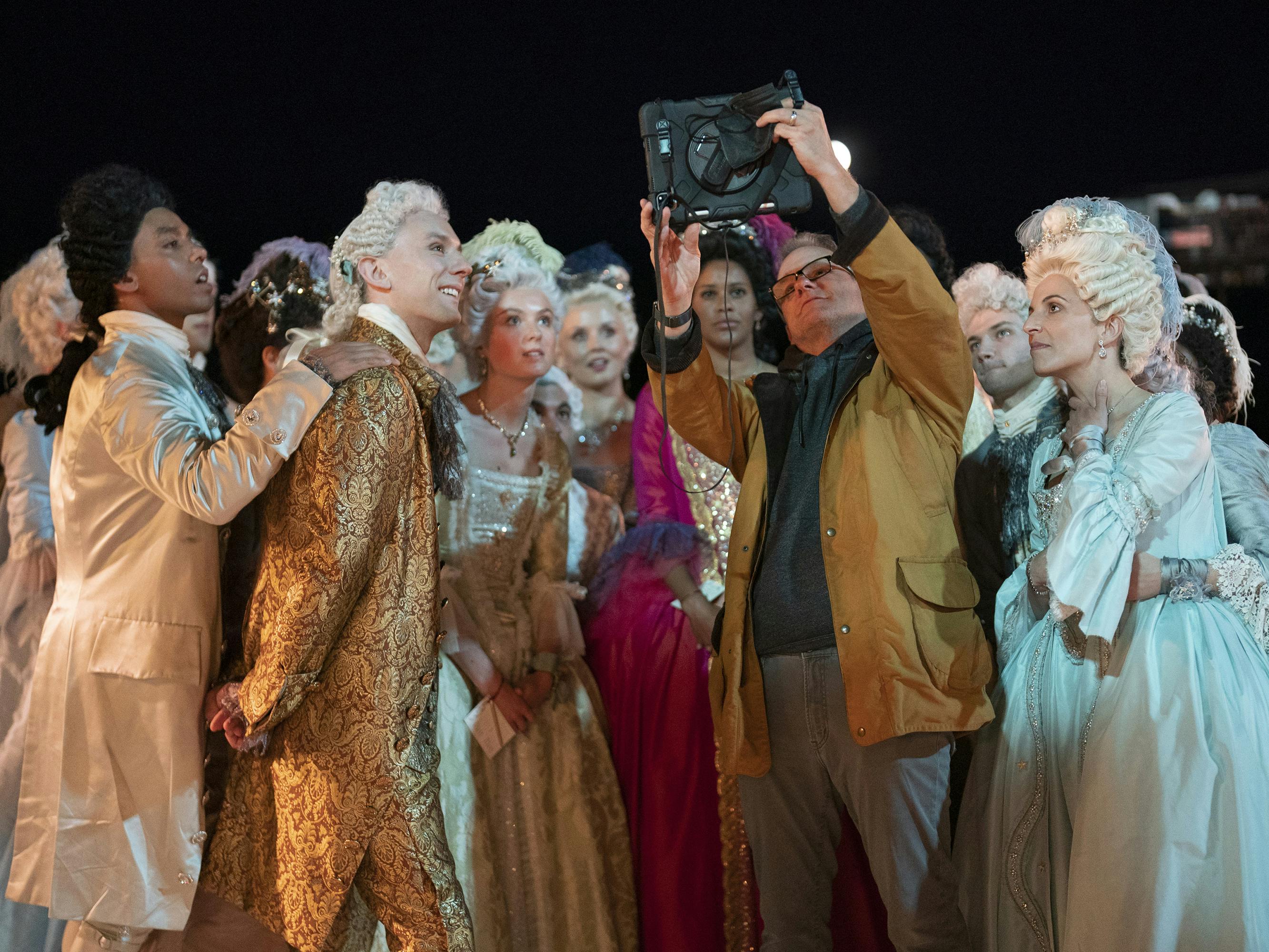 In the scene at the Danbury Ball, there's an extra who's holding her hand over her heart, seeing the meaning of Black and white members of the ton dancing together. I thought that was really beautiful.
TV: You get those moments where you empower your supporting cast, who oftentimes will just go through the motions because they're working on another show the next day, and they're just standing there, propped up. But I get them involved. I explain what's happening in the scene and the tension there, and [ask them to] really be looking at the person across the way, and what does that look mean?
I will look for those moments of spontaneity to try to elicit real, genuine reactions. And that was one of them that was a real, genuine reaction. She saw the chemistry that India and Corey have and what they bring.