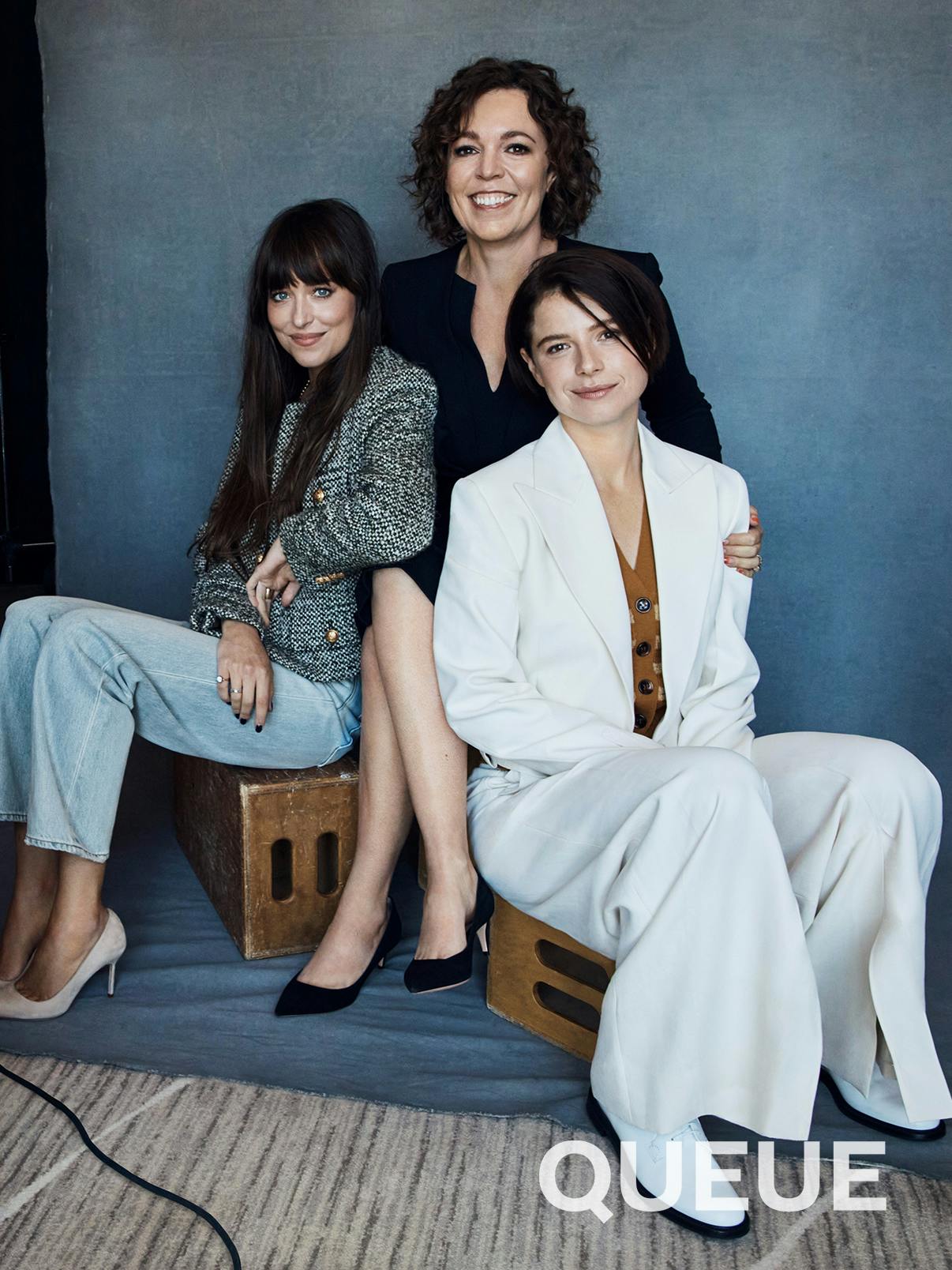 Olivia Colman, Dakota Johnson, and Jessie Buckley on the artistry and vulnerability at the heart of the psychological thriller.
Seen through the eyes of actress and filmmaker Maggie Gyllenhaal, The Lost Daughter is a searingly honest exploration of motherhood's seldom-discussed effects on one's sexuality and sense of self. Adapted from Elena Ferrante's novel, Gyllenhaal's feature directorial debut is equal parts drama and emotional thriller. The story follows Leda, a 48-year-old professor of Italian literature who becomes obsessed with a young mother, Nina, during a seaside vacation. As their relationship intensifies, Leda is forced to confront the transgressive decisions she made regarding her two young daughters, told in flashbacks. It is also, Gyllenhaal admits, "Dark, with painful aspects to it. Leda is a tough, tough person to spend time with." 
Casting an actress who could portray the nuances of the complex protagonist required two things: "First, she can't be crazy. If she's crazy, we've seen that person before, and then everyone can just go, 'Look at that bad mom who's so crazy.' I also felt that it was important to be wonderful and funny and human."
There was only one choice in her mind: Olivia Colman.
Many Oscar- and Emmy-winning actresses would need a hard sell to agree to star in an independent film helmed by an emerging director. But for Colman, whose recent projects include Yorgos Lanthimos's The Favourite and the role of Queen Elizabeth II in two seasons of The Crown, the deciding factor for joining The Lost Daughter came down to a shared bottle of wine and the promise of fun.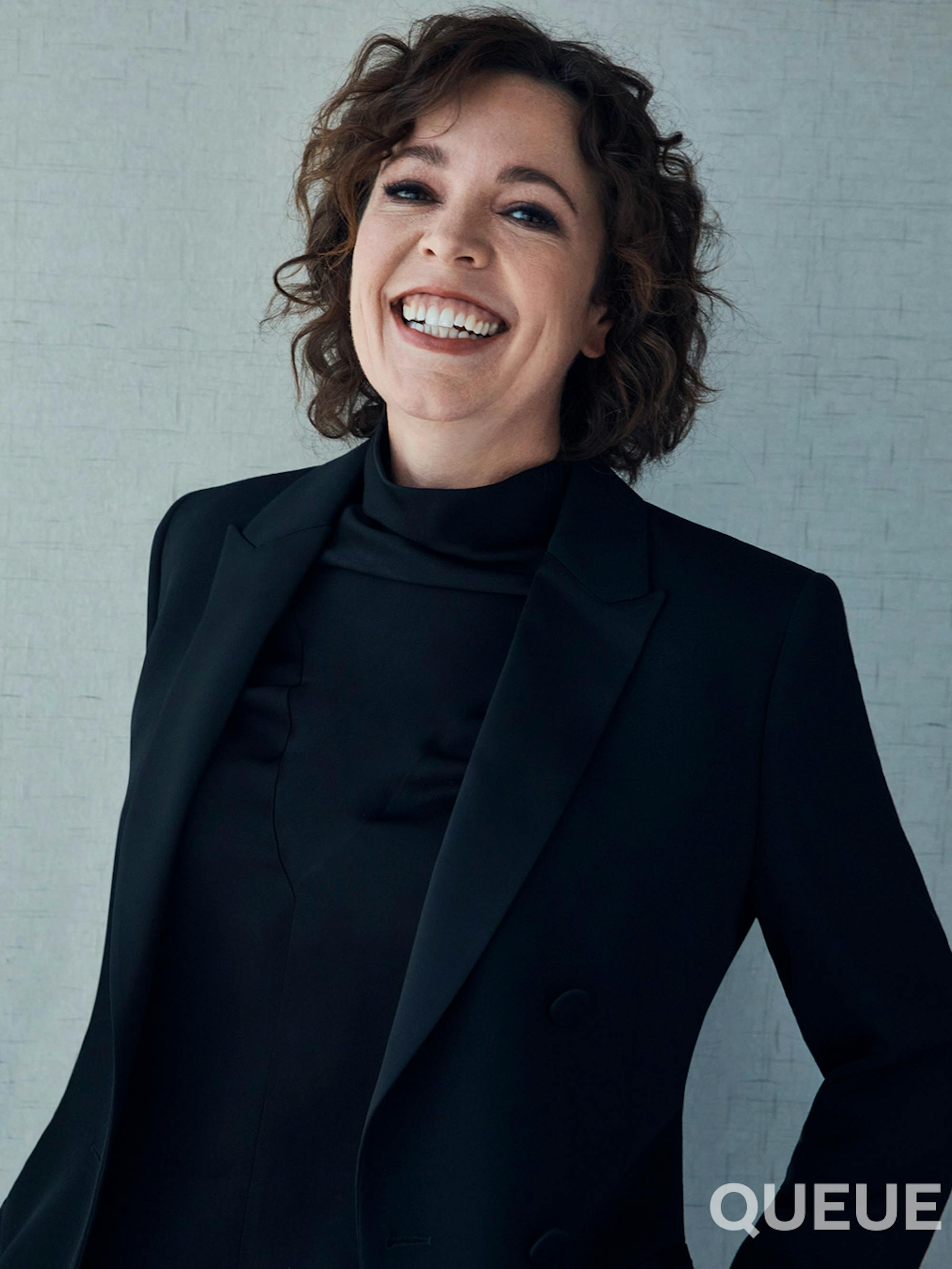 "The script was so beautifully, beautifully written," Colman says. And as a mother, "I just love that all of this stuff was talked about honestly, rather than, women who have children are saints, they don't ever have bad thoughts."
Gyllenhaal knew that a "yes" was hardly a given, but she wasn't aware that lunch was, as Colman confesses with a laugh, "A litmus test. I figured we should have a little glass of something, and she said, 'Yeah,' and I thought, OK, this is good. Because in London, often if you're having lunch, you have a glass of wine, but in L.A. I think they frown upon that. So, I thought we would get on well and have a lovely time."
The actress not only agreed to star in the film but suggested the Irish actress Jessie Buckley play the twenty-something Leda, a crucial role since much of the movie rests on understanding the character and the life-altering decision she made as a young mother. "Leda does something really abhorrent," Gyllenhaal explains, "And yet we relate to her, we understand her. We've had experiences, feelings, desires, and thoughts just like hers."
Shortly after her lunch with Colman, the director went to a movie theater to watch Buckley's star turn in Wild Rose, in which she plays a Scottish single mother who is newly out of jail and determined to be a country music singer. Gyllenhaal left knowing she had found her young Leda. "I was completely blown away by her," she remembers. When the two met soon after, Buckley was equally impressed by Gyllenhaal and the script.
We've made something really honest. I think a lot of people are going to go, Oh God, I've felt like that. And it hasn't been said out loud before.
"I'm not a mother, but I know all of these women," Buckley says. "I don't think Leda is a bad mother. I actually think she's an incredible mother, and what she gives to her daughters is cutting the cord of repression. There aren't many films where this is explored. It made me take a breath, like, Thank God. We don't have to pretend."
With present-day and twenty-something Leda confirmed, that left casting the role of Nina, a beautiful young woman struggling as the mother of a toddler. When Nina meets Leda, she seeks solace in the older woman, unaware of her secrets. Dakota Johnson, who had won acclaim for her performances in Luca Guadagnino's films A Bigger Splash and Suspiria, among other roles, pressed Gyllenhaal to consider her for the part and impressed the director with her determination to investigate the subtleties of her character.
"She could have just been the hot girl on the beach," Johnson says, "But she's hungry and feels invisible." Despite not being a mother herself, the actress didn't struggle to identify. "There's this antiquated belief or mindset that women must just make it work, must figure it out, must be the mother, must not be too loud or too angry or too sexy or too smart or too stupid," she explains. "It's impossible. And I think mothers, specifically, have been programmed to think that if you go, 'Is there something for me?' that it's selfish in a way. And I think it's not."
"I'm a little bit like Nina," she continues, "I've felt that at times in my life nobody sees the heart or mind that I have. I have those moments all the time where I'm just like, 'Fuck, I can't.' You have to, because it's such a relief."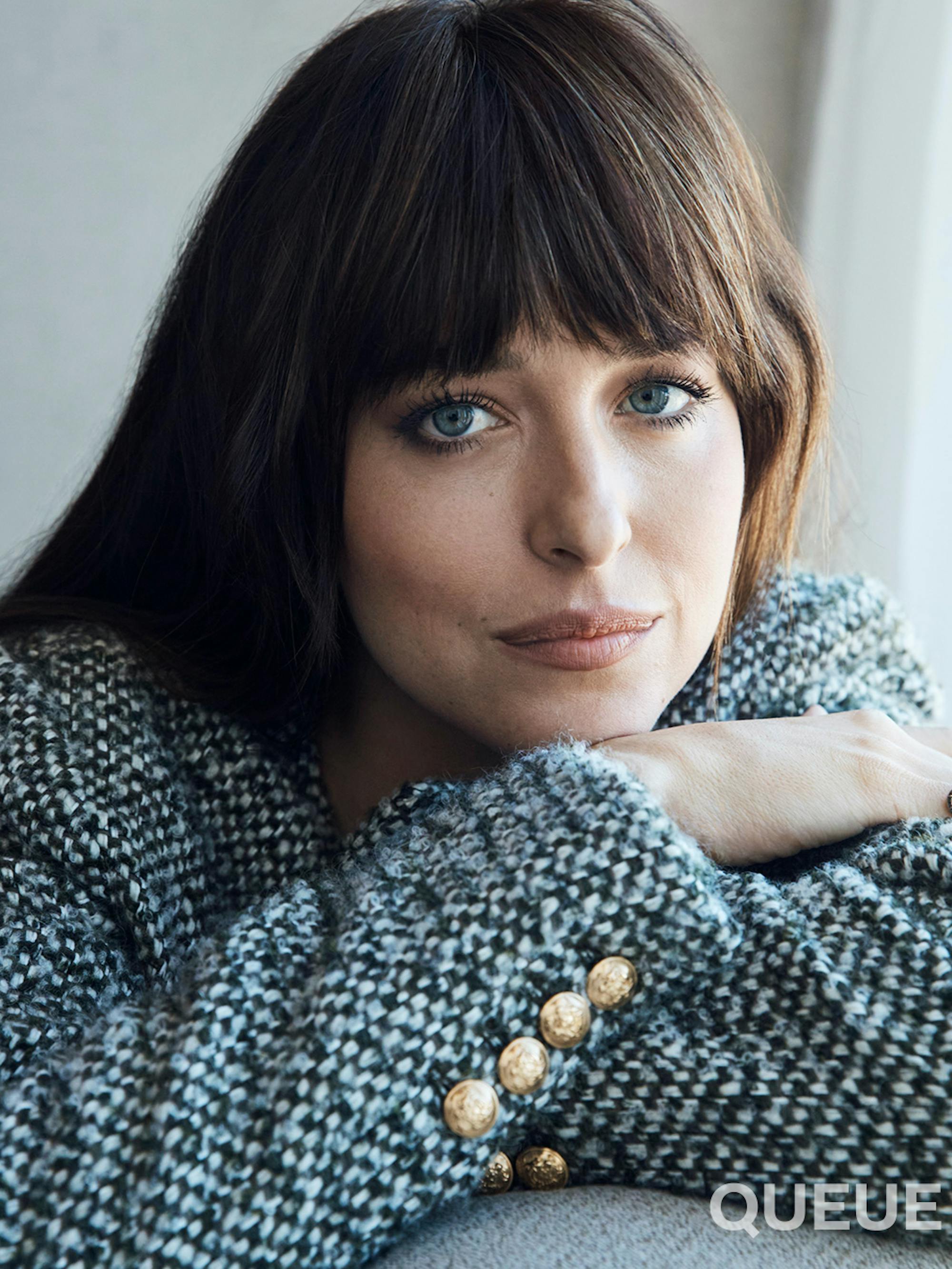 Plans to get together to discuss the emotional dynamics at the heart of the film in person were suddenly put on hold with the emergence of COVID and the ensuing lockdowns. Meetings with Gyllenhaal moved to Zoom, and Colman and Buckley, who don't share any scenes, limited their preproduction back-and-forth about the role to texting. Gyllenhaal stressed to each woman that there was no need to worry about resembling each other too closely; as Colman says, "A woman in her twenties is different than she is in her forties, so we will be different." 
Discussing the background of the Englishwoman, Colman says the two actresses decided that Leda "would have working class roots — she got herself out through education, and she wanted a family." Remembers Buckley, "The extent of it was, 'What accent are you doing?' and, 'What Italian dirty words do you know already?' Olivia could say a better dirty word than I could."
Meanwhile, Gyllenhaal was scurrying to move production from a seaside location in North America to Spetses, a small island in Greece, where there would be fewer restrictions on gathering the international cast. In the fall of 2020, the three stars arrived for a 14-day quarantine in their respective hotel rooms before gathering downstairs in the garden to finally meet in person. Joining them for cocktails and music was the rest of the ensemble: Ed Harris, who plays Lyle, an expat who welcomes Leda to the island; Gyllenhaal's husband, Peter Sarsgaard, who plays Professor Hardy, young Leda's lover; Paul Mescal as Will, a worker at the resort; and Dagmara Domińczyk as Callie, Nina's sister-in-law.
It was, according to all, an immediate lovefest. "Having scenes with Dakota was always, Oh goody, I get to have a day with her," Colman says. "She's a brilliant actress, and she's so funny. She's got great life experience, and Maggie let her show it."
On set, the emotional demands of playing characters on the verge of a breakdown was intense for the two younger actresses. For Johnson, there was pressure during the scenes where her character appears in revealing bathing suits and endures the salacious attention of men. "I was so vulnerable emotionally," she says, "But also, being in these bathing suits that were just, like floss, I think it felt like, Yeah, here I am." She was supported by Gyllenhaal and cheered on by Colman who shared, "It's really refreshing," while applauding Johnson's bravery and confidence on set. 
Colman was equally supportive of Buckley and her character's fraught arc, which ultimately leads to her realization that life as a mother is untenable. "I find that stuff the hardest to watch," Colman says, "Because there's a moment where she's clearly the best mom ever, and then it's too much. I'm so glad I didn't have to do those bits." She was equally grateful to be on the other side of their shared character's love affair. "I'm so pleased I didn't have any of the sex scenes that Jessie had," Colman says. "She was amazing."
When shooting wrapped at the end of each day, the actresses embraced their great fortune not only to be together, but also to be together in Greece. Gyllenhaal and Buckley would often go for a swim together in the Aegean before heading back to the hotel, where the cast and crew were all staying. "It was not the kind of job where you leave and you're alone at the end of the day, hating yourself," Johnson says, laughing. "We'd have dinner and drinks together." 
After dinner, Colman could be counted on to keep the party going. "We'd end up in Olivia's room having wine and a big singsong until 3 a.m.," Buckley says. "She's just one of the best humans in the world."
Their camaraderie lasted long after the cast and crew left Greece for their respective homes. "There are few jobs in my life where I've maintained connections with people, but these people — we're all very close," Johnson says. "If I'm in London, I'll go to Olivia's house. And if I'm in New York, I'll go to Maggie's house. I've gotten to a place in my life that when I love people, I really want them to know it, and I want them to know why. And it's so nice that they feel the same."
What the women also agree on is how honored they feel to have been a part of telling this fearless story and reassuring others of their shared humanity. "We've made something really honest," Colman says. "I think a lot of people are going to go, 'Oh God, I've felt like that.' And it hasn't been said out loud before."