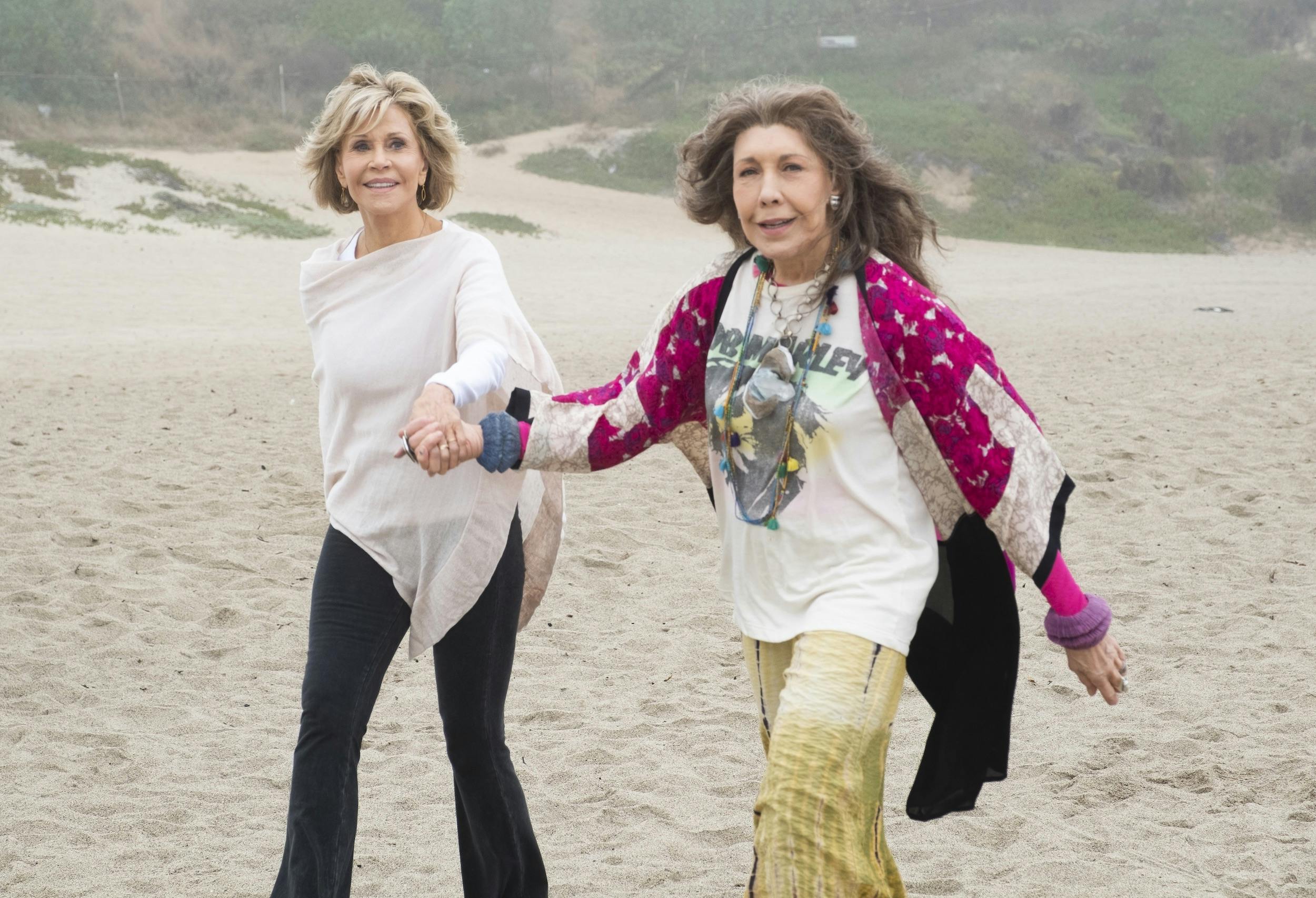 Picture it: a TV comedy about two roommates in Southern California beginning a new chapter. Finally liberated from the constraints of family, the duo is experiencing, for the very first time, what it means to be unencumbered and entirely free — and trying to figure out what to do with the rest of their lives. They fumble their way through dating experiences and career possibilities, building an existence brick by brick, improvising as they go along. They have fun, they fight, they have deep discussions over bonfires on the beach. They vlog like YouTubers, hook up with paramours, and break up with paramours. They have wild nights dancing on bars to Lil Jon. They slog through tired mornings, nursing hangovers, and one of them just can't stop eating peyote and ripping bong hits all day long.
Who do you imagine these two people are? You'd be forgiven if the image that pops into your mind is of two twentysomethings fresh from college. But, in fact, this is a description of Grace and Frankie, the lead characters of the Emmy-nominated series starring Jane Fonda and Lily Tomlin, both of whom were in their 70s when filming began.
We are too often conditioned to believe that the real meat of self-discovery and self-invention happens when we are young, that all the messy fun of life is meant to occur before you turn 40. But since the show's debut in 2015, Grace and Frankie has offered a window into a world in which the most important journeys start when you have gray hair. "We want to address the stereotype, which is that after a certain age, it's all downhill, and there's no more joy or sex or play," Fonda has said of the show.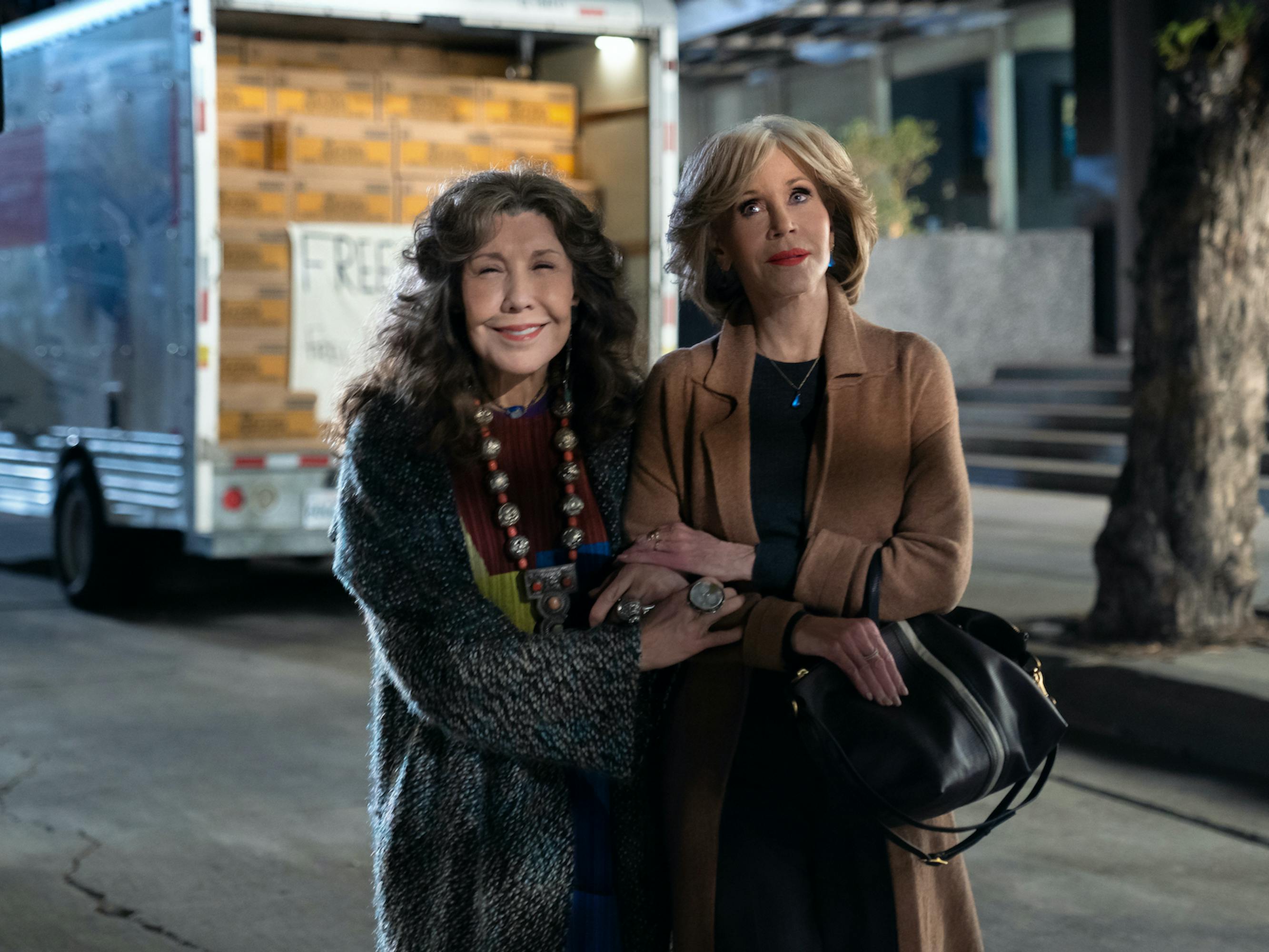 Now in its seventh and final season — which finds the women laundering money, visiting their significant others in prison, and hiding from the F.B.I. — the series continues to develop its truly modern premise: Though they later become friends, Frankie and Grace start out as women who dislike each other but are married to law partners Sol (Sam Waterston) and Robert (Martin Sheen). Frankie is a 1960s-style hippie with long, undyed hair and a love for meditation and weed. Grace is a thin, disciplined, uptight WASP who avoids carbs but gulps down martinis. 
In the first scene of the first episode, Robert and Sol take Grace and Frankie to dinner to tell them that not only have they been partners for all these years, but they've also been having an affair. Now, desiring to be out and proud gay men, they're divorcing Grace and Frankie to marry each other. Forced from their longtime homes, the women end up at a vacation property by the beach that the two families had bought together years prior.
At the beginning, creators Marta Kauffman and Howard J. Morris suffused Grace and Frankie with an air of sadness: two women unknowingly living a lie, victims of deceit and adultery, left alone in the sunset of their lives. But as the show evolved, so did its sense of opportunity and even optimism. Although the two women balk at the idea of changing everything after so many years of routine, slowly, they begin to realize that they're more adaptable than they initially thought possible. 
Grace, as it turns out, wasn't all that happy in her marriage to begin with, so she sets out to find her one true love. Frankie, an artist at her core, puts her creativity to use inventing an all-natural vaginal lubrication made from yams, a product specifically targeted to women her age who are still sexually active but aren't catered to when it comes to sexual health products. Most importantly, the two women go from frenemies to best friends, a boomer The Odd Couple who see each other through any and all of life's problems.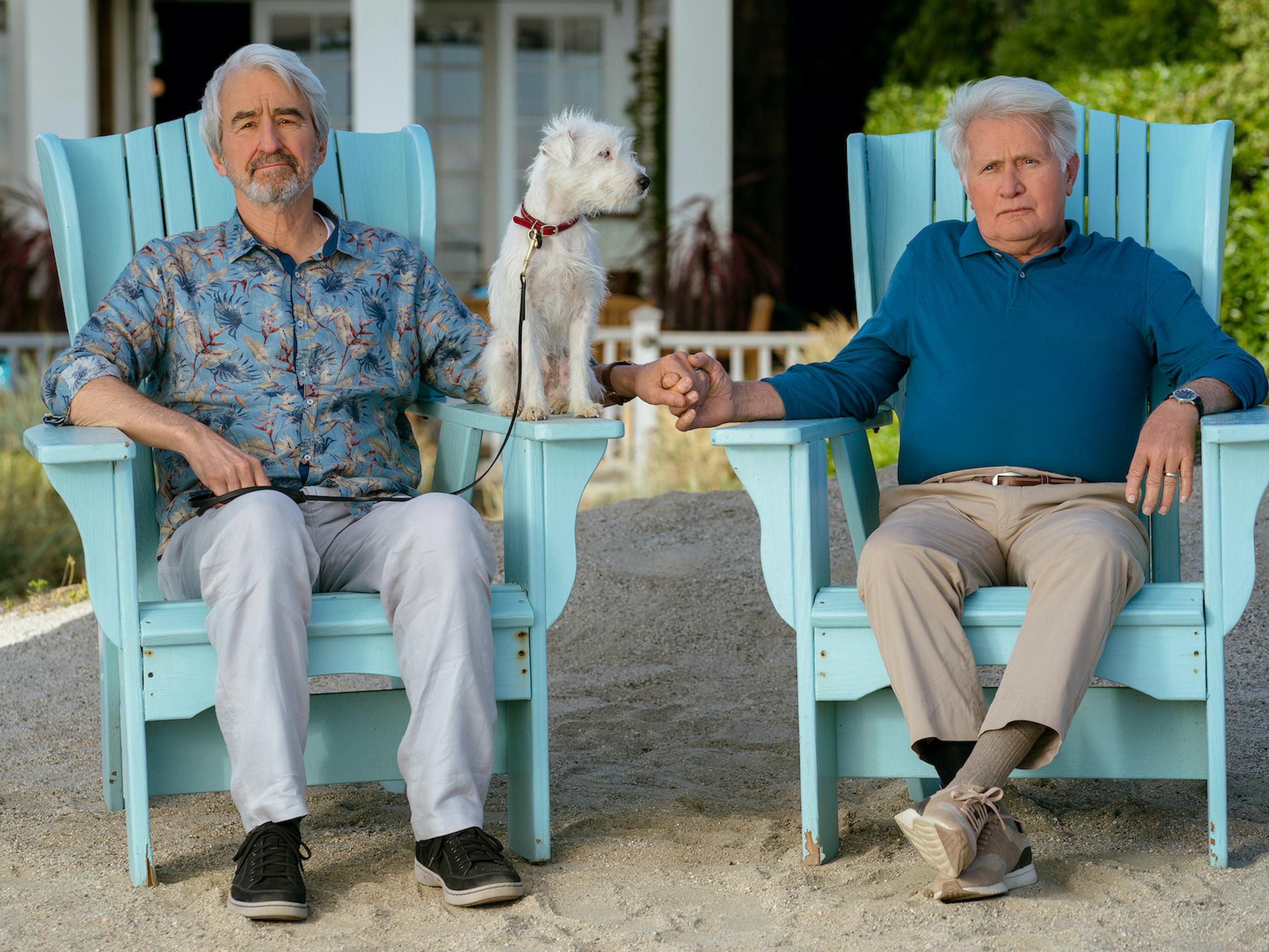 As for the men, there's hope in their story, too. A critique of selfish masculinity exists at the center of Grace and Frankie — gay or not, Robert and Sol lied to their wives for decades and then left them emotionally shattered. But there's also something magical — and truly twenty-first century — in their coupling: As a pair of silver foxes settling into gay domesticity, their plotline would have been impossible to imagine even fifteen years ago.
While Grace and Frankie, the wild heterosexuals, are barhopping and browsing dating apps, it's the gay couple who offers the boring, settled image of marital bliss. For anyone who has struggled to come out of the closet, the message is unmistakable: No matter what age you finally do tell the world you're gay, your life afterwards will be satisfying.
Grace and Frankie's impact wasn't confined to the screen. It's said that in Hollywood, there are few roles for women of a certain age, and that's true, yet here are Fonda and Tomlin, both in their early 80s, having as much fun on camera in character as anyone could hope for. The show's slapstick scenes have given the internet endless fodder for memes and screenshots, making both Tomlin and Fonda viral sensations decades after they began their careers. I also think of them as IDGAF heroes for burnt-out millennials and Gen Z-ers, including myself, who love the idea that even if one's circumstances are difficult and stressful now, they could always get better, even at 70.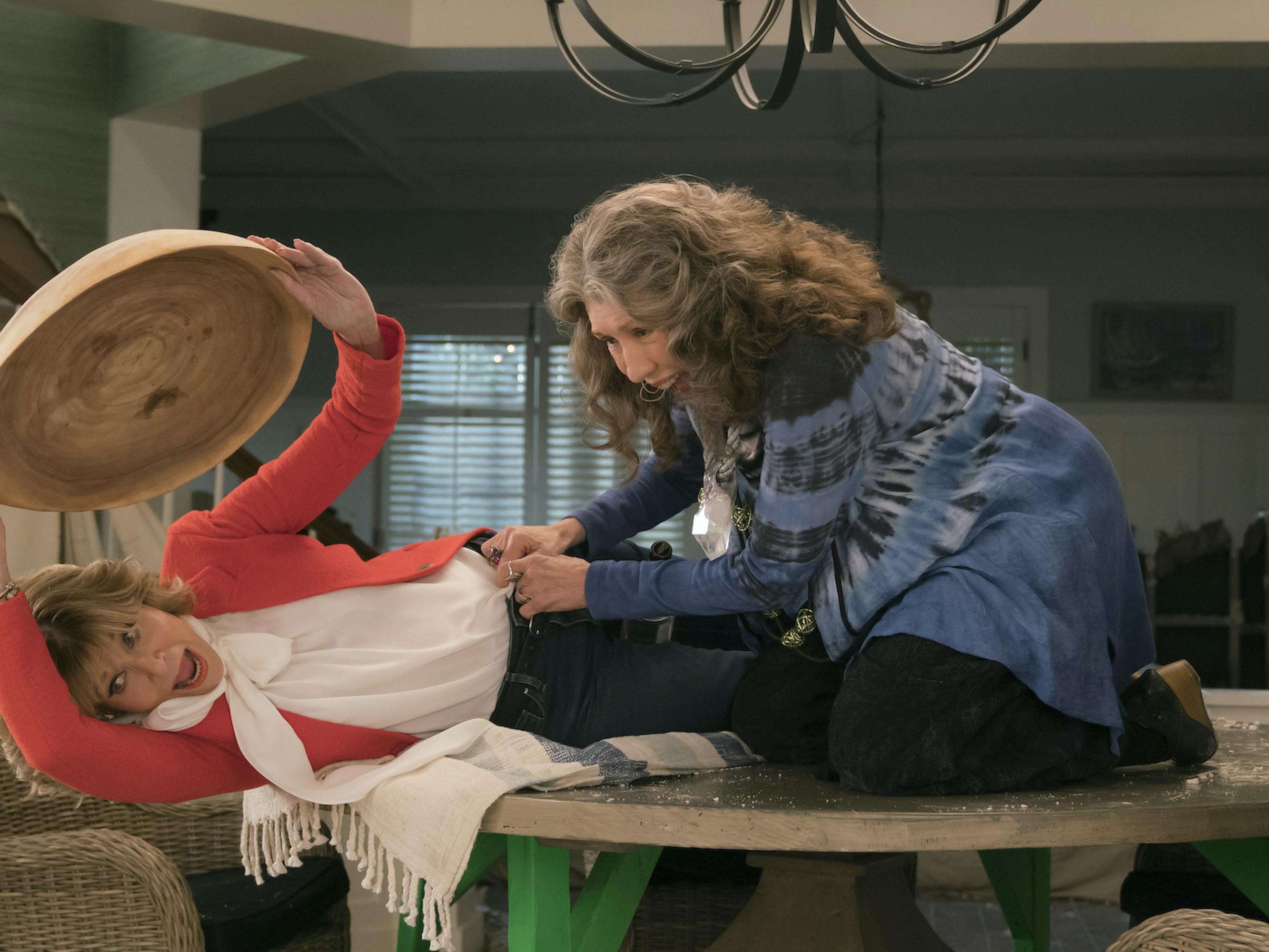 As Tomlin herself puts it: Life isn't over until it's over. I am 35 and sometimes I hear my clock ticking too loudly — I make a mental list of all I've yet to accomplish. I worry if I don't do it now, I'll miss my chance, ending up grizzled and full of regrets about what could've been. But, however much a fantasy it might be, Grace and Frankie offers up something promising, a reassurance that it's never too late to be who you want to be, to have sex, to smoke weed, to drink whiskey, to reinvent, to make new friends, to fall in love, to do whatever it is that leads to a satisfying, surprsing, stimulating existence.
"A lot of people tell us how the show gives them hope — they see that it's not so awful to be older," Tomlin once said. "You can still have a lot of fun." And, as Grace and Frankie has proven over seven wonderful seasons, the whole world can have a lot of fun watching you, too.