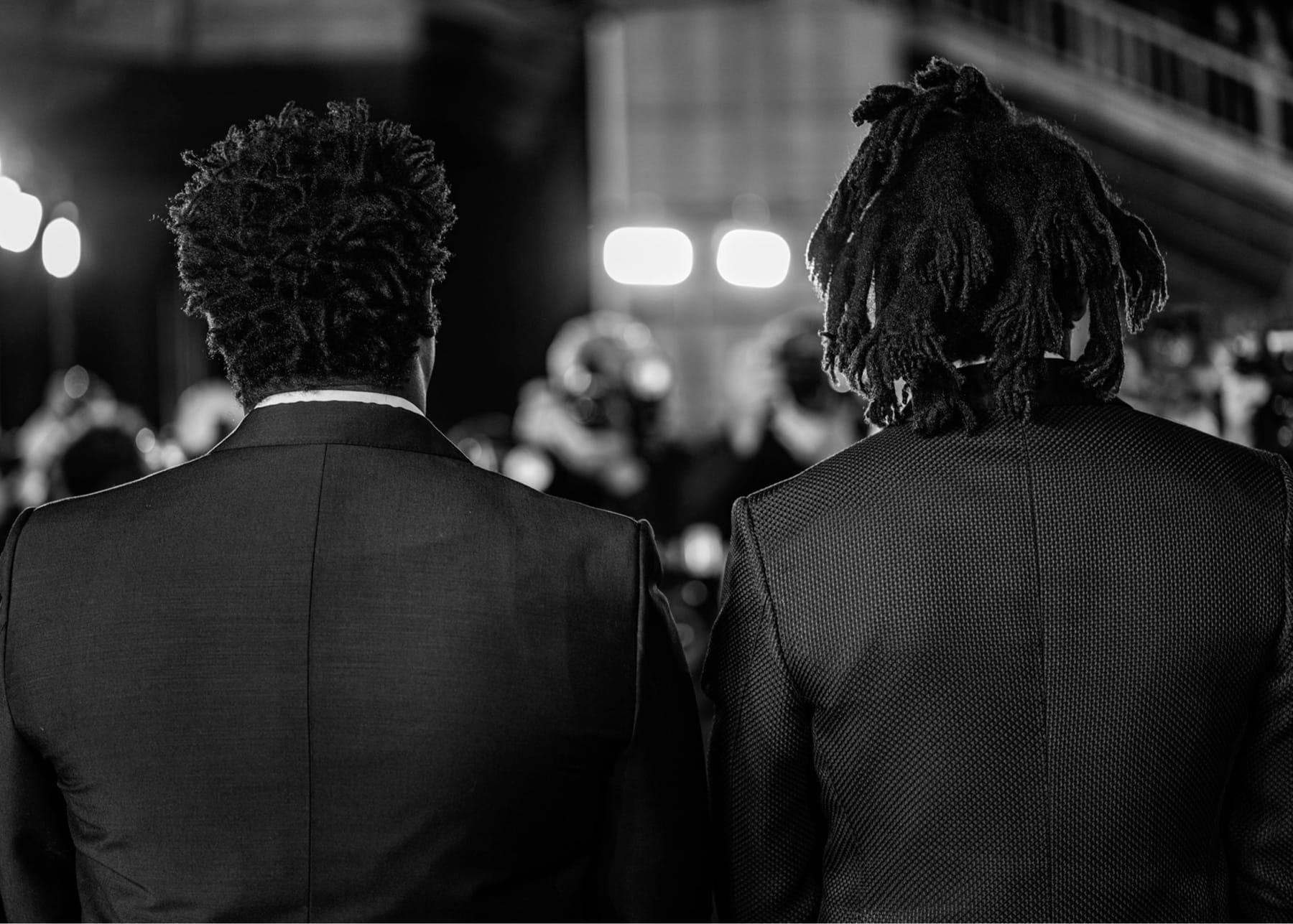 The Harder They Fall Premiere
Photography by
Misan Harriman
In a swirl of tumbleweeds and bullets, The Harder They Fall made its entrance onto the film scene. With two marquee screenings under its belt, including opening night at the London Film Festival and a special star-studded screening in Los Angeles, the film begins its limited theatrical release today. This gunslinging tale of Black outlaws, stagecoach robbers, and double-crossers is brought to life by an all-star ensemble cast led by Jonathan Majors as Nat Love, Idris Elba as Rufus Buck, Regina King as Treacherous Trudy, Zazie Beetz as Stagecoach Mary, LaKeith Stanfeild as Cherokee Bill, and newcomer RJ Cyler as Jim Beckwourth.
This action-packed Western marks the feature-length directorial debut of Jeymes Samuel, the British multihyphenate whose titles include singer-songwriter, music producer, and filmmaker. Samuel's previous film credits include They Die By Dawn and Jay-Z: Legacy, the 2017 short film that accompanied Jay-Z's 4:44 album. With The Harder They Fall, Shawn "Jay-Z" Carter clocks in double-duty as the film's producer and contributor to "My Guns Go Bang" featuring Kid Cudi which soundtracks the film's opening sequence. Brimming with high-noon shootouts, hairpin plot twists, and next-level equestrian skills, the film rips right out the gate and never lets up. Early reviews herald the film as an exhilarating revival of a dying genre.
As a life-long fan of Westerns, Samuel balances a deep reverence for the genre while upending its tropes. The film's plot weaves the lives of real Black people who lived in the American West into a fictional tale of revenge, family, and loyalty gone awry. The wardrobe, led by costume director Antoinette Messam, features flourishes of the African diaspora by way of kente head wraps and Fulani hoop earrings, adding a layer of cultural context to the historically-accurate Victorian costumes. The film's screenplay provides a wit and banter that's anything but antiquated, and its bombastic score fuses the Afrobeat stride of Fela Kuti with the reggae skank of Barrington Levy. In its totality, Samuel delivers a thoroughly modern film that builds upon the tradition of Black Westerns.
The Harder They Fall joins the ranks of big screen depictions of Black cowboys which include Mario Van Peeble's Posse, Charles Haid's Buffalo Soldiers which starred Danny Glover, and John Singleton's Rosewood. Worthy of mention here is Black Rodeo, the 1972 documentary from Jeff Kanew which captured Harlem's first all-Black rodeo. It features footage of Mohammad Ali trotting around Harlem on a horse and the legendary actor Woody Strode, whose prolific career earned him a place in the Hall of Great Westerners of the National Cowboy & Western Heritage Museum. It's a slim canon but one that's ripe for innovation. "Jeymes's love for Westerns and his understanding of the style of [the genre], made me appreciate a Western in a way that I'd never ever considered before," says King.
Securing an opening night debut at the London Film Festival is no small feat for a first-time filmmaker, and Queue was on hand to celebrate the achievement at London's Southbank Centre. To commemorate the occasion, Queue commissioned Misan Harriman to capture the film's stars in portrait. The Nigerian-born British photographer, who also serves as a chair of the Southbank Centre, understood and appreciated the importance of the film's opening night. "As the chair of the Southbank Centre, one of our key pillars is inclusivity and diversity," says Harriman. "To have The Harder They Fall open the festival with the support of Netflix is a testament to what happens when diverse voices are able to tell their stories their way."
For more on The Harder They Fall's leading man, Jonathan Majors, read our digital cover story "Majors League" here.
The Harder They Fall is out now in limited-theatrical release and will be available November 3 on Netflix.