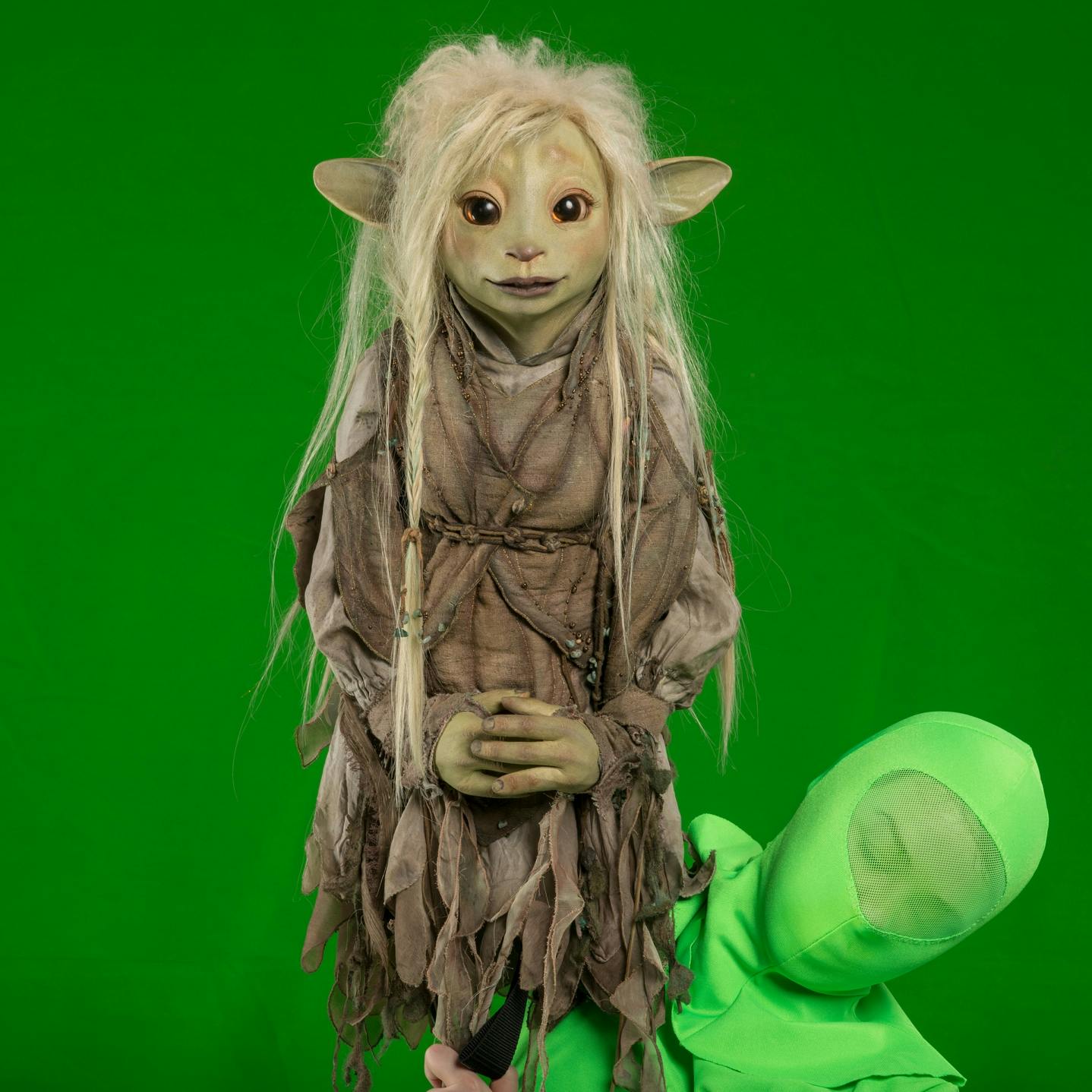 A close-up look at the creatures and costumes of The Dark Crystal: Age of Resistance, with Brian and Toby Froud.
The Dark Crystal: Age of Resistance features more than 170 puppets, crafted over 18 months by more than 100 artists in Los Angeles and London. These creations are the fantastical inhabitants of the fictional planet Thra, and while bringing them to life onscreen requires a small army, designing them is very much a family affair.
Brian Froud works on the Netflix series alongside his wife, Wendy, and their son, Toby. It's a fitting arrangement given how deeply the Froud family history is woven into the fabric of The Dark Crystal. Brian and Wendy first met while working on the 1982 Jim Henson film that, nearly four decades later, inspired this prequel series. Back then, Brian was The Dark Crystal's conceptual designer, and Wendy was a puppet designer and builder; in Age of Resistance, Toby takes the helm as senior costume and creature supervisor.
The puppets that populate The Dark Crystal come in all shapes and sizes. Notable among them are the series' protagonists, the Gelfling, and its villains, the Skeksis. Each puppet is dressed in a meticulously crafted, multilayered costume that has to meet both aesthetic and practical requirements. It must be light, so that the puppeteer can comfortably manipulate the puppet above their head during shooting. It must be modular, with pieces that can be easily removed, cleaned, and maintained over months of filming. It must be fluid, moving as the puppet moves. And, ultimately, it must convey emotion.
"Puppets do very little, they are not people, so everything they do has to be very expressive," Brian explains. "The costume has to be part of that expressiveness. It has to give you lots of information about what the character of this being is."
The resulting pieces are feats worthy of a couturier. Here, Queue presents a few samples of the Frouds' creations, with backstory provided by father and son.
Deet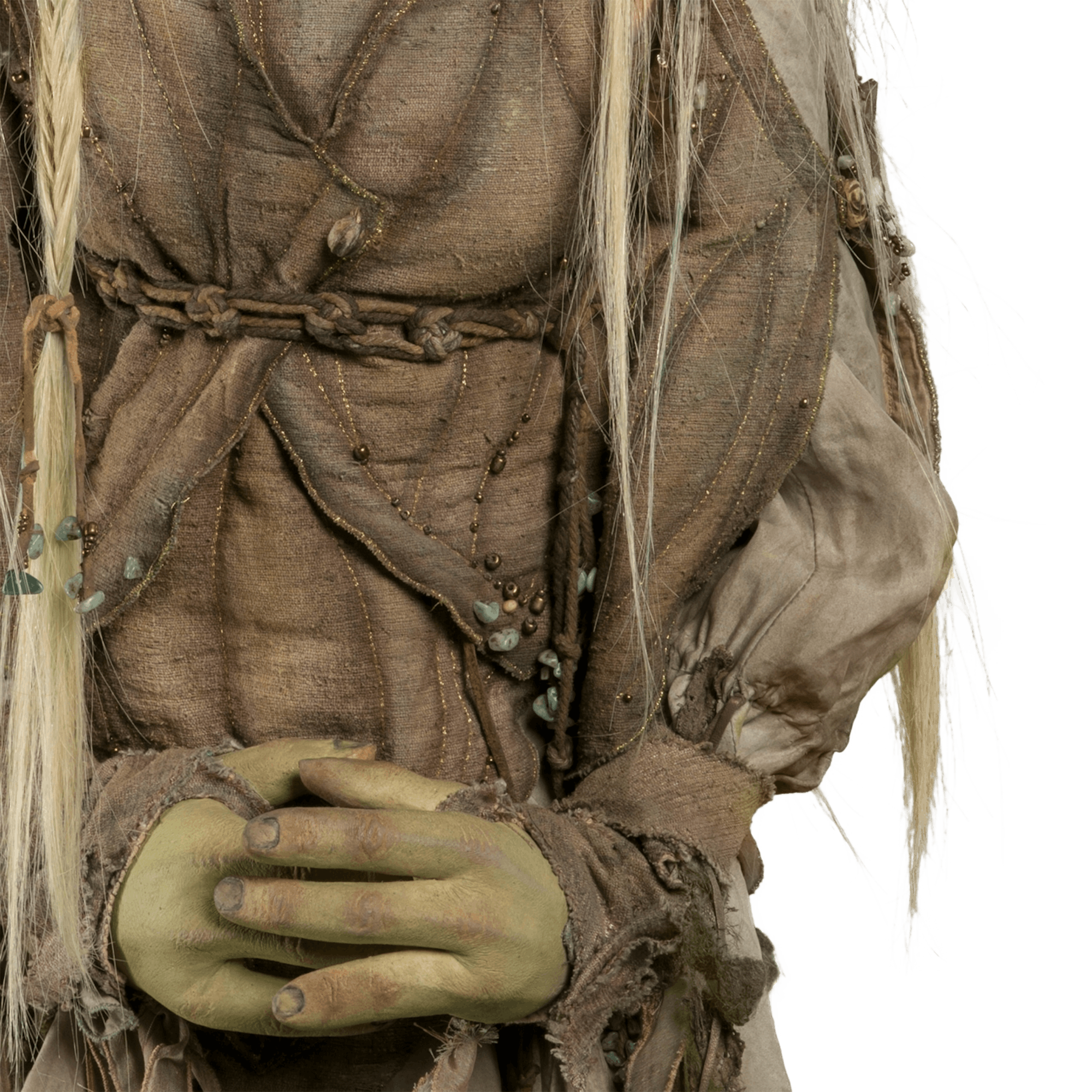 Deet (voiced by Nathalie Emmanuel) is a Gelfling of the Grottan clan. She wears a layered piece, featuring what Brian refers to as "dangly bits" that "confuse the eye." The costume is aged to look lived-in, but the design is elevated by details like gold threads, stones, and beads. "It's meant to reflect the caves she comes from," says Toby, "and it's important to us that they look fine. Even though she is a Grottan, meant to be cave-dwelling and low in the Gelfling society, she still has an elegance to her. She has a beauty within her costume."
All-Maudra Mayrin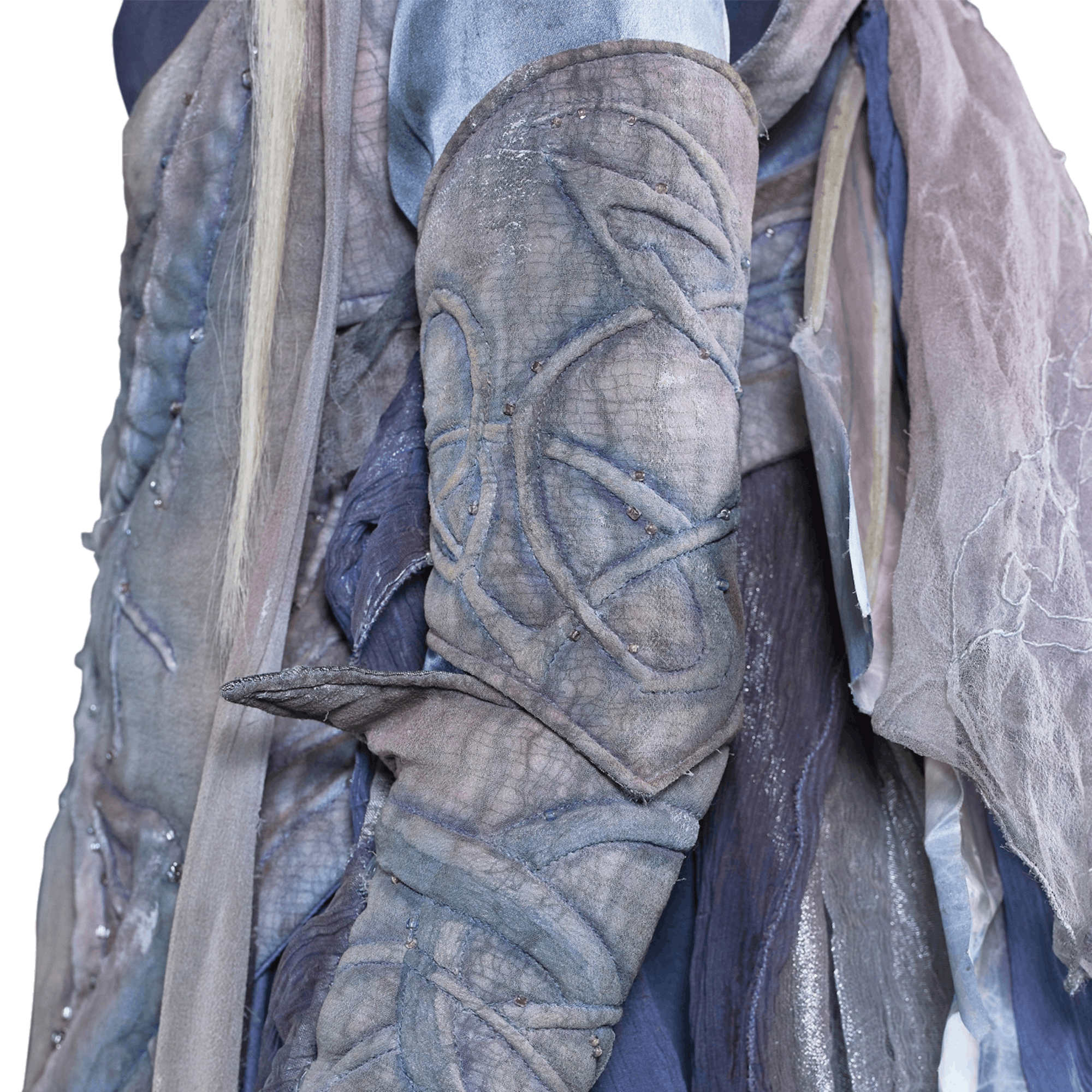 The sleeve of All-Maudra Mayrin (Helena Bonham Carter), ruler of all the Gelfling, consists of layers of silk backing, yarn, thread, and sheers. Symbols specific to her clan are quilted into the sleeve and accented with paint. "We had a whole wall of symbols that we would pick from and start to incorporate into costuming, so nothing was left to chance," Brian explains. "The shapes and forms are coming from esoteric patterning, which is about energies and chakras and something very spiritual."
The Collector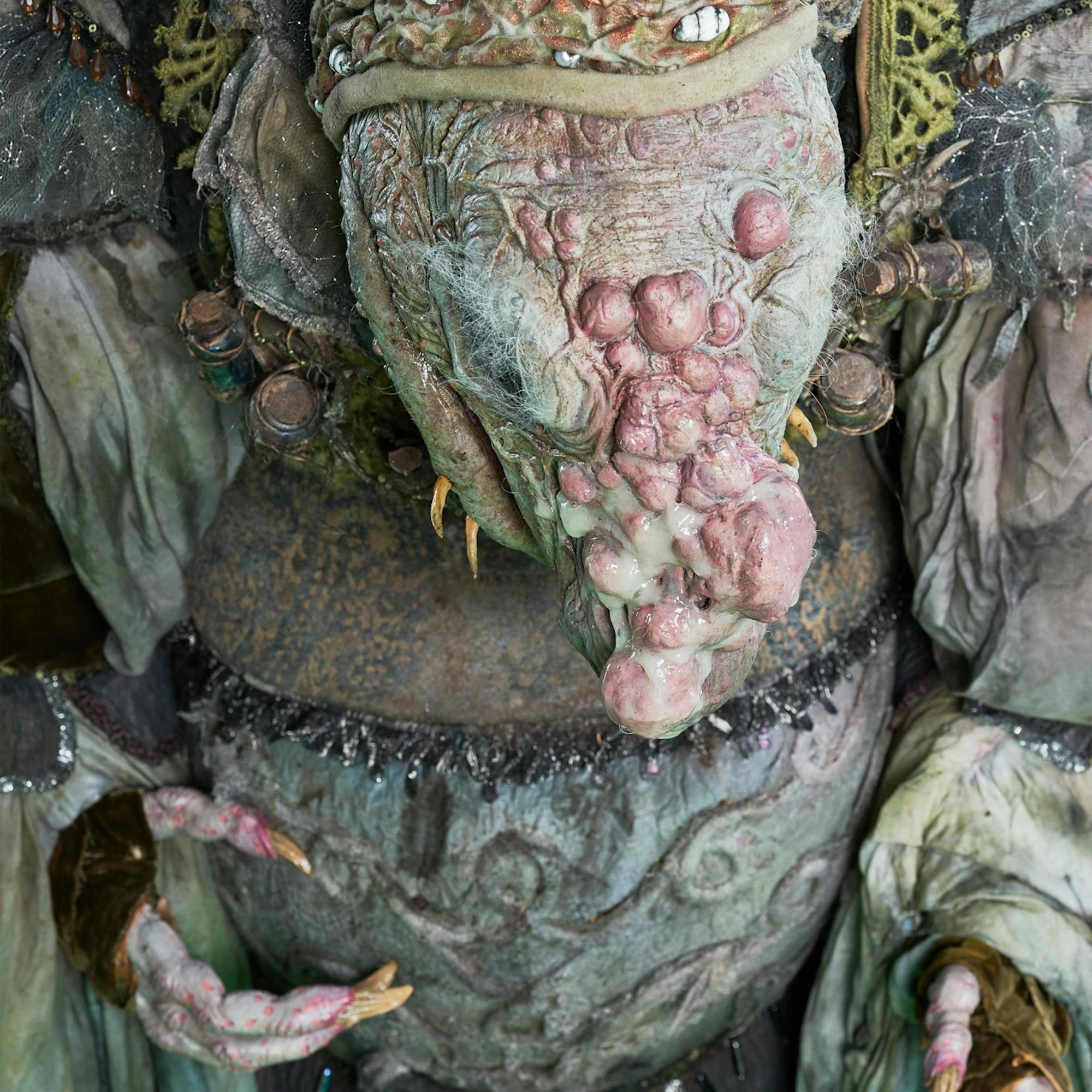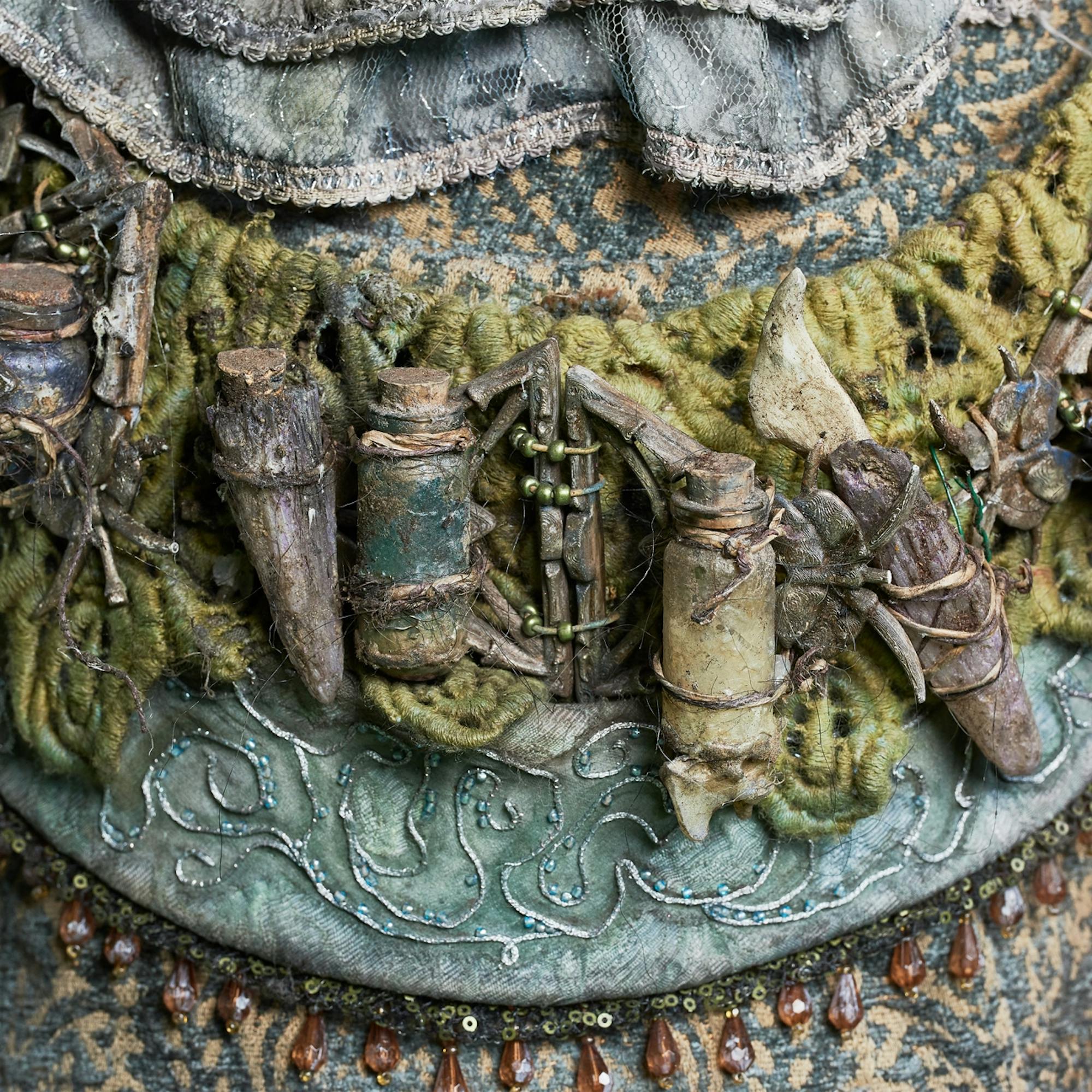 SkekLach the Collector (Awkwafina) is an ornately garbed Skeksis. He sports a monk-like skullcap and "collects disease in, on, and around him," as Toby puts it. Brian adds, "He's collected all sorts of very strange things — some you don't want to know about — in little bottles." Those collections, crafted by the show's jewelry department, are visible hanging from his necklace. "Skeksis are very fanciful," Toby explains. "They are very vain. They like to feel pretty and yet they are still gross. They are still living. They have been sitting in these things and festering for years."
The Skeksis costumes are painstakingly crafted from bright, beautiful fabrics, laces, and trims, and then aged and distressed, using dyes, sprays, and other tricks of the trade — sometimes to the chagrin of the costume makers. "The women who worked on them were such great artists, and they were in tears because all they saw was their beautiful work being destroyed. But we were actually bringing it to life," Brian reflects.
The Hunter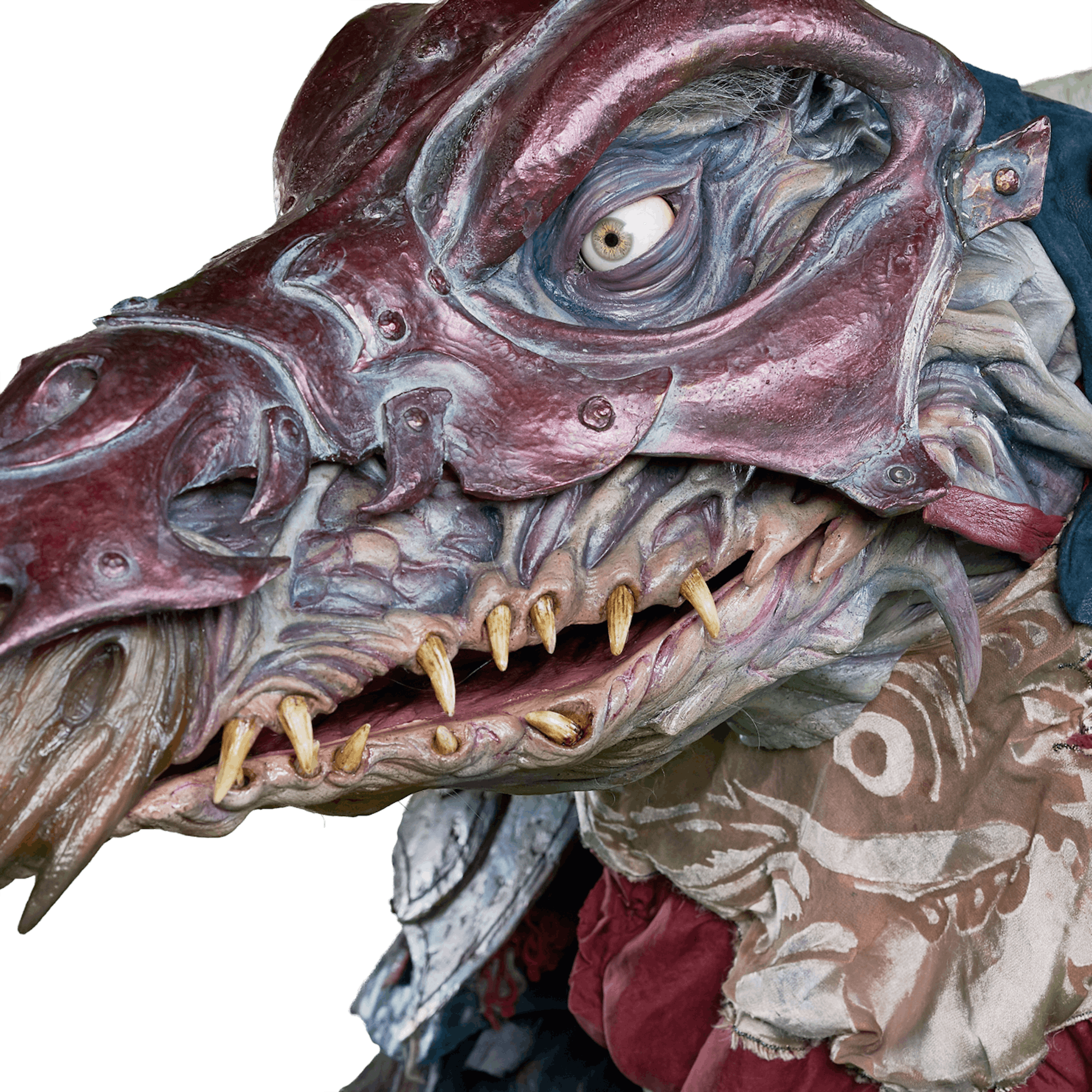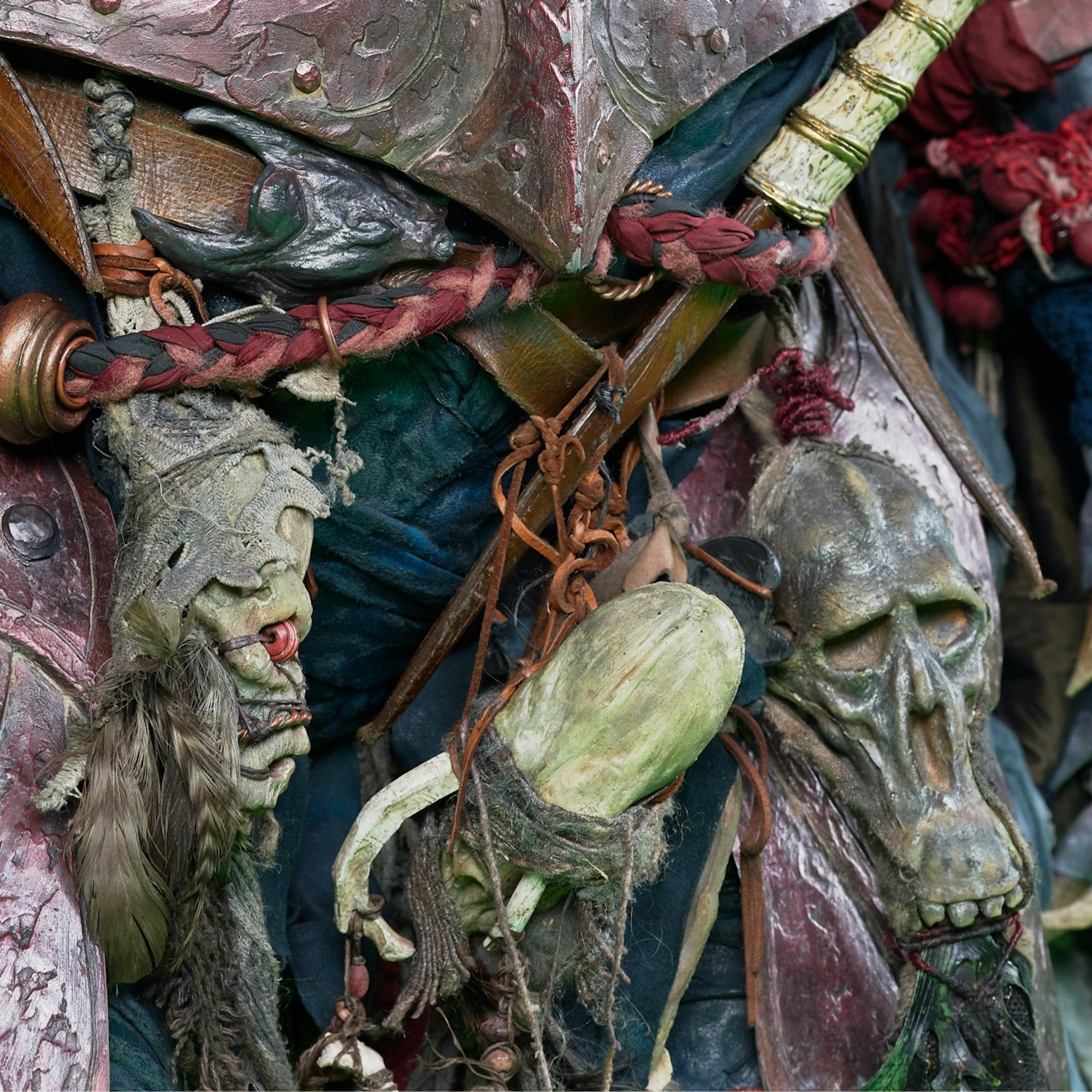 SkekMal the Hunter (Ralph Ineson) is clad for battle in protective, blood-red armor. The armor looks like hammered metal, but it's actually sculpted from urethane, giving it an iridescent finish inspired by exotic beetles. "The Skeksis are quite awful, but they're also hysterically funny," says Brian. "There's a great amount of humor in them, so we wanted the armor to be quite ridiculous." The Hunter's necklace displays trophies from his conquests — skulls, bones, and the like — and the fabric under his chin (worn almost like a bandana) bears a custom-designed, Skeksis-specific pattern that Toby's team repeated on silks and velvets throughout the costume.
Maudra Fara
Maudra Fara (Lena Headey), a Gelfling warrior and the leader of the Stonewood clan, wears a symbolic wood-grain fabric. "We spent a long time trying to find a wood-grain fabric that was pretty," says Toby. "We made sure there were lines in the fabric and that it shimmered with beading on set. We built this dress so she could literally hitch up her skirts to fight. They are gathered on the sides so she could be free to move around."
The Ornamentalist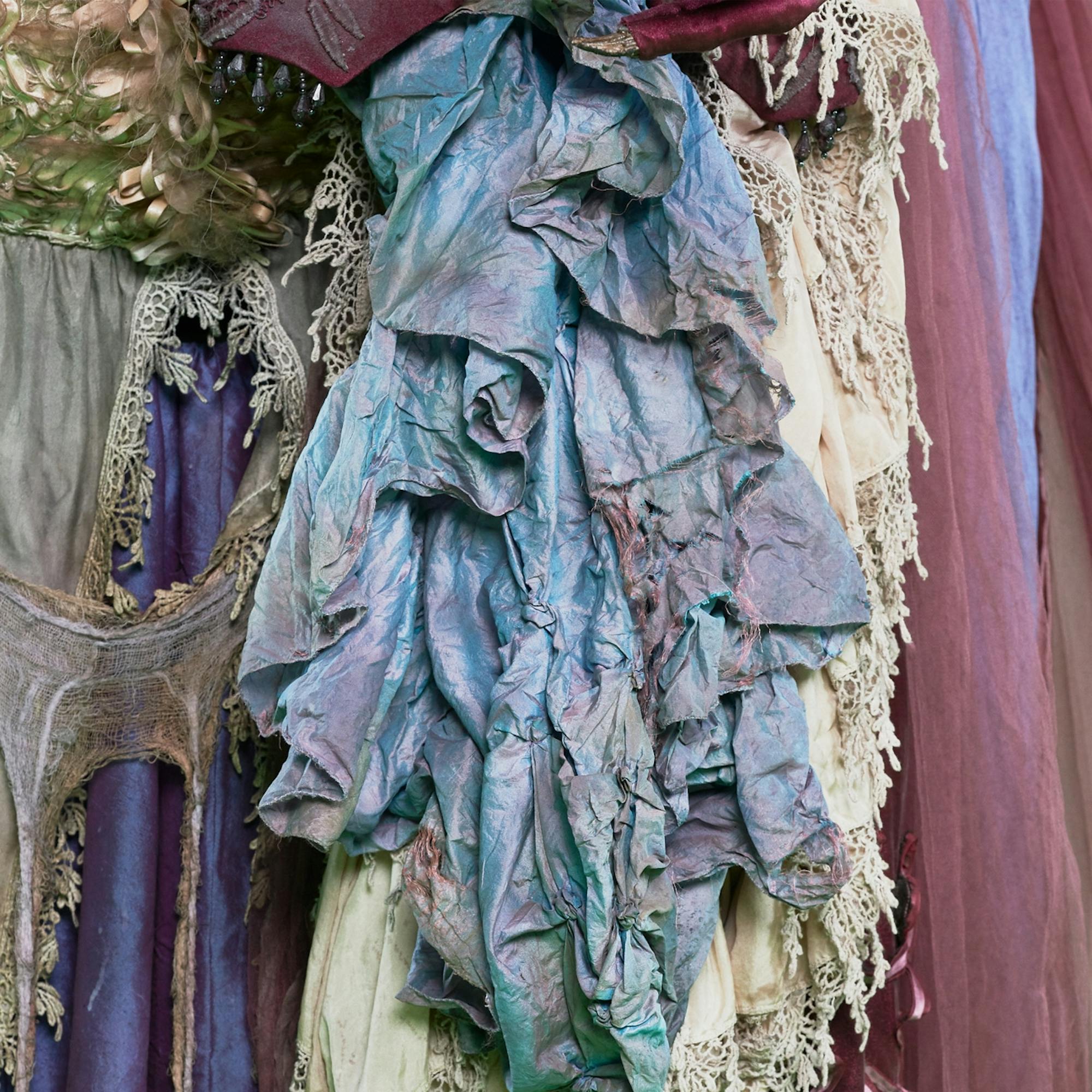 The detail above is from the sleeve of skekEkt the Ornamentalist (Alice Dinnean), who dresses the Skeksis court. "She was meant to be extravagant, as she is the costumer, so she is billow on billow," Toby says. "We made sure we found strange fabrics, but we also added so much trim to all of these things."
Tavra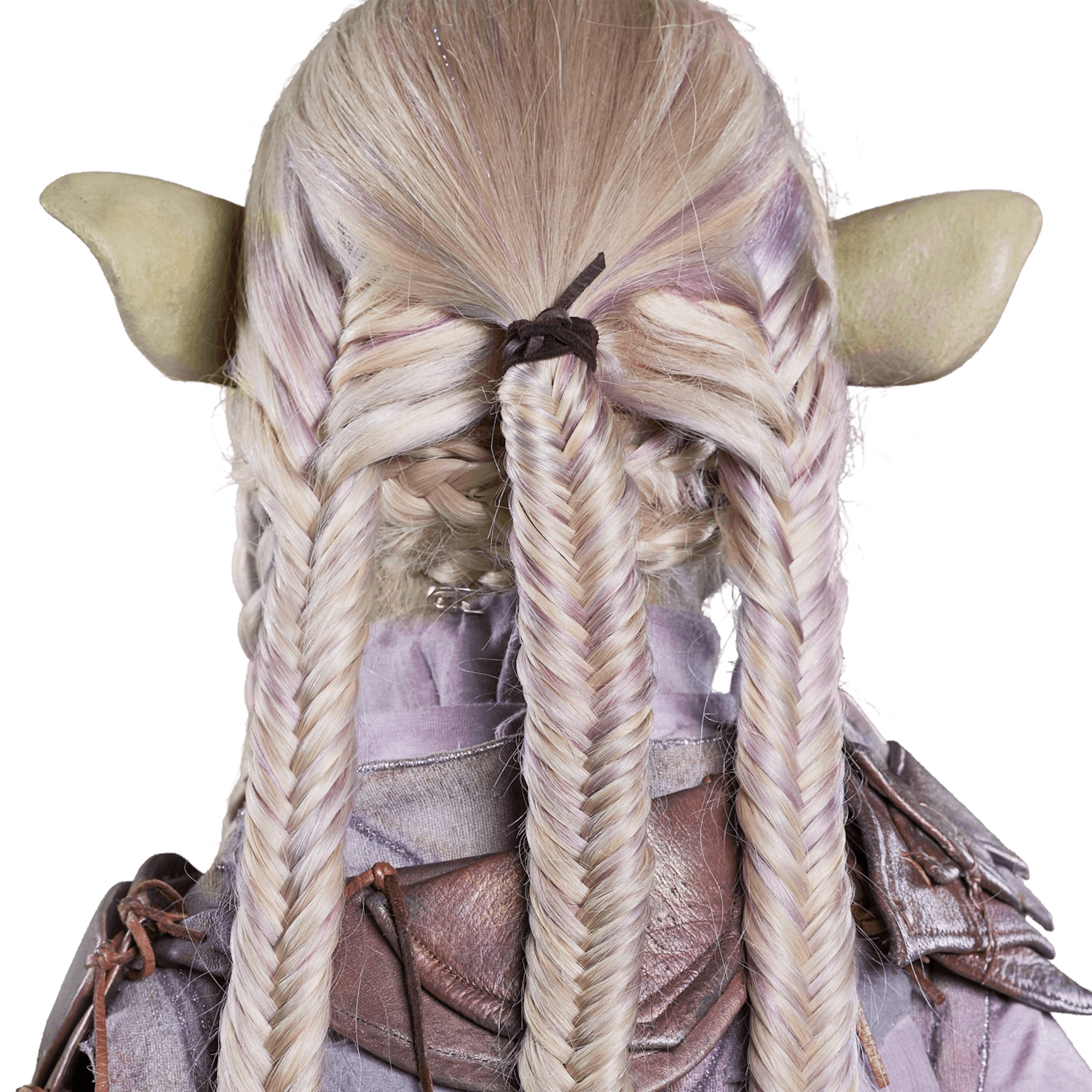 Tavra (Caitriona Balfe), a Gelfling princess of the Vapra clan, has an elevated style that befits her royal status but is still practical for battle. Her wig is hand-tied and set in plaits that will sit under her helmet. Tavra's hair has some light-purple streaks that pair nicely with her costume; other characters' wigs are woven with beads or sprayed with glitter.
The Gourmand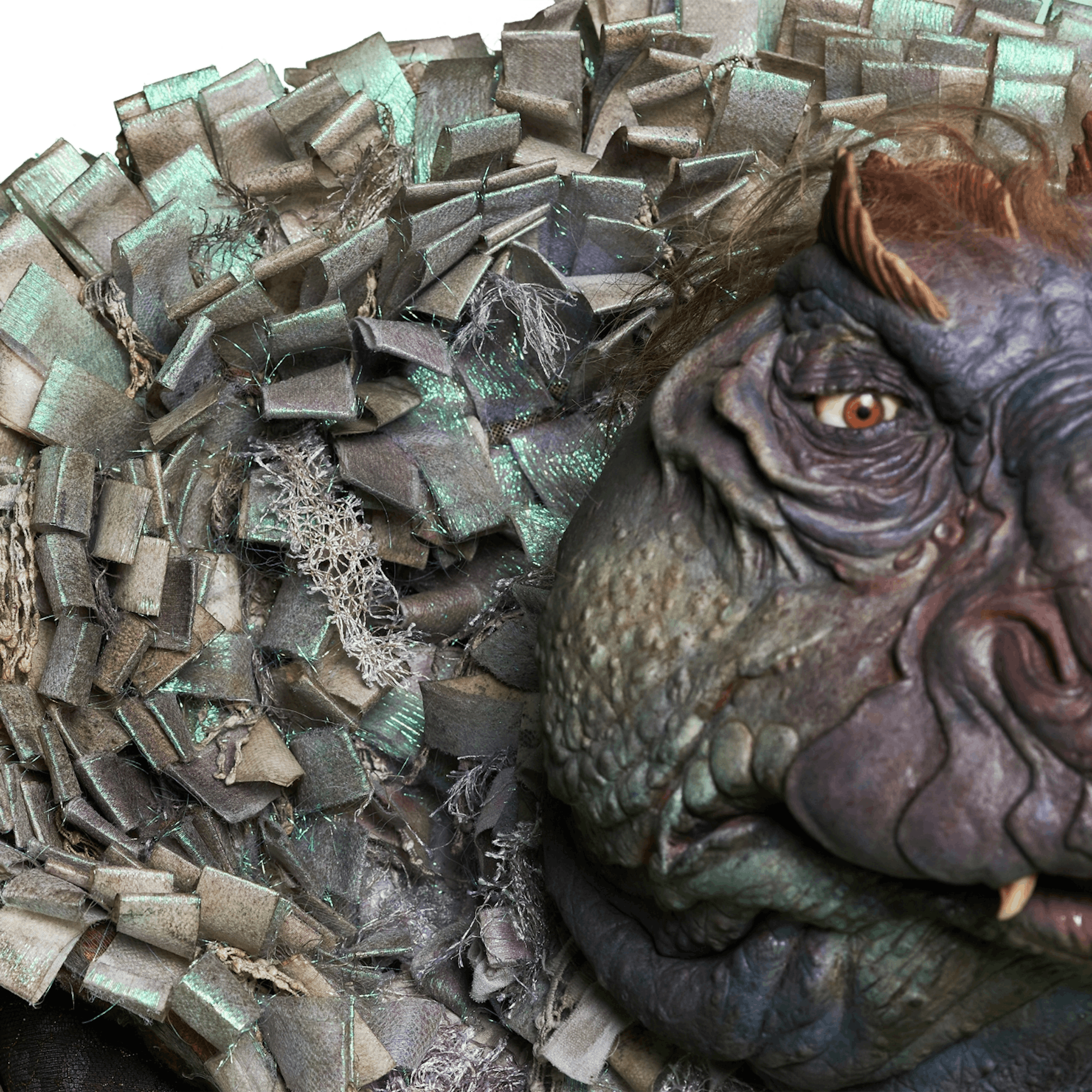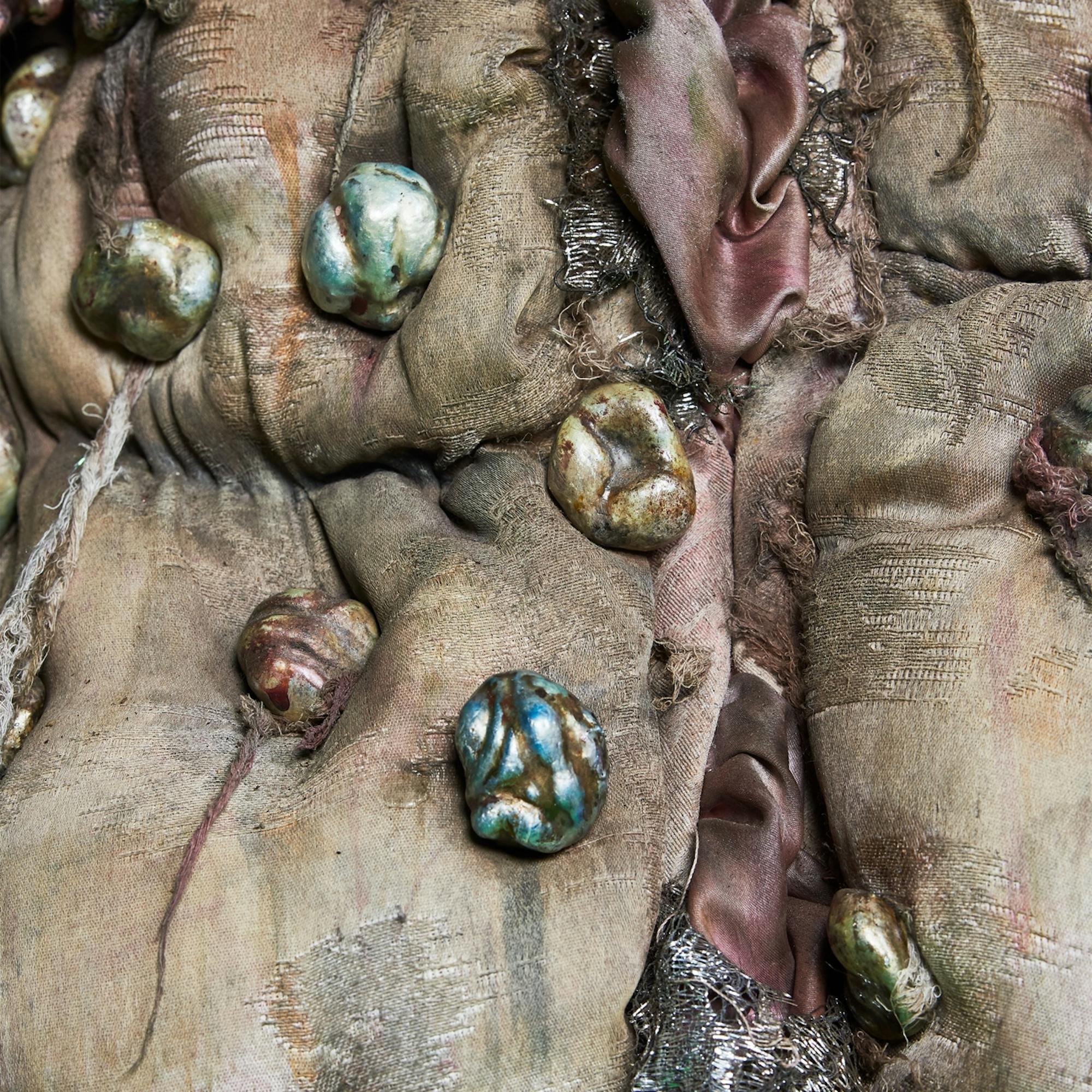 SkekAyuk the Gourmand (Harvey Fierstein) dons a dramatic collar, replete with rings of iridescent squares, and adorned with trim and tulle. "It was very fluffy to begin with," Toby says, "but then it was all aged and knocked back." The designers used cheesecloth and netting on top of silks and velvets to achieve an effect of disintegration and decay. Finding loose, light netting was a challenge. "You find dense plasticky nets right now," Toby says. "It's great for tutus, but doesn't work for draping." The fabric over the Gourmand's stomach is splitting, a result of his enthusiastic appetite, and it's also set with shimmering orbs, inspired by buboes (pustules that are a symptom of the bubonic plague). "They're part jewelry, part strangeness," says Toby. "You're meant to see that there's an elegance and beauty to something that is so gross and strange."
Onica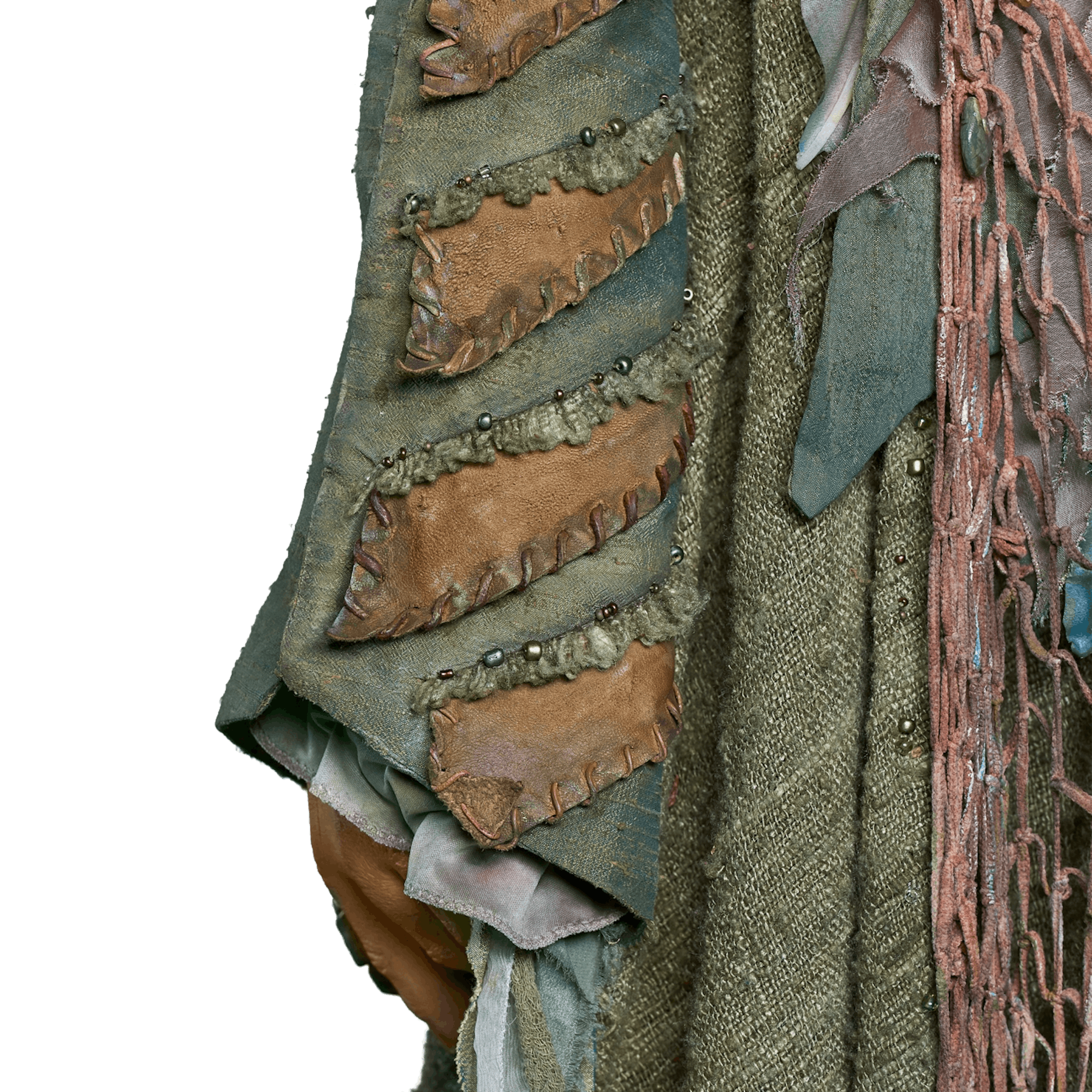 Onica (Natalie Dormer) is a Gelfling of the seafaring Sifa clan. The sleeve of her costume features strips of leather that mimic gills. A net of aged leather cascades down her back. It is set with small glistening stones that catch the light when she moves.