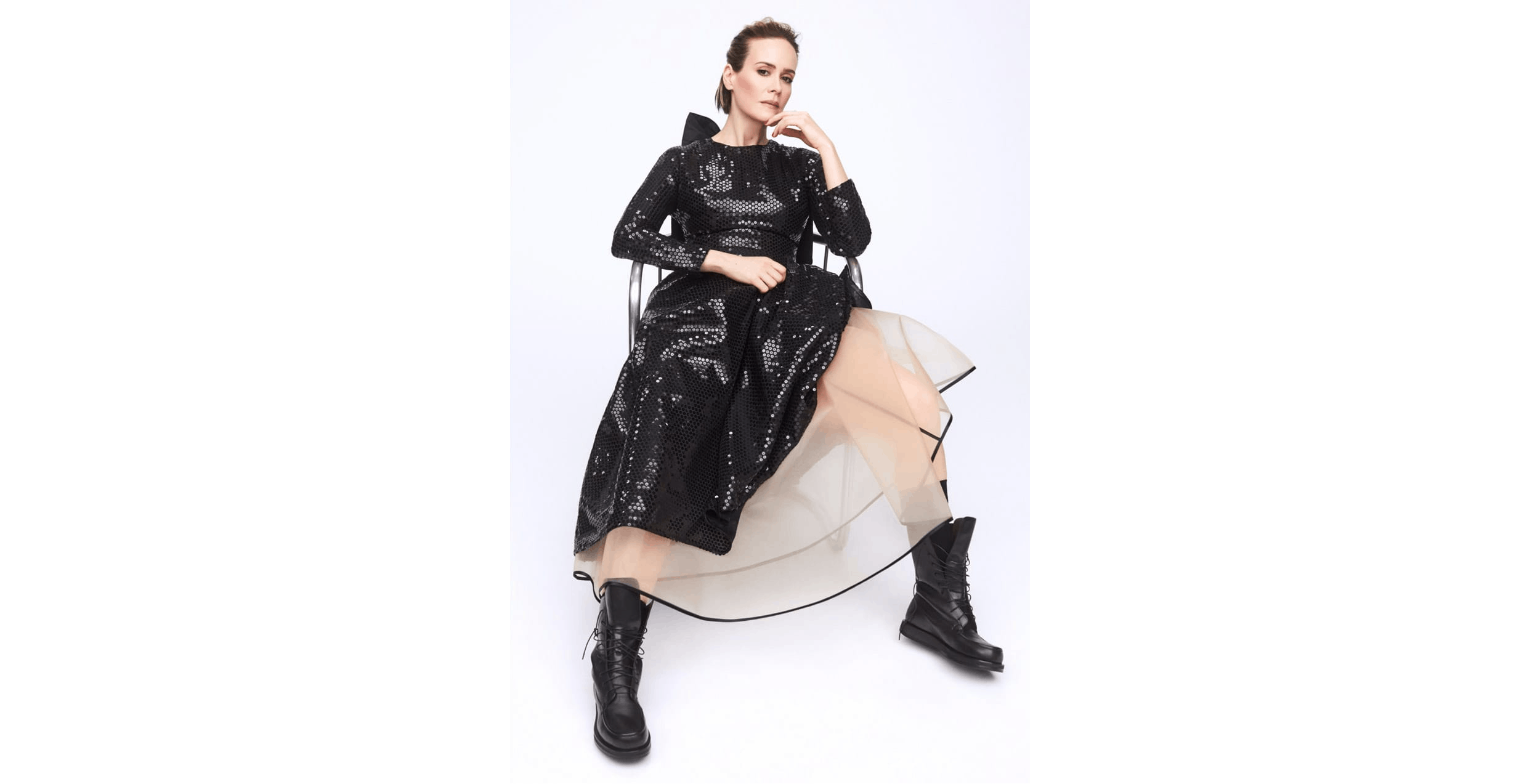 How did Sarah Paulson feel when she walked onto the set of Ratched, her latest collaboration with superstar TV creator Ryan Murphy? "I was terrified, and if you lifted up my little skirt, you would see my knees were probably a little wobbly," she reflects now.
Her anxiety didn't emanate from the show's twisted setting — a California mental hospital, replete with what passed for cutting-edge tools of the trade in the late 1940s. Nor did her fear grow out of the prospect of bringing to the screen a younger incarnation of the sadistic Nurse Ratched, immortalized by Louise Fletcher in the landmark 1975 drama One Flew Over the Cuckoo's Nest, although that was a consideration. "It's an iconic performance," Paulson says of Fletcher's Oscar-winning turn. "It's, I think, one of AFI's top five most villainous characters in cinematic history, along with Hannibal Lecter and all these other true, true villains."
The real specter of Ratched — and its real overture — was that it presented Paulson with her first opportunity to star in and executive-produce a project, working alongside Murphy, her longtime creative partner. The American Horror Story mastermind has written and directed a range of distinctive roles for Paulson over the years, from a pair of conjoined twins in A.H.S. to O.J. Simpson prosecutor Marcia Clark in American Crime Story, a performance for which Paulson won an Emmy, a Golden Globe, and a SAG Award. "I'm 45 years old, but I am doing work that I wouldn't have known what to do with in my mid-30s, that's for sure," says the actress.
Stepping into an unfamiliar role behind the camera sparked in Paulson a desire to "meet the moment." Even as she prepared her own take on the infamous Mildred Ratched, she guided her co-stars — an incredible ensemble including Judy Davis, Sharon Stone, Cynthia Nixon, Amanda Plummer, Rosanna Arquette, and Sophie Okonedo — through Murphy's signature approach.
And despite their long history, Paulson says she remains endlessly surprised by the originality of Murphy's vision — in the case of Ratched, a noir tale rendered in lurid color. "I would just marvel at it all the time," Paulson says of the series' distinctive aesthetic, "the wallpaper and the nurses' lounge and just the pink."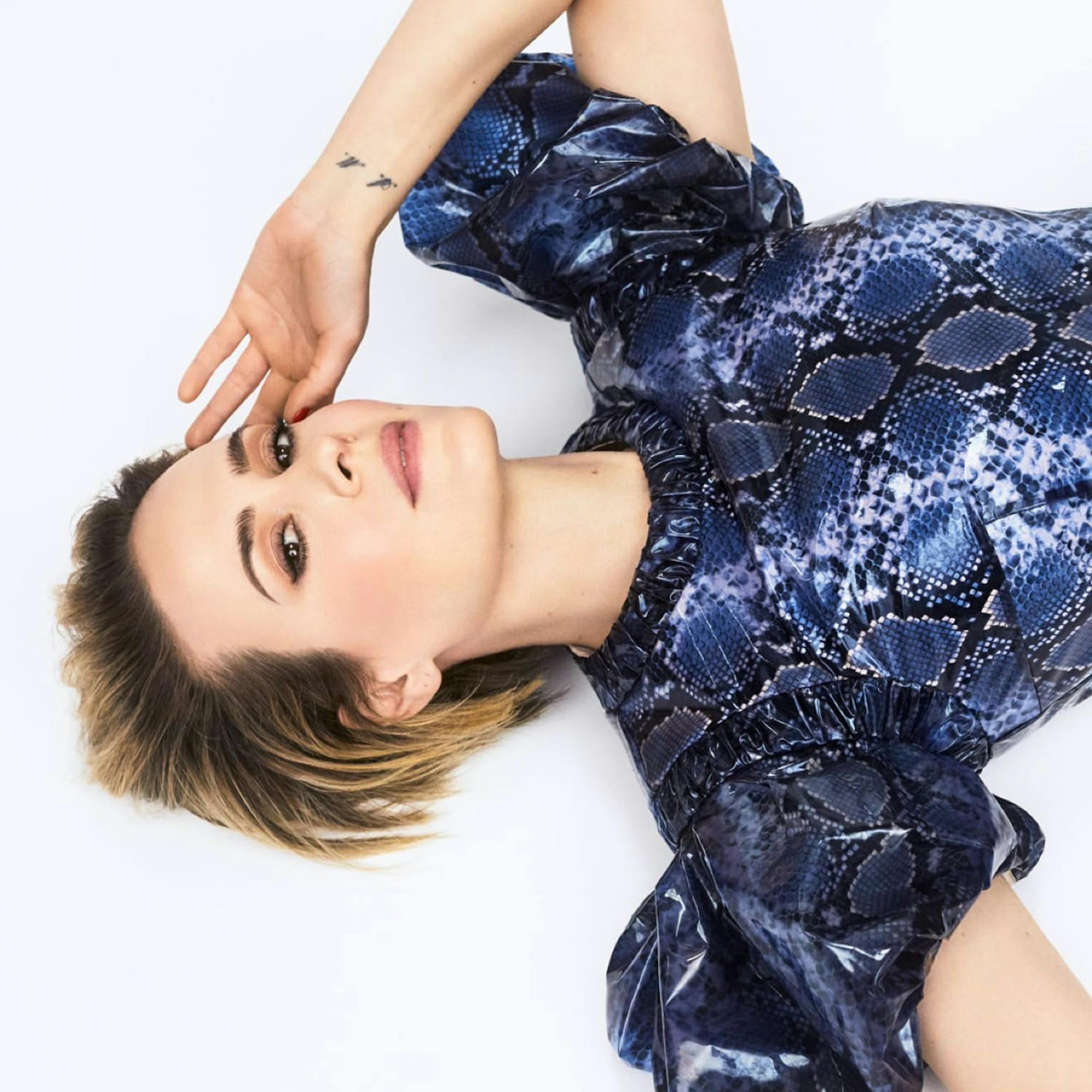 Krista Smith spoke to Sarah Paulson about the series, and about the arc of Paulson's career, for her podcast Present Company.
Krista Smith: What goes through your mind when Ryan Murphy, who you've worked with for almost a decade, comes to you and says, "Hey, I've got this idea . . ."?
Sarah Paulson: Well, it happened a little bit more circuitously. My agent called me up and said, "Has Ryan talked to you about Ratched?" and I said, "No . . ." I was sort of offended and thought, Oh, he probably wants to give it to Kate Winslet or something.
I texted him and said, "So, what is this Ratched? Are you going to make me beg?" and he said, "Well, I actually didn't know if you'd want to do it. You've always talked about how much you love that on American Horror Story" — which I had been on at that point about seven years — "you get to play a different character every year. If this is going to be a serialized drama, you'll be the same character year after year. I didn't know if you wanted to do that." Once he enumerated all the reasons why I might not want to do it, I thought, Oh, he might be right.
But then I read it. I got three-quarters of the way down the first page, and I thought, If he doesn't let me do this, I'm going to lose my mind.
What was the hardest thing for you about approaching her?
SP: My biggest concern was: How can I enter into this without coming up against a publicly held belief about who this character is? Would anybody coming to watch it remember that this is an origin story, it's a prequel, it predates One Flew Over the Cuckoo's Nest by two decades? This does not have to be a carbon copy of what Louise Fletcher does in the movie. I could never do that anyway; it's too brilliant, what she does.
And you do know that every actor in town turned down that part when Miloš Forman was making that movie. Nobody wanted to play it because they were so afraid of being branded as an unlikable, unsympathetic woman. Louise Fletcher took it and just absolutely killed it and won an Academy Award for it, and is, of course, indelibly in our minds. But that's not what this is. This is the story of a becoming, this is watching someone on a journey.
I thought, I want to be able to meet the moment.
Sarah Paulson, on executive-producing Ratched
But that wasn't necessarily an entirely new situation for you.
SP: A similar thing happened to me when I played Marcia Clark. I had to confront all these beliefs I had about this woman I did not know. The truth of the matter is — and this is not dissimilar from Marcia Clark — you could argue, when you watch [One Flew Over the Cuckoo's Nest], that Nurse Ratched was actually a product of a patriarchal infrastructure in that hospital. This movie was '74, '75. Second-wave feminism was happening outside those walls. As a woman, she might have had to compartmentalize in order to do her job.
So it was an interesting thing rewatching the movie and going, Wait a minute, what was she expected to do? It takes a particular person to be an activist in their work environment. It takes a particular person to stand up and say, "This will not stand. I won't be privy and party to this."
Well, let's talk about some of the fun that's involved in Ratched, the hyperrealism of it. The shallow part of me couldn't get over the wardrobe, couldn't get over the colors, couldn't get over the hats. I couldn't get over Judy Davis in her nurse outfit.
SP: I can't tell you the number of emails that went back and forth about the color of our nurses' uniforms. Ryan has such an idea in his head about what he wants it to be, and he hires people who speak Ryan Murphy, who know what he means. Cynthia Nixon and I, we had a talk about this. Her son watched the show, and he said what I thought was so smart and so astute: Traditionally, movies or television programs that are set in this kind of noir feeling are told in light and shadow, and this show is told in saturated technicolor. It's such a universe, and that is a thing that Ryan does better than anybody.
How has your relationship with Ryan evolved since you started working together?
SP: I think any great marriage or any great friendship, you don't know exactly why it works as well as it does. It just works, and if you do too much deep investigation, you might find a bunch of things you don't want to find. I can't describe it in any quantifiable way, except that Ryan for some reason, from the very beginning with me, he would just ask me to bring forward the part of me that I probably kept quieter. He was an excavator in a way, of me, and was therefore revealing me to me in a way that was really powerful.
Once it was clear that I was going to play Ratched, he said, "I want you to be an equal of mine; I want you to be a collaborator, and I want you to executive-produce this show," which was a kind of stunning experience to have him look at me and say, "Our working relationship is ready for this next step."
He kept saying to me, "You've earned this." I think of the millions of people in the world who have earned their places and never get to have the pleasure of experiencing the fruit of their labor. Ryan, he is so empowering and has been for me since the beginning. I am acutely aware of the specialness of it. It helped me discover what I was capable of. He introduced me to myself, in a way.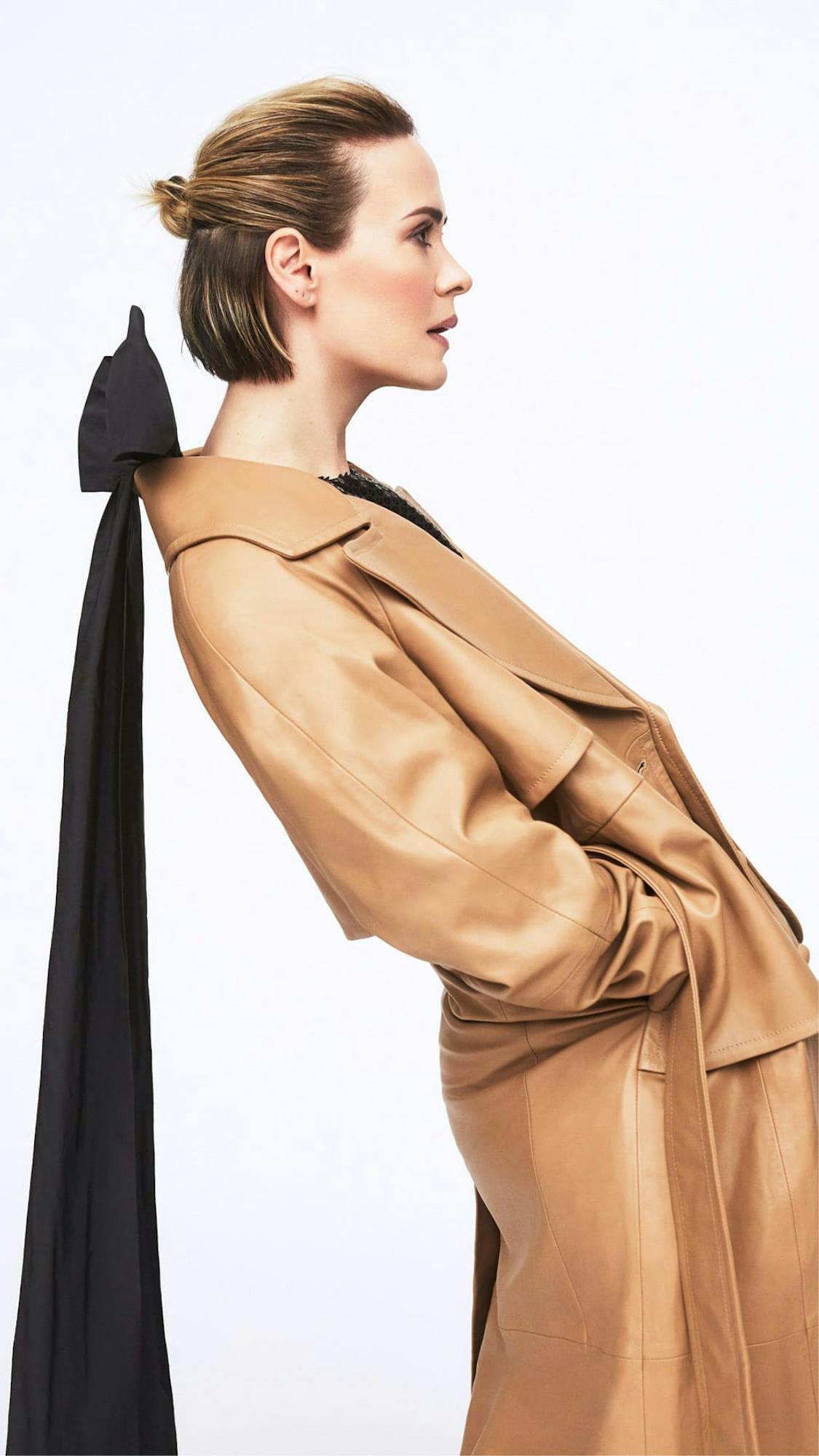 Did having that agency change the way you got out of bed every morning to approach the day?
SP: Absolutely. I thought, I want to be able to meet the moment . . . He sent me cuts of the show. I don't [typically] watch myself, so I had to remove the part of myself that was dealing with my aging face and the sound of my voice and the choices I was making in the scenes, and zoom out, think about the show as a whole. 
Ryan sending me edits and asking my opinion, taking some of my notes and sometimes saying, "I don't agree with you" — we hadn't had that dynamic before. It was hard, because I would say, "But I know I'm right," and he would say, "I know you're not." It's like, O.K., he's the boss, and he gets the final say. It was just a very interesting, wild thing.
You mentioned Marcia Clark, which is one of your most incredible performances — but you've had so many. Early on, you did The Long Way Home with Jack Lemmon — you hitchhiked across America with Jack Lemmon. And you were Diane Keaton's daughter in The Other Sister. What do you remember about that time?
SP: Right out of high school, I understudied Amy Ryan in The Sisters Rosensweig on Broadway. And then I just found myself in Los Angeles, and all of a sudden I didn't work for about a year. It was a time of my living in a studio apartment on Doheny. I had a Murphy bed, and my car got towed all the time because I didn't put it in the right place because I'd just learned to drive out in L.A. The dry cleaner across the street kept calling me going, "Sarah Paulson, your car's being towed." It was a really L.A. experience.
Then I got offered that Jack Lemmon road picture, which was a CBS movie of the week. There I was in Canada with Jack Lemmon, who would keep dark chocolate in one pocket for himself and milk chocolate in the other pocket for me. He was so dear to me. It was one of those wonderful experiences, but it was also lonely. I didn't know what I was doing. I look back at those performances and I think, Who the hell did you think you were?
And then The Other Sister . . . I have now had a 24-year friendship with Diane Keaton that has been one of the great friendships of my life.
I don't know why we have to make ourselves smaller so that other people feel comfortable.
If you look at the whole of your career, you have done it all, and then arguably the most important professional relationship in your life happens at a time when most actresses are in a cold sweat over the approach to being 40. But you hit that moment with Ryan, and it feels like it just has gotten better and better for you.
SP: There's no question about it. But I still feel like I've got one hand on the window, pushing up, and I'm just trying to keep the window open for as long as possible. There is that fear that it's going to come crashing down.
I do think we are entering an era where there really does seem to be a movement toward female-centric stories being as interesting to people who are making things and producing them as they are to all of us. We have shows like Killing Eve, and now we have Ratched, and we have I May Destroy You, which is maybe my favorite thing I've seen in a very long time. There are all of these wonderful opportunities for women. But I do worry . . .
I think it's your nature to worry.
SP: I think it's true. I was talking to somebody about this recently, about how there is no space around, if you're a woman, for celebrating yourself and your achievements. We always celebrate these moments where you meet someone who's accomplished a lot and they seem so down-to-earth and so self-deprecating. We applaud that, but when somebody walks out of the room and they've said that they know what they want or how they like to work or what they need, we're all like, "God, you're awfully confident" — as if that's a pejorative. I don't know why we have to make ourselves smaller so that other people feel comfortable.
It's a funny internal dance that I always feel. Will I ever allow myself to look around and go, You had real dreams and you had real hopes — and you have achieved some of them, you really have . . .? Are you only going to be walking around going, "I apologize, everybody. I'm sorry if you didn't like it . . ."?
You do not lead with an apology — certainly not on the red carpet. And I have never yet seen a dress wear you, even though you push the limits. It's like you're a character that's an extension of Sarah Paulson on that red carpet.
SP: There's so much sorrow in the world right now for so many people, but some joy that used to be something to indulge in was the love of fashion, the real expression. It is something so magical and wonderful, and I loved doing it.
I used to sleep in a hat that was called the "queen hat" — it was a sequined hat — and a tutu, and I would take a nice nap in it. Sometimes I wouldn't take it off for days. So you can imagine when someone's like, "Do you want to wear this sparkly thing? It's got a lot of tulle and some feathers," I'm like, "Yes, please."
No one wears a shoulder pad better than you, I'm just going to say it.
SP: The more Bea Arthur and Rue McClanahan I can bring, the more thrilled I am. I love a Golden Girl-Bob Mackie moment.