Sarah Cooper, Natasha Lyonne, and Maya Rudolph sound the alarm in Cooper's new special, Everything's Fine.
Even if you don't know Sarah Cooper by name, you certainly know her by reputation. The Jamaican American author and entertainer went viral this past April with the 50-second clip "How to Medical," in which she lip-syncs along to a recording of President Trump pontificating about the possibilities of light and disinfectant to combat COVID-19. It has been viewed more than 25 million times across Twitter, YouTube, Instagram, and Facebook.
Cooper says at that point, "A lot of people who had checked out checked back in. They were like, 'He said what?'"
"I'm hoping that I did a small service to people who might not have wanted to vote, who are actually getting in line right now and trying to make a difference," she continues. "We have to change this."
Things look bleak through the lens of Cooper's new Netflix special, Everything's Fine, which casts the comedian as a morning news anchor smiling through gritted teeth as chaos erupts all around her. The sketch show is the creative brainchild of Cooper and collaborators Maya Rudolph and director Natasha Lyonne. It features a roster of guest stars that reads like a who's who: Fred Armisen, Megan Thee Stallion, Marisa Tomei, Jane Lynch, Jordan Black, Jon Hamm, Ben Stiller, Winona Ryder — even Dame Helen Mirren. Rudolph herself makes a memorable cameo as a meteorologist who suffers a profanity-laced breakdown on air.
"It was a whirlwind," Cooper says of making the special, which was shot in just five days and came together in a matter of weeks. "I've never felt so much pressure. I was like, If I get COVID, this whole thing shuts down. It was just me putting one foot in front of the other. I'm working with my heroes, I'm freaking out inside, but I'm still doing it."
Adds Lyonne: "I can't believe we pulled it off."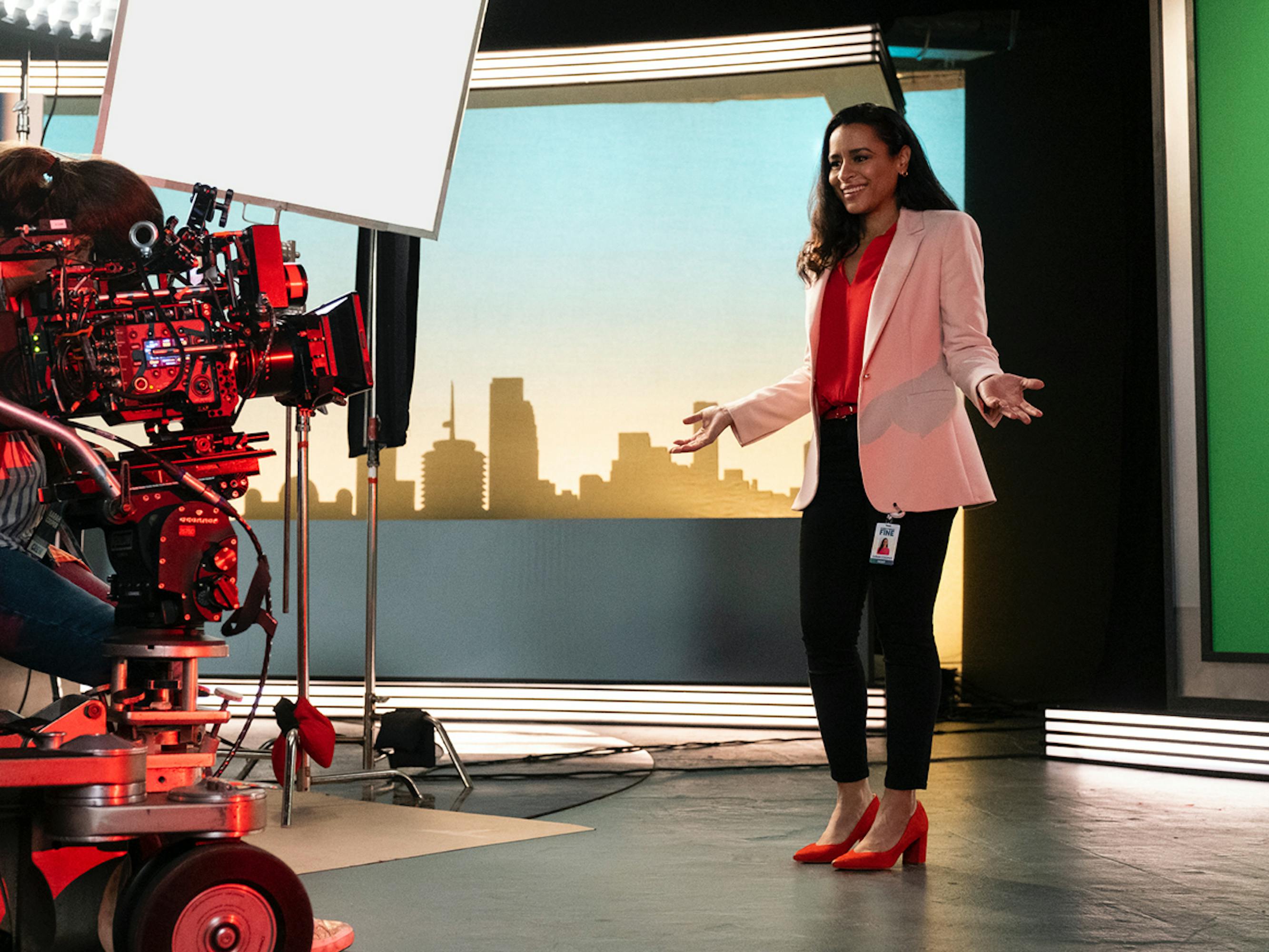 Cooper, Lyonne, and Rudolph joined Queue's Krista Smith for a conversation about how Everything's Fine came to be.
Krista Smith: Sarah, tell me about that moment when you decided you had to take on Donald Trump.
Sarah Cooper: Well, I was blocked by him on Twitter in 2017, so I've been attacking him for a long time. I was watching him fumble his way through these coronavirus task force meetings, and it reminded me of being in a meeting in the corporate world: A guy is saying absolutely nothing, but everybody is like, "Wow, he's such a great leader!" I've always wanted to be one of those guys. I've always wanted to get away with being completely shallow and saying absolutely nothing, and yet everyone thinks I'm the best thing in the world.
I was doing open mics, I was trying to get my late-night set together, and then everything shut down. It was like, What are you going to do now? The thing that I decided to do now was TikTok. Lip-syncing Trump's words was this weird new thing. It felt so freeing to be able to point out to people that he was saying nothing. But it took that conference where he was talking about injecting himself with Lysol for it to really blow up.
It will feel like a time capsule, but the themes are things that humanity is probably going to be dealing with for a long time.
Maya and Natasha, you have been friends for years, and you formed this production company, Animal Pictures. How did you know that Everything's Fine was the right project to be your first out in the world?
Natasha Lyonne: We were set on this as soon as we heard that we were going to be meeting Sarah. The way she has connected with people, it's the only thing that can articulate and externalize the underlying paranoia, terror, surrealism, absurdity — the chaotic vibes and the sadness of this moment. It felt like this was the thing to make, and that the time was now and only now. Everybody rallied because it's nationwide, this feeling around Sarah and what she means to this moment.
Maya Rudolph: Deadlines are wonderful ass-kickers. I think sometimes the best things rise to the surface under those circumstances. Working at S.N.L. for so long, I learned how to problem-solve under a time constraint. I really appreciate that skill set because it allows you to strip away what's unnecessary and figure out how to get something done.
Natasha genuinely epitomizes the name of our company: She is truly an animal when it comes to work. She called in every incredible person that she knew. We had some pretty gifted people working on this. Our director of photography, Polly Morgan, was eight-plus months pregnant, with a camera on her shoulder. Everyone wanted to rally around Sarah. Everyone wanted in on this thing that feels cathartic and important.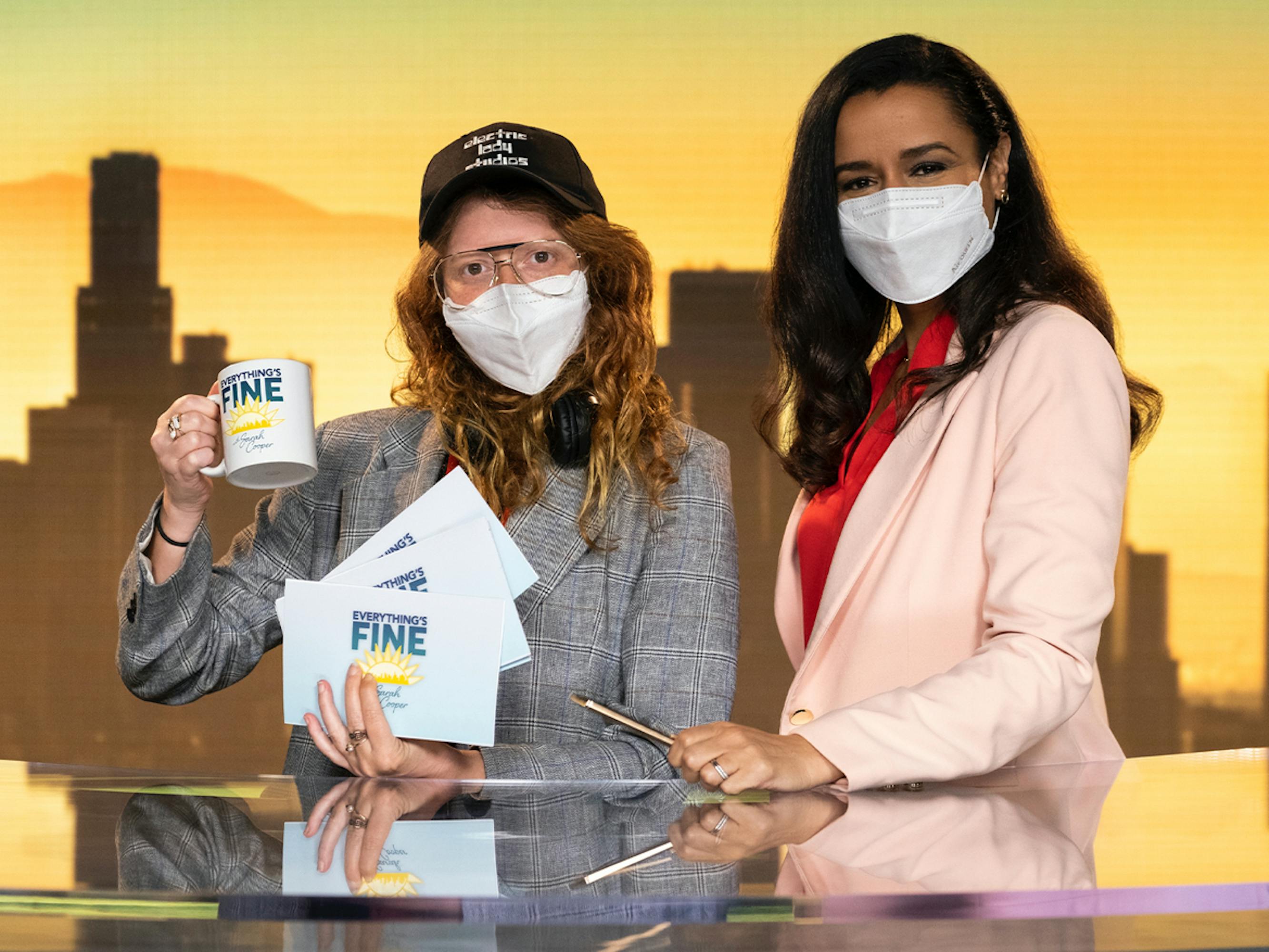 The special tackles not only Trump, but also QAnon, race, extreme weather, Karens... How hard was it to determine what was going to make it in?
Rudolph: There is a ton that is on the cutting-room floor. Sarah came to us brimming with ideas. The idea of sitting there while the fire is burning around you, like, "Everything's fine!" was perfect. It epitomized what we're all going through. It's hard to figure out how to cover all of this true insanity when it's coming at you in real time. It's a never-ending clusterfuck of madness. I think that what we distilled it down to really gives you a whole sense of what we've been going through.
Cooper: It was a balancing act between specific things — like Mr. Pillow — and the broader concept of con men, the broader concept of people sucking the life out of the powerless and taking advantage of people, trying to sell them this quick-fix thing that actually doesn't exist. I feel like doing both of those things helped us create a special that touched on everything and will still feel timeless. It will feel like a time capsule, but the themes are things that humanity is probably going to be dealing with for a long time.
Sarah, I was happy to see you come through so much, even though you're playing these characters. I felt like Natasha really got that humanity.
Cooper: I have ideas, but I immediately shoot them down. Natasha, Maya, and our executive producer, Danielle Renfrew Behrens, are just like, "Let's figure it out." I honestly can't thank them enough. I don't know what this would've been without them. To have a director who's so protective of me — wants me to look the best that I can look but also wants to show who I am — was such a gift. I've never worked with another director before, so I'm hoping the next one is going to be like this.
I think that ability to bring all of us together is the sweet spot for Natasha.
Natasha, what is your favorite part of the day when you're directing?
Lyonne: I just really love it. Maya's always like, "This is what you're meant to be doing." I wouldn't have even written my first short film if not for Maya saying she'd do it. I just wanted to work with her so badly. I think that's how the company came together: We were seeing who we were as makers of things.
Rudolph: The thing that she can't see in herself, as the director and the fearless leader of this, is that the most important thing to Natasha is the human part of her that wants Sarah to succeed. It means everything to her. I think that ability to bring all of us together is the sweet spot for Natasha. Being really, truly held by her as a director is something that is incredibly rare and not to be overlooked. That's probably why she works so much harder than anyone I've ever seen in my life: It's important to her, and that is what you end up experiencing.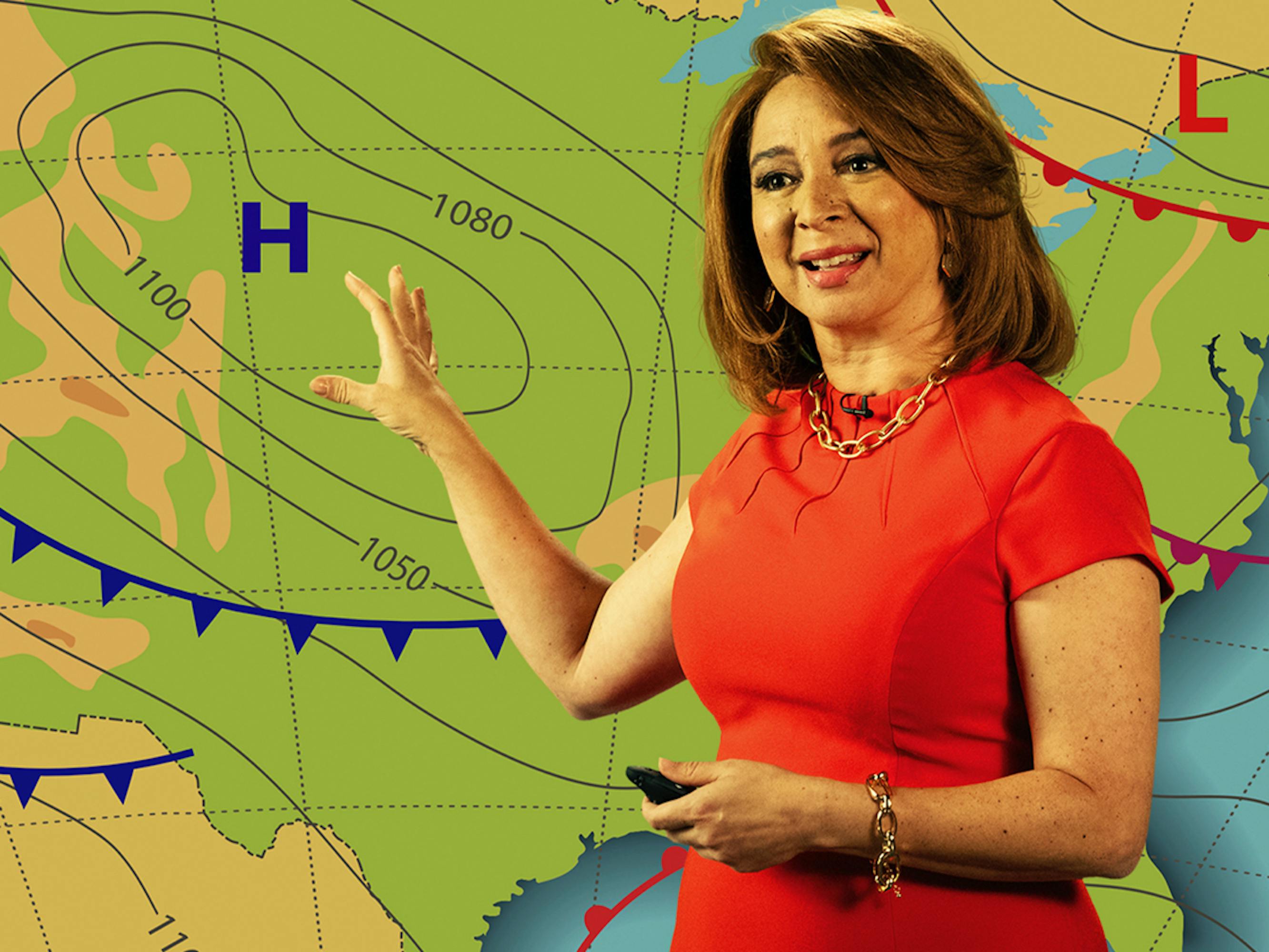 We have to talk about the sketch with the QAnon dolls of Ivanka, Melania, and Kellyanne Conway, where Aubrey Plaza plays the online shopping host. Sarah doing the lip-syncing for the dolls was genius.
Cooper: Executive producer Paula Pell came up with this idea to have me lip-syncing the women as Barbie dolls, but we weren't really sure what the container was for that. Natasha and I were up late writing, and I think I said, "QAnon QVC?" It turned into this whole thing. And then Aubrey totally killed it. It's like watching a train wreck, but you want to be on that train, you know what I mean?
The list of cameos is insane. I almost fell off my chair when I saw Connie Chung.
Rudolph: Me too. That made me so damn happy, honestly. I think that segment might be one of my favorites.
Let's talk about the Access Hollywood sequence where you recreate the circumstances around the infamous tape. Were you always going to include that?
Cooper: Yeah, it was part of the pitch. When I get people writing to me asking me to do things, they're like, "Why don't you do this?" It's just one of these things that we knew we needed to do. The only thing that was a question was where in the special it was going to go.
Rudolph: It's the thing that we all signed up for. We've been watching Sarah's TikToks, we follow her on Instagram — but this is the prize. What I love about it is that you relive it visually. When you actually see it in real time — the action of it — it recreates the severity of what it was and how insane it is that we got used to this. It's completely bananas.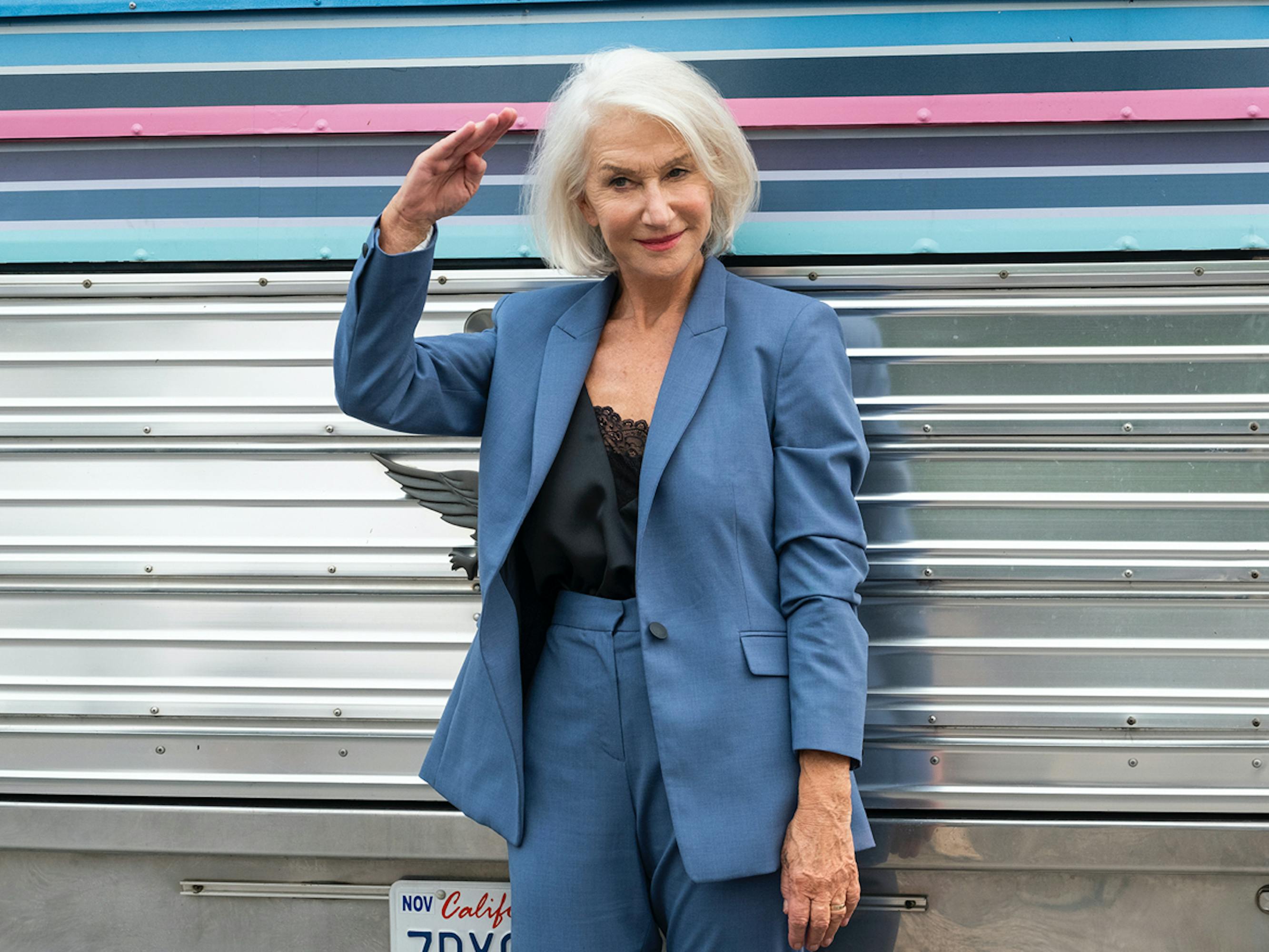 How's this happening? Helen Mirren is a major Sarah Cooper fan. It's everything that brings me joy, all happening at once.
Cooper: There have been so many jokes about "grab her by the pussy." Over the past four years, it's just become a stupid, easy punch line. I think we forgot how awful that audio is. This brings it back to the forefront: This was an awful thing, and he became president. So, I'm really happy that it's in there, and I'm so happy that Helen Mirren, who had never lip-synced anything before in her life (this is a Shakespearean-trained actress, she's been knighted by the Queen), played the fuck out of Billy Bush. She was absolutely astounding.
Lyonne: You're like, How's this happening? Helen Mirren is a major Sarah Cooper fan. It's everything that brings me joy, all happening at once.
Part of what we were hoping to achieve was using Helen's underlying gravitas to bring it home, because, as Maya and Sarah are saying, we're just immune to everything at this point. This moment should've shut it down, yet here we are four years later and it wasn't the thing that shut it down. There was a lot of work trying to figure out how to have it resonate in a way that's closer to a psychological thriller: I'm in a house of mirrors, of madness. Nothing means anything, and I'm at the news desk being asked to continue like it's another day at the office.