The epic trailblazer discusses her newest collaboration with Amanda Peet, The Chair.
Sandra Oh has a habit of making history. In 2019, the Canadian-American became the first actor of Asian descent to win multiple Golden Globe awards, the first Asian woman in over forty years to win Best Actress in a TV Drama, and the first to ever host the event. Her career has been marked by groundbreaking turns — as a brilliant surgeon with naked ambition in ABC's Grey's Anatomy and as the titular Eve in the BBC's propulsive spy drama Killing Eve. Everything about her, from her deep laugh to her shock of black curls, has become iconic. But perhaps the most impressive thing about Oh is the way she carries the weight of being one of Hollywood's most visible Asian performers in stride. At the 2018 Emmy Awards, when Kenan Thompson announced she was the first Asian woman to ever be nominated for a lead actress Emmy, the camera cut to a nonchalant Oh who said simply, "Thank you, but it's an honor just to be Asian." The quote resonated with people so much that it quickly made its way onto motivational T-shirts.
But Oh is the first to tell you that being a trailblazer can be lonely. "For the majority of my career, I've been the only person of color," she says of her life on sets. The actor began her professional acting career at a time when substantial roles for Asian performers were a rarity and often reified unflattering stereotypes — historically Asian women appeared either as hypersexualized objects or as embodiments of the "dragon lady" trope. It's with great precision, purpose, and a willingness to say "no" that Oh has managed to amass over three decades worth of television and film credits while resisting stereotypes at every turn. After years tending to her craft and bringing countless characters to life, she now uses that well-earned star power to advocate for a stronger understanding of the Asian experience on and off screen.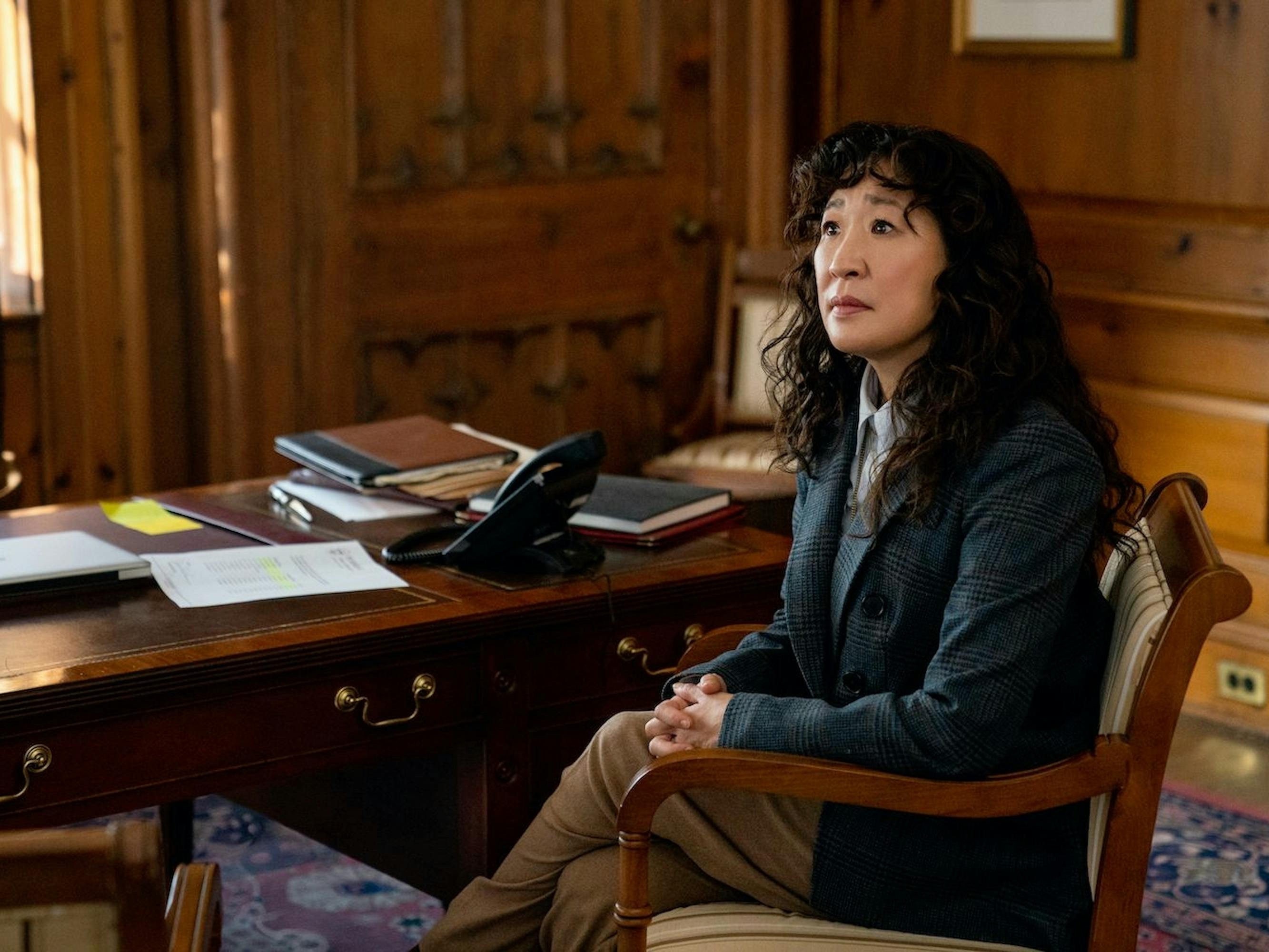 Like so many of us, Oh spent the pandemic questioning her belief systems and really taking stock of her life. As a result, she has emerged more clear-eyed and purposeful than ever before. For example, in her new Netflix series The Chair (the project she was shooting in Pittsburgh), Oh has found a way to leverage her underrated comedic talent to achieve a goal that has become both personal and political: greater Asian representation on screen. Created and showrun by Amanda Peet — whom Oh was introduced to after their mutual friend Sarah Paulson emailed her Peet's script — The Chair follows Oh in the lead role of Dr. Ji-Yoon Kim, a 46-year-old professor of English at the fictitious Pembroke University who is newly-appointed as the first woman chair of her department. The subject matter seems heady for a six-episode, half-hour comedy, but any worries of over-seriousness are quickly quelled by the show's teaser trailer. In it, Dr. Kim walks to her new office and sees two name placards, one on the door that reads "Chair, Department of English," and another left on her desk as a gift by another professor that reads "Fucker in Charge of You Fucking Fucks." She smiles softly while taking in the accomplishment and then elegantly walks over to her office chair to take a seat — only to fall right off. And that is the tone of the show: part bureaucratic satire and part workplace comedy.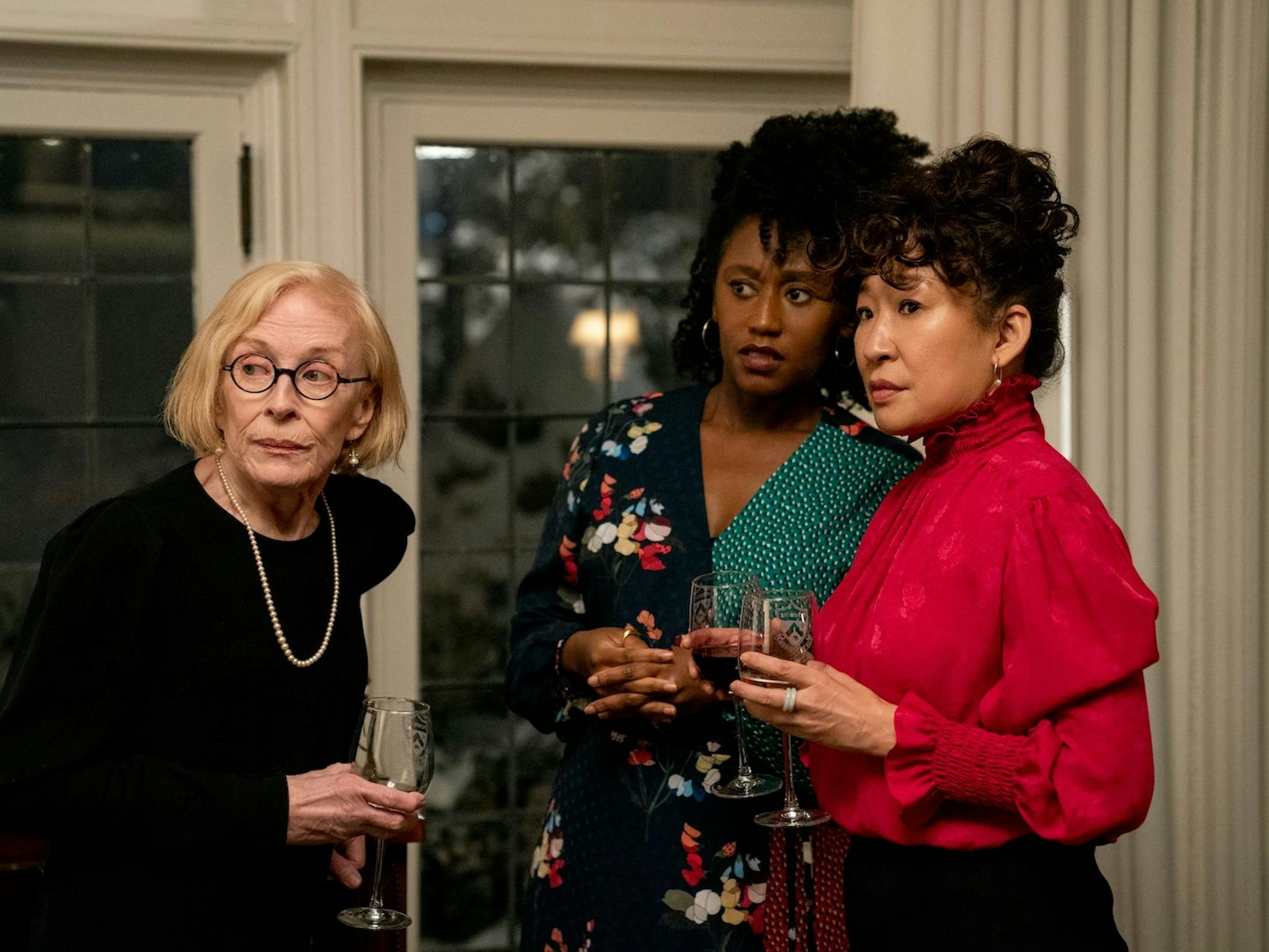 In Oh's career, defining roles have always come as the result of collaboration with women — with Shonda Rhimes on Grey's Anatomy, with Phoebe Waller-Bridge on Killing Eve — a fruitful tradition continued with Amanda Peet. "It's profound for an actor to have someone who is very much writing for you," says Oh, who also produces for The Chair. "I feel like I really understand this business and I really understand filmmaking," Oh says. For her, serving as a producer and steward of a production is critical because "when you know how the sausage is made and there's not enough pepper, you can go to someone and say for God's sake, we need some pepper." 
Dr. Kim is a true teacher; smart, witty, and slightly weary. She's enamored with the written word and wants "to fill young people with the power of literature and poetry." But, she also wants to use her newfound authority to enact change. "Ji-Yoon is trying to make that happen while also trying to expand the room to include more people," Oh explains. And because this is a comedy, obstacles to her noble mission abound; the faculty at Pembroke is 87% white, the department is struggling to retain students, male faculty outnumber female faculty forming an unofficial Boys Club, and older professors are resentful of newer professors and their progressive ideas. For Oh, The Chair provides an outlet to explore questions universities and other industries (*cough cough* Hollywood) are grappling with: "How can you make progress with institutions that are so old and whose habits are so entrenched? How do you keep going?"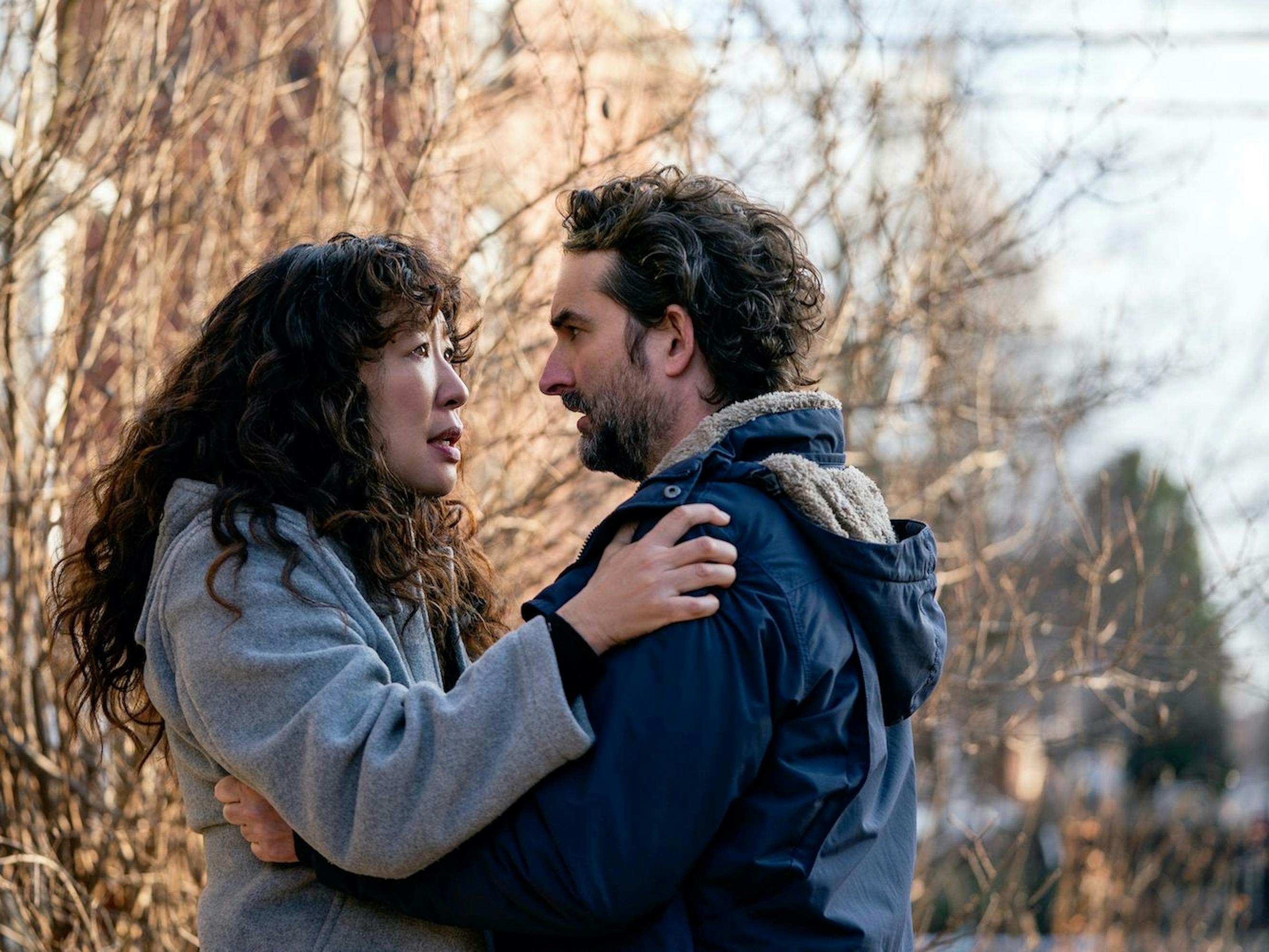 The series is also a showcase for the kind of complex female character Oh excels at bringing to life. Dr. Kim is balancing the responsibilities of her new management role and being a single mom to her adopted daughter while also pursuing a tricky new romance with a widowed colleague (played by Jay Duplass). "I'm really hoping that a lot of women have a familiar chuckle from having so many responsibilities, and trying to take care of so many people, and just being squeezed from all angles," Oh says, with a knowing laugh. The storyline involving her daughter is also noteworthy for its depiction of transracial adoption, a family dynamic that is increasingly common. "We're not laser focusing on it," Oh explains, "but if you're adopted that means something huge and if you're adopted into a family where you don't present like your mom and then your grandfather speaks another language other than English which is what you're learning . . . " Basically, it's tricky. But for Oh, 'difficult' doesn't have a negative connotation. She saw their complicated mother-daughter relationship as an opening to talk about a domestic reality she feels "needs more voice."
Despite being the department's chair, Dr. Kim is also an underdog. She and the other female professors — senior professor Joan Hambling (Holland Taylor) and young Black professor Yaz McKay (Nana Mensah) — bond over the difficulty of maneuvering the hierarchy of their department. Oh says she connected with her co-stars "on instinct." She is particularly proud of the relationship between Yaz and Ji-Yoon because it represents two women of color not only interacting — a low bar few shows clear — but also supporting one another and communing over their shared struggle. "Talking to another person of color is just a different layer of understanding," says Oh.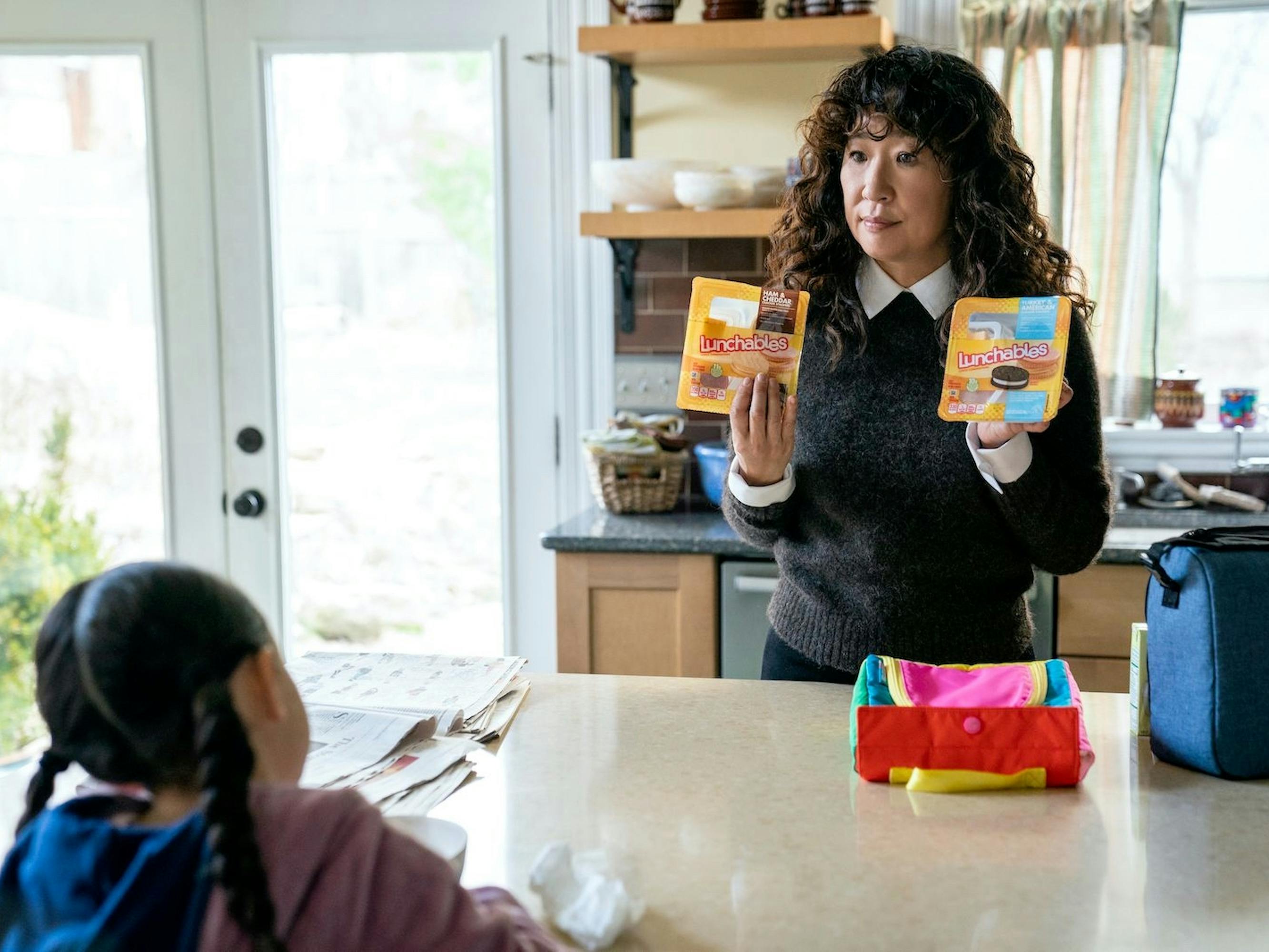 There was a time when an on-screen interaction like that didn't seem possible. She remembers pitching a race-conscious joke for her Grey's Anatomy character to say to another actor of color that was deemed a non-starter. ("It was the Obama years," Oh explains, alluding, of course, to the eight-year period when many Americans believed electing a Black president had solved racism and created a post-racial society.) With The Chair, Oh realized what wasn't possible at that time — a scene between two women of color encapsulating the shared understanding between marginalized people — was suddenly very possible. "To be a part of that representation in mainstream television is great," she beams.
I feel the actual feeling of blooming in my career.
Oh's attention to details — the kind of cultural details that determine whether representation is authentic or cliché — are a key part of what makes her a powerful actor and producer. Though she downplays it, her instincts about cultural notes that may be missing from a script or scene have led to performances critics have hailed as "quietly revolutionary." This eye for nuance was on display on the set of The Chair. While watching the actor who plays her father on the show, Oh noticed something. "Someone was directing Mr. Lee, who plays Habi, to wave someone over in the more Americanized, white way," she recounts. When Americans gesture 'come here,' Oh explains, "your palm is usually up and your fingers bend like you're waving towards yourself." By contrast, "In Korean culture, the palm is down so you're waving downward." Watching him film the scene, Oh had a realization: "He doesn't really do it that way. I don't believe it." So, she offered a simple note to encourage him to represent himself and his culture more naturally. "I said, 'Mr. Lee, you can do it the way that feels comfortable to you.'" Details — in this case, something as deceptively small as the way Americans and Koreans have different hand signals to say "come here" — are everything. And Sandra Oh knows that.
Sandra Oh, actor and inspiration, has found her power and is ready to wield it. "I feel the actual feeling of blooming in my career," Oh tells me excitedly. "I am just completely reframing the whole thing about ageism, which is absolutely in our show, in my own mind and in my career." Recently, the actor celebrated her 50th birthday with an Instagram post thanking the people who got her to where she is today including her "muses" Cristina Yang, Eve Polastri, and Ji-Yoon Kim. Though The Chair is only the second series the actress has headlined as its lead, it confirms that this next chapter of her career will see her take on some of her most complex and compelling roles yet. Oh has so much more to do and be. And, alongside that work, a drive to use her considerable power to make others around her feel as seen as she is now.