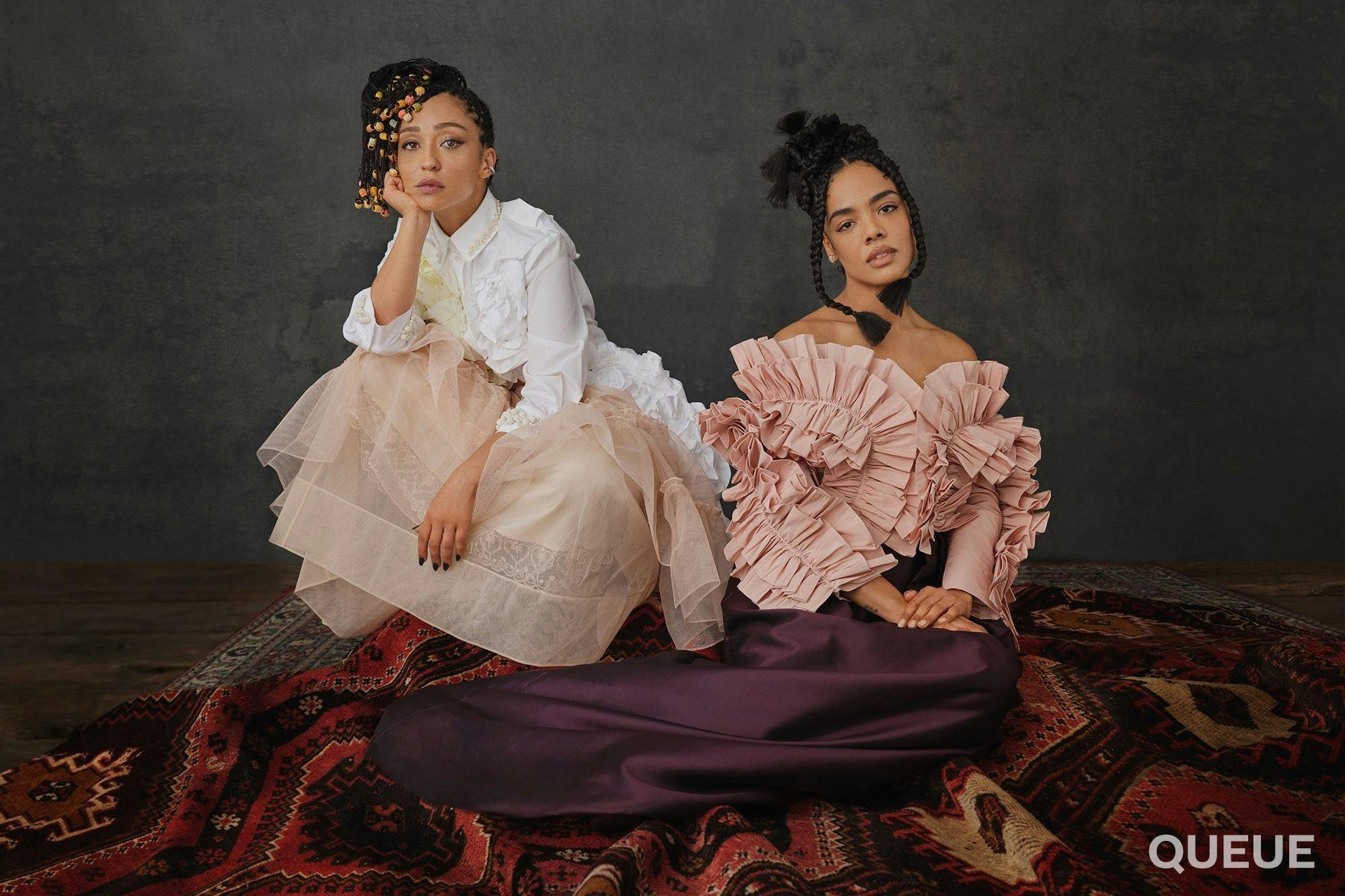 Ruth Negga &
Tessa Thompson
The venerable actors play estranged friends reunited in the film adaptation of Nella Larsen's beloved novella, Passing.
Ruth Negga and Tessa Thompson had very little time after they first met to locate the intimate rapport that exists between their characters in actress Rebecca Hall's feature directorial debut Passing. Before shooting began, the two stars, along with the other members of the cast, gathered for just a few days in Hall's country home to get to know one another and to begin putting the script up on its feet. Yet during that brief period, Negga and Thompson quickly formed a powerful bond that kept them tethered throughout the artistically demanding project.
"Just being open and receptive to one another's energies and working with one another's energies, it was easy," Negga says. "For me, it was like a dream. I knew that these two characters had this magnetic connection to one another, this invisible thread. The only way you can embody your character is to become completely transparent with your playing partner, and feel safe to go anywhere, and feel trusted and trusting."
But the trust that exists between Clare Kendry (Negga) and Irene Redfield (Thompson), the two characters centered in Hall's new film, is tenuous. Adapted from Nella Larsen's classic 1929 novella, Passing follows the pair who have reconnected after a period of estrangement. Both are light-skinned Black women in 1920s Harlem, yet they live on opposite sides of the color line: Clare "passes" as a white woman and is married to an openly racist white man (Alexander Skarsgård) who is unaware of his wife's precarious situation.
Irene is drawn to the vivacious Clare at the same time she is repelled by some of her choices, while Clare longs for the sense of community that Irene, who is married to Black physician Brian (André Holland), enjoys. Although the film explores weighty questions about race, at its heart it's a psychological drama about obsession, repression, and the lies people tell to protect their constructed realities.
Hall's film required actors of extraordinary depth, and the first-time director chose wisely with Negga and Thompson. Ethiopian Irish actress Negga famously earned an Academy Award nomination for her turn as Mildred Loving in the 2016 historical drama Loving, about the Virginia couple who fought a legal battle to overturn state laws against interracial marriage. L.A. native Thompson delivered a breakout performance in 2014's sensation Dear White People and went on to blockbuster success in such films as 2015's Creed and 2017's Thor: Ragnarok.
Onscreen, the women are absolutely mesmerizing together — spending time with them in person, they're equally enchanting. Exclusively for Queue, Negga and Thompson sat down with C.E.O. and publisher of Ebert Digital, Chaz Ebert, who also served as an executive producer on the film, to explore what it took to navigate the arc of Clare and Irene's relationship, the experience of making the powerful black-and-white drama, and the impact they hope Passing might have in the world.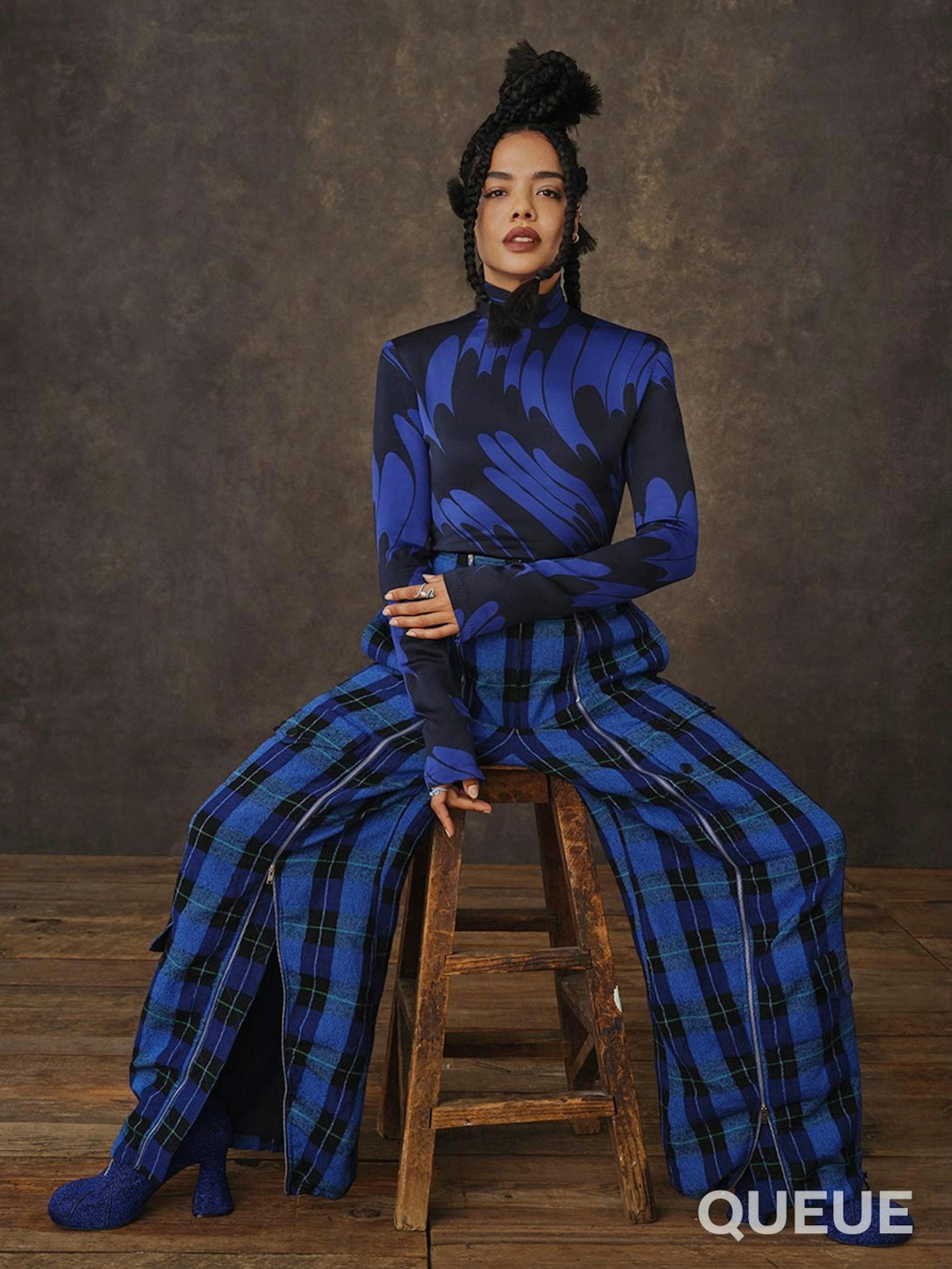 On Thompson: top, pants, shoes by Stella McCartney; earring by Melinda Maria; earring by L'atelier Nawbar; rings by Bea Bongiasca.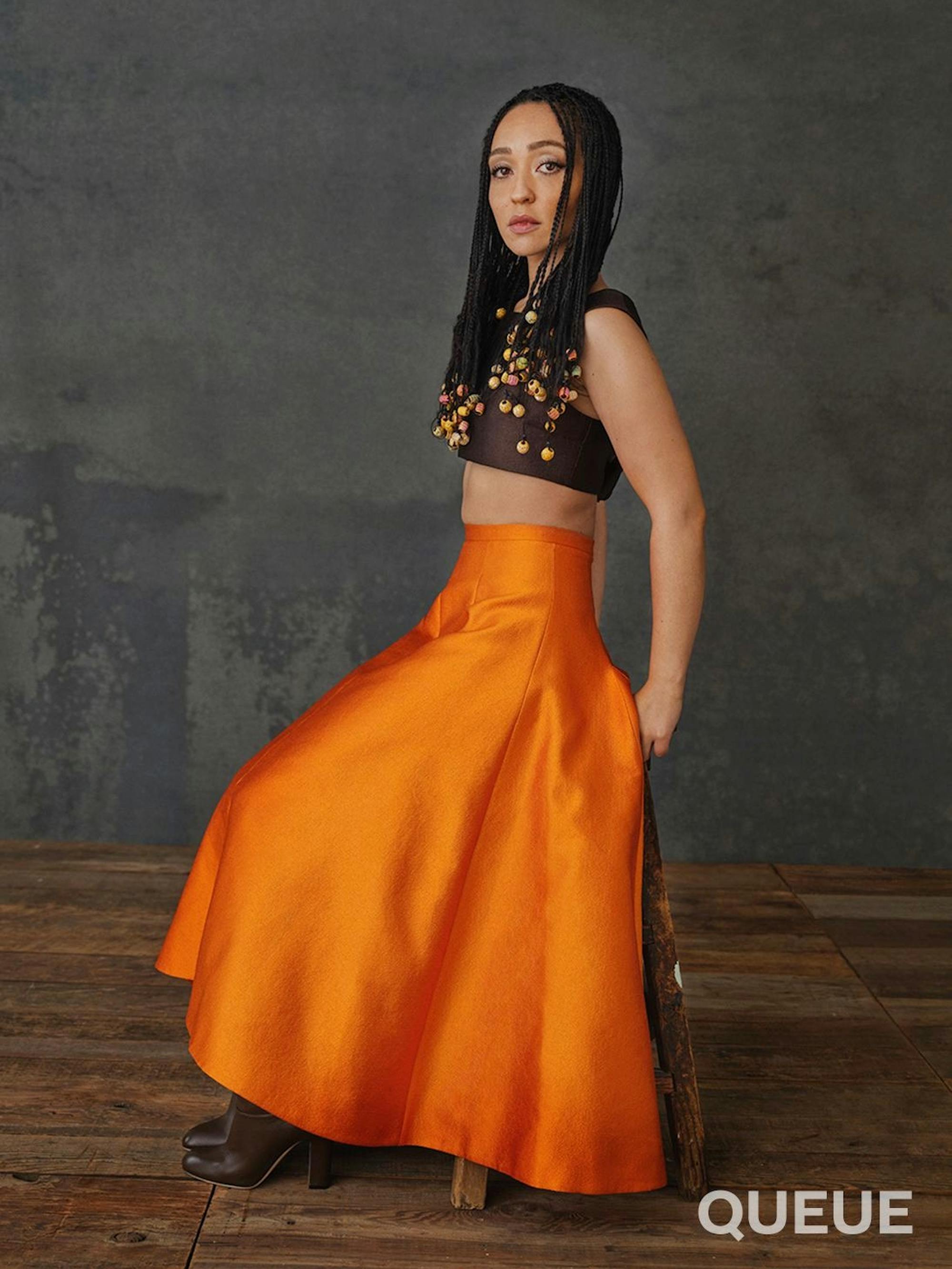 On Negga: top, skirt by Emilia Wickstead; boots by Paris Texas.
Chaz Ebert: This exquisite movie premiered at the Sundance Film Festival in January 2021. Everyone was talking about you two. How did it feel at that time — with our world being so uncertain and with so many things happening — that people were paying attention, that they paused long enough to see the beauty of this movie?
Tessa Thompson: This project has meant more to me than most things I've done in my career. So, it was with great anticipation that we brought it to Sundance. For it to be happening at a time, as you said, when there was so much chaos and uncertainty — I really wondered about the value of what we do. Having this premiere virtually and also taking in much of the other work that was at Sundance, it reinvigorated the idea of story for me. We're still in very uncertain times where the fabric of not just our country, but also the global community is changing in ways that are entirely unprecedented. Our film is about a time not that long ago in American history where all sorts of people made choices because they had to survive. Also, the film is something that we made with a tremendous amount of heart. Stories have always made me feel less alone; that's why I like to tell them. When so many people were isolating and quite literally alone, it was nice to know that maybe this thing that we did offered some solace.
Clare, in Larsen's book, has this freedom of movement and expression. She can be Black when she wants to be Black, white when she wants to be white, and feminine, seductive, charming whenever she wants to be. Yet she's largely divorced from her culture, her community, and the things that were familiar to her growing up. Ruth, how did you find this character?
Ruth Negga: That's what I got from the book, too, and what I can relate to is being far away from your roots because that's me, essentially — I've felt that quite a lot throughout my life. Being an actor, it requires a chameleon-like energy to survive, really. When you're little, you don't even know you're doing it. You're assessing situations and seeing, Oh god, how do I survive this playground as opposed to that playground? I recognized some of those skills in Clare. She's very much about her survival. The only thing she can rely on is her own body and her mind, and she very much uses those things to survive. But I also feel that she's got nothing to lose. When you've got nothing to lose, there's a delicious freedom there, and I think she recognizes that. I also think that for her, there is a certain thrill walking that fine line. Because what she's doing is dangerous, in many respects. I felt like that's where she got her energy, and I tried to use that. It's extraordinary that she won't be cowed. She wants what her heart desires. It's extraordinary that, at that time, she felt that she could do that.
Irene wants to protect her two sons. That made me think about the fact that today, so many Black mothers still have to give their children the talk about the police, about what it is to be safe in the world. Tessa, what was it like to embody that aspect of Irene?
TT: There were many things about the emotional depths of these women that our director Rebecca Hall entirely understood, and we had a lot of robust discussions around that conversation between a mother and her young Black children. I don't understand yet because I'm not a mother, but I am the sister to a young Black man in America who over the past summer was having to question how well prepared he was for his reality in this country. André Holland, who beautifully played Brian in the film, and I, when we were having that conversation, it felt like something that was right here and now. Sadly, progress with regard to race in America moves pretty slowly. This film, and the questions that Nella was asking back then, are still ripe and relevant now. I suspect they will be for decades to come.
Because this is a story that's centered so much on these two characters, the emotional intelligence that you bring to the roles is one of the things that makes this movie work.
TT: Something that surprised me about the experience of making the film was the spirit of play, which I don't know if people will necessarily imagine when they watch the film. Ruth, I could sense your emotional intelligence from your performance. What I did not know would be the case is how mischievous you are, and how goofy, because you have such elegance and such poise. As an actor, I'm always trying to get back to that sense of play that you have when you're a child. You can bring intelligence and make decisions and choices, but hopefully, when you get to set, the experience has a spirit of play and joy, and it should be surprising.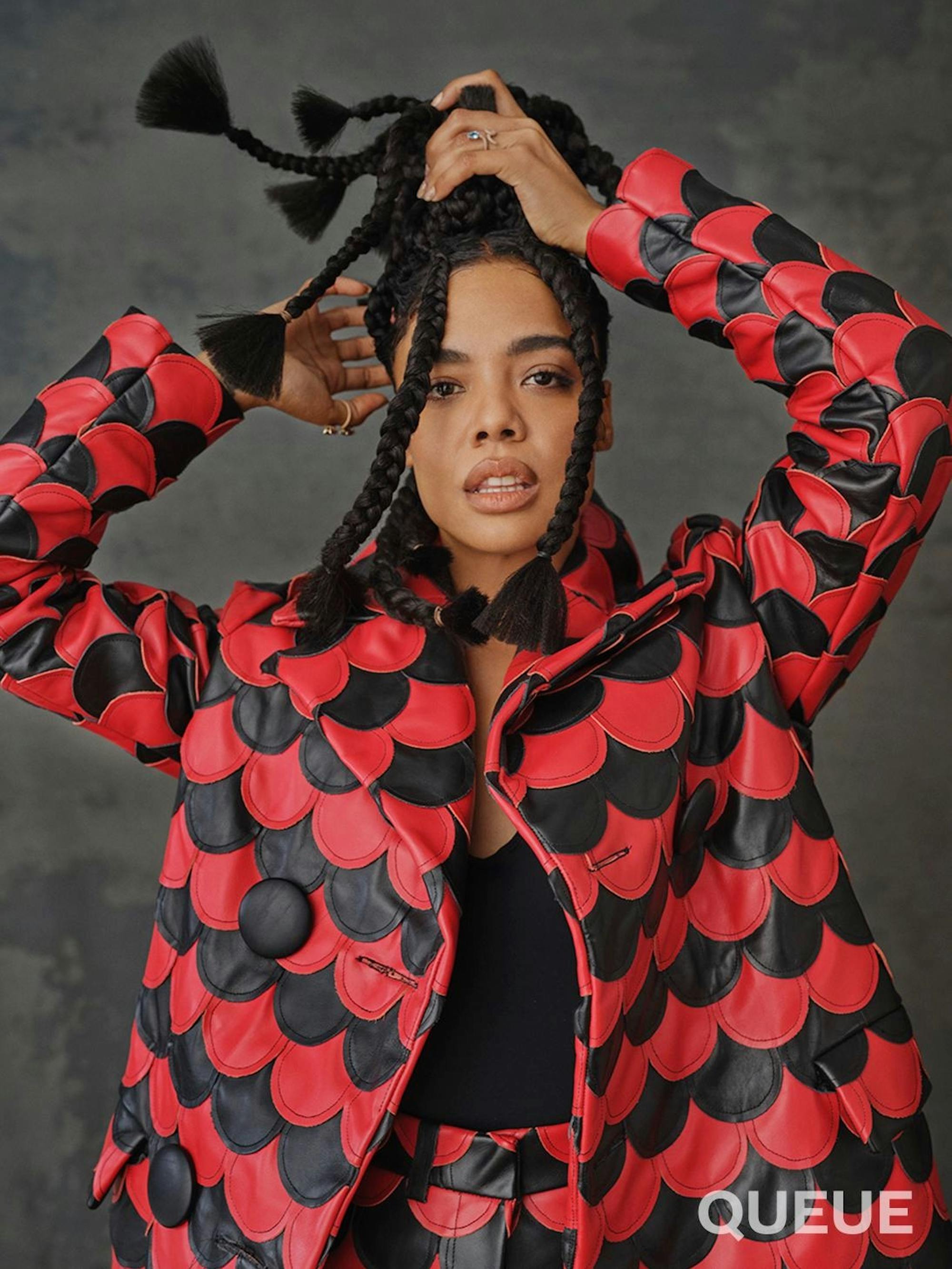 On Thompson (red and black coat): coat, shorts by Aliette; jewelry by Bea Bongiasca.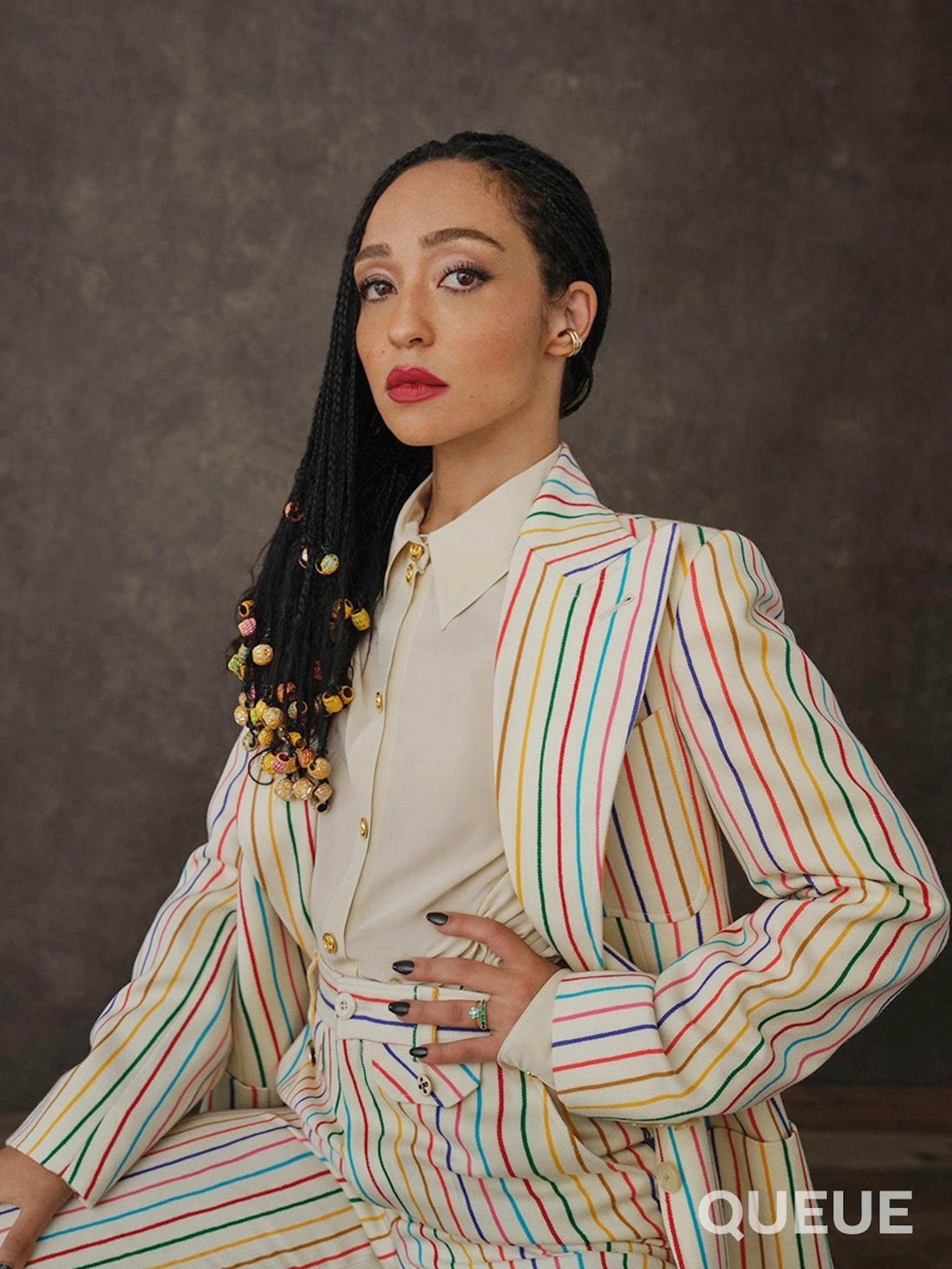 On Negga (rainbow striped suit): suit by Gucci; rings by Jen Meyer; earring by Jen Fisher.
RN: It has to be joyful, doesn't it? I was relieved that you didn't go, "Geez, I need to be serious." When you're dealing with such tragedy and somber content, it's very important to experience joy. For me, joy is how I connect with other people and actors. The sense of play and mischief lends an energy to performances.
What was it like to be directed by Rebecca Hall, to have an actor as a director? How was that different from working with some of the other directors who have never acted before?
RN: I would recommend they go to acting school.
TT: I would, too. It's tremendously helpful. In this case, this was a story that was near to Rebecca because she read Nella Larsen's work when she was trying to understand her own family history. There was a real urgency to the adaptation for her. Those are my favorite works with a filmmaker, when they have something they have to say. I feel like I'm a vessel; I like to be used by someone who has real skin in the game, which Rebecca has in spades. I felt a lot of trust because I've always admired her work as an actor. I was terrified to play Irene for so many reasons, but I like having to stretch in new ways. I hadn't done something that was so physically specific.
RN: I've never worked with anyone as prepared as Rebecca. She was very adamant about what she wanted and very precise, and it was real painting, with delicately fine brush strokes. She set the bar very high. But I also think she has a natural empathy with actors because she knows the depth of them. She knows the vulnerability. She makes you feel safe and comforted.
Imagine all the incredible stories that would have been told, the sort of films that would be a part of the canon, if people wanted to put a lens on women that looked like Ruth and me at the time.
This past summer there was a lot of conversation around anticipating skin tone before a biracial child is born. It made me think about Clare, having chanced one child, not wanting to have another because she didn't know how dark the child would be.
RN: She's really blunt about it. Clare often addresses things that aren't talked about in a really disarming way. I know it disarms Irene.
TT: What's so fascinating about her is that motherhood is not enough for her. We're married to this idea that motherhood in and of itself should be a completely satisfying thing, particularly for women at that time. Irene is aghast at her because Clare's speaking to something that she secretly feels: Motherhood is not enough. I'm so unhappy. I need and want more. Clare has the gall to say it.
RN: That's this whole connection, isn't it? Each has something that the other covets. They have this deep fascination with each other. I love that: two Black women fascinated with each other — you don't see that very often — and then challenging one another. I was enchanted by them.
TT: I was so beguiled by them and also confused by the ambiguity of the relationship.
RN: To this day, I'm trying to figure out the recipe, all the different ingredients to what this love story is. It changes all the time. I'll be ruminating on the book years from now. That's why when Rebecca said, "Look, I'm doing this," I was like, "Sign me up immediately. Cancel everything."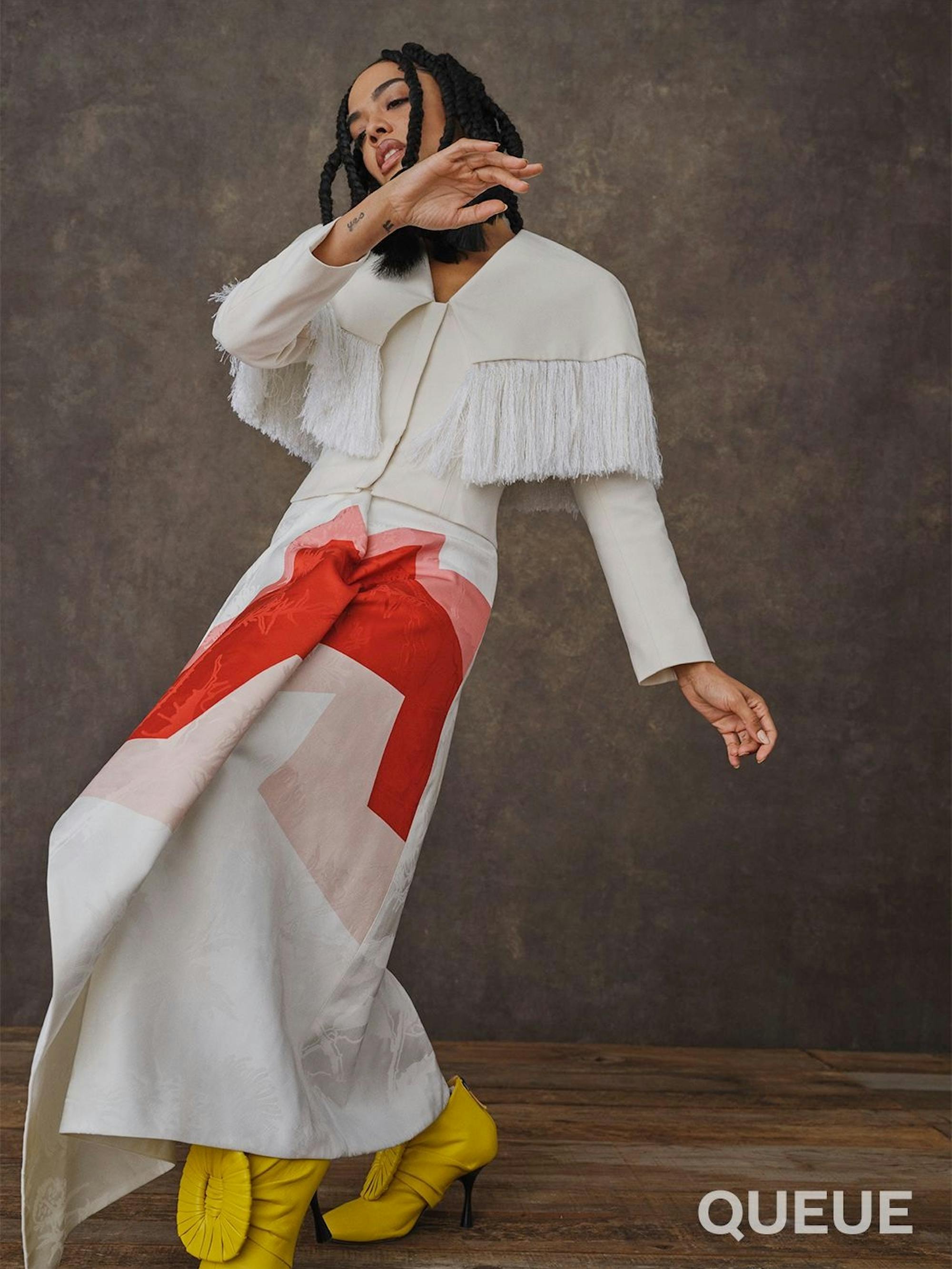 On Thompson (white ensemble and yellow shoes): jacket, skirt, boots by Loewe; earring by L'atelier Nawbar; earring by Melinda Maria.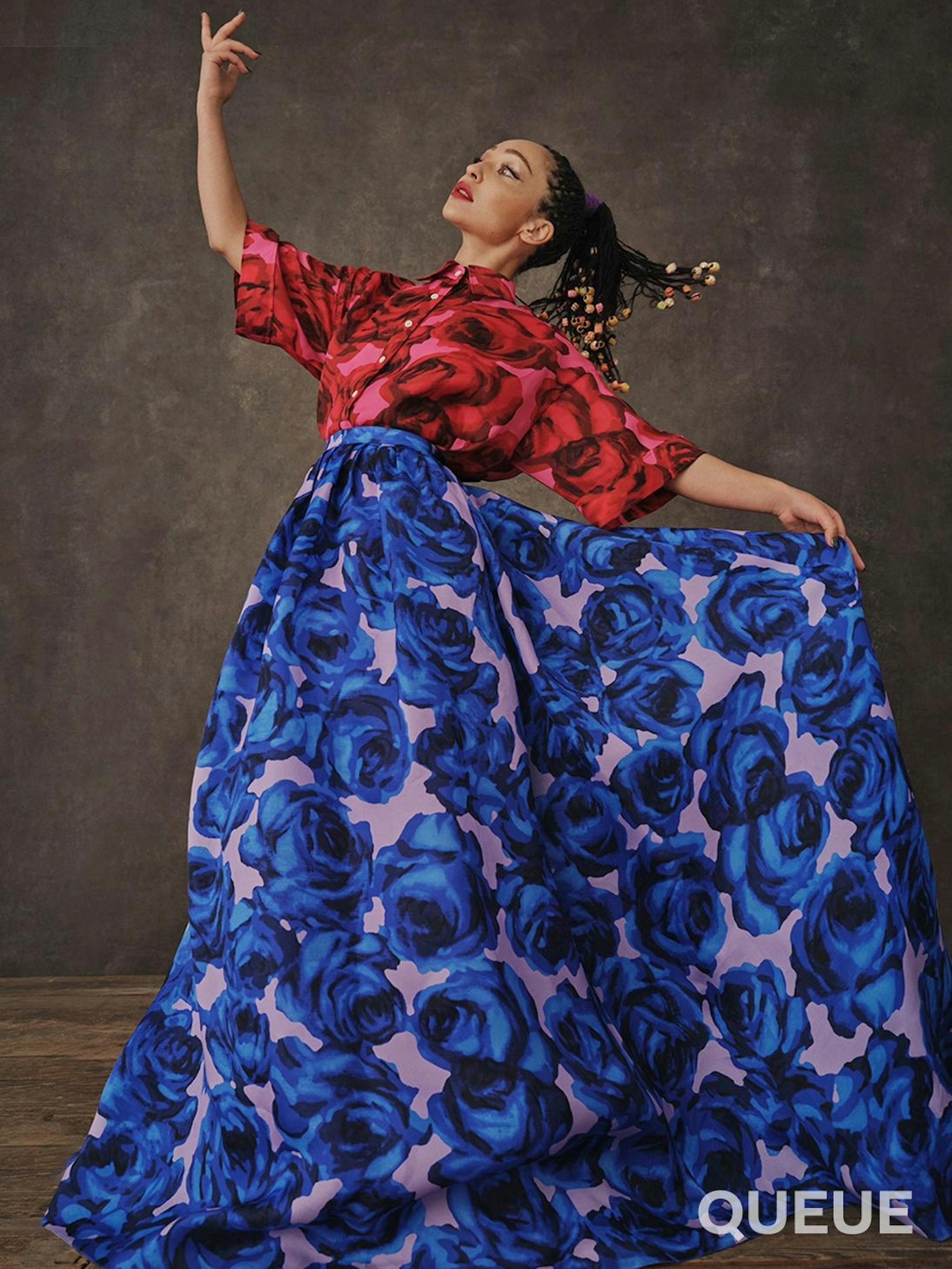 On Negga (flowered blue skirt): top and skirt by Carolina Herrera.
The other thing that I so enjoyed about watching you both on the screen is that there was such a sisterhood about the performances. You telegraphed an understanding of the other's character so much so that I could actually see you, Ruth, being Irene, and see you, Tessa, being Clare.
RN: We never talked about that, but I felt that when we were making the film. It was like they were long-lost twins or something — and when they came together it was like, "Oh, that's my other half." In a way, they complete each other.
TT: I wonder if they are two sides of Nella Larsen's own thinking and heart. I wonder if they both existed inside of her?
What did it feel like to wear those beautiful period clothes?
TT: I felt like I looked like a turtle, but it didn't matter because I think Irene herself feels quite dumpy.
They have this deep fascination with each other. I love that: two Black women fascinated with each other — you don't see that very often — and then challenging one another. I was enchanted by them.
RN: For me, so much is informed by costume. It helps me tremendously. There is something about the fit of those garments — they have a natural confidence and an ease. I did a period piece after Passing that was set in the late fifties and sixties, and that felt so constricting.
TT: You weren't like, "Oh, Jesus. How am I going to act in this?" The costumes were super complimentary to the performance, and that's what you're looking for.
When Passing is released to the world, how do you want people to receive it?
RN: I hope people look back with a deeper understanding of that time because, God knows, we don't know enough of our history, especially Black history. It's an insight into lives, past lives. All art is a window into other lives. I'm fascinated by history, and I'm fascinated by other people and what makes them tick. These are people who haven't had the chance to be explored onscreen. It's their due now.
TT: Imagine all the incredible stories that would have been told, the sort of films that would be a part of the canon, if people wanted to put a lens on women that looked like Ruth and me. Even now it's extraordinary that we share a screen. Films like this hopefully create more space where you can tell a story that, yes, is about a part of our collective history in this country, but it's more than that. Passing is a really beautiful, interesting character piece about these two women. I want to see more films like that.
RN: We're making up for a lot of lost time.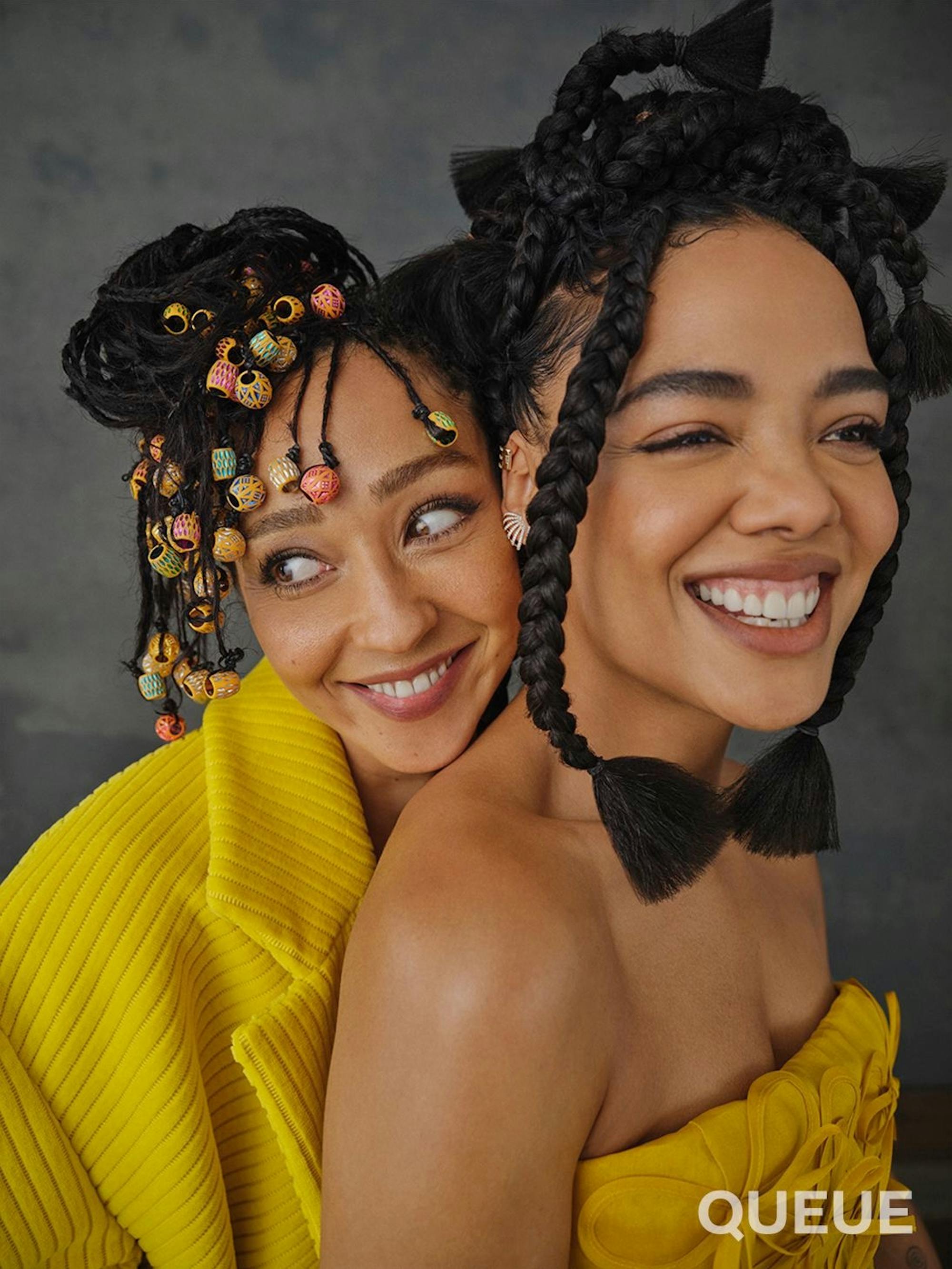 On Negga: coat by Prada; earrings by Ana Khouri.
On Thompson: dress by Cong Tri; ear cuff by Melinda Maria; earring by Dana Rebecca Designs; earring by Grace Lee.

Opening photo: on Negga; skirt and blouse by Simon Rocha, earring by Ana Khouri; on Thompson: dress by Greta Constantine, ear cuff by Melinda Maria, earring by Dana Rebecca Designs, earring by Grace Lee.