Ruben Santiago-Hudson is dedicated to the work of his friend and collaborator August Wilson. The screenplay for Ma Rainey's Black Bottom is his latest endeavor.
Playwright, actor, and director Ruben Santiago-Hudson first saw August Wilson's play Ma Rainey's Black Bottom during its Broadway run at the Cort Theatre in 1984. He made it his mission right then and there to form an artistic partnership with the Pulitzer Prize winner. Today, he has a rich history with Wilson to look back on — one that lives on in his latest endeavor. When producer Denzel Washington needed a writer to adapt the script of Ma Rainey's Black Bottom for the screen, he knew whom to call.
Santiago-Hudson's collaboration with Wilson began roughly 10 years after he first saw Ma Rainey at the Cort, when he got an audition for Wilson's Two Trains Running. He then landed the role of Canewell in the playwright's Seven Guitars, playing opposite Viola Davis, who was at the time a recent Juilliard grad; he won a Tony for the performance in 1996. "From that moment on, we were pretty much connected," he says of his rapport with Wilson. "I dedicated myself to his work. He ended up writing three roles for me. It became the most significant writer-actor-director relationship I've had in the past three decades."
Santiago-Hudson had already established himself as a creative force in the theater. Early in his career, he toured with the Negro Ensemble Company and was featured in productions at the New York Shakespeare Festival Public Theatre. In 1992, he made his Broadway debut as Buddy Bolden in the award-winning musical Jelly's Last Jam, written and directed by George C. Wolfe, who would one day direct the screen adaptation of Ma Rainey. Santiago-Hudson also wrote and starred in the acclaimed one-man play Lackawanna Blues in 2001, about his coming of age in a boarding house in Lackawanna, New York, which Wolfe adapted into a TV movie four years later.
When August Wilson died in 2005, Santiago-Hudson vowed to keep his groundbreaking work alive, and in 2017 he directed a Tony Award-winning Broadway revival of Jitney, Wilson's play about the lives of unlicensed cab drivers in Pittsburgh's Hill District, set in 1977. "Wilson's work is timeless because the situations, the issues, have not been addressed," Santiago-Hudson says. "Yes, there has been some advancement. Yes, there has been some progress in a lot of things in our societies, but many other things remain the same."
His adaptation of Ma Rainey's Black Bottom is somewhat leaner than the stage production, which runs two and a half hours — yet it's no less impactful. Knowing Wolfe would be directing the film, he focused on capturing the cadence of Wilson's language and the conflict that unfolds between upstart trumpet player Levee (Chadwick Boseman in his final role) and Mother of the Blues Ma Rainey (Viola Davis) at an ill-fated recording session in Chicago. "I reduced the time. But even though I had to replace the incredible lyricism of his words, I could replace it with incredible lyricism of visuals," he shares.
"That was my task: How do I honor August Wilson, wholly, fully, and truthfully, and still impact the event with the strength of the other medium? It was an opportunity."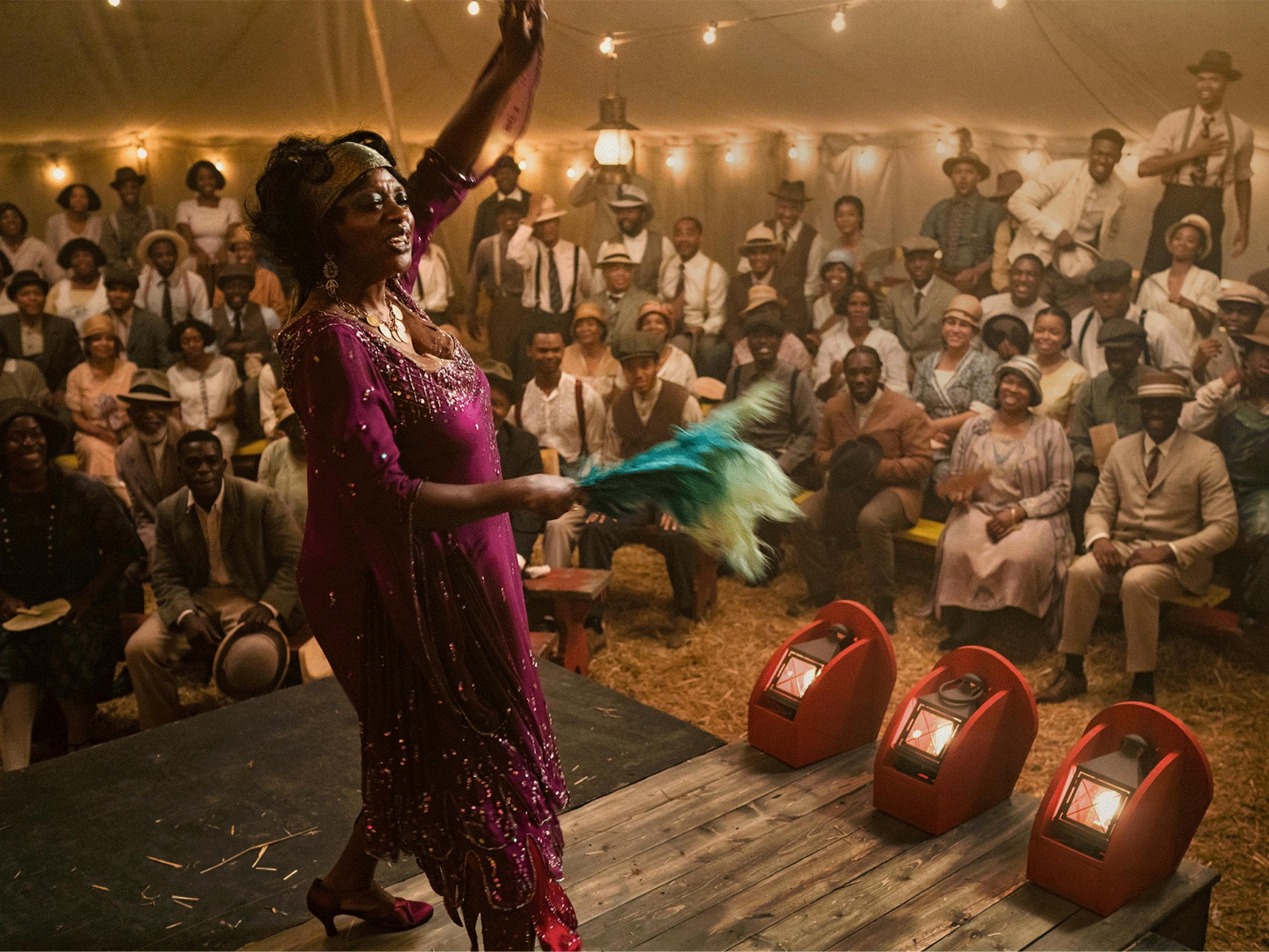 Francine Stock spoke to Ruben Santiago-Hudson about what it was like to write the script for Ma Rainey's Black Bottom.
Francine Stock: You had the monumental task of finding the essence of Ma Rainey's Black Bottom for the screen. Do you go for the big moment? How do you structure it technically?
Ruben Santiago-Hudson: Well, the way August writes, each character normally will get an aria. I had to figure out which arias were most important to the story that we were telling, and with the ones that I was not going to be able to keep, how I would impact the movie with the thoughts and the metaphors that he was putting in those arias. I would create, for instance, Levee blowing through the trumpet at the piano player Toledo [played by Glynn Turman]. In the script, I write in parentheses what he should be saying through the horn. If he says, "Yes, you're right," or, "Go to hell," or, "I don't believe you," he would play it through the horn. I didn't lose the mellifluous impact of August's language. I just put it in the trumpet.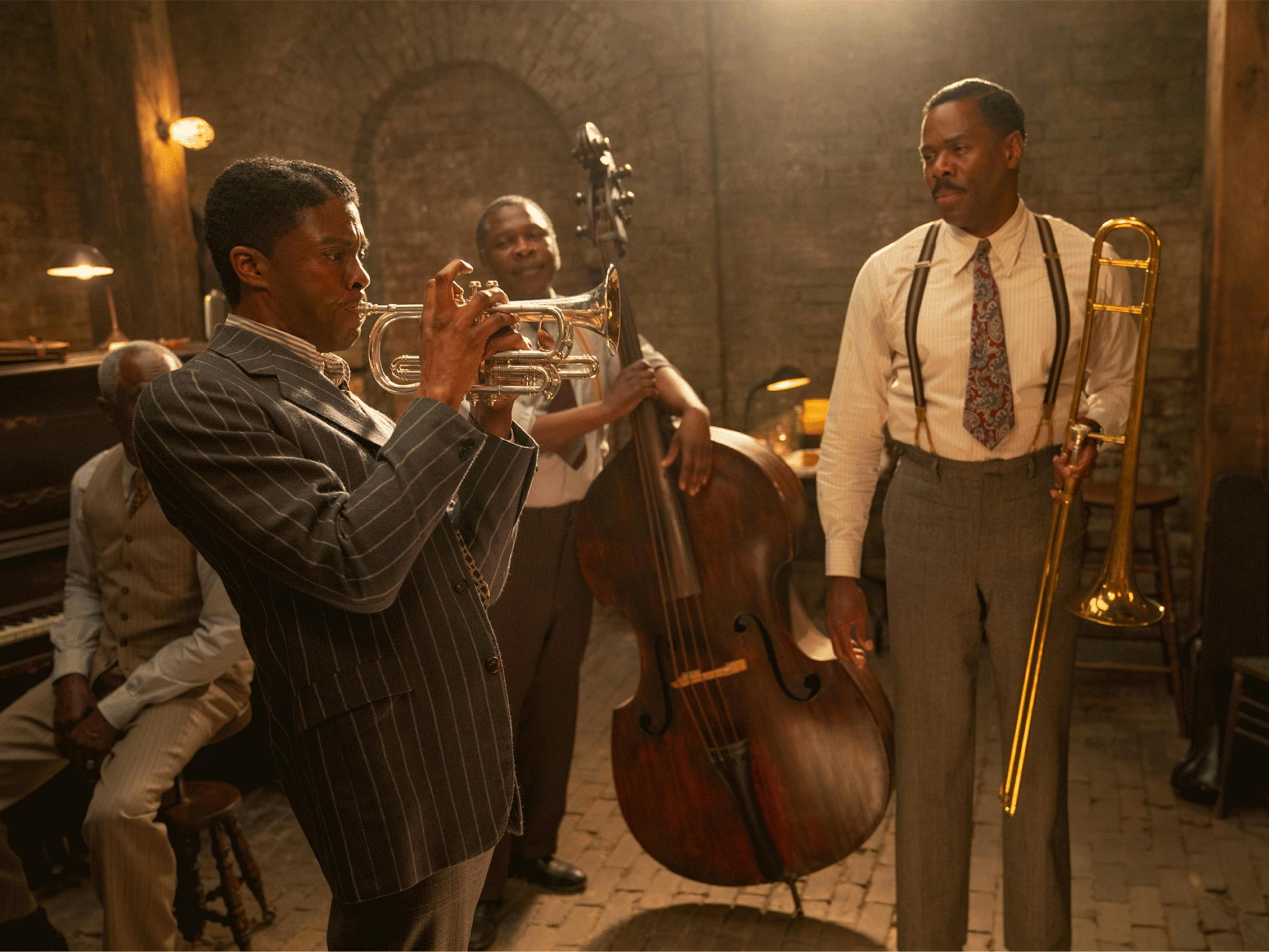 You and George C. Wolfe, the director of Ma Rainey, worked together on Lackawanna Blues. You've also worked with Denzel Washington and Viola Davis previously — even on other August Wilson projects.
RSH: I've known Viola for a long time. I was with Denzel in the Negro Ensemble Company; Denzel was there with A Soldier's Play and other work. I've directed Glynn Turman; he did my play Your Blues Ain't Sweet Like Mine. It's a small circle. You reach a certain level in your career, and then the circle gets smaller and it gets tighter. It's always great to be able to lean into that group and say, "I need you here, and I need you there." Same with George C. Wolfe. When I got the job, I told Denzel immediately, "Let's see if we can get George." George and I work very well together. George is an extraordinary visionary. Denzel is an extraordinary filmmaker. All I have to do is hold up my end as a historian and writer of August Wilson's work.
Ma Rainey is one of the great queens of the blues, but we don't know that much about her today. Can you give us a bit of context there?
RSH: In 1927, Ma Rainey was the ultimate blues shouter. Her extraordinary power was mainly in show tents through the South — with money passing from Black hand to Black hand and into Ma Rainey's hands. Until she got into the recording studio where someone else could impact and control her power through this machine that they were capturing a voice in, Ma Rainey's strength and power was with the people. She was almost an evangelist through her blues. Though there were probably 100 blues singers, women who were recording from 1923 to 1930, Ma was the queen. She was the Mother of the Blues, and she set the example for everyone else to follow, including Victoria Spivey and Clara Smith and Bessie Smith. It was an explosion of African American culture, music, and style.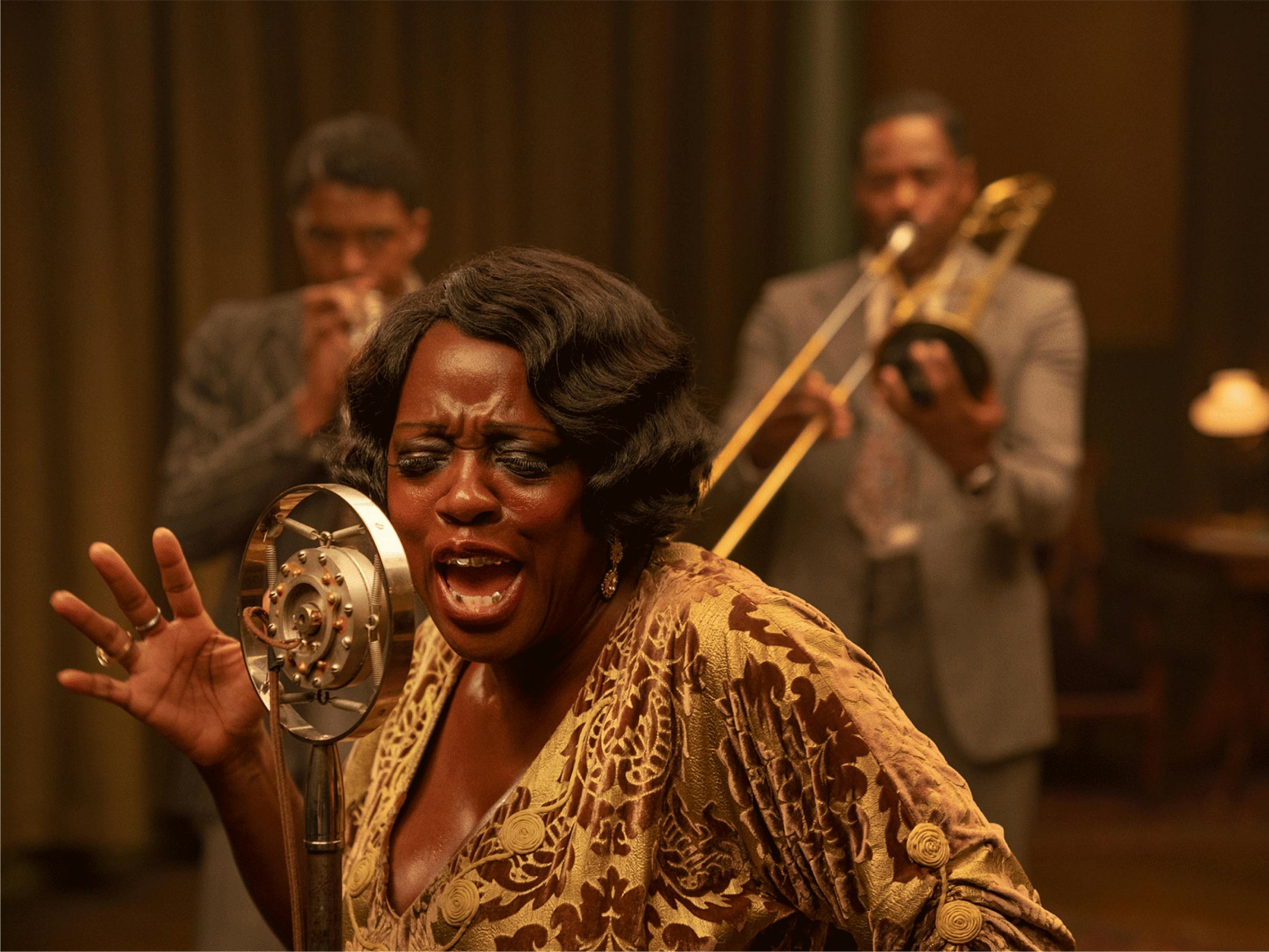 How many drafts of the script did you write?
RSH: I would say about 12. Initially, I wrote out the whole play. I wrote 149 pages, and they basically just shoved that back across the table and said, "No, we're not even going to look at that." I started chopping it down to 129, 117, 106, and, finally, 96.
This was in conversation with Denzel Washington but also George C. Wolfe?
RSH: Mainly George, because when I'm writing, I try to limit how many voices I'm hearing. First and foremost, I'm hearing August's voice. How do I protect and empower August and make sure that I have honored his extraordinary work? Then I have George, who's my director. He's a great writer in his own right; he did not get in the way of my writing in that respect. We had healthy debates about a lot of things that I felt were important to August. Sometimes I'd have to clearly tell him what I knew about August, what August felt about these things if we had discussed them.
Later on, Denzel got more involved. Denzel understands the ins and outs of filmmaking as well as anybody in the world today — he's done some of the most powerful and financially successful films in the last three decades. Our conversations were more about filmmaking: "This is a motion picture, so I want pictures moving. What pictures are you going to put in here, Ruben?" That was the conversation I was having with Denzel. We had to create this impact, this aura, this feeling.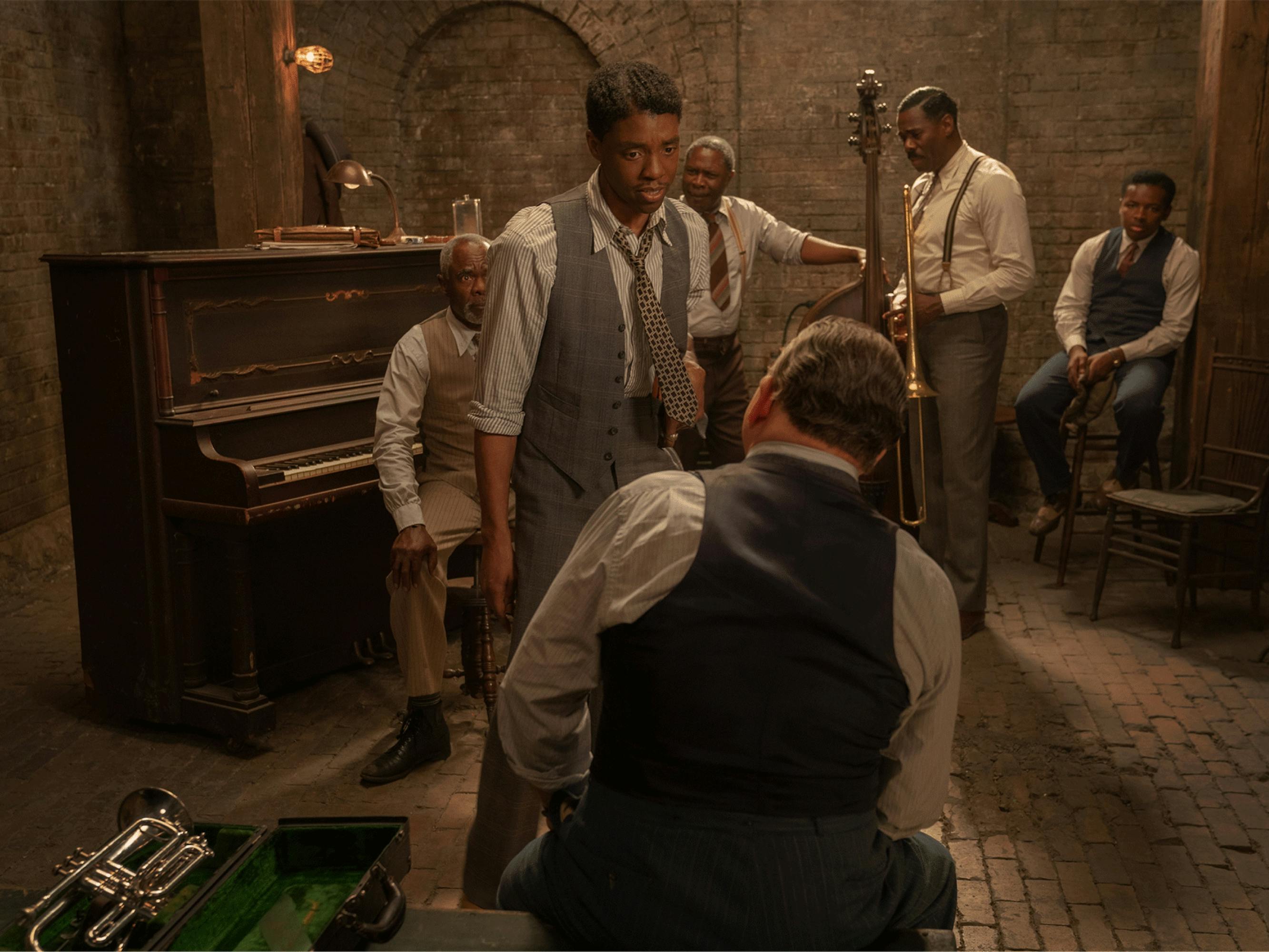 Since you do direct and you were so familiar with the work, were you thinking like a director when you wrote this script?
RSH: Yes, I think like a director and an actor when I'm writing because it gets me through the scene. When I want to see if the scene works, I read every role. My wife, she's over there laughing when I'm doing it, because I'm like, "Ma, blues make you get up in the morning!" She knows that's my fun, when I can engage personally with my work in that way. That's why I love what I do. Art can heal in so many ways. I truly believe that in my heart. When you can sit in another person's experiences, in another person's culture, and have some respect for it, then we can gain respect for each other.
The film features extraordinary performances, including Chadwick Boseman's as Levee. What did you have to bear in mind with that character in order to retain the intensity that you can get in the theater?
RSH: August Wilson said, "If you look in the mirror and you don't see your god, then you got somebody else's god." It's hard to be in America and be Black and not sometimes question God — because of all the history. But you just leave that to the actor because everybody's got their own pain. There is nothing you can do but cast it right. When you cast an actor with the depth, the dignity of the technique, the style, the history, and the power of a person like Chadwick, you just have to roll the camera and get out of the way.
August wrote the words, but he didn't go in the room and wipe his face and say, "Let me write something fantastic." He talked about his journey and my journey and my brother's journey and Chadwick's journey and everybody's journey. It ain't hard to find real emotion when you're talking about something that's real. James Baldwin says to be Black and be conscious in America means you're always enraged. It's not made up. It's revealed.
It's not just entertainment; it's enlightenment.
This film is so timely. It takes place in 1927, the play was written in '82, but it feels absolutely of this moment.
RSH: Yes. It's such a critical time in our existence as human beings in this world. We have to reckon with a lot of things right now. Right now, films like this make you stop and think, What is my part? How do I make it better? Because it's true and it's real. It's not just entertainment; it's enlightenment. It's an opportunity for us to find a way to celebrate our common humanity.