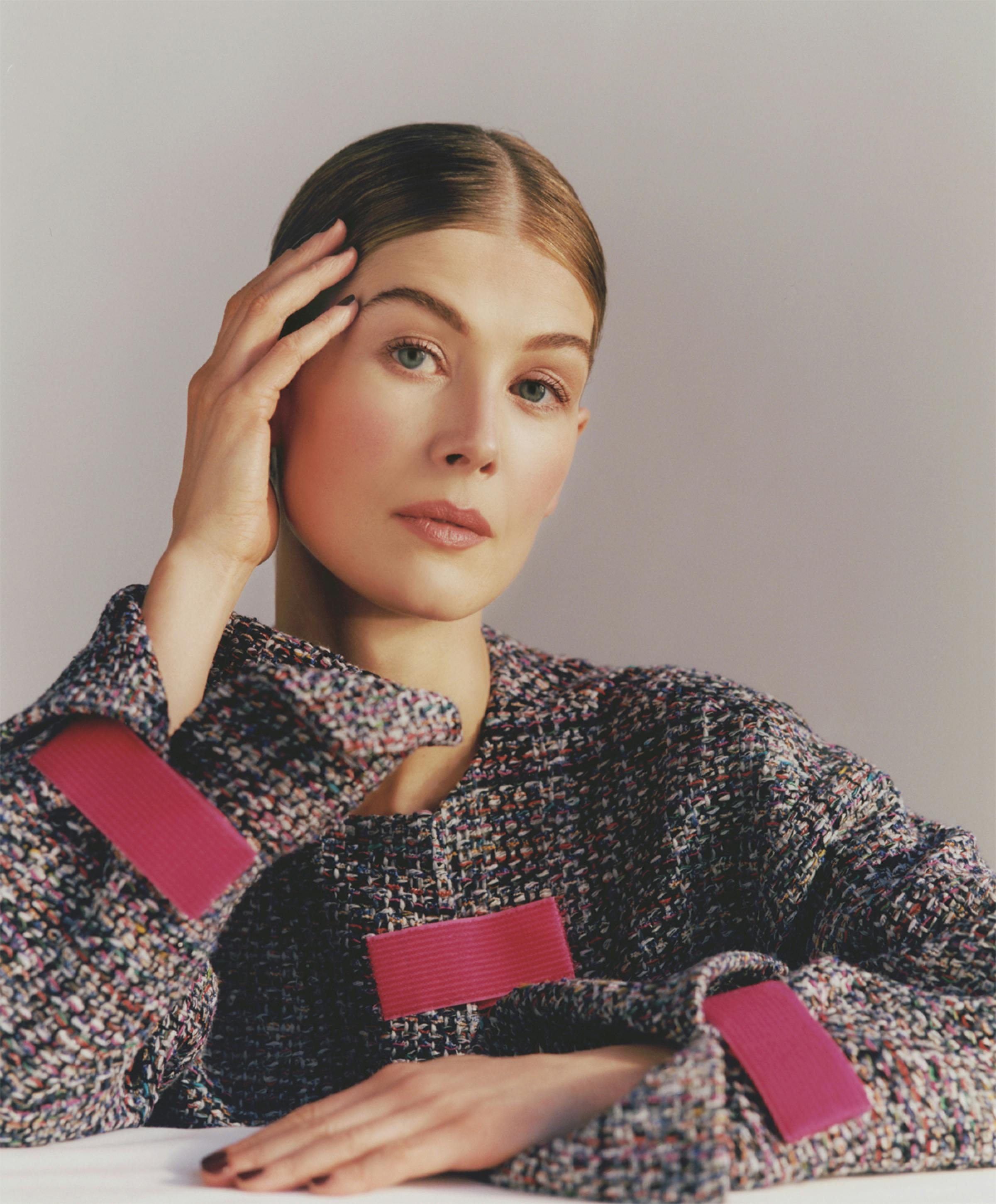 Rosamund Pike plays an antihero for the ages in I Care a Lot.
You might say that Rosamund Pike specializes in defiantly unconventional characters. Who cares about likable when you can be interesting? In 2014, Pike netted her first Academy Award nomination for her role as Amy Dunne, the vengeful, scheming antihero at the center of David Fincher's Gone Girl. Now comes Marla Grayson, the cutthroat caregiver at the cold, cold heart of the darkly comedic, deliciously indecent thriller I Care a Lot, written and directed by J Blakeson (The Disappearance of Alice Creed).
Marla is an outwardly charming grifter whose career as a court-appointed conservator to the elderly gives her clever cover to bleed her clients financially dry. But Marla and her partner (Eiza González) find their scheme under threat when they take on a new charge, Jennifer Peterson (Dianne Wiest). An underworld businessman (Peter Dinklage) takes an interest in Marla's designs on Jennifer and sends a lawyer (Chris Messina) with a windfall offer that she really should not refuse.
"J Blakeson, he thinks that everybody, under the right circumstances, has the capacity for wrongdoing," Pike explains. "He's peopled his movie with a cast of pretty unsavory characters, which is a relief, really, because that's how Marla is allowed to be the antiheroine that she is. You might not be rooting for her, but there isn't really anyone else to root for. You might as well grudgingly go on the ride with her and admire her tenacity."
Throughout her career, Pike has displayed a tenacity of her own. After being rejected from drama school, she forged her own path to onscreen success. In 2002, she broke through as a Bond girl in Die Another Day. From there, she began amassing major credits across genres, from the period drama Pride & Prejudice to the big-budget action thriller Jack Reacher. In recent years, she's played several towering real-life figures, including Ruth Williams, the British national who became Botswana's first lady in 1966 (A United Kingdom); war correspondent Marie Colvin (A Private War); and Nobel Prize-winning physicist and chemist Marie Curie (Radioactive).
In short, the actor's compass points toward provocative, forceful female characters who thwart easy interpretation. "It can make me emotional saying it, but I do know how fortunate I am to be getting these roles," says Pike, who's performance in I Care a Lot has earned her a Golden Globe nomination. "I do know that, and I marvel at it still."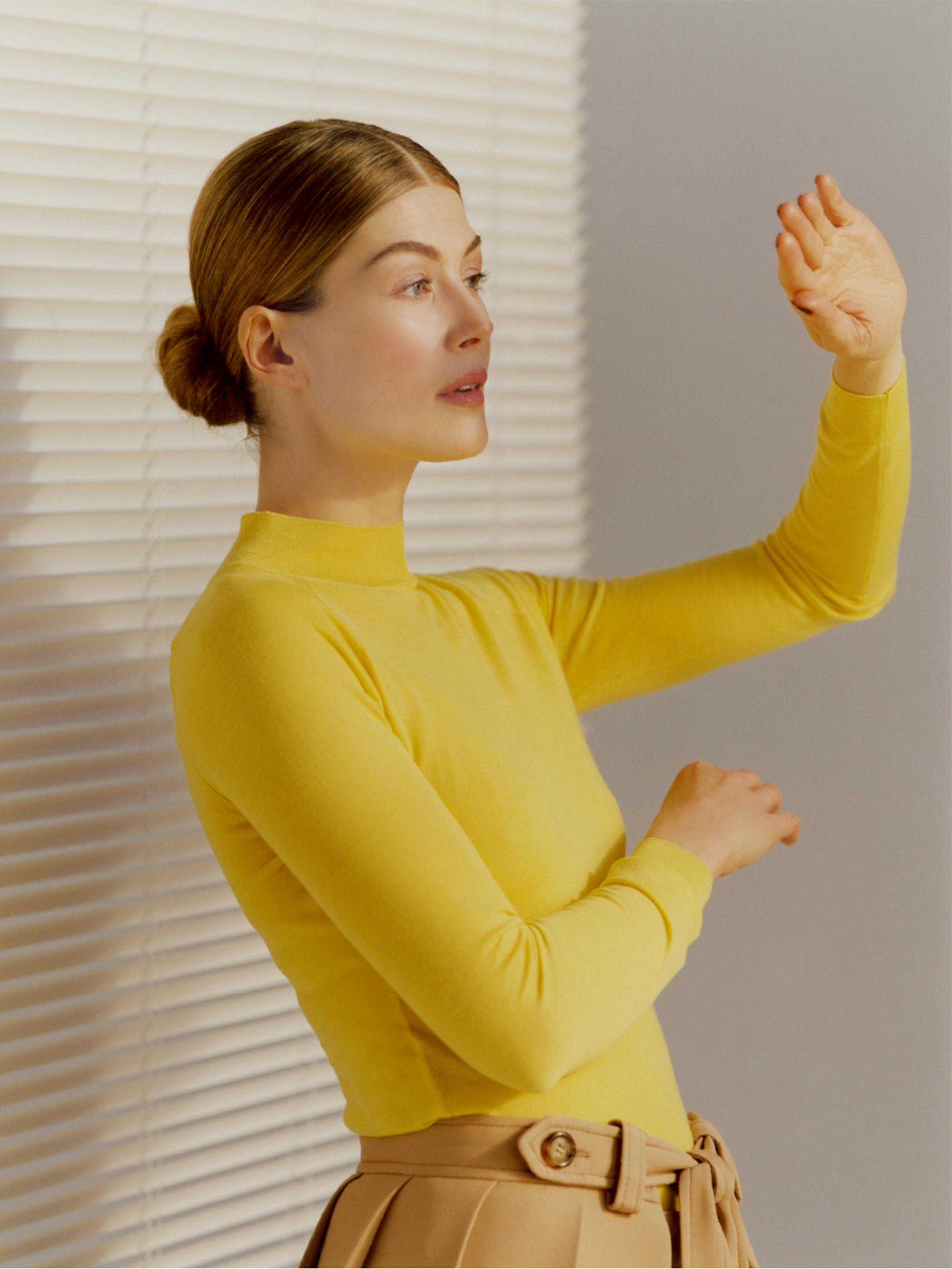 Krista Smith spoke to Rosamund Pike for her podcast Skip Intro.
Krista Smith: This character, Marla Grayson, she's amazing. I can't remember a time when I've seen a female protagonist so morally bankrupt driving a narrative. What were your thoughts when you got the script?
Rosamund Pike: I have never met a character like this, and I haven't been so excited by a character I've read for years. She so convinces as a responsible, upstanding citizen. She takes on the difficult job of caring for a family's loved one, and meanwhile she doesn't care in the slightest and is only using it all to her advantage. And yet the real villain is the system that allows her to win. That's what's so brilliant.
I met J Blakeson and we got on really well — he had been a fan of Gone Girl — but it was several months before I Care a Lot came to me as an offer. One presumes that it was offered to other people in the meantime; it's the only conclusion you can draw. But I've never been frightened of being second choice, third choice. If you get all prideful about that, then you can miss out on an opportunity. I think about how many substitutes have come onto a sports field and scored a goal. Possibly J was wary of parallels with Gone Girl, but I can't go down that rabbit hole. Ultimately it was my role, and I'm so happy it was.
All the costume and styling choices — the wardrobe, the hair, which was just sublime — communicate so much about Marla's façade.
RP: I had this idea of the very straight bob. I'd been in Sweden earlier in the year, and I'd seen this magazine article, and it just struck me: I thought, There's Marla.
The color palette, those suits, the amazing dresses, that's not written into the script. That emerges as you start to find the character. Her sunglasses, her vape, it all gets detailed in. It's all a performance, isn't it? It's all cover for the moral rottenness at the core. Why do you trust the guy in the suit? We're all conditioned to do it. In the film, we see Marla's suit disintegrate. Marla, at one point, turns from predator into prey, and the suit goes through the wringer as she goes through the wringer.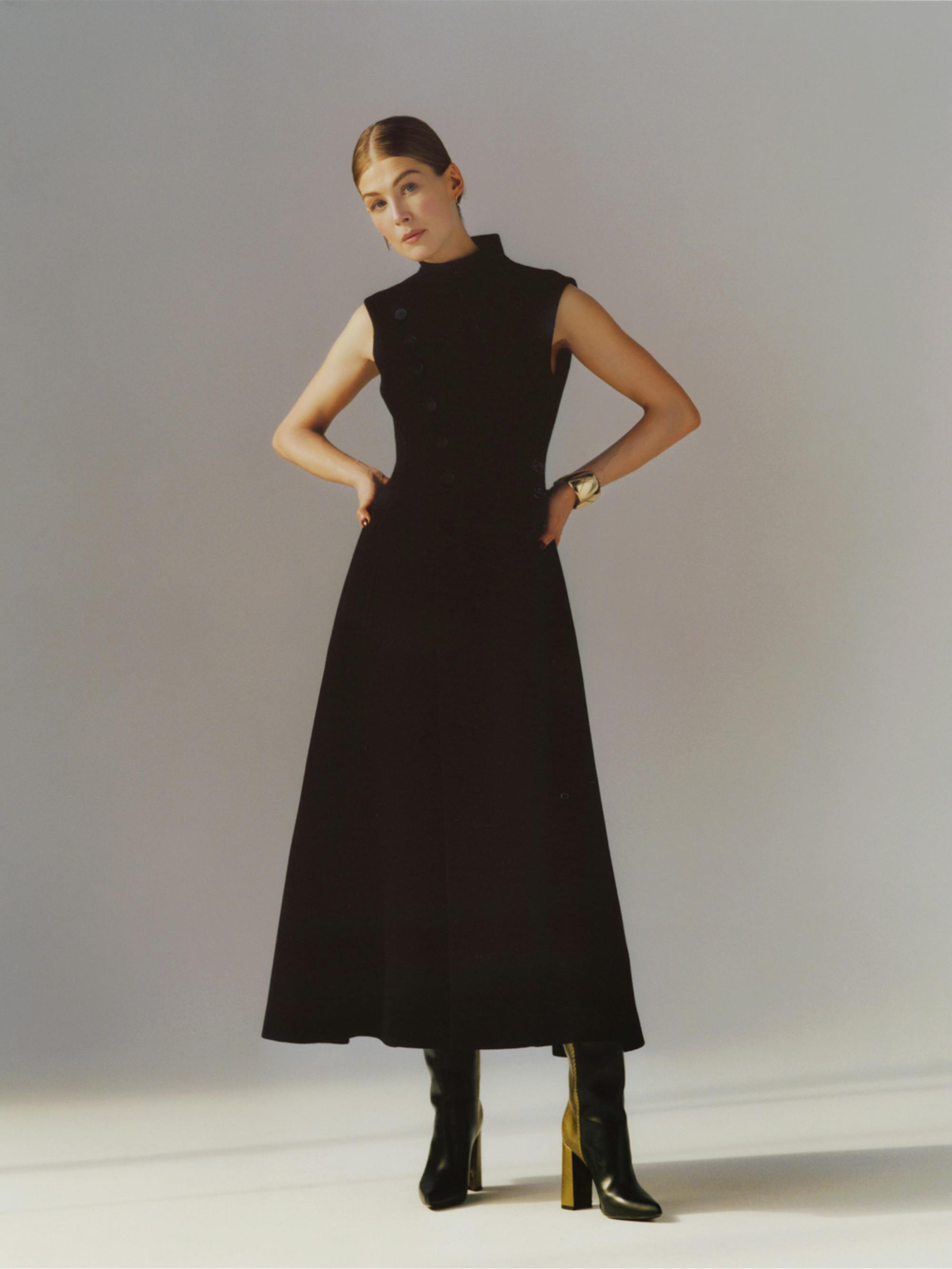 It's also an incredibly physical performance, and it culminates in an unforgettable scene between you and Dianne Wiest. What was it like working with her on this film?
RP: On the first day that we were working together, I knocked at her trailer door. I wanted to introduce myself and say how excited I was to be doing this with her. Then we were straight into shooting the scene. She was so surprising, her delivery was so unexpected. She had this wonderful humorous robustness to the way she played the victim, which didn't make it easy for Marla. Marla's game was raised because of her opponents, really, in every scene. Each of those actors made the negotiation tricky by being surprising and original and deft with their delivery. And all of that makes it fun.
Everywhere you turn, there's a fabulous actor onscreen. Marla, though, she really struck me as the sort of complex female character that we're beginning to see a bit more often. You've obviously had an incredible run playing dynamic women that don't live by the rules.
RP: I think one of the things that people were so arrested by in Gone Girl was the idea that some of these things that they like in women could be performance. The whole happy-go-lucky, hanging with the boys, drinking beer thing: For every woman, is that a charade? No, of course not. But are there some who play cooler than they are? Hell yeah, of course there are. I think since Gone Girl, that performative aspect in certain women has come to the fore in film. It's been enjoyed, and it's unsettling to people.
It's fun to play with the tropes of femininity. Marla can present herself as very compassionate and caring and honor bound and dutiful. And then she just turns, and the smile goes, and she deadens, and it's all back to the cruel business of getting rich at other people's expense. That's what people find frightening. People tell me, "You really scared me in that movie Gone Girl," and people have said that about I Care a Lot: "You really scare me." I think it's to do with the fact that they fear that they could be taken in by a woman like that.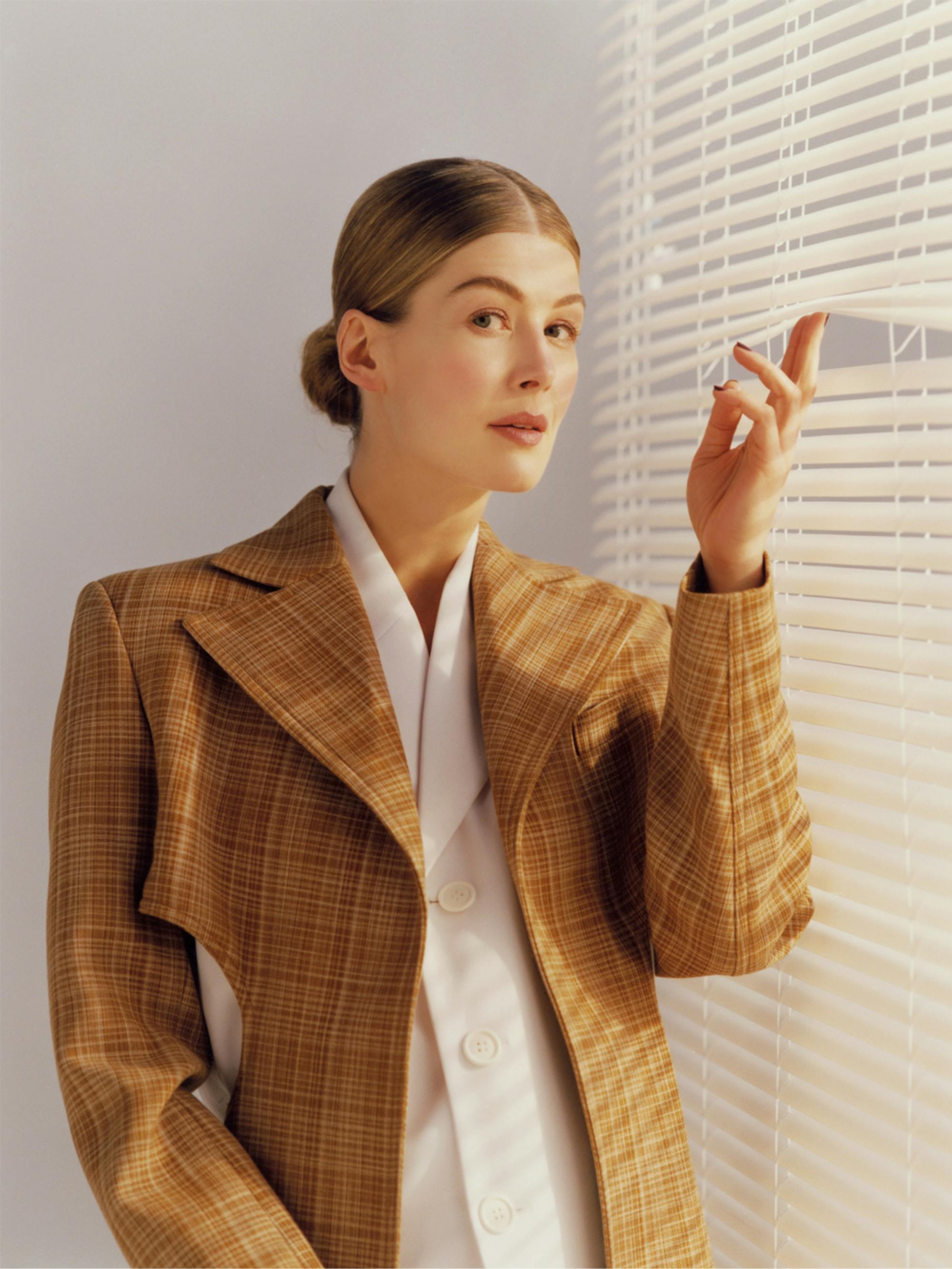 Gone Girl was such a giant success. Looking back now, what impact did it have for you?
RP: It was a game changer for me. For a start, I had more hours in front of a camera making that movie than I'd ever had in my entire career before that point. You learn a lot, you grow up, and you practice a lot, literally, because one of the things that Fincher spends the budget of his movies on is camera time. We shot for 105 days on that film, which is an astonishing length of time. I learned a huge amount from him, things that I still use to this day, lessons that people often don't think to teach. I'd love to work with him again. I've never come across another like him.
I watched Gone Girl again in 2019 at a screening. The way that our world has moved on in terms of people controlling their own image through social media, already there's a new resonance to Amy. She's almost more brilliant and more terrible, more diabolical. What she was doing so artfully back then, people now do on social media all the time, performing versions of themselves, pitching different selves to the public just like she was. She brilliantly sets herself up as the victim, and we buy into it — until we realize she's not the victim.
I first met you in 2005, when you were playing Jane Bennet in Pride & Prejudice. What I didn't realize back then was that when you were starting out you applied to drama school, and you didn't get in. Instead you found your own way. What kind of mark did that experience leave on you?
RP: When you're 19 and the thing you want to do is be at drama school and have that seal of approval, to be told "You're not right for us" feels like a horrible dismissal from a club you want to be part of. It hurt, but it made me determined to succeed, to find another way. Acting was something I had to do. I had a deep knowledge that acting was who I was and what I was. I found my own teachers along the way, people who've really inspired me. Rejection, it does suck, but it can give you mettle.