The actor-writer-director walks us through her personal and artistic journey with Passing.
Opening photography by
Daemian Smith & Christine Suarez
Rebecca Hall had just moved to New York in 2008 when she was given a copy of Nella Larsen's novella Passing. The actor-writer-director, who had heard whispers about ancestral passing on her mother's side, immediately felt a profound connection to the story about two Black women in 1920s Harlem living on opposite sides of the color line and began writing the screenplay soon after finishing the book. "Not only does Nella Larsen write about racial passing, she uses it as a metaphor to talk about any way in which our insides don't match up with our outsides," Hall says. "That spoke to me on a very human level."
In the years since, Hall, daughter of acclaimed opera singer Maria Ewing and Sir Peter Hall, the founder of the Royal Shakespeare Company and former head of London's National Theatre, has established herself as one of the most gifted talents working on stage and screen today. Hall has demonstrated her range over the years, starring in such iconic theatrical productions as Mrs. Warren's Profession, Man and Superman, and As You Like It, and delivering compelling, award-winning onscreen performances in films like 2008's Catalan-set comedy Vicky Cristina Barcelona; 2016's drama Christine, the tragic life story of television reporter Christine Chubbuck; and 2010 crime-thriller The Town.
Even as she built an enviable acting resume, Hall never abandoned her adaptation of Passing, working tirelessly for years to bring her passion project to the screen. "The more no's I encountered, the more dogged I got," Hall says. That doggedness has paid off handsomely.
Since its premiere at the Sundance Film Festival earlier this year, the stunning period film, which marks Hall's directorial debut, has received only rave reviews — both for her skill as a filmmaker and for stars Ruth Negga and Tessa Thompson, who play childhood friends that unexpectedly reconnect as adults and become irrevocably entwined in one another's lives."
During a conversation with the press, some journalist implied that it was convenient that I make this now, when it's so 'popular' to make content about race. But that's a bit of a chicken and egg, isn't it? The reason this movie exists now is because of the moment that we're having — I've been trying to get this movie made for years. It's happening now for a reason — it's about bloody time." Hall says, "It's exciting to see so many new voices and different kinds of films, different takes on stories that we've not seen. I'm excited to be a part of that."
Krista Smith: You read the novella Passing when you were 25 years old, and attempted a screenplay at that time. What spoke to you about it then?
Rebecca Hall: Well that whole moment was something like a fever dream. It was a very precise moment in my life. I think I rented my first New York apartment that year, 2008, and it was this moment of hope for America. Obama had just been elected and the more time that I spent in America, the more I thought about, This was a slave state for however many years, then an apartheid state. It's still not quite realized its egalitarian dream. That story of enslavement figures so hugely into this country's narrative about its creation, it felt increasingly hard to be living here and not reckon with how it figures into my own personal story.
I grew up in England with an American mother who to me always looked Black. Her family came from Detroit, and her father had passed away. She would give me snippets, that maybe he was Native American or indigenous, or maybe he was Black, but we didn't know. I'm embarrassed to say, I didn't even know there was a word like "passing" for what my grandfather must've done to result in me going through the world as a white person now. I now know, thanks to research, that passing was exactly what he did.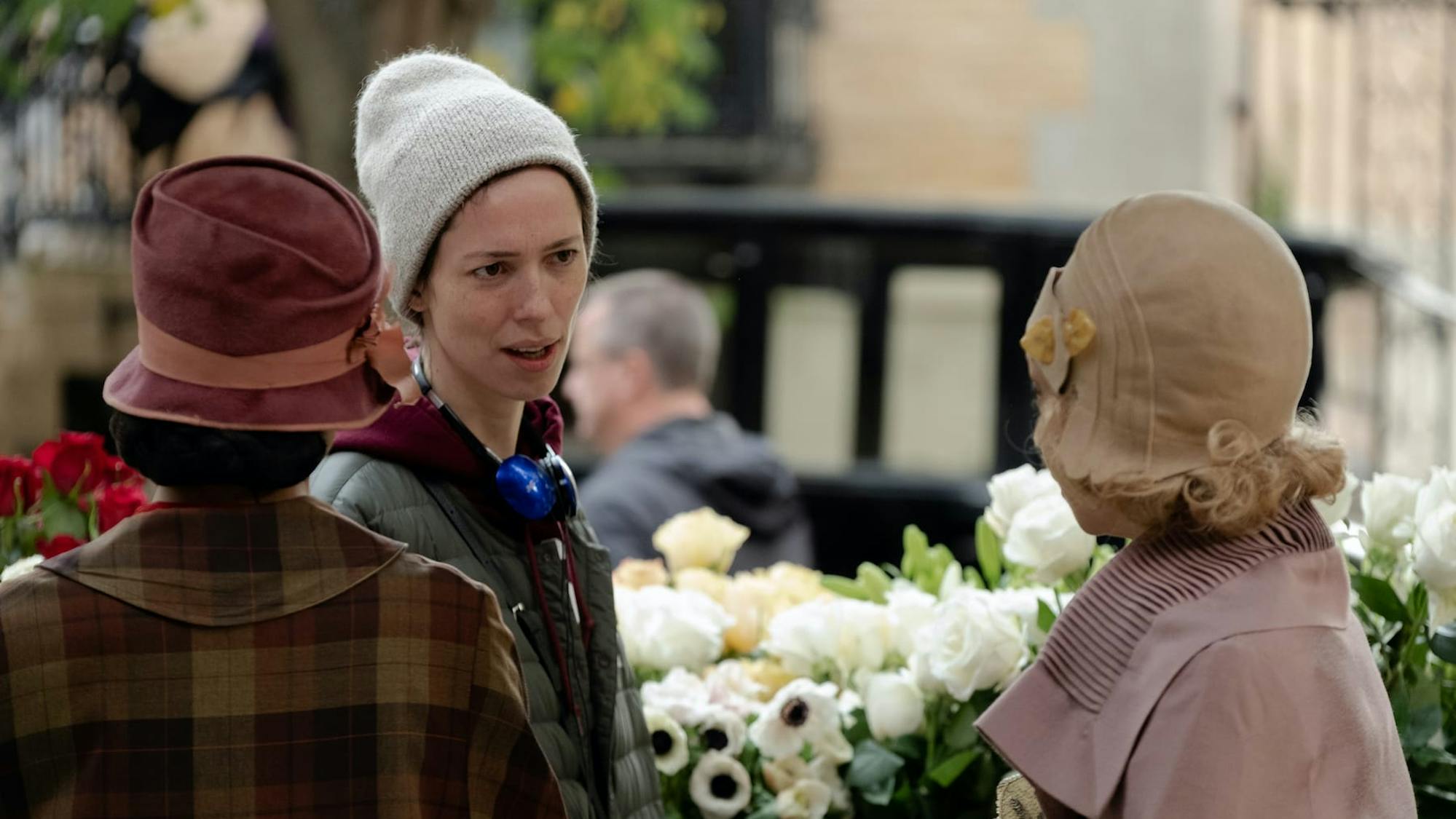 Someone had handed me this book and said, "With the thing you're talking about, this mystery in your family, you might get something from this." I inhaled it. It was such a revelation to me, both personally and artistically. I wrote the adaptation because I wanted to sit with it longer. I didn't think I was going to turn it into a movie at first. That gave me enormous freedom because I would have been very intimidated if I had been like, And now I'm going to turn this great work of American literature into a black-and-white film. But it was a funny process because as I was writing I immediately knew so many things about what the movie would look like: I knew that it had to be in black and white. I knew that I wanted it to be in a 4:3 aspect ratio, though I didn't even have that language. I just said I want it to look skinny, like the old movies.
It reminds me of a movie that I would watch on Turner Classic Movies, though, of course, a movie with two Black female leads would never have been made back then.
RH: This book was written 93 years ago. It should have been turned into a film immediately. It's not like at that time there wasn't a precedent for movies that centered on the emotional lives of two women, just not two Black women. There were the movies that I grew up watching as a kid with people like Barbara Stanwyck and Bette Davis. Those movies were incredibly innovative and bold in their approach to looking at women. I wanted this film to have a flavor and an acknowledgement of that. But I also never wanted it to be like a nostalgia piece or a museum piece.
I have a lot of interests beyond acting — I always have — and it was the first time that I felt everything was firing.
How did you end up casting gifted actresses Ruth Negga and Tessa Thompson?
RH: Ruth was the first person to be cast. I cornered her at a party when she was promoting Loving and I was promoting Christine. I'd been thinking about her for years for Passing. I sent her the script, sort of assuming she'd want to play Irene, and then we met up for a drink. She said, "I want to be a part of this, but you have to let me play Clare." One of the things I've had the good fortune to learn is that a lot of directing is casting the right people and then working out what they need and letting them get on with it. Some actors know a character and that's what happened with Ruth. She had an instinct for Clare.
I'd had my eye on Tessa for a while. She understood this character so completely, and Irene is a tricky, tricky character. The big irony about the movie is that it telegraphs that it's about this woman who makes this choice to pass. Then it actually spends all this time with this other woman who has set herself up to be the morally correct one, the righteous one, who's always doing the right thing. And she's quietly having a nervous breakdown because of how bound she is by doing the right thing, yet she doesn't even know that she's having this breakdown. She has no room to say, "I find being a mother difficult," or "I don't know how to be a good wife." Arguably, "I don't know how to be straight." She does have a sort of sexual attraction to Clare. Tessa understood that tension.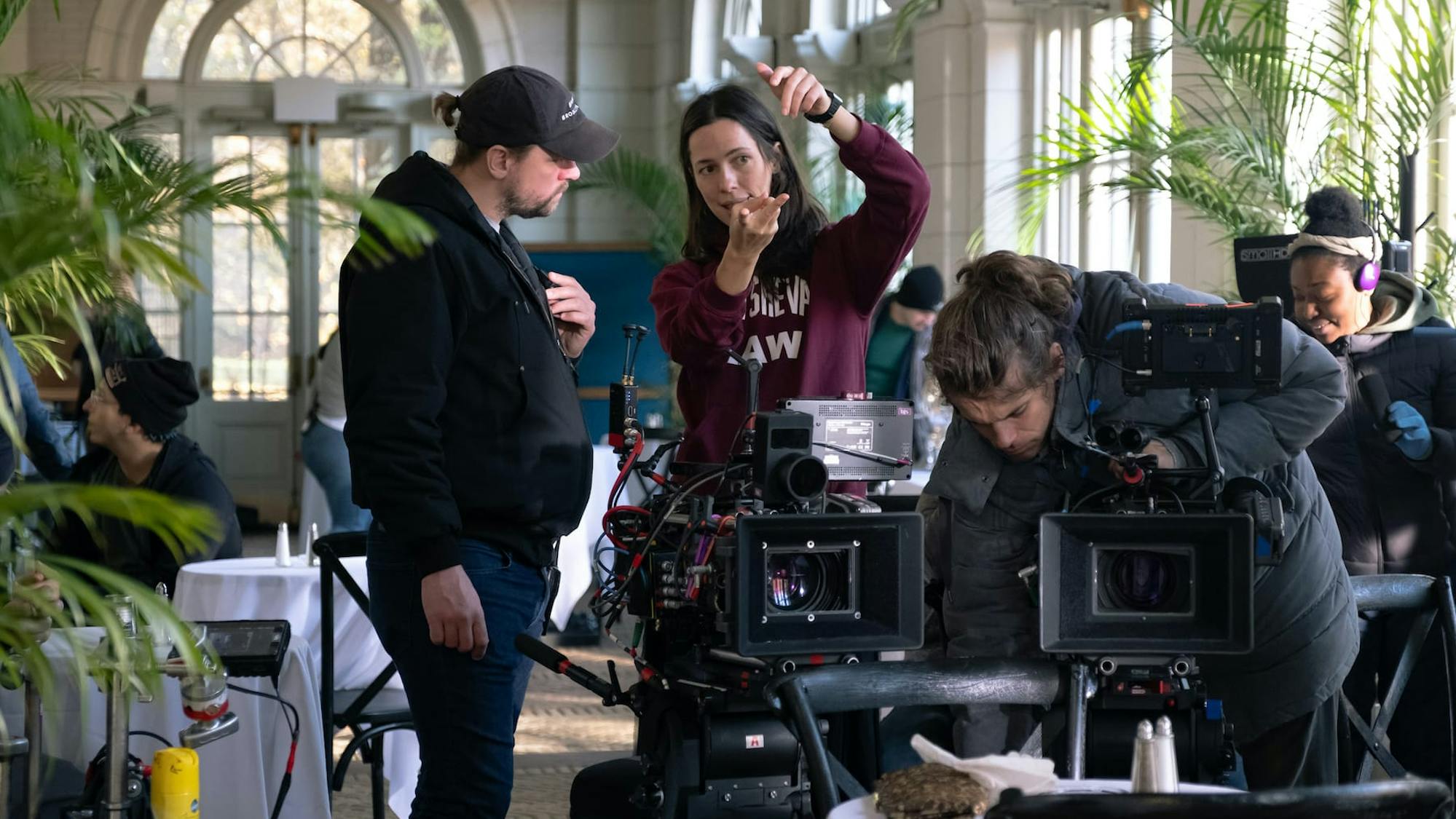 Their relationship to one another is so interesting.
RH: You have longing on both sides. You have the longing from Clare to come back to what she's left behind, and you have the longing of Irene to be free. Clare goes through the world, taking what she wants when she wants so she can be happy, and Irene is incapable of doing that. It's this push-pull, two sides of the coin, and that creates this incredible chemistry between the two of them.
You struggled for years to get this film made. What kept you moving forward?
RH: The vision that I had for the movie. I wasn't interested in making it any other way. Everyone said to me, "It's a brilliant script. We'll make it for the money you need to make it for if it's in color." A lot of people who I love and respect said to me, "Maybe you should just compromise on the black-and-white thing? Does it really need to be black and white?"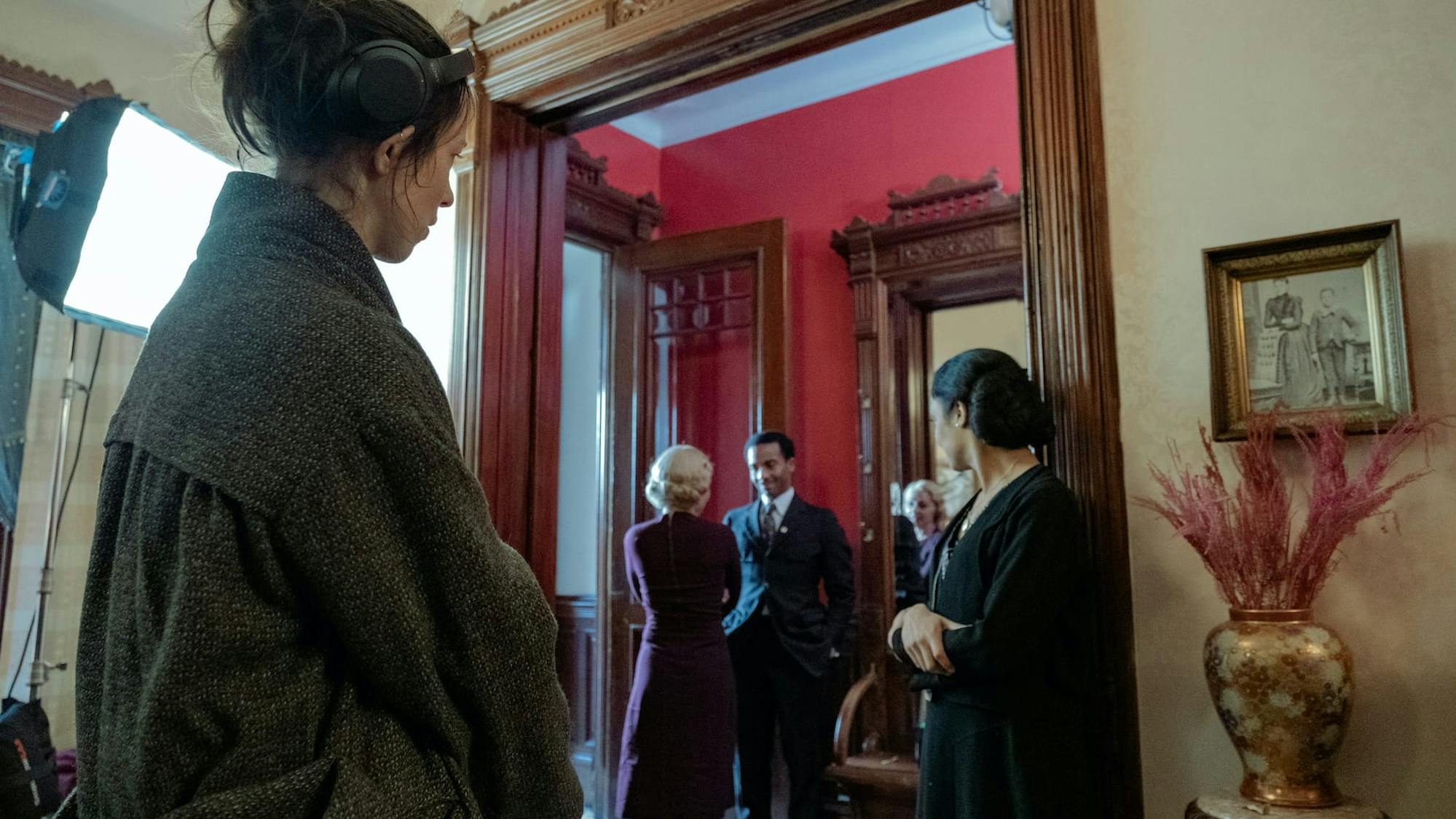 And why did it need to be in black and white?
RH: The point of this story is that there are all these binaries all the time. There are all these rigid categories — Black/white, male/female, gay/straight — but through constantly showing these binaries, Larsen's also revealing how preposterous they are, how limiting that is for us. And, you know, it just sort of struck me; it's the same with black-and-white film. I don't believe that cinema reality has to reflect our reality, but it absolutely has to reflect emotional truth entirely. How you get there can be done poetically: What movies allow us is that kind of innovation. For me, it wasn't about a film-nerdy choice; it was about a choice that was integral to the story.
I wanted the world to be abstracted so that at any given moment, these women could be Black or white. Take the scene at the beginning with John (Alexander Skarsgård), the white man who doesn't know that his wife is passing. He's in a hotel room with her and with Tessa Thompson's character, Irene. In that scene, the walls are white. The light coming in is white. It's a sort of overriding theme, like they've just been recontextualized, these women. If that was in color, there would be more questions around that relationship. Is he just being unobservant? Why is he not seeing that these two women — Ruth Negga and Tessa Thompson's characters — are Black? Why isn't he seeing that? That was important to me because when it's black and white, what you see is this white man has the power to decide who he wants everyone to be at this moment. So, it becomes about context. It doesn't become about, Can these women pass? It draws attention to the slippery nature of the reality of race.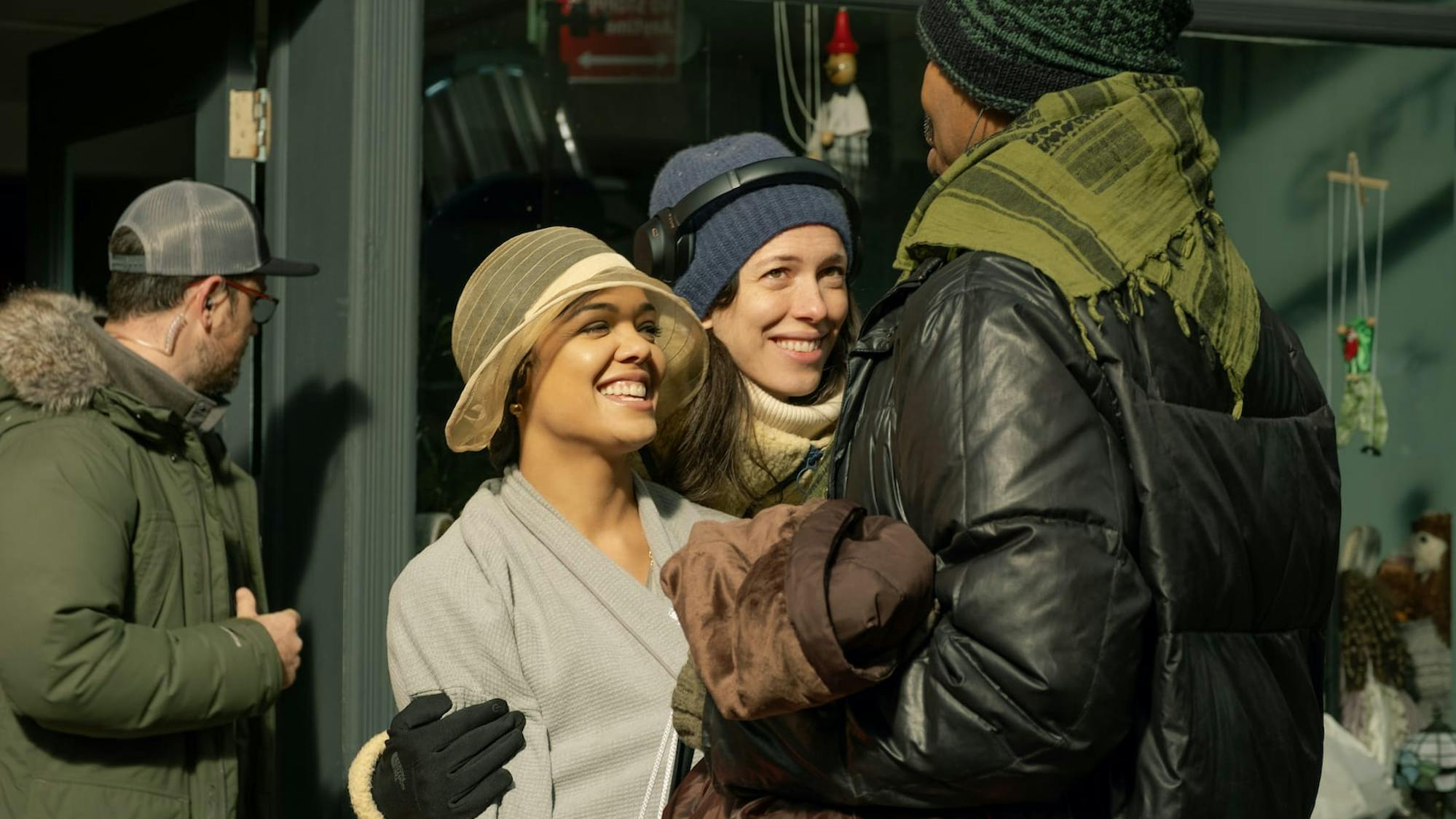 The world you create is incredible — the production design, the costume design, and the music: That piano piece goes all the way through like a thread.
RH: It's a funny story, that piece of piano. So, when it came to writing the real draft of the script that I wanted to take to people and say, "Okay, take me seriously as a filmmaker," I had discovered this Ethiopian pianist, Emahoy Tsegué-Maryam Guèbrou, who's now almost 100 and in exile from Ethiopia. She wrote that piece of music in the sixties, and it's called "The Homeless Wanderer." Part of the job of the director is constantly describing what's in your head or the tone of something, which is very difficult to pin down and illustrate to people. This is how the movie feels. This is how it looks. But I would play that piece of music to everyone and say, "This is the movie, this delicate yet almost oppressively repressive, but also hauntingly beautiful melody. If we can make the movie feel like this piece of music, then we've doing what I'm after." Every time I wrote any iteration of the script, I would always have that playing.
What was your favorite part of the day when you were directing?
RH: Getting through it? No, we made this movie for very little money for a period film. That's the truth. So, we were up against it all the time and the pressure to keep thinking clearly and get everyone to deliver what I needed them to deliver by the end of the day was intense. But the surprising thing was that it was an intensity that made me feel like I was really firing on all cylinders. I have a lot of interests beyond acting — I always have — and it was the first time that I felt everything was firing.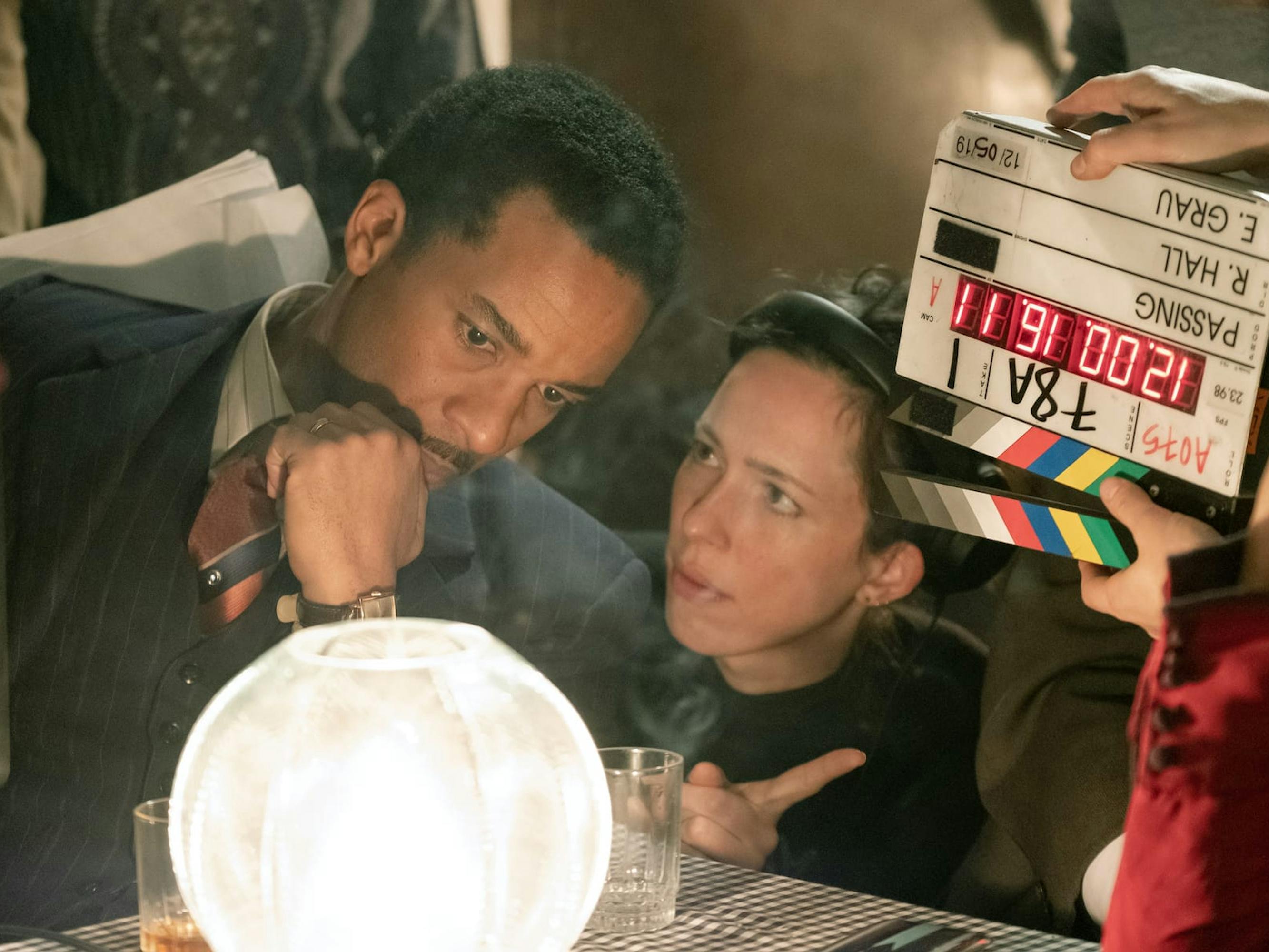 How did this experience change your relationship to acting? Are you going to go back on stage? Are you going to act again?
RH: I'm never giving up acting, I'm never giving up directing now, and I'm never giving up the theater. It's funny. I think I'd got a little bit blasé about acting somewhere along the line. I was like, Oh, come on. It's fine. You just show up and say the lines. It's no big deal. Let's all get over ourselves. Then I remember sitting on set and watching Tessa and Ruth. They both give extraordinary performances, both with such different and complicated roles to inhabit. It was just an honor watching them. And I was like, God, it's insane what actors do! It is so vulnerable, so open to give that much of yourself. I came out of it with a whole new respect for acting, honestly.