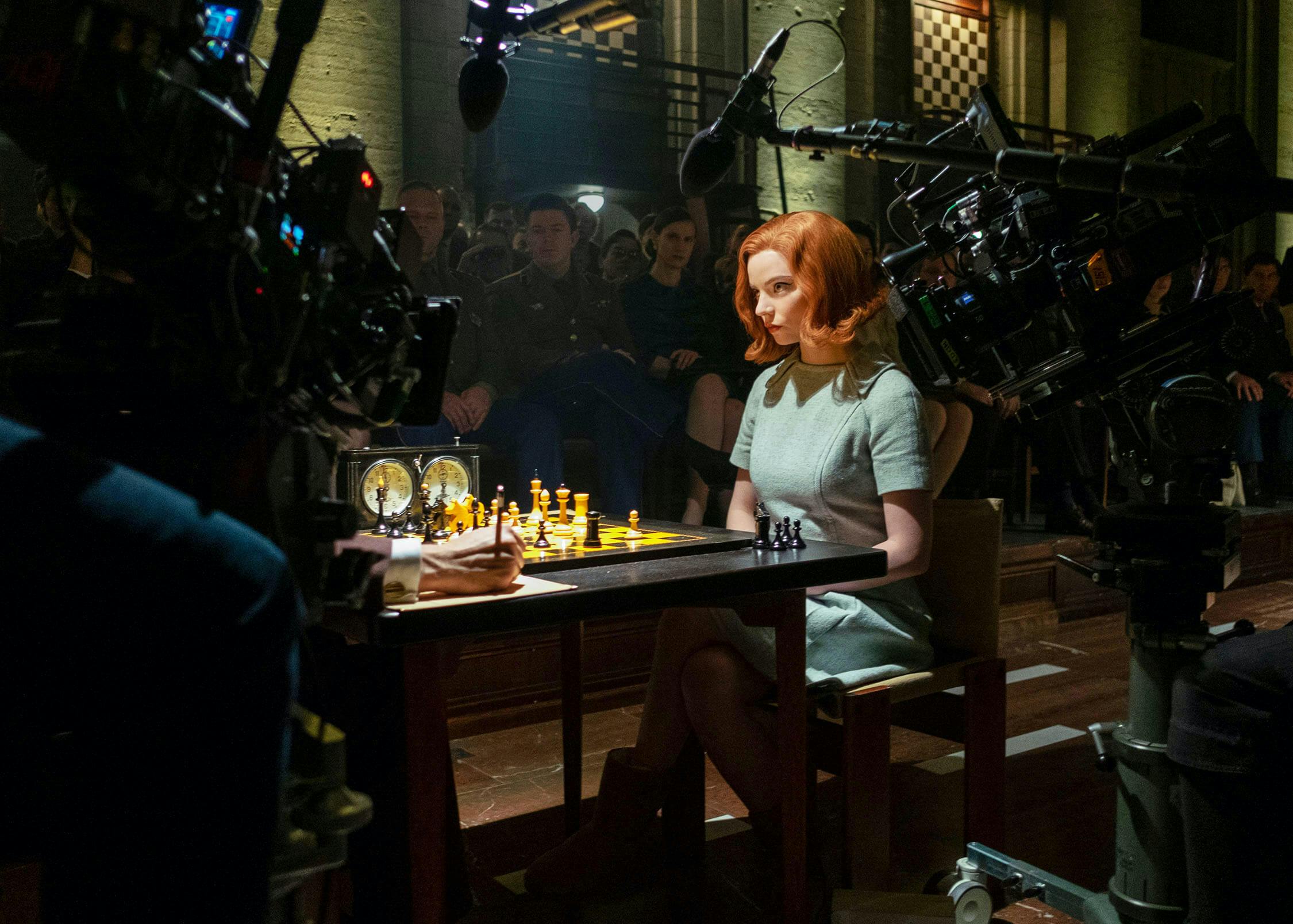 Getting Inside Beth Harmon's Head
How sound designer Wylie Stateman created the sonic world of The Queen's Gambit.
Wylie Stateman's grandfather gave him a tape recorder when he was less than five years old. That's when he began documenting everything: fake interviews with his brother and friends, his mother playing the ukulele, comedy sketches, music. "It was just the beginning of a curiosity that's followed me my entire life," Stateman says.
He first visited Los Angeles during a gap year between high school and college, and quickly found that he had no reason to return to New York. He was preparing to study aerospace design, but the move shifted his thinking towards entertainment. "At that point, engineering meant making mechanical hardware. When I got to Hollywood, engineering meant making content and creative work. When I realized that I could combine my interest in audio with my ability and interest in engineering, I immediately gravitated towards making content from the sound standpoint," he says. Since then, The Queen's Gambit sound designer has continued honing his approach to storytelling. As always, it begins and ends with how to pull the audience into the frame. "People tune into content because it's compelling. It captures their imagination. It fills their discretionary time. Audio plays a very significant invisible role," Stateman says.
Writer-director Scott Frank approached Stateman with his idea of creating a series about a female chess prodigy before there was ever a script to show for it. He knew already that a lot of the drama would play out in protagonist Beth Harmon's head. "That's a really interesting place for sound because a lot of it is very non-visual," Stateman says. "It's really intellectual and emotional, and it really plays the moment — we do that through music and through sound effects."
In the limited series, we follow Harmon's journey from the orphanage basement, where she first learns to play chess with the janitor, Mr. Shaibel, to the world stage and all the pressures that come with it. "It's a very intimate story about a woman overcoming adversity, moving into adulthood, and dealing with the problems that people face in life," Stateman says. "And then there's the game play." The Queen's Gambit balances these worlds in part through its skillful use of sound design.
As a sound designer, Stateman's goal is always to be a part of a greater filmmaking team. "The beauty of sound is that it's a very small department that can make a very large difference," he says. Here, it involved close collaboration with editor Michelle Tesoro and composer Carlos Rafael Rivera, among others. "The editor establishes so much of the sound design because they're creating rhythms; they're creating either continuity or incontinuity between two shots," Stateman says. As sound designer, he shaped the audio landscape to complement Tesoro's editing, "If there's a jump in time, we want to give a clue to people's minds,' so we do that with sound."
Meanwhile, within each shot, the action guided the team towards creating a seamless soundscape. "It's a mystery why human beings like to watch other human beings play, but it's a powerful force, and we were able to make good use of that," he says. Most chess games are set against a clock, which gave the team a built-in rhythm to work with. The U.S. Chess Championship is set to Mason Williams's "Classical Gas," which brings an energy to the montaged series of moving panels that dance across the screen as Harmon checkmates her way to the final game against Benny Watts. "You are the ultimate spectator," Stateman says of the effect that the audiovisual world imbues in the tournament play. Other scenes were also paired with rhythmic music to echo the chess clock, like when Harmon redecorates the home she impulsively buys to Gillian Hills's upbeat "Tut tut tut tut."
Statesman sees his role as developing an aural environment that supports the film's story and builds mental images the mind will happily accept. "Fiction has to make sense," Stateman says. "And if it doesn't make sense, your brain will reject it." That's why, to create the soundscape of the show, Stateman relied on production mixer Roland Winke to record realistic sounds on location, which he then culled through and augmented as needed to fit the scene, the editing, and ultimately, the series as a whole. "It's much more interesting to be part of the filmmaking crew where you understand the big picture than to be some rogue designer that is strictly trying to satisfy my own need to be heard. My need is for this series to be heard."
Now four decades into an illustrious career working with the likes of John Hughes, Quentin Tarantino, and Scott Frank, Stateman is amazed at where this road has taken him. "To go from somebody who was born and raised in a small suburban town in New York, who had no concept of Hollywood to being somebody honored to work with some of the most prolific filmmakers of the last several generations — I can't believe it," he says. Some of his greatest memories (aside from the birth of his children, of course) include standing in a studio as Oliver Stone and Anthony Hopkins worked out narration — or Scott Frank and Anya Taylor-Joy for that matter.
"It's an amazing thing to work around talented creative people," he says. "My first ambition in life was to be an engineer, and most aerospace engineers get stuck for a year making a bracket for something." Instead, Stateman has found a calling that combines his passion for science and subjectivity: telling convincing, compelling stories through the art of sound.