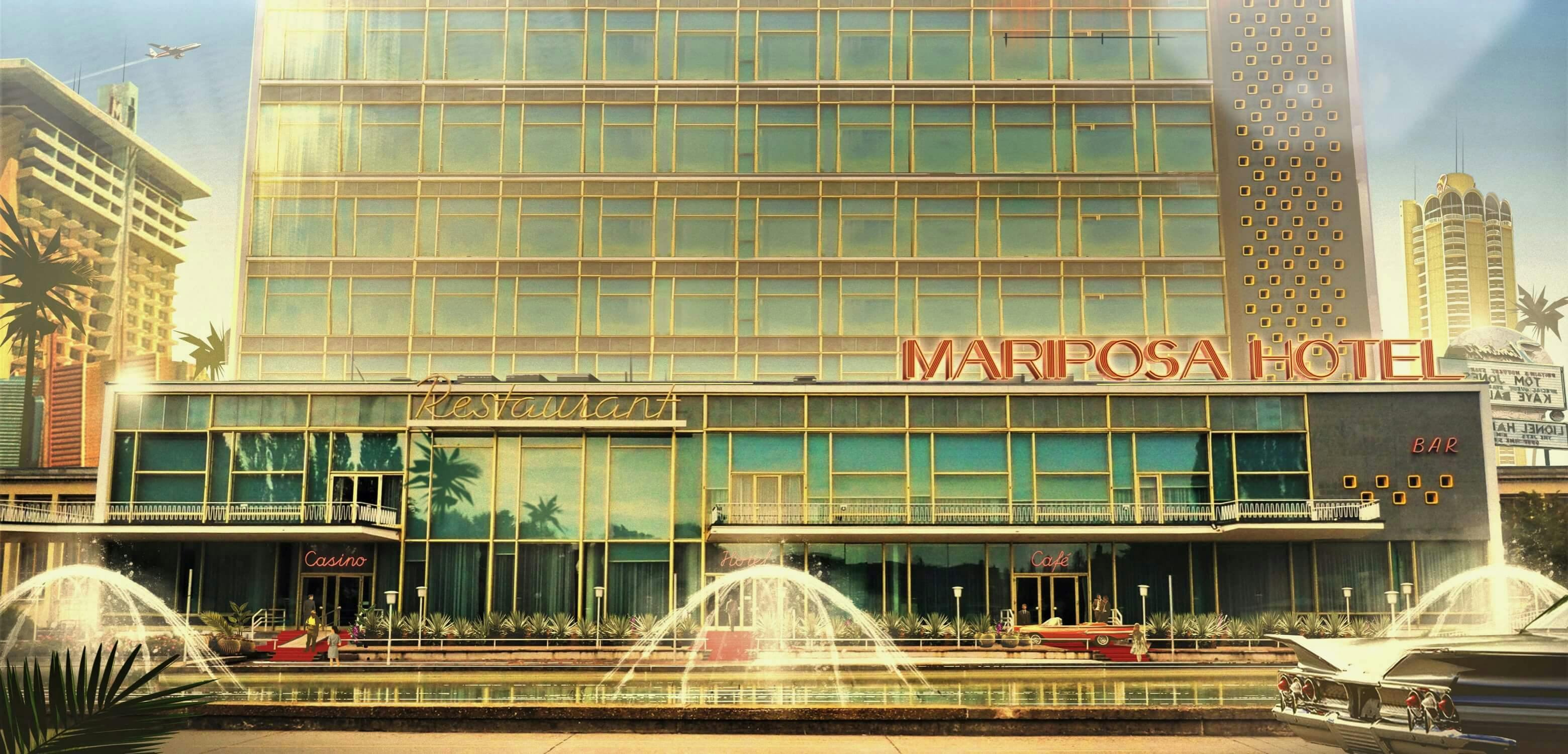 The Queen's Gambit's Production Design
The emmy-nominated production team behind phenom The Queen's Gambit explores the settings behind Beth Harmon's chess success.
Based on the 1983 book by Walter Tevis, award-winning drama The Queen's Gambit follows chess prodigy Beth Harmon, played by Anya Taylor-Joy, around the world as she plays in esteemed chess tournaments. Production designer Uli Hanisch and his team were tasked with designing the locations along Beth's journey — from rural Kentucky, where her story begins, to the architecturally and historically significant locations of Beth's matches, including Las Vegas, Mexico City, Paris, and Moscow. Not only did Hanisch's team recreate stunningly sumptuous and period-specific 1950s and 60s vintage interiors, but almost every single significant shooting location was actually in or around Hanisch's hometown of Berlin.
"I thought they were crazy to come to Berlin to shoot a movie that doesn't play here at all," joked the production designer, best known for his work on the cult series Babylon Berlin. But director Scott Frank was intent on working with Hanisch, who he calls "a genius," and once the designer began his research, he agreed that Berlin would do the trick: "Berlin is a great city for all kinds of ballrooms, town halls, and strange interior rooms. We can offer quite a lot, so I thought, let's give it a try. And it worked even better than I thought." Indeed it did, as Hanisch, along with art director Kai Karla Koch and set decorator Sabine Schaaf, are now nominated for an Emmy Award for Outstanding Production Design for a Narrative Period Program. Queue asked Hanisch to walk us through the stylized world he created for The Queen's Gambit.
At the series' start, Beth is living in an orphanage where she learns chess, but she soon moves into a suburban Kentucky home with her adoptive parents, the Wheatleys. For this, one of the few sets built on a soundstage, Hanisch designed perfectly of-the-moment early-60s interiors that reflected both the trends and the mindset of the time. "When we did our research and we were thinking about how to dress the Wheatley house, we went through old furniture samples, catalogs, and all that. It is so crazy what you can see there as far as advertising this 'all-American' dream way of living and world — how bizarre and over-the-top all that was," he says. He wanted to display "the façade of the American dream, and how pretentious that was, and how alone people would feel behind that façade." Creator Scott Frank encouraged the production designer to go all out for this house. "I asked how far we should go, and he said, 'Go wild!'" said Hanisch. "Usually you get this promise from a director, but then you are held back. But here we were really set free, and I think that was part of the success of this work."
The Cincinnati chess tournament — where Beth first meets Benny Watts — was shot at Berlin's Meistersaal, a neoclassical-style concert hall built in 1913 that was converted into a recording studio in the 1970s (and attracted the likes of U2 and David Bowie). The Las Vegas U.S. Open Chess Championship was recreated at the Palais am Funkturm, a 1950s glass and steel building with an expansive lobby and what is said to be Berlin's largest ballroom. Las Vegas posed challenges as Hanisch realized, "The space was so vast — we promised to create this world, but how can we fill this place? We had to bring in a lot of stuff to create the sensation that Beth is entering a world which is new and unknown."
During Beth and her adoptive mother's "adventure" to Mexico City, they stay at The Aztec Palace, which Hanisch created at the Friedrichstadt Palace, a theater dating back to 1867. "The most challenging was the Mexican one," admits Hanisch. "It was a huge place spanning three floors which we had to decorate completely, and on top of that we had this strict time limitation of twelve hours for getting it done, which is almost impossible — usually you'd need two or three days to deal with that." He found the perfect location for their restaurant scenes in Berlin's stylish Pan Am lounge, originally open only to crew members of the legendary airline, but now reimagined for the public.
Color plays a huge role throughout The Queen's Gambit, creating subtle distinctions among a rotation of tournaments, hotels, and countries to "have the audience follow the journey and understand that we've left one city and entered a new one." The Paris tournament, mostly filmed at The Café Grosz at the Haus Cumberland, was represented by sophisticated shades of grey and blue, and luxurious layering of textures; Mexico City was red tones; Las Vegas naturally skewed towards gold and pops of bright colors; and Moscow was all black and white, which simultaneously conveyed psychological pressure while also reflecting the colors of a chess board.
Moscow's design was meant to convey the intimidation Beth feels walking into the biggest tournament of her life, in a country where chess is revered as a high art. Scenes of Beth eating in the hotel's dining room were shot in the bar of Kino, a 1960s movie theatre, complete with a soaring glass façade and concrete reliefs, while the tournament itself was held in the Bärensaal or "Bear Chamber" of Berlin's Old City Hall, with its imposing barrel-vaulted ceiling and yes, a statue of a bear. Hanisch and his team set out to create what he calls a "cathedral of chess," with the players spotlighted at the lowest level of the space, and the audience seated above, looking down on the action from both sides.
Taylor-Joy has said that every time she walked onto a new set she was "completely blown away by the way that it looked," a testament to Hanisch's process. "When I am designing, I need to become the character for that moment. You don't want to see the production designer's work when you see Mrs. Wheatley's house, you want to see what Mrs. Wheatley has done with her house, and maybe understand why," he revealed. "We are not just designing something as a background. We get involved in the storytelling and the characters. We build them, not just a stage, but a world to live in, to act in, and to do their jobs in."
Opening sketch by Thomas Möhring