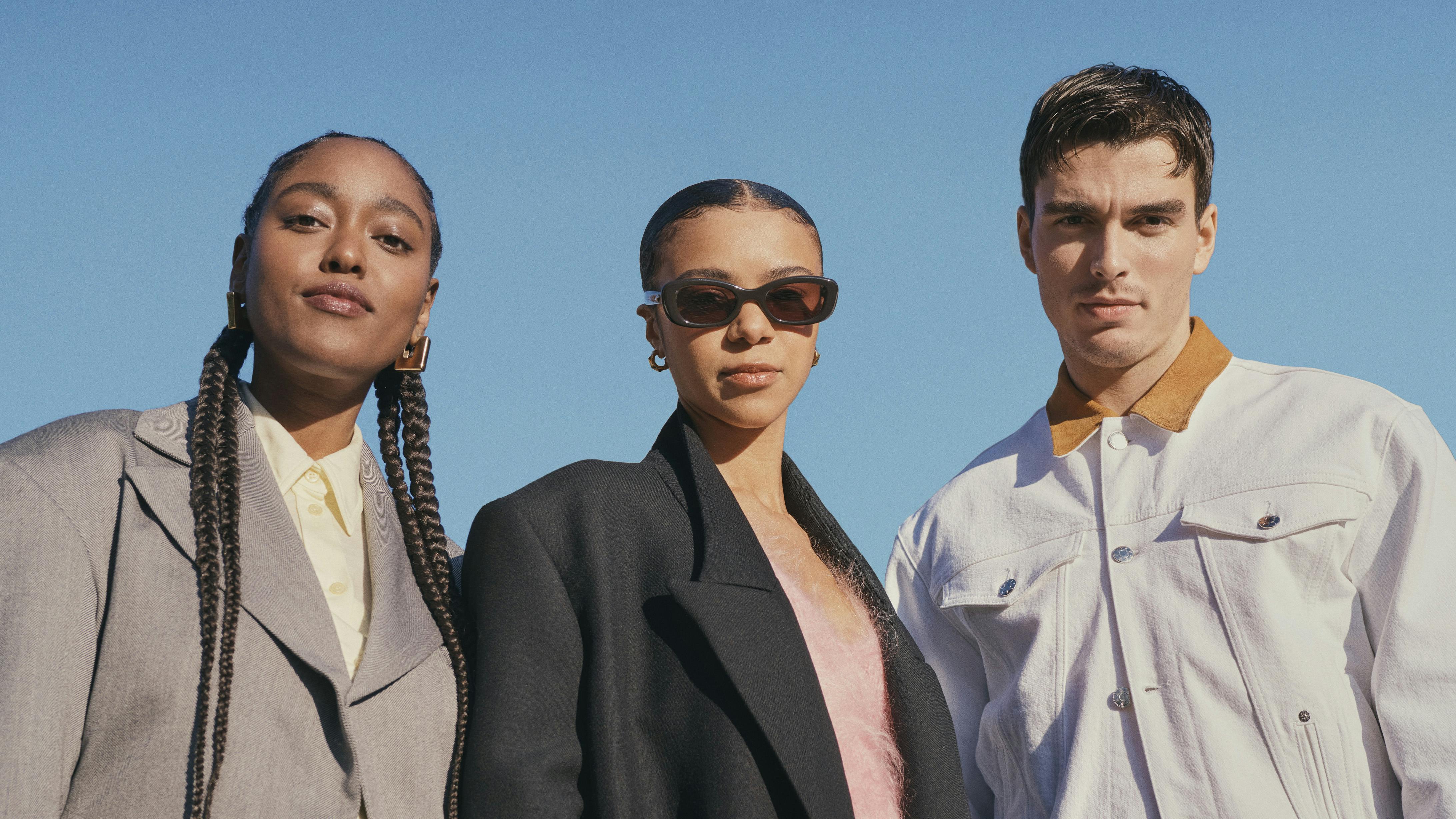 The trio at the heart of Bridgerton prequel Queen Charlotte discuss bringing the radical, provactive show to life.
Chief among hit series Bridgerton's most fascinating characters is Queen Charlotte. Played by Golda Rosheuvel, she relishes her command of London society, and, in her more private moments, exhibits a wealth of empathy for her afflicted husband, King George. While author Julia Quinn's novels, on which the Shondaland series is based, do not include the queen, Shonda Rhimes's self-described obsession with the real-life figure — who is rumored to have had African ancestry — brought the royal matriarch center stage for Queen Charlotte: A Bridgerton Story, the series' first spin-off. 
The six-episode season imagines the origin story of Charlotte, whose arrival at court sparks "the Great Experiment" — a hastily concocted social plan to integrate the ton that sets the bumpy carriage wheels of integration in motion. Queen Charlotte follows the young queen as she grows in power, supported by her new lady-in-waiting Lady Agatha Danbury, at the start of their enduring bond that has long captivated Bridgerton fans. The series rewinds the royals' story back a few decades to the first meeting, and subsequent marriage, of George and Charlotte, and casts three equally captivating actors in the leading roles: India Amarteifio as the young Queen Charlotte, newcomer Arsema Thomas as young Lady Danbury, and Corey Mylchreest as young King George. 
Early on, Charlotte and George's arranged marriage is established as rocky; both of these headstrong characters arrive on their wedding day with different definitions of what makes a union. There's a telling moment in the show's first episode when, on the cusp of their honeymoon night, King George asks his newly crowned bride to grab her cloak because he has a surprise. As their gold and red horse-drawn carriage enters the grounds of Buckingham House, he makes clear that she'll have this house all to herself, while George will reside at his estate in Kew Palace. The rapturous highs of the ceremony recede and the pair spends their wedding night apart and alone.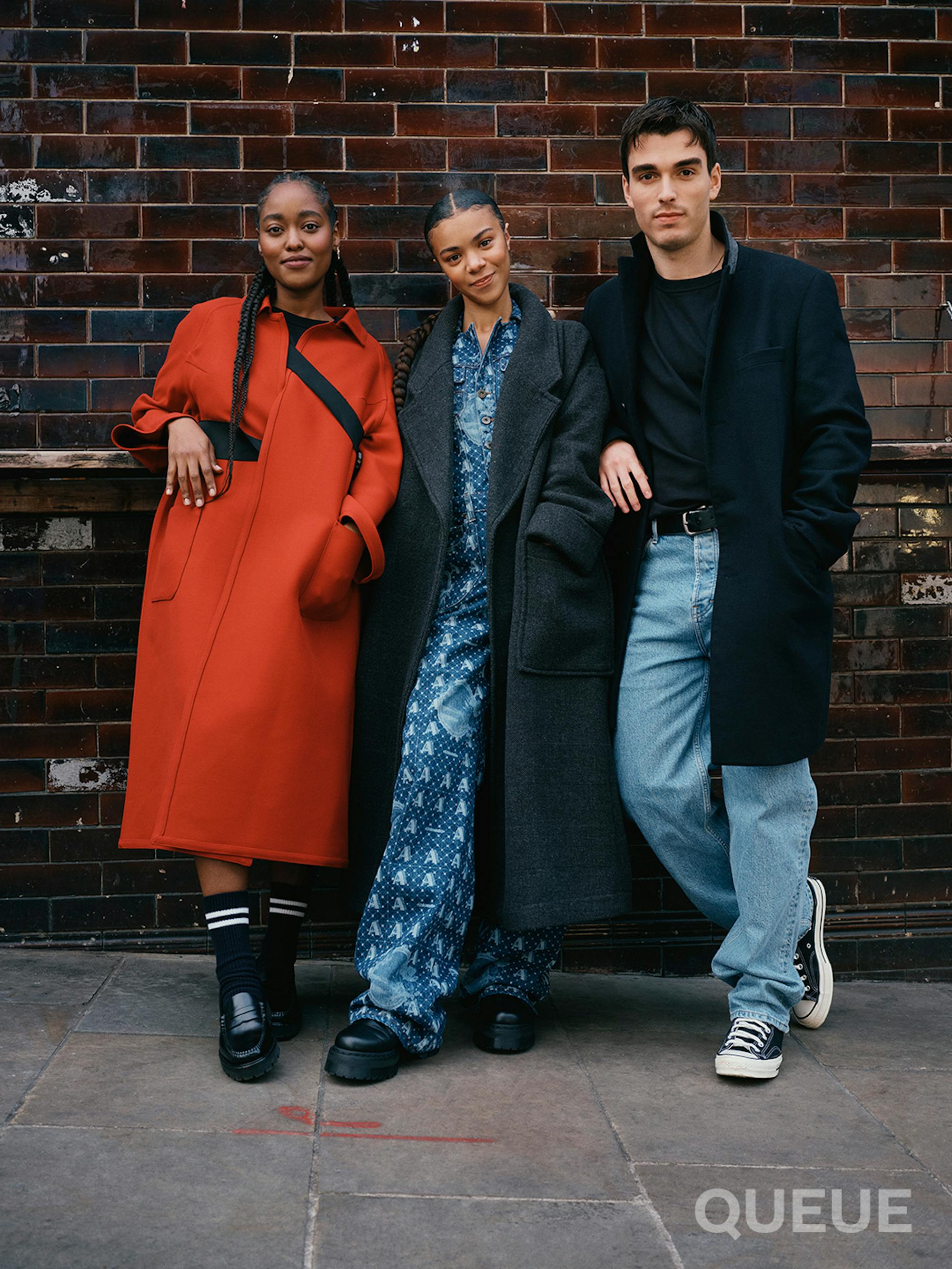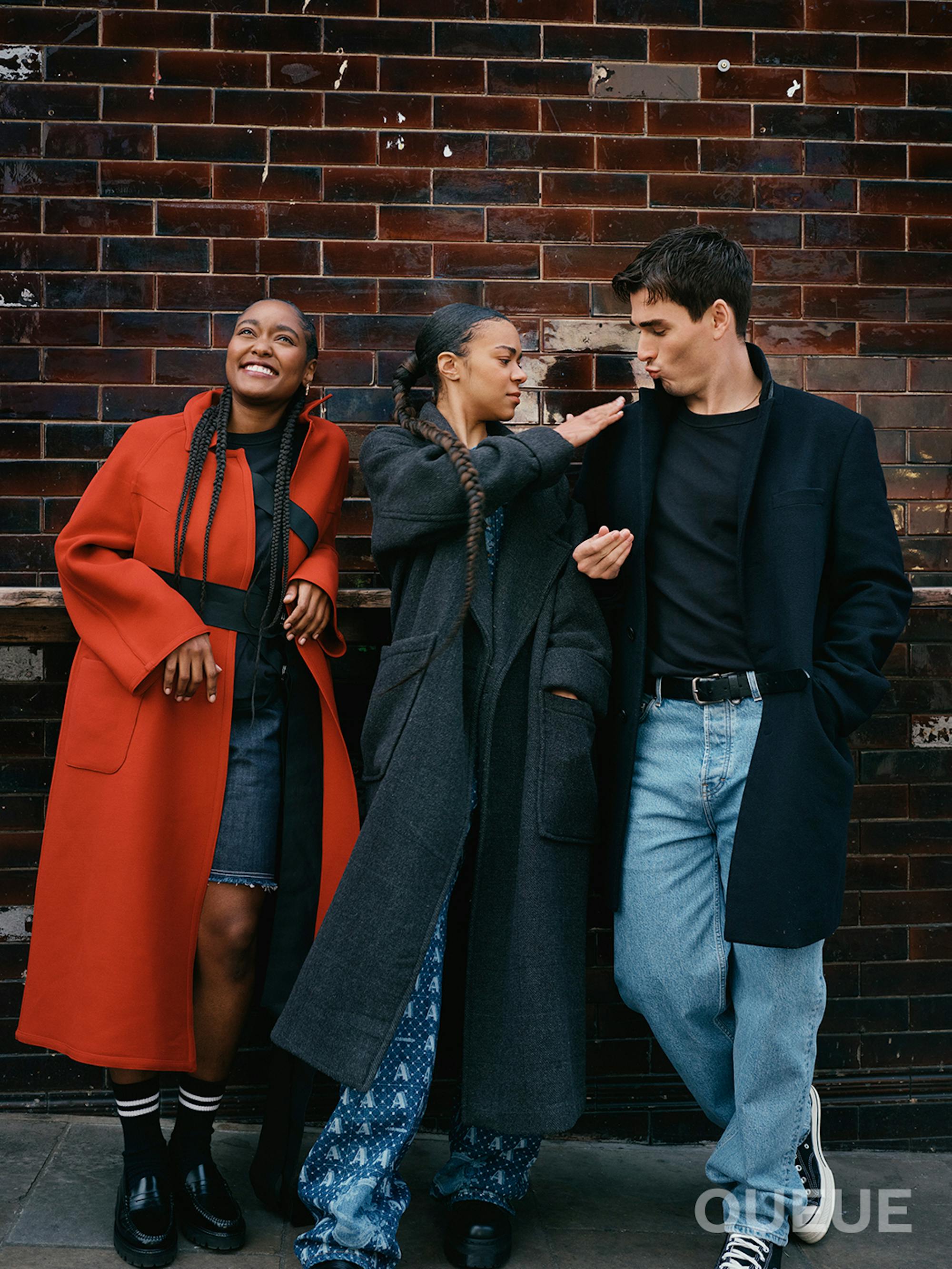 But like any Shondaland production, much romance lies ahead. The real Queen Charlotte and King George had 15 children (13 who lived to adulthood), but not much attention has been given to their romance. Queen Charlotte envisages what their love might have looked like. Amarteifio cannot wait for Bridgerton fans to see this reimagined version of their marriage. "We know the ending, but you don't know the journey. And that is the beauty of our show," she says. "I'm really excited for people to get the context of why Charlotte stuck around. She took over ruling a country and took on a lot of responsibility she didn't have to. Why? We'll find out it's because she was deeply in love. We all do crazy things when we're in love."
Armed with Rhimes's richly hewn script, Queen Charlotte explores questions of love's resilience, navigating the depths of devotion, and what it means to step into your power. According to Mylchreest, it was an emotional journey that required a new level of intimacy from the ensemble. "We also knew what, as actors, [certain] moments demanded of us and, as the characters, what they were feeling," he says. "George and Charlotte have a trust that grows. It was a privilege — just as George was trusting and understanding Charlotte, I was trusting and understanding India." 
For Thomas, whose young Lady Danbury helps the newly crowned Charlotte navigate the political dynamics of the Great Experiment, the on set camaraderie was a grounding place to step into these outsized roles. "It's been incredible to be able to have people who just understand what that's like," says Thomas. "There was never any competition, never any cliques, or anything. It was just super vulnerable. It feels like a big family with [director] Tom Verica as the dad and Shonda Rhimes as the mom."
Queue spoke with Queen Charlotte's leading actor trio — Amarteifio, Mylchreest, and Thomas — about working with their venerable creator and showrunner, and the joyride of bringing this radically inventive series to life.
India Amarteifio
Young Queen Charlotte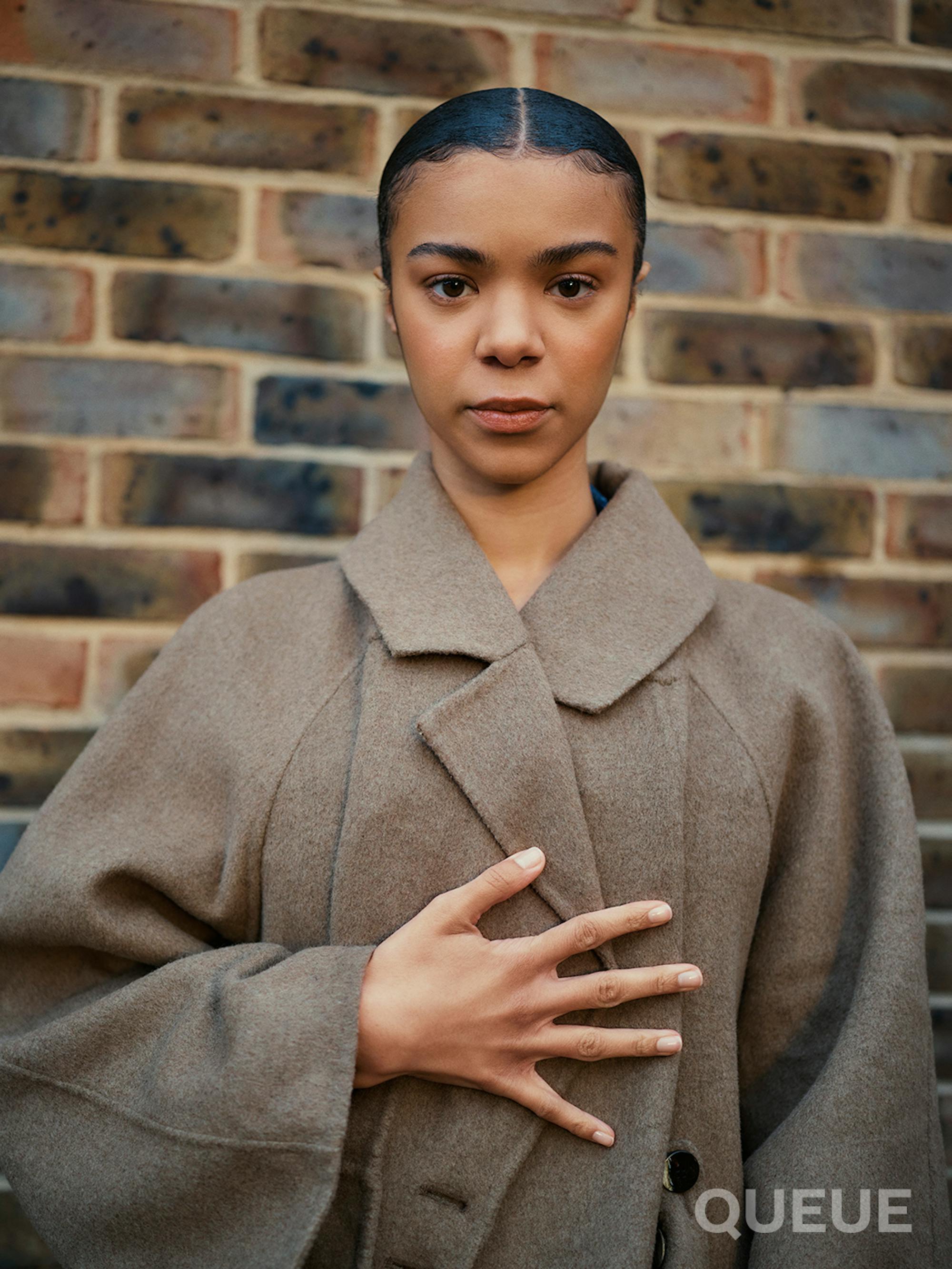 It comes as a surprise to Amarteifio that her onscreen husband, played by Mylchreest, considered her to be the old guard on set, even though she is the youngest actor among her new costars. Mylchreest often leaned on her for guidance as they entered the opulent and heady world of Bridgerton. "That's probably the nicest thing Corey's ever said to me, and I love that he's not even said it to me," she says with a grin. "Thank you for bestowing that information on me. I will be using that against him."
This reverence for Amarteifio stems from her early beginnings in film, TV, and onstage. "I started off as a dancer. By 16, I realized that it was not for me, but I loved the storytelling aspect of it," she says. The rising star has made appearances in Doctor Who, The Interceptor, and Sex Education, and has starred opposite Thandiwe Newton in Line of Duty and Kristin Scott Thomas in Military Wives.
It is a massive honor and it is a privilege [to be seen fully as I am].
Amarteifio portrays Charlotte just as she begins her journey from Mecklenburg-Strelitz after she's unwillingly betrothed to King George III of England. Surely such arrangements were the standard in the eighteenth century, but for the rebellious and highly educated young woman, not knowing her future fate simply would not do. As the London native prepped to convey this frustration within her character, Amarteifio tapped into how Charlotte's life might play out today. "The only way I could empathize with her was to try and sympathize. I can't empathize because I've not grown up in a different country and then traveled thousands of miles to a country [where] I don't know the customs and the language and things like that. I thought, What would that be like?" she says. "For Charlotte, there's no imminent threat of death. It's more that she just didn't have the choice to be sold. If you come from a place where your life depends on you leaving the country, you basically don't have a choice, do you? You have to leave to go somewhere safe and to create a better life for yourself. That was the only way I could find some kind of modern connection."
There was another bond Amarteifio shared with Charlotte that goes beyond the page. "I'm mixed race myself. I've got my mom who is white British, and my dad who is Black British, of African descent," she says. "It is a massive honor and it is a privilege [to be seen fully as I am]. I keep reminding myself that the show is so much bigger than what it is; it is not just another show. It represents so much to the audience, but also to myself, to every little girl out there who will see someone who looks like them being presented as a queen and as someone who is regal, with their natural hair texture and their skin color."
Corey Mylchreest
Young King George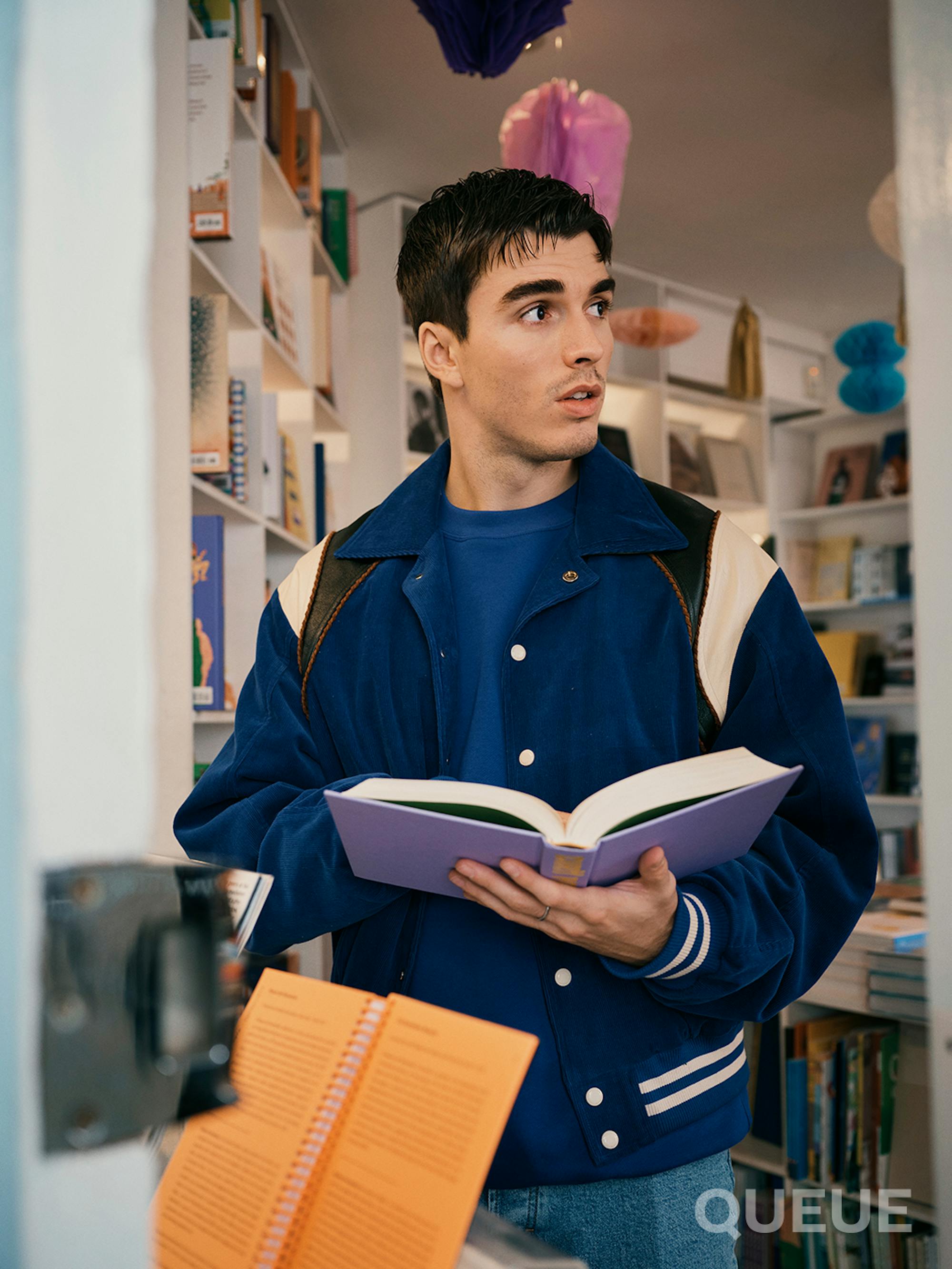 There are seven posts on Mylchreest's Instagram page. In his first entry, a candid black-and-white image of the actor at a table read, the caption says, "What a privilege to take part in Shondaland and Netflix's newest addition to the Bridgerton world." Months later, after filming Queen Charlotte, Mylchreest, who stars as young King George III, sits at another table with his co-stars in New York City. It's his first visit across the pond and he's still giddy from sitting courtside at a New York Knicks game.
When asked about his choice of the word "privilege" used to describe working with celebrated writer, producer, and creator Shonda Rhimes, Mylchreest's effusiveness becomes pensive. "The group is incredible," he says. "From Shonda to the sound team, it's almost family. I remember one guy came up to me and Freddie, who plays Reynolds [the King's right-hand man], and said, 'This is the best job I've ever worked on.' There was such a synergy between every department." 
The tragedy of his whole life was real.
For Mylchreest, portraying young King George III carries the weight of playing two characters — a devoted husband and father, and a temperamental man who often preferred the solitude of his chaotic thoughts over interacting with his family, court, and country. The mental health of King George has been speculated on throughout British history, with many scholars believing he suffered from a myriad of emotional illnesses: anxiety, paranoia, bipolar disorder. Although Bridgerton life is fictional, Rhimes leans into what could have been the reality for this young man who, at times, has no control of his mind. "Despite the fact that we had complete creative license, in every way that I could, I wanted to pay homage, or bring [the real King George] into the conversation [because] his pain was real," says Mylchreest. "The tragedy of his whole life was real." 
On those good days in the royal court, Mylchreest, who's relishing his first major role after an appearance in The Sandman, found absolute joy in the grandness of being King — especially the day he filmed George's coronation. "I'm clearly still speechless because George's relationship to the Crown and the duty and the pressure of all of it is so serious and so crushing. I really let that hit me," he says, remembering the literal weight of wearing a 15-foot-long cape and 11-pound crown for the scene. "Putting those things on, you really feel like you are stepping into history. You're stepping into the shoes of these people that truly lived."
Arsema Thomas
Young Lady Danbury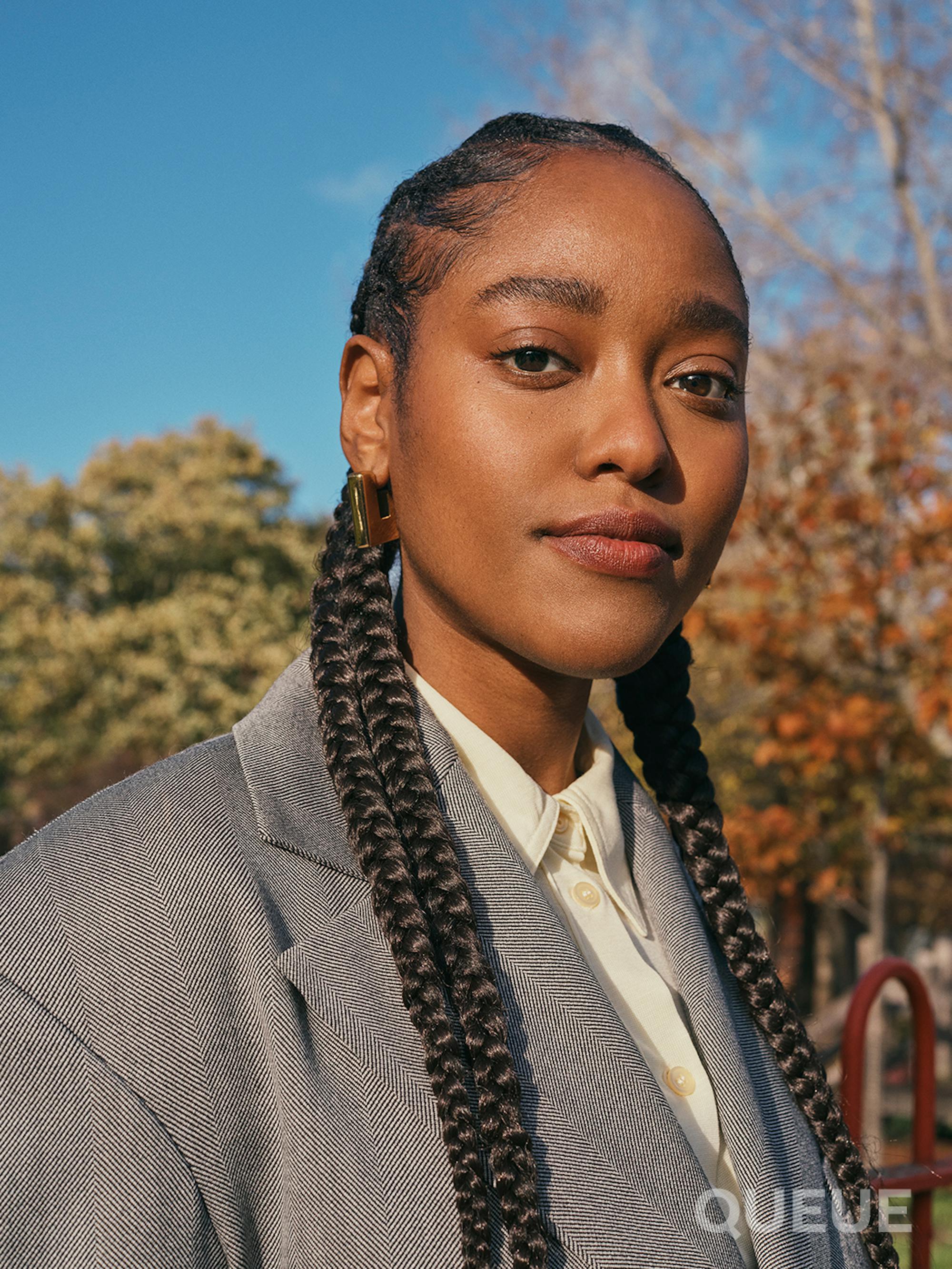 When asked if she "loves having Shonda Rhimes's words in her mouth," much like her costar Adjoa Andoh (the beautifully mature Lady Danbury in Bridgerton), Thomas takes a beat, carefully measuring her answer. "This is one of the emotional questions for me because I grew up watching Kerry Washington, with her massive glass of wine in that beautiful apartment in Washington, D.C.," says Thomas. "I knew I wanted to do acting, but I didn't know if anybody would want me to tell that story. And seeing Kerry Washington, Viola Davis, even Aja Naomi King — these are intelligent, well-spoken, witty, complex characters. It's abso​lutely an honor that Shonda would even trust me to tell this story."
Thomas's reverence for Rhimes's storytelling extends to her casting choices. It's not lost on the first-time actor that deeply hued Black women are protagonists in Shondaland productions, whether they are set in the past, present, or future. Says Thomas, "It's a massive responsibility that I don't take lightly because being one of the darker-skinned characters on this show, it means a lot to me."
I want to be a part of truthful storytelling, specifically for Black women.
Acting was a slow burn for Thomas, who majored in biophysics and holds degrees from Yale and Carnegie Mellon. She was on her way to a career in epidemiology and stumbled upon the courage to study what had always been in the background. "The thing that kept me going is this appreciation, [this] obsession, over the way someone can tell a story," says Thomas, who graduated from the London Academy of Music and Dramatic Art. Playing young Lady Danbury is her first major role.
For the Nigerian and Ethiopian star, being cast in a period drama came with its fair share of costume challenges ("You have no choice but to yield to the corset," she laughs). But Thomas connected the weight of young Lady Danbury's burden to the clothes. "It made much more tangible the situation that these women were in, in society," she says. "I think no woman would want to bind herself, but this is the fashion. This is how one shows their value as a woman. How large are my hips? Can I carry children? All of these things were to almost signal your eligibility. There was something really, really powerful and helpful about being in the truly accurate undergarments of this period."
"I want to be a part of truthful storytelling, specifically for Black women. I want to be telling stories that don't usually get told," says Thomas. "I want to be part of changing people's minds, and I also want the team that I'm working with to be a hundred percent invested in that, the way that this crew was with Queen Charlotte."