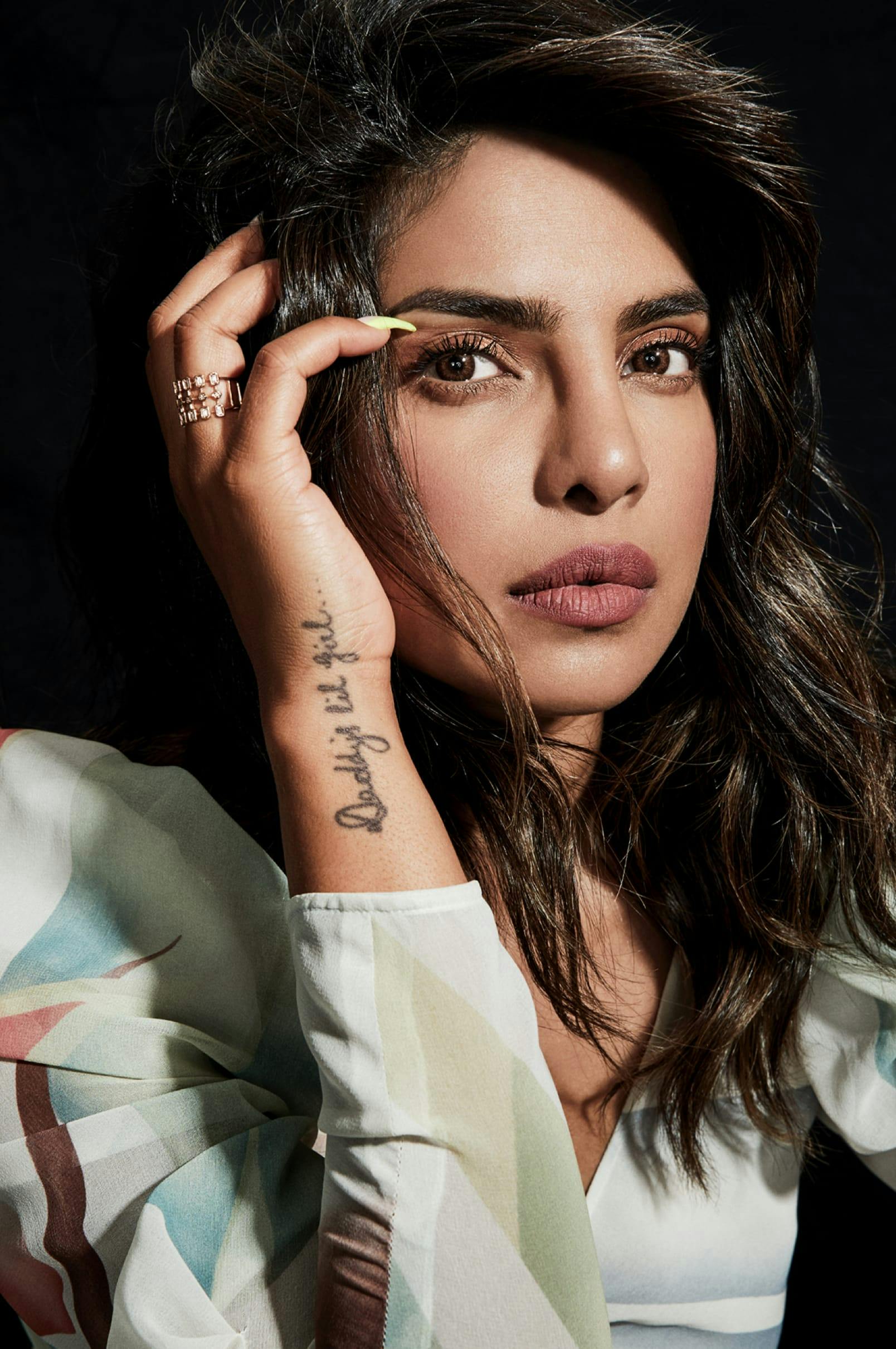 Priyanka Chopra Jonas brings her extraordinary vision to The White Tiger.
That Priyanka Chopra Jonas is so mesmerizing in The White Tiger will come as no surprise to the millions (maybe billions) of fans who have followed the actor over her already decades-long career. In India, she is a superstar of the highest wattage. The White Tiger is poised to change her relationship with Hollywood: It underscores her range as an actor. It also announces her as an executive producer deeply invested in the stories she's telling.
The thriller, directed by Ramin Bahrani (Chop Shop, Fahrenheit 451) and adapted from the 2008 Man Booker Prize-winning novel by Aravind Adiga, takes on no less challenging a subject than India's caste system. Chopra Jonas stars as Pinky Madam, a wealthy, Brooklyn-born Indian American woman who plants the seeds for her driver, Balram (Adarsh Gourav), to pursue his greatest aspirations. The consequences are explosive."
This one man who just pushes himself out of the circumstances that he was born in, I related to that so much," Chopra Jonas says. "I'm someone who's always wanted to evolve, always wanted to grow. I'm very ambitious."
In December 2018, the actor married musician Nick Jonas and found a relationship compatible with her drive. "There's such a freedom in having a partner that is invested in you professionally, and for your betterment," she shares. "We have both found that with each other, which is a wonderful thing."
Chopra Jonas originally came to the United States from India as a teenager, and lived with family in Cedar Rapids, Iowa while attending high school. She began her career at age 17, when she won the title of Miss World and found herself thrust onto the international stage with a desire to make a difference. From there she went on to become one of India's most celebrated actors, and in 2015, expanded her reach to an American audience with her role in the TV drama Quantico."
It's not been the easiest for me coming from India to the U.S. and finding non-stereotypical parts," she reflects. "It was a fight to say that I don't always want to do My Big Fat Punjabi Wedding. I was proud of Quantico for many reasons, this being one of them: Even though I played an Indian American, I was just a girl saving New York in every episode."
As Chopra Jonas forges ahead, she does so with a clear vision. "I feel compelled to champion stories from South Asia," she says. "As an actor, that's my quest. As a producer, that's my quest."
Queue's Krista Smith spoke to Chopra Jonas for her podcast Present Company.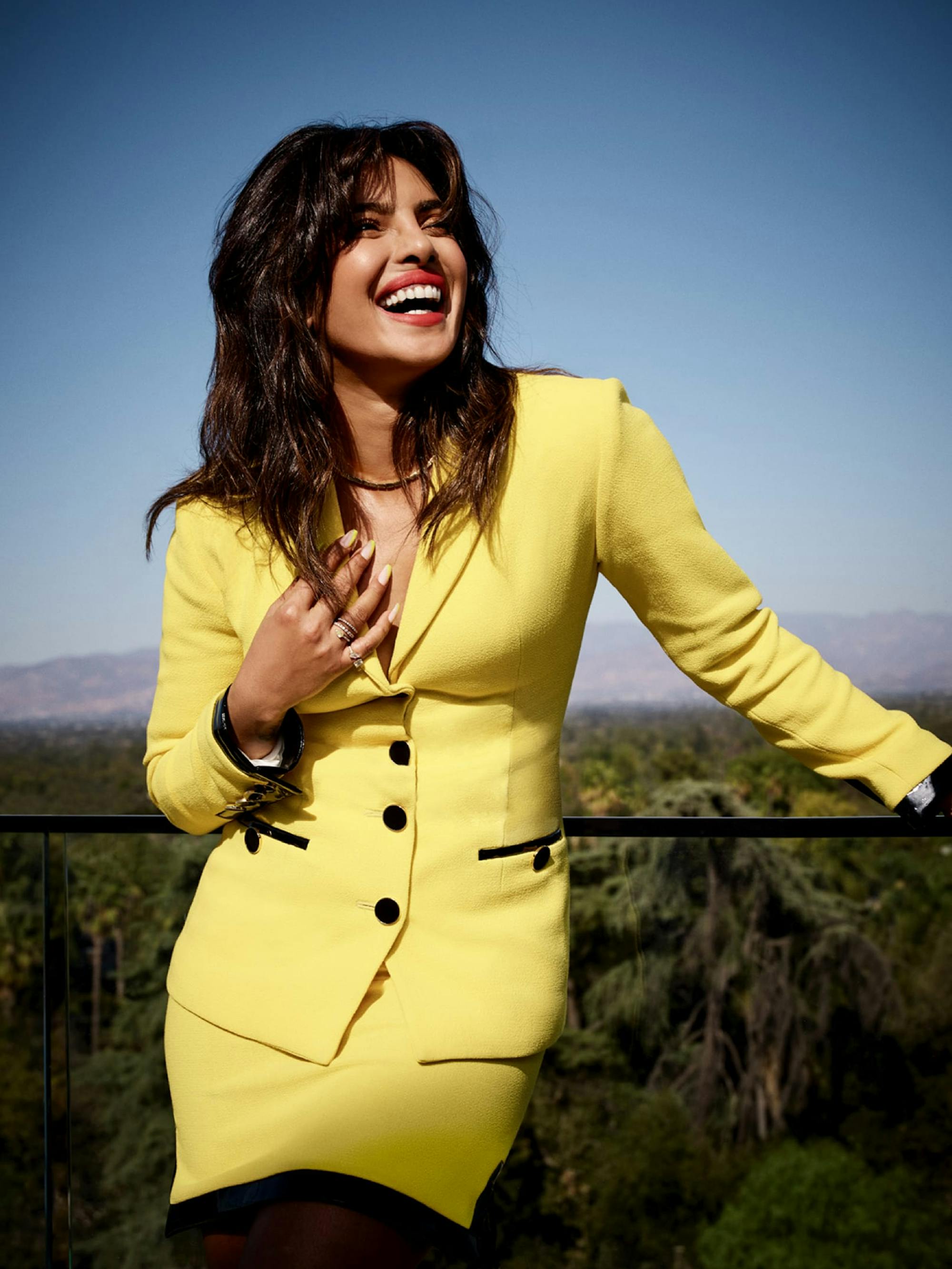 Suit by Rowen Rose; rings by Shay; necklace by Anita Ko
Krista Smith: I can't even articulate what you mean to people in India. What is it like to walk onto the set of a film like this, about India but produced in America, as both an executive producer and a star?
Priyanka Chopra Jonas: I've done about 60 movies in India, and the kinds of parts that I've played have ranged across genres, screen time — supporting, leading, antagonist, protagonist, all kinds of things. Attaching myself to this movie was a great joy. I don't bring the baggage of my individual achievements to the characters that I play. The characters that I play are their own people. I curate the roles that I do very carefully, because I have to be extremely inspired to be on a set. That's when I do my best work.
I also recognize very acutely that just because I've had a prolific career in one of the largest movie industries in the world doesn't mean that I come with that kind of entitlement when I'm starting my career all over again in another part of the world, which is what I did with Quantico, my first acting job in the U.S., just a few years ago. I'm choosing the kind of work that I want to be doing in the U.S., and I'm building the body of work that I've had the good fortune of being able to build in India.
Evolution is the name of the game.
It speaks volumes that you can have this kind of fame and success and still have the desire to come back to America and put in that level of work. It takes great humility and, at the same time, a tremendous amount of confidence. Where does that confidence come from?
PCJ: I do think a lot of everything that drives me comes from a place of confidence, and for that I have to give credit to my upbringing. My parents raised me in an environment where my opinions mattered. I was never told, "Don't do this — because I said so." I was given a reason. My dad and my mom encouraged my sense of adventure. I moved to America to live with my aunt and uncle when I was 12 years old. It was my decision. I told my parents that I wanted to live here with my cousins and go to school in the U.S. while they were in India. They never laughed at my ideas. That spirit pushed me to not be afraid to try new things.
I also tasted failure at a very young age. I was kicked out of movies when I first started because I didn't know the right people. Everything I learned was on the job. I learned quickly that nothing can substitute good work. You can be as popular as you want, you can be as successful as you want, but to be relevant, you have to be relevant in the work that you do. No one can always know everything, so I try to be a student of life. I listen. I observe. I teach myself new things as I'm going along. I became a producer about four or five years ago, and I had to teach myself the ins and outs of that job as well.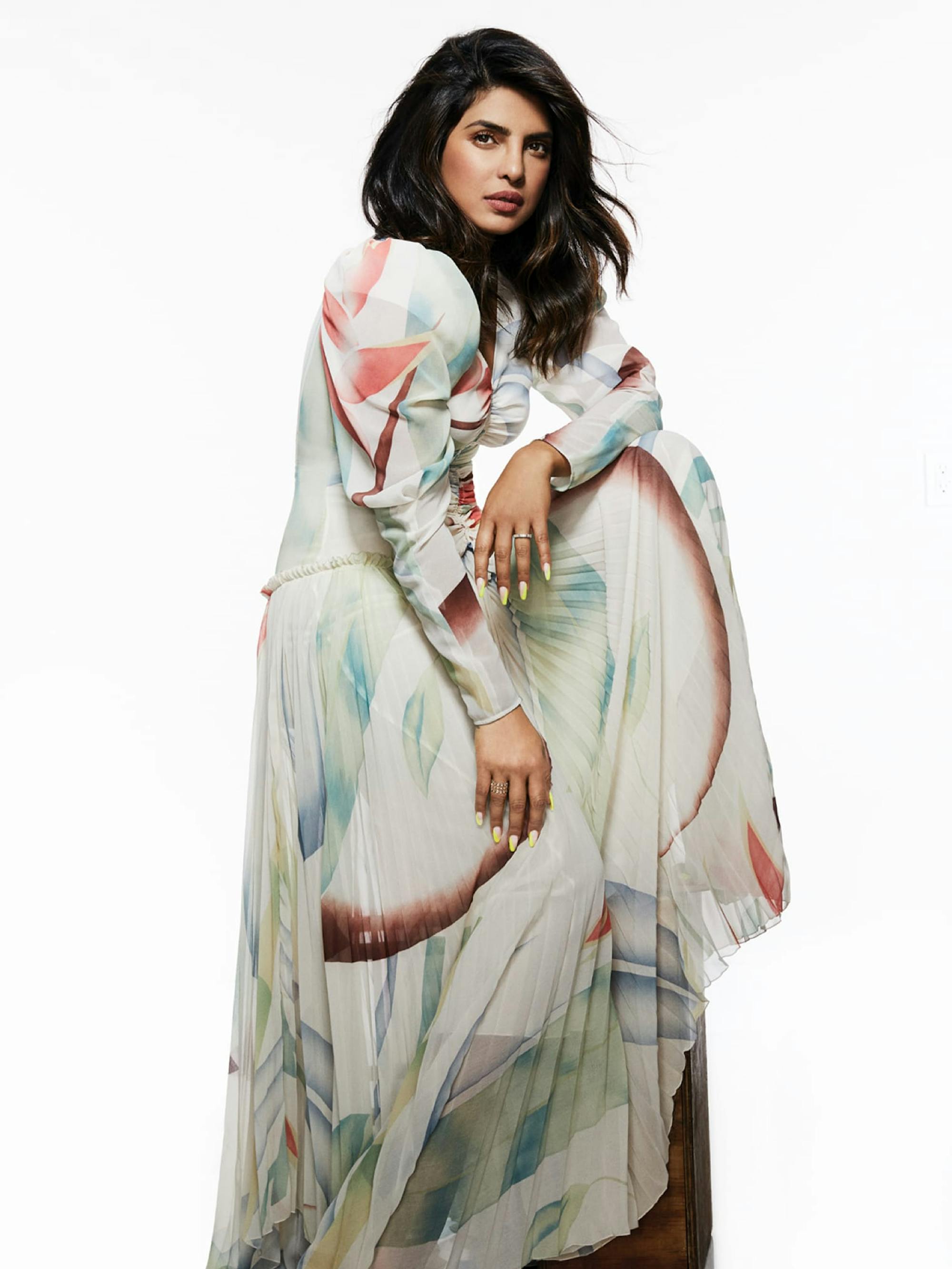 Dress by Etro; shoes by Femme; rings by Shay
What was the motivation to become a producer?
PCJ: I always wanted to get into filmmaking somehow. It's really funny in retrospect, but when I turned 30, my mom was like, "At the ripe old age of 30, you're going to stop getting work as an actress! You need to think about a plan B." I was like, Oh, she's right. What if I stop getting work? That's a concern as a female actor. The same rules don't apply to the guys very often.
I started my production company, but I didn't want my company to rest on my laurels as an actor. I started focusing on regional movies in India, which are non-Hindi language, non-Bollywood, in Marathi and Punjabi. When my acting career moved to America, I decided to bring the company here. We're creating amazing movies and TV shows that are going to be announced soon. The White Tiger is one that I am executive producing. I'm also doing a movie with Mindy Kaling, which we're producing together. There are others that are in development.
In The White Tiger, audiences can see the range and depth you have. As an actor, what do you still want to achieve?
PCJ: Oh my gosh, that's a loaded question! So much. I want to achieve legacy. I want to be remembered when people talk about contributions to cinema. I want to be taken seriously for my craft. I want to be taken seriously for the artist that I am and the voice that I want to bring to the entertainment that I create as an actor, as a producer, or even as a writer. I want to keep pushing the envelope and having a point of view in the work that I do.
I read an article in which the writer used a phrase to describe you that I loved. They called you "psychotically beautiful."
PCJ: What?! Who said that?
Well, having met you in person, it is kind of true. With that beauty comes a certain power when you walk into a room, as well as certain assumptions about who and what you are. How do you navigate that?
PCJ: It's so strange to be asked that question. I've dealt with insecurities my whole life. I taught myself my confidence, and I taught myself how to be the best version of myself physically, emotionally, intellectually. When I was growing up, I had major insecurities. I was gawky. I wore too much makeup. I didn't know what fashion was. Now, closer to 40, I think about how much I have put into working on the person that I am today. That includes knowing what looks good on me, which also comes from working with the best people in the business — they can tell you: "This hair works on you. Don't get a perm," or, "Don't pluck out all your eyelashes."
It's really about finding what the best version of you is. Evolution is the name of the game. You have to constantly be like, My body is changing, my face is changing, I'm changing. How am I going to adapt to that? I've done that through my life. But yes, there were times in movies when I was told that I might distract from my character. It's my job as an actor to make sure that doesn't happen. It's my job to make sure that I become the person that I'm playing.
You've said one of the things that initially drew you to your husband, Nick, is that he loved your ambition. How has it been to manage your individual ambitions together?
PCJ: It's so inspiring to come home after a day of work and discuss that with someone and have them give you insight that makes the next day better. That's the kind of partnership Nick and I have. We have very individual careers, and we have the freedom as artists to discuss that with each other. I riff with him. If I say, "Oh, I'm stuck on the scene," he'll be like, "What if we think about it this way?" It makes both of us better.
That's beautiful. I can't wait to see what else comes from that relationship, what you do together when you join forces.
PCJ: Well, let's just say we've joined forces, and you'll find out very soon on what.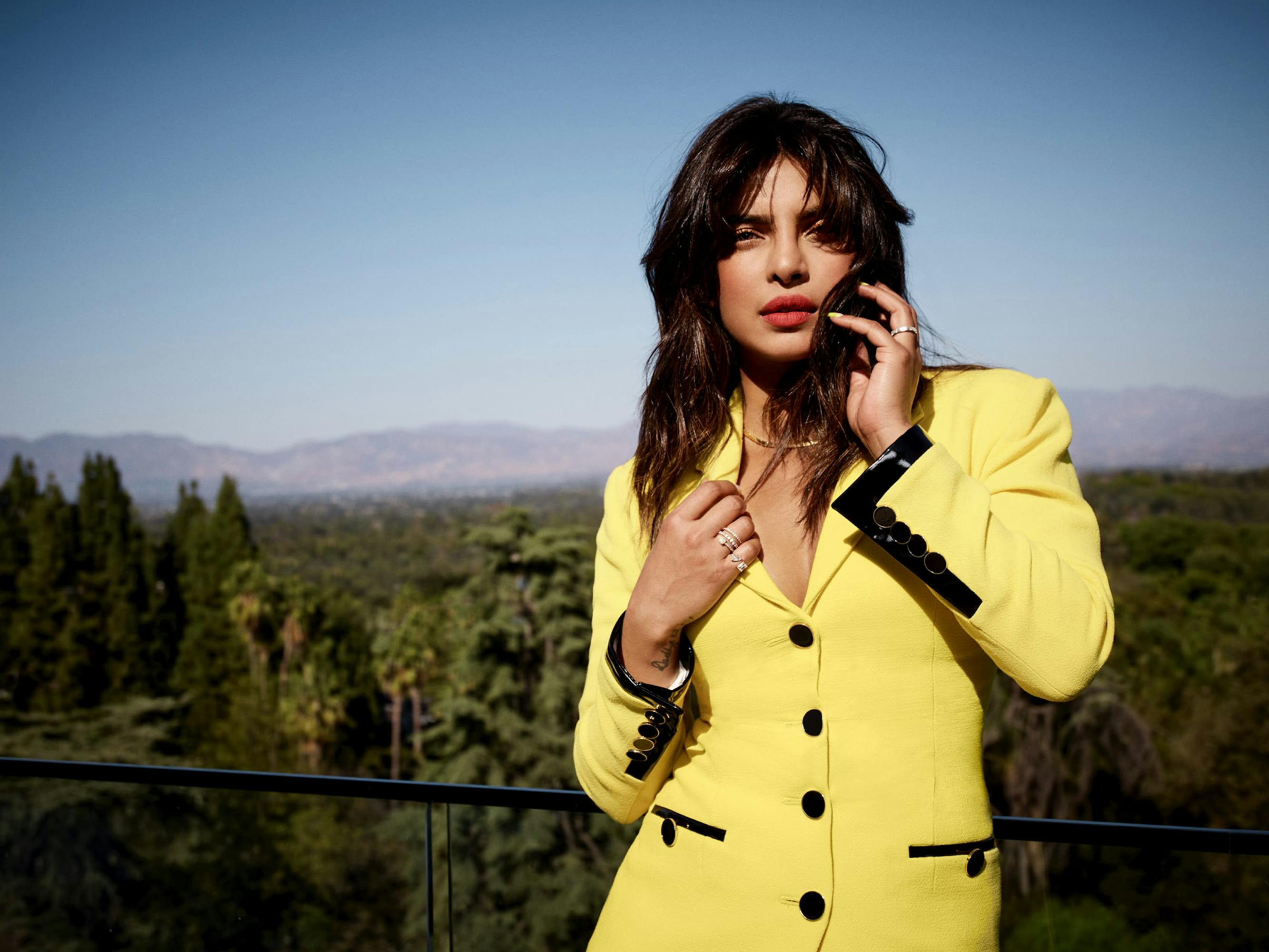 In addition to acting, philanthropy is a priority for you. You've been working with UNICEF and a tech startup dedicated to providing more opportunities for young women. You've dedicated a lot of energy toward the betterment of young women and girls.
PCJ: That was inculcated in me at a very young age. It was just a duty. My parents had their own local hospital in Bareilly, and they used to always have free beds for anyone who couldn't afford treatment. My parents would do free medical camps in villages.
I was raised with that temperament, and when I became Miss World at 17, suddenly I saw the power of influence in a big way. I was thrown into this pageant world, and I was like, Oh my gosh, now there are all of these people that are writing what I'm saying, so I'd better have something important to say. At that time, when my trajectory in the entertainment business was starting, I focused on using the platform that I was given. I took very seriously my social responsibility to put this platform to good use.
Now, I make sure that I take time out every year to spotlight things that require attention. Public people that come into philanthropy, we become conduits for taking a message far and wide. I take that job very seriously. I hope to continue to give back for as long as I can and in every way that I can.