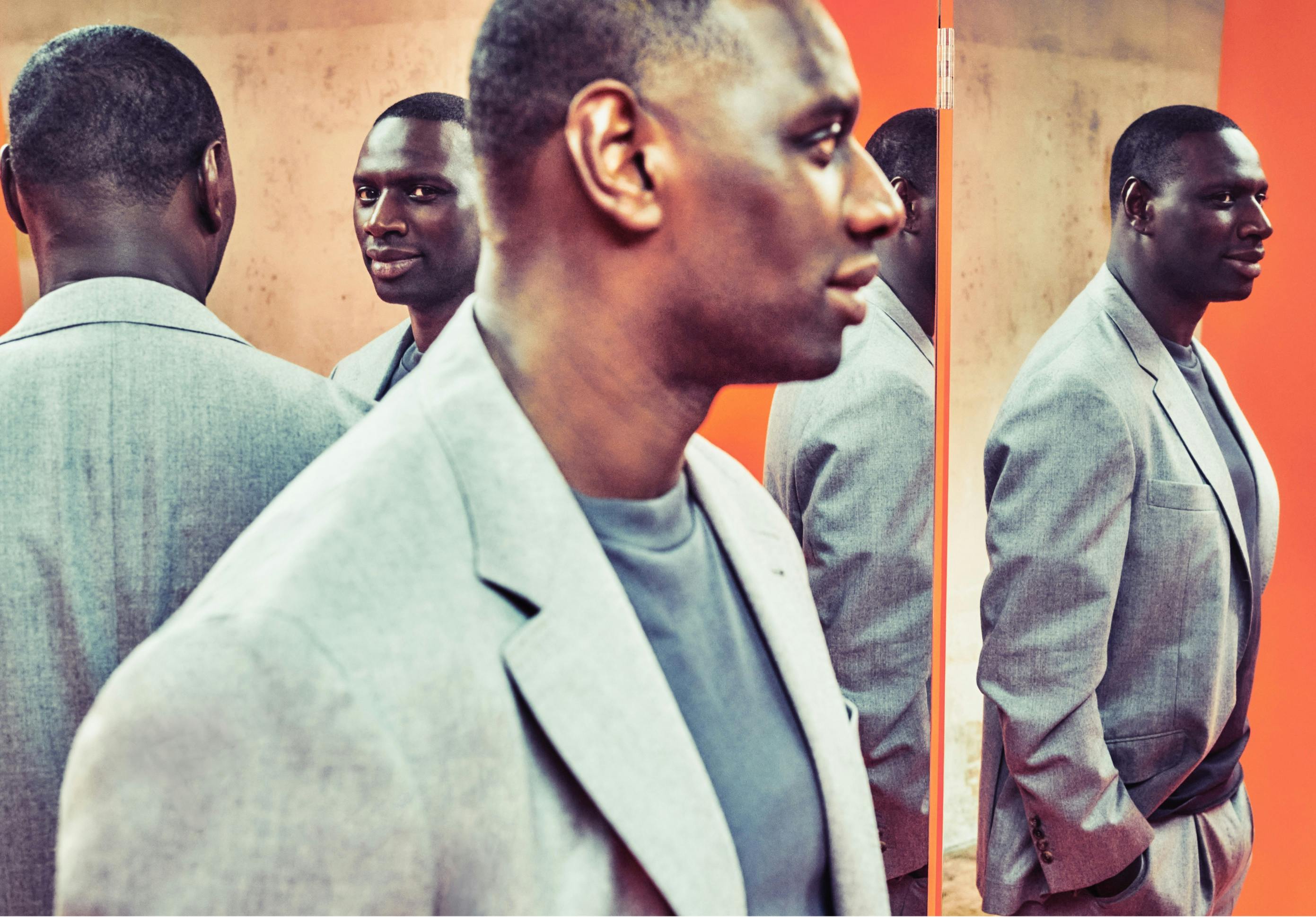 Conversation with a Gentleman Actor
A pan shot reveals the Louvre, all lit up at night. We cut to a group of ordinary-looking men sneaking into the museum. Among them is Assane Diop — a heist artist, a revenge-seeker, a "man of a thousand disguises" — whose multiple identities represent just one of the many draws of the Netflix series Lupin.
Assane is played by Omar Sy, one of France's most popular actors and charismatic personalities. Sy got his start as a comedian in the early 2000s, before moving into films like Nos jours heureux and Tellement proches — both helmed by Olivier Nakache and Éric Toledano — in which he began to develop the relatable charm for which he is celebrated.
He made his international breakthrough with Nakache and Toledano's The Intouchables, winning a César Award (the French equivalent of an Oscar) as well as the hearts of nearly 20 million moviegoers. Since then, he has gone on to star in blockbuster franchises like X-Men: Days of Future Past and Jurassic World, and has played opposite Tom Hanks in Inferno and Harrison Ford in The Call of the Wild.
Now, ten years out from the sensation that was The Intouchables, Omar Sy may have found his most globally popular performance to date. Lupin marks his first series role, but challenges him with one of his most multilayered parts. Based on author Maurice Leblanc's classic tales of Arsène Lupin, Gentleman Thief, the show presents an action-filled, sophisticated, modern-day interpretation of a character who has long loomed large in the French imagination. And while the role packs a punch, Sy has taken a less-is-more approach.
"I'm usually more over-the-top," he shares. "My acting on Lupin was more restrained. It was like venturing into new territory. Besides," he quips, "it meant I wasn't so tired at the end of the day."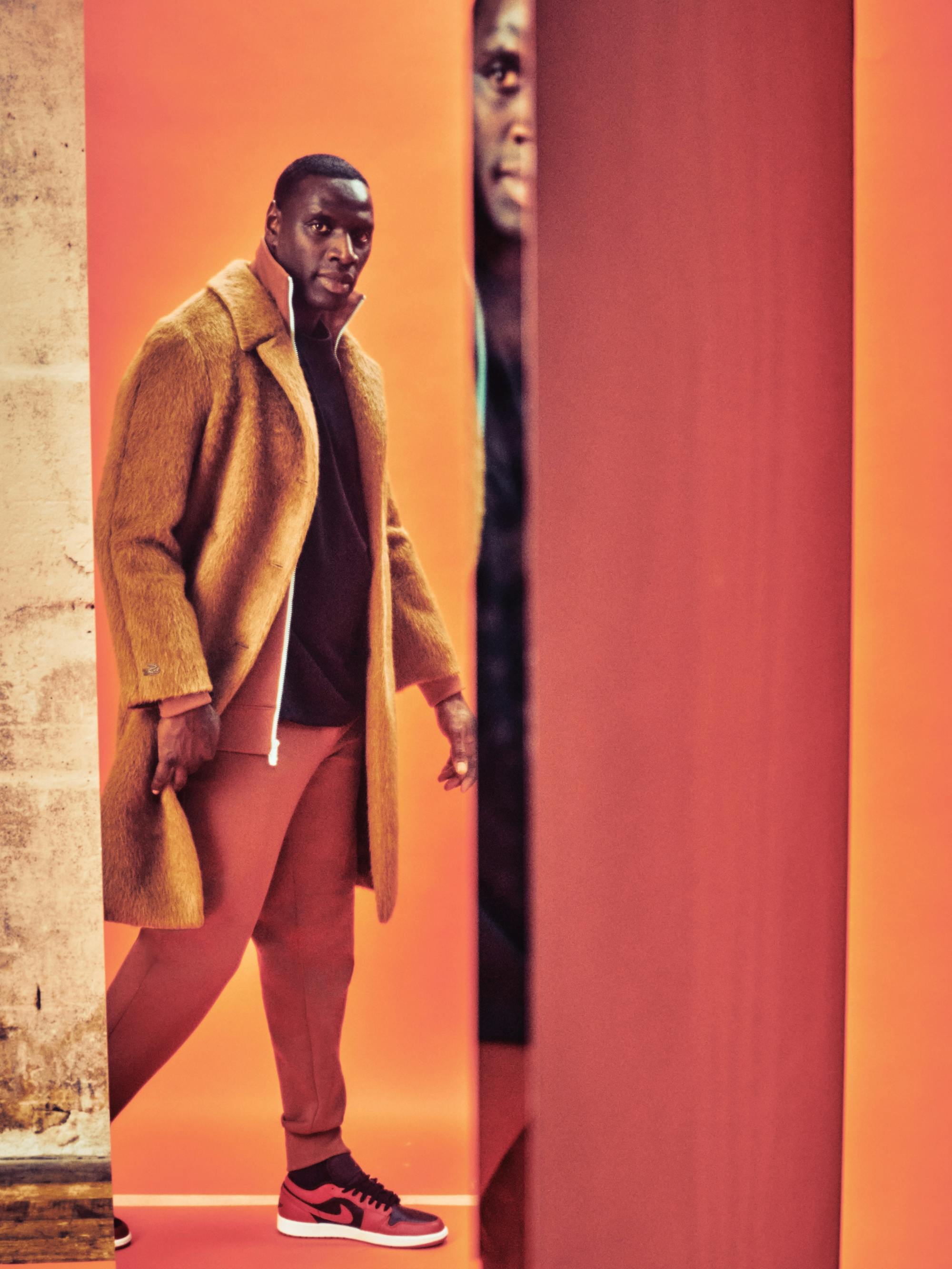 Coat, sweatshirt, and trousers by Lacoste. Air Jordan 1 Low Sneakers by Nike.
I sat down with the gentleman actor to discuss this iconic role.
Franck Garbarz: I heard that you came to this project under ideal conditions: Gaumont, the production company behind the show, asked you to pick a character you wanted to play.
Omar Sy: Actors don't often get asked this question. It's the kind of thing that rarely happens. But it didn't take me long to come up with Arsène Lupin. He's the perfect character for an actor. He's seductive and smart, he plays multiple roles, and he makes it possible to experience all kinds of adventures. If I were British, I'd have said James Bond. In France, we have Lupin!
When you grow up in France, you know who Lupin is, what he looks like, what he's capable of. He's one of our heroes. I was more acquainted with the manga version of Lupin, and so I was introduced to the character in the 80s through the Japanese take on Maurice Leblanc's creation. When I joined the project, I began reading the books and I watched all of the filmed adaptations again. I must say Georges Descrières's portrayal (in the French 1970s TV series) is my favorite.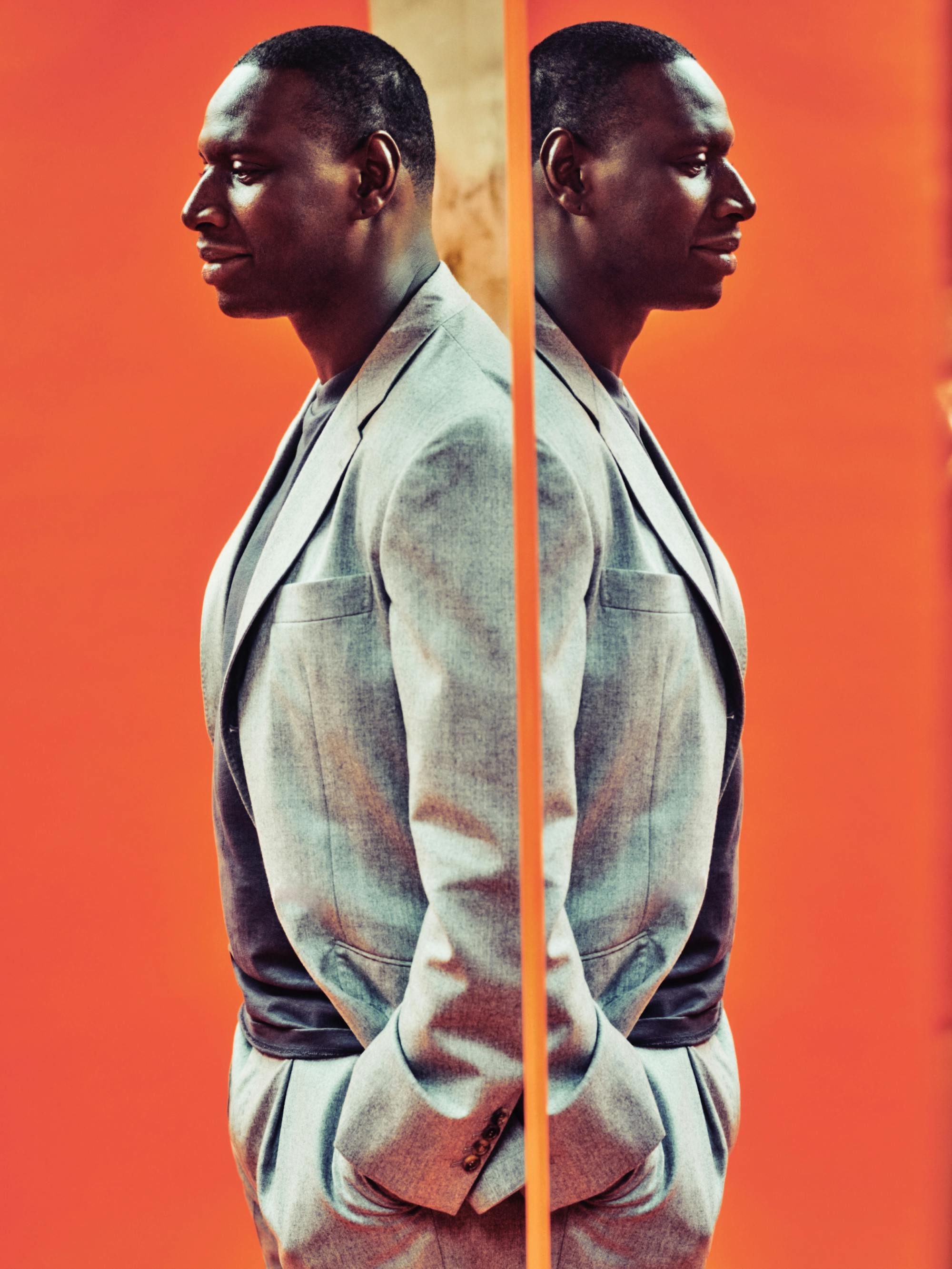 Suit by Brunello Cucinelli. T-shirt by Louis Vuitton.
The show takes place in two different time periods. We follow the present-day Assane, and then we follow Assane as a child in the 1990s through a series of flashbacks. What was that like for you?
OS: It was great! When you talk about Lupin, it conjures up the fun element, the heist mastermind, the smart-ass who's always one step ahead of everybody else, the action — so it's all quite exhilarating. When you get down to the acting itself, you have to consider the character's backstory, how he became who he is, the grey areas, the nuances. George Kay and François Uzan, the series' co-creators, wanted to explore Assane's childhood. I thought it'd be interesting to see what Mamadou Haidara, the young actor who plays the younger version of my character, would do with it, and then use that in my acting. When you take this into account you have more leeway to explore things, because you have this backstory that informs your acting.
Unlike Maurice Leblanc's hero, Assane hardly ever uses any makeup, and yet he changes identities at will.
OS: We thought about how he would go from one character to the next in today's world. We couldn't possibly use the Mission: Impossible mask effect again, so we went for a very simple option: Assane is defined by a sense of injustice — the fact of being ignored, of being invisible — which has become his trauma. He uses that. As he changes costumes and trades, he blends in with the crowd. I embraced that wholeheartedly because it's something I totally relate to. In my experience as a TV comedian, I know that all it takes to change identities is a beanie and a pair of glasses. Assane only needs very small things to move up in society, because these days people tend to focus more on what people do than on who people are.
All I can say is I had a ball.
How did you build the character costume-wise?
OS: We talked at great length about the costume design with the costume department. We were aware that the character comes with a rich iconography. We had to create something new while staying true to Lupin's spirit. We gave him a long coat, which hints at the iconic cape. We wanted him to wear a hat, and we picked the beret so that he might still be elegant and retain a French flavor. And to bring our modern touch we went for the Jordan 1 sneakers.
What is Assane's relationship with the police like?
OS: He sympathizes with the police officers who try to catch him. In the books, Lupin is actually quite similar. He plays with the police, he's one step — or several steps — ahead of them, but he relates to the character of Detective Ganimard and even does him favors. In Leblanc's later novellas, Lupin is an investigator, and the police commissioner is one of his friends. We've kept that spirit with Detective Guedira's (Soufiane Guerrab) character. He's Assane's counterpart, really. If you forget they're on opposite sides of the law, they're just both Arsène Lupin geeks!
Your character is seeking revenge for his father (Fargass Assandé), but also has a son of his own (Etan Simon). What do you think of the show's commentary on fatherhood?
OS: What I like about it is that it works both ways. Assane has trouble both being a son and being a father. When he focuses on avenging his own father, he acts a bit childishly and shirks his responsibility as a father, and when he spends time with his son, he forgets to some extent about his revenge quest. The show is also about legacy: Assane's father gives him a copy of Arsène Lupin. What will he do with it? And how will he pass it on to his own son?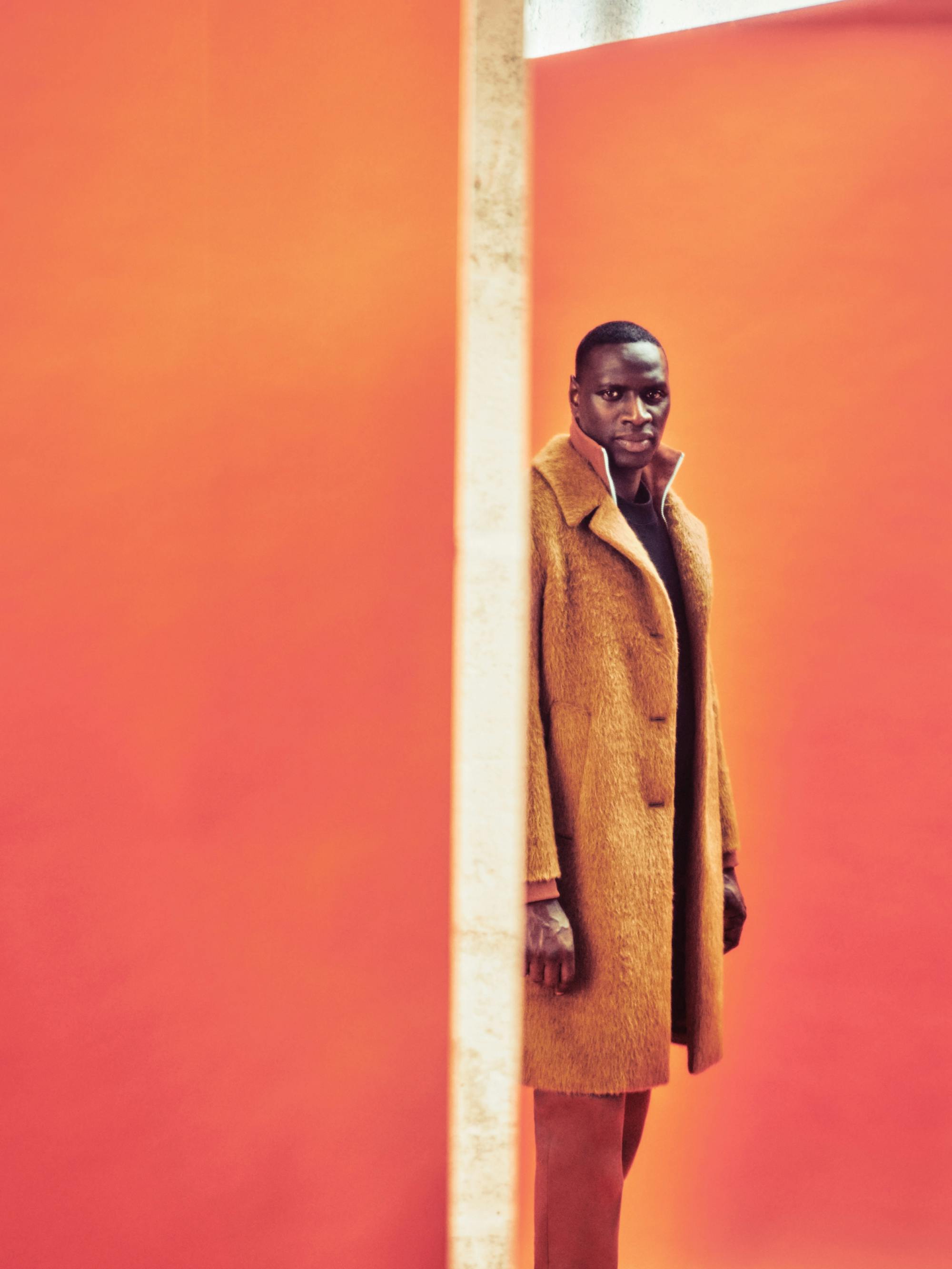 Can you talk about filming the incredible opening sequence at the Louvre Museum?
OS: It was wild! When I read the script, I thought to myself that the scene couldn't possibly be shot on location. It came as a total surprise when the Louvre not only opened their doors to our crew but proved to be extremely flexible and supportive — so much so that after spending five nights on the premises I got the impression that we were home. The Louvre felt like any set, except that at some point I realized I was all by myself with the Mona Lisa for more than 15 minutes. It's an experience I'll never forget. Can anyone claim they ever went on a date with the Mona Lisa?
This is the first series you've done. Can you talk about how it was different from shooting a feature film?
OS: It was a totally different experience. It was like a 10-hour movie. It was different in how I approached the character and how I portrayed his feelings and his journey — things happen over a much longer period of time. I'd done some television work before, but I believe streaming services are very specific; you tend to work on a television schedule with a feature film budget. All I can say is I had a ball.