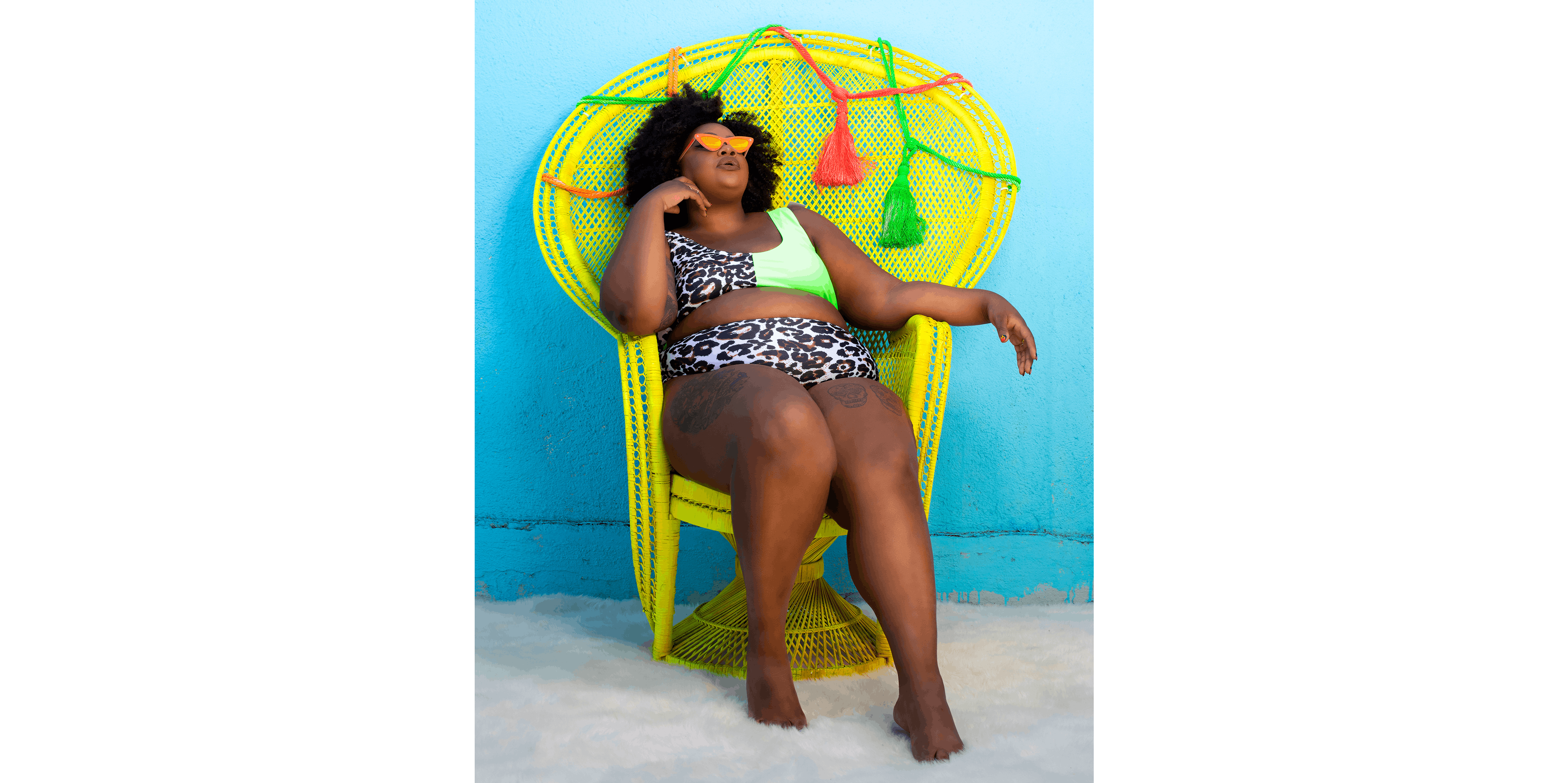 Emmy Nominee Nicole Byer (That's Her Full Name)
The Nailed It! host is living out her wildest dreams and snagging a nomination along the way.
Nicole Byer is constantly awed by what she's accomplished. "I'm just a little fat woman from New Jersey trying to make people giggle, and then someone is like, 'You deserve an Emmy nomination,'" the comedian tells me over Zoom. "That's crazy to me."
By the time we talk, it's only been a week since she became the first-ever Black woman nominated in the category of Outstanding Host for a Reality or Competition Program, for her work on the baking-competition series Nailed It! She knows it's clichéd to say she's living out her wildest dreams, but she admits that's the only way she can describe it. "It's one of those things where so few people are nominated for an Emmy, that it feels so fucking cool."
Nailed It! has four seasons (and a couple of holiday editions) under its belt, but anyone who's watched even one episode knows that Byer's outrageous outbursts and infectious personality are irresistible. The show features amateur bakers with terrible track records. They vie for redemption by attempting to recreate edible masterpieces, like ice-cream boom boxes, busts of Napoleon Bonaparte, and sloth-shaped sculptures — all made out of cake. Byer's co-host is legendary chocolatier and pastry chef Jacques Torres, and the two are joined by special guest judges throughout each season.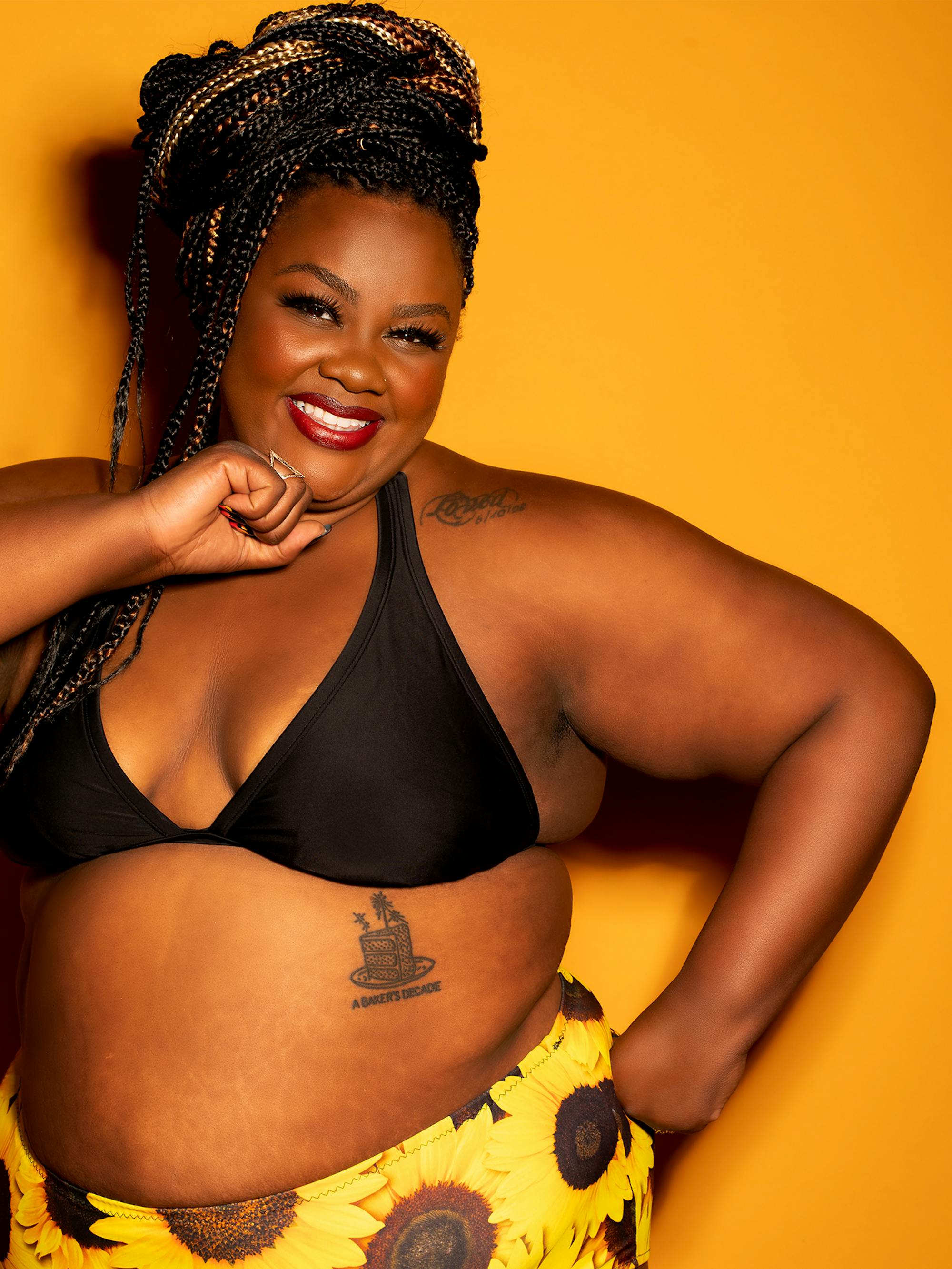 Those partnerships come in handy because, as Byer admits, she knows very little about baking. In fact, it was exactly that lack of expertise that production company Magical Elves was looking for in a host. "I told them going in that I don't really know anything about baking. They were like, 'Perfect!'" Byer says. "That's the thing: This show is just a bunch of people who don't know how to bake or recreate these things, and a host who's like, 'What's fondant?'"
Together, Byer and the producers arrived at an ideal tone for the show: funny yet kind. "I was like, Well, I don't think I'm the meanest. I could roast you if you interrupt my show, but that's if you do something."
Even after 12-hour days on set, Byer likes to hit the stage. It's her own kind of "me time." Her stand-up material is not the family-friendly stuff of Nailed It! It's deeply rooted in Byer's lived experiences as a woman, and offers "a little outlet of creativity," she says. Critical opinion of her style runs the gamut. The Ringer called her "a raunchier Retta with a hint of Ilana Glazer's madcap energy," and British comedy guide Chortle compared her, "in her less intense moments," to Chelsea Peretti. Perhaps all of that is true. Perhaps not. The influences in her Netflix special (part of the Comedians of the World series) seem clear to me: Mo'Nique, Sommore, Adele Givens, Laura Hayes — the Black titans of late-90s, early-00s comedy.
I'm just a little fat woman from new jersey trying to make people giggle...
Like them, Byer is confident in her body, talks brazenly about sex, and couldn't care less about trolls and hecklers. "There's this incredible interview that I found pretty early when I decided that comedy is the main thing I wanted to be doing," she tells me, pulling up a bookmarked article by entertainment journalist Margeaux Rawson, titled "The Queens of Comedy on the Commandments of Sex."
The article was published by Jezebel after Glamour killed it because it was too ribald for their pages. In it, the four comedians dictate the "10 commandments of sex." Mo'Nique explains that one of the commandments is that her partner "must be a pussy-licker." "Ain't no pussy-licker, you gotta get away from me," she insists. Not to be outdone, Sommore responds: "I ain't really into that. I'm selective about who I let eat my pussy because everybody don't take care of their teeth."
"What a funny fucking angle," Byer says through a huge smile. "I loved how freely these women talked about sex, how openly they talked about sex. A lot of male comics talked about it, but there weren't really women doing it."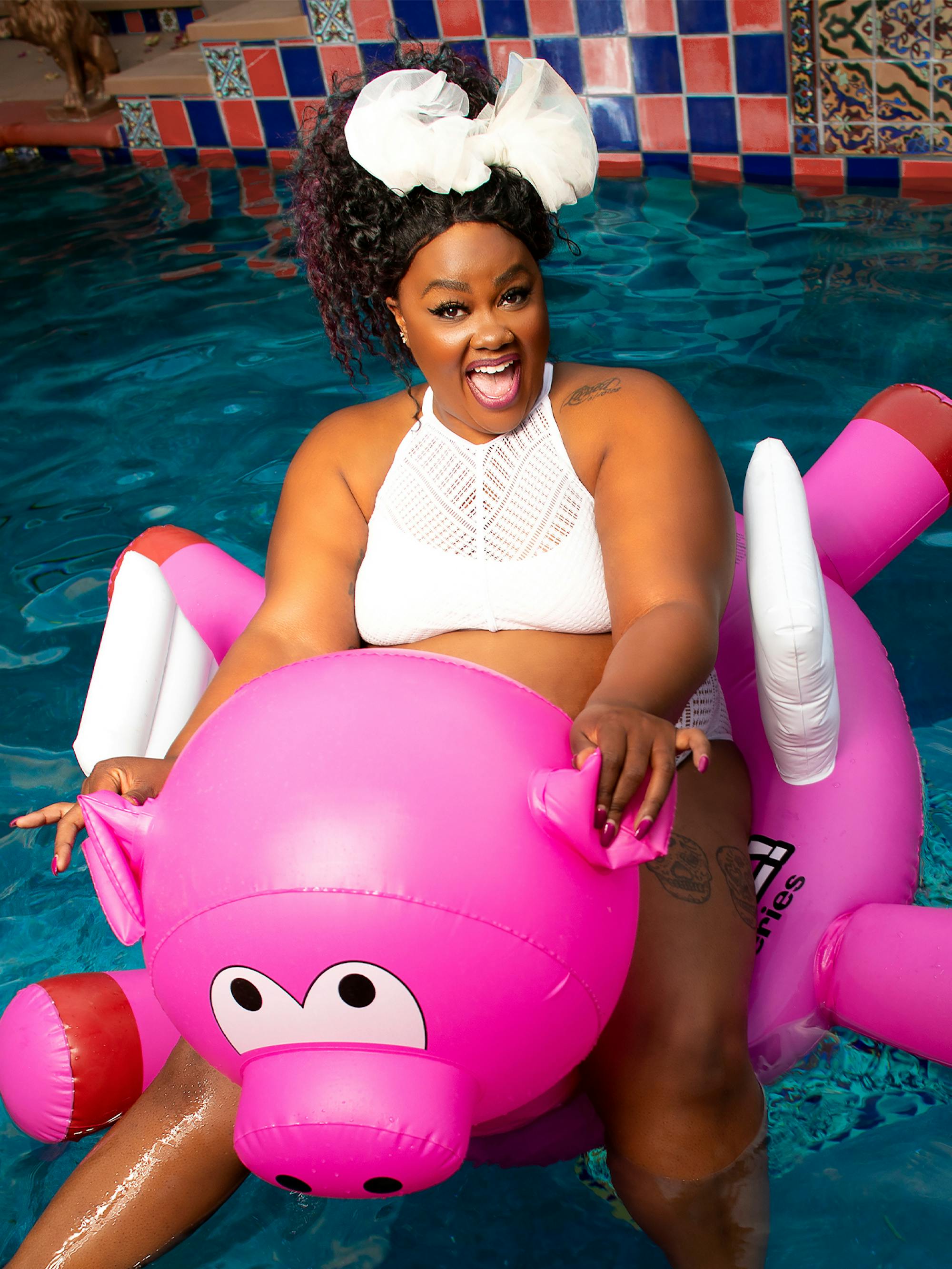 Byer also cites Whoopi Goldberg as an influence. "I sobbed, I laughed, and you could hear a pin drop at points," she says, of watching Goldberg's one-woman show in 2005 at the Lyceum Theatre on Broadway. "She just made you think and feel in a way that was so incredible. I was like, That's what I want to do. I want not only to be funny, but I want to make people think."
When it came time to do her own special, Byer leaned into fat jokes — roughly 13 minutes' worth of fat jokes. "A couple of my reps were like, 'Do you really think that's smart?'" she remembers. "I was like, 'Well, I don't know if I've ever seen that before. I've seen dudes talk for a half hour about how stupid a woman is. If they can do that, why can't I do this?'"
Byer is clear, however, that she doesn't see herself as a role model. "Once you start thinking you're an inspiration, it's like, *Bitch, you gotta come down from the clouds.*" When people are like, 'I wish I was as confident as you,' I'm like, 'Just look in my mirror and decide that you don't hate it.'"
I told them going in that I don't really know anything about baking.
Nicole Byer, on hosting Nailed It!
That said, Byer adds, "It would be nice if a little fat child saw me and was like, Wow, she likes herself and thinks she's pretty — the way when I saw Mo'Nique, I was like, This woman talks about sex in a way where she is desirable and she's not the butt of the joke."
As for the people who don't like her, their feedback is like water off a duck's back. "You want to tweet at me that I'm fat, that I'm ugly, that I'm not funny?" she says. "That's absolutely fine because I'm funny to somebody else. I'm pretty to somebody else. And I am fat — I own a mirror."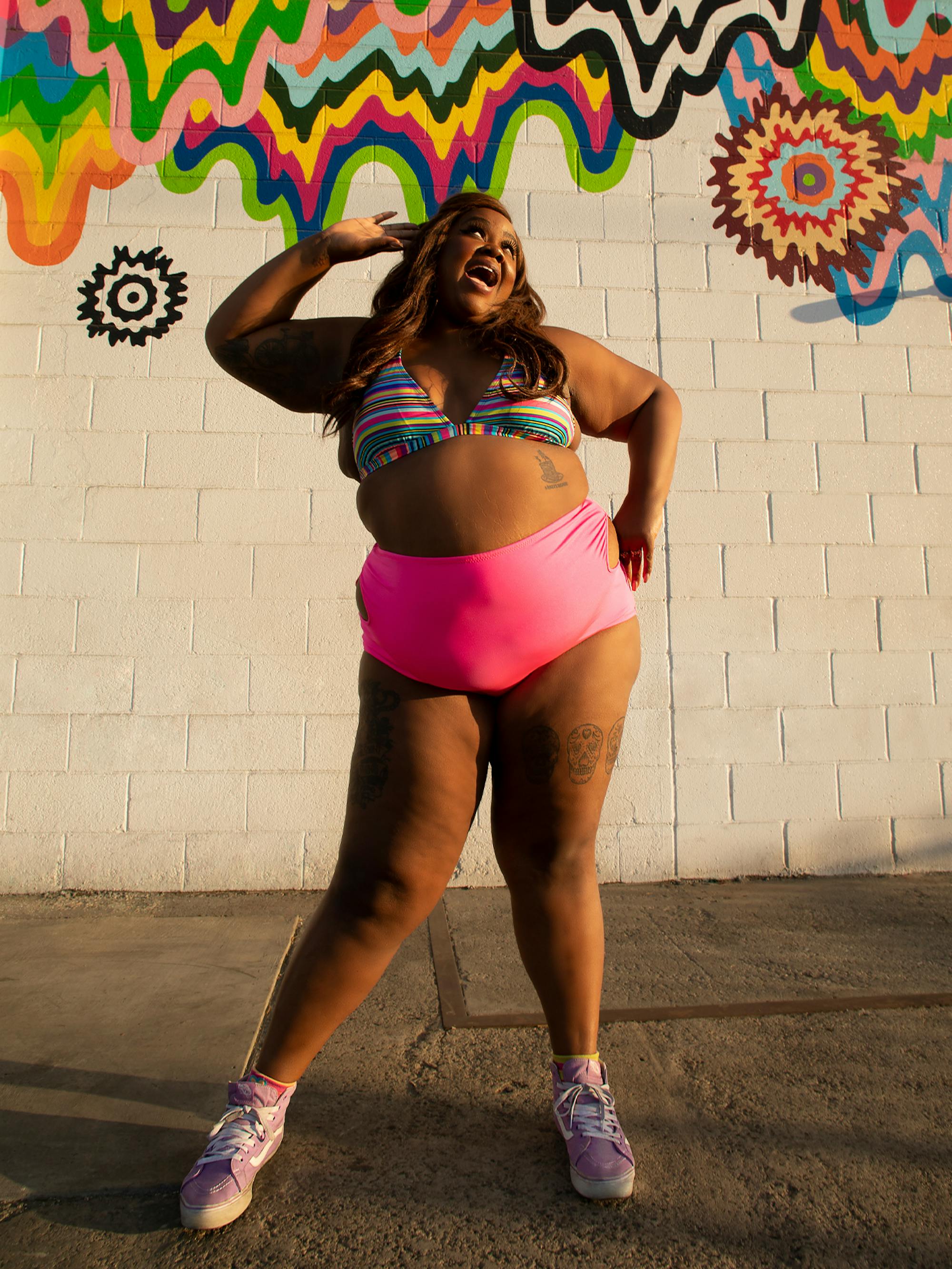 "I don't mind that people don't like me, especially when they go, 'I've watched all of Nailed It! and I find you annoying.'" she continues. "I'm like, 'Well, every stream counts, my friend. Thank you so much for watching. I'm so sorry you had to struggle through all the episodes, but you did it!'"
Positive, not petty, is the route she chooses. And it seems to be working for her. After all, she's an Emmy nominee. "I'm truly thinking about having it changed on my driver's license and making my full government name be 'Emmy nominee Nicole Byer,'" she laughs. "Imagine if I did that. That would be very funny."