Here are the five best looks from the Netflix shows that are dominating the Outstanding Period Costumes Emmy category.
The Emmys red carpet won't unfurl until September, but Netflix is already rocking a winning look: five for five nominations in the Outstanding Period Costumes category. The periods represented may span centuries and styles, but we don't envy those having to choose between the opulent 1800s formality of Bridgerton, the stylized 40s murderer's row outerwear in Ratched, the late 50s checkered motif of The Queen's Gambit, the statuesque silhouettes of 60s Halston, and the impossibly regal and iconic 80s wardrobe of The Crown. Luckily, we're not voting, just admiring. And, of course, fashion ogling. Here are our five favorite looks from the five nominated series:
BRIDGERTON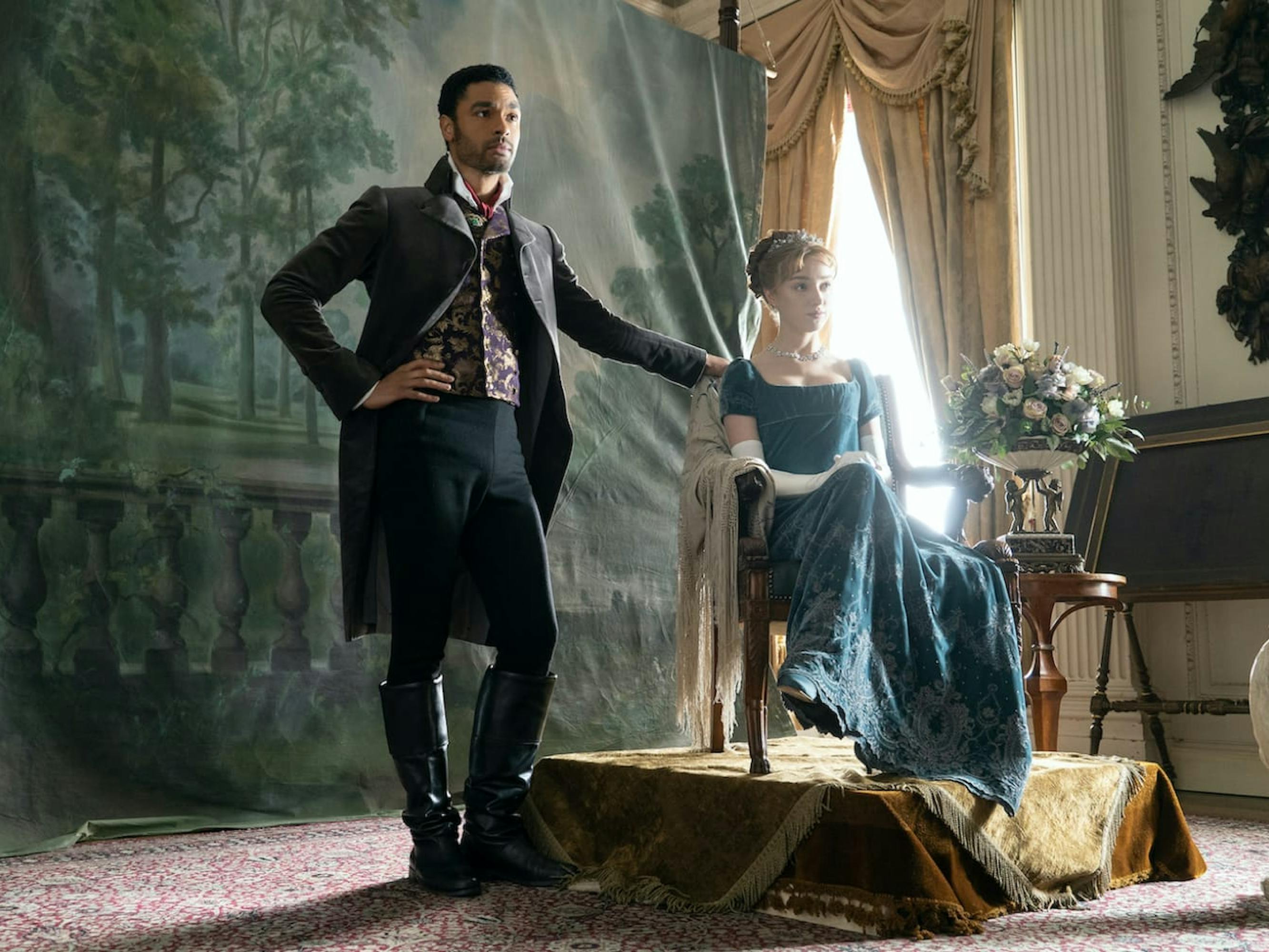 Yes, those cleavage-baring gowns are to die for, but let's not sleep on the knee-buckling sexiness of a well-tied cravat. Thanks to the designs of nominees Ellen Mirojnick, John W. Glaser III, Sanaz Missaghian, and Kenny Crouch, the Duke of Hastings (Regé-Jean Page) walks with the confidence of a man unafraid to wear a wine-and-gold brocade vest under a velvet jacket. The designers also incorporated his late mother's emerald brooch into nearly every outfit, in case any of us needed a reminder that there was a sensitive heart behind that rakish exterior. When Simon stands beside Daphne and tells the Queen he found his best friend, he should also have added that he found his best look.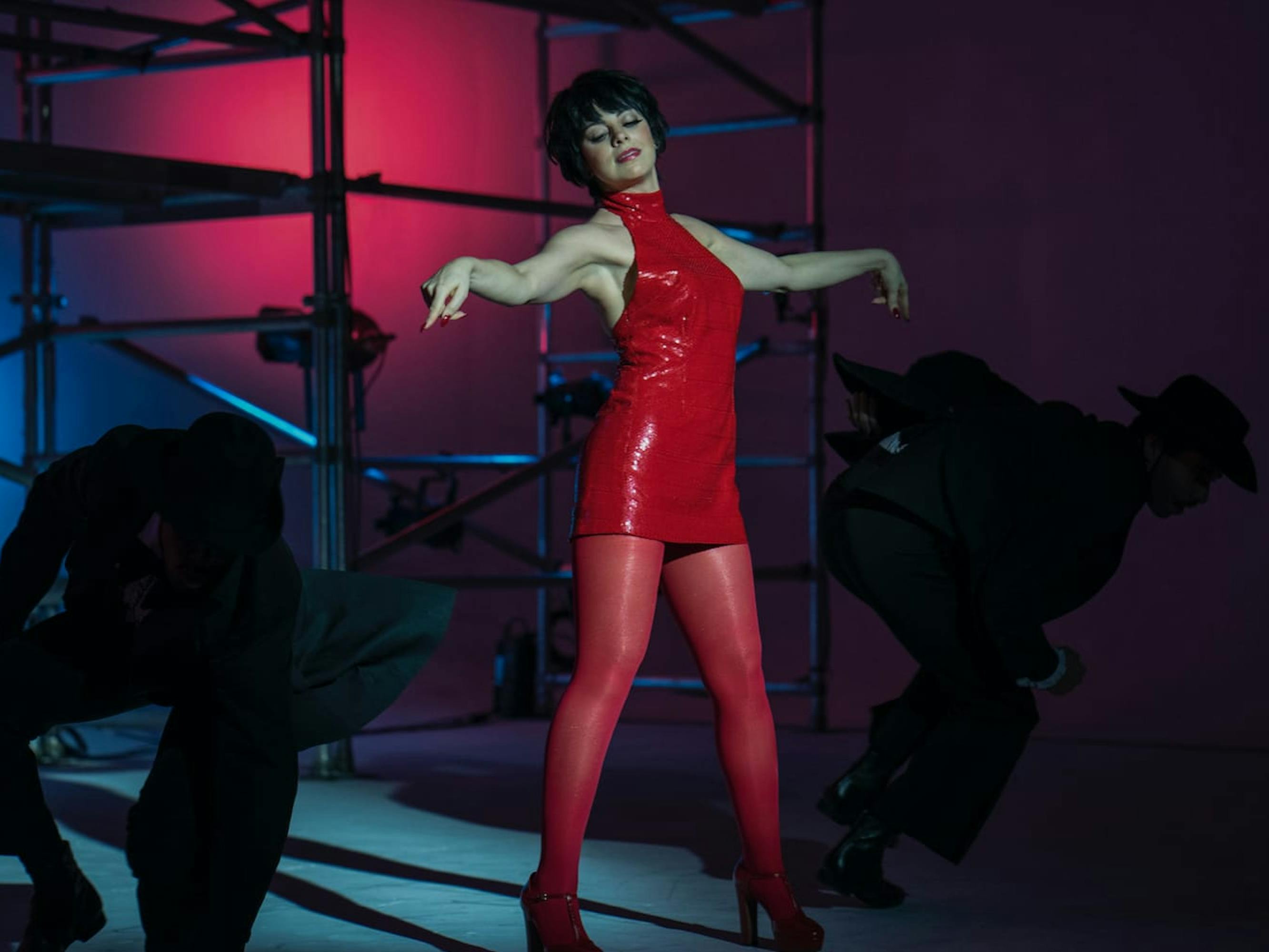 The first time Liza Minnelli (Krysta Rodriguez) appears onscreen in Halston, she's singing her signature "Liza with a Z" in an ill-fitting and less-than-chic outfit. Or, as Roy Halston (Ewan McGregor) tells her, "I was a little distracted by the Buster Brown getup." He goes on to snippily advise, "I think you need a new look." She sure does and he sure gives her one, from fashion show fabulousness to wedding suit statement. But the spotlight on their fashion partnership never shines brighter than when she's on stage. Her dazzling (and his uncredited) Cabaret costumes and iconic, red-sequined Liza with a Z mini, as reinvented by Jeriana San-Juan, Catherine Crabtree, Cailey Breneman, and Anne Newton-Harding, deserve a standing ovation.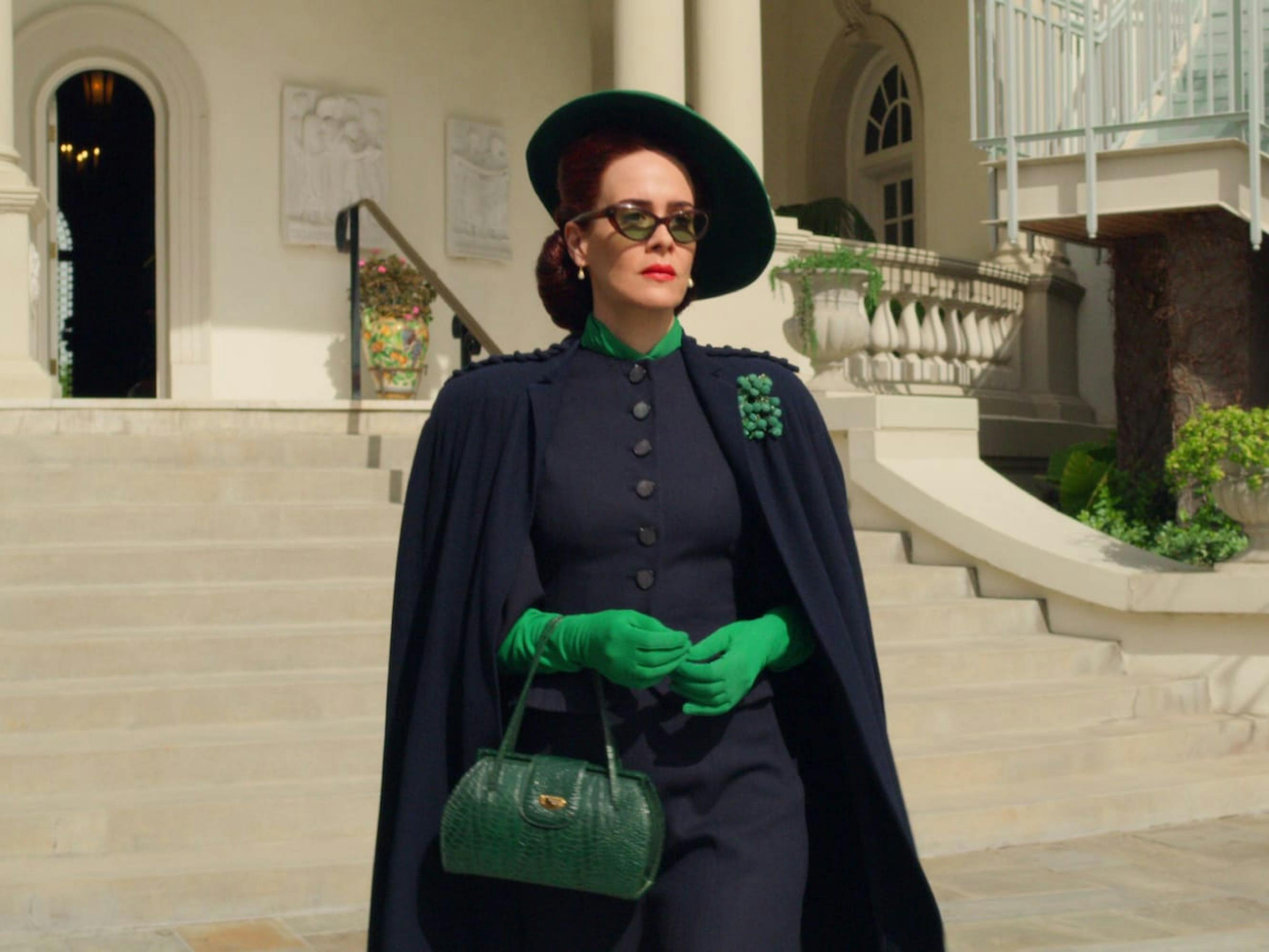 There's something so deliciously dark about how perfect Mildred Ratched (Sarah Paulson) always looks. Never a button out of place nor a hat unintentionally askew, as if the design nominees Lou Eyrich, Rebecca Guzzi, Allison Agler, and Betsy Glick wanted to tell us that this nurse's killer precision bleeds into all aspects of her life. Is there a more gasp-worthy moment than seeing Nurse Ratched walk onto screen in a navy, caped, emerald-gloved ensemble, finished with matching hat, brooch, and handbag? The look not only screams "controlled chaos" but also continues the green-hued thread that runs through the entire series, from the hospital uniforms to the teeny dress of Lenore Osgood's (Sharon Stone) monkey. Color us envious.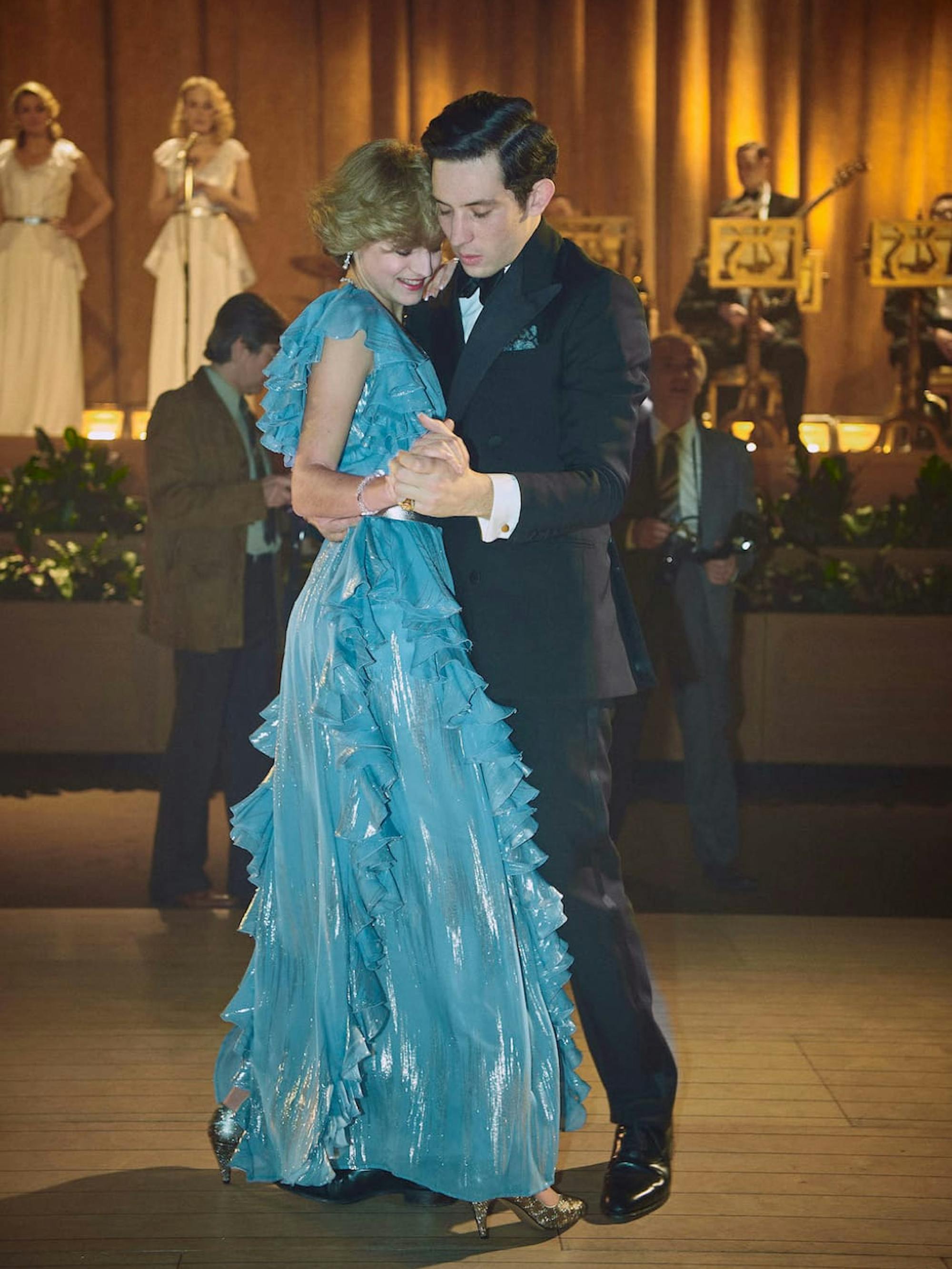 Prince Charles and Princess Diana's 1983 trip to Australia definitely had its rough patches, but not on the fashion front. From the light green polka dotted dress with oversized white collar donned in Diana's (Emma Corrin) picnic photo-op with Charles (Josh O'Connor) and baby William, to the princess's bold matching hat and dress in look-at-me-red worn to greet adoring Aussies, each outfit nods to (but doesn't carbon copy) the actual clothing worn. Nominees Amy Roberts, Sidonie Roberts, and Giles Gale outdid themselves with the glistening teal dress and metallic belt that Diana wore to a gala in Sydney. The band sings "Can't Take My Eyes Off of You" as Charles twirls Diana, and the ruffles almost appear to swoon. The warmth shared that evening may not have lasted, but our obsession with this dress has.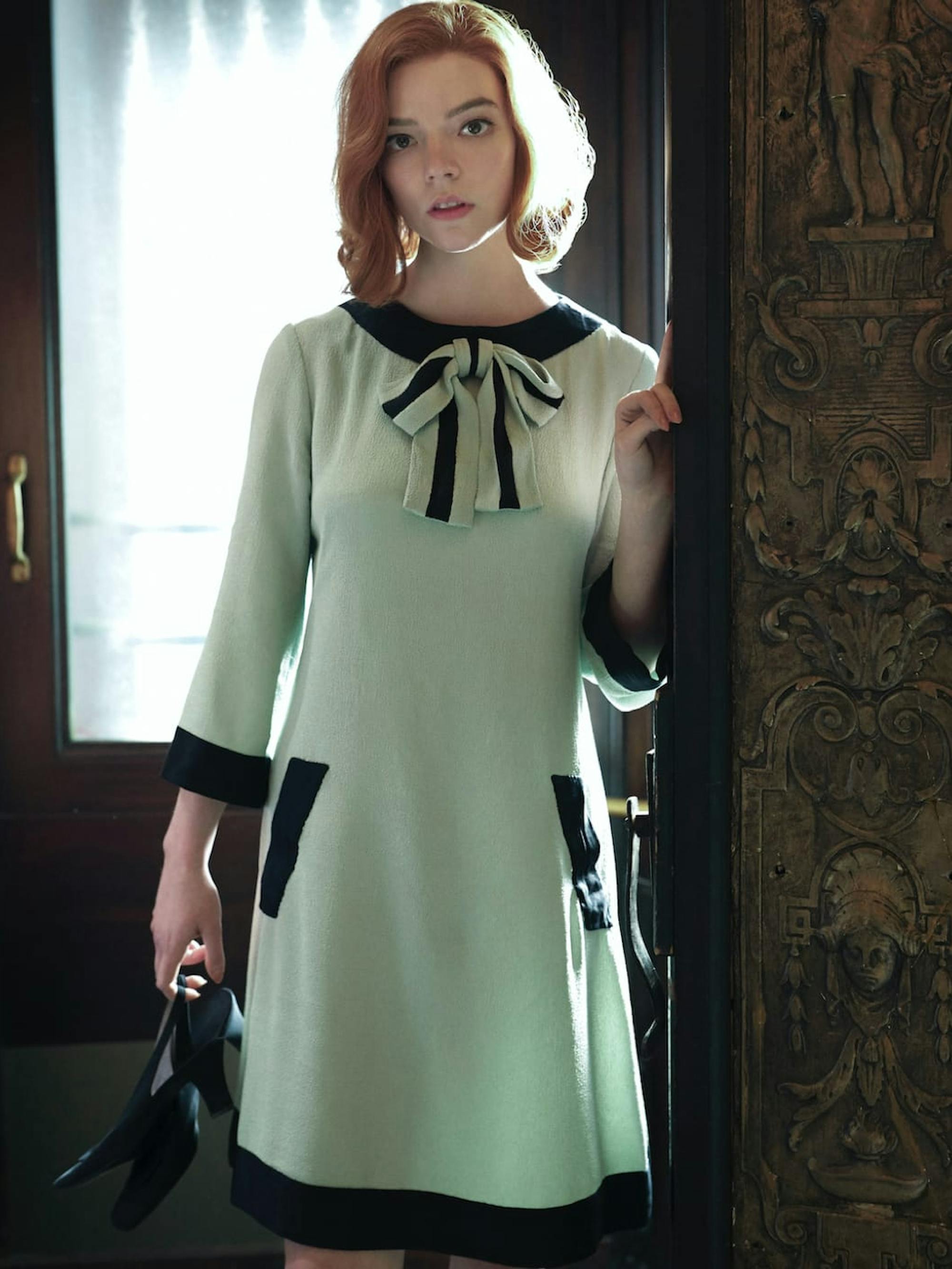 Sometimes the very first outfit you see a character in sets the tone for the entire series. Beth Harmon (Anya Taylor-Joy) is first introduced to the audience popping pills and stumbling around a luxurious Parisian hotel room before we flash back to her formative years. She's wearing a pale mint shift dress, inspired by a classic Pierre Cardin design. As a viewer you don't yet realize that designers Gabriele Binder, Gina Krauss, Katrin Hoffmann, Nanrose Buchmann, and Sparka Lee Hall plotted out the black stripes on the bow and pockets as a nod to the symmetry of a chess board, a winning move they make with all of Beth's looks. Much has been written about the final episode's black-and-white look, but as Beth would remind you, you also need a strong opening.