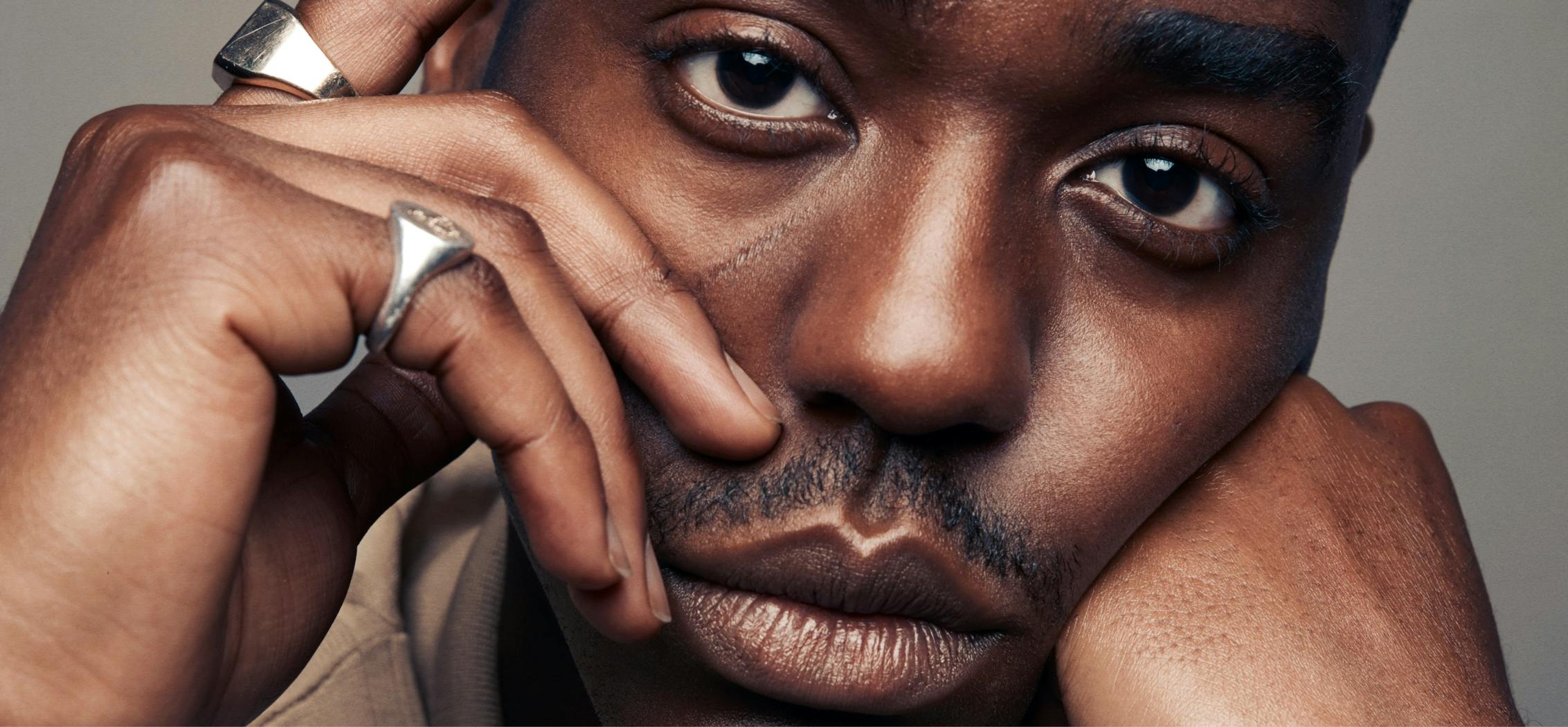 Sex Education's Ncuti Gatwa is blazing a trail, and he's not looking back.
If ever a show needed an actor to portray the teenage id, it's Sex Education, and breakout star Ncuti Gatwa happily fills those (high-heeled) shoes in the role of Eric Effiong. Eric wrestles with urges and emotions that a character twice his age couldn't master. He's a necessary counterbalance in Laurie Nunn's highly acclaimed romp of a comedy, which follows Otis Milburn (Asa Butterfield) as he navigates adolescence in the shadow of his sex-therapist mother (Gillian Anderson). As the show's most outspoken and outrageous teen, Eric is also Otis's most trusted friend.
Moordale Secondary probably isn't anything like your high school, and that's exactly the point. "Sex Education is a slightly heightened universe (just think of scenes like 'It's My Vagina'), and that's the power in it," says Gatwa, referring to a scene in the first season where, one by one, female students stand up at a school assembly and take credit for a particular photo that has gone viral.
Chatting with the 27-year-old Gatwa, his similarity to Eric is almost uncanny."
Eric and I are both quite loud and love to laugh," Gatwa says from the sunny bedroom of his new London flat during a recent Zoom interview. "Like Eric, I grew up in an African household, and my parents are also religious. In my scenes, I ad-libbed a lot of Africanisms. I loved that I was able to draw on my African heritage, because I haven't been able to do that for every role I've done."
There I was in my heels and head-to-toe africanness and queerness.
When asked to name the moment when he felt the deepest and most spiritual connection to his character, Gatwa takes a deep breath, presses his fingers together, and recalls the scene in Season 1 where Eric turns up at prom wearing an African head wrap.
"There I was in my heels and head-to-toe Africanness and queerness," he says. "That's when I knew this role was going to be really special and very important. To be an actor standing on set — on a platform like Netflix — and to be so unashamedly African, was a moment I will never forget."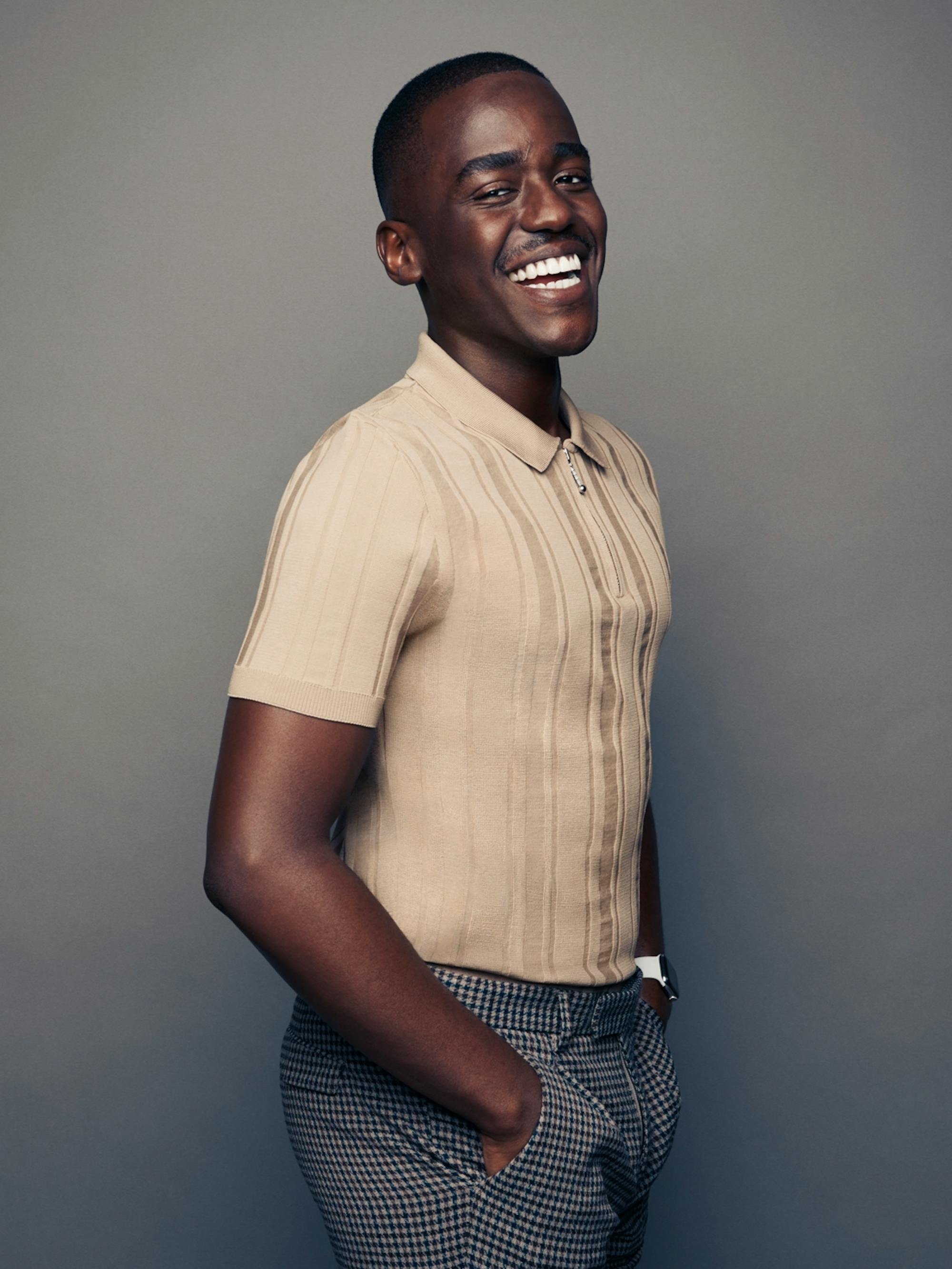 Wearing makeup and heels added to the effect.
"The first time I tried on heels, I walked differently," he says. "Those heels gave me strength and a very huge appreciation for the drag community and for drag as an art form."
Gatwa credits Sex Education's creative team for developing a character with depth, breadth, and an "interesting arc" in terms of his own self-discovery."
I was also drawn to the fact that Eric has a lot of love to give," says Gatwa. "A lot of the time wherever we see black or gay characters, we're accustomed to seeing them suffer and not push through to the other side. But Eric always has a sense of optimism."
Ultimately, it was Gatwa's classical training at the Royal Conservatoire of Scotland that best prepared him to embody Eric and to bring a level of "theatrics" to the role. "We studied all sorts of Russian plays, Shakespeare — and, in my final year, we tackled Oscar Wilde and *Tartuffe,*" he says. "I've worked a lot in classical and physical theater, and I've always been drawn to roles that are slightly elevated and stylized; that's my strength."
Trust yourself and trust your journey.
Gatwa nabbed a series of stage roles in London, including a run as Demetrius in the 2016 production of A Midsummer Night's Dream at Shakespeare's Globe. After that, his path wasn't entirely assured. The year before he was cast as Eric, he hit a "bad spell."
"I couldn't book anything for four months," he says. "I ran out of money and had to move in with my friend. I even thought I might need to take a break from acting. But then, thankfully, Sex Education came along."
The role has meant so much more than a steady paycheck. Hearing from fans who are inspired by Eric, a character Gatwa calls a "minority within a minority," matters most to the actor at this moment in time.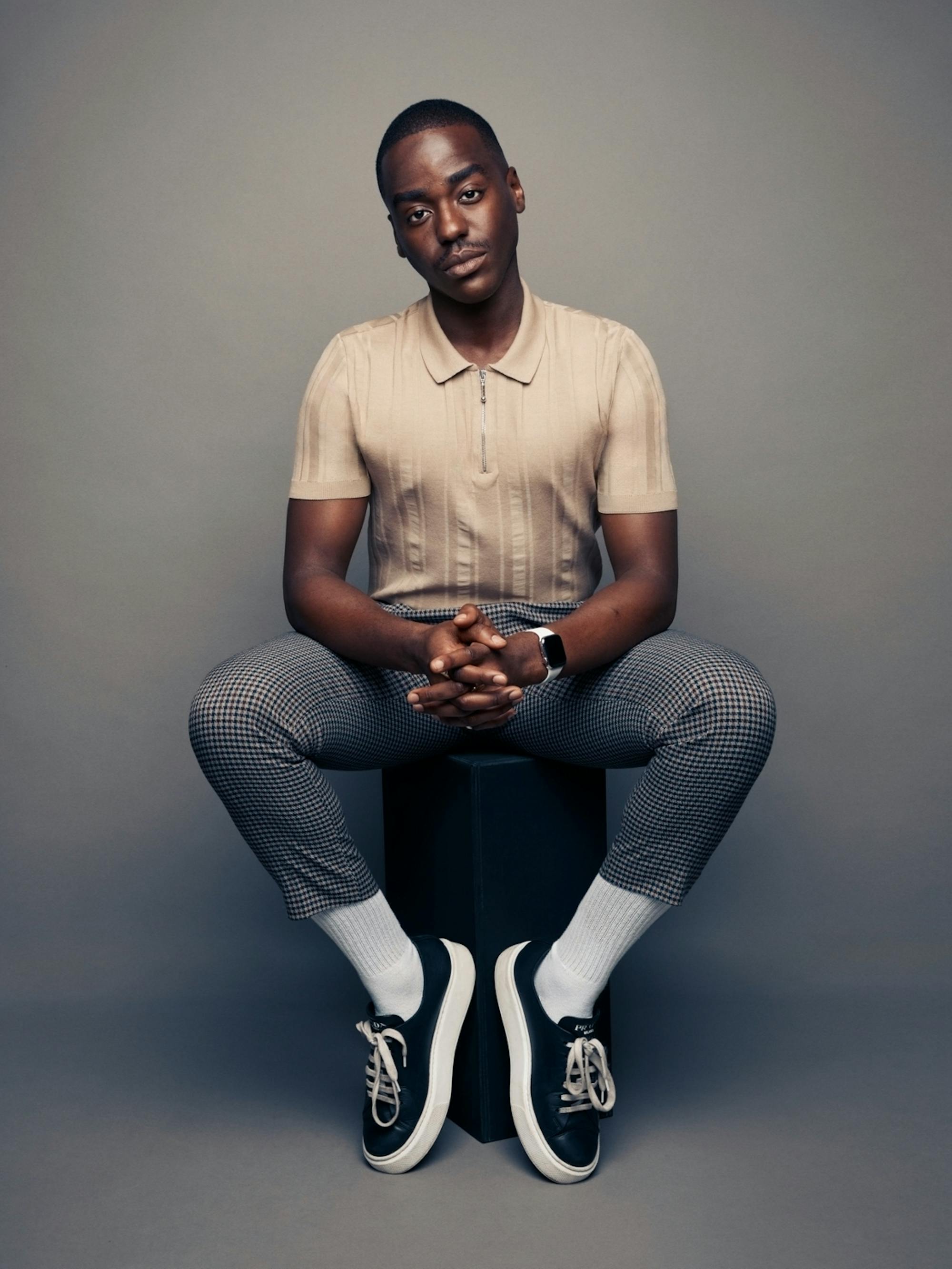 "It's great for younger generations to be able to see characters they identify with on the screen," he says. "It's important that we don't use huge, broad brushstrokes in the art we make nowadays. Sex Education shows that we can effectively feature a wide representation of people, and it can still be funny and be a hit series."
As for Season 3, Gatwa hopes Eric will continue to grow, learn about himself, and examine his relationship choices — whether those involve Adam (Connor Swindells), the (reformed) school bully, or Rahim (Sami Outalbali), the French heartthrob.
"Where we've left Eric is that he's had this relationship with a really cute, amazing guy from France who tried to sweep him off his feet, but he also has this chemistry with Adam," he says. "I think it's going to be so interesting to see how Eric evolves. After all, he's got such a strong sense of self-worth — but those people don't always make the best decisions."
And how does that sync up with Gatwa's own personal goals? "Face your front: That's my mantra. Face what's ahead of you and just know your path. In this world, we do a lot of measuring our worth by comparing ourselves to others. If you are concentrating on looking at everyone else, you might get lost trying to figure out who you are. Trust yourself and trust your journey. What you're doing is O.K."