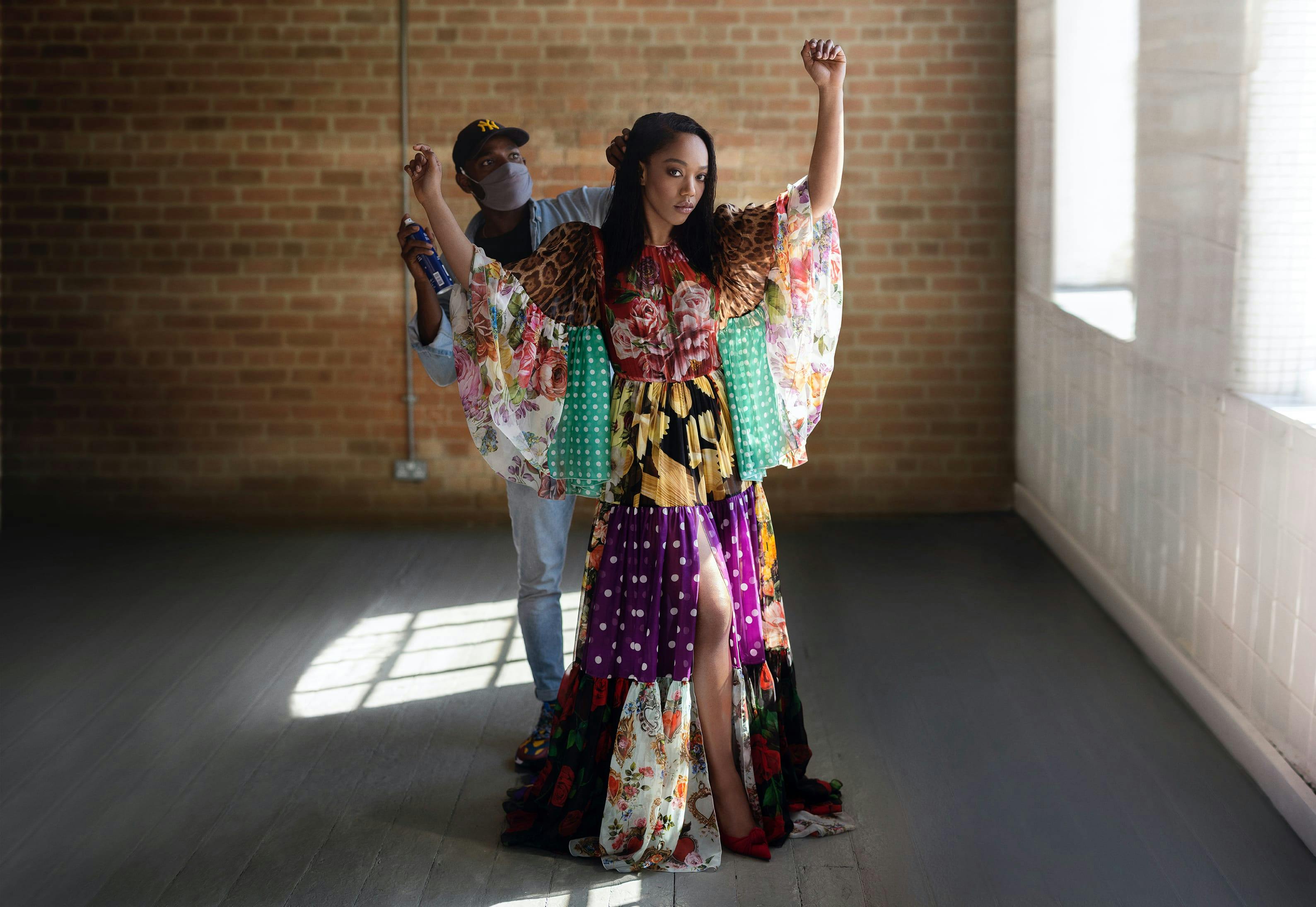 Naomi Ackie joins the cast of Master of None for a season like no other.
Naomi Ackie has always craved creative freedom. Even at 11 years old when she auditioned to play the Angel Gabriel for the school nativity play, she put her own little spin on things.
Ackie knew she and her friends needed to stand out, so she wrote a rap and came up with some choreography to incorporate into their audition. They landed the roles — collectively, they were "God's Angels," like Charlie's Angels, but for Christ — and Ackie vividly recalls the audience's reaction to her first performance. "They mic'ed me up like Britney Spears, and I felt so cool in front of all these kids," she tells me, through laughter, from her London flat. "Before that, I didn't consider acting as a thing for me. After I got my first applause, I was like, I'm going to keep doing this!"
Some 17 years later, Ackie has earned a Best Supporting Actress BAFTA for The End of the F***ing World, played a groundbreaking role in Star Wars: The Rise of Skywalker, been featured on countless "Actors to Watch" lists, and is about to take on the part of Whitney Houston in Stella Meghie's I Wanna Dance with Somebody. Her latest role, in the newest season of Master of None, proves she's just getting started.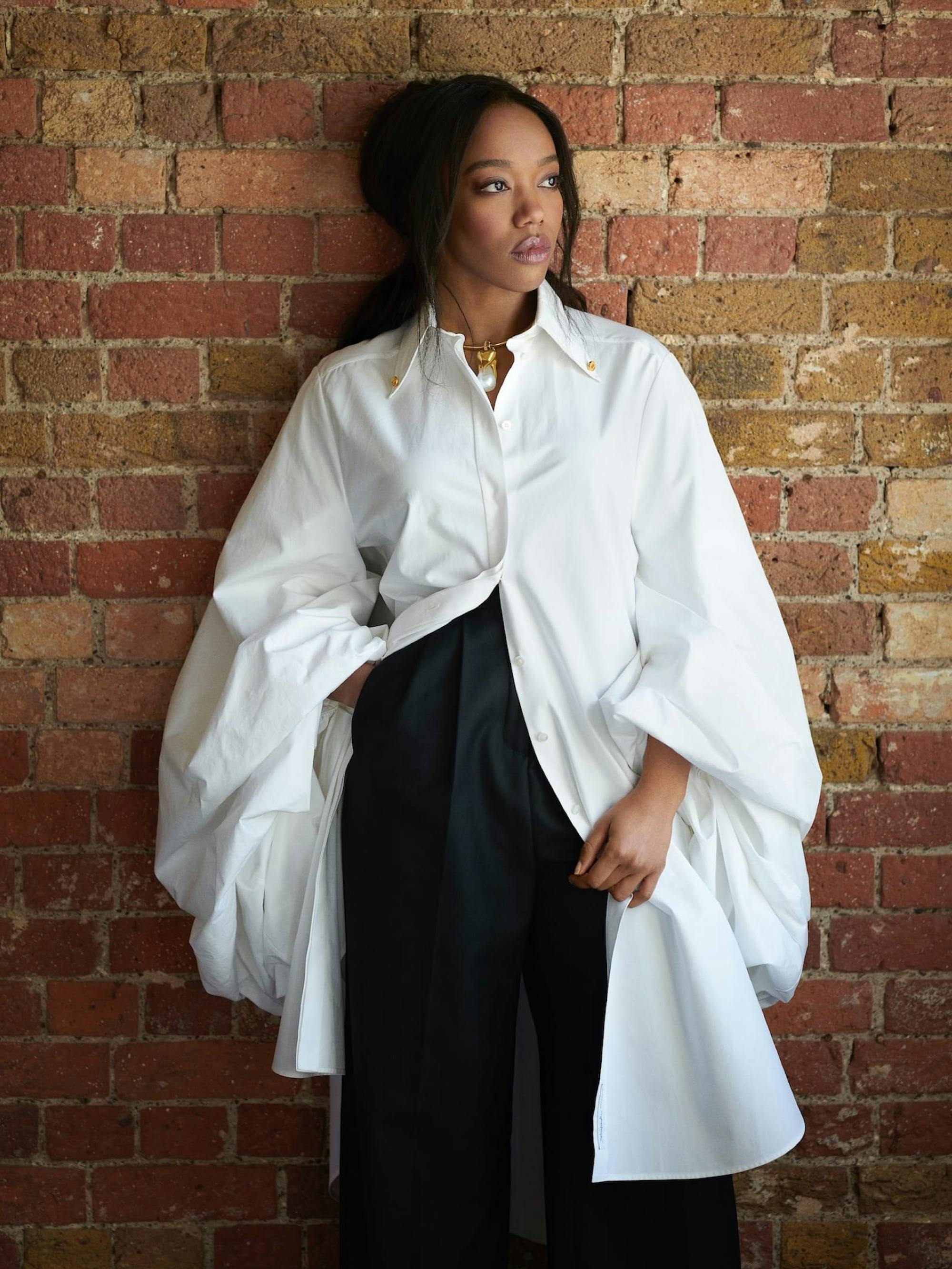 Created by Aziz Ansari and Alan Yang, Master of None in its first two seasons followed Dev Shah (Ansari), a 30-something actor navigating life in New York City. Season 2's "Thanksgiving" episode took viewers back in time to the moment when Dev's best friend Denise, played by Lena Waithe, came out as "Lebanese" (she wasn't quite ready for "lesbian"). It became an instant classic, landing Ansari and Waithe the 2017 Emmy for Outstanding Writing for a Comedy Series.
It's the "Thanksgiving" episode that represents a true north for the show's return. Season 3's five-episode arc, subtitled Moments in Love, is directed by Ansari and co-written with Waithe. It upends much of what came before, extending Denise's Black queer narrative into what is basically a stand-alone project. Ackie — a longtime Master of None fan — joins the cast as Denise's partner, Alicia."
Aziz has been so good at transforming the show from one season to the next. There was a level of ownership over this season because it was just so different," Ackie reflects. "It was like we were creating something completely new."
Originally written throughout 2019, the show was supposed to film in April 2020. Then the pandemic brought everything to a halt. After about six months, production resumed. And while the script did not change, Ackie thinks audiences may be primed to respond differently than they were pre-pandemic. Set in Upstate New York, Moments in Love is ultimately a vehicle for tough conversations about relationships and the lengths to which some women and queer people must go to have children. The deterioration of Alicia and Denise's relationship mirrors some of the frustrations that many couples have experienced in lockdown.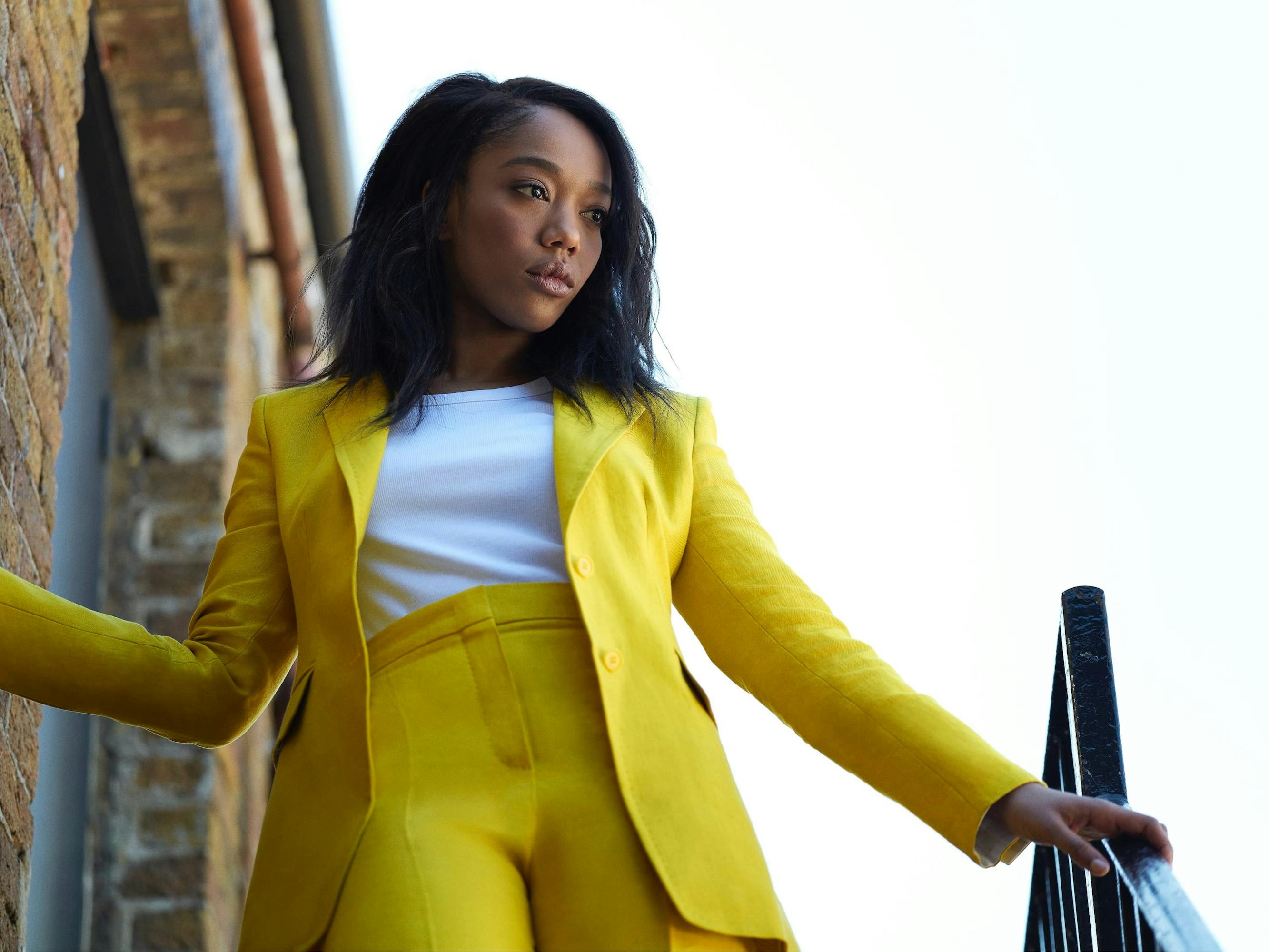 "I think what this season does so well is really highlight that a lot of the issues that we have with self-worth and not necessarily getting what we want out of life are universal truths," Ackie says. "There is something quite interesting about being triggered by another person and not being able to run to your usual sources of support. The only person you might be able to seek solace from is the same person that is triggering you. That's some hard stuff."
As an ally of the L.G.B.T.Q.+ community, Ackie is aware that this season might mean more to Black queer people. After all, we still struggle to see Black L.G.B.T.Q.+ folks and our love reflected on screens large and small. When it came to approaching Alicia's story, Ackie explains that she "had to really listen and lean on Lena to guide me through. It was important to do this real justice and come from a place of truth."
The biggest goal for me is creative autonomy.
Alicia struggles to conceive a child over the course of the season, and her relationship is strained as she and Denise negotiate their individual wants and needs. "It's demoralizing when you think about the way invisible structures are there to stop us from living our best lives," Ackie says. "It's maddening." There is a moment in the first episode in which Ackie channels encompassing grief with a silence that is more striking than the most violent outburst. The season is permeated by these quiet moments of tension and release; they reverberate in the stark rural setting.
"Acting is so much, for me, about instinct, and being in alignment, and waiting for that inspiration to drop into your middle eye," Ackie shares when I ask her about filming those difficult scenes. "I look back on some of those emotions, some of those days, and I was just not in a good place. I was like, Let me use these liquid tears to just do this scene real quick."
The actor is intentional with her words as she notes the internal "juggling" she does as a Black woman artist. She recognizes a responsibility in her work and is interested in making more space for other people's stories. "That's what it's really about," she says. "We can't keep having the same cis-het stories. We can't keep having the same white stories."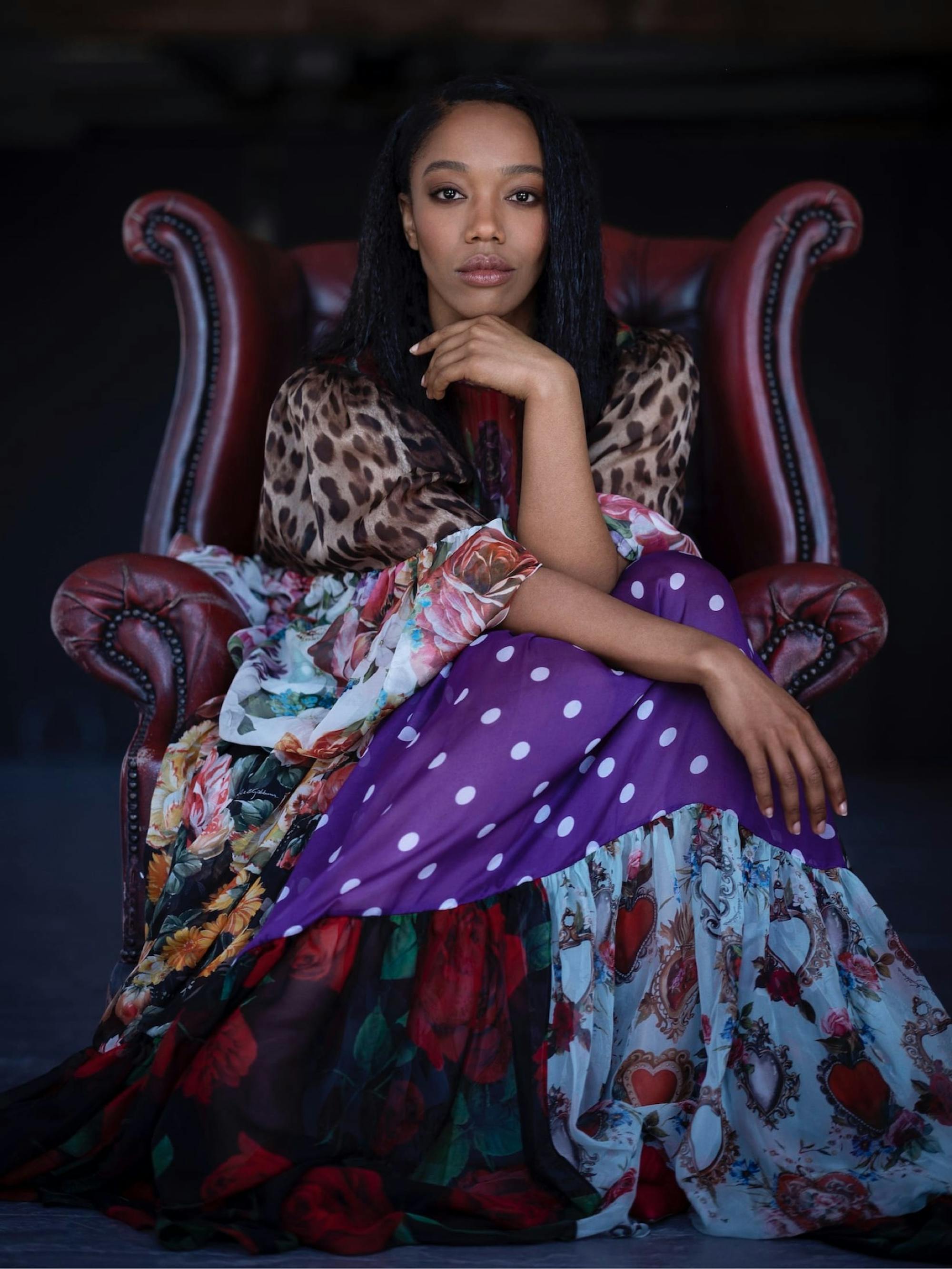 When I propose to Ackie that she is part of a visionary generation of young Black creatives — among them Zendaya, whom Ackie fangirled over at the start of our conversation, and John Boyega, her Star Wars co-star — she admits she's never really pictured herself in that group. "As a community of Black folk, especially with this generation, when I think of us, we are no longer in that survival instinct. We're starting to get to the point where we're like, O.K., it's not what I need, it's what I want," she says. "That is amazing, to get to a point as a Black person to be like, What do I want to build?"
In some ways it all goes back to that artistic independence she wielded for the school play. "The biggest goal for me is creative autonomy," she says. "What comes out of that now is being able to create more work for more people: producing, writing, basically being like Lena and Aziz. That's now my intention: creating space for people to be able to be their own storytellers."