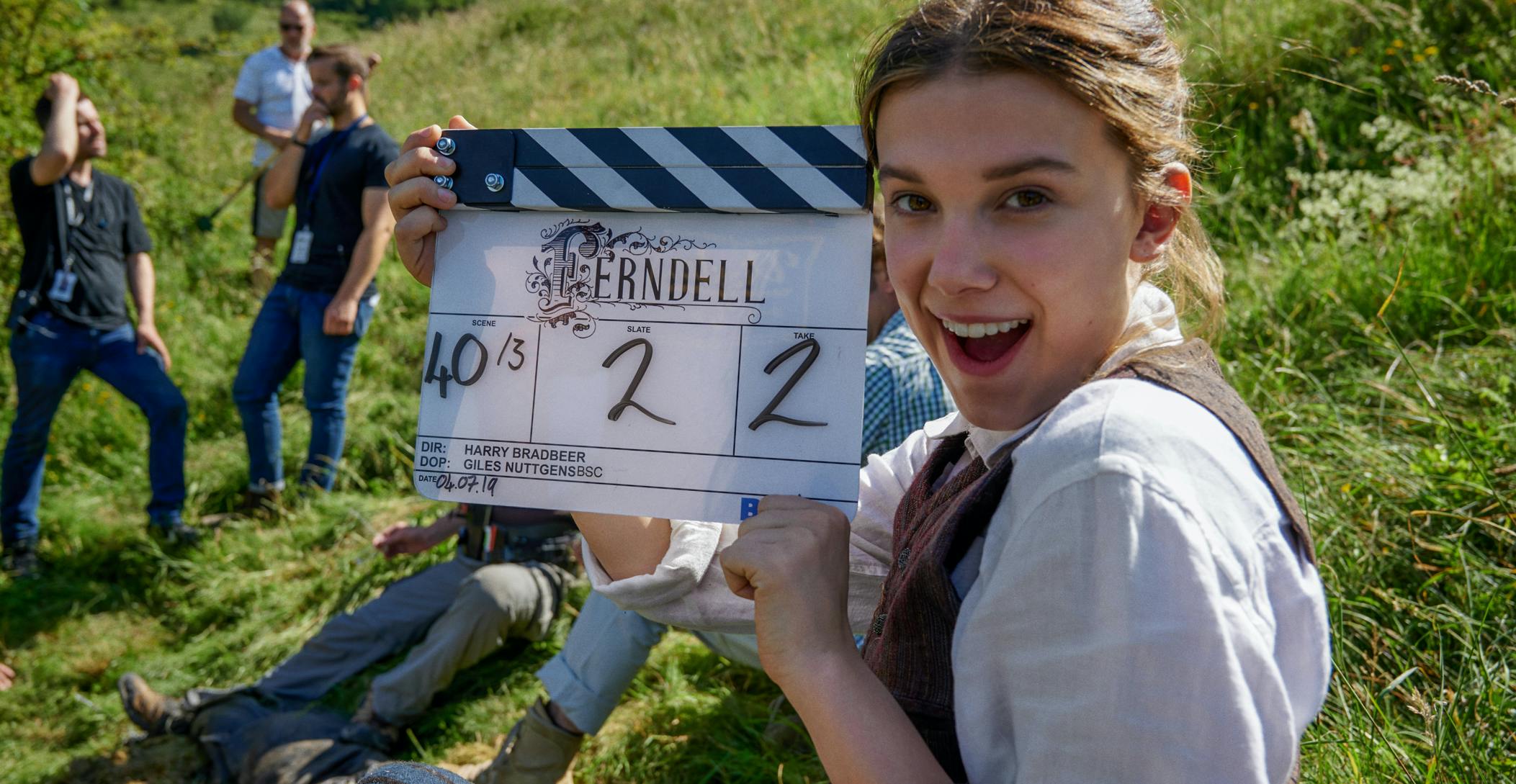 Millie Bobby Brown is a step ahead as producer and star of Enola Holmes.
In the rollicking Enola Holmes, Millie Bobby Brown stars as an intrepid 19th-century heroine — Sherlock Holmes's younger sister — who flips the script on gender roles and embarks on an adventure all her own. The actress herself forged a new path on the project, playing an integral role in bringing this spirited adaptation of Nancy Springer's best-selling novels to the screen. Enola Holmes is Brown's first endeavor as a producer, and she collaborated with Hollywood veteran Mary Parent, who previously worked with the Stranger Things lead on Godzilla: King of the Monsters.
In a preface to Queue's conversation with Brown, the Oscar-nominated Parent reflects on her remarkable experience producing Enola Holmes alongside the young star.
The hallmark of being a truly great producer is being the finder of compelling material. Millie Bobby Brown and her sister Paige discovered the Enola Holmes book series on their own and did everything they could to bring this dynamic heroine to the screen. Without Millie, there simply wouldn't be a film.
One of the things I most respect about Millie is that she doesn't take her talent or her success for granted. She's gotten to where she is by combining her strong natural talent with sheer commitment and an unparalleled work ethic. She has a real point of view and knows how to successfully engage others. She is as kind and authentic as she is uniquely talented and wickedly smart.
When it came to producing her first feature, Millie proved an incredibly quick study. One day on set we were up against a ticking clock — as is so often the case — and we needed to make some difficult budgetary decisions. At the right moment, I pulled her aside and asked her to discuss options with me, not from the vantage point of a movie star, but as a producer. The matter at hand was whether to trim part of the chase sequence that takes place on a train. Originally, we saw Enola racing through the dining car, and although it was a fun moment that Millie had been excited to shoot, she immediately recognized that cutting that beat would have the least overall impact on story and character. The chase could be just as entertaining without it.
When it comes to Millie, there are a lot of things to be impressed by, but the fact that she's continually developing herself as a human being and as an artist makes me believe there is absolutely no limit to what she can and will do.
Krista Smith spoke to Millie Bobby Brown about what it was like to produce and star in Enola Holmes for her podcast Present Company.
Krista Smith: Enola Holmes — not only is it entertaining, but it also has so much to say about societal change and the role of women. What drew you to Nancy Springer's stories?
Millie Bobby Brown: Nancy Springer is an actual genius. Enola Holmes: I wanted to be her. I never stopped talking about her. I was always saying, "Dad, we've got to do it"; to my older sister, "We have to do it." We have our own production company, PCMA Productions, and we wanted to find a good studio to help us make this film, to find a writer to adapt Nancy's incredible books. We wanted to keep this story alive so everybody can enjoy [Enola] as much as we enjoyed reading her. I was inspired by her bravery and her being unapologetically herself. I felt very much like I was Enola.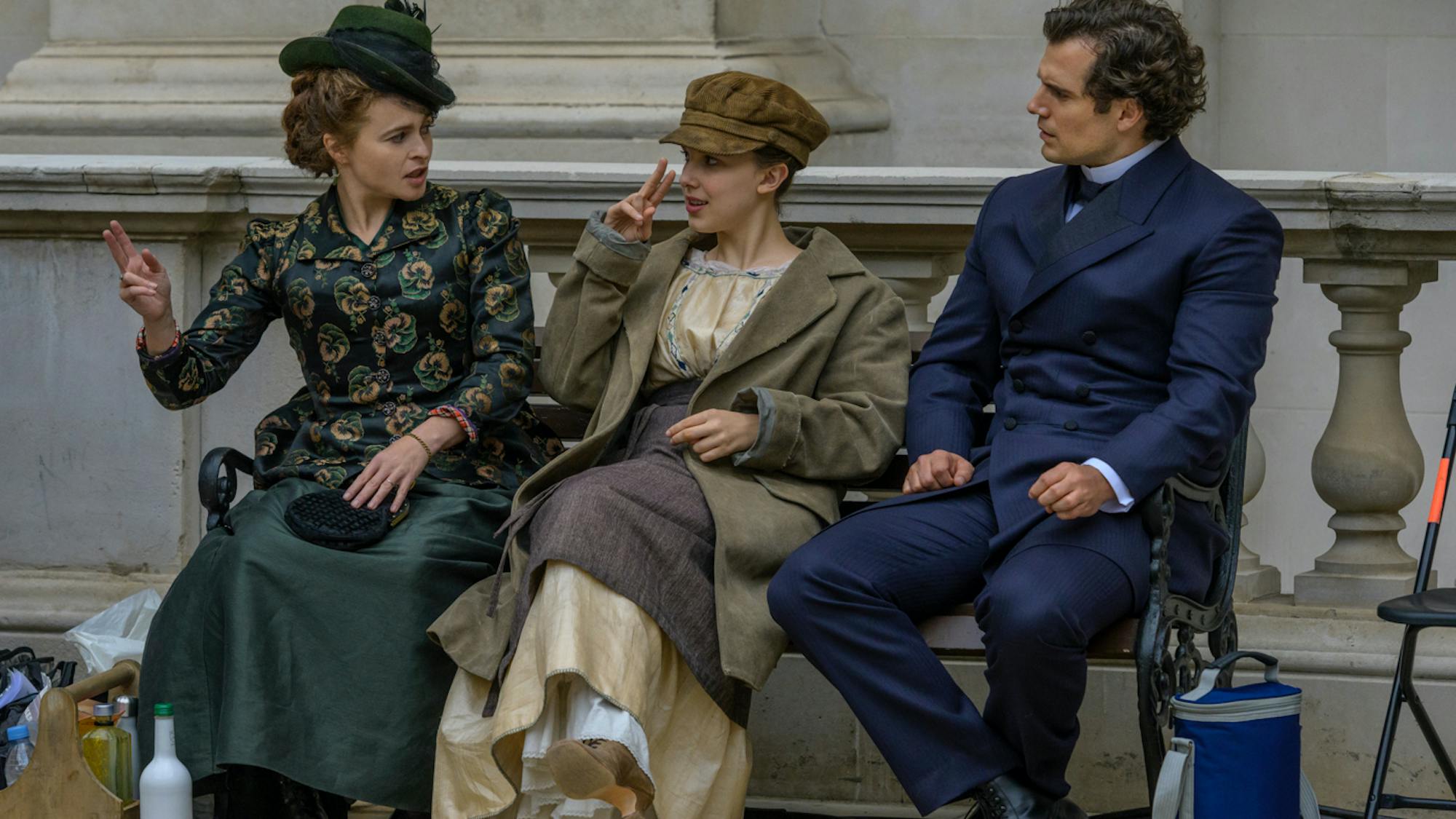 She's such a strong female character, but at the same time, throughout the course of the film she stops to take care of a vulnerable boy. It's such a role reversal from what we're used to seeing in cinema.
MBB: It is a role reversal that's needed. I love that. I love seeing the more feminine side of a young teenage boy and definitely more of a masculine side to Enola. She wants to be this strong person, and she doesn't want to label anything. She's very carefree about everything.
She doesn't really understand society. She's giving boys dresses so that she can dress up as a boy and they can dress up as a girl. She doesn't really understand that there are traditional ways of doing things; she wants to break that, and so do I. As Millie, I want to break those [traditions] because I think that they're barriers to evolution and change. I don't understand why we have to keep following them when we should all evolve.
I mean, the costumes tell their own story. You're doing incredibly complex fight scenes in a corset. Some of the greatest action is when you are most constricted.
MBB: I had four layers on every day. I've never worked like that. I'm so used to other characters where I'm in very loose-fitting clothes. This was very restricted, like the society back then. Naturally, it's always a little more difficult just because you're so used to wearing your gym clothes and now you're wearing a corset and a petticoat and heels. You can't really do a good roundhouse kick in those.
I went through lots of preparation with my stunt coordinator. I love throwing myself into characters, quite literally. I was very excited to get going. I love difficult stuff. If it was too easy, I'd be like, "Let's make it harder, let's do something bigger and better." That's the way I envisioned this film: Everything felt exaggerated, dramatic, and cinematic. And that's kind of the way these fight scenes worked.
This is your first full-fledged lead in a feature, and you're also a producer on this film.
MBB: Yes. This film felt very right for me because I love Enola, I love the story, and I knew I wanted to put my two cents in. I got to do that every day with being a producer. I was part of the writing process; I helped cast. I was definitely there in the background hearing everything and doing FaceTime calls.
I couldn't have done it without my amazing family supporting me and my amazing sister Paige. She produced it too. We worked really closely together and just [added] a little spice to Enola.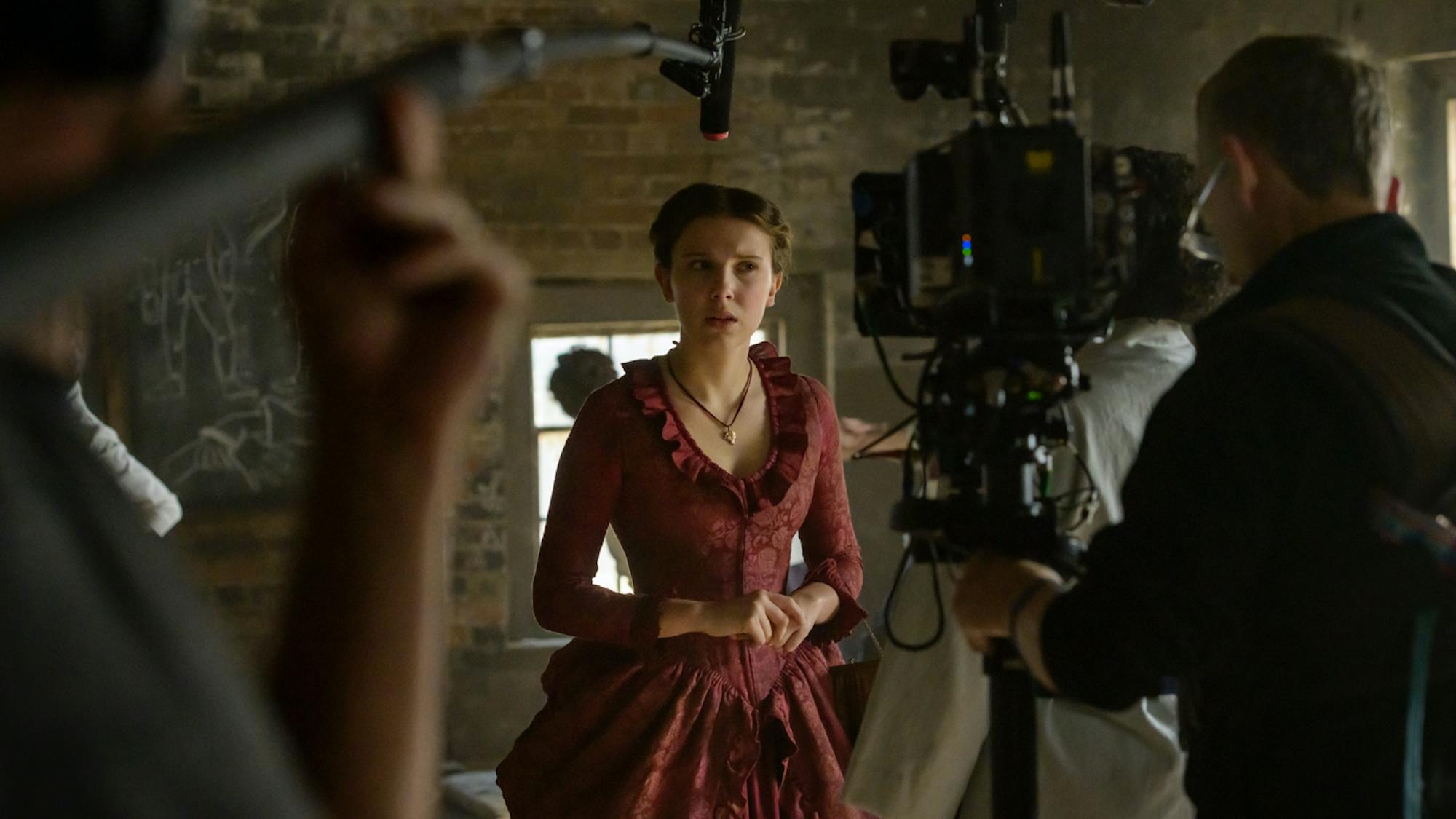 There are very strong female producers associated with this film. What did you absorb from watching them on set?
MBB: Every single project, I take away something very, very different. On this set, I took away that just because I'm a young girl doesn't mean that I can't be listened to. I felt so important and appreciated on Enola. Not that I haven't on any other set — but this, because it's so women-empowered, I was really inspired.
Let's talk about Helena Bonham Carter, who plays your mom. Your chemistry together is fantastic.
MBB: We got along the moment we saw each other. We would laugh and laugh and laugh all day long, and they would just capture it. To be honest with you, improv has never been something that I've particularly enjoyed, nor am I good at it. Helena made me feel very comfortable. I felt very at ease and felt like I could really open up and explore. That is something else I took away from the film: Now I really like exploring improv.
Helena, she's a legend, really, isn't she? I loved working with her. She's got a real heart for people. I hope everyone gets to meet her one day, because she really does bring something else to a room.
What is your favorite part of the day when you're going to set for a project, whether it's Stranger Things or a big feature film like this?
MBB: I love it when I am validated. I love it when the director says, "That was the one. Good job, that was it." I also like it when he says, "Hey, that was really not good, try again." I enjoy those moments. And like any person that works, I enjoy leaving and going home and sleeping sometimes.
Hair and makeup specifically for this film was always so fun because whoever was in the chair next to me — could've been Henry Cavill, Sam Claflin, Louis Partridge, or Helena Bonham Carter — each person was very different. Henry was always very stoic in his chair, looking straight directly into the mirror. Louis Partridge and I are very much similar, so we'd listen to rap music, and we would talk about all things social media and TikTok. Sam Claflin — I was hysterically laughing at every single thing that falls out of that man's mouth.
Is there one favorite thing that you always love to do when you're not working?
MBB: Well, it depends. On this film, I was always really excited because if I had two weeks off it meant that I was in London. My family live in London, so I was always either visiting cousins, visiting aunts and uncles, or my amazing grandmother. When I am working, I really don't get to be at home very often, and I have an eight-year-old sister that's growing up. Every day, I would come home from work and she'd say something new and very different, and I'd be like, I've missed a whole 24 hours, and you've learned a whole new word, and that's terrifying.
I'm very lucky that I get to come home and spend time with my family and have homemade dinners and watch TV and be a normal kid. At the end of the day, I work like an adult, but I'm very much a child in so many ways. It's a fine balance.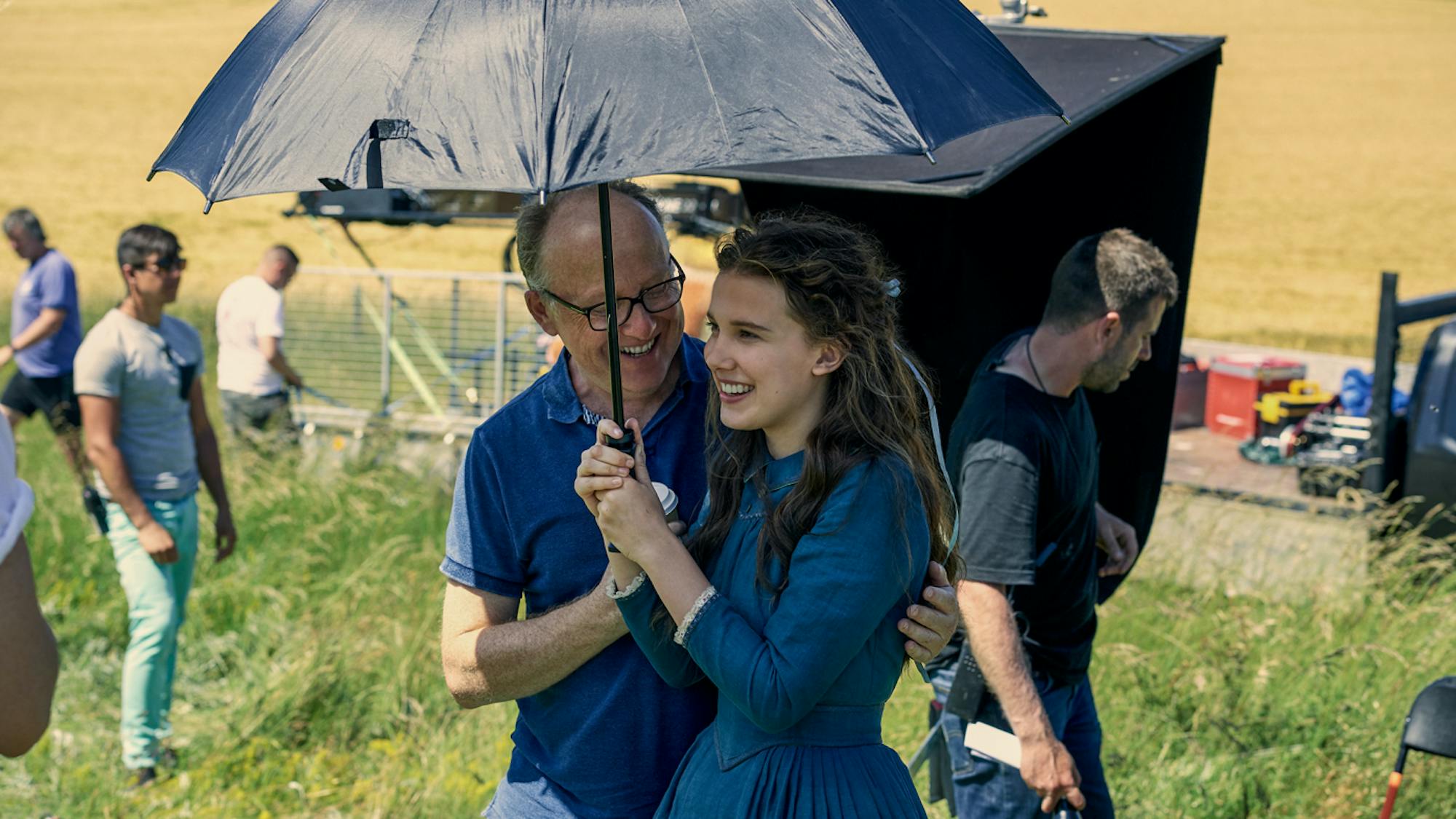 It feels like you were shot out of a cannon in the summer of 2016, when Stranger Things landed. Overnight, it was such a sensation and people were obsessed with your character, Eleven. It's wild to think that was only four years ago.
MBB: When I was eight years old, I went to every audition. I went for every film you could possibly ever imagine. I was about to do a film, and then the other girl would get it. I was about to do this TV show, and the other girl would get it. Pilot season was my favorite season because that meant that I could audition, audition, audition and then get rejected, rejected, rejected. And I had moved to London because I was like, I'm done with this. This is so difficult. This is horrible, and I've never heard the word "no" more in my whole life. Then Stranger Things came along, and it obviously changed my life forever, and I'm so grateful.
My family and I have worked very hard at getting me to this amazing point. It's been four years since my whole life changed. Walking down the street is a little bit more difficult than usual, but other than that, I've always wanted to be in this industry and entertain people and make people laugh and make people feel empowered. This is what this film is all about. It's a coming-of-age story, kind of like my story.