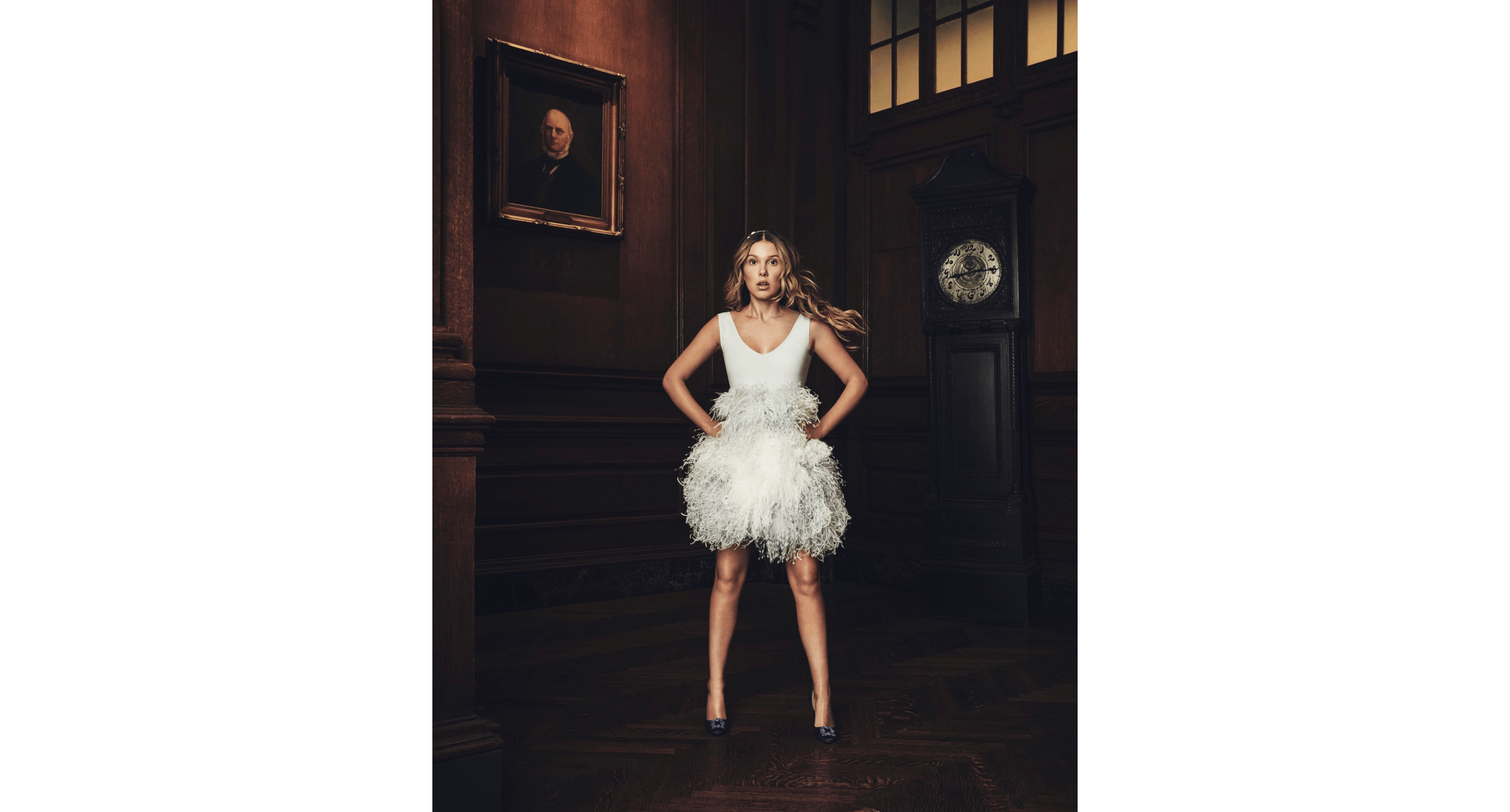 It's been one year since the release of Stranger Things Season 3. Queue caught up with Millie Bobby Brown to talk about how the show has turned her young life upside down, the pressures of being a role model, and the shape of things to come.
Jane "Eleven" Hopper did some serious growing up over the course of a sweltering summer in Hawkins, Indiana. She discovered the thrill of young love with her best-friend-turned-boyfriend, Mike Wheeler (Finn Wolfhard). She hit the mall for some quality time with a new gal pal, Max (Sadie Sink). She rebelled against her short-tempered but loving adoptive dad, Jim Hopper (David Harbour). And she used her expanding psychic powers to fight the interdimensional boogeyman known as the Mind Flayer. You know, normal teenage girl stuff. 
Season 3 of Netflix's Stranger Things brought quite a few changes to Hawkins, and plenty has been happening for Emmy Award-nominated actress Millie Bobby Brown, too. When Stranger Things premiered in the summer of 2016, the show quickly became a full-blown pop-culture phenomenon, captivating viewers with its premise about supernatural happenings in a 1980s Midwestern town. Brown skyrocketed to superstardom as Eleven, a mysterious girl raised in a secret laboratory and armed with strange powers. She had little in the way of dialogue: Eleven was nearly mute. That didn't stop her from making an electrifying impression.
With her shaved head and her slight frame, Brown could appear small and vulnerable. Harnessing her remarkable inner powers, however, she transformed into a completely intimidating creature — one capable of slaying any dragon (or Demogorgon). At age 13, she became one of the youngest people ever to be nominated for a supporting actress Emmy.
Now, three years later, she's embarked on a film career. She has a starring role in Godzilla: King of the Monsters, and in the upcoming Netflix film Enola Holmes — about Sherlock Holmes's younger sister — which Brown also produced (the latter is scheduled for release in September). All this while continuing to develop the commanding character that jump-started her career. You know, normal teenage girl stuff.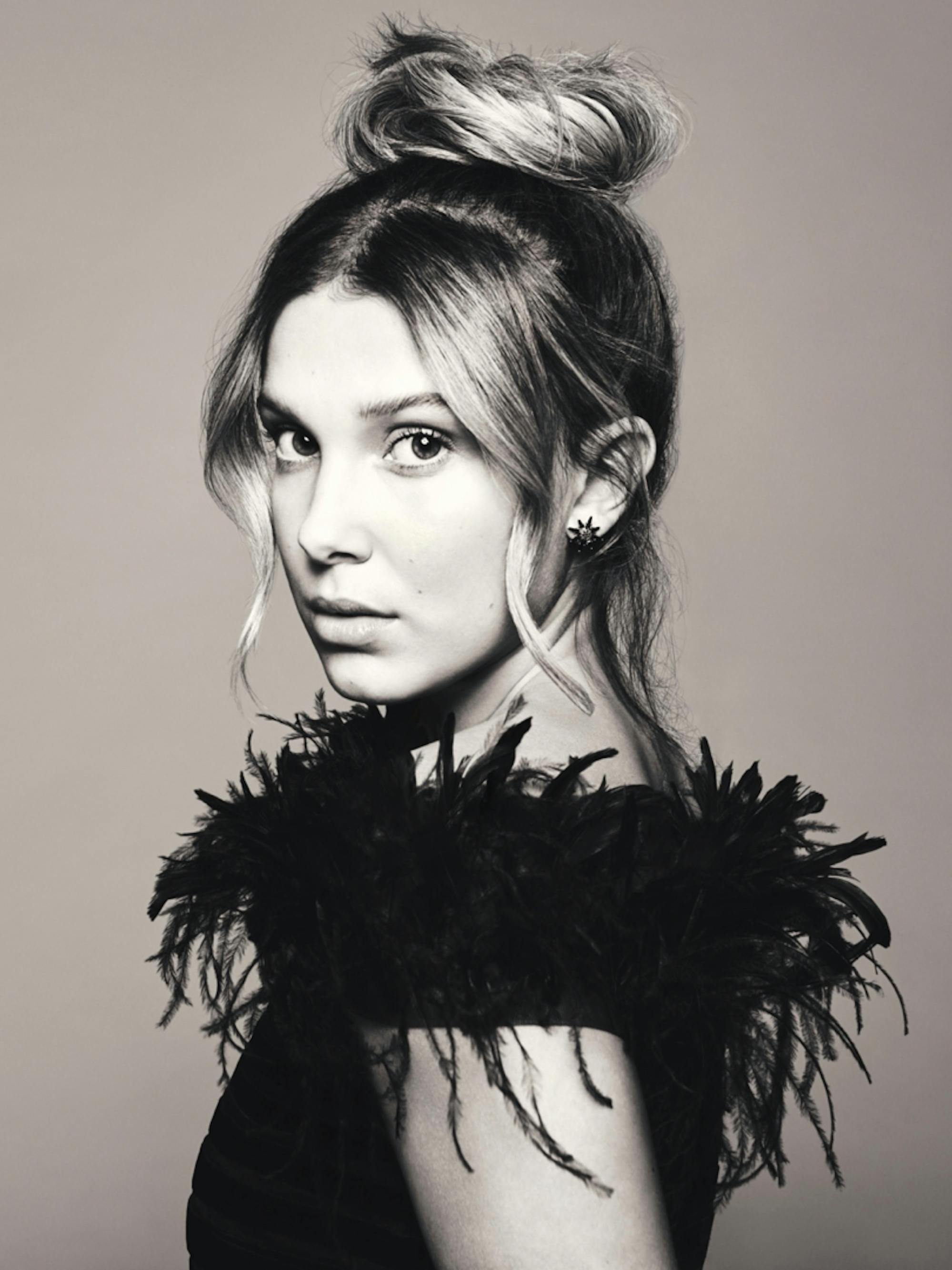 Netflix: Stranger Things Season 3 marks Eleven's emergence into the world in many ways. She's hanging out, dating — much to Hopper's chagrin. Was this season more challenging than previous years?
Millie Bobby Brown: I always found it very easy to not speak, and just to speak with my face. And then in Season 3, when Eleven started to speak, that was way more challenging for me versus just the exertion of screaming — of the blood, the sweat, the tears, constantly, every day. It was way more challenging for me to channel some emotions that I've never channeled before, regarding love and boyfriends and things like that. It couldn't have come at a better time. I find it quite raw and relatable to my real life. I'm going through all that right now as a teenager. Having to do that onscreen isn't probably the easiest thing in the world. But I channel my awkwardness; I channel my vulnerability from my real life to the screen.
What we bring onscreen is really what it is.
Millie Bobby Brown,
on working with David Harbour
What is it like to work with Finn now that Eleven and Mike are officially dating?
MBB: It can be a little awkward sometimes, just because he's one of my best friends. I've known him since I was 10. But I would prefer to do it with him than with someone I didn't know. We know how to work together really well, and he has respect for girls, for me. 
Eleven and Max became besties this year. Was it nice to have the chance to bond with another girl onscreen?
MBB: So with Sadie, I already have an existing friendship with her. She came in on set, and we immediately bonded. When we jumped into Season 3 and we read all the scripts, Sadie and I immediately knew we could base [Eleven and Max's relationship] off our bond already and our friendship already. So filming that was kind of filming our day-to-day lives: going out shopping, making each other laugh, having sleepovers. It was actually very fun just to do that with your best friend, you know?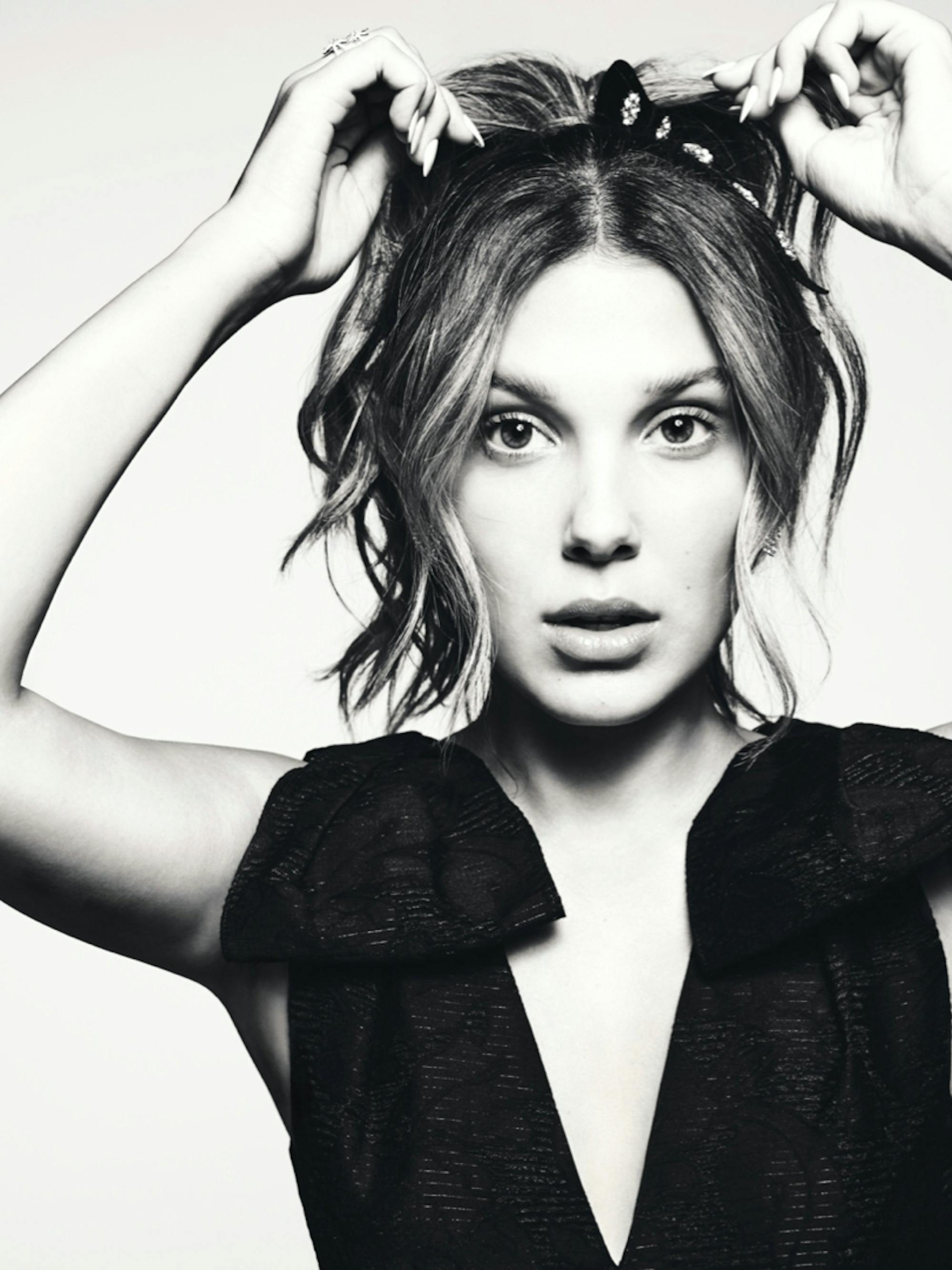 Is it fair to say that Hopper remains the foundational figure in Eleven's life? And how has your working relationship with David Harbour evolved since the series began?
MBB: Harbour's and my relationship isn't the same as, say, Finn's and mine or Sadie's and mine. It's way more complex. He's such a well-rounded and successful actor. Coming into something like this was intimidating. He's this guy who's been in the industry for all of his life, basically, and here we are going head-to-head screaming at each other and channeling these emotions that I've never had to channel before. He had difficulties doing it, and so did I. And we had to then come together and do it and bring it. So there was a certain amount of pressure, as well, to do that. Harbour and I, we do genuinely have, like, a father-daughter relationship. He's kind of funny, but he's also kind of embarrassing. What we bring onscreen is really what it is. We make each other laugh. We have a great love and respect for each other, and we respect each other's personal space. I love working with Harbour. There's some days where we get on the set, and we don't want to talk to each other — just so we can let it all [live out] onscreen.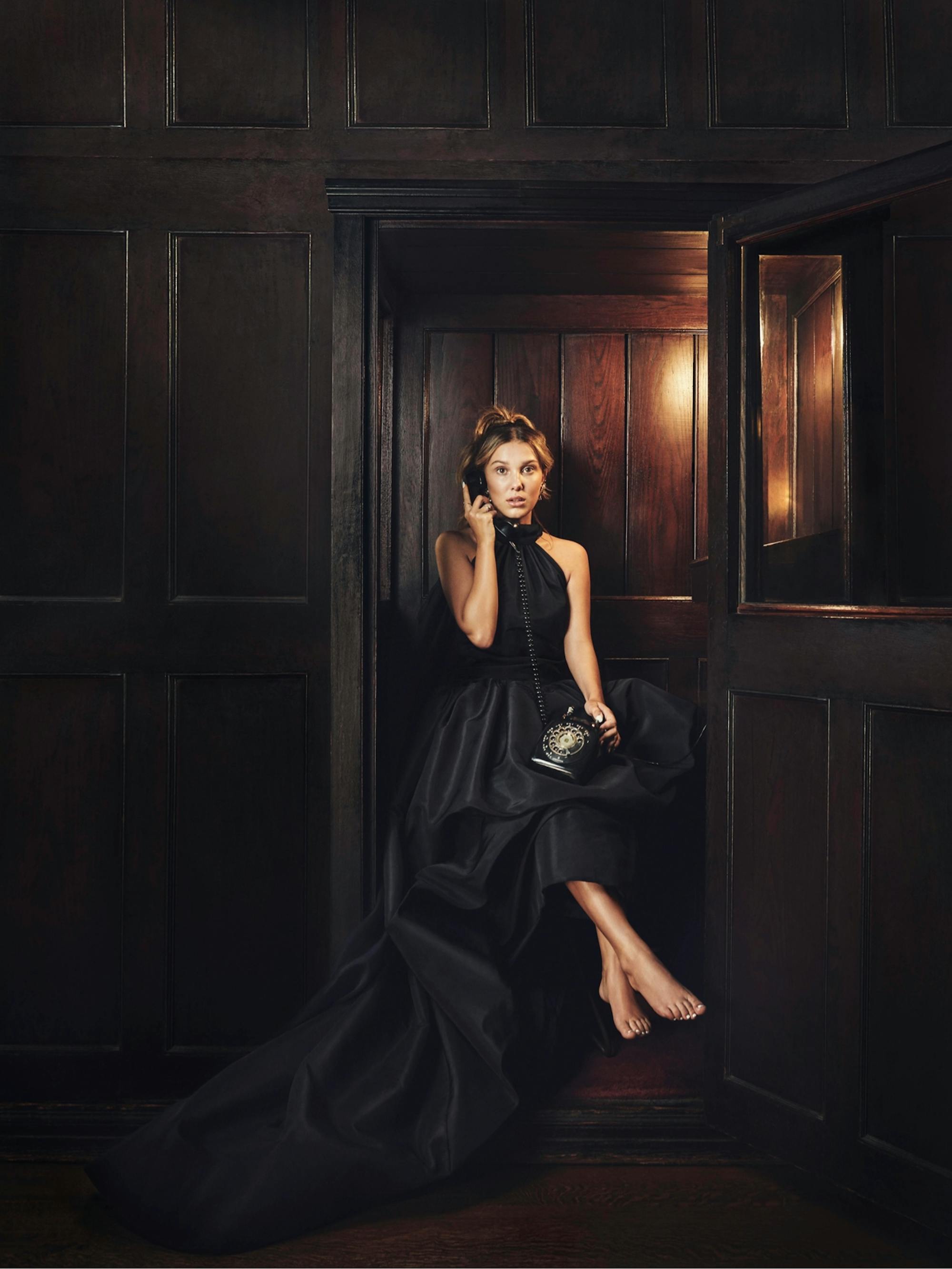 The scene in the season finale where Eleven reads the letter that Hopper has left behind for her — where she believes that he's died — is so emotional. What was it like to shoot?
MBB: I didn't want to read the letter [ahead of time]. I wanted to read it on the day. I then asked for a speaker to be on set to hear [the recording of] his actual voice, because David's voice is very distinctive, and just the way he says things, it brings a lot of emotion to me. So I didn't read it. Then when I came on set, they played the letter. We just rolled camera and let my reaction flow. I know the take we chose wasn't the first, because my nose was red initially. As the takes went on, I started to get more into it and way more emotional. I just like to base everything off of instinct. 
You've already received two Emmy nominations for playing Eleven. What has that recognition meant to you?
MBB: I was so young. I was 13 when I got my first nomination, and 14 when I got my second. At first, I was obviously very shocked. It's not something that you expect at 13 years old. I just had to understand what it actually meant. I know that sounds silly, but you just don't understand what it means, what you have to do. . . . It's a lot that goes behind it. I was very shocked and obviously extremely grateful. That recognition meant a lot to me.
I'm just so excited to keep creating.
Both as Eleven and in your life offscreen, you've become a role model for young women and girls. How conscious are you of the responsibility that comes along with that?
MBB: I think, for me, I want to make sure that people actually resonate with me as a person, and with my character. When I was a little younger — maybe six or seven — I was watching Hannah Montana, and all I wanted to be was Hannah Montana. I wanted to be Selena Gomez, and I wanted to be Demi Lovato. That is who I wanted to be, their influence was so strong on me. I was excited if they had a new album coming out. Then when they had their downfalls, I was there, and I was going through it with them. It felt like their influence on me was a lot stronger than I thought. And that is how I have to think about my fans and these young girls that potentially look up to me. I want my every move to inspire them and [I want them] to remember that I'm a normal girl. I'm going through everything you're going through. It's a little bit of pressure. I don't want to make mistakes. I need to make sure what I'm doing is responsible and appropriate for my age. But at the end of the day, I'm me, and I'm just being me and hoping that young people can embrace it.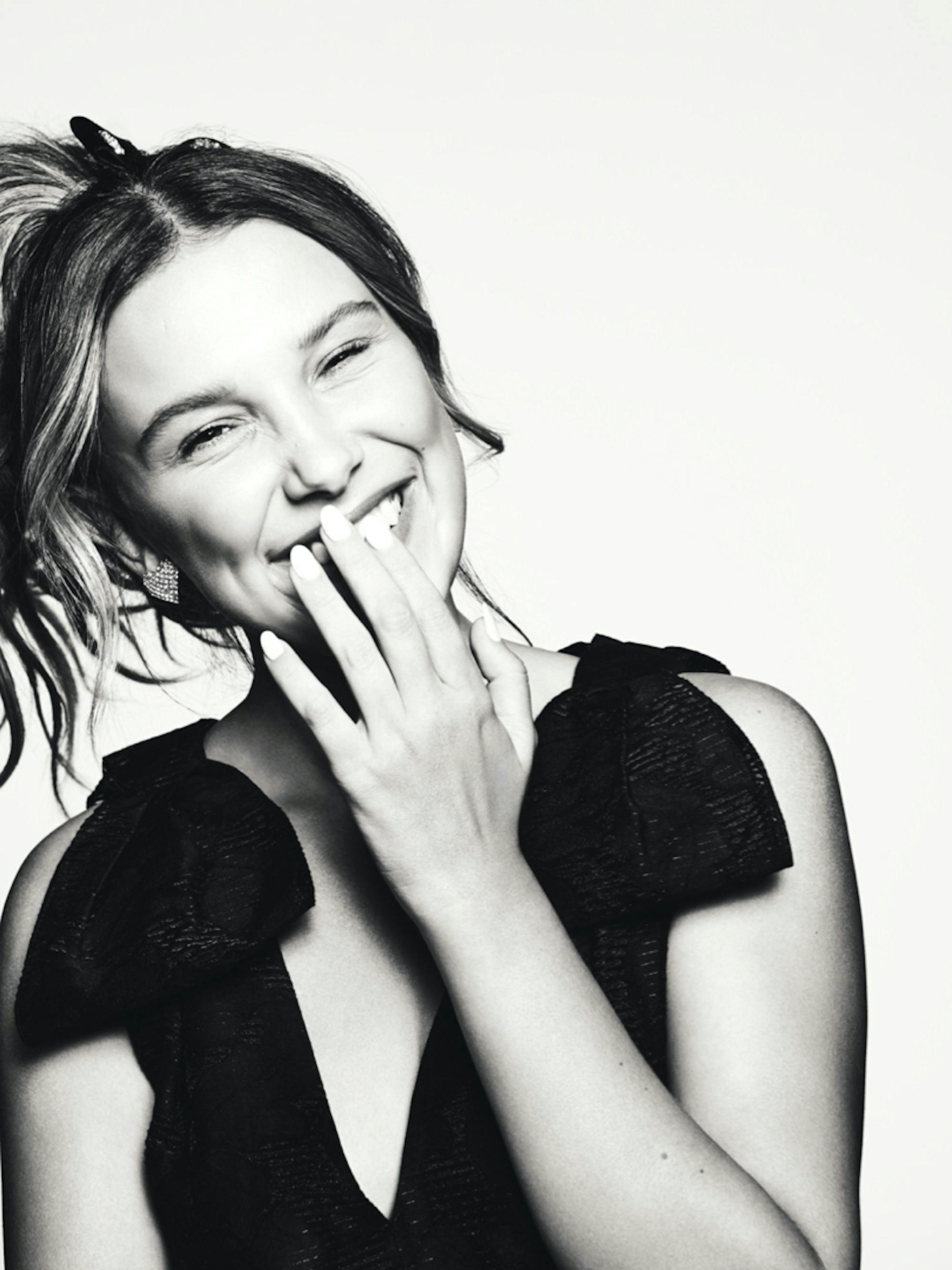 You were named the youngest-ever UNICEF Goodwill ambassador. Why did you choose to work on behalf of UNICEF?
MBB: Audrey Hepburn was the most famous UNICEF ambassador, and, personally, Audrey Hepburn is one of my biggest inspirations. Style, activism, her work as an actor — I've always loved her. I've always wanted to somewhat follow in her footsteps, or at least try to follow in her footsteps. UNICEF has given a voice to young people for so long now, and I want to give a voice to young people. I couldn't imagine being silenced. I couldn't imagine not following my dreams. And it hurts my heart knowing that there are children out there, there are young people out there, that can't do what they love — or that can't get nutrition or get shelter or just be warm and have their family around them. And I'm so grateful to have that myself. Being awarded the youngest-ever Goodwill ambassador is one of the best achievements I'll ever have in my life. Every day, I'm very thankful for that. 
Have you thought about life beyond Stranger Things? What's next?
MBB: That does break my heart. I mean, I am passionate not only being onscreen, but also being offscreen, producing. Directing is something that I'm obviously very passionate about. Let's see how it goes. I think I'm just so excited to keep creating.