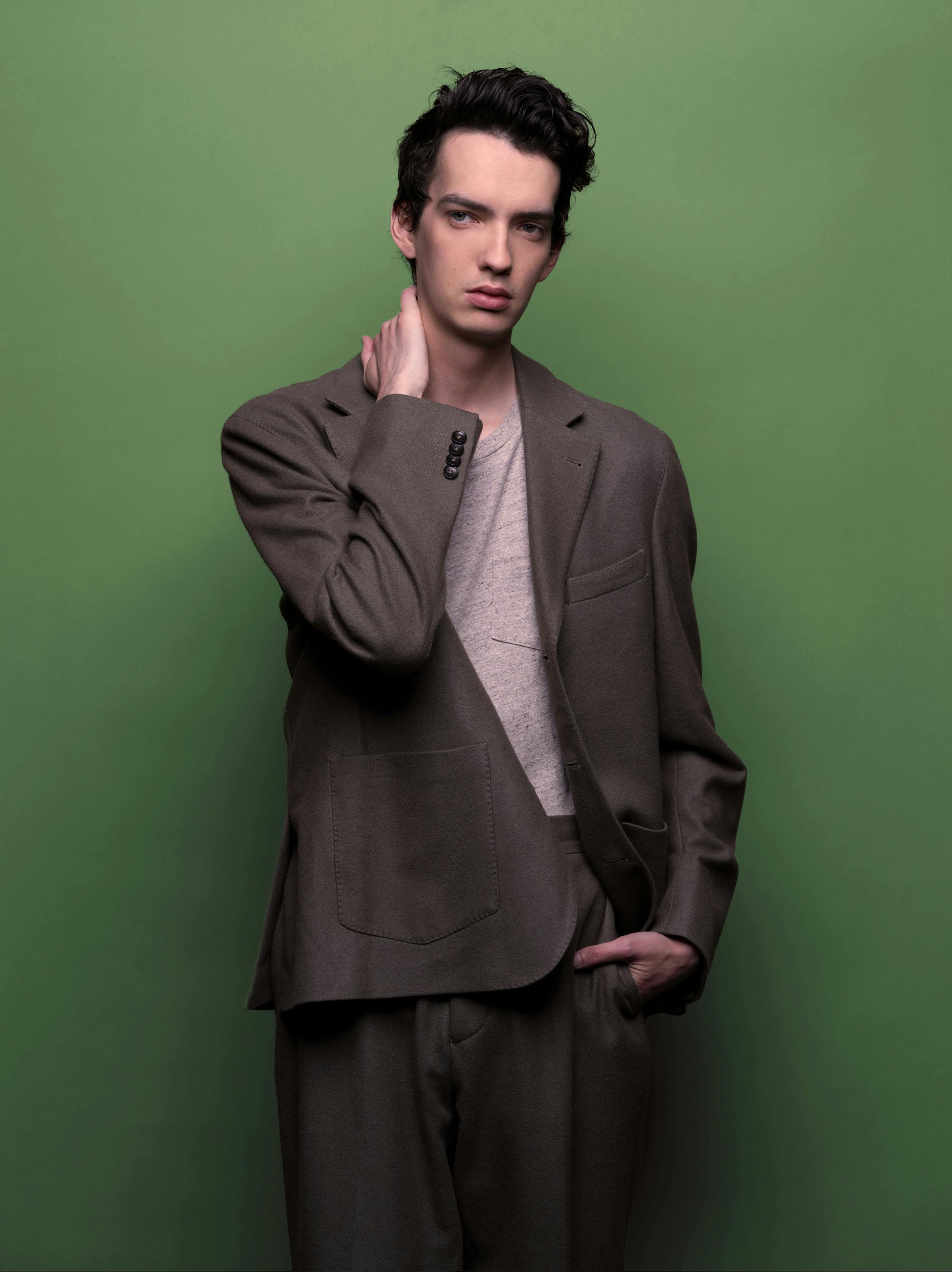 The young actor on holding his own with the talented cast of The Power of the Dog.
There's something preternatural about Peter Gordon, the lanky, inscrutable character played by Kodi Smit-McPhee in Jane Campion's searing new drama, The Power of the Dog. "You somewhat underestimate him, which was something that hooked me to him and which I really loved," Smit-McPhee says. 
An aspiring surgeon with a quick and curious mind, Peter is an anomaly in the hard-bitten western landscape he calls home. The Montana of the 1920s that serves as the film's backdrop is a place where ranchers like the cruel and charismatic Phil Burbank, played by a mesmerizing Benedict Cumberbatch, rarely bathe, preferring to be covered in the dust of the ground they tend and the sweat from their labors. 
Yet it's the strange relationship that develops between the cerebral Peter and the callous Phil that forms the story's twisted spine. When they first meet, Phil verbally attacks Peter, insulting him and destroying the intricate paper flowers he's made to adorn the tables of the Red Mill restaurant where he works alongside his widowed mother, Rose (Kirsten Dunst). But after Rose marries Phil's brother George (Jesse Plemons), the cowboy's rude demeanor begins to soften around Peter. He treats him with increasing kindness and consideration, though an unmistakable thread of suspicion is woven into their every interaction.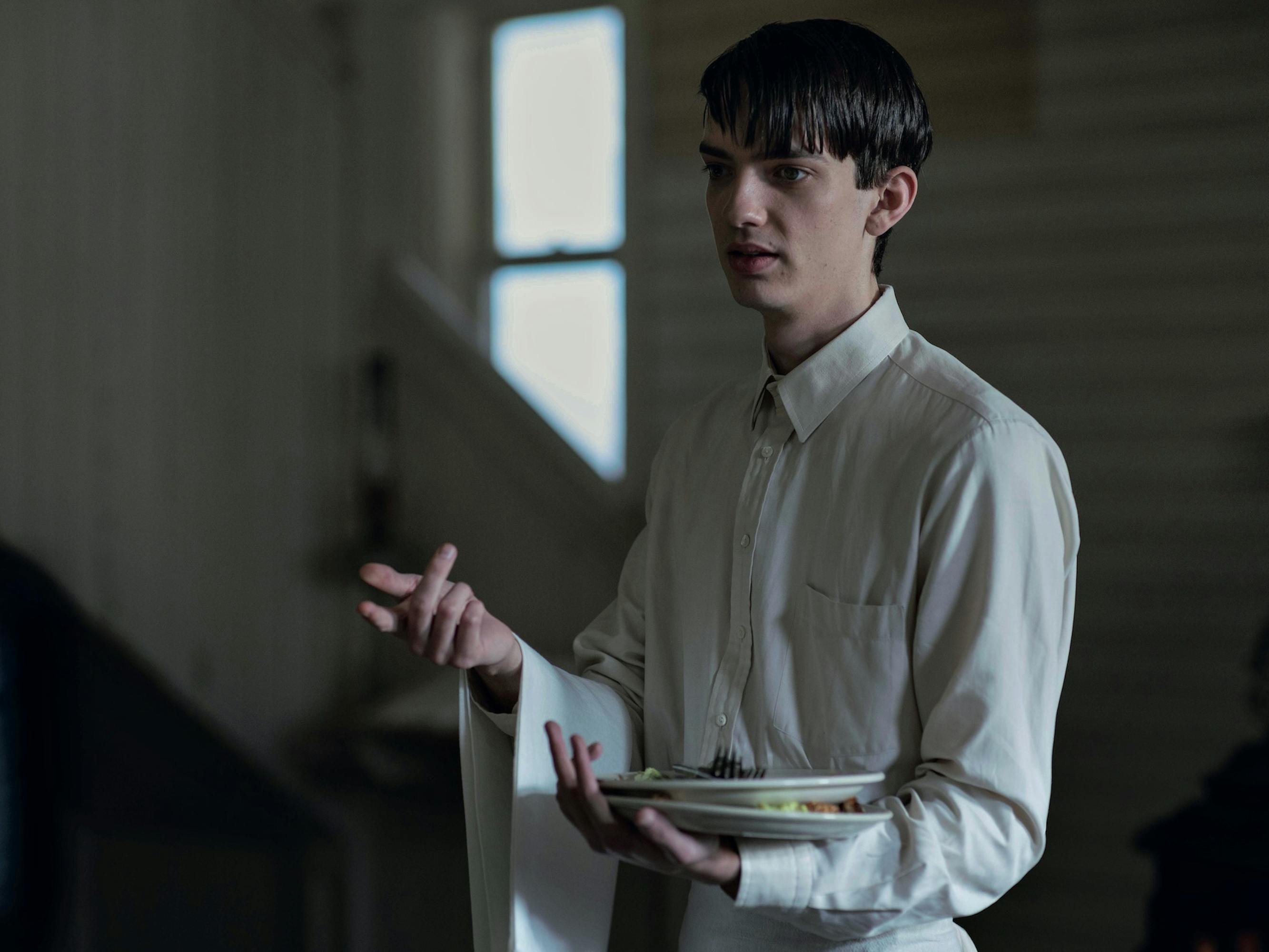 "As it went from him tormenting me to taking me under his wing in a sense, you could feel something growing," Smit-McPhee says of navigating the characters' evolving dynamic. "For me, in those moments, you don't know whether to run away or to stay there — if it's warm or if it's cold, or scary or nice. There's a huge cloud of mystery that follows you through this film. It's a slow burn, but somehow, at the same time, Jane has achieved [a sense of] impending doom."
That Smit-McPhee more than holds his own against the film's ensemble of acting heavyweights is a testament to his talent and impressive work ethic. After making his feature debut in the 2007 drama Romulus, My Father, the Australian actor had a breakthrough role opposite Viggo Mortensen in 2009's adaptation of Cormac McCarthy's The Road. In the years since, the now 25-year-old actor has turned in noteworthy performances in 2010's vampire drama Let Me In, 2012's animated feature ParaNorman, the 2015 Western Slow West and a pair of X-Men films playing the mutant Nightcrawler.
Transformation is the best part of the job for Smit-McPhee. "It's always a dreamy 'pinch me' moment when you're in four hours of makeup and you have a tail on and you have teeth in and red eyes," he says. "It completely eliminates the boundaries of acting as a human." While the actor's portrayal of Peter finds him in more standard garb, Smit-McPhee's transcending performance in The Power of the Dog will not be easily forgotten.
Krista Smith: What was it about this character, Peter Gordon, that made you feel you had to play him?
Kodi Smit-McPhee: Reading the script, you somewhat underestimate him, which was something that hooked me to him and which I really loved. He had an underlying power and wisdom and awareness. I relate to that because I can be a bit weird and strange sometimes, but there's a lot going on on the inside. Then I really fell in love with the idea of being part of the film when I met Jane. 
I was supposed to have had lines prepared when I met her, but I didn't know that — there was a miscommunication — but for Jane, that was completely fine. She was like, "You've read the script, so you have an understanding for the character. Let's get Peter in the room." My stance immediately changed. I just embodied how I saw him in my head, which I hadn't done yet. I saw [Jane] falling in love with seeing Peter come to life — as was I — and it felt very natural.
That physicality feels like such an important aspect of Peter's identity.
KSM: A lot of that came to life in that audition scene with Jane. I owe so much to her because she challenged me in a way that I have never been challenged before by a director. I worked with a body specialist who really dialed into all those tics that Peter has and an accent coach who helped me with [his] lisp. All these little pieces came together, which did so much more for my performance than I could've done myself.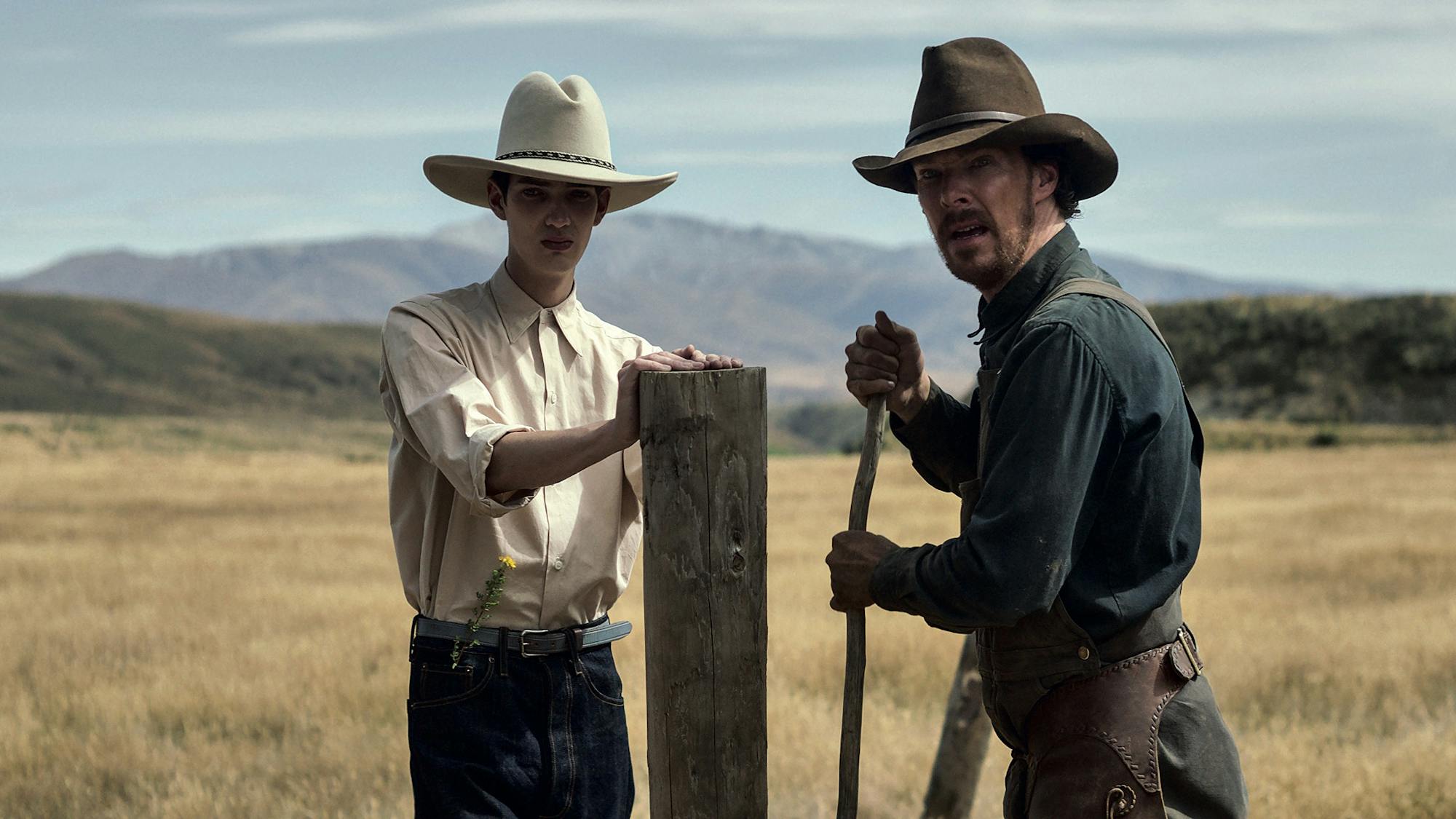 You have some amazing scenes with Kirsten, who plays Peter's mother, Rose. There are some beautiful moments between the two of you — in a scene, one of you is strong, while the other is vulnerable. Then the dynamic flips.
KSM: That pulls some heart strings for me. My mom is a single mother, and especially through COVID, she's [been] my rock. There are times when I'm crying on her shoulder and then other times where she's calling me to come over [so she can] cry on mine. That's a really special thing that could be captured and put into this film.
It was like a boot camp with Jane — we would work with her independently, and then together with whoever we were with in the script, like Kirsten and Benedict. Working with people that I've looked up to for most of my life is always amazing. You think of them as how you've seen them, in [interviews] and in the movies you love, but it's so much better when you meet them and see that they're just so down to earth. I hung out with Kirsten and Jesse quite a bit. They were really like my extended mother and father. 
I'm always willing to be challenged, and I'm always willing to learn and grow.
It's remarkable what you've achieved at such a young age. Did you always know you wanted to become an actor? Or was it something that really took hold once you made The Road?
KSM: That's I guess when it really took off beyond what we had expected, and by we, I mean my family. My dad's an actor. He got me into it just as a hobby, a creative pastime really, to do something against the grain. It started to escalate quickly from college short films into auditioning for Australian feature films. I owe a lot to my parents. They gave me my foundation for my outlook on the world, to have no boundaries in terms of seeking truth for myself, and with that comes my creative freedom and finding true enjoyment in what I do.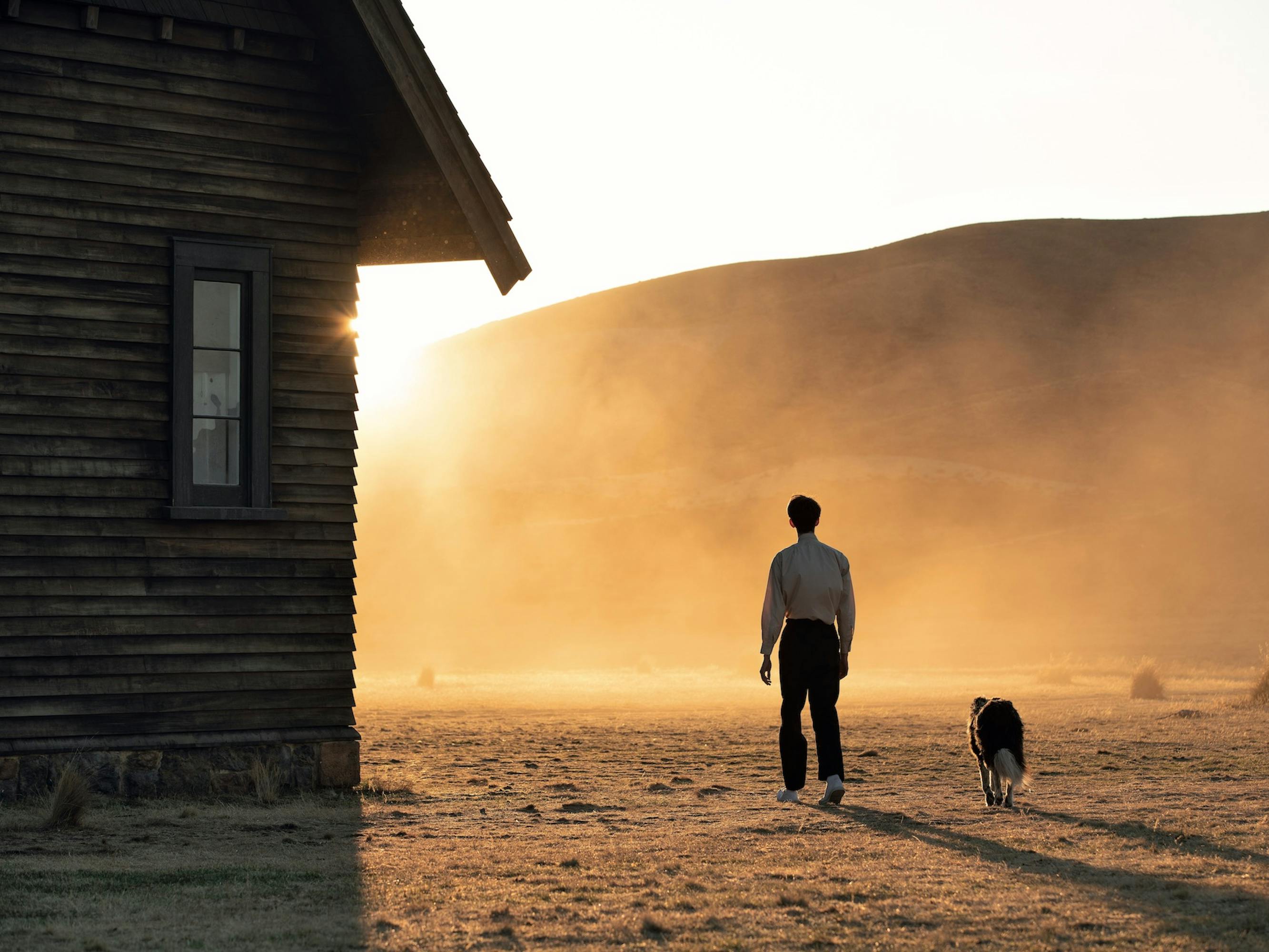 What do you think you've learned from the experience of making The Power of the Dog? As an actor, what will you take with you moving forward?
KSM: When I read the script, I wasn't in the best place mentally. What I took from meeting Jane and then getting swooped away to New Zealand — which was a beautiful, healing place for me — at that time in my life [when] I was needing a job that I was passionate about, all of that came to my doorstep. So, I think the message for me was to surrender and to always be open to and welcome the blessings that you're asking for. I will always be a student of the universe. I'm always willing to be challenged, and I'm always willing to learn and grow. That's what this taught me.
You've just worked with Jane Campion. Next up is Baz Luhrmann's Elvis biopic where you're playing country music icon Jimmie Rodgers. What's that like?
KSM: It's just amazing the different essence and approach and talent of these directors. It teaches you so much as a person, and as an actor, and as possibly an aspiring director one day. I'm so grateful to be in the presence of these people. They're legends.