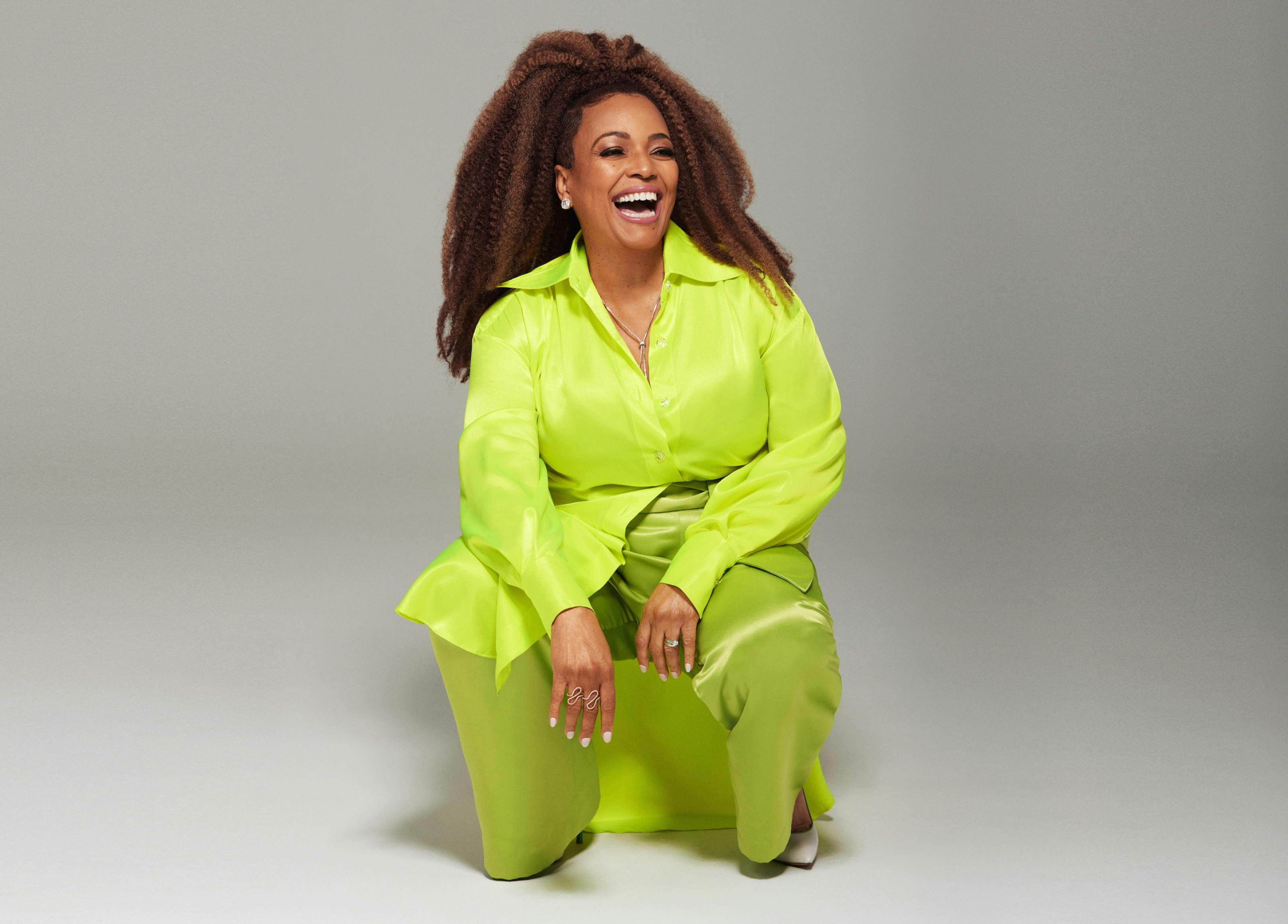 The celebrated actor-director-producer talks about starring in The Upshaws, and her wide-ranging career.
A 44-year journey in Hollywood has left Kim Fields with a humorous wish: "Can I please get a show where I have my own house?"
The actor, whose industry track record is enviable by any and all standards, knows what it means to split rent on TV. Millions came to love her in her breakout role as the gossipy, braces-wearing Dorothy "Tootie" Ramsey in the 1980s boarding-school classic The Facts of Life, and then as Regine Hunter, roomie to Queen Latifah and Kim Coles on the popular 90s show Living Single. Finally, with her latest series role, Fields's dreams of sitcom homeownership have come true. Sort of.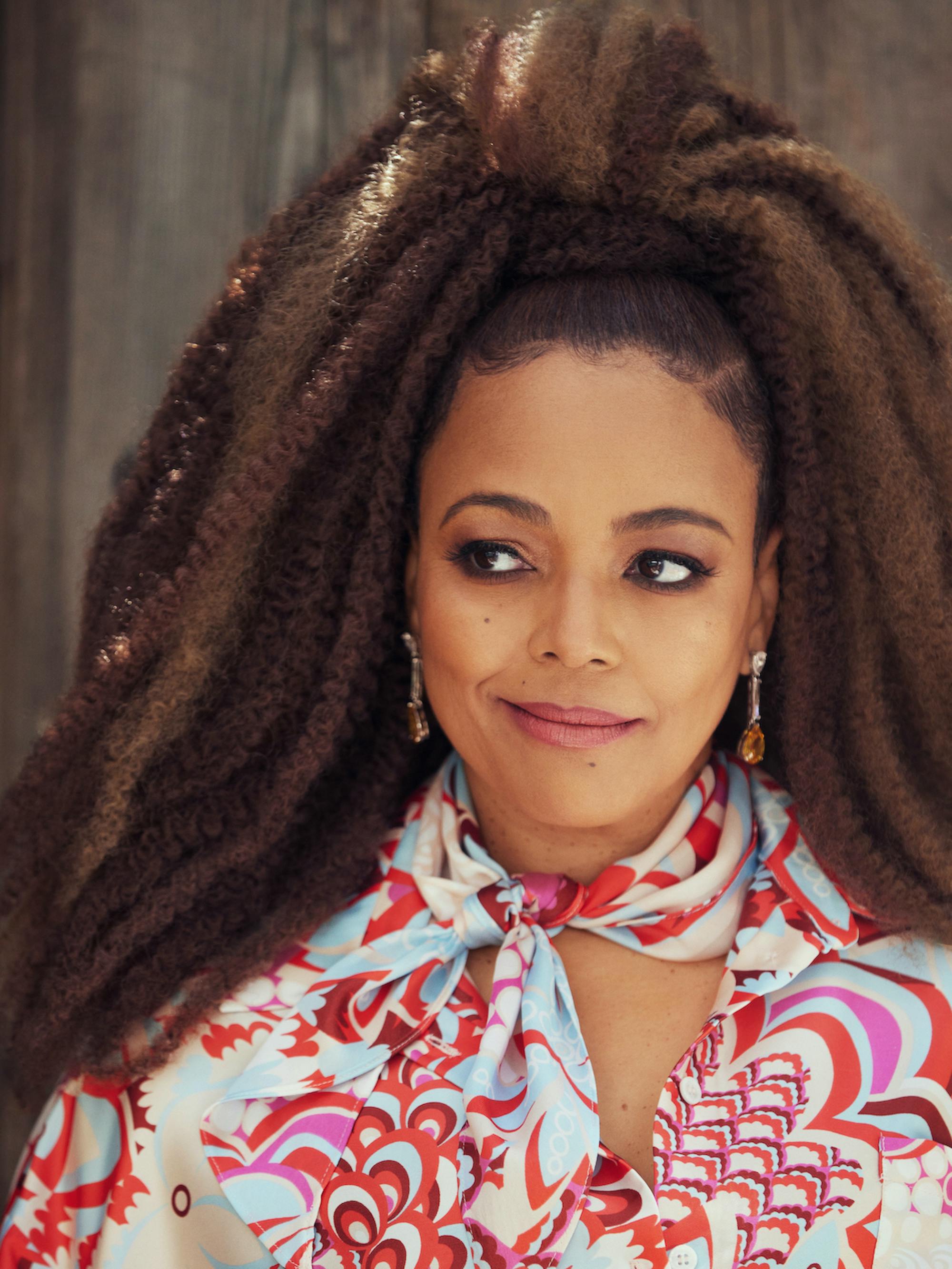 Fields stars in the Indianapolis-set comedy The Upshaws, created by Regina Hicks and Wanda Sykes. She plays Regina: ace hospital administrator, diehard trivia nerd, wife to earnest-but-wayward mechanic Bennie (Mike Epps), and sister to prickly Lucretia (Sykes). Regina ferociously loves, and is driven to comic distraction by, her kids: adult son Bernard (Jermelle Simon), and young daughters Maya (Journey Christine) and Aaliyah (Khali Spraggins), plus Bennie's teenaged son Kelvin (Diamond Lyons), whose hilarious mother Tasha (Gabrielle Dennis) Regina also has to contend with. In short, Fields's character has got her own house, but it's seriously crowded.
What Regina Upshaw lacks in closet and personal space, she makes up for with a rich, nuanced personality and thorny, real-life storylines that are equally capable of eliciting guffaws and gut-punches. Fields wasn't necessarily looking for the gig when she got the opportunity to have a chemistry session: "All I knew was being the roommate for 14 years of sitcom television!" she says with a chuckle. "But even though Regina Upshaw is in a sitcom, the tone of the show, the tone of the character, still felt like uncharted waters. As soon as they sent me the script, I gravitated toward the project."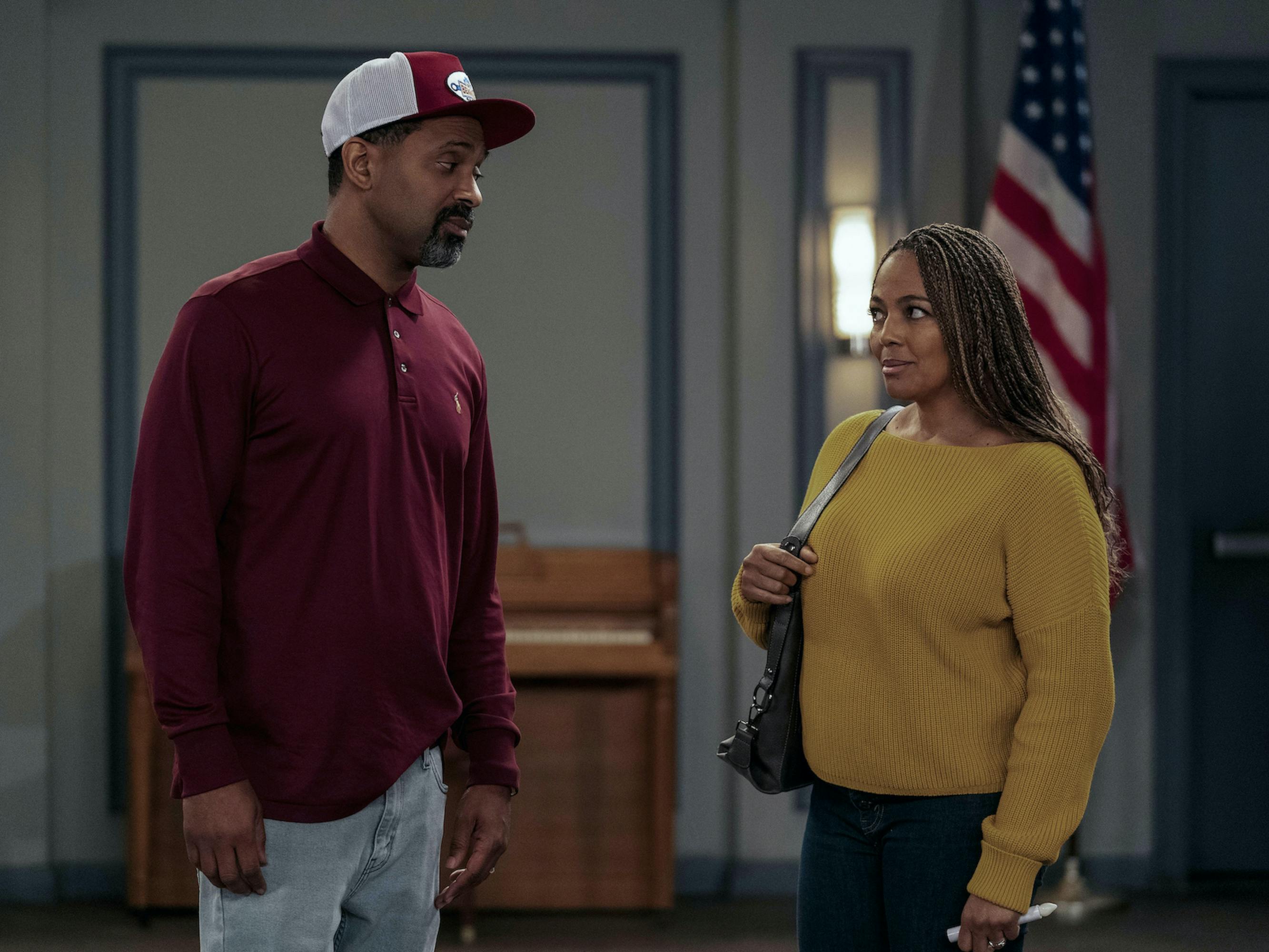 It's true, Hicks and Sykes have created something exhilaratingly unpredictable. It's given Fields perhaps her most vibrant character to date — no shade to Tootie and Regine! "Regina Upshaw's arc struck a lot of places that I felt would really resonate with people — not just Black women but women around the world," Fields says. "It's definitely up there with some of my top roles." The Upshaws is a blast from the past and totally contemporary; it feels like a dream mash-up of vintage Norman Lear and au courant Issa Rae. "The perfectly imbalanced balance that is life is so well represented," says Fields. "The show is such a mirror, and very much the way that Norman Lear shows were done. It has a very relevant and refreshing take on that type of storytelling."
Anyone who's worked to maintain a relationship with a life partner through all the attendant ups and downs, or who has tried to prioritize family while figuring out a path to self-improvement, will see themselves in this story. Regina juggles her job, an M.B.A. program, the kids, money troubles, and a husband who tends more toward bumbling than brilliantly helpful. "I'm trying to better myself to make life better for all of us!" she yells at her breaking point. "You know what? Regina's ass is out. She's done. Y'all are on your own! You're hungry? Then go to bread! Thirsty? Then go to faucet!" 
"In a way, all these characters are subconsciously saying, I have to laugh at this so that I will not have an ulcer," Fields muses. "There's all this banter. They're three mortgages in and they're broke, and Regina's daughter can say, 'Oh my God, do we live on Good Times?'" Thanks to an exceptional writing staff that includes alums of Insecure, Girlfriends, Designing Women, and The L Word: Generation Q, Fields has been given a canvas and invited to use all her colors. Here, she lands a joke with the surgical precision of a sitcom hall-of-famer; there, she digs deep for an emotionally layered moment that exposes the vulnerability beneath Regina's "I got this" exterior. And when she busts up the insult title-fights between her husband and her sister, she is a nimble mediator who makes sure to get in a jab or two of her own.
"That writers' room is its own lightning in a bottle. They hit it out the park each and every episode, with Regina Hicks and Wanda Sykes at the helm," Fields marvels. "Every one of them, they pay attention to life, and that's what really resonates. Even though there's the rhythm of a sitcom, it doesn't feel like set-up, joke, one-liner, one-liner, one-liner. It really has that sense of incredible reality."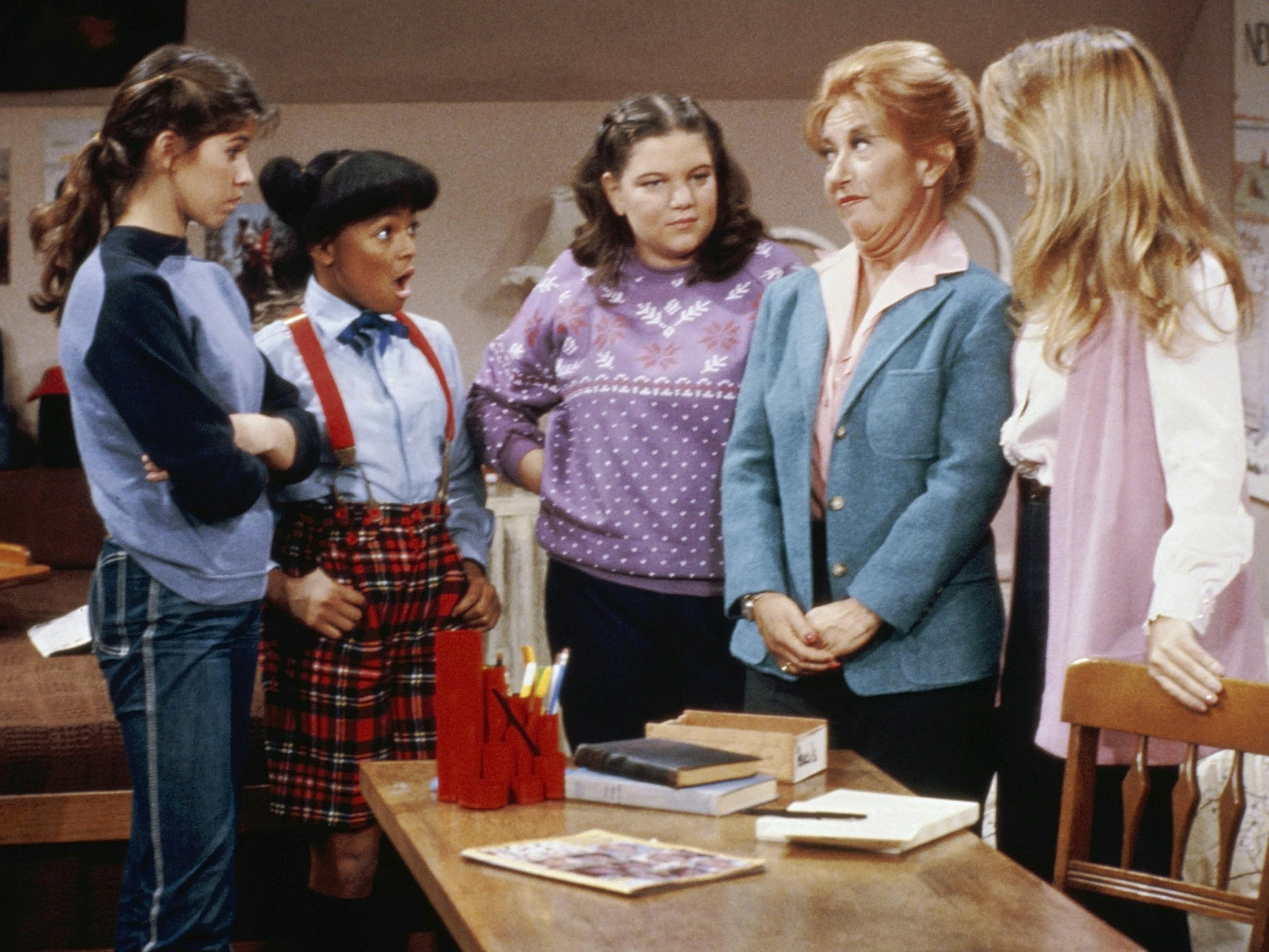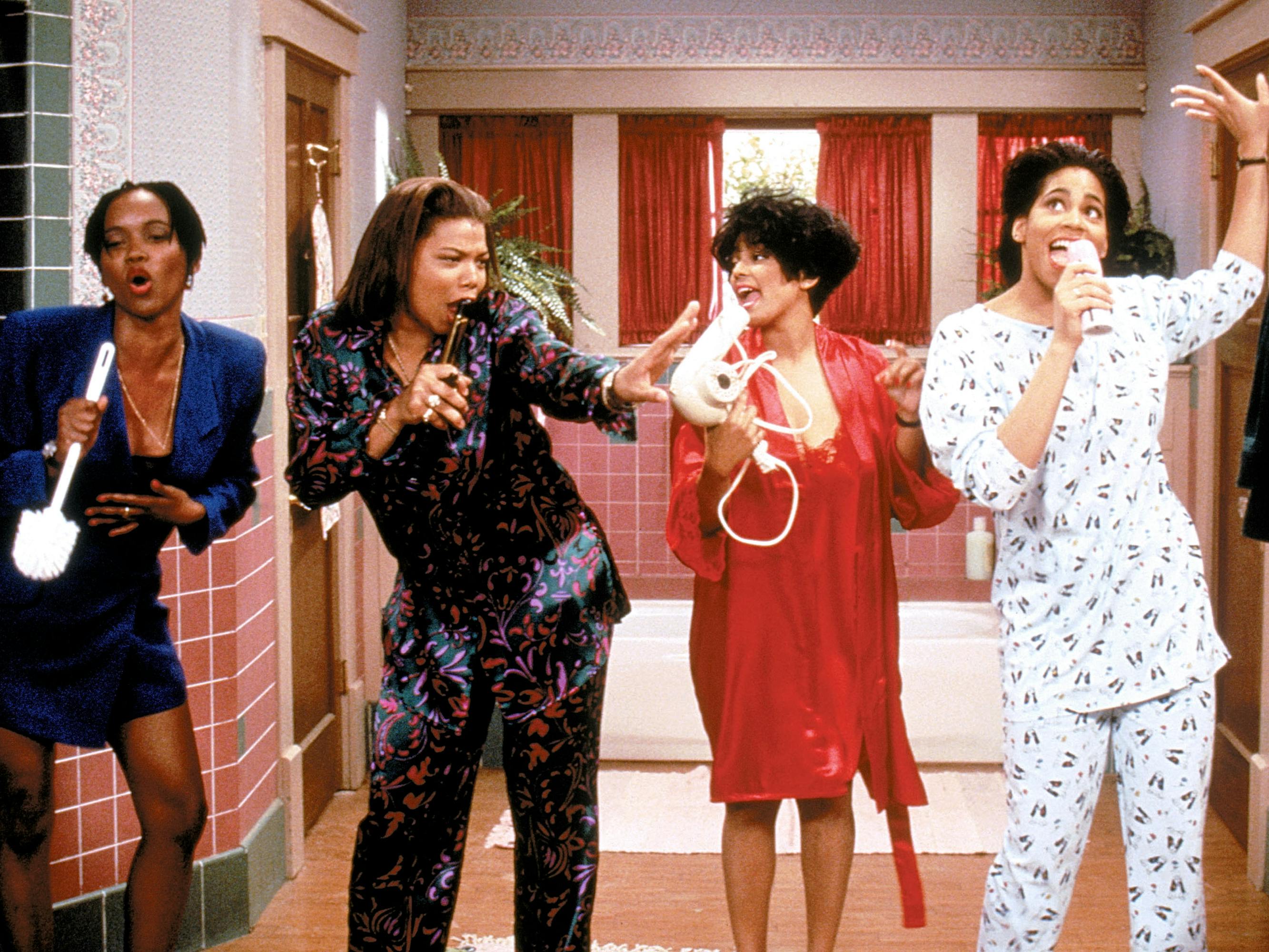 EMBASSY PICTURES / COURTESY EVERETT COLLECTION
WARNER BROS / COURTESY EVERETT COLLECTION
Growing up, Fields was a student of sitcoms like Sanford and Son and The Jeffersons, which pitted Aunt Esther against Fred, and George against Helen Willis, in a dynamic that's interpolated by Sykes's and Epps's characters on The Upshaws. She also had a whole trove of inspiration beyond her television set. The daughter of actor-director Chip Fields, she recalls being a little girl and going to see her mother starring opposite Pearl Bailey on Broadway in Hello, Dolly! She drank in everything from the wigmakers backstage to the glow of the footlights. (Chip reprised her real-life role as mom onscreen in both The Facts of Life and Living Single.)
Fields joined the family business, literally growing up before America's eyes, with an early appearance on Good Times (playing a friend of Janet Jackson's character), followed by a role in Diff'rent Strokes that led to her part on The Facts of Life, a spin-off. After taking in the good and the bad of the business for nearly a decade, she hit the books at Pepperdine University, where she studied communications and film, before plunging back into comedy, donning the stylish togs and perfect coif of Regine, the diva whose champagne tastes met a Boone's Farm budget in Living Single. In the mid-2010s, she even forayed into reality TV, taking memorable turns on Dancing with the Stars and a season of The Real Housewives of Atlanta in 2015 and 2016. She also appeared in the British comedy series Living the Dream as the effervescent Rhoda and gave a moving dramatic performance in the 2017 feature A Question of Faith.
At heart, Fields is a storyteller, and she exercises that passion wherever she gets the chance. She has spent much of the time between her acting gigs of the last 25 years — including spots on projects as disparate as Insecure and Cobra Kai — working behind the camera. She added directing to her quiver in the mid-90s, playing Regine while helming several episodes of both Living Single and more than two dozen installments of the All That spin-off Kenan and Kel with Kenan Thompson. She's also directed nearly 200 episodes for Tyler Perry, including for the series House of Payne and the recent Young Dylan. She continues to direct and produce, and has lately directed episodes of The Ms. Pat Show for executive producers Lee Daniels and Brian Grazer. She also executive-produces and directs the upcoming comedy-drama series Vicious.
"I was looking at the whole picture from a young age," says Fields, remembering herself as that little girl eyeing stagehands and actors alike on Broadway, "but I didn't know that I wanted to be a director until the late 80s, early 90s, when you had directors like Spike Lee, Julie Dash, and John Singleton coming up. It felt like people like myself, Blair Underwood, and Malcolm-Jamal Warner were perceived as established TV actors, and so we weren't being considered for some of the newer works that were coming out at that time." In the end, that group of talents set out to craft their own short projects — "We just said, Well, you know what? Let's do it ourselves." — and at one point, Underwood invited Fields to shadow him as he was making and editing music videos. "That's where it really started," Fields explains. "Then I got my degree as well. I wasn't then, and I am not now, the type of artist who is going to sit and wait for my agent or my manager to tell me when I have an audition —please!"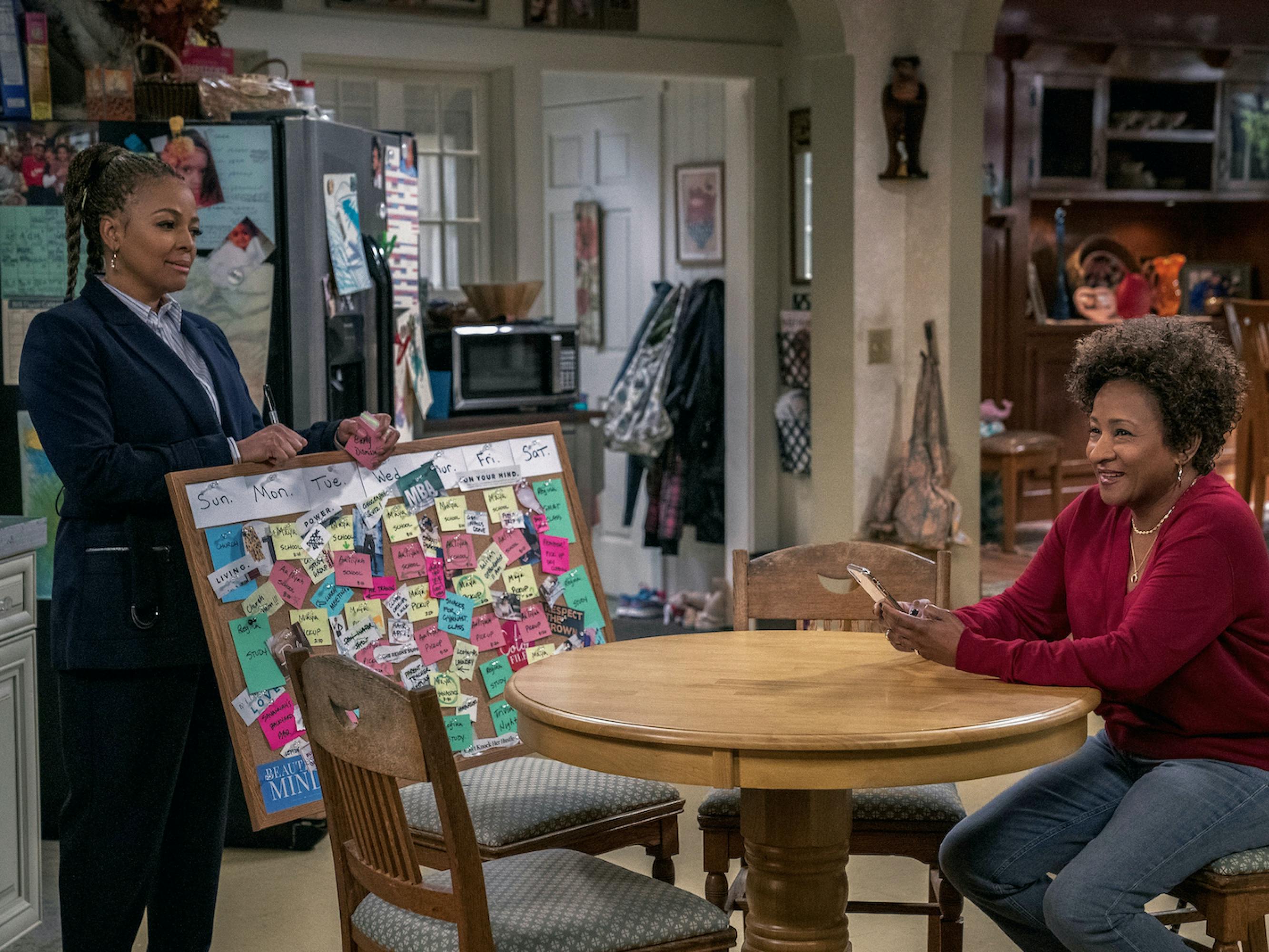 She was thrilled to discover that several of the behind-the-scenes folks on The Upshaws were familiar faces. "I have to give a very important shoutout to Don Morgan, our director of photography on this series. He's a gajillion-time Emmy Award-winning D.P., and one of his early gigs was The Facts of Life." she says. "He taught me everything that I know about lighting and the whole world of D.P.s." She also gives an enthusiastic nod to makeup artist Stephanie Cozart Burton and several cameramen and first assistant directors who were Facts of Life alumni. "It felt like old-home week!"
Like she said, Kim Fields doesn't wait around; she strikes first, and with The Upshaws she strikes hard. Most actors with résumés as long as hers, with characters as indelible and full of life, find that fans conflate the real-world star and their onscreen personae. Not so for Fields. "There are so many different experiences in my life that have become either the backdrop to or running parallel with a lot of public experiences. I'm fortunate that people really know my name," she says. "It's surreal to know beyond a shadow of a doubt that I'm not a stranger to most people. There's a familiarity, like I went to school with them or I hung out with them for years and years. Because I did."It's a crowded house, but it's hers.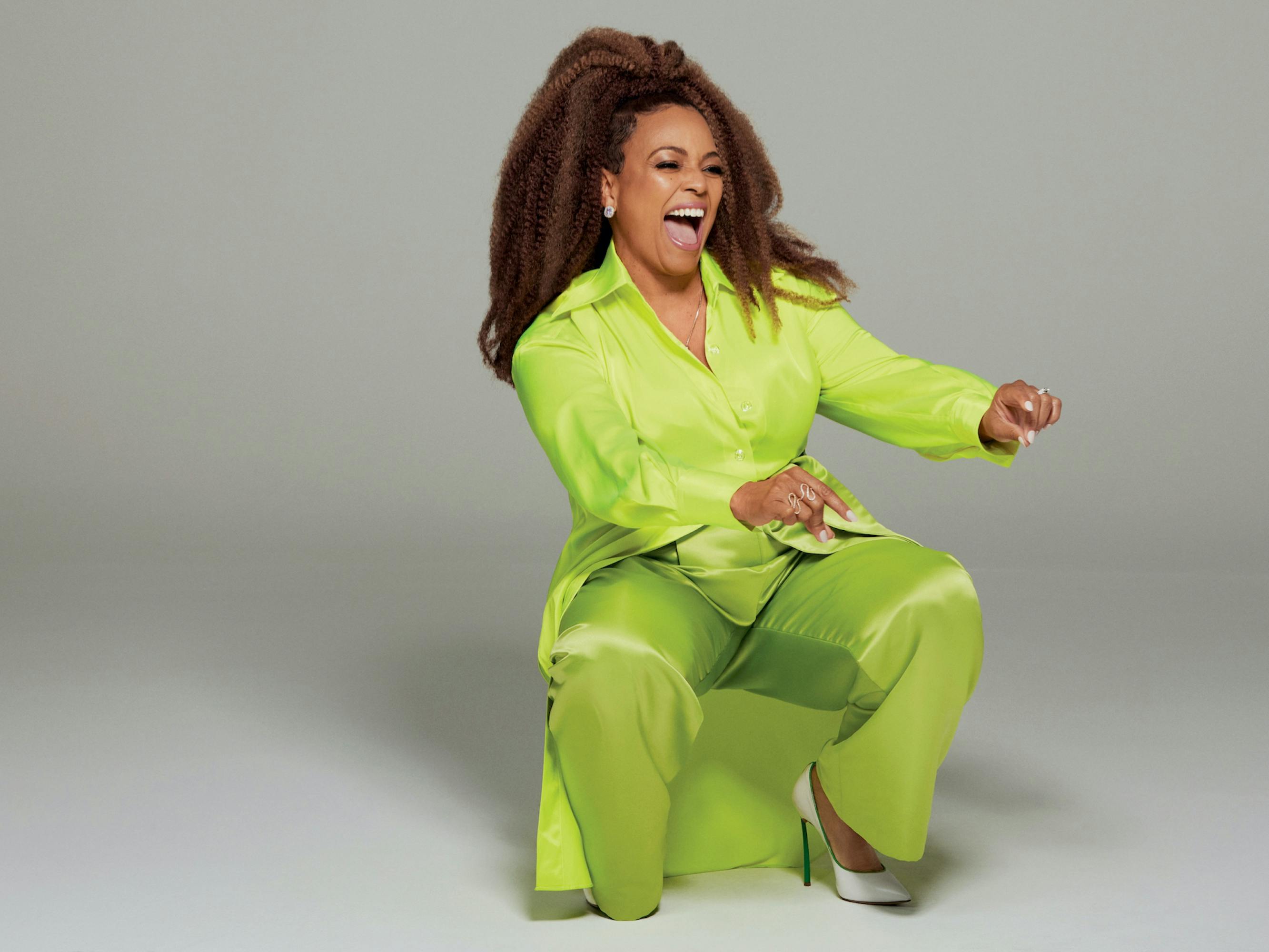 Blouse in Opening and Closing Photos by Christopher John Rogers. Styling by Vance Gamble, Hair by Richard Grant, Makeup by Reginald Raphael