Katie Mitchell is a First
The creators of The Mitchells vs. The Machines gather to discuss the making of a monumental moment for LGBTQIA+ representation in animation.
Katie Mitchell is a creative spirit, an outspoken teenager, a little messy, and the most important protagonist of an animated film this year. Created by writer-directors Mike Rianda and Jeff Rowe, The Mitchells vs. The Machines finds 17-year-old aspiring filmmaker Katie on a cross-country family road trip to her first day at art school, where she can't wait to find her people and independence from her family. Their journey gets sidetracked, however, by a catastrophic global event that forces her to realize that maybe she can learn to grow with her family instead of away from them. Abbi Jacobson (Broad City), the voice actor who breathed life into Katie, found the spunky teen to be a character she wished she could have seen onscreen as a kid. "She's totally herself," says Jacobson. "Wildy creative, a great big sister, hilarious, queer, excited to dive into her passions." 
Katie is the groundbreaking, first openly queer lead character in an all-ages animated feature film. For Rebecca Sugar, animator and writer for beloved, off-center titles including Steven Universe and Adventure Time, Katie is a character she's been waiting to see on the big screen for a long time. "When I entered the industry, L.G.B.T.Q.I.A.+ content for kids was really not considered acceptable. And for the last decade, many of us have been working behind the scenes to break down those barriers and to make those stories possible," says Sugar. "By leaving these stories out of media for kids, queer kids are essentially told, during their formative years, that they don't or shouldn't exist. That's why it was so exciting for me to see in The Mitchells vs The Machines a central character be confirmed as queer onscreen. This is a big first, and it speaks to the barriers that are being broken by the people that I'm about to speak with."
For GLAAD, Sugar moderated a conversation with the team behind Katie and The Mitchells vs The Machines — Rianda, Jacobson, and producers Chris Miller and Phil Lord – to hear about their film's journey and to celebrate Katie Mitchell.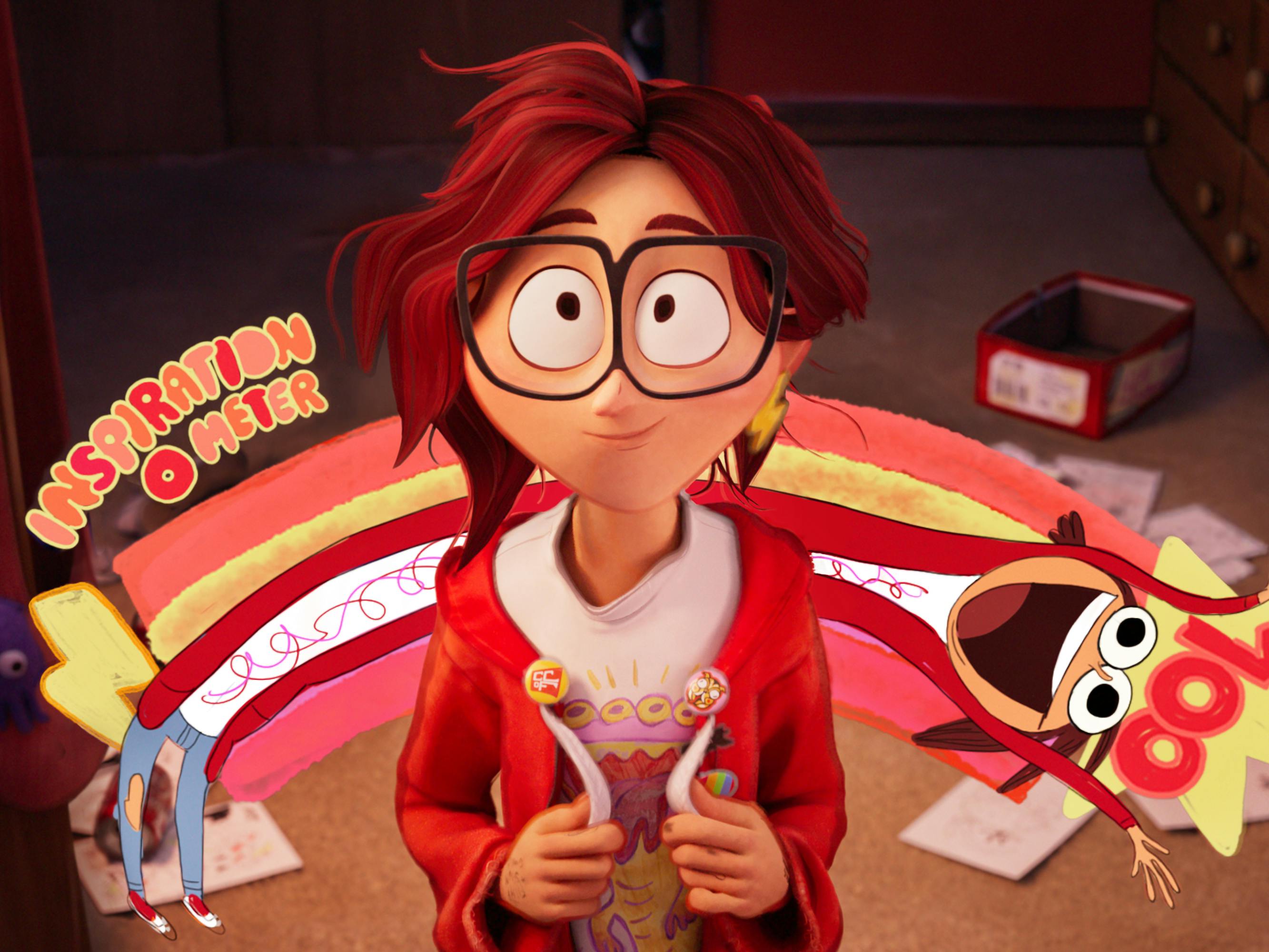 Rebecca Sugar: In developing Katie's character, why was her queerness a priority for you?
Mike Rianda: The whole North Star of the movie was us trying to be really observational and truthful. Katie Mitchell is a 17-year-old girl going to art school, and we all went to art school. And in observing our wonderful, weirdo friends that are girls, a lot of them were queer. As we were developing the character more and more, people kept asking, "Katie seems gay, is she gay?" It was undeniable. Me and my co-writer Jeff are these cis, white bros. We were like, "I don't know. Can we do this?" There were a lot of queer crew members on the movie, and we sat down with them, and they were like, "Yes, do it. Of course! You have an opportunity. Go! Go! Just make sure you talk to people from the community, and make sure that you're doing it right." 
One of the artists, Lizzie, was like, "My hair is blonde, and my eyes are green, and I like girls. And those are all just parts of me. And they're not things that create conflict in my life usually." So it shouldn't create conflict in the movie. You don't want the first thing you tell a kid to be that that's a problem in their life. You want it to be like, Oh, this is normal and everyone supports it.
Abbi Jacobson: I don't even know when I came into the process, or how long ago that was, because COVID has drastically skewed my sense of time. But years ago, I remember having a conversation about Katie being queer. I was like, "She is though, right?" I mean, I'm queer, and I don't even know if you knew that when you cast me, but I came to know my queerness pretty late in life. And I feel like if I had seen a film like this, with this kind of character, I don't even know what impact that would've had on me. It's pretty powerful.
I came to know my queerness pretty late in life. And I feel like if I had seen a film like this, with this kind of character, I don't even know what impact that would've had on me.
Sugar: Phil and Chris, you have been working in feature animation since the 2000s. What is it that you've seen change from that time until now that's made this actually become possible? 
Chris Miller: I think the old thinking many years ago was that we were making these movies that were very expensive, and so they have to be very generic and general, with nothing interesting in them whatsoever. Now I think people have gotten hip to the fact that the more it reflects the real world, and the more people can see themselves in characters, the more interesting it is to audiences. And it actually makes good business sense to make something with a person that looks or feels or sounds like you or someone you know and love.
Phil Lord: A big part of it is the generosity of people like Rebecca, who have made things that represent this community really well and emboldened people like us. The thing that's really interesting for us is the more things we make, the more we realize that the audience is down to go basically anywhere with you. I think one of the insidious things is worrying that somehow there's going to be one person in the fifth row that's going to make a stink. You can't play to that person. When we made Spider-Man Black and speak Spanish, everybody was psyched. We made a psychedelic Lego movie and people were down for that. I think we've learned over time that we have to really start remembering that the audience is smart and wants things that reflect the world that they live in, and that we have to honor them by being equally generous.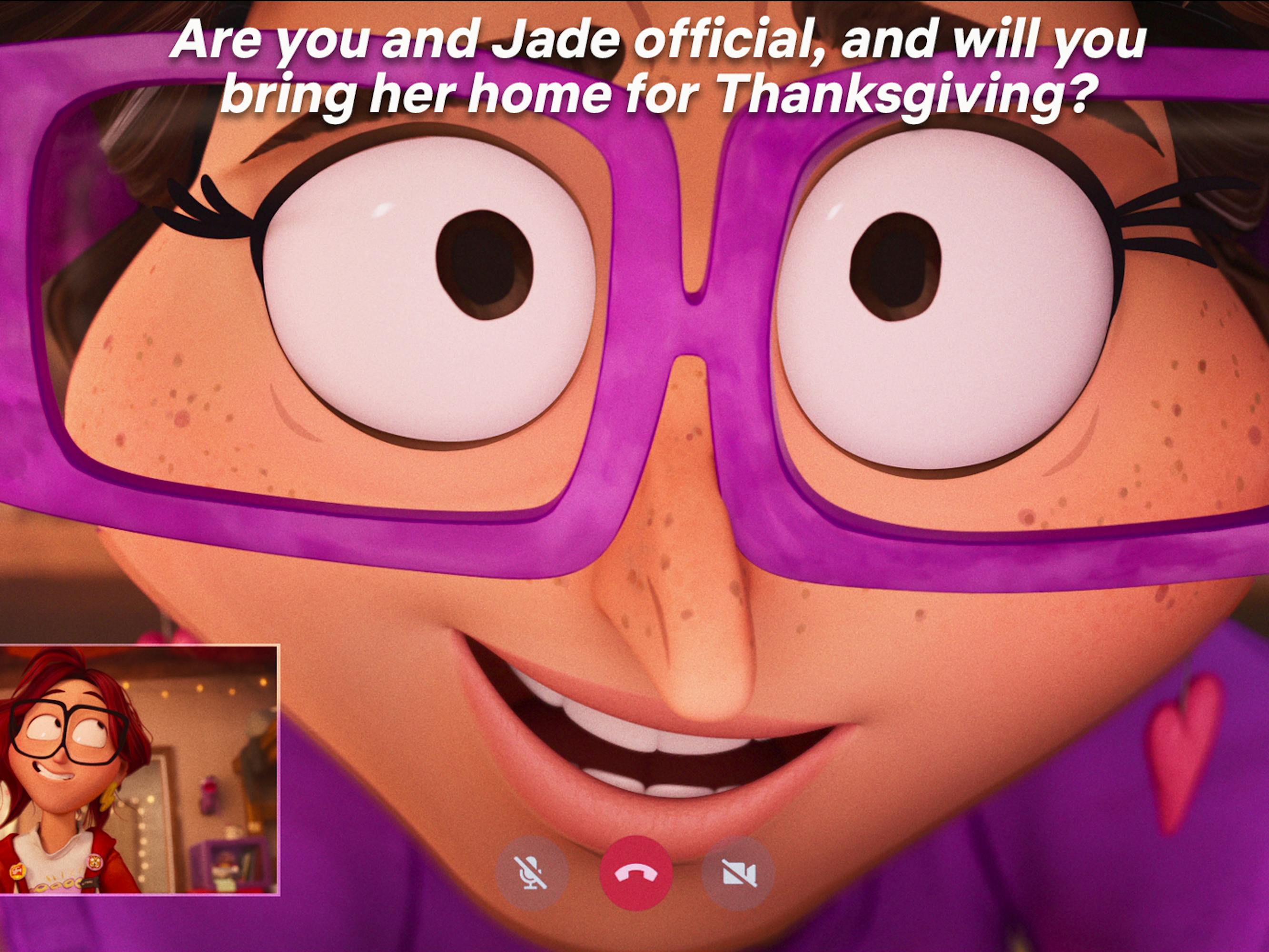 Sugar: How did you go about bringing this to the studio and defending it? I'm sure that it wasn't easy. So how did you win that fight?

Rianda: It was really important to us, and in talking to the crew they were like, We have to make it explicit. We can't just dance around it. And so we put it in the movie and Sony — God bless them — was like, "Let's do it." In talking to those queer members of the crew, they wrote us these emails just being like, "Oh my God, this would mean so much to me." And we would just send those emails to anyone who was feeling nervous about it. I have one of the emails now. I'm really going to struggle to get through this thing but — 
Jacobson: We're all going to cry during this part.
Rianda: It was really wonderful. This isn't a writer — this is one of our art layout artists, Elizabeth Nichols. She told us to have people read this if they're worried. She wrote: 
"When I came out in the nineties, I understood that I would only be safe if I remained relatively quiet about who I was and made sure I didn't hold hands with my partner when I was in public. When I met my fiancé in 2014, I understood that we could only get kind of married through a ceremony that would only be vowed in California. When I started working in animation, I understood that I would never be able to work on a film with characters that represented who I was. I made a sad peace with each of these facts while working to bring about a world in which they were no longer true. 
This is a chance we cannot pass up. A chance to have a film represent a part of myself in a community that I assumed would always have to be hidden from future animation. I want to be a part of a movie in a studio that is on the right side of history. Being gay in this country used to literally be illegal. Police raids on bars, blacklisting from industries, public shaming, jail-time illegal. It was through the incredibly courageous work of generations of L.G.B.T.Q.+ people, many of whom literally gave their lives, that the world has changed profoundly for the better. But our rights are always under attack, especially from a terrifying right-wing fringe that is gaining power and influence in this country. We do not want to silence ourselves for fear of a bigoted few. We don't want to cave to their world. We have to be on the side of what is right and just. We just need the backbone to do it. Be that backbone."
How do you say no to that? She inspired and challenged us to say, "You're the people in the room. There's no 'they;' it's just you. And you can either choose to disappoint me and my whole community, or you can go the other way, and show a gay kid in a theater that they deserve to be the protagonist of their own story."