In The Harder They Fall, Jonathan Majors melds real life and fiction together for a tale of revenge.
Photography by
Emman Montalvan
Jonathan Majors had spent weeks preparing for his starring role in the groundbreaking all-Black Western The Harder They Fall when he received some devastating news. The night before filming was set to begin, the entire production was shuttered. With COVID-19 advancing unchecked across the globe, it was deemed too dangerous to continue with the shoot. So, the cast and crew dispersed, heading into lockdown, not knowing when, or whether, they would return to the movie's New Mexico locations.
Majors, however, didn't leave. Rather, he chose to use the quarantine period to further develop the character of gunslinger Nat Love, the calculating outlaw who goes to extraordinary lengths to track down the man responsible for his parents' murders and exact long-overdue vengeance.
"I stayed in Santa Fe," Majors says now. "It was like, Okay, I'm just going to stay in this town and build a life and work on my character and be a cowboy. I had never done that before, though I do believe in immersive preparation. To be immersed in a role for a year before shooting it was a big challenge for me — to keep the mind space, to hold it down. But also, Nat Love is a leader of men, and this felt like an opportunity to practice that. When everybody came back and Nat was still there, they knew, Okay, we trust this guy. He's going to lead us."
The feature directorial debut of British writer-director-musician-iconoclast Jeymes Samuel, The Harder They Fall marks Majors's first full-fledged lead in an epic drama — an important moment in any actor's career. But in this case, the 31-year-old Majors not only had to serve as a charismatic anchor for the blood-soaked, two-hour action-adventure, but he also had to command the screen alongside a truly star-studded ensemble cast, all playing fictionalized versions of real historical figures.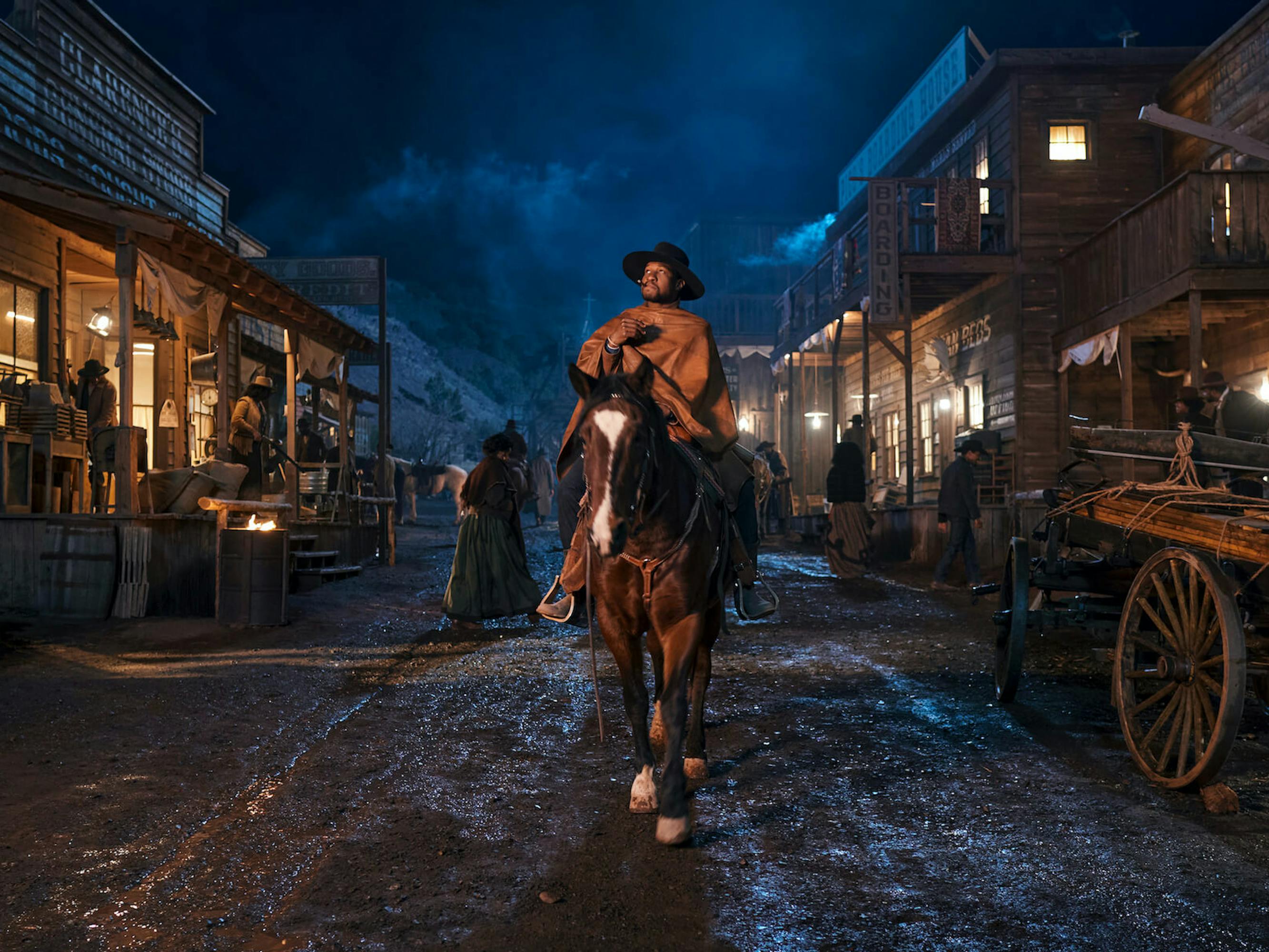 Idris Elba is Love's target Rufus Buck, with Academy Award-winner Regina King and Academy Award-nominee LaKeith Stanfield as Buck's accomplices, Trudy Smith and Cherokee Bill. Love's own crew includes Zazie Beetz as Stagecoach Mary Fields, Edi Gathegi as Bill Picket, and Delroy Lindo as deputy U.S. Marshal Bass Reeves. What united the actors, Majors says, was their commitment to Samuel's vision and the revolutionary spirit of the screenplay.
"I think we all understood the gravity of what it is we were doing," Majors says. "We were making an all-Black Western that has heart, that has culture, that has swag, that has finesse, that has grace, that has grit, with a proper budget so that it's going to be seen properly."
From the outset of the project, there was only one actor who had all those right qualities — the heart, the finesse, the grace, and the sheer talent — to play Nat Love, and that, says filmmaker Samuel, was Majors. In fact, he didn't even require the actor to audition before casting him as the lead in The Harder They Fall. Samuel simply saw an interview Majors gave during a promotion tour for the 2018 drama White Boy Rick and realized that he'd found his man. "I was like, 'That's Nat Love,'" Samuel says. "I knew in my heart and soul that he was Nat Love. It was pure instinct how I cast Jonathan Majors."
Those instincts proved spot on. Despite his relative youth, Majors has long since distinguished himself as one of the finest actors of his generation. During his final year at the Yale School of Drama, Majors was cast on the 2017 television miniseries When We Rise about the history of the gay rights movement. Two years later, his career seriously took flight with his breakout performance in 2019's The Last Black Man in San Francisco, for which he was nominated for a Gotham Award for Breakthrough Actor and a Spirit Award for Best Supporting Male.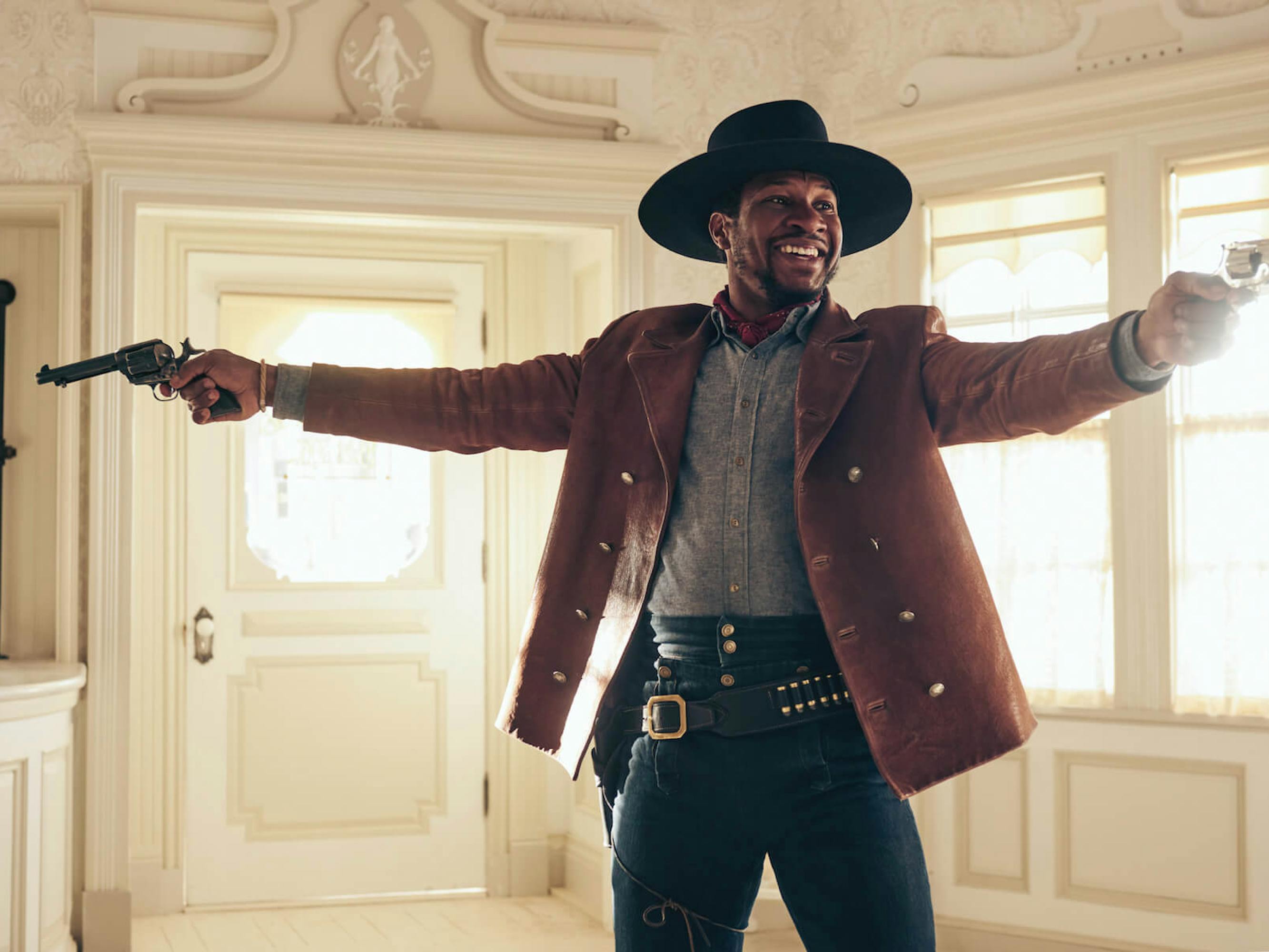 In 2020, Majors earned further acclaim with his supporting role in Spike Lee's Vietnam drama Da 5 Bloods, in which he played the social justice-minded son to Lindo's troubled Trump-supporter father. His star continued to ascend with an Emmy-nominated lead role in the widely lauded 1950s-set series Lovecraft Country, which cast Majors as Korean War veteran Atticus Freeman.
And he's already booked his The Harder They Fall follow-up: Majors is currently filming 2023's Ant-Man and the Wasp: Quantumania, in which he's been widely tipped to play Kang the Conqueror, the principal antagonist in the next wave of Marvel comic book blockbusters. (Although Majors has played one possible incarnation of the character on this year's Loki, the studio hasn't officially confirmed anything about his role at this point.)
That Majors would be drawn to The Harder They Fall isn't so surprising given his personal background — the film treads territory that's familiar to the actor. Born in Lompoc, California, Majors grew up in Texas, spending the majority of his time around Dallas, where his mother and uncle both owned horses, and his grandfather frequently watched westerns such as Gunsmoke." Cowboy culture is a part of our culture just because it's a way of life," says Majors, who took to horseback riding as an adult while preparing for his first feature film, 2017's Hostiles. "You'll see a tractor, or a horse, or a man walking a mule down the road. The people in my family are rodeo men."
I want to make art that's extremely relevant. I want to be in service to something.
Apart from that specific personal connection, Majors says he saw in the role of Nat Love the opportunity to challenge himself with a project that mattered, both artistically and politically: "What I always look for in a piece for myself is level of difficulty — to portray the story truthfully, how much of myself am I going to have to use? And in what way? I want to make art that's extremely relevant. I believe acting is a service, right? I want to be in service to something. If the character is one of the homies, and everybody's one of the homies, then it's going to work. It's going to give me something to fight for."
Although Majors was well acquainted with such Black cowboys as rodeo legend and bulldogging inventor Bill Pickett, he had never heard of Love, a former slave who hailed from Tennessee, before landing the part. "It's interesting because Nat Love had something that a lot of the other characters didn't have," Majors says. "He had an autobiography. He would spin everything. He would tell tales about himself. I took The Harder They Fall as another chapter in that book. This story also could've happened in this magnificent man's imagination."
To prepare to play Love, Majors began researching the man's background at the same time he was shoring up his horsemanship. He also studied Bessel van der Kolk's workbook on healing trauma, The Body Keeps Score. "How Nat carries himself, how he speaks, all those things are based off the fact that this terrible thing happened to him when he was 10 years old," Majors says. "His body reacted to it. He's big and strong because of it. This whole tale that you're watching is being driven by the imagination and the hurt of a 10-year-old boy. It's like he's playing a cowboy. He's been practicing this stuff."
During the shoot, Majors found himself pushed to the limit physically. "He's a real life cowboy," filmmaker Samuel says of his star. "There's no stunt man for Jonathan Majors in this movie. All of those stunts, the galloping full-tilt no hands, shooting on target, that's all him."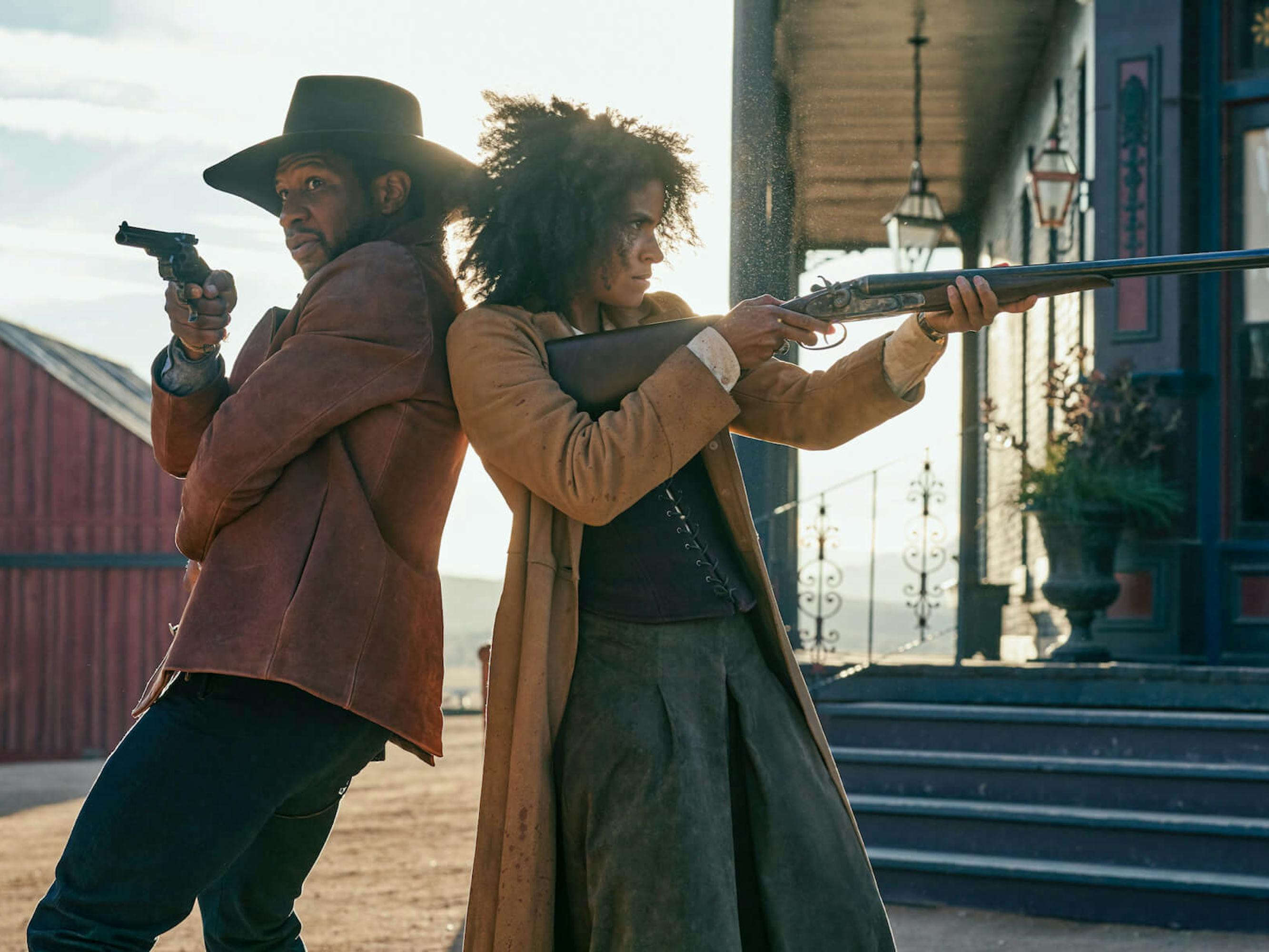 The actor was dealt a significant setback, shattering his heel on set with about a month of filming left to complete. Still, he was determined not to let the injury sideline him. "The stunts were a motherfucker, but I loved them," Majors says. "It's got to be real, and there were days out there where they really let me ride. Then, I shattered my heel on one of the stunts, and that was tough because you can't do anything about a broken heel. But even then, I was like, 'Motherfucker, you done been here a year. This heel ain't stopping shit.' All that's a part of the job."
That level of dedication did not go unnoticed by Majors's co-stars. "He was amazing," raves Elba. "He's such a gent, very kind-hearted, and a real studier of the craft. We spent quite a lot of time together just because I wanted to get to know him and he wanted to get to know me, even though our characters don't know each other. But we really wanted to bring it all the way to the very final scene, and that takes bonding. It takes two actors who are understanding each other and prepared to fail, or fall, or give it their all in front of each other. I got close to Jonathan. He's just a lovely guy."
That perseverance and indomitable spirit is also something Majors says he learned from a close relative, who served as a strong source of inspiration for the way the actor approached playing Love. "Nat Love is dedicated to my Uncle Chuck," Majors says. "He protected me in a way where I could be free. He looked after me when things came up short financially. I think about him being a little country boy on the farm growing up. He should get his flowers. If his nephew can do his thing and tell that story, that's what it's about."