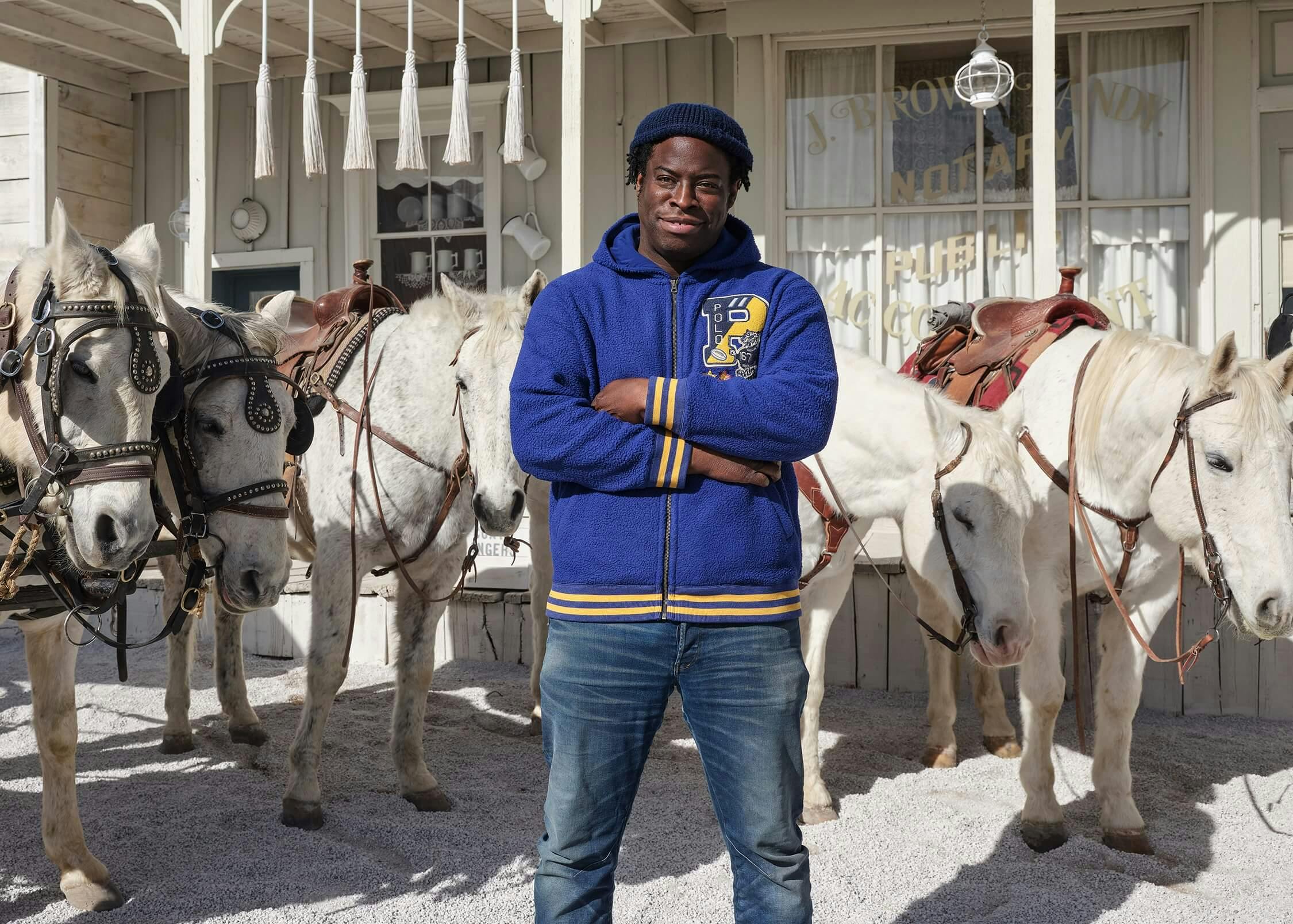 Assembling an All-Black Western
Writer, director, and producer Jeymes Samuel translates his love of Westerns into the star-studded action-packed The Harder They Fall.
Jeymes Samuel was a young boy growing up in a London neighborhood when he first fell in love with Westerns. Classics like The Searchers, The Man Who Shot Liberty Valance, Shane — Samuel devoured them all growing up, watching television matinees of these grand films that mythologized hardscrabble life on the American frontier. "Westerns were always my favorite genre," Samuel says now. "The allure of the Old West for me was the cowboys. They were just always so cool. Also with Westerns, I could never see the filmmaking; no matter how hammy the acting was or how run of the mill the story was. Shane was just Shane. That's real stuff. That's what drew me so much to the Westerns, the transportation to this real environment."
Over the years, as Samuel forged a wildly successful career as a singer-songwriter and music producer working under the name The Bullitts, he never lost his passion for the Western. Now he's parlayed that lifelong energy and enthusiasm into his gorgeous and galvanizing feature-length directorial debut, The Harder They Fall. The result is a two-hour adventure that's bloody spectacular.
Samuel's film, co-written with Boaz Yakin (Now You See Me), is set in an Old West that's never been depicted onscreen, with a star-studded all-Black ensemble playing fictionalized versions of incredible, but lesser known historical figures. Rising talent Jonathan Majors anchors the film's formidable cast as outlaw Nat Love, a gunslinger on a quest for revenge. Accompanied by Stagecoach Mary Fields (Zazie Beetz), Bill Pickett (Edi Gathegi), and Bass Reeves (Delroy Lindo), Love goes on the hunt for Rufus Buck (Idris Elba) — who's been recently released from prison — and his accomplices, Trudy Smith (Regina King) and Cherokee Bill (LaKeith Stanfield).
"Over the years, I started uncovering all these rich characters with these rich histories that I was never taught about," Samuel says. "I know all the words to Doris Day's 'Just Blew in from the Windy City,' but I never learned about Stagecoach Mary, or Rufus Buck, Cherokee Bill, or Bass Reeves, who was the inspiration for the Lone Ranger. I was thinking to myself, How come I've never seen them onscreen? So, I made a fictional story, brought all these real characters into it, and assembled them like the Avengers to tell the story of The Harder They Fall."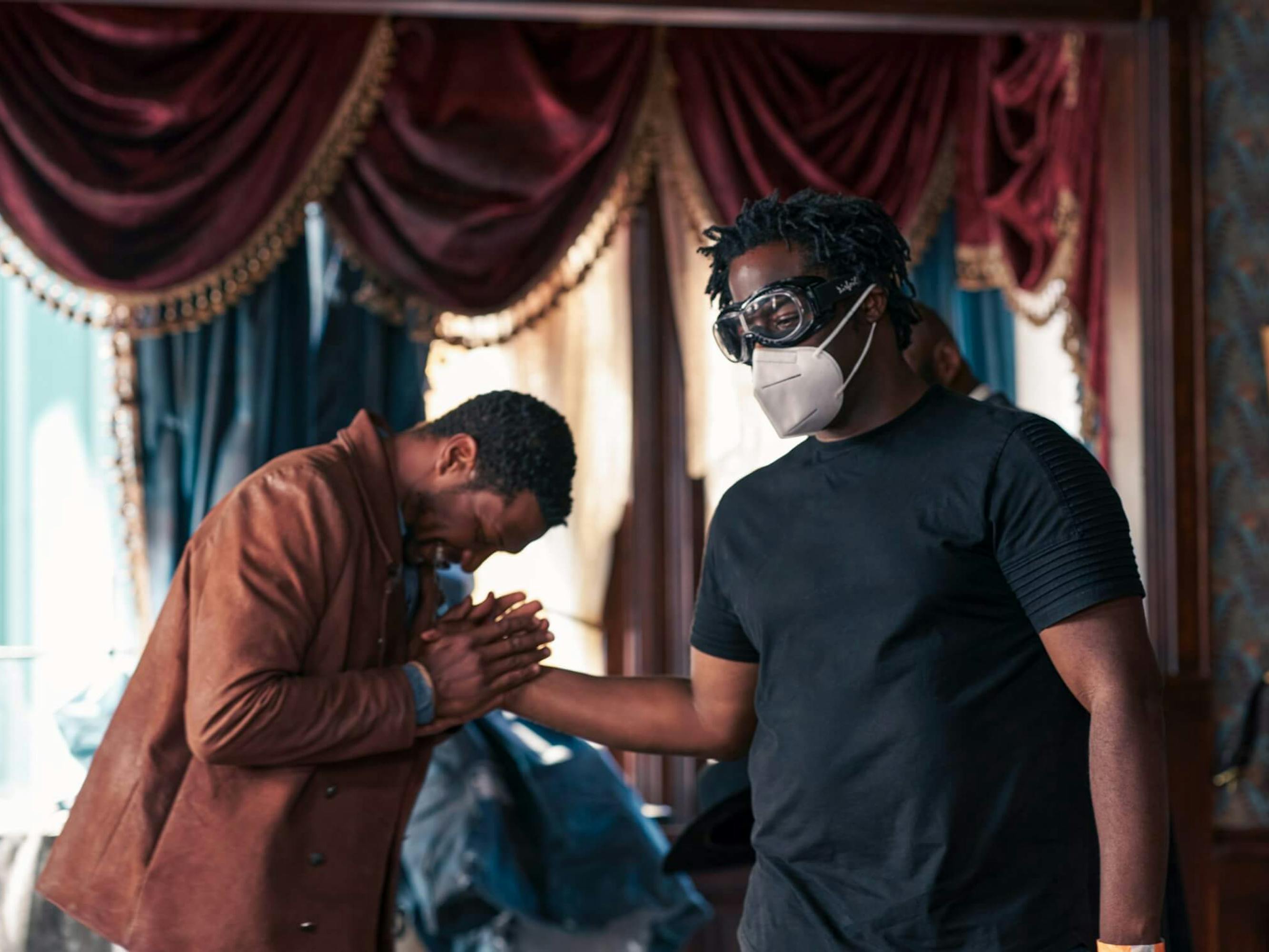 Krista Smith: What was it about amplifying the idea of the Black cowboy that was important to you?
Jeymes Samuel: As much as I love Westerns, there were always these glaring inconsistencies with the portrayal of people of color and the portrayal of women. As soon as we go "period," people of color and women are subservient immediately, right? If there was a Black person in a Western, they'd always give a reason for that Black person being there; Oh, they used to be a slave, but they're not anymore. I wanted to see more of myself in those stories. So I did research and read books, thinking surely there were Black people and people of color in the Old West that weren't slaves. When I learned about these characters, instead of critiquing, I was like, Okay, let me just pull them all into one story, just to bring balance to the force, so to speak.
Jonathan Majors is your lead cowboy here. He is the gunslinger out for revenge, the classic archetype. Talk to me about why you thought he was perfect for Nat Love. What was it like working with him?
JS: Nat Love was a really hard part to cast because he holds the whole story together. Jonathan was giving an interview while promoting the 2018 drama White Boy Rick, and he answered one question — for the life of me, I cannot remember what question that was — but I went, That's Nat Love! I didn't even read him for the role. I knew in my heart, in my soul, that was Nat Love. And I knew nothing about Majors. It turns out he's actually a real-life cowboy. All those stunts — he's galloping full tilt, no hands, shooting on target — that's all him. He's always ridden horses. His family is from Texas. He grew up like a cowboy. I never knew any of this. I just said, I want to meet this guy. We got on the phone, and we were speaking about who Nat Love is. That evening, he sent me a poem, and it was beautiful. He already had such a feel for the character. I knew it was him, come hell or high water.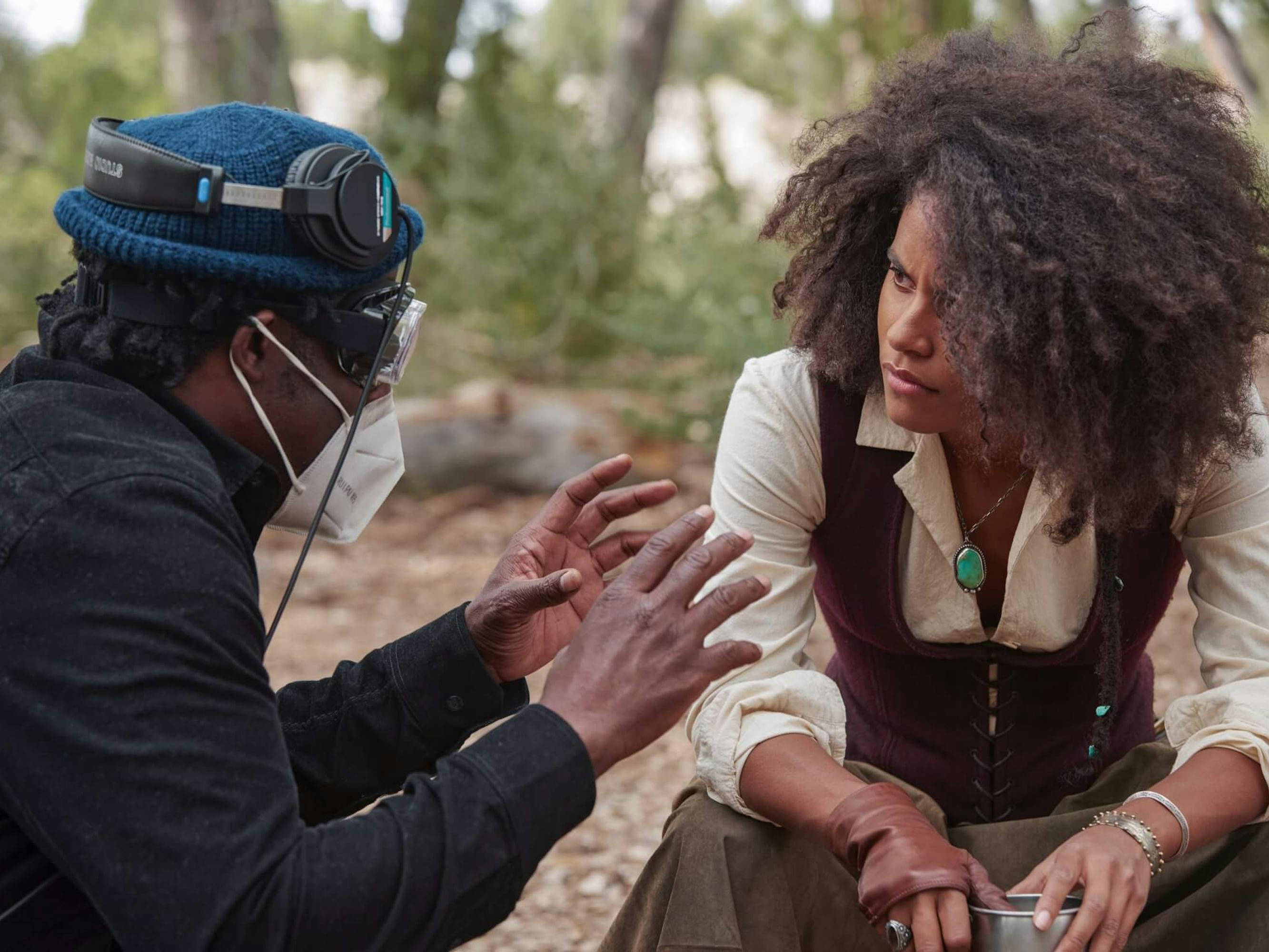 The music lights this film on fire. What was the symphony that was happening in your head while you were directing the film? How did you tie the music together with what was happening in the scene?
JS: I scored the whole movie, and I wrote and produced the entire soundtrack. So, as I was writing the script, I was also writing the musical motifs for all of the characters. Stagecoach Mary's song, which is not in the film, is a song called "World Inside your Rainfall." She's speaking to Nat Love. I would build her story, and her relationship with Nat Love, out from the basis of that song. It's a really seamless thing — the music, the story, the script, the songs, and the characters — it turns into one big opera. They all inform each other because it's all coming from the same person.
I was always trying to think — what is the signature sound of this film? When I was growing up, I would always hear Barrington Levy's song "Here I Come," and because of his vocal — he has a signature on it, a tongue roll — I always saw galloping behind it. So when I was making the film, I figured, Hey, let me rebuild that track, contact Barrington Levy, have him come in and sing it for the score, and that's what's in the teaser. That score kind of underlines the music of the whole film — it's almost like the driving force of the score is dub, old school reggae. When I landed on that, I knew that I had it. It was a game-changing thing. I asked myself, How do you make this Western new, give us something we've never heard before, as well as something we've never seen before?
I wanted to see more of myself in those stories.
Jay-Z is a producer on the film. Tell me about that partnership.
JS: Me and Jay, we go back over 10 years. The first collaboration we did was "Dinner at Tiffany's," a song with Jay Electronica and Charlotte Gainsbourg. He and I worked on the music for The Great Gatsby with Baz Luhrmann. What people don't know about Jay — obviously, they know he's a great businessman and an amazing artist — but they wouldn't know how versed he is in film. He was present in every single aspect of the filmmaking process, writing the script and making the music, and a couple of songs we co-wrote together. Working with Jay is like breathing.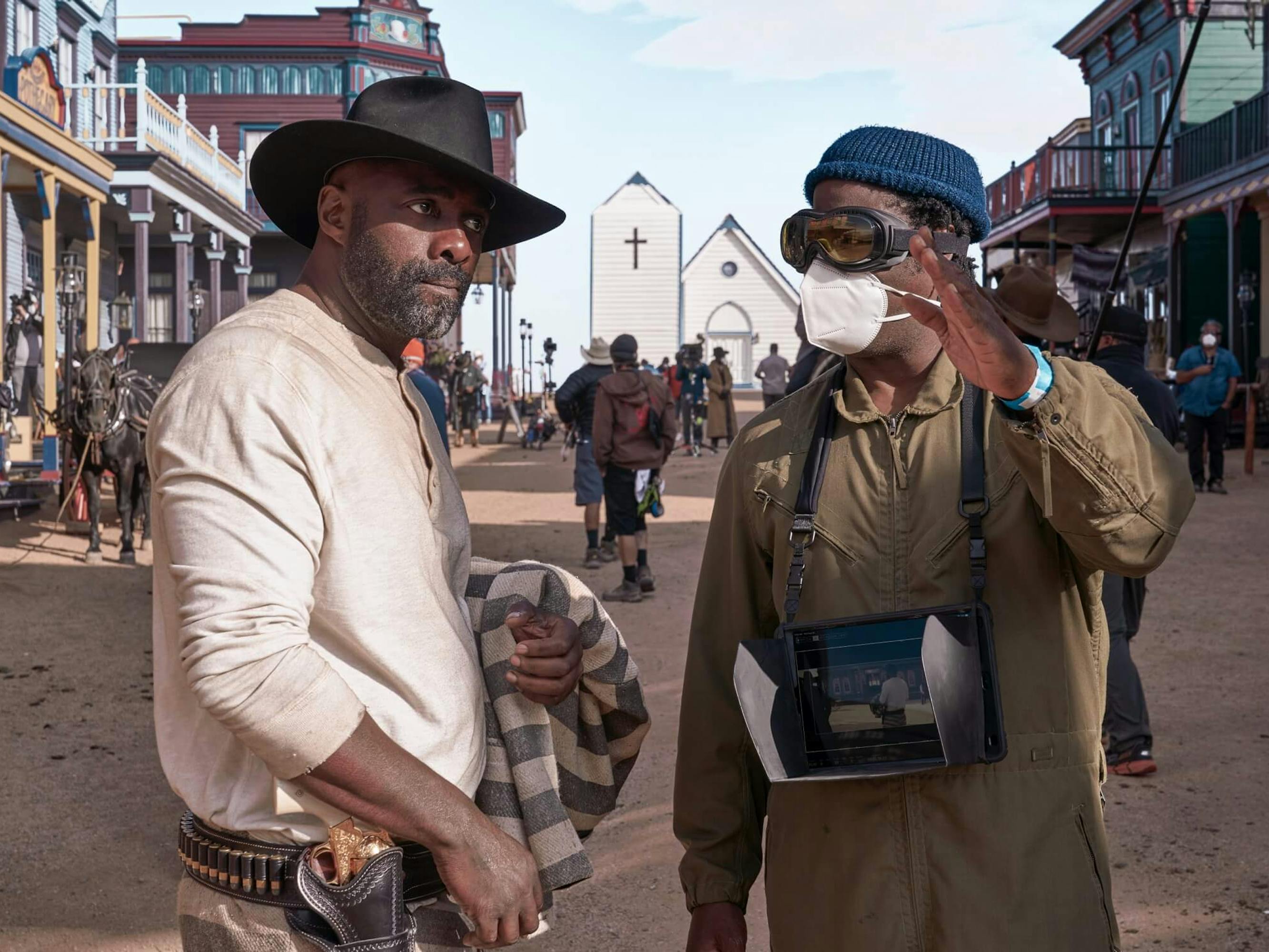 You did this movie during the pandemic. It's remarkable that a film of this scope, with these action sequences and emotional scenes, was done under this giant cloud of COVID.
JS: Madness. It's my debut movie, and we shot in the eye of the needle, in the middle of that COVID tornado. However, because I'd never shot a movie before, having to direct standing six feet away from people with goggles and a face mask, it was just like, Okay, these must be the rules of filmmaking. It's like learning to drive in a Bugatti as opposed to a Mini Cooper. I grew up in the hood in the U.K. — Harrow Road, Kilburn Lane, Mozart Estate. As bad as the pandemic is, growing up in those areas, it was more dangerous. I was like, Okay, I'm prepared for it, for whatever it is. I just have to get this story told.
What was it like when you were shooting? What was the atmosphere on set?
JS: I always say the film we made is for the public, but the making of the movie was for us, right? I would be blasting music literally every spare moment. My sound man, Anthony Ortiz, built a huge speaker in my video village that would blast out to the whole set. It was like having fancy dress parties in the evening, like a club in the Old West. Everyone's on the street waiting for the turnaround, jamming. It was a really amazing experience.