Making The Harder The Fall
The Harder They Fall marks a creative meeting of the minds with writer-director Jeymes Samuel and executive producers Shawn Carter and James Lassiter.
Writer-director Jeymes Samuel enlisted a pantheon of Black creatives, both in front of and behind the camera, to bring his Western The Harder They Fall to life. From the who's who cast — featuring the inimitable talent of Jonathan Majors as Nat Love, Idris Elba as Rufus Buck, Zazie Beetz as Stagecoach Mary Fields, Regina King as Treacherous Trudy, Delroy Lindo as Bass Reeves, LaKeith Stanfield as Cherokee Bill, and RJ Cyler as Jim Beckwourth —  to the inventive wardrobe helmed by costume designer Antoinette Messam (Creed, SuperFly), and the dynamic rap and reggae roots-infused score featuring Kid Cudi and Barrington Levy, Samuel brought authenticity and intention to his fictional tale of revenge and redemption.
The revamped Western was a holistic creative undertaking that required a clear vision and a lot of trust for a directorial debut. Bolstering Samuel's vision from behind the scenes were two of his production partners, entertainment and entrepreneurial heavyweights Shawn Carter and James Lassiter. Lassiter's lengthy cinematic track record includes producing blockbuster films such as Ali, Hitch, and I Am Legend. And Carter, also known as the songwriter, rapper, and mogul Jay-Z, initially crossed paths with Samuel in the music scene, collaborating on the score for Baz Luhrmann's 2013 remake of The Great Gatsby and 2017's Jay-Z: Legacy, the short film that accompanied Jay-Z's 4:44 album. The trio forged a formidable partnership, to say the least. "We're working together and we're doing things that we love — we're really passionate about it,'' says Carter. "It's not business for us; it's trying to create art that's going to outlast us."
In a roundtable conversation, Samuel, Lassiter, and Carter discuss their creative connection and the transcendent vulnerability at the core of The Harder They Fall. This is an edited version of their discussion.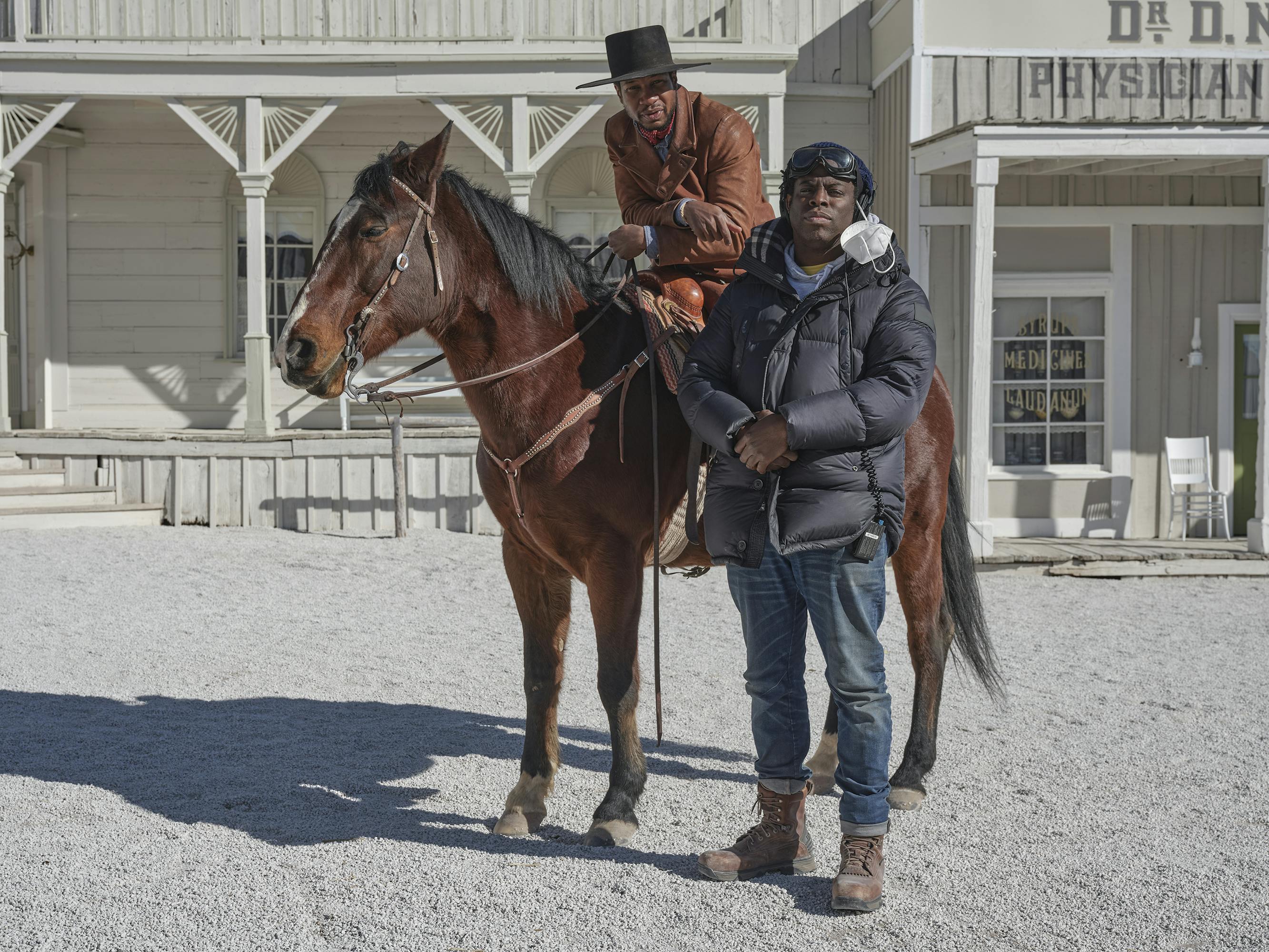 STARTING WITH THE SCRIPT 
Shawn Carter:  When we got [the script], it was amazing just reading it all. It's so clear when Jeymes describes the thoughts and the things that he's trying to execute. I already saw the vision, just from him explaining it and how animated it was. 
But the fascinating thing to me is how each one of the characters has a full set of complexities that exist in gray areas, so you don't know, Am I rooting for this person or not? Is this person a victim? And then you realize, Yeah, they're all victims in some kind of way. They became heroes out of their victimhood, so you root for them in that way. 
James Lassiter: How Jeymes and I connected was from the script. When he sent the script, there were a lot of ideas in it. Then I called Jeymes and said, "I have a lot of ideas, Jeymes. Not to be disrespectful — I want to tell you, I really like the script — but this is what I think . . ." I was probably talking for a half hour. 
Jeymes Samuel: It's rare you meet [someone who] speaks the same kind of language you do, creatively. So when you find those people, you cherish it. Incidentally, all of us also have a history in music. For me, music and film kind of go hand in hand. So working with James Lassiter, as well as my already existing relationship with Jay-Z, was just the natural progression.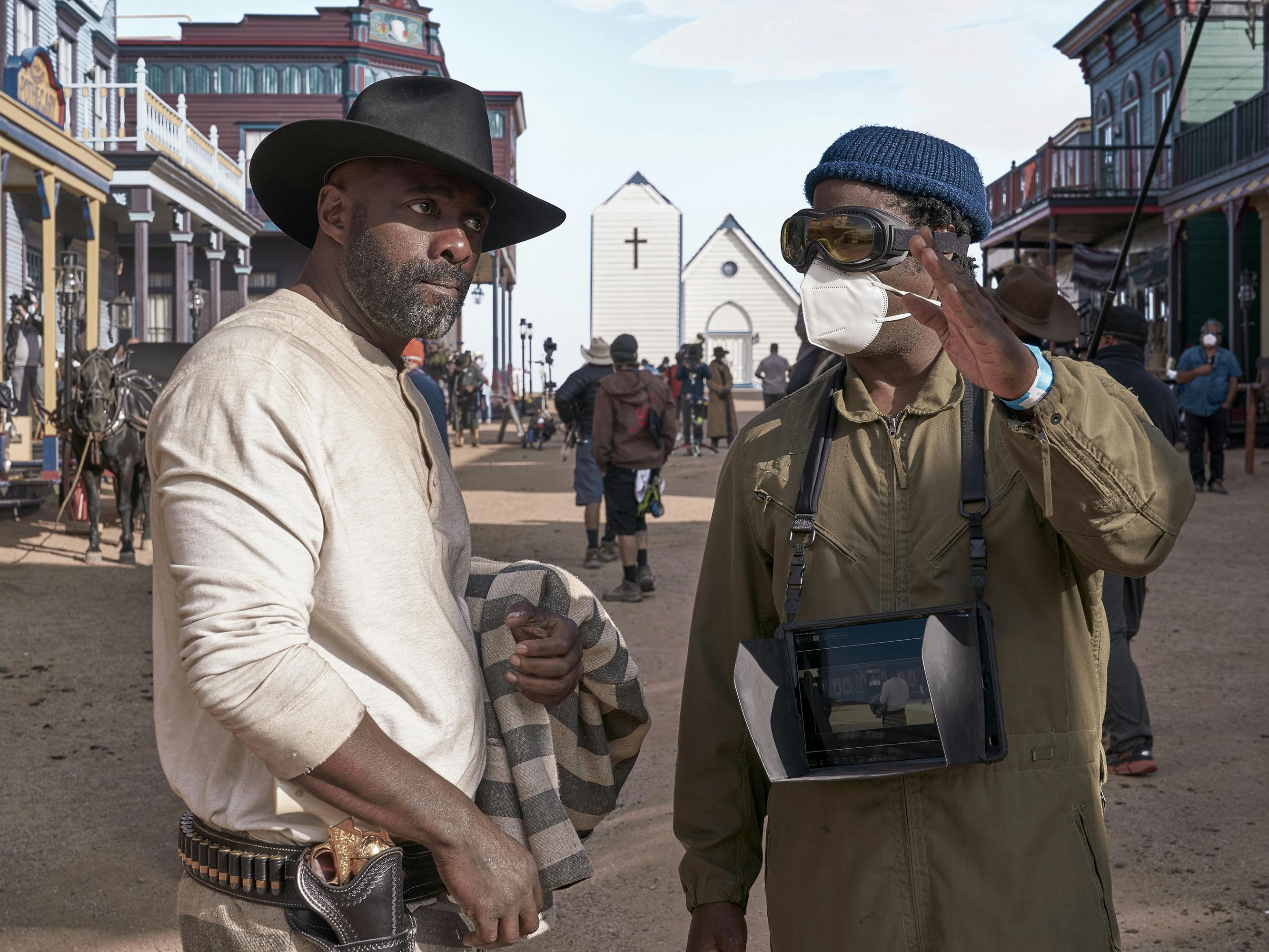 SEEING THE HUMANITY IN THE CHARACTERS
Samuel: I suppose if I related to a character most, it would probably be Pickett, because he's a sharp shooter. He let all these guys figure out their gunfighting and he stayed safe in the distance. I remember one time I went paintball shooting and I was just a sniper. I never got caught once. I stuck back like a good, old-fashioned coward. Obviously, I'd like to say something like Nat Love.
Carter: Yeah. Everybody wants to say Nat Love, right?
Lassiter: I'm going to say Nat Love. But it's not a personal connection. I just think Nat, in my mind, is the most layered and most complex character in the movie. When I read it, I said to Jeymes, "On the page, this reads like a revenge story." But it wasn't that for me; it was a love story. It was a story about unrequited love because here was a guy that was on a journey, but really, all he wanted to do was to love and be loved. 
Before he could get to that point — and this is what I really love about Nat — he needed to get whole. I said to Jeymes, "This guy had a hole in his heart. He had such a severe trauma that he couldn't love anybody or be loved until he filled up that hole." And the whole journey of the movie is him just filling that hole so he can be with Mary.
That's why I'm rooting for Nat, not just because it's a gang versus a gang. It's like, "Can this guy — who is really all of us — overcome his trauma?" That's the movie that I saw when I read it, and that's what I really talked to these guys about. It's about Nat Love's trauma. I like his journey the most. I don't know if I relate to him.
Carter: I think you relate to different pieces of all the characters. That's what I was saying earlier, about how complex and beautiful these characters are, that you can find yourself in a bit of all of them. We don't get into it, but the reason why Cuffee is so skilled at what she does is because she can tell when you're about to do something, almost like a poker player. Everyone has a tell when they're going to pull. Whether you blink your eye or you move your shoulder, something's going to give away. And it's going to give you just enough of an advantage at that second, that you can pull your gun quicker, right? So she has that. And then, like he said, Nat Love has to fileel that void inside him.
I personally went through that; I had to reconnect with my father before I could move forward in any relationship. And Rufus Buck, the whole time, you think he's like the devil, the supervillain, but placed in these circumstances, I can relate to him because I'm from Marcy Projects. So, placed in these circumstances, and given this set of situations, what are you willing to do for your family?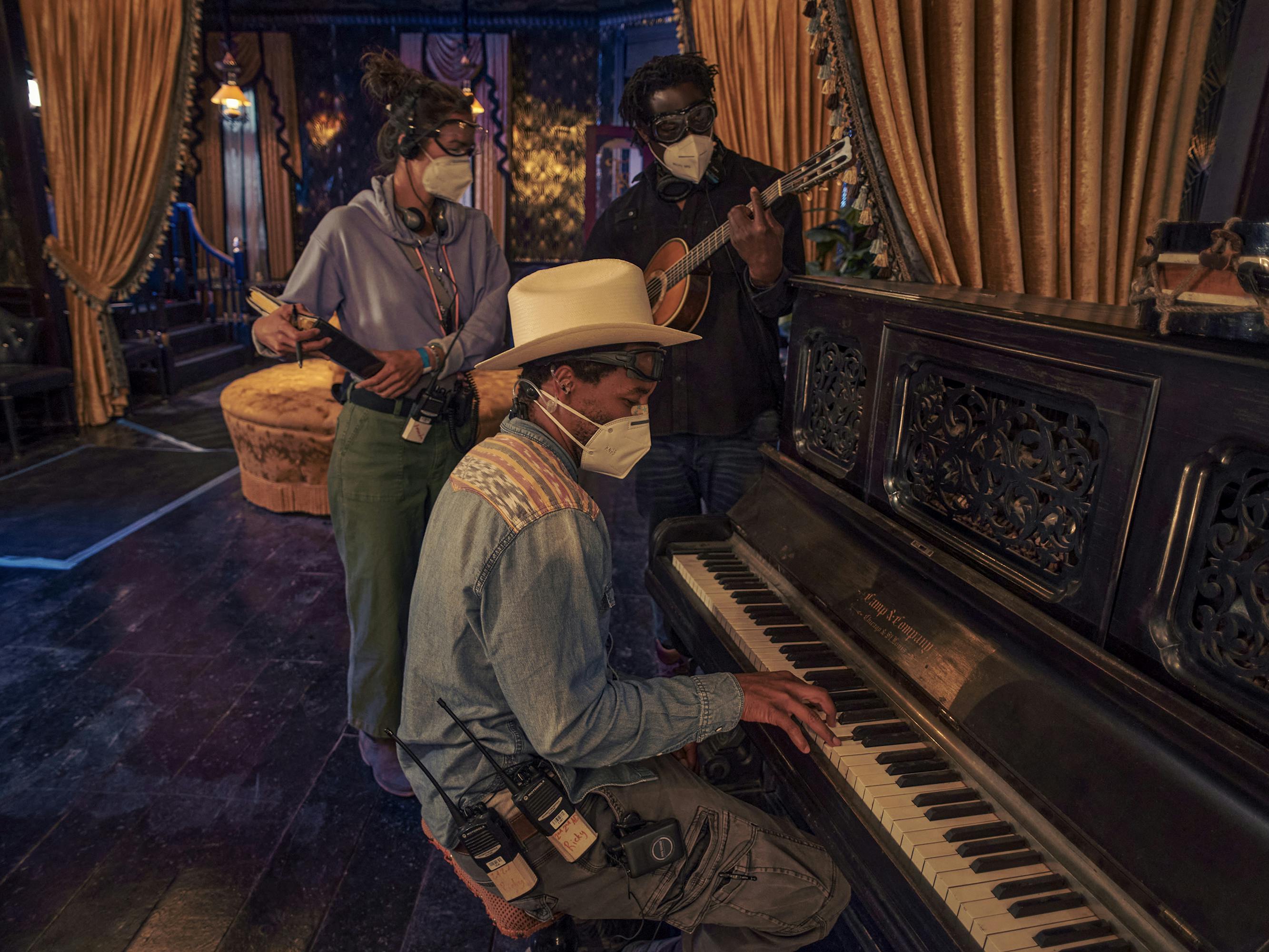 REDEFINING THE WESTERN 
Carter: When the trailer came out, I saw a comment that said something like, "It's always comical seeing Black people in Westerns." That's how far it's gone. It's comical; it's like satire. It's like, "No, this is actually true, and we existed in that time."
Any time you can be a part of redefining, and then giving voice to the voiceless, as well as entertaining, it's always a plus. So I was super proud of that moment, and super proud of how strong the characters were. Women in general — who people will have you believe didn't have a voice — they were entrepreneurs and had their own booming businesses, and were super gangster. What I thought was really brilliant from Jeymes is using real names. So although the story is fictional, the names are real, and these people existed. It's educational as well as entertaining.
Lassiter: I was never a fan of Westerns because when I was a kid, we weren't allowed to watch them. I have an older sister who was woke in the 70s. She would say, "You're not going to watch a movie about a group of White men committing genocide. That's not cool, we don't do that." I think Westerns are cool — I love Wyatt Earp's story — but there has to be a balance. You have to see the full spectrum to appreciate those movies. We didn't go into this thinking, We're going to redefine a genre, but I think it's important to show people that everybody existed. What about the other stories? So, if you can see the other side, if you have the full spectrum it gives me a larger appreciation for the Westerns that were told then. That part is important to me, not the redefining of a genre.
Samuel: One in four cowboys were Black. There were literally hundreds of years of that experience for Black people, and people of color, and women. But because there were no big women directors working with big budgets in Hollywood in the 20s, 30s, 40s, and 50s, and there was no people of color working with big budgets to direct their own movies in those periods, Hollywood was giving us a really narrow vantage point of their stories, which were really white, male-centric stories.
And I love those films, I still do. Because I believe if you take away a piece of history, now you have a domino effect that affects all of history. You can have the best car in the world — you can be driving a Bugatti — but take one of the wheels off, and you got the worst car that was ever created. But loving Westerns as I do, I just thought, "There's just so much more." So you end up, I believe, redefining the genre. For me, it's just obeying my crazy, right?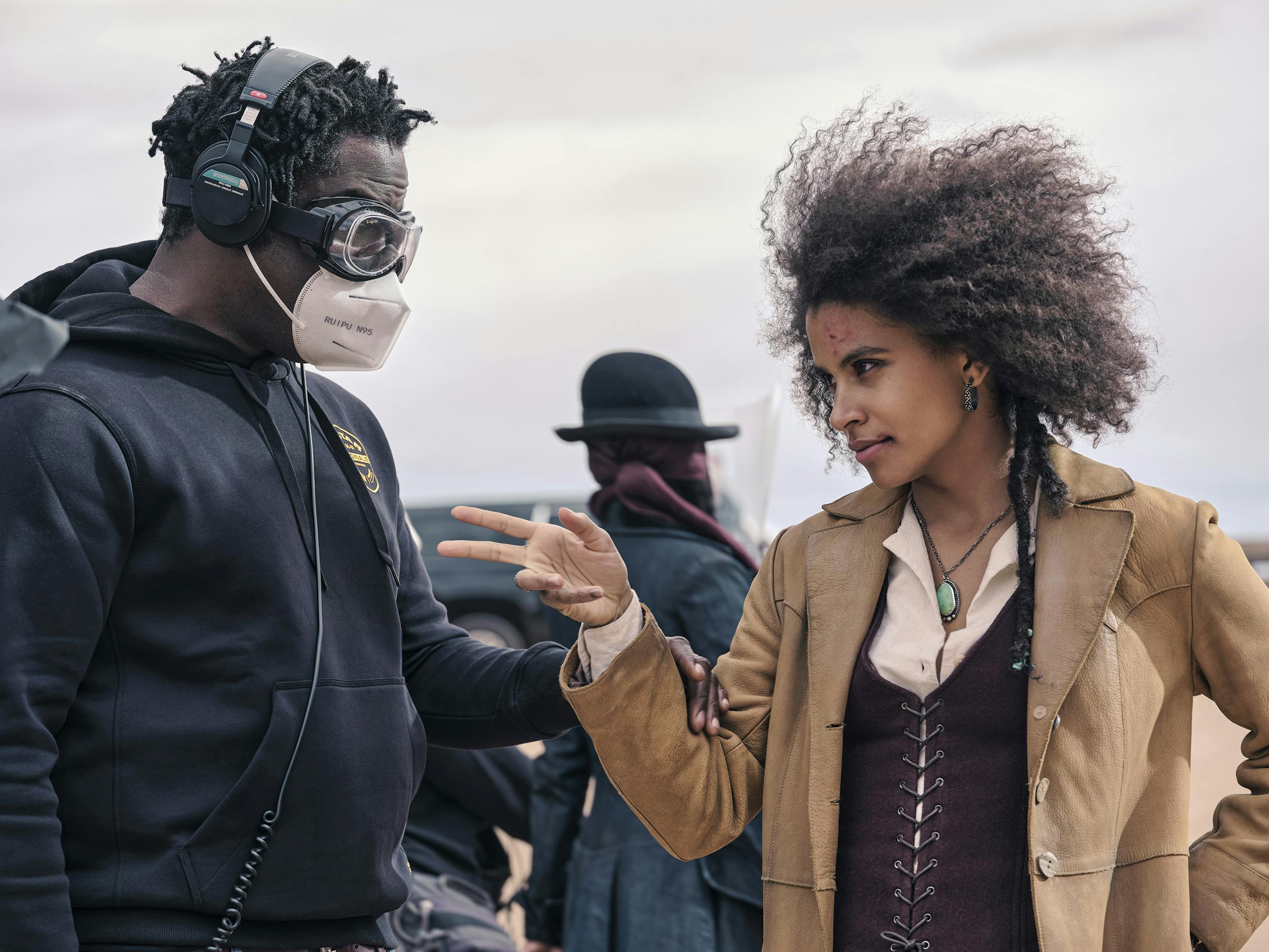 THE TAKEAWAYS 
Samuel: There are two things I want people to take away from this movie. One takeaway is: Just because you show Black people or people of color in a period piece, it doesn't mean they were subservient or less than human. 
Carter: That's right.
Samuel: My frustration with Westerns is there'll always be some reason why the Black person is there. "Obviously he was a slave on Johnson Plantation." And "women in the Old West," was a genre in and of itself. I really wanted to make a purposeful point of actually deadening that narrative. Like, Stop it.
Secondly, when we were kids, we used to sing scores all the time. So I really want people to come away from The Harder They Fall celebrating the score. We don't sing scores anymore. There are still great scores being made, but it's almost as if that was a thing of the past. I use voices, like Barrington Levy's, on the score in this movie. It's almost a seamless transition between the score and the songs. That's a big thing I want people to come away with, getting us back to celebrating the score again.
Lassiter: For me, you might like the comedy of Beckwourth, you might like the love story — I just like when people feel something. I don't want our storytelling to tell somebody how to feel, I just want, when they leave the theater, for them to get emotion from it. It's not "Did you like it?" It's "How did it make you feel?" And that's all I ever want from storytelling.
Carter: I'll just say: possibilities. Narrow-minded stories get told, and then someone tells a story and it's like, "Oh wow, I didn't know you could do that. I didn't know you could put that reggae to Westerns." Things are easily defined, right? 
For me, we're creating these stories and these complex characters, and then people say to themselves — the next filmmakers or writers at home — "Wait a minute, you can do that? Okay, let me try to do this."