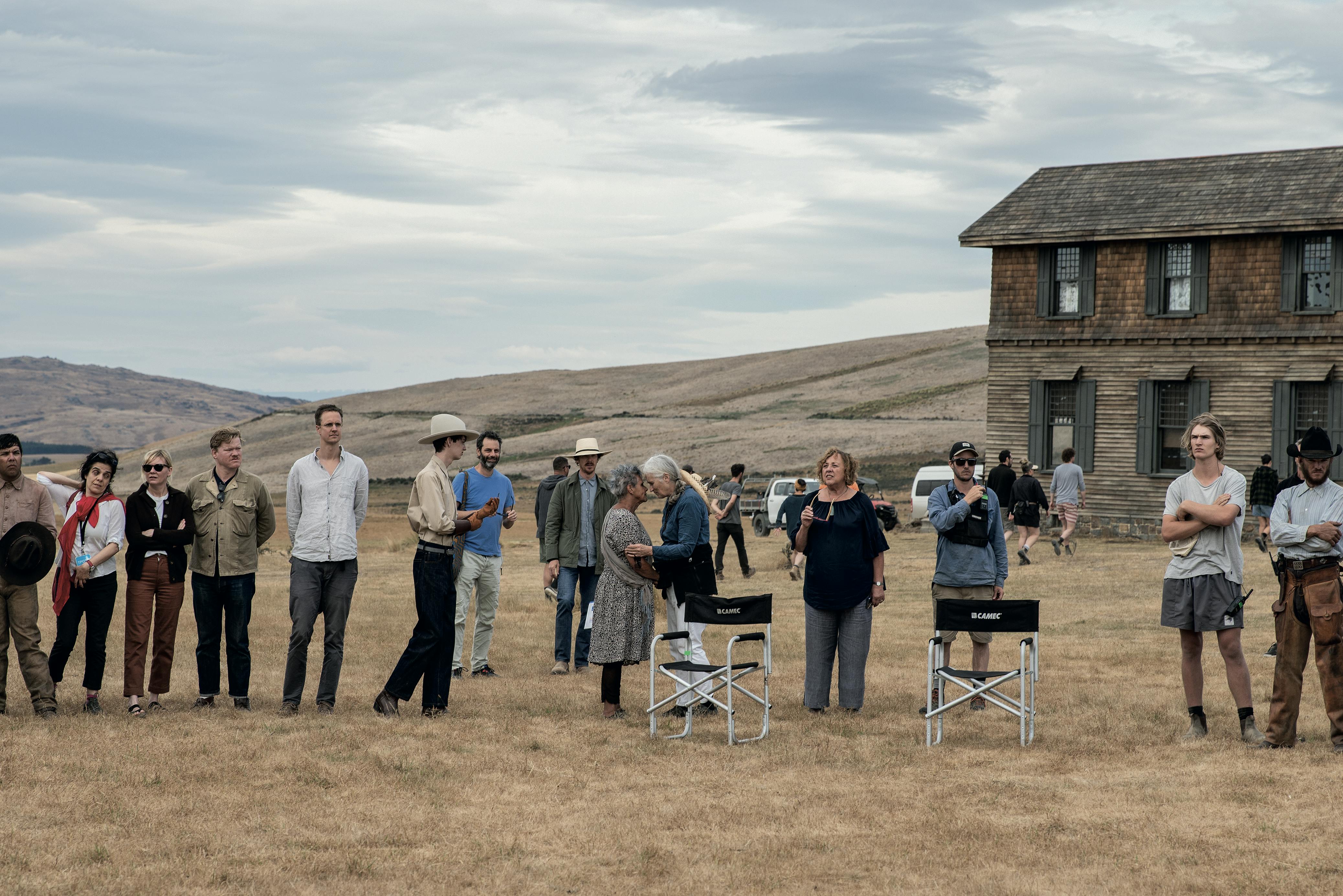 Jane Campion and Guillermo del Toro
The master directors discuss the craft and Campion's Oscar-nominated The Power of the Dog.
When Thomas Savage wrote his 1967 novel The Power of the Dog, he poured himself onto the page. Setting his drama on a ranch like the one where he'd lived in Beaverhead, Montana, he drafted a protagonist, Phil Burbank, who matched the author's own skill in roping and riding, in breaking horses. But as a closeted gay man who was in a heterosexual marriage and fathered children, Savage also invested parts of himself in the character of Peter, the eccentric young man who enters Phil's orbit once Peter's mother, Rose, marries Phil's brother, George. "His foot was in two worlds," says filmmaker Jane Campion of Savage. "He definitely understood the cruelty of the west and the cruelty of the ethos of masculinity that he was not part of — and he had to hide."
From the moment the Oscar-winning Campion read The Power of the Dog, she felt compelled to bring Savage's tale of obsession, love, and revenge to the screen — it was a story that profoundly moved the director, and she immediately sensed its remarkable cinematic potential. With her adaptation, Campion sought to preserve the singular elements that Savage imbued in the novel to retain its authenticity. Indeed, the 1920s-set story — starring Benedict Cumberbatch as cattle rancher Phil; Kodi Smit-McPhee as the enigmatic Peter; and Jesse Plemons and Kirsten Dunst as Phil's brother George and his new wife Rose — feels deeply personal, layered. 
As the haunting tale unfolds in the almost hermetically sealed space of the ranch, Campion expertly ratchets up the tension among the central characters, while simultaneously exploring classic Western tropes. "It's a very intimate story, a chamber piece, in a way, but it's almost as if they are on a raft in the midst of the great ocean," Campion says. "Of course, a lot of the ethos of the hero and the lone man surviving and going on his instincts — without rules and mores — is part of that mix." 
Campion recently spoke with Guillermo del Toro, the Academy Award-winning filmmaker of Pan's Labyrinth and The Shape of Water, about her experience making The Power of the Dog. del Toro's latest, Nightmare Alley, is itself an adaptation of a groundbreaking novel by William Lindsay Gresham, who, like Savage, channeled much of his own life into his fiction.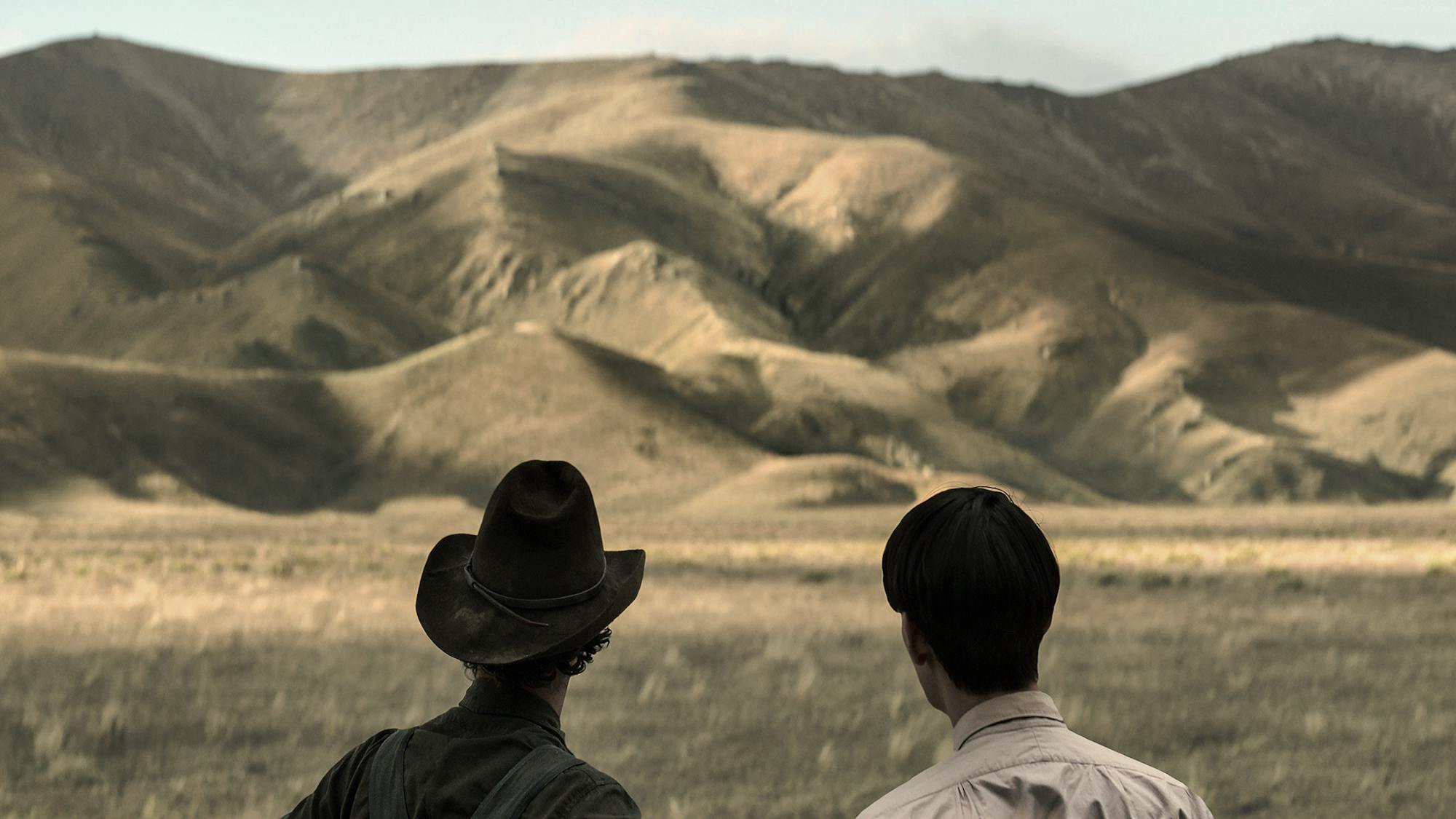 Guillermo del Toro: What I find salient in your movies is compassion and love for all the characters. You make us feel for all of them.
Jane Campion: For me, the point of fiction and drama is to use it to explore what it means to be human in many different guises and get some understanding of that. Why I love this book and why I wanted to work with it was that Savage did something unique in coming up with this story, this fictionalized version of his life. It's got a David and Goliath quality to it, but it's a very causal story. If you follow every beat of it right from the beginning, it's going to lead Phil to his demise. But I love the fact that he keeps changing the point of view, and that's something that I wanted to do with my film too, to keep that figure-of-eight feeling of moving between all the characters in the story.
GDT: The landscape is aloof and cruel and cosmic and stands above, but contains everybody. It's so magical, the land and the sky, it's almost primal. Was it a creative decision to shoot in New Zealand and not Montana?
JC: In the end, it was a decision that was made for both financial and creative reasons. There was no way we could actually make it in Montana. As many ranches as there are, it wasn't practical. All of the ranches have been modernized and have great big kitchen islands — it wasn't something that looked like 1925. We couldn't find it there. We would have had to build it. Montana's a state without many tax advantages for filming, and New Zealand has quite a few helpful ones, and we could afford the crew there and the building. The building actually was kind of a nightmare. We got there in September, and we were filming in January. I remember going out to [the location to] pace it out. It was actually snowing, and it was supposed to be spring. I would sidle up to various people, and go, "Is this going to happen? Are we going to have a set?"
GDT: But you have such an amazing level of detail in the set.
JC: That was Grant Major. He's the most stunning guy. I worked with him on Angel at My Table. Angel at My Table was his first actual job, and so it was beautiful for us to get back together again after his Lord of the Rings stints. He's the kindest, most gentle guy, a life-long vegetarian. Here he is, working on this beast of a thing. He was saying, "We've got to make it look real, Jane. We've really got to have that guts feeling to it."
GDT: Both the sets and the wardrobe immaculately portrayed the characters. They tell us who they are and what they're going to do, how they smell, how they move, how they sound. 
JC: All of us agreed that we didn't want the costumes to stand out like, "Oh, what everybody wore in 1925 — isn't that amazing?" We wanted it to be grounded in the reality of their lives and for nothing to pull you out. Grant's sets and the aging of them were pretty remarkable. I know that when the actors arrived, they were stunned.
GDT: What is it that you tried here that you haven't tried before?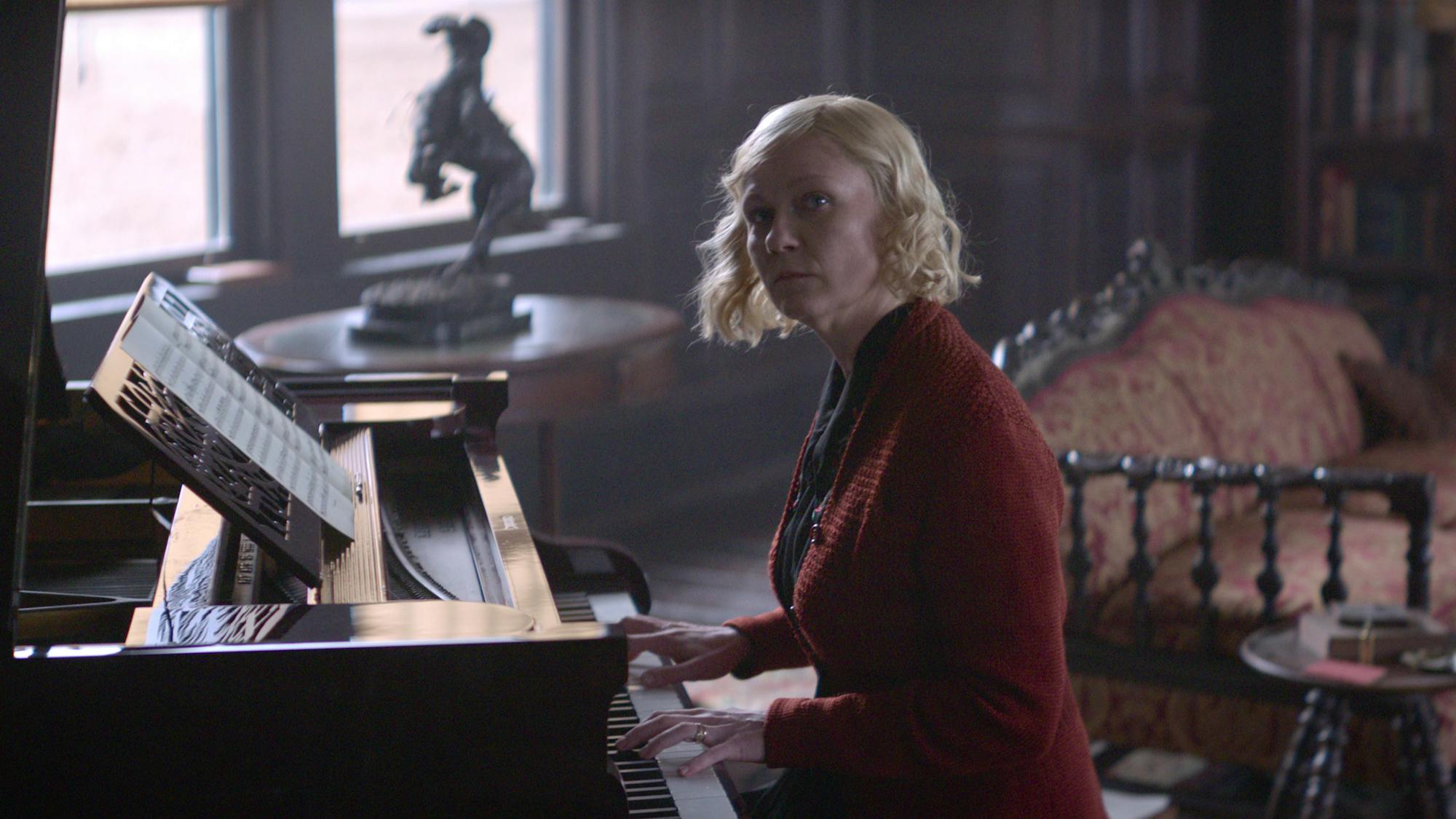 JC: The thing that I really enjoy is to stretch myself, to try to do better. There's always a way to fail in directing. But for me, it's all about creating moments. I'm getting the elements together, and I'm not even sure where they're all going to land, but I know if I get these elements strong enough, they're going to be solid. They're going to be really clear in their characters, and I'll get all my locations right, and then I'll think about how I'm going to film it in the right way. We get all these things together, and then I'm waiting to see things I've not seen before. I'm basically setting up for a party that is going to surprise me and that I'm trained to dance at, you know?
GDT: You said you used dream work with the actors. I tell you, very few scenes have been as tense for me as when Rose tries to play the piano. She is tormented by Phil, a guy that is absent at that moment. Did you do dream work with Kirsten to prepare for that scene?
JC: Yeah. Actually, it turned out she always does it. The way she describes it is really great. It's the same work with introducing the deeper parts of yourself, your psyche, through your dreams towards the character. What she says about it, and I found the same thing, is that it gives you this profound confidence that you have your feet underneath you and you know where you are in the story. You don't have to second guess. You feel clear about what you're doing. I felt really clear when I started the film. I knew, in my body, who Phil was. He's probably the most complicated character of the group and the most scary to deal with, but I felt that he could speak through me. That gave me incredible confidence.
GDT: Nothing in this movie is out of balance. Everything is perfectly orchestrated.
JC: Thank you. Let's say I knew that I needed a deep partner in it, in terms of my director of photography, Ari Wegner. I wanted to give an opportunity to a young woman who is so gifted. The condition was, that she and I do a protracted, long preparation, and that put us in a really incredible position. We were like sisters holding hands throughout the whole thing and able to see with the same eyes about what things were. There was barely any discussion. We'd just look for what we thought was going to work and offer it up to each other.
GDT: There are moments in the film that are punctuated by these raw, very, very real-life moments of brutality, with the animals or the cadavers or the burning of the cows, and so forth. Were you seeking a balance of the violence that they do to each other as characters?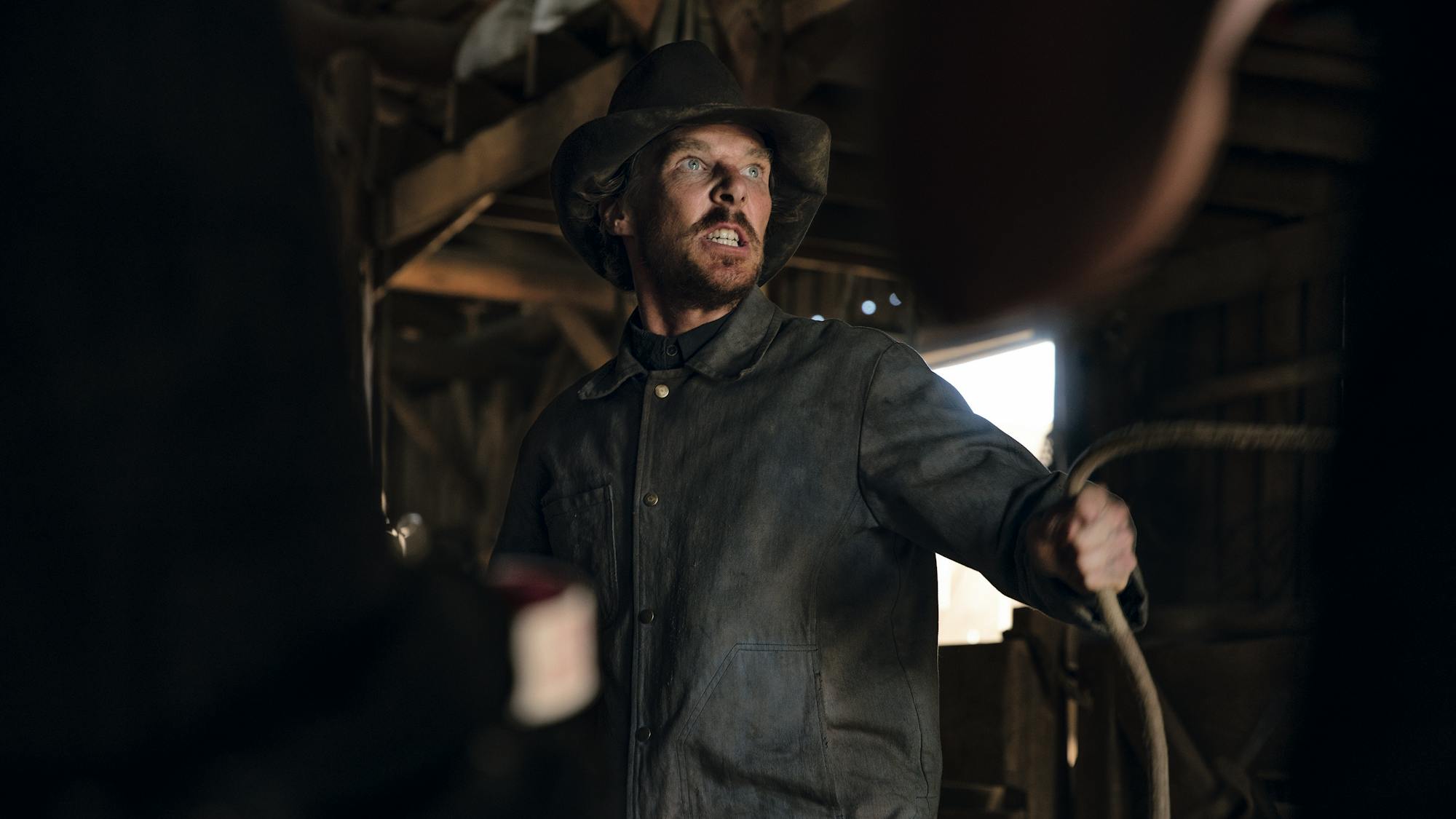 JC: Well, it was clear that Phil had to be a frightening man. Probably the worst of it was if he thought anybody was in any way big-timing themselves, he'd have to show them who the hell they really were. It was a compulsion for him, really, to put people down, to have Rose see how little gift she had as a pianist, how pathetic she was, and how much more superior he was and that he knew it. That secret dominance was interesting to me because I had a really abusive nanny at one point that made me understand what it's like to live in a house with your oppressor. There is the actual violence, too. The emasculation of the animals is a [practical] thing on ranches, of course; there are only a couple of animals that are allowed to keep their balls. Everything else is neutered, and Phil's the one that does it. He's the only one who does it. He says he does it because he's the best at it. He's the most humane, in fact, but it's also because he's this big guy.
GDT: Kodi, as Peter, is a revelation. It's fantastic because he is capable of almost detached cruelty, and at the same time, enormous fragility. And compassion for his mother. He's the savior, ultimately, of everyone.
JC: Yeah, back in 1967, when Thomas Savage wrote it, there Peter is with his little wish journal, you know? All people harbor their mantras — "We're going to be living in the great mansion," and he's imagining a better life than his mother.
GDT: How much did you dive into Savage's biography?
JC: I was compelled to do that, because the interest, for me, with this job is to do it as well as I know how, or as well as I possibly can. I'm sure you feel the same way. It's such a privilege to be directing, to be making a world, and, in some way, to try to empower everyone to get the opportunity to see something more than what we can imagine. One of the first steps is to actually find out where Thomas Savage lived.
GDT: You went there?
JC: We went to his ranch, yeah, and met one of his nephews, who showed us around. I saw the ranch and the barn, which was really good. We used a lot of photos from that to help us with our barn, but the house had been removed and placed somewhere else. When I saw the house, it really hit home that it wasn't very beautiful or grand as it's written in the story. I also went to see Annie Proulx directly afterwards. She's the queen of the West, and it made me feel fantastic to meet her. Annie, she's 86 or something, this towering woman, very, very strong — immediately, I realized that Annie is a romantic. As much as she's a guts-and-everything-else woman and the Brokeback Mountain writer, she's a romantic. I said that to her. "Annie, you're such a romantic." She said, "Oh, it takes one to know one."