Breakout star of Ava DuVernay and Colin Kaepernick's Colin in Black & White describes playing his idol.
Interview by
Jenny Changnon
Photography by
Marcus Smith
Long before 17-year-old Jaden Michael was cast in the starring role of Colin in Black & White as a young Colin Kaepernick, the actor was in awe of the elite athlete and outspoken social activist. "He's been an idol to me forever," Michael says. "I wasn't ever a huge football or sports guy, but back in 2016, when he first kneeled, I fell in love with what he was standing for and how he was using his platform."
Kaepernick's decision to protest social injustice by kneeling during the national anthem made the gifted quarterback a wildly divisive figure. Despite his having led the San Francisco 49ers to the Super Bowl, Kaepernick's N.F.L career came to an end in 2017, just five months after he first kneeled. Colin in Black & White depicts the athlete's teen years growing up in Turlock, California and shows how Kaepernick grew up to become the man who started a movement.
Created by Kaepernick and acclaimed filmmaker Ava DuVernay (Selma, When They See Us), the six-part drama begins with Colin as a teenager, excelling in baseball, basketball, and football, and making difficult decisions between them. The adopted son of white parents, played by Mary-Louise Parker and Nick Offerman, Colin struggles with his biracial identity and faces the systemic racism that shapes so much of the world around him. Kaepernick himself appears onscreen as narrator, reflecting on key moments from his life and making connections between the past and present.
In his most high-profile turn to date, Jaden Michael shines as Kaepernick, which is hardly surprising considering the young actor's already impressive résumé. In 2016, the New York native landed a recurring role as Rafe in Baz Lurhmann's musical series The Get Down and appeared alongside Oscar winners Viola Davis and Ellen Burstyn in the film Custody. Michael was featured in Todd Haynes's 2017 indie drama Wonderstruck and recently starred in Lorne Michaels's comedy Vampires vs. the Bronx.
The Colin in Black & White actor recently shared with Queue his experiences working alongside Kaepernick and DuVernay on the series and what he learned from them and his co-stars: "We still keep in contact," Michael says. "They keep giving me tips, coaching me through life, not just through acting. They've lived a lot more than I have — and it's best to hear information from people who aren't your parents sometimes."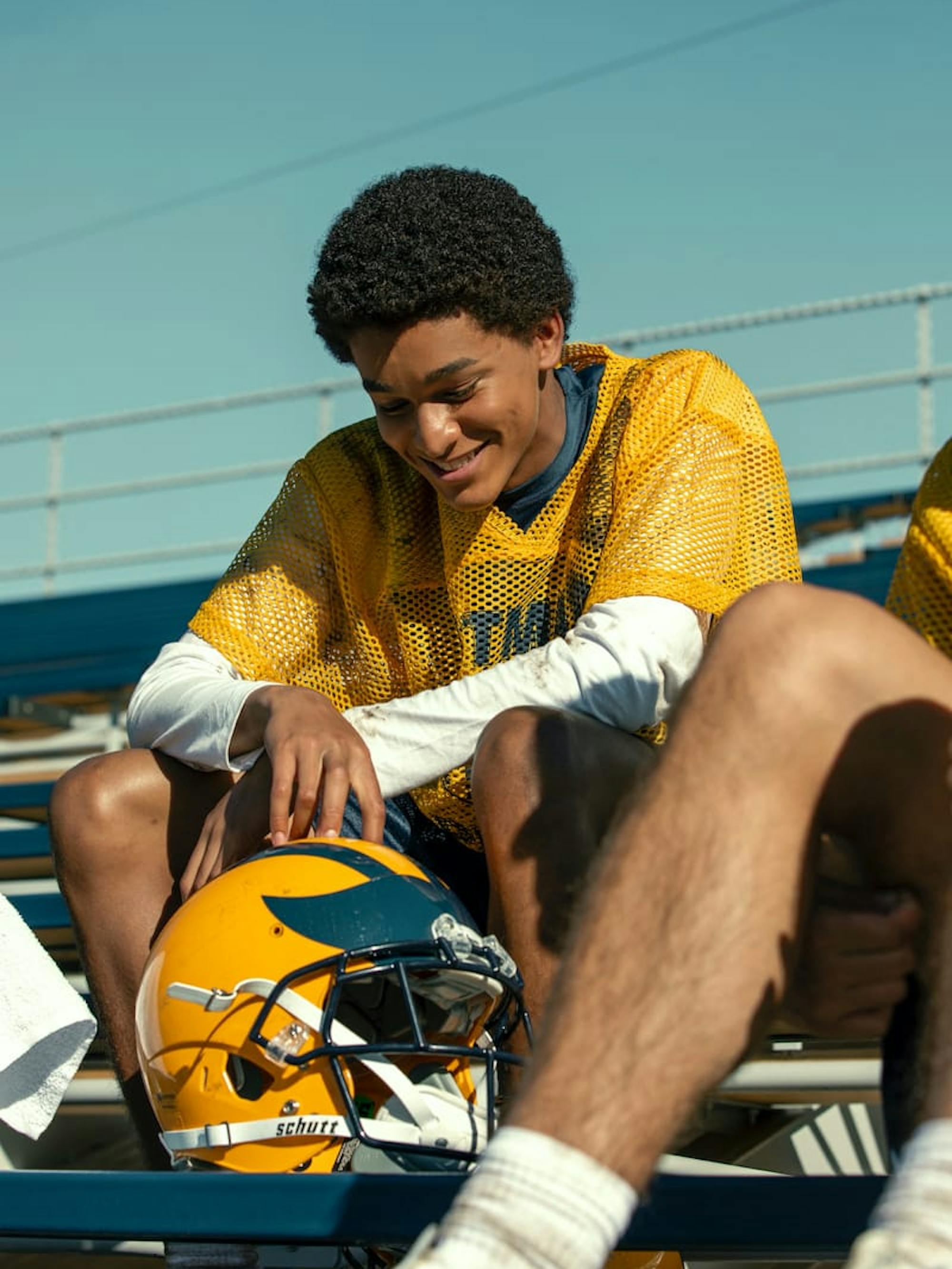 Queue: What do you recall about your first audition for Colin in Black & White?
JM: It was daunting because the first audition was in July of 2020. With COVID, there was no, Let's go to the casting office, which is where I feel more comfortable. Being in person with casting directors, you can read them and what you're doing wrong, but on Zoom — maybe you can, maybe you can't. So, it was daunting for me because I was afraid. I was really excited for the project, but I was trying to keep my cool. Then we had the callback with Ava in August. I thought we were doing it on tape, and then I realized that it was a live meeting with Ava and casting director Aisha Coley. I was freaking out. I was like, Oh my God, Aisha and Ava are going to be in my house. I had to just hold everything down. I remember that as soon as the meeting finished, I ran straight to my room and fell asleep.
How did you prepare to play Colin and step into his shoes?
JM: It was a lot of work. For one of the auditions I had to do a physicality test to show my physical capabilities. If you've ever seen me, I look like a string bean. I have no athleticism. So, I called my uncles and was like, "Listen, I need you guys to teach me how to throw a baseball, throw a football, and play basketball in the next couple of weeks because I need to make this video." They were like, "Absolutely." So, there was the physical side where I learned how to play basketball and football. I started fasting before shooting. I was trying to eat as little as possible to get leaner and slimmer to look younger in the beginning. As we went on, I started working out more and eating more, trying to gain weight and mass. I don't think I look bigger, but it psychologically made me feel like I was tougher, so, it still came across. I also spent hours watching Colin on YouTube, trying to mimic his voice. I worked with a vocal coach to try to mimic his voice as much as possible and get it right.
After all that preparation, did you get any advice from Colin before going into production or as you were shooting?
JM: One of the auditions — they didn't say it was an audition, but I knew it was the final cherry on top — was a reading with Colin. Ava told me, "Don't worry. He's a giant teddy bear." Then we went into the meeting, and I was like, "Oh yeah, he's a giant teddy bear." We had a super long conversation. I think the Zoom was supposed to be like 20, 30 minutes; we went for an hour. We talked about music, life, and what it means to be a Black man — what you are perceived as in America and in society, and how you have to deal with situations differently, think differently, and be cognizant of everything going on around you. He gave me a lot of pointers in that regard.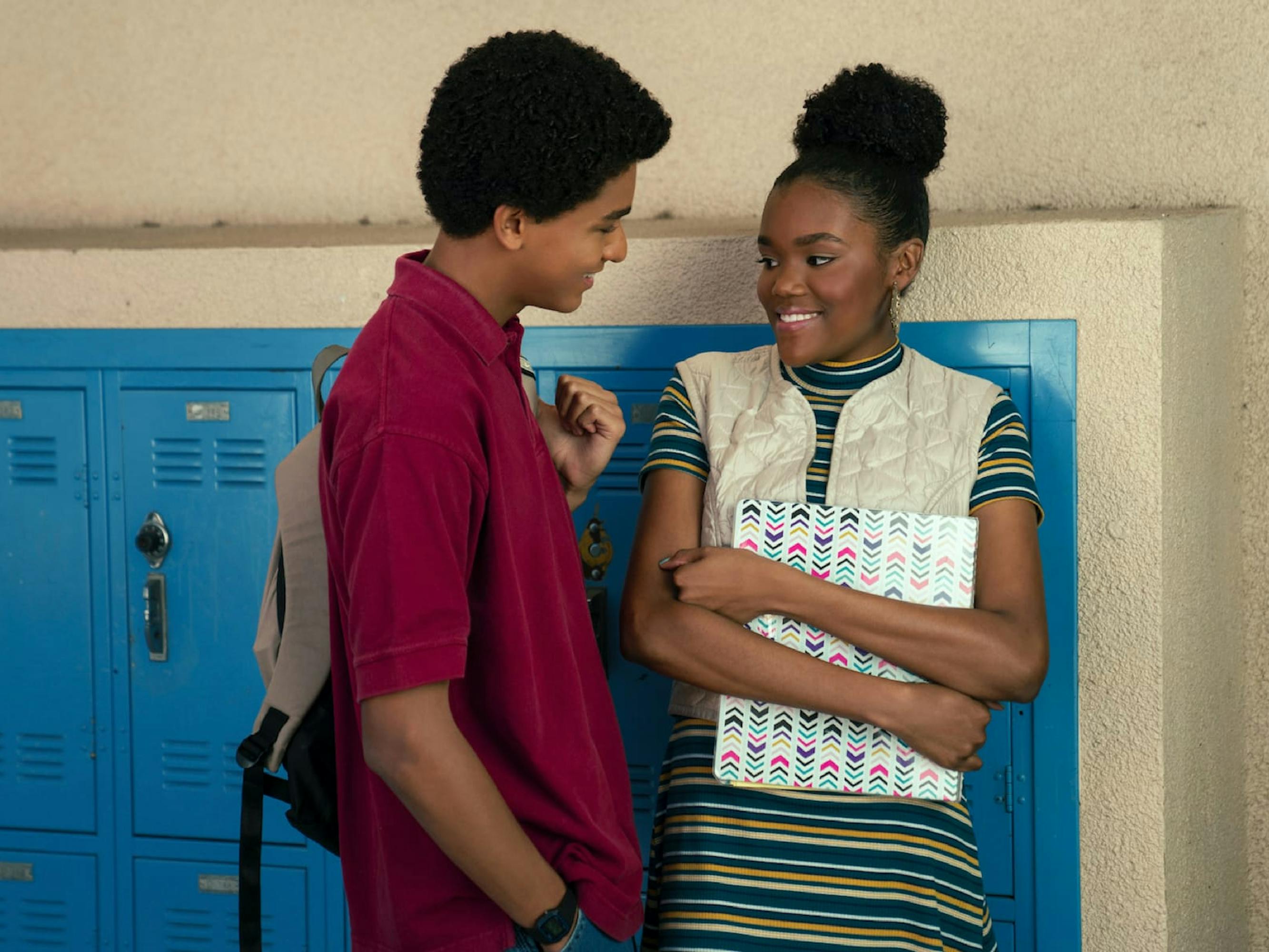 You mentioned music. Did you listen to any specific music on set to get into the right headspace?
JM: Music is my thing. I make a bunch of playlists — I'm thinking about making my Spotify account public to let everyone see what music I listened to for each character I've played. I would listen to bands like 10cc and the Beatles when I was working on Wonderstruck, Spanish music and rap for Vampires vs. the Bronx. Every character, even the small ones, I like making playlists for them. I like making sure I'm listening to period-specific music because it gives you a different kind of groove and beat. Since Colin in Black & White was set in the 2000s, I listened to Erykah Badu, Kendrick Lamar, J. Cole, The Pharcyde, and Hieroglyphics.
What was it like working with Ava DuVernay?
JM: She's the queen. Ava's amazing. She taught me a lot about speaking up and knowing to ask for what you need. I feel like that's something that I need to incorporate into my personality. Ava taught me that if there's a problem, don't look in the opposite direction. Go straight to the source and talk about the issue and get it solved.
Colin's a hero for those who don't have a voice. He's a hero for people who don't know how to deal with the situations that they're facing. I think he's also a hero to people who don't understand yet.
Did you take a keepsake from the set?
JM: I have this giant bag of basketballs and footballs and baseballs that I accumulated during the six-month shoot. I looked at my mom and I was like, "Should we throw this out?" She was like, "Absolutely not. We're not throwing that away." So, I guess that's my keepsake — a bunch of sporting goods.
What's one word you would use to describe Colin in Black & White?
JM: I would say "hero." Colin's a hero for those who don't have a voice. He's a hero for people who don't know how to deal with the situations that they're facing. I think he's also a hero to people who don't understand yet. Even if they disagree at first, he enlightens them. My aunt used to despise Colin. She didn't agree with his politics. I was trying to educate her on what he stands for, and she was completely unreceptive to it. But eventually, she was like, "I did a little bit of my own research, and I think I do agree with what he's saying. I misunderstood his politics, but I agree with him." She's still set in her ways, but she's been enlightened to a degree.
What would you hope viewers like your aunt — who maybe don't align politically with Colin — take away from watching the series?
JM: One of the struggles when breaking down the script was how I was going to approach it: Was I going to be who we see today, the person who stands up for everyone and uses his voice and his platform? Or was I going to go less far, so that people who are unreceptive to him can still watch the show and begin to make those baby steps to see the truth? I think that's kind of where I landed: finding a place to speak to those who don't understand Colin, but still be engaging enough for people who already love Colin and just want to see what his life was like.