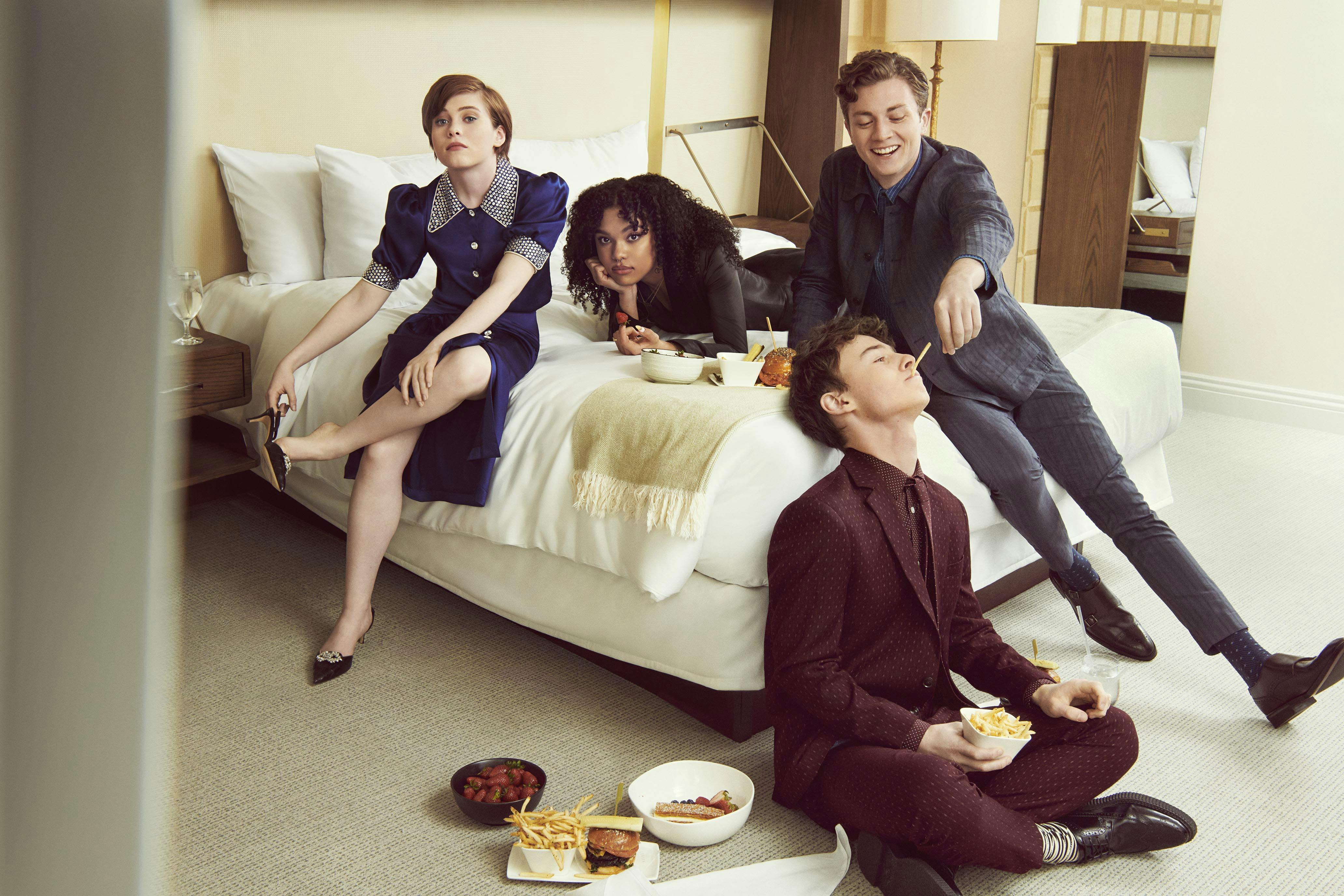 We Are
Not

Okay With This
The cast of I Am Not Okay With This dishes on everything from first roles to favorite foods.
They always make superpowers look so cool in the movies, but for angsty teen Sydney Novak, discovering that she can control things with her mind has only led to trouble. Serious trouble. Accidentally murdering her best friend's unfaithful bully boyfriend at the homecoming dance sort of trouble.
Sydney is the heroine at the heart of the supernatural coming-of-age drama I Am Not Okay With This, and in the hands of actress Sophia Lillis, she always remains a relatable teenager — even as she struggles to keep her newfound abilities a secret.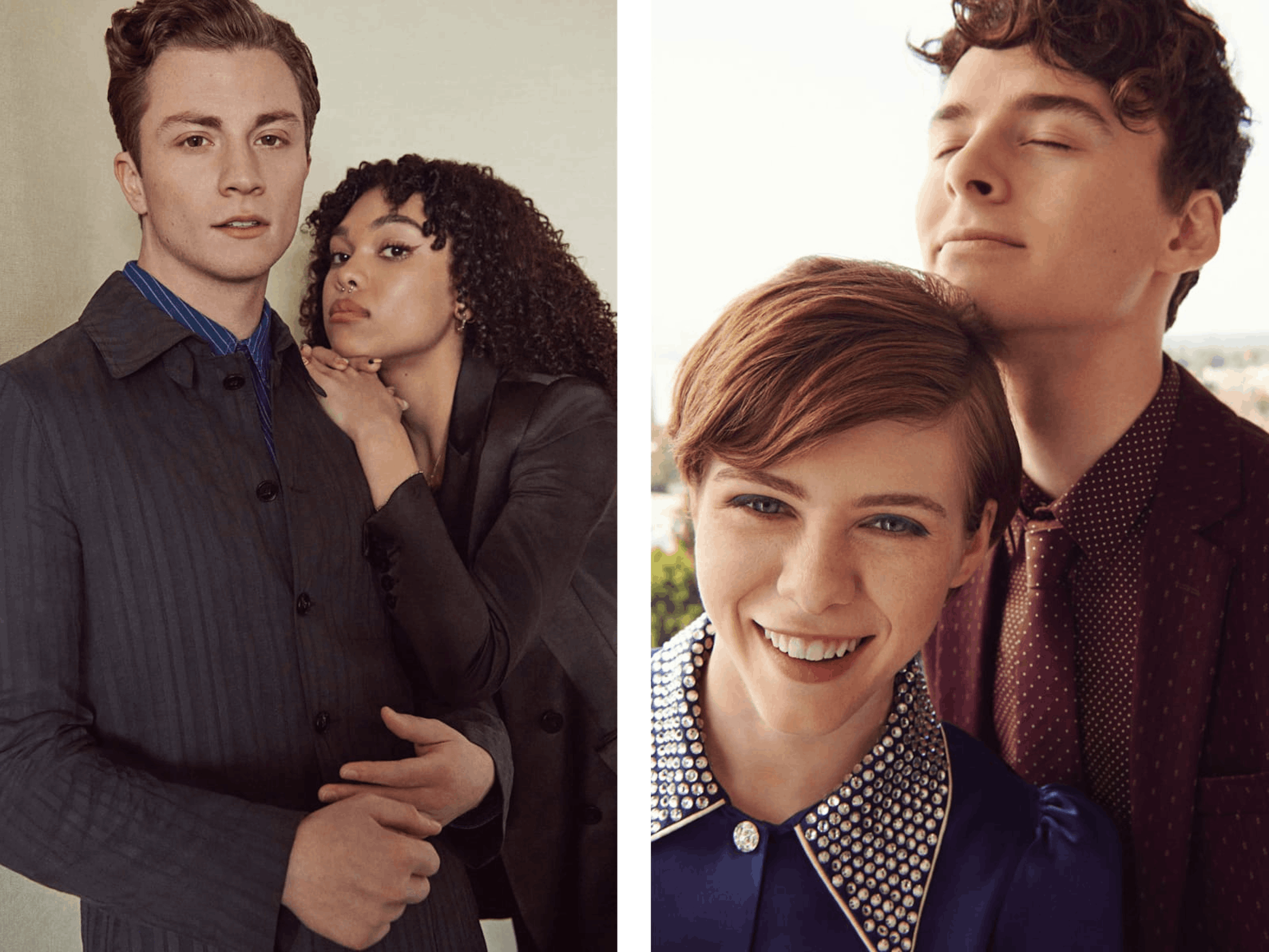 Together with a cast of rising talents, Lillis has helped capture a loyal audience for Jonathan Entwistle and Christy Hall's adaptation of the graphic novel by Charles Forsman. (Entwistle previously adapted Forsman's The End of the F*ing World for Netflix.) Wyatt Oleff plays the fashionably quirky neighbor Stanley, Sofia Bryant is Syd's good-natured best friend (and crush) Dina, and Richard Ellis radiates a tantalizing menace as ill-fated jock Brad.
Queue caught up with these young actors to learn more about their lives, onscreen and off.
Sophia Lillis
AS SYDNEY NOVAK
Age: 18
Hometown: Brooklyn. Born and raised.
Siblings: I have a stepbrother who's in his 20s, and I have a twin brother, Jake.
Best part about having a twin: You're never alone. It has its ups and downs, but mainly it's a good thing to have a brother who's the same age as me. We go through the same things at the exact same time. He's also a much better cook than me.
Favorite meal: I like fried rice. It's amazing. Jake and I found this really cool Korean barbecue place that does takeout. We get that sometimes, and they make this kimchi burrito thing that's really delicious. It doesn't sound good, but it is.
Hobbies: When I'm bored, I usually just doodle. I don't do full-on watercolors and paints and stuff, but I like to doodle. It's kind of relaxing.
I think I can keep a secret.
Desert island reading: I really love The Neverending Story. That was one of my favorite books as a kid, and I still like it now. But if I'm stuck on a desert island, maybe a survivalist's diary. That's definitely the smarter way to go.
Entry into acting: When I first started acting, it was something I did as a pastime. I wanted to be more open. I wasn't really the most outgoing and extroverted type of person. I had a lot of fun in acting class. I felt like I met my people. It slowly turned into more of a job later on because I started doing N.Y.U. student films. Before I knew it, it turned into something I could actually live off of, which I never knew I could do.
First screen role: It was in an N.Y.U. student film called The Lipstick Stain. That was a long time ago. The director was Dagny Looper.
On keeping secrets: I think I can keep a secret. I don't really have a good memory, though, so I'll probably forget the secret once you tell me. I'm that kind of person.
Favorite thing about Sydney Novak: I like how she tries really hard and she doesn't seem to ever really give up. I like that positive side to her. She seems kind of negative at first — like this regular, angry teenager — but you get to know her, and you get to see that she's going through a lot. She also has these superpowers that are very dangerous, that she doesn't know how to control. But through it all, she keeps a positive attitude and tries her best to fix everything. The way she tries to keep everything together, I love it. It's actually inspiring. I wish I could be as positive as she is. I try to be.
Wyatt Oleff
AS STANLEY BARBER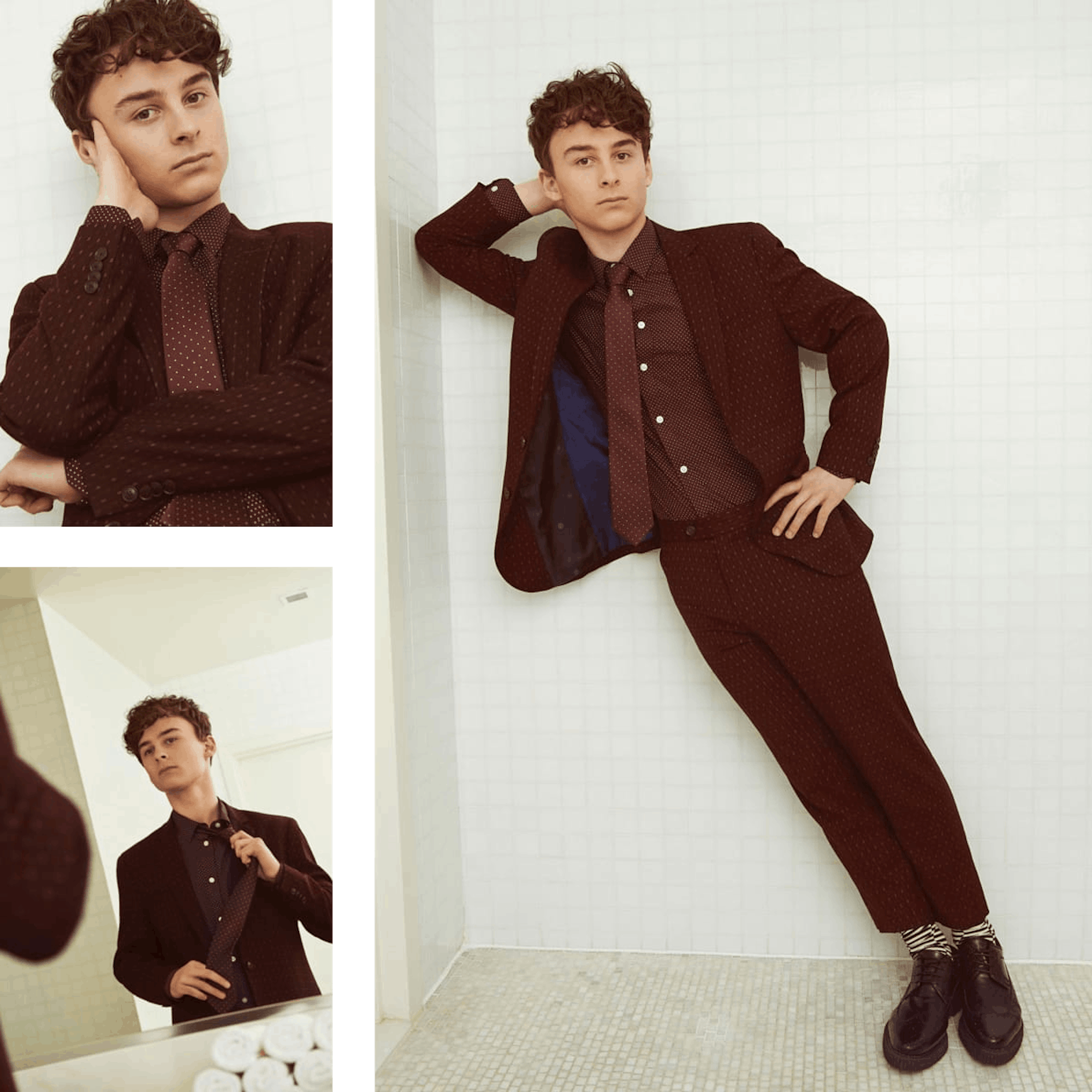 Age: 17
Hometown: I'm originally from Chicago, and I moved out to Los Angeles when I was around seven — not for acting. My parents, they have a business out here, so they moved out here just to make it easier for themselves.
Siblings: One older brother, but he's not into acting or anything.
Entry into acting: My mom just tells me that I pointed at the TV and said, "I want to do that." I guess maybe there was a behind-the-scenes segment on some channel or something. I'm just glad that I wanted to act then, because it's my passion now.
First screen role: My first onscreen role was a commercial for Coldwell Banker. I remember walking out of the audition room happy, like, Oh, I nailed that. It was maybe one line, but it was still a good moment because the producer seemed to like me. I must have been eight or nine.
I can make a mean quesadilla . . .
Hobbies: I like to draw. I'm not that good, but I think it's good for expression. I still can't draw faces correctly, but we're getting there. I play a lot of games with my friends online, and I have a YouTube channel where I post dumb videos. Any kind of creative expression, I enjoy.
Cooking skills: I mean, I can make a mean quesadilla, but I can't do much more than that unless I'm following pretty strict instructions. Wait, no, I can make good Rice Krispie treats as well.
Favorite thing about Stanley: I relate to him on a lot of levels. I mean, obviously one of my favorite things about him is his fashion. I wish I had a closet like his. And his sense of freedom and self-love is really strong. He isn't weighed down by normal things a high schooler would be weighed down by, like popularity and clout and where you stand on the social ladder. Stanley doesn't abide by any of that, and he's able to be free and kind of an old soul.
Unrequited crushes: I've had a couple. I feel like everyone has at one point or another, and I'm no different. I definitely have a lot of experience with rejection. So in that last episode where Sydney finally says, "Hey, I like you, just not in that way," that was a very familiar place for me to get into. I think I communicated that well in Stanley.
Advice for aspiring actors: Well, going back to rejection, I would say to get prepared for rejection, because it's not an easy industry. You get a lot of "no's." It should be a job that feels like a hobby.
Sofia Bryant
AS DINA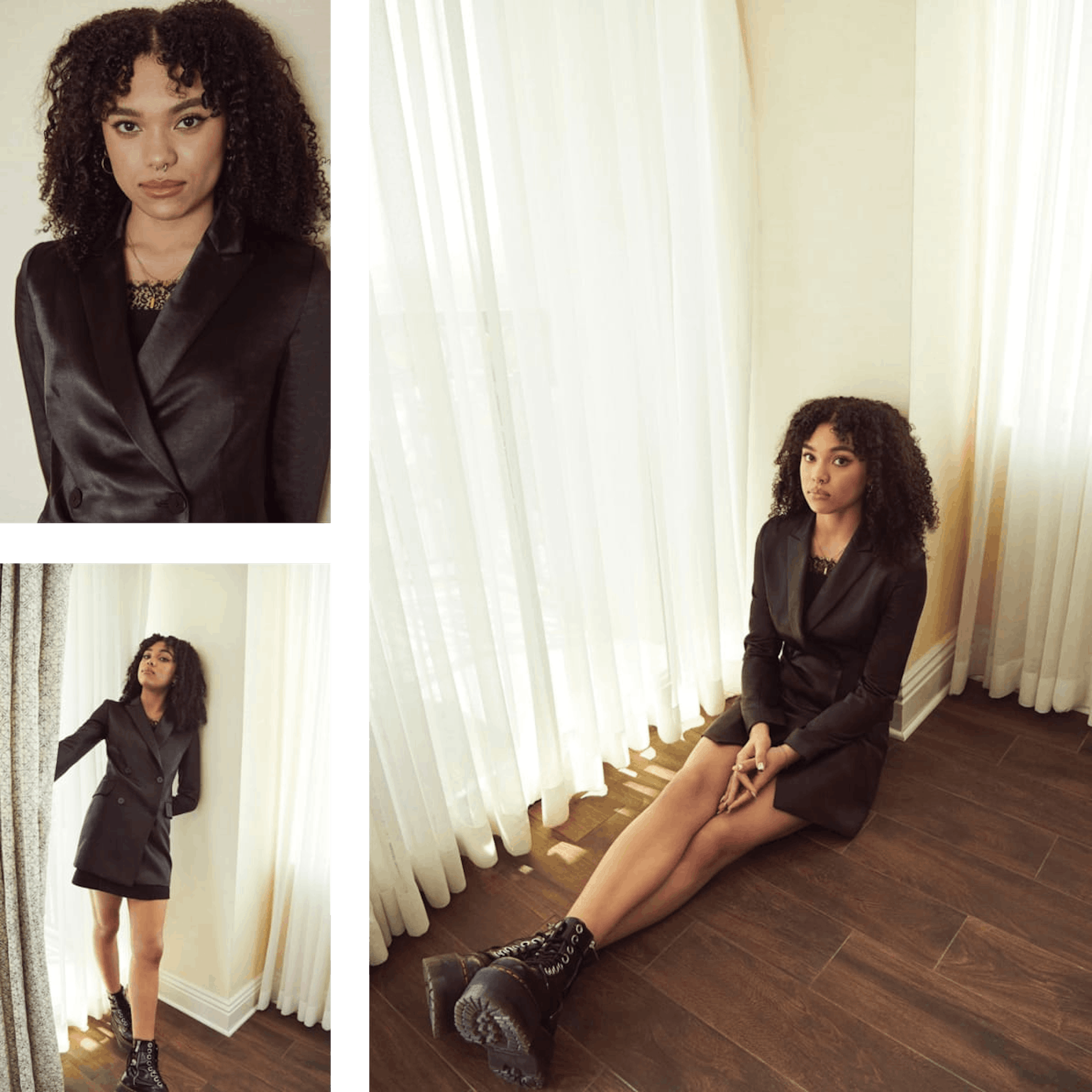 Age: 20
Hometown: I was born in New York City, but started my schooling in Helsinki, Finland, which is where my mom is from. I moved back to New York when I was around nine years old.
Siblings: Three younger brothers. Honestly, I used to hate it, but now I can't imagine it any other way. I love my brothers so much. We're such a gang, such a wolf pack.
Hobbies: I just came off of a project where I played a drummer. Drumming had already been a goal of mine for some time, so it kind of forced me to just jump into it and not be afraid. I've also always been into visual arts, and more specifically, cartooning. Oh, and I'm a huge foodie. That I definitely get from my dad. I grew up trying all kinds of food. I'm like a human vacuum.
Favorite meal: It definitely depends on what I'm in the mood for, but I have to say I'm almost always in the mood for Korean food. Korean food will always have a place in my heart.
I was like, I know this girl. I talk to this girl every day.
Entry into acting: When I was moving back to New York from Finland, I didn't really know anyone, so my mom signed me up for an arts camp. I was expecting it to be a visual arts camp, but on the first day, I came to find it was a musical theater camp. It took me a while to get used to it. Then I fell in love with it. It definitely brought me out of my shell, and, of course, introduced me to acting. I started doing theater, and from there I was like, Hey, let's try TV and film.
First screen role: The Good Wife. I got to work with Blair Underwood. That was my moment where I was like, Oh, I can do this.
Favorite thing about Dina: As I read the script, I fell in love with Dina because she is completely like one of my best friends. I was like, I know this girl. I talk to this girl every day. What I love about her is her willingness to always help people. She's very honest and such a warmhearted girl. She does need to realize her worth, though.
Favorite thing about working with Sophia Lillis: She's so funny and kind, and I think she's über-talented. When we were doing the party scene where Dina and Syd first kiss, it was so professional. As soon as that scene was done, we went right back to goofing around. She's great to be on set with, because we're able to really kick butt and work hard, but also have fun.
Richard Ellis
AS BRAD LEWIS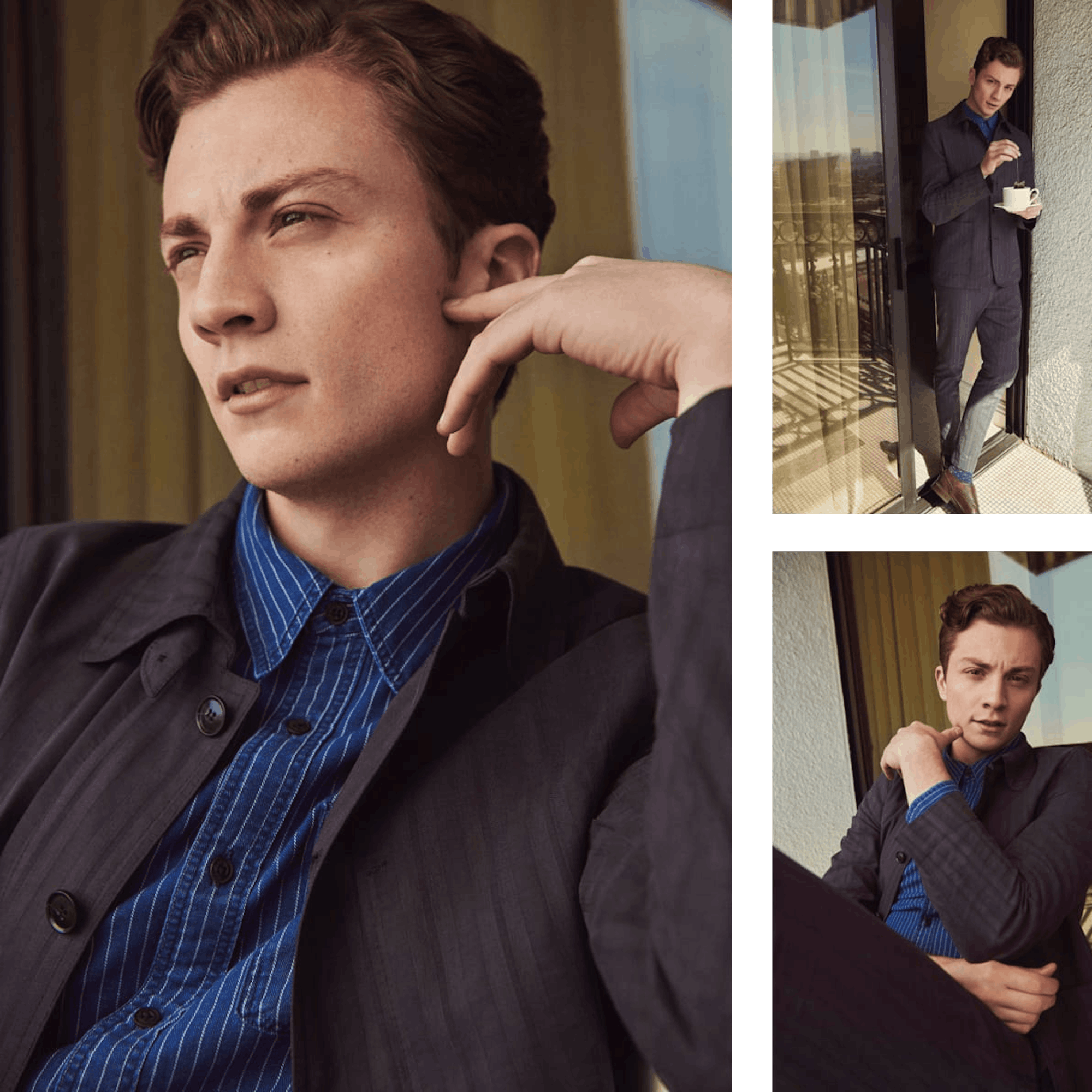 Age: 26
Hometown: I am from a place called Southbury, Connecticut, near the New York state line. It's a small town — a bunch of farms, stuff like that.
Siblings: One younger brother.
Hobbies: I love music. I play four instruments and sing and do all of that stuff. I love basketball, golf. And I did impulse-buy a bowling ball fairly recently.
Favorite meal: My mom makes the best chicken parm.
Last person you texted: My mom.
Desert island reading: Harry Potter and the Sorcerer's Stone. Here's the thing: I'd rather be entertained if I'm going to die on an island.
Passion outside of acting: I did music first. I was in punk bands in high school. We played a bunch of gigs around Connecticut, and opened for bands that we actually listened to. We took it pretty seriously. But then I ended up quitting, and was like, Yeah, I'll get a normal job.
The weird thing was the dummy that they used had my exact build, but with no head on it. That was creepy.
Entry into acting: In my junior year of college at the University of Connecticut, I was studying to be a physical therapist. I was in an anatomy class, and I just told the teacher that I had to leave. I walked outside and called my mom, and I was like, "I want to drop out of college and be an actor." Then I moved out to California and started figuring it out when I was 21.
First screen role: My first legitimate role was in this movie called The Wretched, and I'm a bully in that one, too. The first legit TV show I did was one episode of Veronica Mars, the reboot. My character's name was Cocaine Johnny. Me and my manager still laugh about that one.
On filming Brad's "explosive" moment: It was so fun. I mean, obviously, for me, the buildup to that was what I was anticipating the entire time. So when it finally got to the day with all the effects and stuff, it was a blast to shoot. It was interesting not knowing exactly how they were going to pull it all together. When I saw it for the first time, I was as shocked as everybody else. Honestly, I cracked up. I thought it was hilarious. The weird thing was the dummy that they used had my exact build, but with no head on it. That was creepy.
Advice for aspiring actors: Work really, really, really, really hard. Know your stuff, know about the industry, know the business end of it. Always be willing to outwork people, and you'll generally find yourself in a good spot.