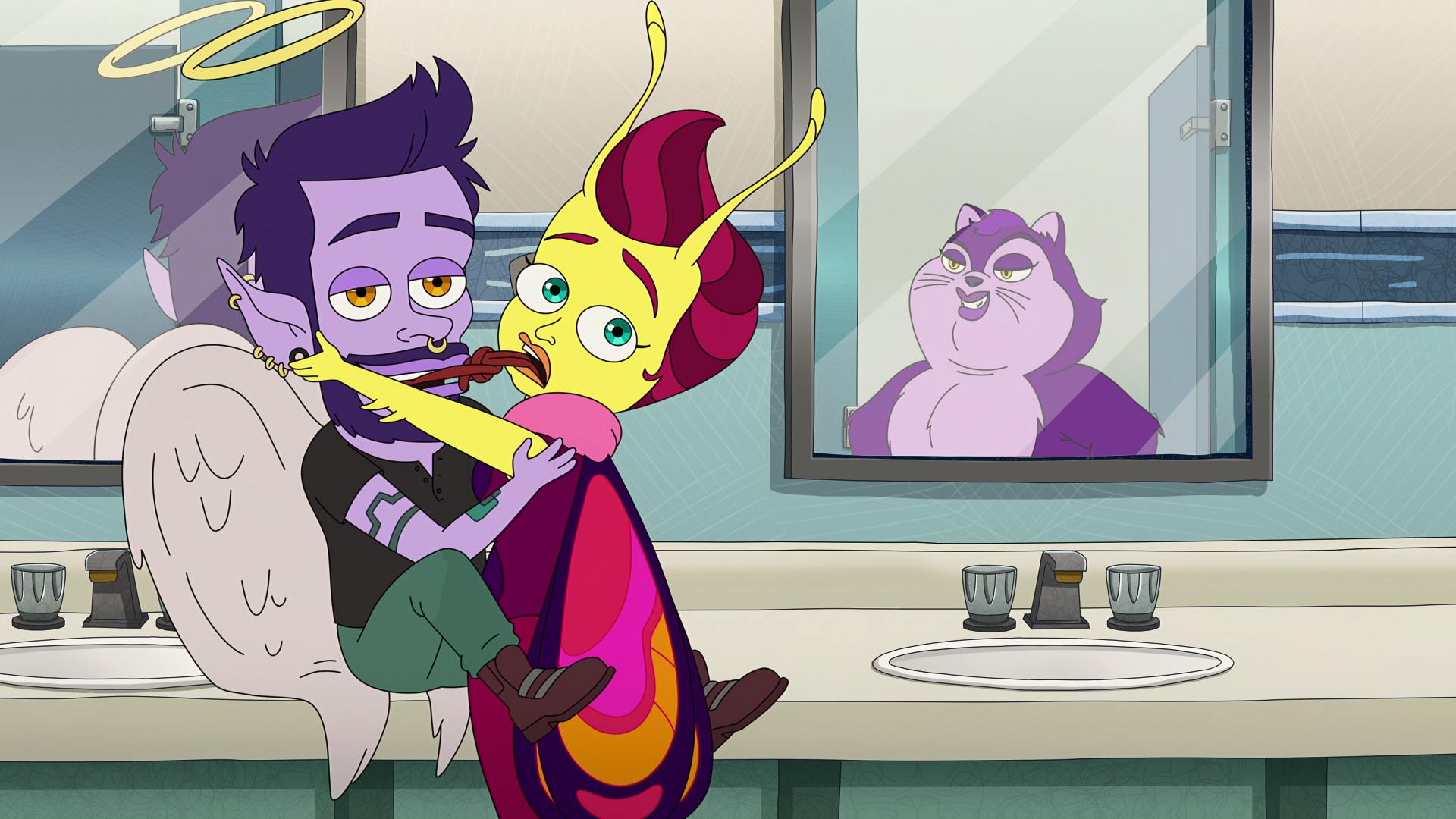 IT'S TIME TO TALK TO
HUMAN RESOURCES
Co-creators Nick Kroll, Andrew Goldberg, Mark Levin, Jennifer Flackett, and Kelly Galuska collaborate on the Big Mouth spin-off.
All the hallmarks that helped spur the animated series Big Mouth to Emmy Award-winning acclaim — wildly ribald, fast-paced humor, over-the-top musical numbers written by composer Mark Rivers, and, beneath it all, a surprisingly insightful exploration of how messy simply being human can be — are back in the new spinoff series Human Resources. But this time around our focus shifts from the humans and the trappings of puberty to the non-human characters, the creatures that personify the full gamut of human emotion. 
You know you're doing something right when Oscar nominee Hugh Jackman agrees to voice a sex organ in your animated comedy. "On Big Mouth, there was one little role for a Hugh Jackman penis . . . and he agreed to that one line," explains Mark Levin, co-creator of the hit series about adolescent friends in suburban New York navigating the horrors of puberty. "During COVID, he had to record that line in his apartment, and he called me for a little technical support. We were having a good time talking about all that. He said, 'I'd like to do more of this,' and I said, 'Oh, we actually have something for you.'"
That something was the role of Dante the Addiction Angel, one of the myriad creatures populating the Big Mouth spin-off Human Resources — which follows all manner of Lovebugs, Hormone Monsters, and Shame Wizards as they juggle romance and workplace drama at the same time they steer their human clients through life. At the center of it all is hapless junior Lovebug Emmy (Aidy Bryant), who finds herself in over her head after she is assigned to new mom Becca (Ali Wong). 
To secure this unbelievable cast of voice talents was no easy feat and the creators of Human Resources leveraged the successes of Big Mouth to attract not only the likes of Jackman, Bryant, and Wong, but also Randall Park as Pete the Logic Rock, Rosie Perez as Petra the Ambition Gremlin, and Maria Bamford as Tito the Anxiety Mosquito and Kitty Dukakis the Depression Kitty. And they didn't stop there. Expect cameos from the likes of Helen Mirren, Lupita Nyong'o, Chris O'Dowd, Bobby Cannavale, and Thandiwe Newton throughout the course of the season. 
Human Resources co-creators Nick Kroll, Andrew Goldberg, Levin, Jennifer Flackett, and Kelly Galuska, who also serves as executive producer and showrunner for the spin-off, recently gathered to talk Queue through the origins of the new show.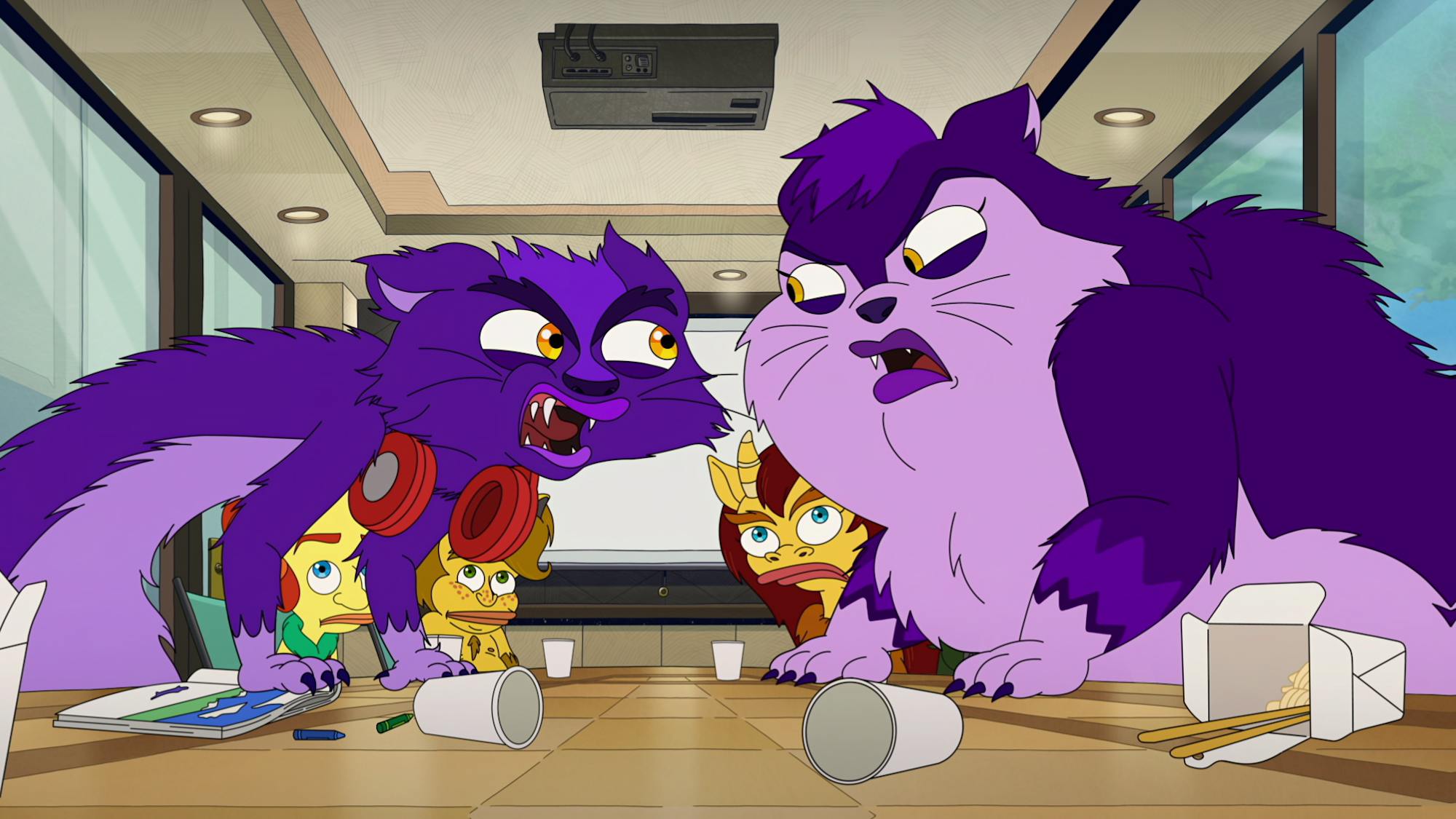 Queue: What was it like to create the everyday world of the human resources representatives and to really flesh out creatures as stand-alone characters? 
Kelly Galuska: Big Mouth created some wonderful characters to begin with in Maury and Connie [the Hormone Monsters], and the Shame Wizard and Tito the Anxiety Mosquito. Once we decided to expand the show beyond puberty and go from birth to death, [to encompass] all of being human, there were a plethora of emotions to explore. It was really fun to decide which of those were going to take center stage. The Lovebugs became one of the main ones — exploring love is very important to all of us — as well as the Logic Rocks and the Ambition Gremlins. [Those] I think are the ones we've brought to the forefront first. We've found it is very easy to create more — there are so many emotions that we're all going through every day.
Jennifer Flackett: I don't think that we understood when we started how much letting the emotions take center stage was really what the show was. In the beginning, we thought the human people, because we were so used to it from Big Mouth, were more important — and they certainly are [important], Becca, specifically. We delve into her life, but really, the way the creatures interact is the show.
Mark Levin: The experience of figuring out how to think about the emotional arcs of the characters was really interesting. They were great comic relief and drivers of our characters' behavior, but to make them the centerpiece and to have to figure out what their emotional journeys were, that was a real challenge. But also, it let us tell our story from a whole other perspective, and it was a lot of fun figuring it out and working with Kelly to create something [new]. We'd worked obviously on perpetuating Big Mouth with her for years, but then to start from the ground up together was a treat for all of us.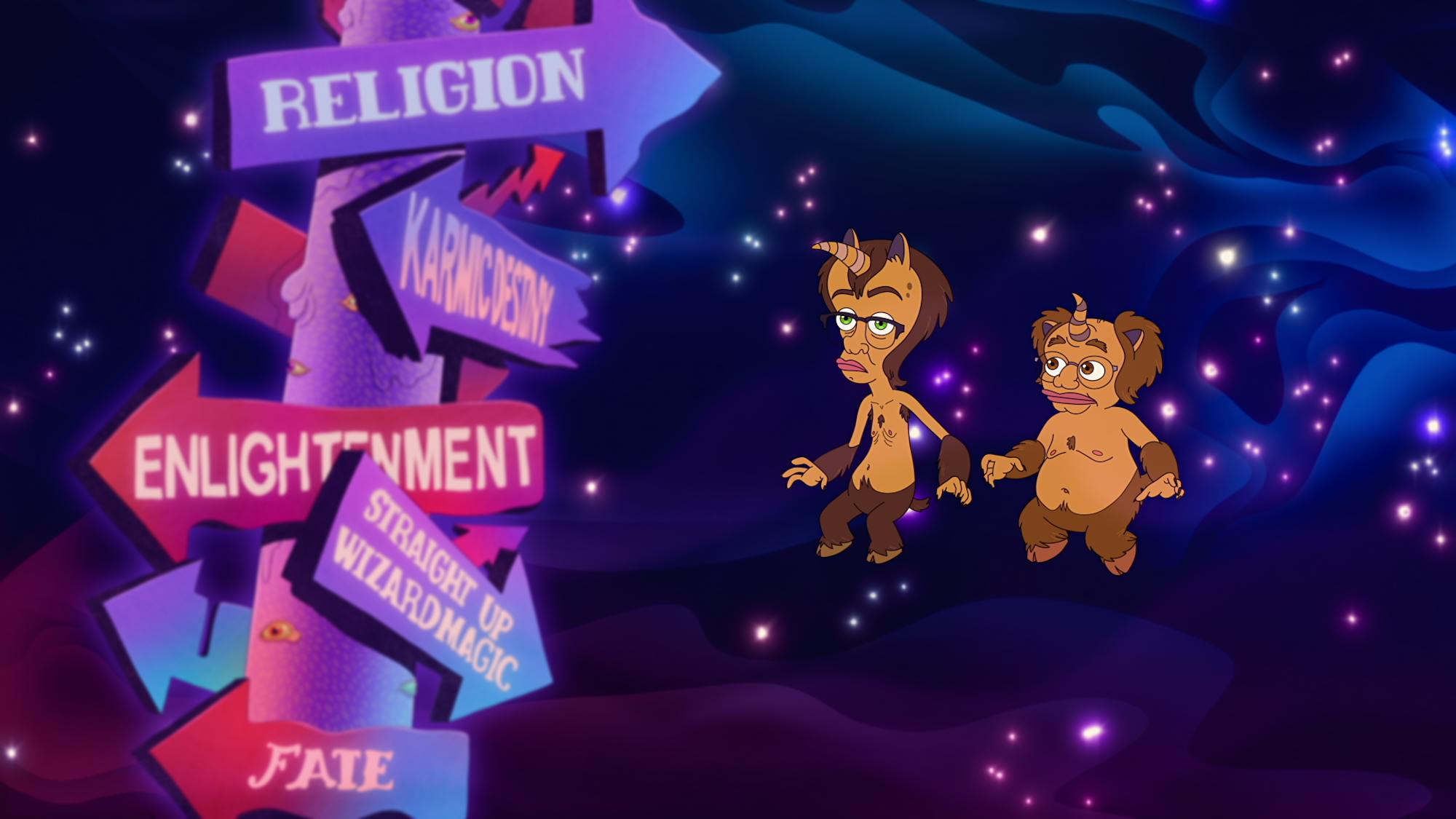 Big Mouth was rooted in the real-life relationship between Nick [Kroll] and Andrew [Goldberg]. What are some of the real-life workplace horror stories that helped shape Human Resources?
Galuska: We have a lot of fun talking about weird stuff we've all experienced at work. One of the good stories that came out of that is "the chugger" story in Episode 4, that experience of feeling like you are on the outside of an inside joke — but also that the joke is about you. That was a very fun story to do because it's just that universal feeling of being left out in the workplace.
Andrew Goldberg: We had this idea, when we were first creating the show, that Lionel [the Shame Wizard, voiced by David Thewlis] microwaves fish in the break room. That was something that somebody did at our office at Big Mouth. It was like, Oh, you don't microwave fish. [Although] we never cracked that story for Lionel, that feeling permeates everything that he does in the show, that's who he is. He's the person in your office who would microwave a piece of salmon.
Aidy Bryant is fantastic in her role as Emmy. Who of the new voices stands out to you in this first season?
Levin: Well, we have an incredible cast, but when we got Hugh Jackman who agreed to be Dante, that was definitely a high-water mark. We were trying to figure out how to cast the role of Dante, knowing that it was an Addiction Angel, and he had to be very charming and seductive. When the opportunity came that Hugh might be able to volunteer for that role — or would be coerced into that role even — we did everything we could to make it happen. Dante walks that tightrope of being attractive and repulsive and seductive all at the same time.
Galuska: You hate to love him. 
Flackett: Every single person has exceeded our expectations. And our guest cast — when Helen [Mirren] said "Yes," incredible. Lupita. It really blew our mind how lucky we were.
Goldberg: Rosie Perez. Everything she says cracks me up. She's so funny. 
Kroll: I would just add also [that someone] who is wonderful is Brandon Kyle Goodman. We have some of the biggest names in Hollywood in this, and Brandon, who was a writer on Big Mouth and was such a good, clear, early voice for [Lovebug] Walter. To watch them blossom in this role and become such an integral part of the show has been such a joy.
Goldberg: Aidy's incredible. She has that thing where Emmy has a lot of negative qualities as a person, or as a creature. But with Aidy, you just roll with everything because you like her so much.
Flackett: And they don't even seem so negative, which is so weird. 
Galuska: No. But it was a hard character, you remember, in the beginning. She was very hard because being such a mess and so bad at her job could be very unlikable in the wrong hands, but Aidy is just so exuberant. Everything she says, you're like, Yeah, I want to be around that person, that creature. 
Levin: A special shout out to Henry Winkler as Keith from Grief, too, because that was a perfect marriage of actor and role for us.
You're continuing your long standing collaboration with Mark Rivers here. What were your favorite musical numbers from the season?
Galuska: They're all great, but "You're the Worst" speaks to me on such a deep level. It's supposed to make you feel bad, but it just makes me cry how seen it makes me feel. I'm like, Yes, that's it! Having had my first child three years ago, to be able to put onscreen how many emotions come into play when you're becoming a mom for the first time, and how so many of them are bad, and to talk about that, made me feel so good to watch.
Goldberg: I really love this song "Are You In Love? (Or Just An Asshole?)" [performed by hate worm-turned-Lovebug Rochelle actor Keke Palmer, Jemaine Clement, and Brandon Kyle Goodman]. Keke's voice is so insanely terrific, and her ability to act while singing is so impressive. Whenever she sings, I'm loving it.
Kroll: Again, I go back to Brandon as Walter in "Love is a Psycho." It's such a fun song and such a fun way to describe something that we all universally understand but is not often talked about. Our goal with our songs is to have something that heightens thematically what we're trying to do inside of a show. And a song like that, or what Kelly talked about with "You're the Worst," it can really be an asset in storytelling.
Levin: Also, "Are You In Love? (Or Just An Asshole?)" is a great song and really let Keke shine, really showed off what an amazing singer she is. We really haven't found anything that Keke can't do amazingly well.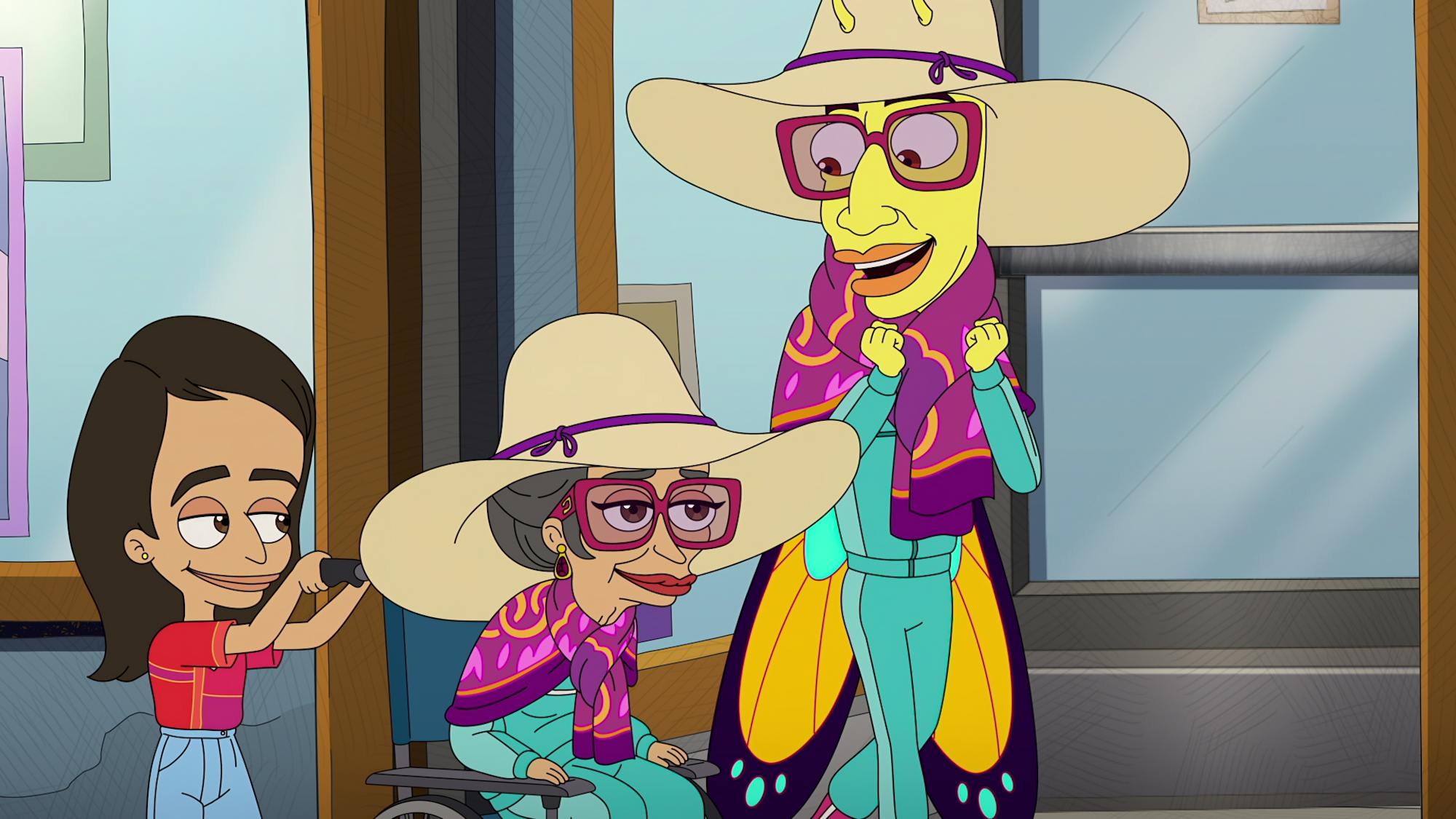 Nick, you've described animation as one of the only art forms that has longevity — you also described Big Mouth as an essential piece of art in that it presents difficult topics in an approachable way. With Human Resources charting the emotional development of a human from birth to death, do you see the new series in the same light? What do you all hope audiences will take away from the spin-off?
Goldberg: That is how I describe Big Mouth to people when they ask about it, "It's an essential piece of art."
Galuska: I think we all think of this show as a show about how hard it is to be human and how many creatures and emotions it takes every day to get through each day, the good ones and the bad ones. I hope that the big feelings of this show come through and that the idea of how hard it is to be human is unifying. [I hope] that we put things onscreen that demystify these complicated emotions and these complicated experiences, and also unify each other. We're all going through this same shit. Everything's a mess for everybody, but luckily we've got our creatures helping us through it.
Flackett: Even love is hard for a Lovebug. These things, they're hard. Even if you're a creature, they're still hard.
Goldberg: It's hard to be a good person. It's hard to be a happy person. It's complicated, it's complex. Like Kelly said, where that song "You're the Worst" made her feel seen, we hope that people see this and are like, Yes, that's how it's hard, too.
Kroll: I think that certain storylines will really hit people in a way that they're like, Oh, I've just had a baby or I lost a parent to dementia, or I broke up with my partner when I went off to college. Hopefully people will feel seen inside of those moments, but also enjoy the voyeuristic quality of experiencing parts of life that you haven't gone through, which hopefully provides insight.
And like we did on Big Mouth, I think we are [trying] to [create] a platform to talk about and to put a face to a name of a feeling that we all have: "My Ambition Gremlin is running out of control. My Hormone Monster has disappeared. My Lovebug is turning into a Hate Worm." I hope that that's what people take away beyond just entertainment, that these anthropomorphized emotions can become a way for people to talk about what they're going through.