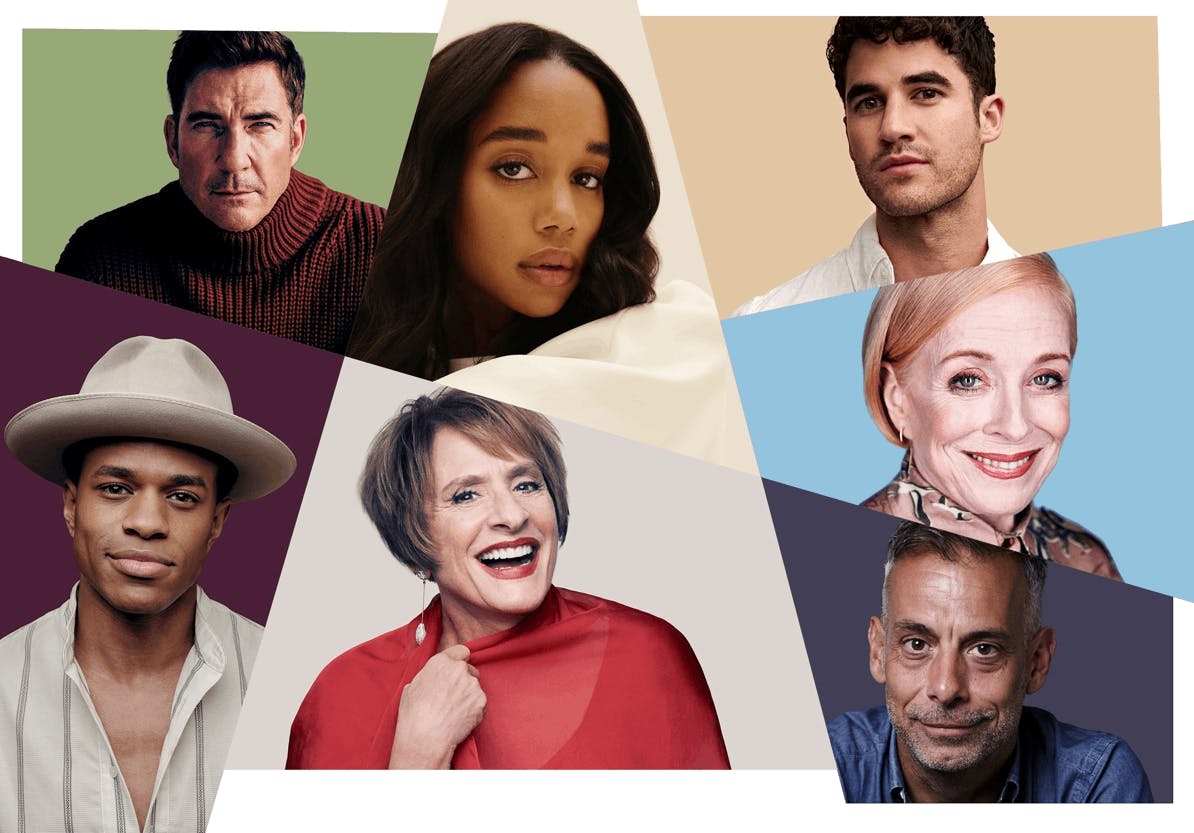 The stars of Hollywood share the stories of their big (and small) breaks in Tinseltown.
In the lushly rendered Hollywood, Ryan Murphy reimagines the early days of show business as they might have been if women, people of color, and the L.G.B.T.Q.+ community had been allowed to thrive. Thanks to a deep bench of actors both seasoned and new, the series captures a wide variety of voices and perspectives. Here, the stars reveal their real-life Hollywood origin stories.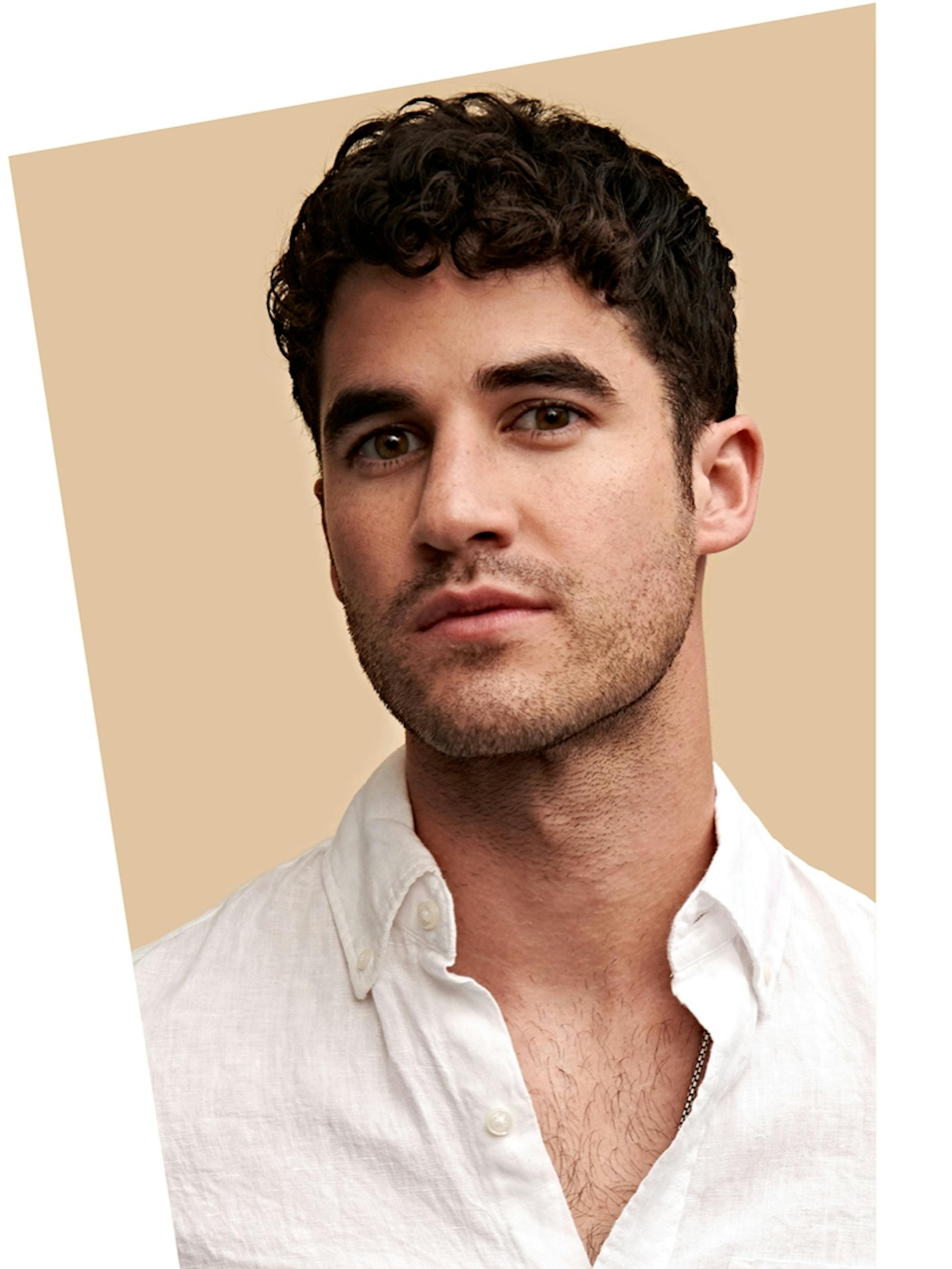 Photo by Tony Moux/OneKind
Darren Criss
EASTWICK
AS JOSH BURTON (2009)
My first TV job was a show on ABC called Eastwick. It only made it through a handful of episodes. My first scene was with Ashley Benson, who would play my girlfriend on the show, or my love interest — I guess we'll never really know. I remember it was a night shoot. My call time was super late, and I was very sick. I think I had about a 102-degree fever, but I was so, so exhilarated to be going to this job that it was like my adrenaline knocked it out. I could've gone all night with this horrible flu or whatever it was. I couldn't have been happier. I could've stayed up for a week and been there all day. It was never enough.
I remember, driving in, I was blasting "Little Secrets" by Passion Pit because there's this part of the post-chorus that goes, "Higher and higher and higher." I made sure I did it on the way in and on the way out. I remember blasting it as loud as my rental car could blast, and rolling down all the windows, and just screaming in utter ecstasy at this pure moment of my life that I'll never forget.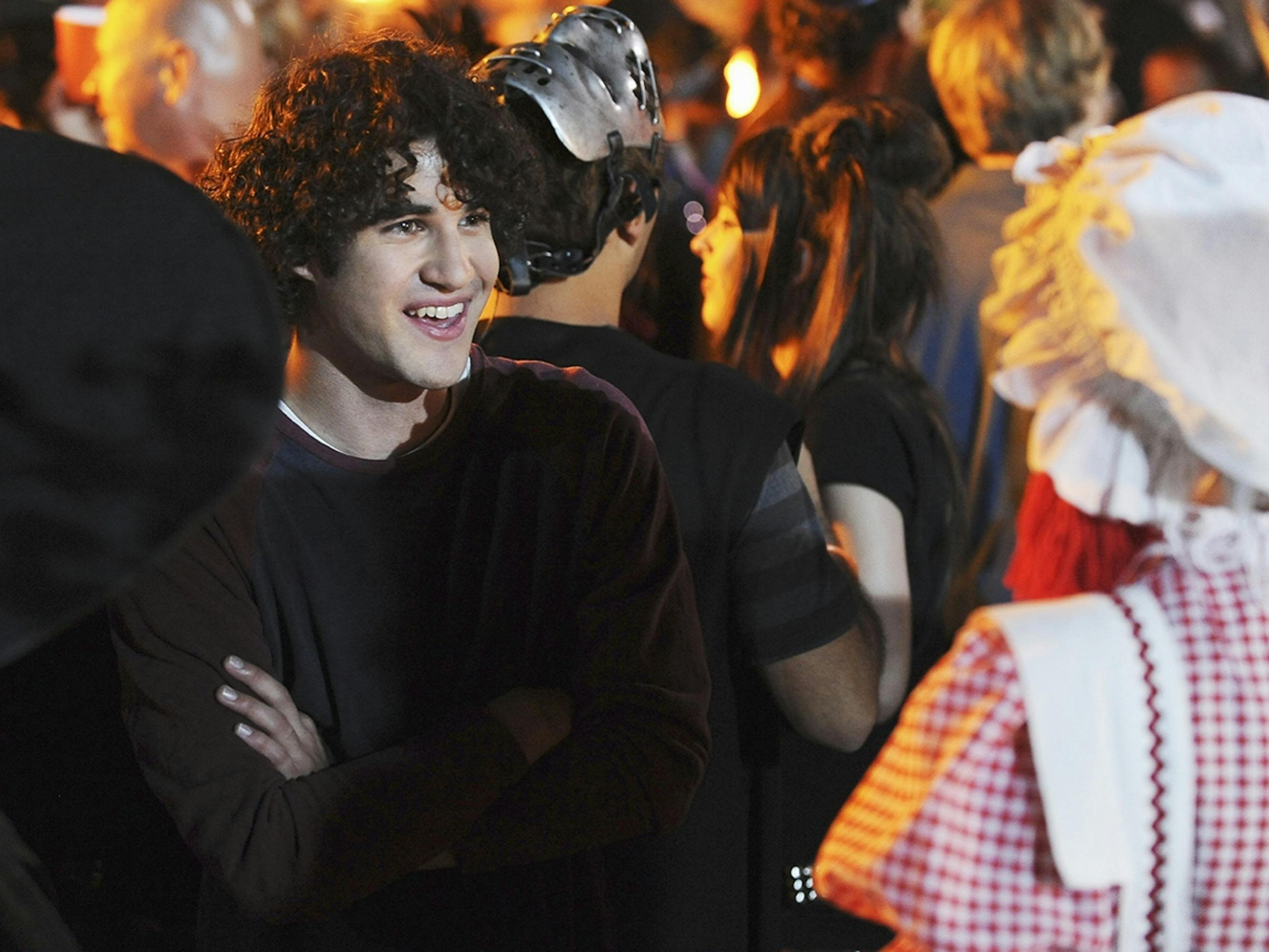 Photo by Eric McCandless/Walt Disney Television/Getty Images
Then I was like, Wow, I'm making money acting. Wow, I'm going to be on this show. I've got a job forever. Then it ended as quickly as it came. Then I didn't work. I didn't have a Screen Actors Guild job for almost a year after that. I was playing Maggiano's at the Grove twice a week, playing the piano and guitar and singing pop songs — human jukebox stuff, which is funny because I would end up being cast on a show where I did the exact same thing.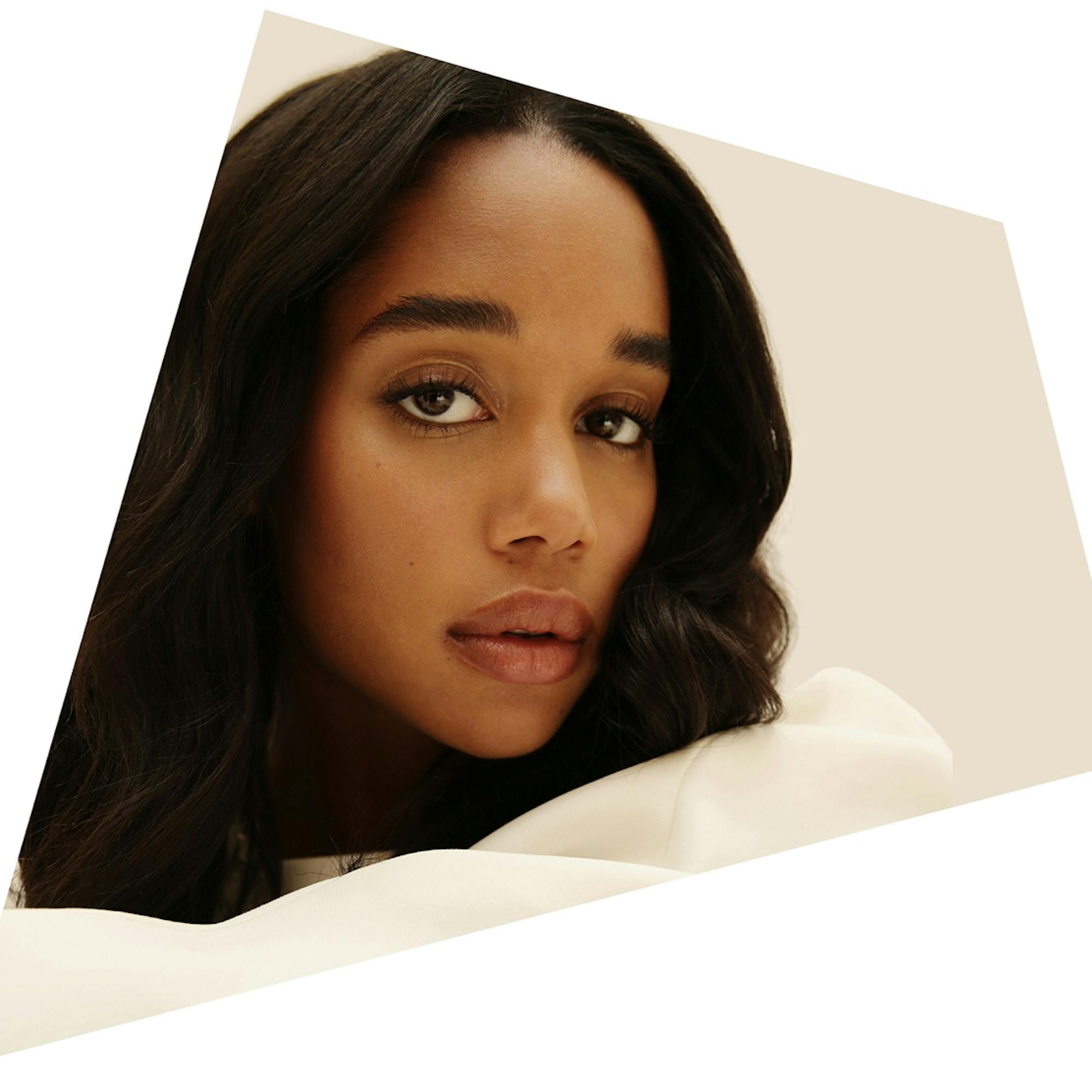 Laura Harrier

BLACKKKLANSMAN
AS PATRICE DUMAS (2018)
I was on vacation in Greece — this must've been the summer of 2017 — and I was sitting on a beach with my friends, on an island, drinking rosé, and I got a phone call from a number that I didn't recognize. I picked up, and the very familiar voice on the other end said, "Laura, this is Spike Lee." I honestly thought someone was playing a trick on me. It was his voice. Everyone knows what Spike Lee sounds like. And so I said, "Hello, hi. Do you have the wrong number?" And he replied, "So, I want to meet you for my new movie." I said, "Of course. Oh my God, yes, absolutely. I'm actually in Europe right now, but I'll be back in New York next week. I would love to meet with you as soon as possible." He goes, "No, I need to see you Tuesday." I replied, "Spike, it's Sunday." And he goes, "See you Tuesday. Vacation's over. Bye." And then he hung up. I turned to my friends and said, "I have to get off this island." I had to get on a ferry to Athens the next morning and then catch the next flight to New York. I made my way back within 24 hours.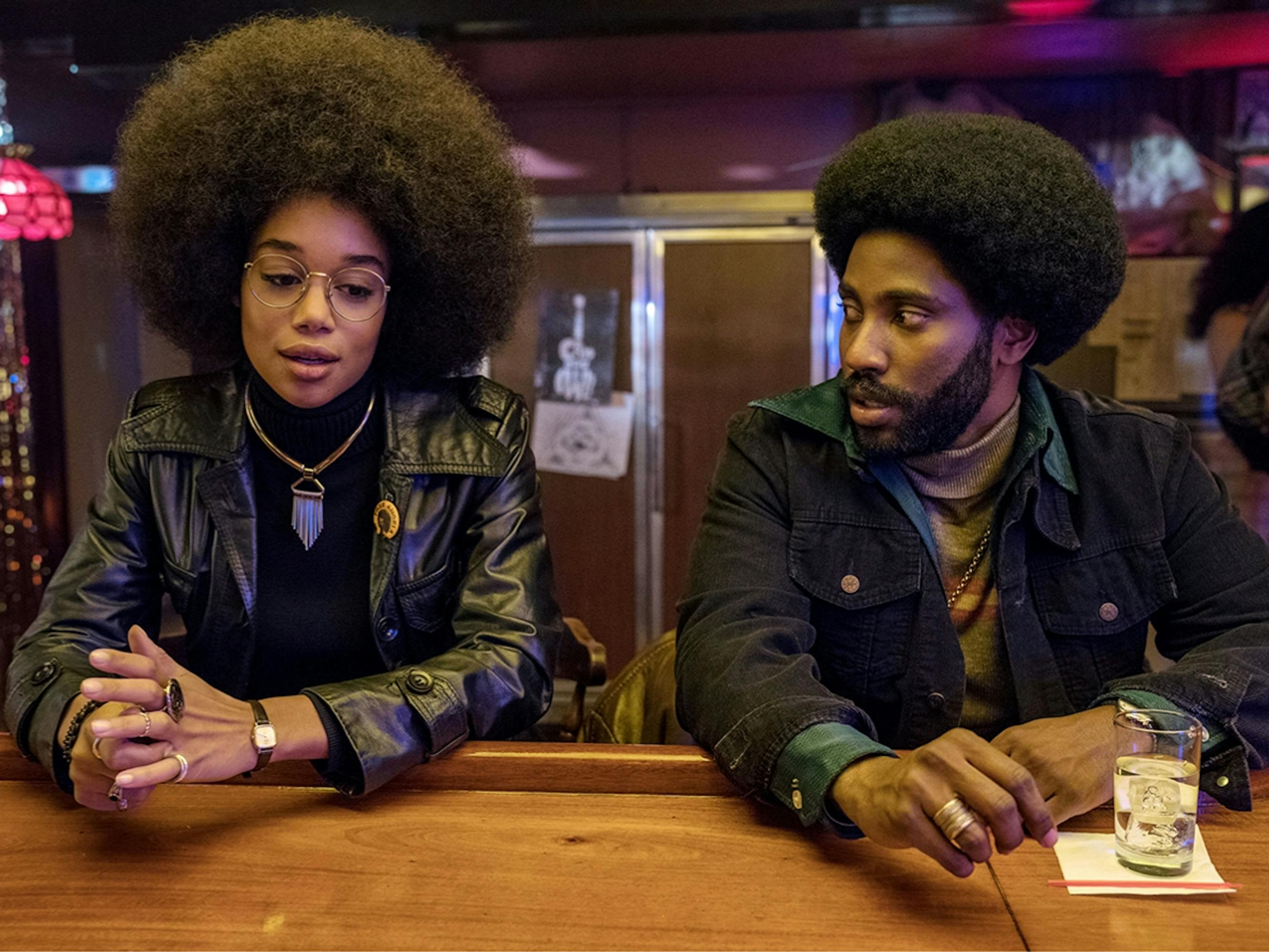 Photo by David Lee/Focus Features/Everett Collection
The next day, I went and met Spike for the first time and did this audition. It was a crazy audition. Normally, you walk in expecting to read with another actor, and the director is usually there watching and taking notes or giving you suggestions. I walk into the room, and it's just me and Spike. He said, "Yeah, I'm going to read the scene with you." So I did my audition with Spike, which was terrifying. It turned into this 45-minute improv, and it just went all over the place. We were talking about Sal's Pizzeria at one point. We finally wrapped, and I got the part the next day.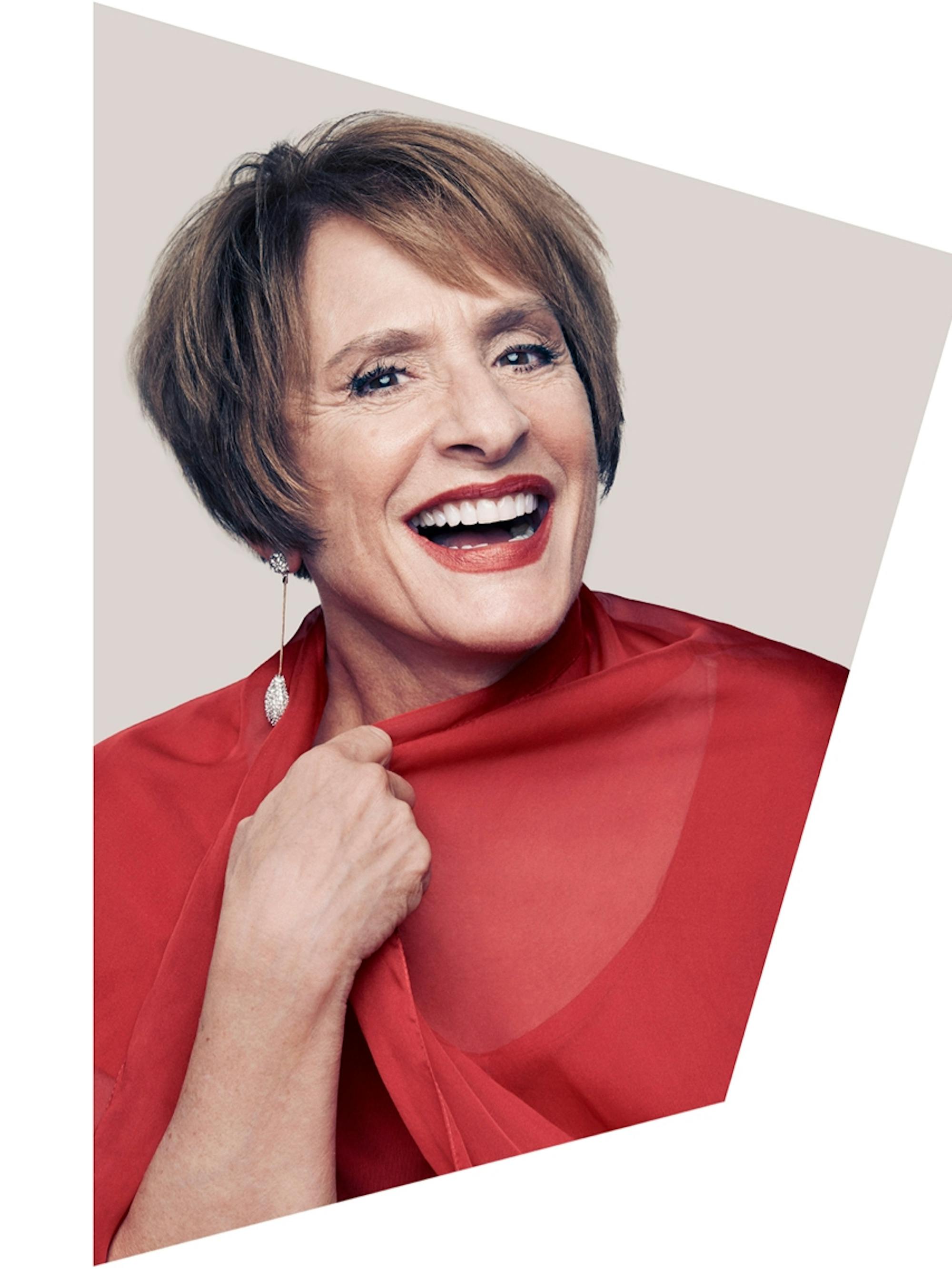 Photo by Matt Holyoak/Camera Press
Patti Lupone
1941
AS LYDIA HEDBERG (1979)
I think it was 1978 when my agent wrangled me an audition for Steven Spielberg's 1941. I hadn't done Evita yet, so I was nobody. But I managed to get the script and read it, and I wanted Nancy Allen's part. They were always going to give it to her, but for some reason they were auditioning people anyway. Steven liked my audition so much that he put me in the movie.
I went out to Los Angeles early, and I was invited to the set before I started shooting. It was at night on the Universal lot, and I remember sort of stumbling around trying to find where they were shooting. I came to a corner, and I turned left just as they turned the klieg lights on. So I was temporarily blinded when I walked on the set, and everything felt gigantic. Then my eyes adjusted, and I went,Well, I've made it. I'm in Hollywood.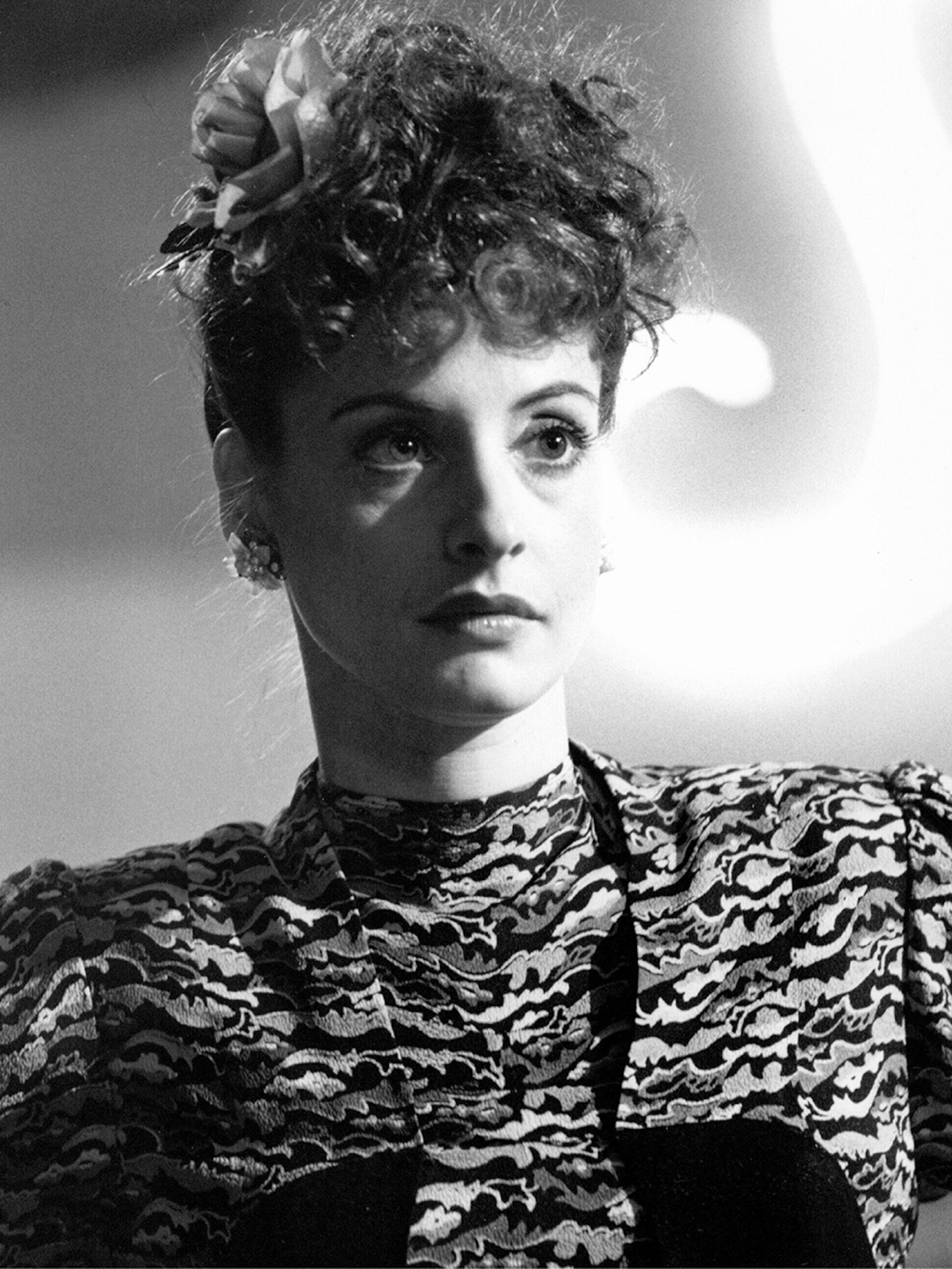 Photo by Universal Pictures/Photofest
Dan Aykroyd took me under his wing. He introduced me to everybody, took me into John Belushi's drug trailer. He just brought me in to introduce me to people, we didn't stay — but, it was that experience . . . Dan is just this phenomenal human being.
I was in the U.S.O. scene with Penny Marshall and the wonderful Joe Flaherty, and I had one line: "Say, you devil, how's about a deviled egg?"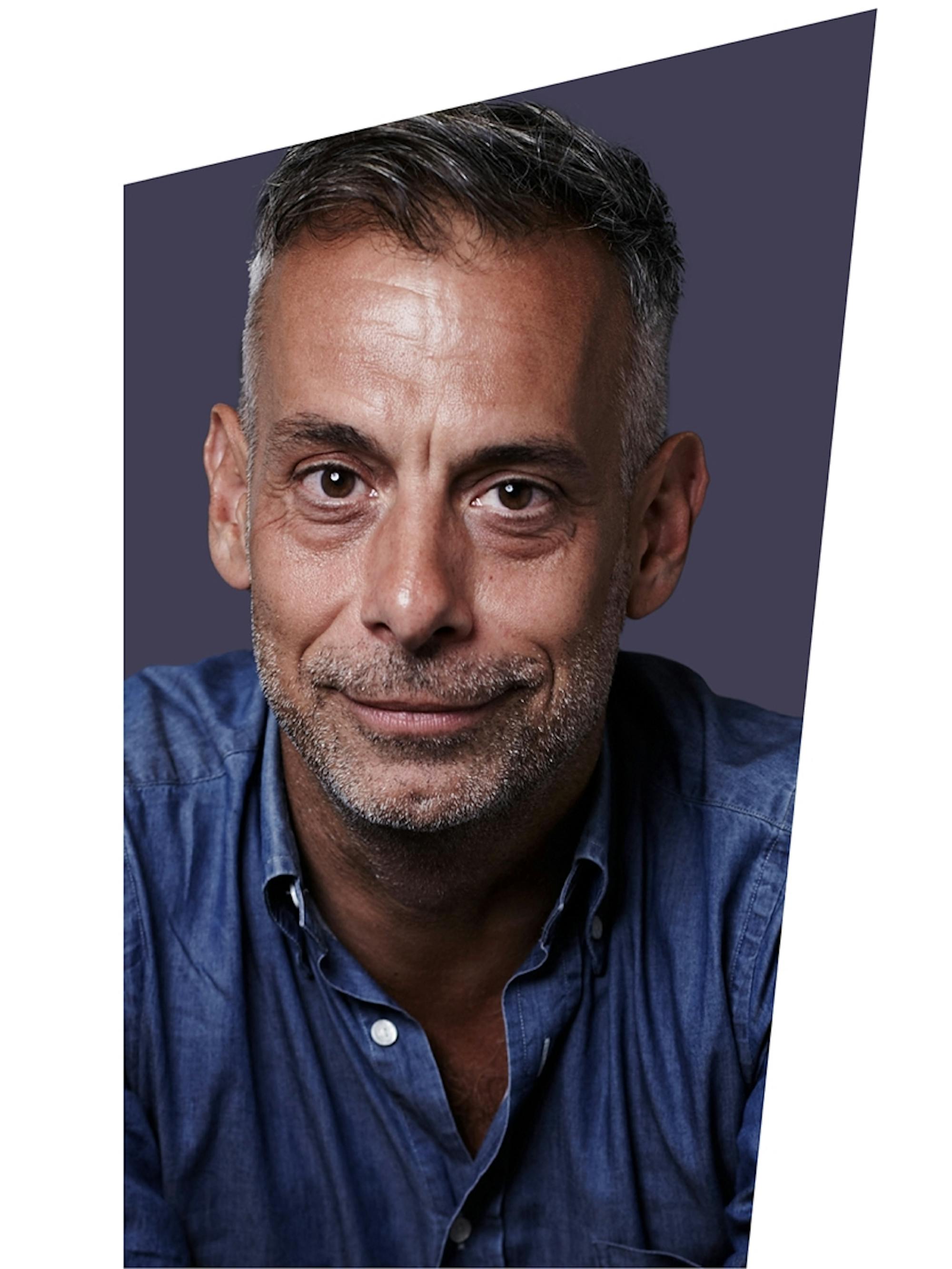 Joe Mantello
ANGELS IN AMERICA
AS LOUIS IRONSON (1993–1994)
I came directly to New York in 1984, from North Carolina School of the Arts, and really pursued theater for a number of years. It took a long time to get started. Fortunately, I landed with an Off Broadway theater company that doesn't exist anymore called the Circle Repertory Company. I became a member there. A lot of the early work that I did both as an actor and as a director began there.
They had tried several people for Louis, and when a very generous, thoughtful friend was told that they wouldn't be continuing with him in the role, he suggested me. [Angels playwright] Tony Kushner saw me in Paula Vogel's The Baltimore Waltz at Circle Rep right around that time, and that got me in the door.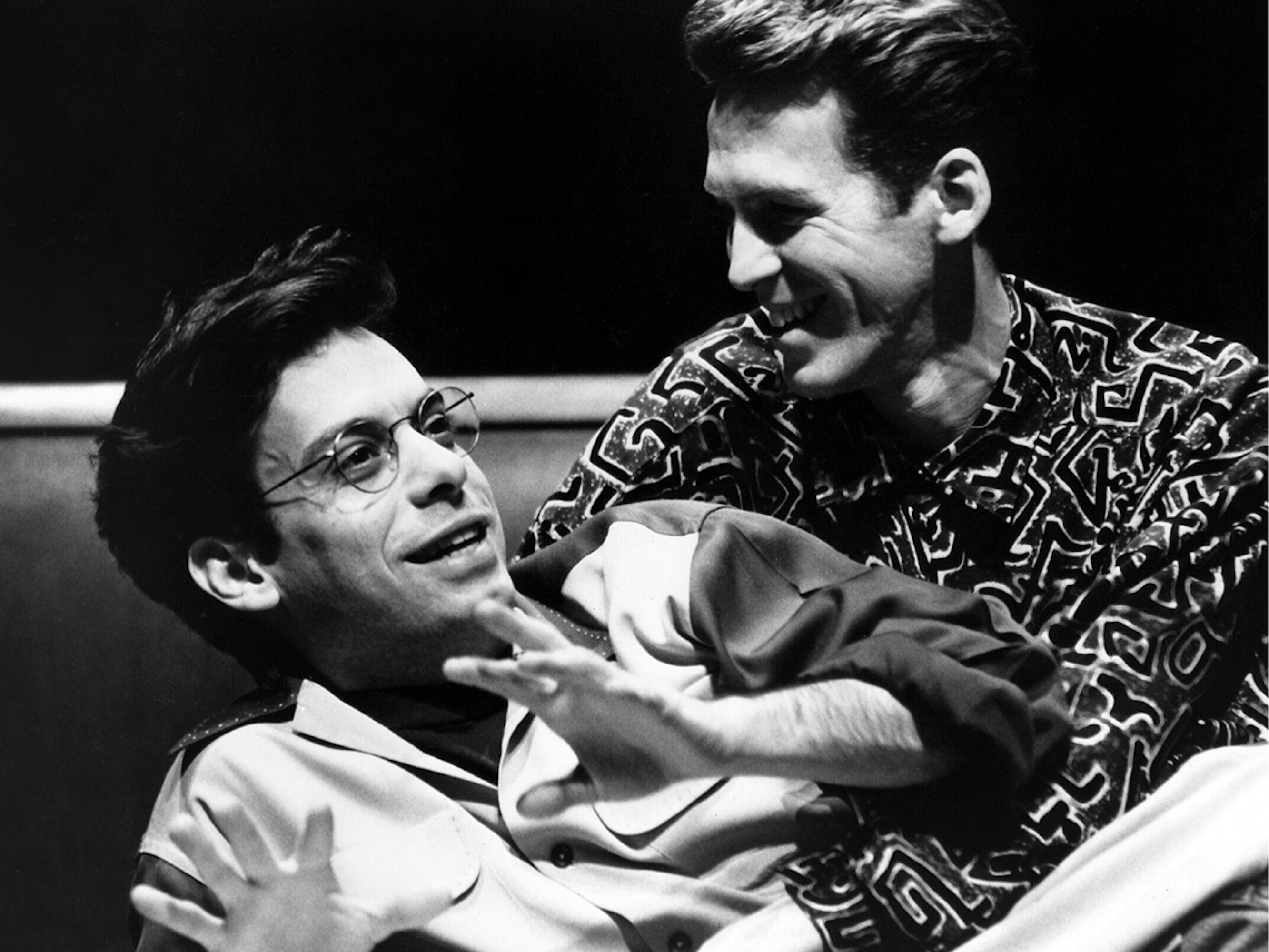 Photo by Joan Marcus/Photofest
I auditioned and I felt like it went well, which was a new and unique feeling for me. I was told that they were going to continue looking, but that they liked me. They called me back; that went well. This role, I guess, had always been sort of tricky for them to cast, because the character does and doesn't have a lot of similarities to Tony. They really did a big search. I remember it went on for weeks, and I would call my agent, and he kept saying, "Have you heard anything? Have you heard anything?" And then finally one day, I got the call.
That was a career-altering, mind-altering experience because I had gone from being a semi-unemployed actor to being in what was arguably the most important play of the last 50 years at that time. For at least two-thirds of the cast — almost all of us — it was our first big job. It was nice to have company. I think we were all experiencing this "walking on the moon" together. It was very, very bizarre, but I don't think anybody thought about that when we were making it.
Photo by Camera Press/Leigh Keily
Dylan McDermott
HAMBURGER HILL
AS SGT. ADAM FRANTZ (1987)
The first film I did was called Hamburger Hill. That was rough. There were no trailers. You had one costume. It was a Vietnam movie where they had to hose you down if you got muddy. I was like, Oh, shit, this is making a movie.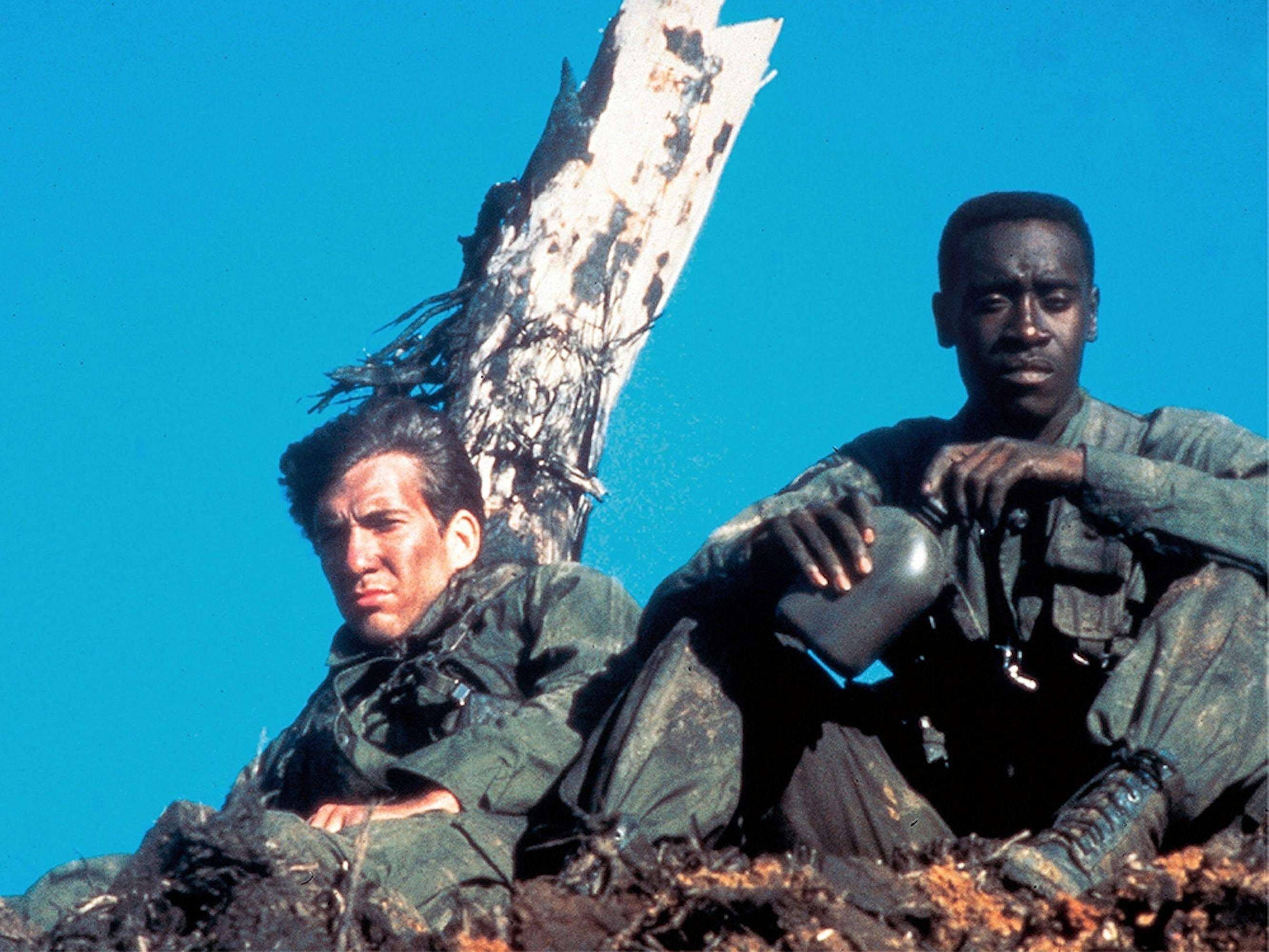 Photo by Paramount Pictures/Photofest
It was an open call. They were searching for new talent, and I just kept going back. I think they called me back seven times. I didn't think twice about it. I was like, I don't know how you ever get to be in a movie. Then suddenly I was cast, and I was shooting the film in the Philippines — in 1986, during a coup attempt against President Corazon Aquino — with Courtney B. Vance and Don Cheadle and Steven Weber. I still think it was one of the happiest moments of my life. Your first movie, it seems so far away, it doesn't seem real. I got the phone call that I was cast as the lead, and I was just like, What? Are you kidding me?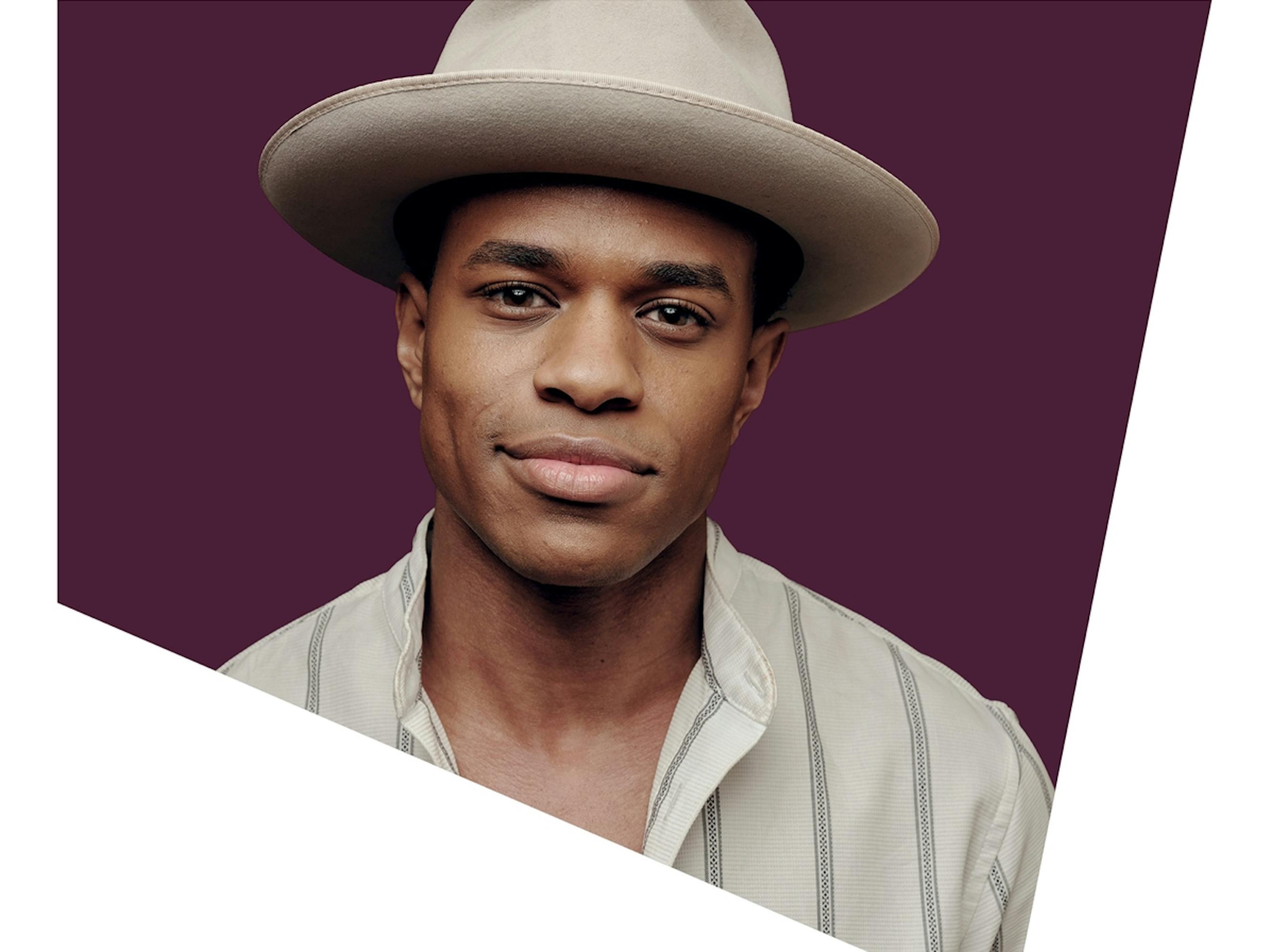 Photo by Vincent Tullo/The New York Times/Redux
Jeremy Pope
HOLLYWOOD
AS ARCHIE COLEMAN (2020)
My role in Hollywood came at the craziest of times. It was the week of the Tony Awards that I got the call. I was nominated for two Tonys that year, for Choir Boy and Ain't Too Proud. I was still performing in Ain't Too Proud, and we were just trying to make it through eight shows a week to get to the Tonys that Sunday.
I remember my agent calling me up, and he went, "Hey, we got this self-tape audition for an untitled Ryan Murphy project. There's no script attached to it. They sent some dummy sides your way. Take a look at it — they would like the tape as soon as you can get it."
I remember wanting to get frustrated, but I was like, You know what, I'm not going to put that energy into it, because I don't even have that energy. So, maybe an hour or so before we performed Ain't Too Proud, I had a friend in the cast help me with this self-tape backstage. I honestly didn't think about it twice; I just sent it over because this was a preliminary audition, where the casting agent wants to get familiar with you, and then you actually get the material later. I wasn't trying to invest too much time into it. The next day, I got a call that Ryan Murphy was interested in my tape and had just offered me this role.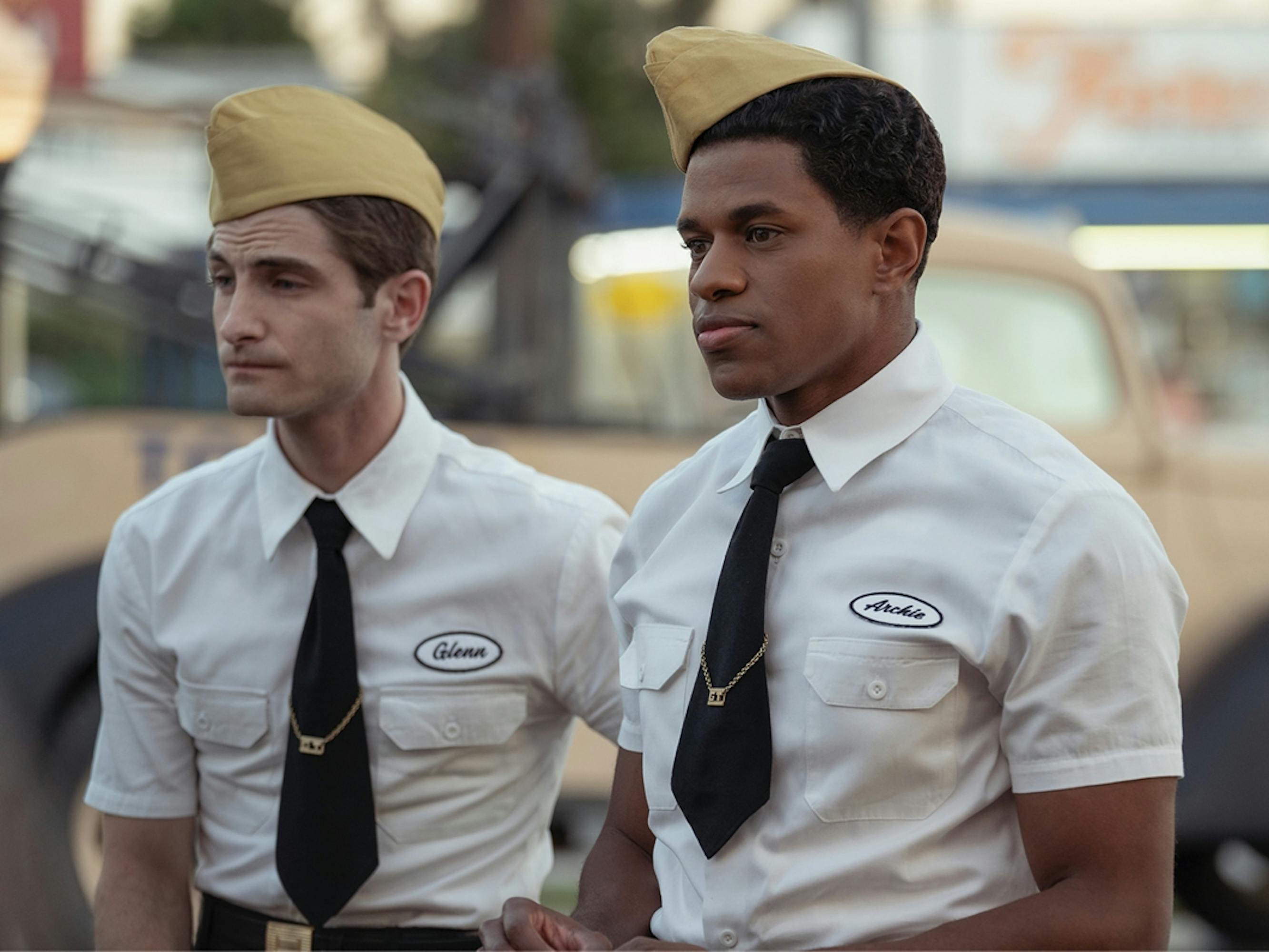 Photo Courtesy of Saeed Adyani/Netflix
I was just trying not to get too excited or invested, because I needed more information. It was the Saturday before the Tony Awards, and Ryan and I met up for lunch. We had a really great conversation. He told me about the series Hollywood and who he thought Archie was. I think at the time, he was just finishing writing Episode 2 with Ian Brennan, so he was open to collaborating and hearing what my thoughts were in creating the character. I trusted Ryan and said yes to the project based on that conversation.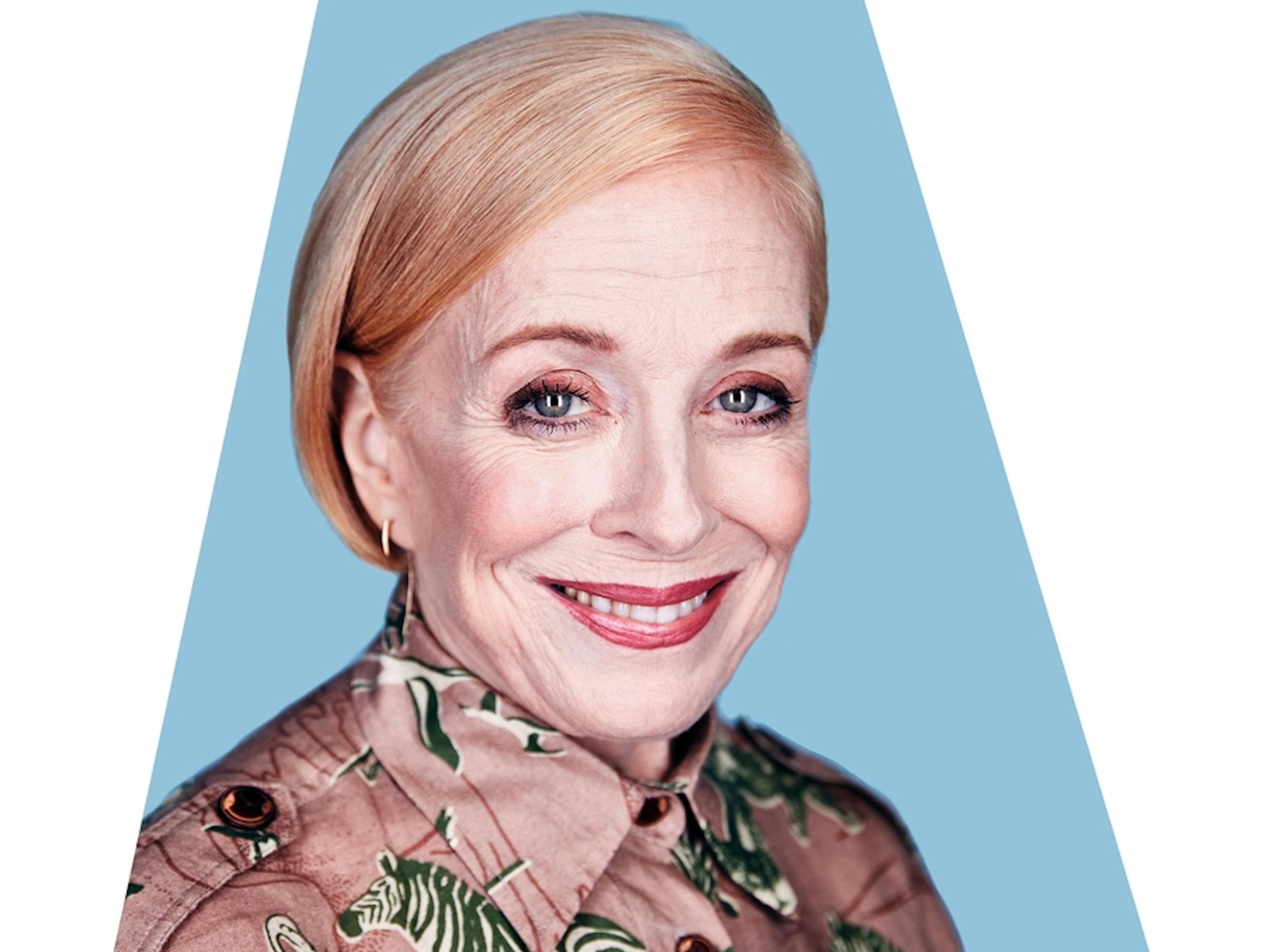 Photo by Robby Klein/contour by Getty Images
Holland Taylor
BOSOM BUDDIES
AS RUTH DUNBAR (1980–1982)
A life in the theater is what I always wanted. That's where I went after I got out of school. I went to New York and was there for almost 20 years. . . . There was a time when you could have a steady Broadway career and never be nationally known. But around this time, say 1980, they wanted their Broadway players to have a national following, because tourism became a big support of Broadway. When I was offered my first serious role in Hollywood, my great acting teacher, Stella Adler, said, "You've got to take that. Go out and get some national exposure." So I took it. That job was Bosom Buddies. I was about 37, and it was the first time I worked outside of New York.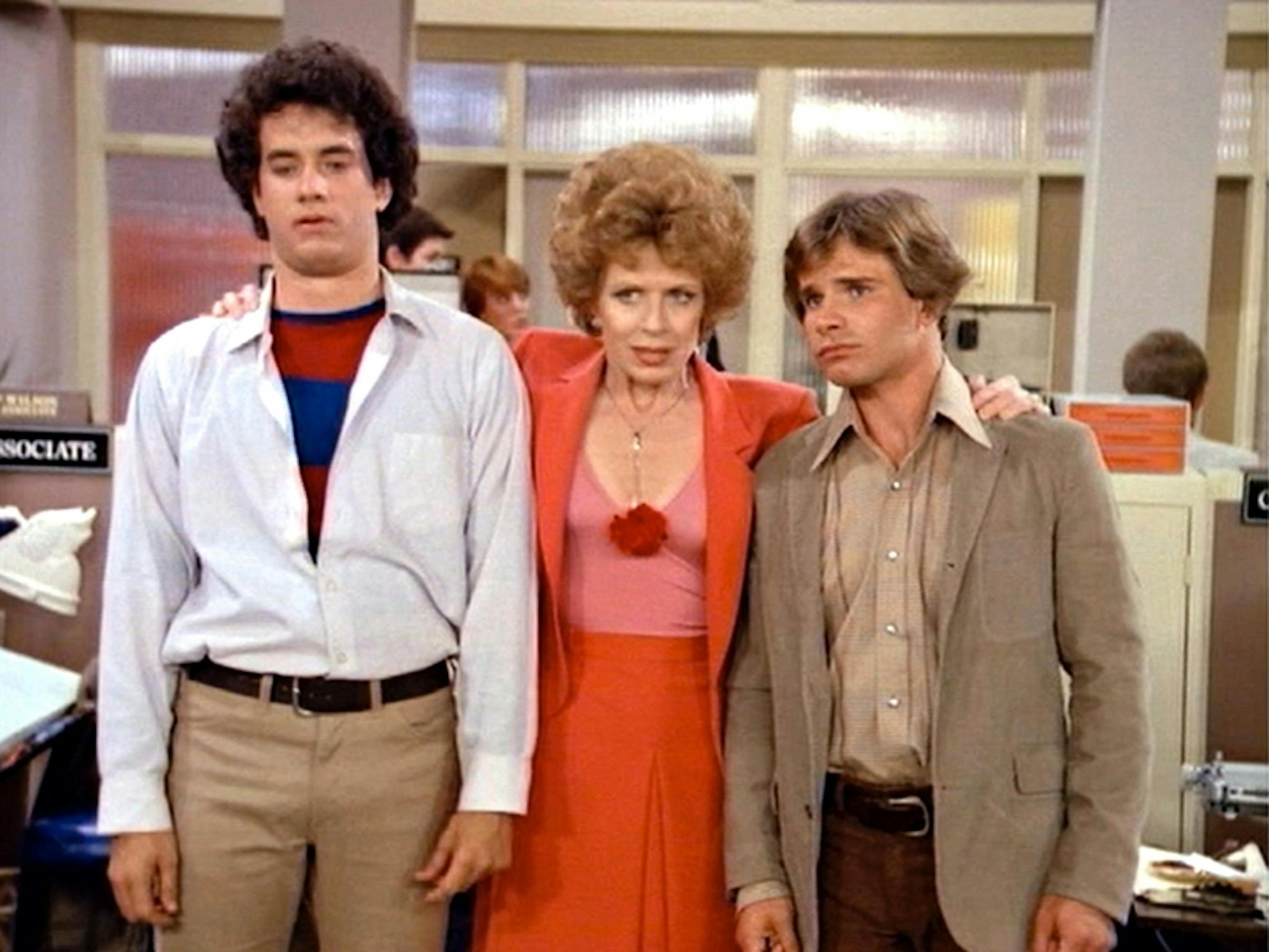 Photo by CBS Photo Archive/Getty Images
It was beyond fun. First of all, if my mother were alive, she would tell you that after the first day I worked on Bosom Buddies, I said to her on the phone, "Tom Hanks is going to be the most enormous star." He just has it all — and the most amazing histrionic ability I've ever seen in anybody, except for Meryl Streep. He has a body and an immeasurable ability to express things. I had a blast doing that show, and I learned a lot.