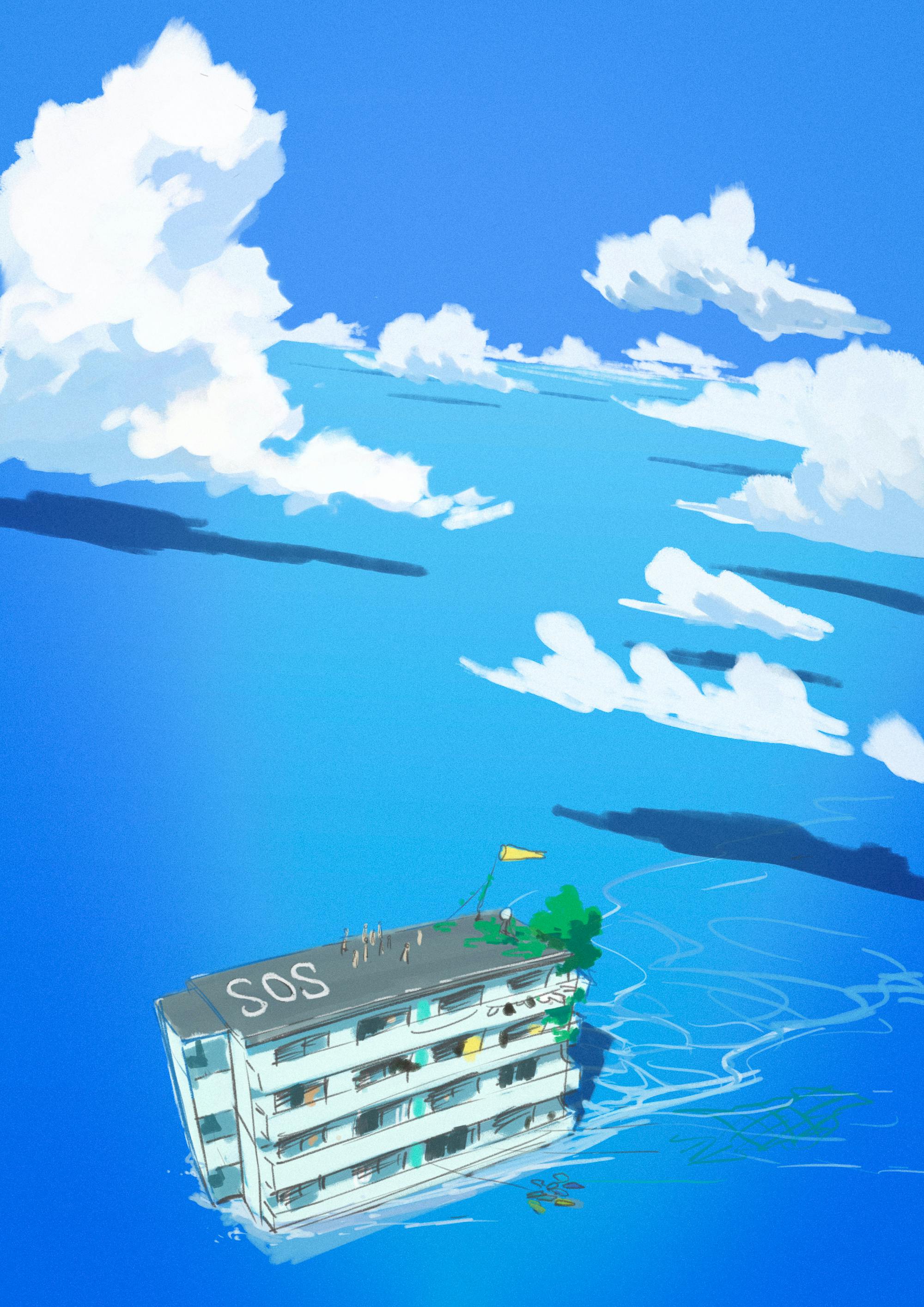 Ishida has won multiple awards, including Japan Media Arts Festival's New Face Award and Best Animated Feature Film at the Asia Pacific Screen Awards for his first feature film, 2018's Penguin Highway. He helped establish Colorido — the studio known for their coming-of-age stories and fluid animation style — directed several shorts, and is now hard at work on his second feature, Drifting Home. 
Drifting Home is about a group of elementary school pals who decide to go on an adventure to an abandoned apartment building that's rumored to be haunted. While walking its eerie halls, a sudden rainstorm hits, and before they know it, the apartment building is drifting on an ocean spanning as far as the eye can see. At first, protagonists Kosuke and Natsume and their friends treat the experience like a camping trip — but before long, they realize that this is no vacation, and that they'll have to use their wits to survive and get home. 
Ishida first burst onto the anime scene in 2009 with the short film Fumiko's Confession. Created while he was still an animation student at Kyoto Seika University, his rollicking two-minute short about a young girl speeding down a hill captured the hearts of animation fans around the world (Ishida's original YouTube upload currently sits at an impressive 6.9 million views).
After graduating, Ishida moved to Tokyo and joined anime studio Colorido, which promised young animators a creative workplace without the burnout-pace of so many studios. In 2018, he directed Colorido's first feature-length film, the award-winning adaption of Penguin Highway, in which a sleepy Japanese town suddenly notices magical penguins appearing out of nowhere. 
Unlike Penguin Highway — which was based on a novel by author Tomihiko Morimi, also known for works like The Tatami Galaxy and The Eccentric Family — Drifting Home is an Ishida original. "When this offer for a film came, it was really starting from scratch because it wasn't based on anything . . .I wasn't given any specific requests either, so the entire film was effectively left up to me," says Ishida.
Ishida began work on Drifting Home by deciding on the type of characters that would live within its world: namely, a group of elementary school students. "That's something the film shares with my previous works, like Penguin Highway," says the director. "The common denominator is how the children react in these moments." 
In creating main characters Kosuke and Natsume, both members of their school's soccer club, Ishida decided to set the pair up as friendly rivals — specifically, "rivals who get along so well that they fight. Since I watched cartoons about close friends who also fought when I was a kid, I was personally drawn to that sort of relationship," adds Ishida. "I was keen to see how such a pairing of opposite personalities would [work in a] friendship."
Once Ishida solidified his vision of Drifting Home's central cast, he set out to develop their world. "I'd been interested in setting something in an apartment complex for a long time," says Ishida of his film's primary setting. "I've always had an interest in the look of apartment complexes. I have never lived in one, but I was always strangely drawn to those simple, square, white rows of buildings that looked the same." Apartment buildings became much more prominent in Japan in the 1960s, after World War II, when Japan was in the midst of rapid post-war economic and population growth, and Ishida based Drifting Home's apartment building in this specific 60s style. To get the feel of the apartment just right, the director went location scouting, visiting famous complexes in different areas, and even creating a detailed replica to reference while animating the film. These apartments, Ishida explains, "have a certain nostalgia about them and are old, but they have been renovated and people still live in these places, so they are still loved in many ways."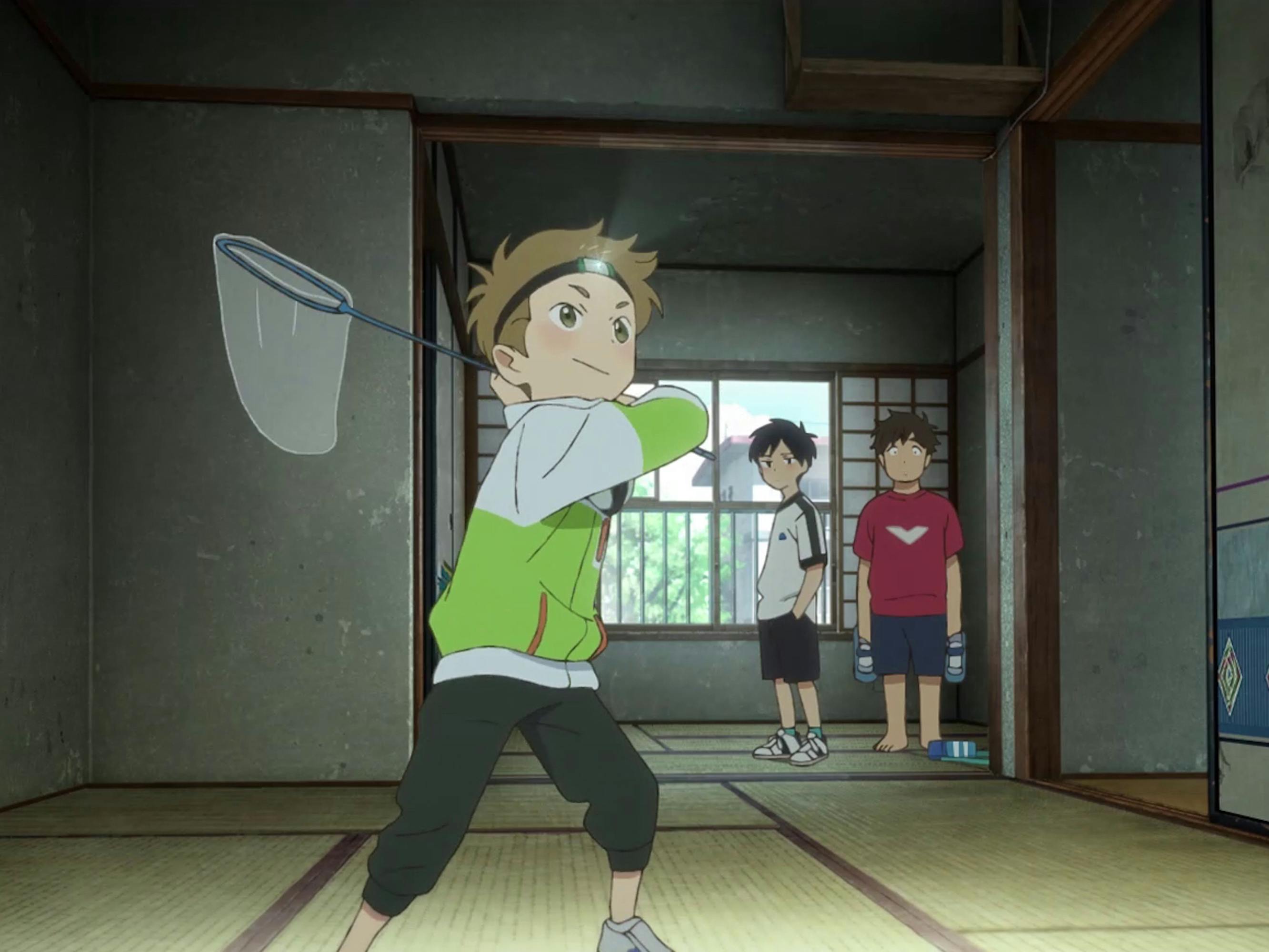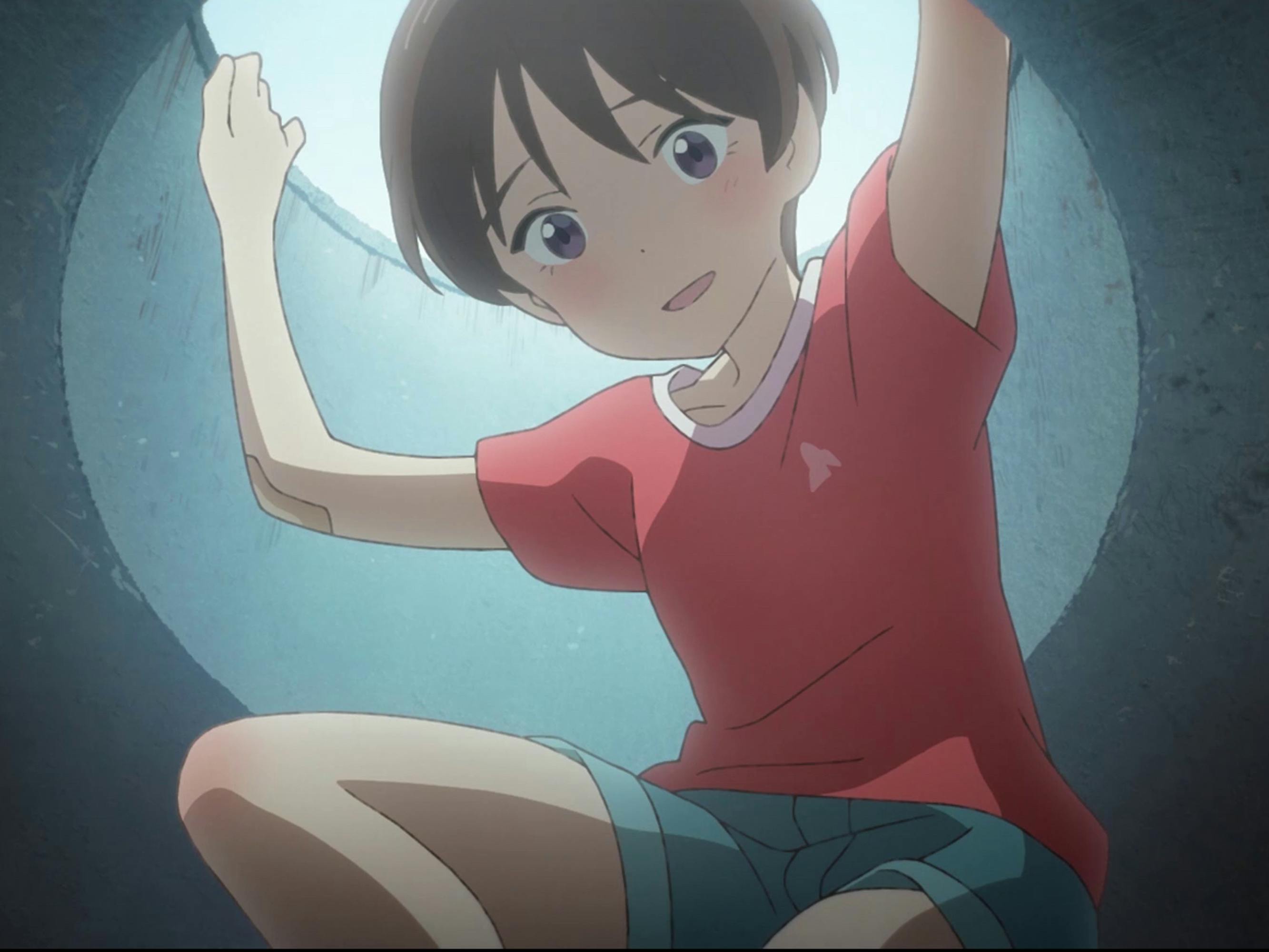 The final touch in fleshing out this new anime world? Deciding that the apartment should be floating out on the water. The drifting situation came about as a way to add an extra dimension and a bit of "spice" to the film, says Ishida. "I also felt a sense of romanticism in this situation of sailing the high seas." But Ishida didn't initially think this idea, which is now at the heart of the film, would interest anyone but himself. "I found the idea intriguing when I drew it, but I didn't expect others to find it interesting enough to pick it up for development," Ishida explains. However, the concept of an apartment at sea fascinated the film's producer, who encouraged Ishida to develop it further. "When I received that reaction, I got really interested in moving forward with this project," the director says.
Ultimately, despite the fantastic setting, Drifting Home is a story about a group of children working together to support each other, fighting for survival against all odds, and trying to get home safely. It is "filled with all the tears, laughter, and adventures the children experience on their journey. We can't wait to deliver this film to you all. I hope you are looking forward to watching it," says Ishida of his film. The captivating tale is sure to be another of his monumental contributions to the canon of anime.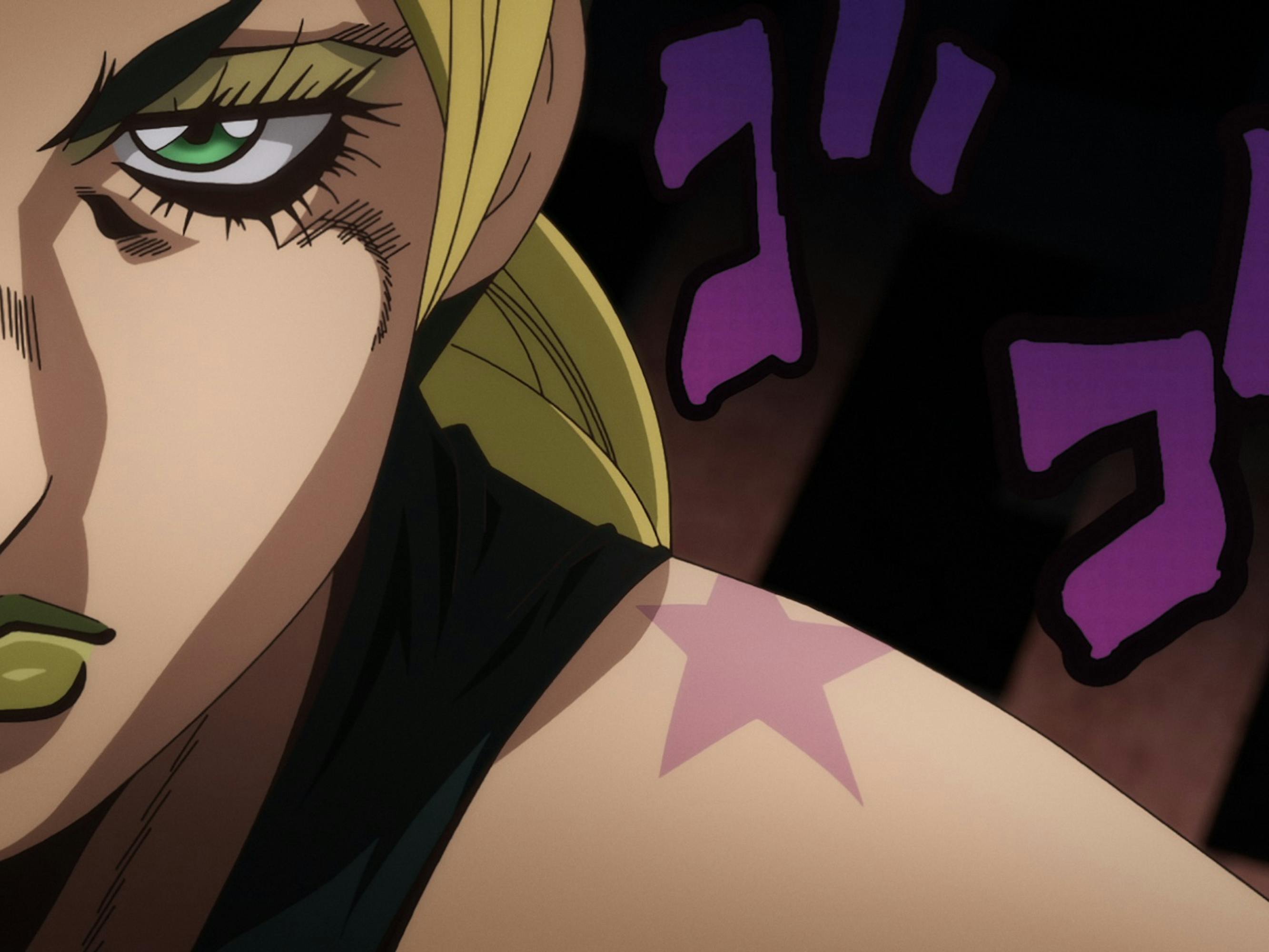 JoJo's Bizarre Adventure: Stone Ocean
Episodes 13 - 24 coming September 1, 2022
It's 2011, and Jolyne Cujoh is on a drive with her sweetheart in Florida, when they get into an accident. The event leads Cujoh to a 15-year sentence at Green Dolphin Street Prison, the maximum-security correctional facility also known as "The Aquarium." Just when she feels like giving up, Cujoh receives a pendant from her father that awakens a mysterious power inside her. Based on the original manga by Hirohiko Araki, Jojo's Bizarre Adventure: Stone Ocean will put an end to the anime series' century-long rivalry.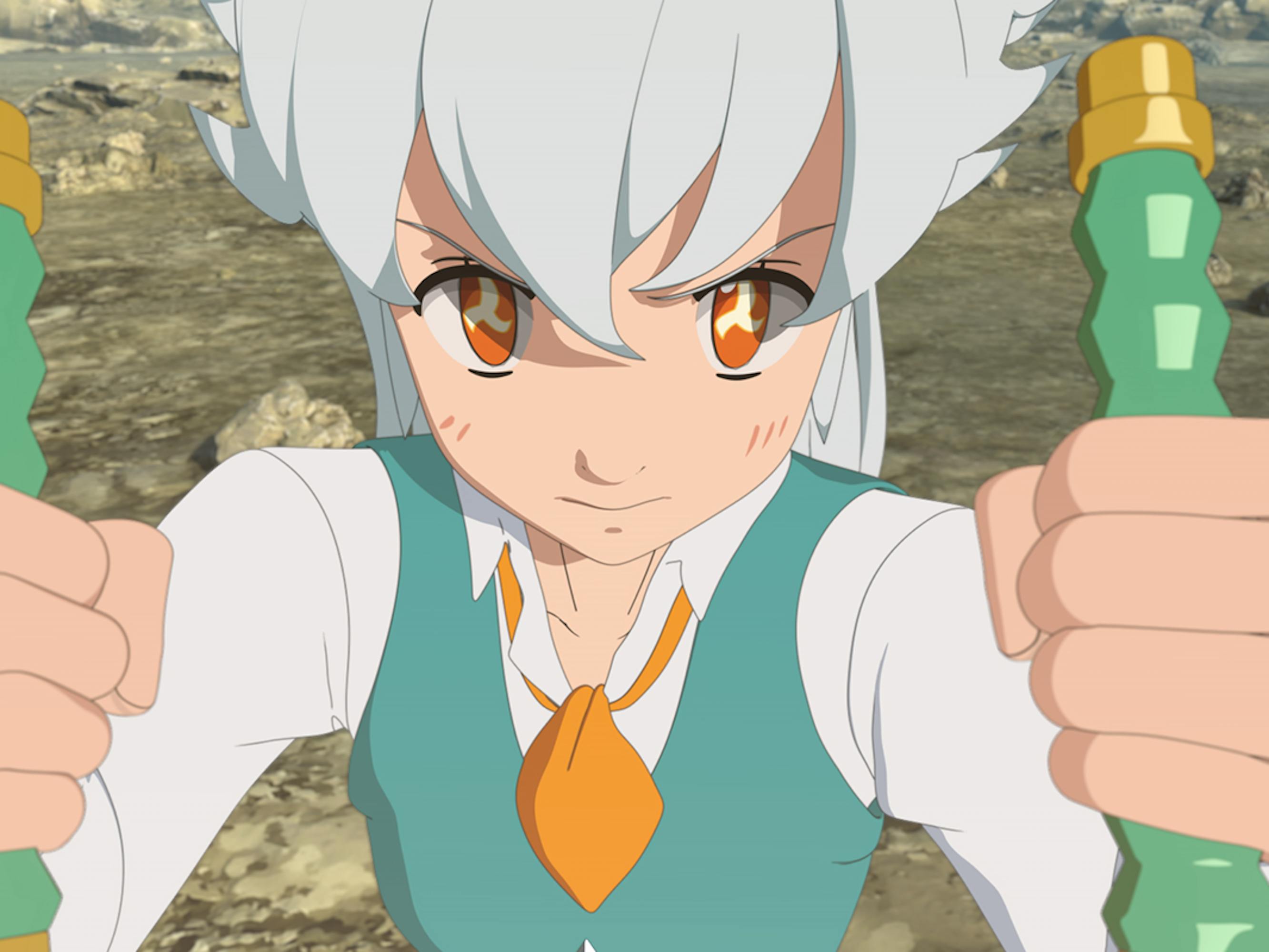 The Seven Deadly Sins: Grudge of Edinburgh 
Part 1 coming in December 2022
Based on the award-winning manga by Nakaba Suzuki, The Seven Deadly Sins: Grudge of Edinburgh features an original story by Suzuki and follows Tristan, the son of the manga's protagonists Meliodas and Elizabeth. Tristan inherits the Goddess Clan's powers to heal wounds and injuries, yet he still ends up hurting others as he learns to control his Demon Clan power. To protect his family, he ventures off to Edinburgh Castle, meeting lots of characters along the way.
Gudetama
Coming in December 2022
Despite being hugely popular, lazy egg Gudetama can't muster the motivation to leave the fridge. Would you, if you knew you'd just end up on someone's plate? When overbearing chick Shakipiyo forces him out, the odd couple set off on a quest to find their mother, meeting lots of eggs — cooked all sorts of ways — along the journey. Join Sanrio's most lethargic character, Gudetama, on a listless, and heartfelt, road trip to discover his parentage.