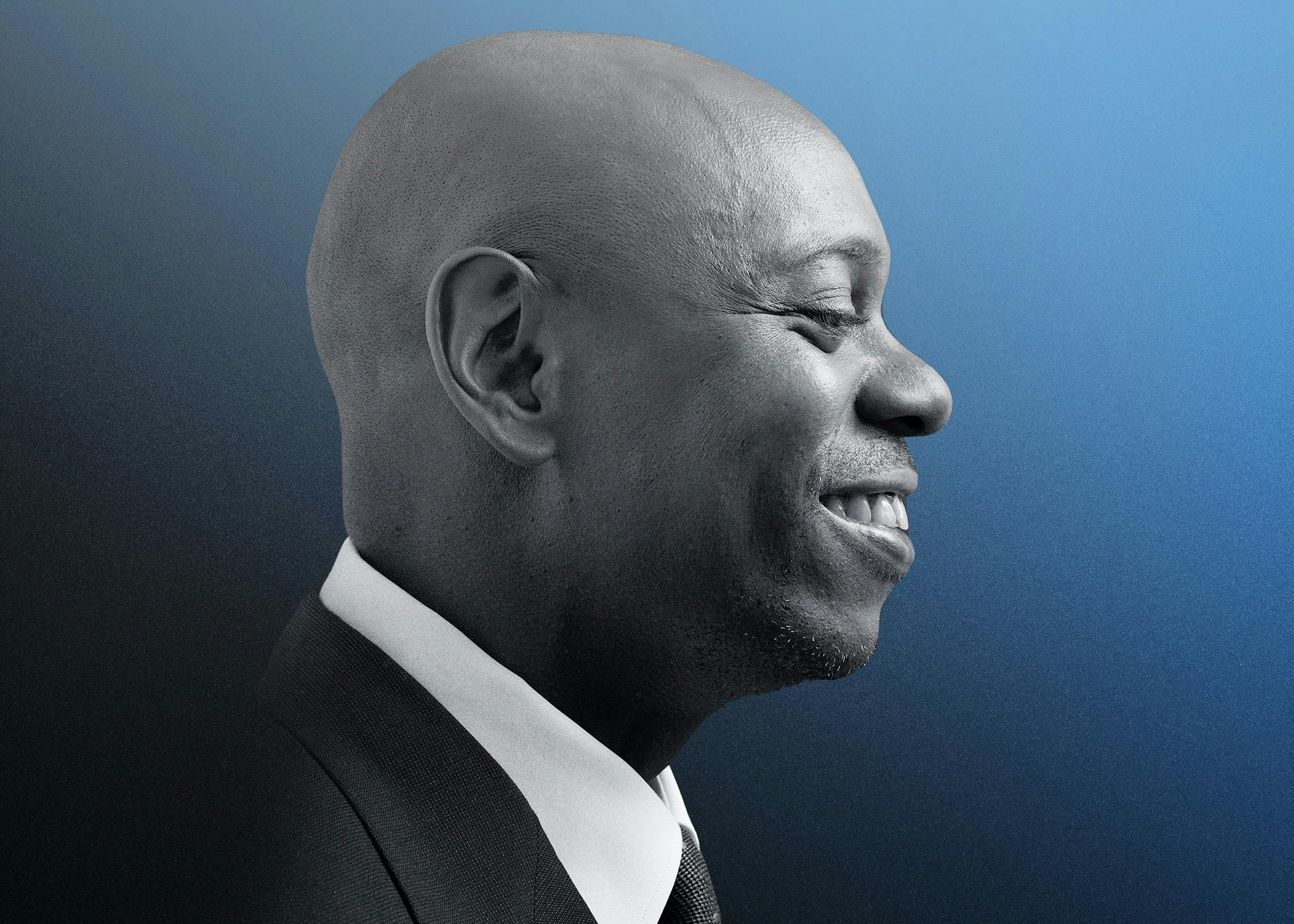 A few of our favorite comedians salute the one and only Dave Chappelle.
"He is the voice of his generation." That's how Eddie Murphy described Dave Chappelle as he saluted the comedian for receiving the 22nd annual Mark Twain Prize for American Humor, the nation's most prestigious comedy award. "His critical thinking is his art," Sarah Silverman extolled at the same event. "He's constantly evolving. He grows."
A product of both Washington, D.C. and Yellow Spring, Ohio, Chappelle's comedic genius is rooted deep in the soothsayer-truthsayer tradition of Lenny Bruce, Richard Pryor, George Carlin, Paul Mooney, and Dick Gregory. Through subversive skits like "Reparations" and "Black George Bush" (from the groundbreaking Chappelle's Show), he perfected a signature style of humor that illuminates fundamental realities about American culture. Like Pryor or Carlin, sure, but also like a comedic James Baldwin or a court jester Ta-Nehisi Coates. Chappelle often shines light on racism and inequality in the style of a public leader.
Chappelle's 8:46 starts off with A Tribe Called Quest's "Stressed Out," and maintains that same energy throughout its 27-minute runtime, giving voice to outrage about U.S. police violence, systemic racism, and white supremacy. "It's not for a single cop," he says. "It's for all of it. Fucking all of it." 8:46 is titled in reference to the amount of time that officer Derek Chauvin kneeled on George Floyd's neck. No one knew it then, but 9 minutes and 29 seconds would eventually become the official number. The justice system's track record gave us no real reason to expect full accountability for Floyd's murder, but on April 20, 2021, some 10 months after Chappelle filmed 8:46, Chauvin was found guilty on all charges. 8:46 is full of the sort of testimony delivered by the Black Lives Matter movement and its allies ever since the murder of Trayvon Martin, but from the mouth of a comedian."
Any n**** that survives this nightmare is my goddamned hero," Chappelle opines at one point. Is it any wonder that we hold this ever-subversive comedian in the same honor?
Here, a few of Chappelle's contemporaries share their admiration for his spirit and his work.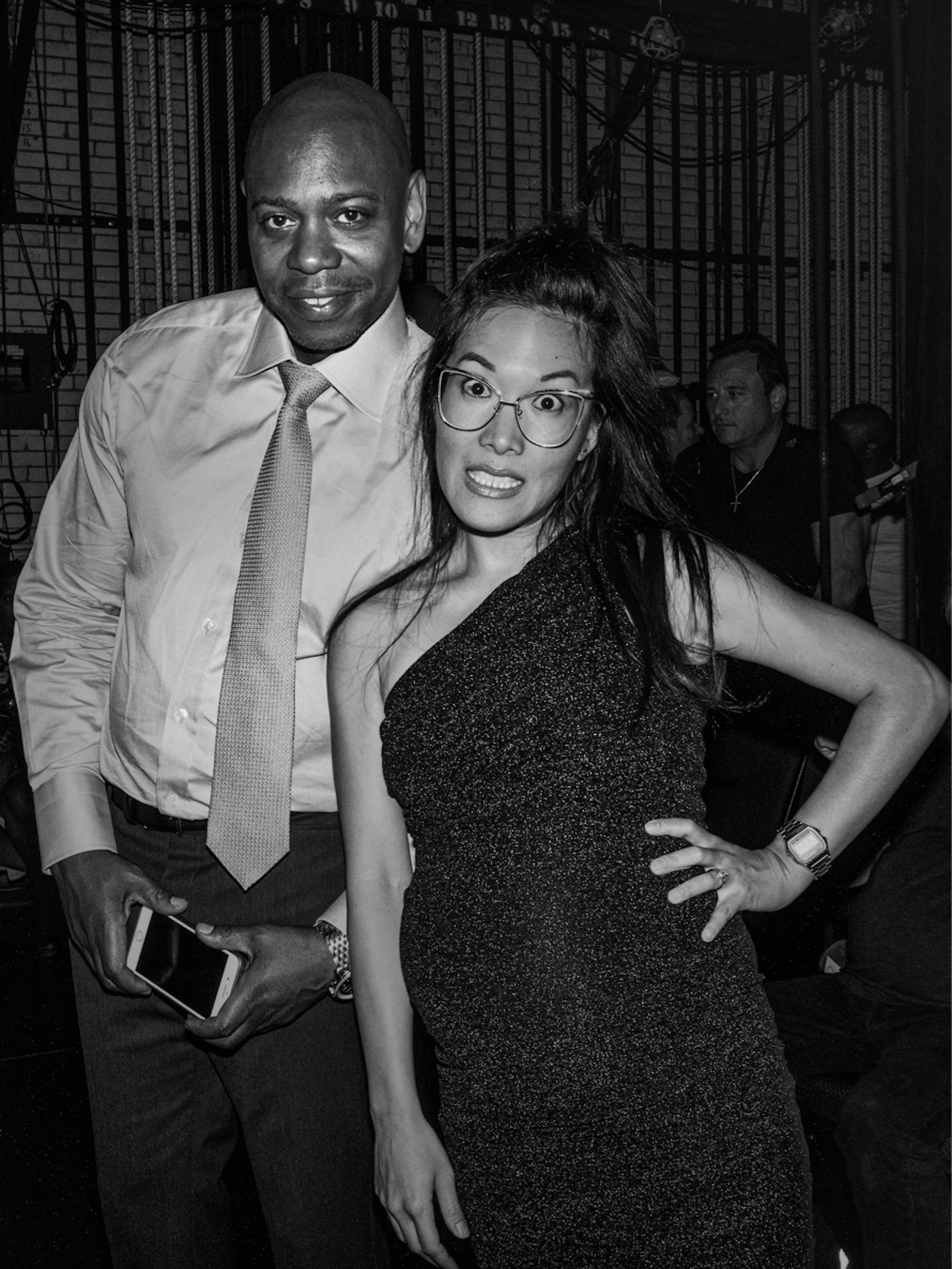 ALI WONG
I met Dave when I was in my mid-20s, just starting to do stand-up comedy. Kent Uyehara, the owner of a skate shop called FTC, introduced us, and Dave asked me to open for him that evening at the San Francisco Punch Line Comedy Club. We've been friends ever since.
The whole way I choose to tour and navigate my career is very much inspired by Dave. He taught me that the whole point of being successful is to have fun — otherwise, what's the point? He showed me how to say no and how to preserve my relationship with, and love for, stand-up comedy. So I generally don't perform in venues that seat over 3,500 people and instead do these mini-residencies in theaters, in cities that I enjoy spending a stretch of time in. Even though it's not necessarily very efficient, it definitely keeps the shows more intimate.
In 2019, the booker from the San Francisco Punch Line called me to say that their building was being bought by a big tech company and that they were getting kicked out. I was told that there was no hope and felt very sad that my beloved home club, where I started stand-up and made my best friends in comedy, would soon close. I straight-up cried. But then Dave flew to San Francisco, got on the steps of City Hall during a press conference, and spoke to the importance of the club and its contribution to the city. Of course, it attracted a huge amount of attention, which created a ton of pressure to protect the club... and it worked! He straight-up saved the Punch Line, the very place where I found my voice, where I learned how to do stand-up, and where we first met. People always think of Dave first and foremost as a great stand-up comedian, which he obviously is, but he's also very much an activist."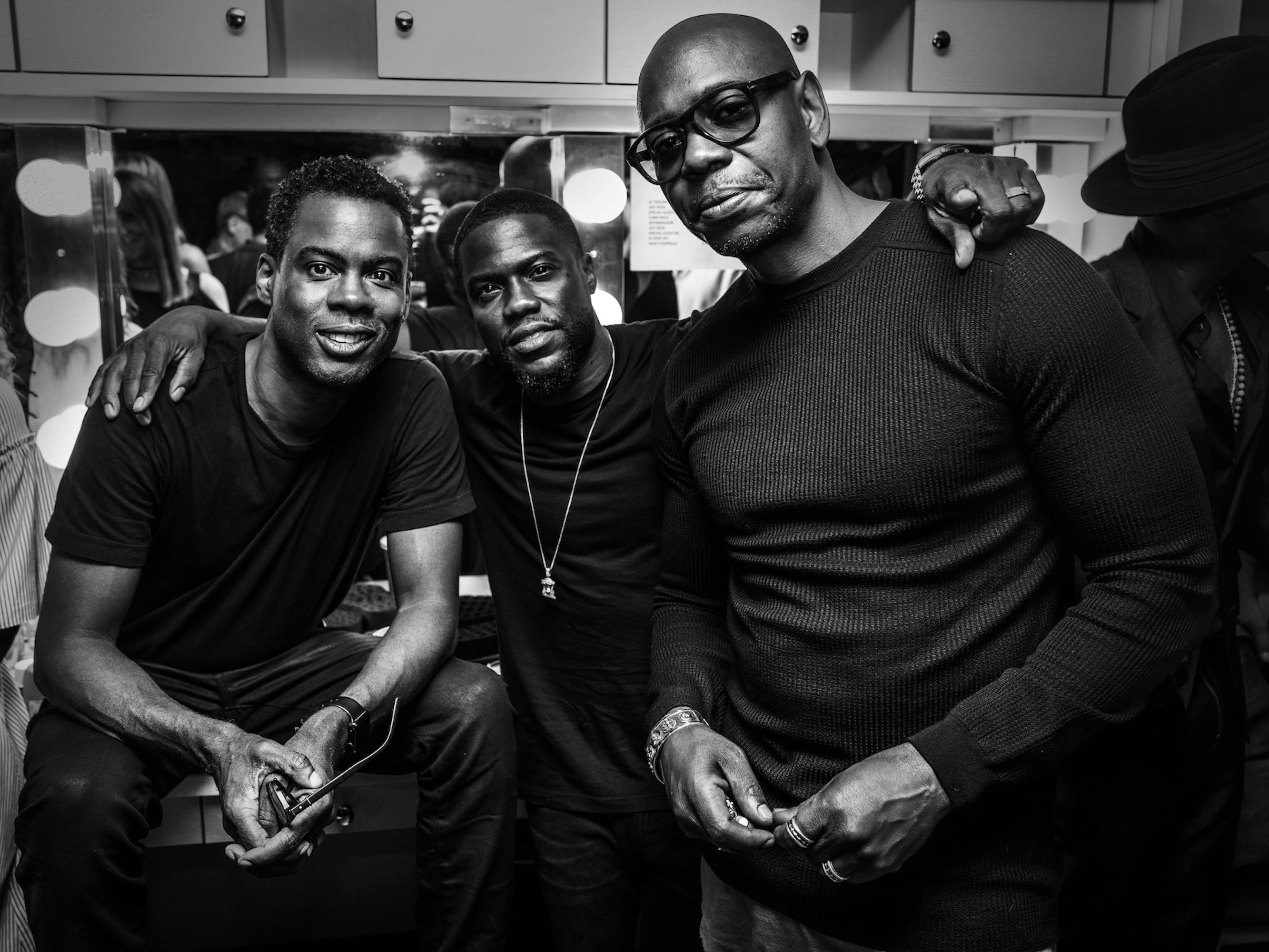 CHRIS ROCK
Dave is by far my favorite comedian today, and he's inching up on being my favorite of all time. Dave's comedy does what N.W.A. did for me when I was a kid: It let me know that I could say anything. GOATs: Michael Jordan, Tom Brady, Dave Chappelle."
DAVID LETTERMAN
Dave Chappelle can tell you why it's O.K. not to be politically correct and then demonstrate his position in a way that makes sense, and you're not offended by it. I'm sure he has struggles. I'm sure everybody who's doing it has struggles. But like anything else, you say anything you want; you just have to be prepared to live with the consequences. And I am very impressed by the freedom or lack of concern that I see about that very thing: I'm going to tell you exactly what I think and what I feel, and if you don't like it, you can go home. That's admirable."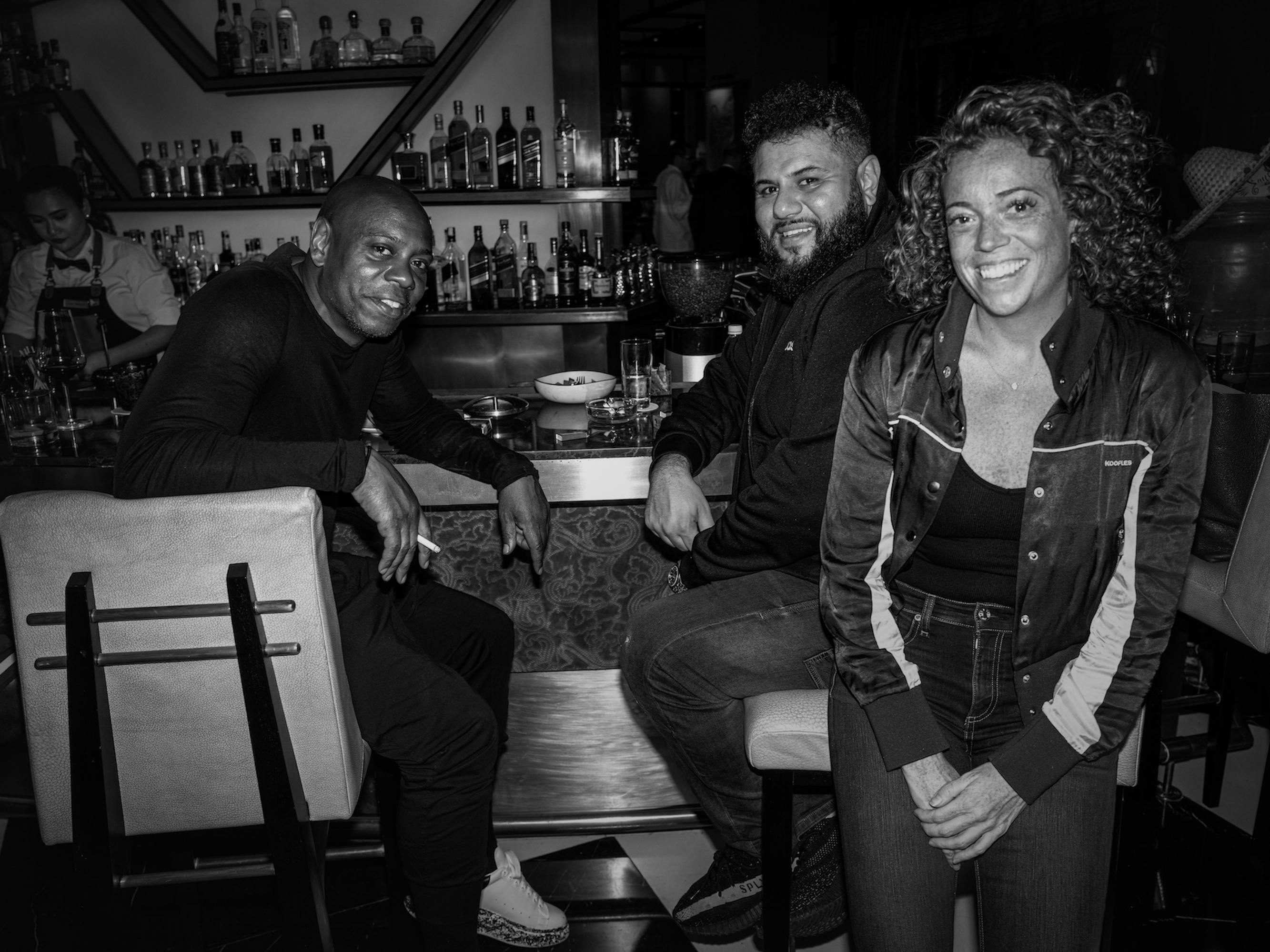 MICHELLE WOLF
When I look at Dave, the thing that sticks out for me is how hard he's worked. Dave's not one to brag about something like this, but he has outworked all of us. He would finish shooting a season of Chappelle's Show, get right on a tour bus, and do three stand-up shows a night for 60 days in a row. That's unheard of. No comic does that. You put that amount of work on top of his natural ability, of course he's gonna be the best to ever do it. And now he comes out with specials so fast, the blogs that throw faux outrage at him can barely keep up. Every time someone tries to draw a line on what comedians can and can't say, Dave runs across the line — for all of us — as if to say, "Catch me if you can, bitch!" And we can't. None of us can catch him. One thing is for sure: We're so lucky to live in his prime."
MO AMER
Doing over a thousand shows with Dave Chappelle is like getting to see the inner mechanical workings of a fine timepiece. The mastery of a horologist is unparalleled, and the pieces constructed are timeless."