Jessica Shaw shares the five moments she laughed, cried, and needed to know more and was not disappointed during the new comedy special.
"Welcome to, uh, whatever this is," Bo Burnham tells us during Inside, his Netflix comedy special that instantly became the absolute must-watch show for the trepidatious, vulnerable, haircut-challenged, pandemic-scarred, and anxious person in your life (which is to say you and every single person you know). Since its debut on May 30, Inside has launched countless thought pieces about everything from mental health to beard length while also being called "virtuosic" and "a masterpiece in mental artistry." If this writer's experience was anything like yours, there were hysterical laughter highs and weeping-in-fetal-position lows, not to mention some moments that have yet to be fully processed. Granted, any given moment may play differently to whomever is viewing ('cause, like, art), but here are the times that will stay with us long after this pandemic is over.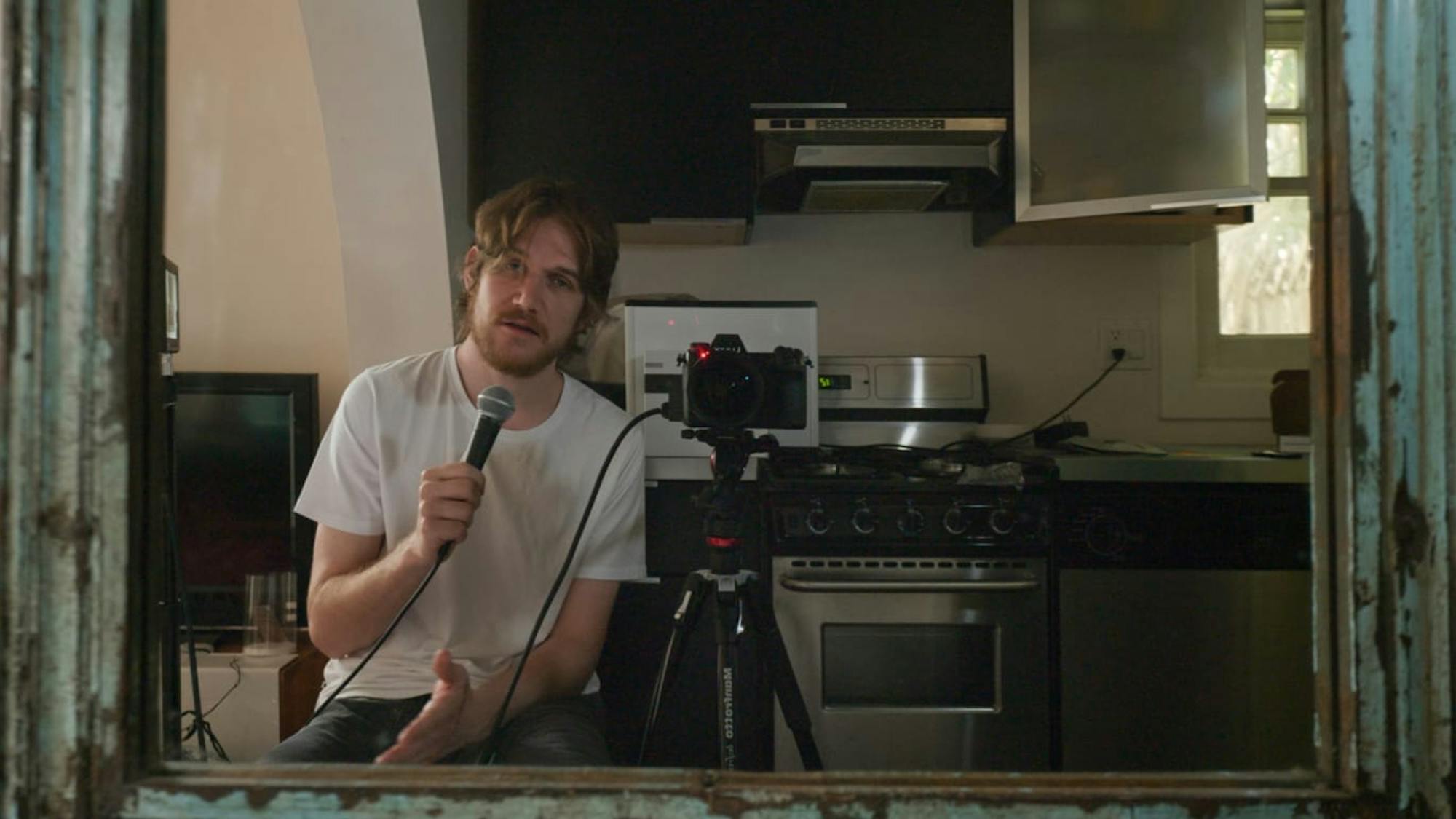 FIVE TIMES WE LAUGHED
1. There's something particularly and darkly hilarious in the way a distorted, overproduced voice of God says "bingo!" after Bo Burnham overconfidently tells us, "The world needs direction from a white guy like me." Maybe it's the doubling down on sarcasm; maybe it's just the absurdity of the word "bingo!" We hear this voice again as Inside comes to its conclusion, the latter time far more sadistically, which makes you question the price you paid for that early laughter. Oh, how naïve we all were in those first few songs.
2. Could there possibly be a comedic time capsule of the pandemic without calling attention to how we were all forced to communicate virtually with our aging parents? And did it make anyone feel less alone to know that mothers around the globe were unable to keep their faces in their phone cameras? The specificity of lyrics like "She'll tell me all about the Season 6 finale of The Blacklist," started my laughter, but the over-and-over-and-over recitation of "My mom covers her camera with her thumb" had me wiping tears from my eyes (the good kind, read on for the other kind).
3. For a guy alone in his home, Bo Burnham manages to play a lot of characters in this 90-minute special. One of the most despicably hilarious is the social brand consultant, who pompously weighs in on how companies can harness causes for financial gain. It's hard to decide what's funnier: the pathetically miniscule ponytail that's barely held together by a hair-tie or the passionate delivery of the line, "Who are you? Bagel Bites?"
Nonetheless, this acidic indictment of what is deemed humorous is pretty damn funny.
4. The lyrics of "White Woman's Instagram" have been quoted all over the place by now, and rightfully so. So maybe it's not worth admitting that the uttering of "an avocado" made me do an old-school spit-take. But don't sleep on the tiny details worth catching, even if you watch this instant favorite on mute: a T-shirt that reads "May contain wine," daisy petals over the eyes, and that ridiculously irritating diagonally upward look that tries to convey, I'm silly and sly and possibly too clever to look head-on into a camera lens. Bonus points for the unicorn onesie and the three mini cacti that one could theoretically purchase in a middle-of-the-night anxiety order from Amazon. Hello, Jeffrey Bezos musical numbers one and two!
5. You may not have paused on the COMEDY white board, because you figured some Reddit board would do the work for you... and you were right! Nonetheless, this acidic indictment of what is deemed humorous is pretty damn funny. "Middle-aged men protecting free speech by humping stools and telling stories about edibles" probably made everyone except Joe Rogan chuckle. And "sequel to classic comedy that everyone watches and then pretends never happened" almost certainly got laughs all across Los Angeles, though possibly the nervous kind.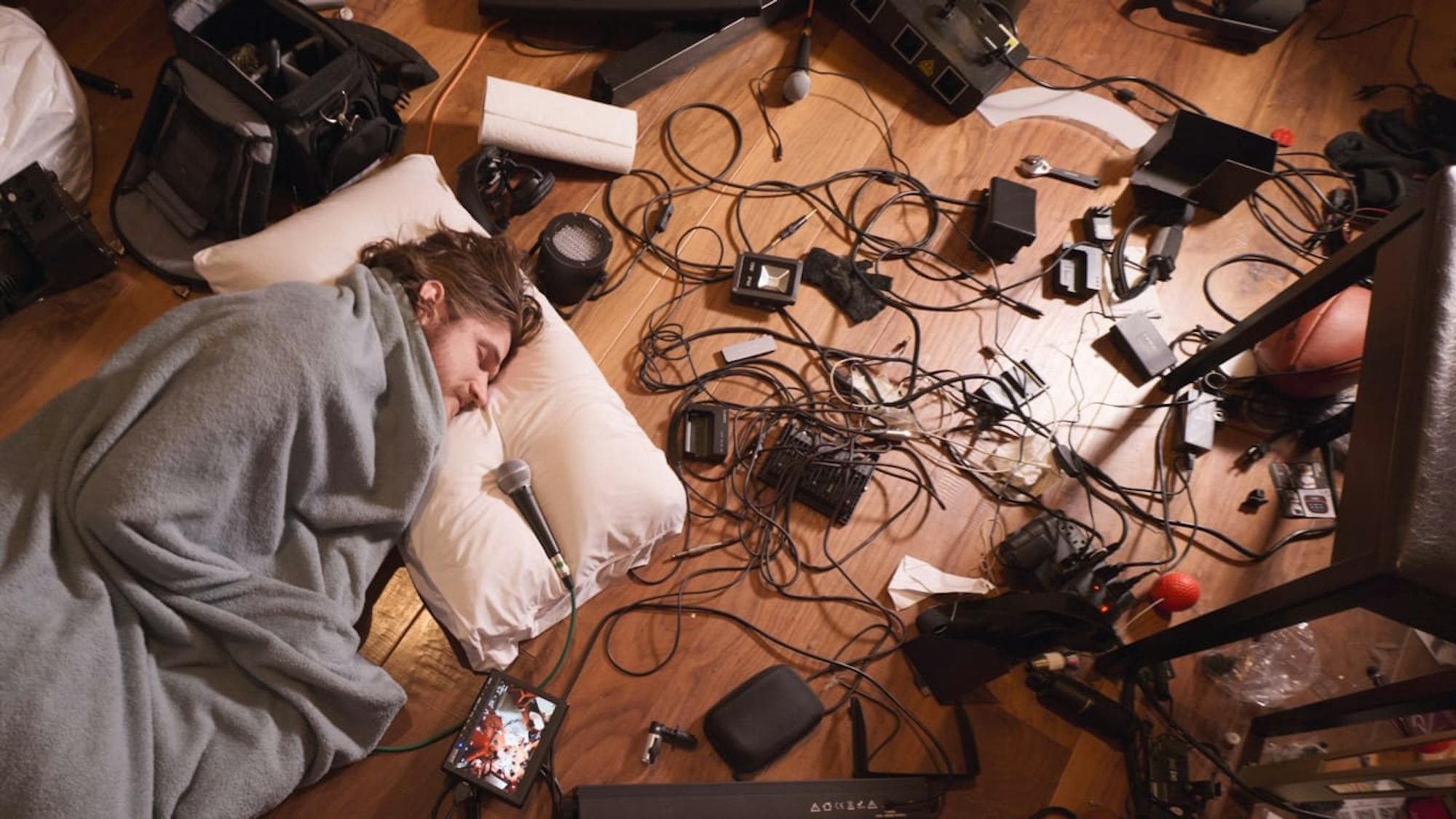 FIVE TIMES WE CRIED
1. On the eve of his 30th birthday, Bo Burnham sits alone in a dark room, next to a digital clock, its bright green numbers flashing "11:58, 11:59..." Instead of friends celebrating, waiting for a new decade in his life to turn over, we hear computer-generated crickets. "I'm just going to sit here and enjoy, uh, my twenties, and get back to work," he says. What follows is Burnham in black underwear singing about the arrested development of building a birdhouse with his mom and repeatedly lamenting, "My stupid friends are having stupid children." The sadness of how time passed this past year-plus was a true punch to the soul.
2. Over the course of Inside, Bo Burnham talks about his anxiety, presents a fake game brought to you by "SSRI Interactive," and sings about sadness, but nothing broke me more that hearing him say, "I've been working on this special for a year now, which is a lot longer than..." and not be able to finish the thought. "I am... not... um, well," he comes back to say and then begins crying. And continues weeping. Canned laughter, pumped-in applause, and cheers play in the background, almost mocking him from another world. It is hard to imagine that anyone watching managed to keep their eyes dry witnessing the honesty and vulnerability of depression.
3. When the word "intermission" fills the screen, we viewers are asked to sit with the feelings brought on by what we just watched: a scraggly, hunched over Bo Burnham with the image of his earlier self projected on his own white T-shirt, admitting to wishing he could just die for 18 months, but urging listeners to avoid suicide. ("Can you NOT, please?") Our instinct may have been to quickly move away from that dark, distressed space, but that single word, "intermission," forced anyone watching to take an emotional pause and absorb the depth of his sadness.
In addition to weeping over the emotional wreckage that Burnham (and we all) felt at different moments, there were also tears of joy that he, and we, would emerge from the darkness at some point.
4. About eight minutes before the special ends, Burnham says, "I think I'm... I think I'm done." Did this moment break all of you as it did me? There's something about the ominous and yet peaceful delivery of the word "done," which at any given point during Inside could have meant "done with living" or "done with comedy" or "done with creating" or simply "done filming this special." His quiet assertion of being "done" was a relatable acknowledgement that something profoundly meaningful was in the rearview mirror, even if just for a moment.
5. In a comedy special full of ugly cries, one single shot stood out the most. As Burnham sings his conclusion, repeating lines we'd heard over the course of the journey, he sits, stripped down to his skin, in a chair with a single spotlight on him. (Lighting designers could and should wax poetic about the way Burnham masterfully utilized their craft, but that's another piece entirely.) Some saw it more cynically, about how even moments of bare truth are now performative, but I saw the circular spotlight more as a womb and Burnham the naked newborn inside. In addition to weeping over the emotional wreckage that Burnham (and we all) felt at different moments, there were also tears of joy that he, and we, would emerge from the darkness at some point. It's awkward and jarring and scary for Burnham in those final seconds, as it continues to be for so many of us in real time, but it's also promising.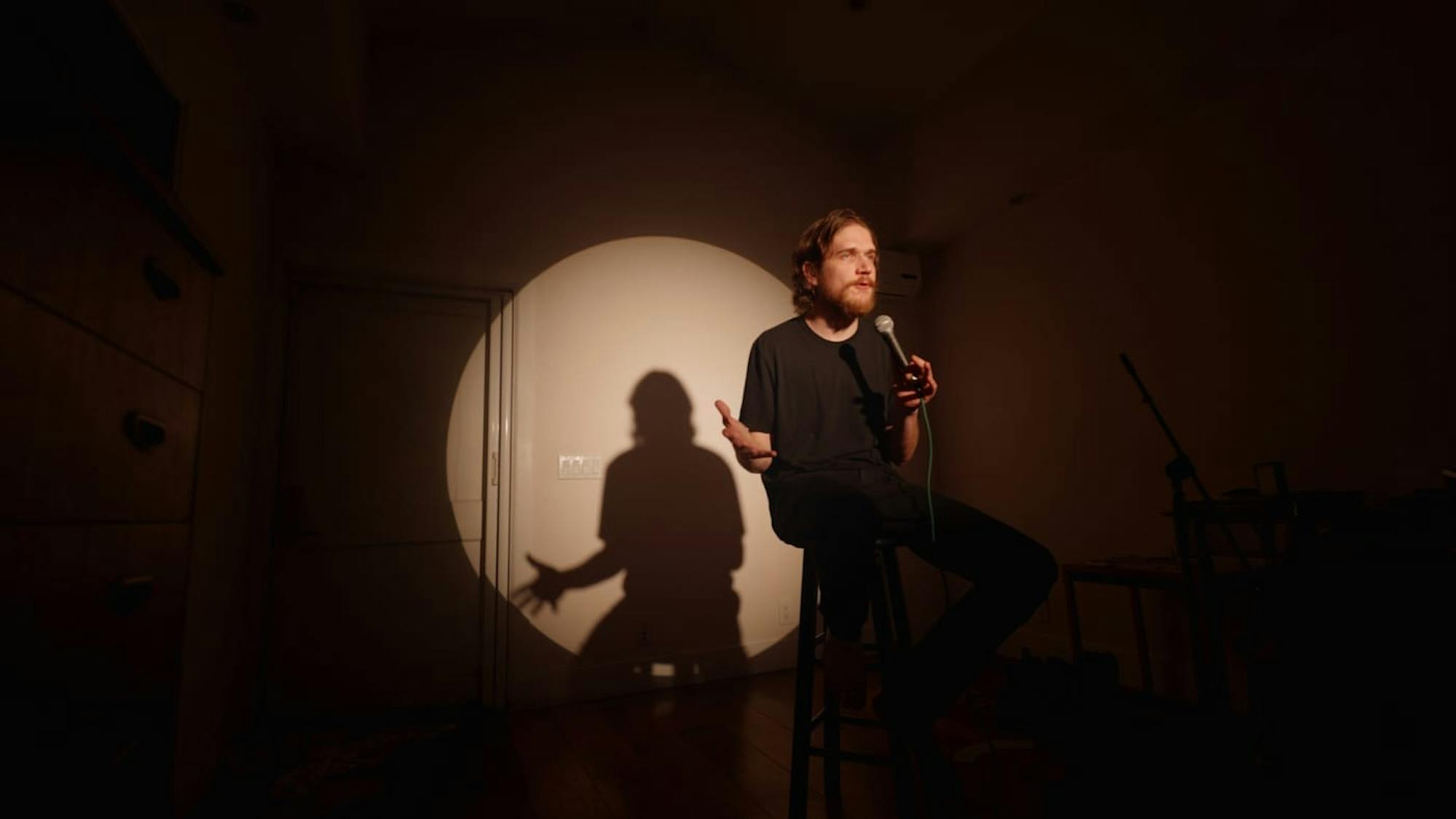 FIVE TIMES WE NEEDED TO KNOW MORE AND WERE NOT DISAPPOINTED
1. Inside has a slew of nods to Burnham's past, from referencing the five years he took off from stand-up after suffering from panic attacks to a shot of present-day Burnham watching his younger YouTube-sensation self performing "My Whole Family... ". "Isn't anybody going to hold me accountable?" he asks, referencing his earlier problematic comedy that has been criticized for being sexist and homophobic. At another point, he opines with a false bravado, "If I'm self-aware about being a douchebag, it'll somehow make me less of a douchebag. But it... but it doesn't." Self-awareness may be an effective enough mea culpa, but if you turned on Kevin Hart or Sarah Silverman for jokes they told earlier in their careers and not Bo Burnham, perhaps it's worth asking yourself why.
2. If you have watched Inside seven or eight times, but never with the subtitles, you might enjoy the specific moments that are deemed important enough to be translated into words. There is something particularly unnerving about reading the closed caption "disembodied laughter" as a fake audience guffaws. Moments of emotional breakdown are darkly underscored with "sighing," "smacks leg," "exhales, clears throat," and the utterly devastating "continues sobbing."
Can anyone, any, one, any single one, anyone shut the fuck up about any single thing?
3. If you watched the credits — and you almost certainly couldn't move at the end of Inside, so you probably did — you saw "For Lor, for everything." It certainly seems to be a dedication to his partner of eight years, the writer-director Lorene Scafaria, who wrote and directed Hustlers and wrote Nick and Norah's Infinite Playlist. So, yes, Bo Burnham, we agree. She is everything.
4. It can be hard to love a popular piece of art and maintain that feeling of a singular connection, that you felt something no one else did. So maybe knowing plenty of blue-checked celebrities tweeted their raves isn't what you want to hear, but on the other hand, maybe it's nice knowing some of the most talented people in Hollywood think Bo Burnham is as great as you do. Weird Al (who gets namechecked in the special) tweeted "@boburnham finally comes to terms with his true place in the universe in his brilliant new Netflix special." Ben Platt said, "thank the universe for @boburnham I was destroyed in all ways by this special." The Good Place creator Mike Schur wrote, "Someday when people ask me what the pandemic was like, for our mental and emotional health, I will tell them to watch that special. And then I will say that it was like that, but less funny." And Lena Dunham said, "Bo Burnham's special, Inside, healed something deep INSIDE me. If every cis white dude was examining himself like this, we'd be livin' in a very diff world — or at least have VERY different television."
5. During one moment of staged stand-up, Bo Burnham asks, "Can anyone, any, one, any single one, anyone shut the fuck up about any single thing?" We, as a culture, say everything that pops into our addled minds, sometimes in 280 characters, occasionally in emojis (shout-out to the sexting song's comparison to hieroglyphics!), and, yes, at least once in a neatly organized article that provides an easy-to-digest structure to a special that is brilliantly messy. So, yeah, that's our cue.