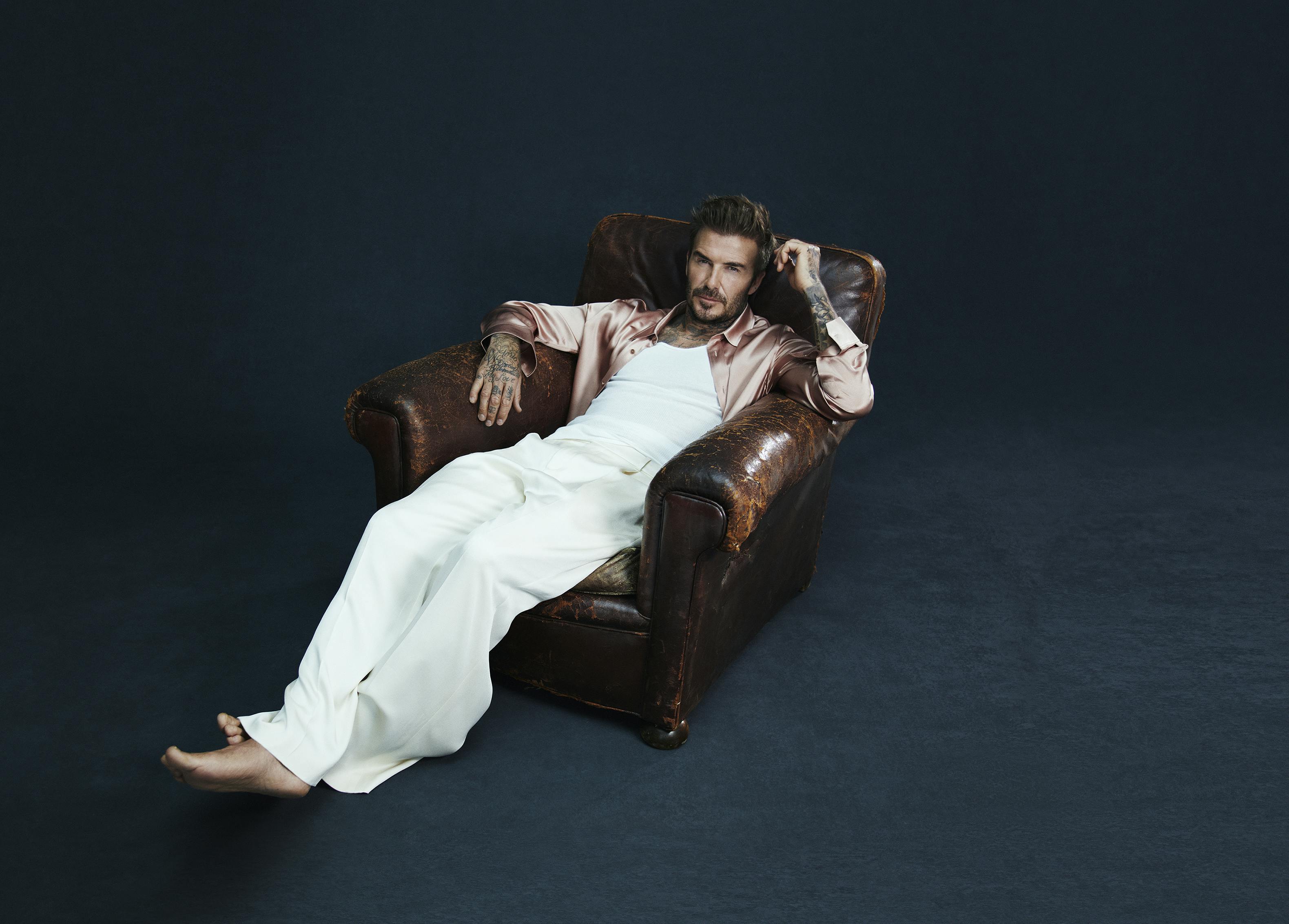 BECKHAM BENDS THE ZEITGEIST
Andy Mitten, sports journalist and editor of the Manchester United fanzine United We Stand, reflects on the career of legendary English footballer David Beckham, soon to be the subject of his own Netflix docuseries. 
It's Valentine's Day 1996. There are three large plastic sacks bulging with mail in the foyer of the offices of Manchester United's Old Trafford football ground. Kath Phipps, the club's longtime receptionist, has stopped David Beckham, United's star player, from sneaking out without them. "And make sure you read them all . . . "
During 1996 and 1997, Beckham became famous as a fixture on the right wing for a United team that would become the best in the world by 1999. Hardcore United fans already knew him from the famous Class of '92 FA Youth Cup winning team, arguably the greatest youth team ever. But with Manchester United, Beckham was still the boy from suburban London chided for being flashy because he took care of his appearance rather than submitting to the grittier look of his new home. He'd scored an impressive goal direct from a corner while on loan at lower league Preston North End. There was still the difficulty of establishing himself in the starting lineup of what was long seen as the best team in England and handling the pressure that comes with it. Beckham would arguably face greater pressure than any young player before or after him and deal with it far better, though it could have destroyed him at several points. 
In August 1995, at the start of his breakthrough season, Beckham played for a young United side in a game at Birmingham's Aston Villa. Legendary manager Sir Alex Ferguson let his talented youngsters take the spots of three older, experienced star players when they left, and fans didn't like it: Indeed, they hated it when United lost 3-1 at Villa. After that defeat, Ferguson criticized Beckham's performance for the loss and, on national TV, former Liverpool defender Alan Hansen opined, "You can't win anything with kids." Most watching agreed. Beckham was motivated to prove the doubters wrong.
Aflo Co. Ltd. / Alamy Stock Photo
By the end of that season, in which he played 40 times for his club, United had won the Premier League and FA Cup double. The kids didn't do it on their own — but Beckham showed beyond a doubt that he was a grafter, working tirelessly for his club, supported by his parents who attended every game.
"You could never fault Becks for his single-mindedness," said his best friend, teammate, and later his best man, Gary Neville. "Focused and determined, if he wanted something, he'd go out and get it." While also true on the pitch, in this case, Neville was talking about how Beckham had decided he would get a date with Victoria Adams (a.k.a. Posh Spice) from the Spice Girls. The now-established Posh & Becks became one in early 1997 when Adams watched him play at Old Trafford. Six months earlier, on the opening day of the 1996-97 season, Beckham had scored a goal from the halfway line at Crystal Palace in South London. It's still one of the most famous goals in football. The following month, he played for England's national squad for the first time. But "it was when he started going out with Victoria that the publicity around Becks exploded," said Neville.
Success can provoke envy in the United Kingdom and Beckham's Manchester United attracted it in spades. Ferguson, a bristling Scot forged in the Glasgow shipyards, used that criticism to create a siege mentality among his warriors, who won everything with Beckham at the heart. The English national team, too, needed Beckham but he could not have been prepared for the horrendous abuse which would come his way. The worst came in the 1998 World Cup finals when he was sent off with a red card after kicking out at Diego Simeone of Argentina. England lost the game in a penalty shoot-out and were eliminated from the competition. "10 Heroic Lions, 1 Stupid Boy" screamed the Daily Mirror newspaper. 
The British media eagerly pushed the line that Beckham's dismissal from the game had cost England the fixture. An effigy of the player was hung from a lamppost by a noose. Even the hard-bitten Ferguson was shocked. "It wouldn't have surprised me if an immigration officer had refused him permission to reenter Britain. After I saw what happened, I immediately phoned David because I knew he would be devastated. He was."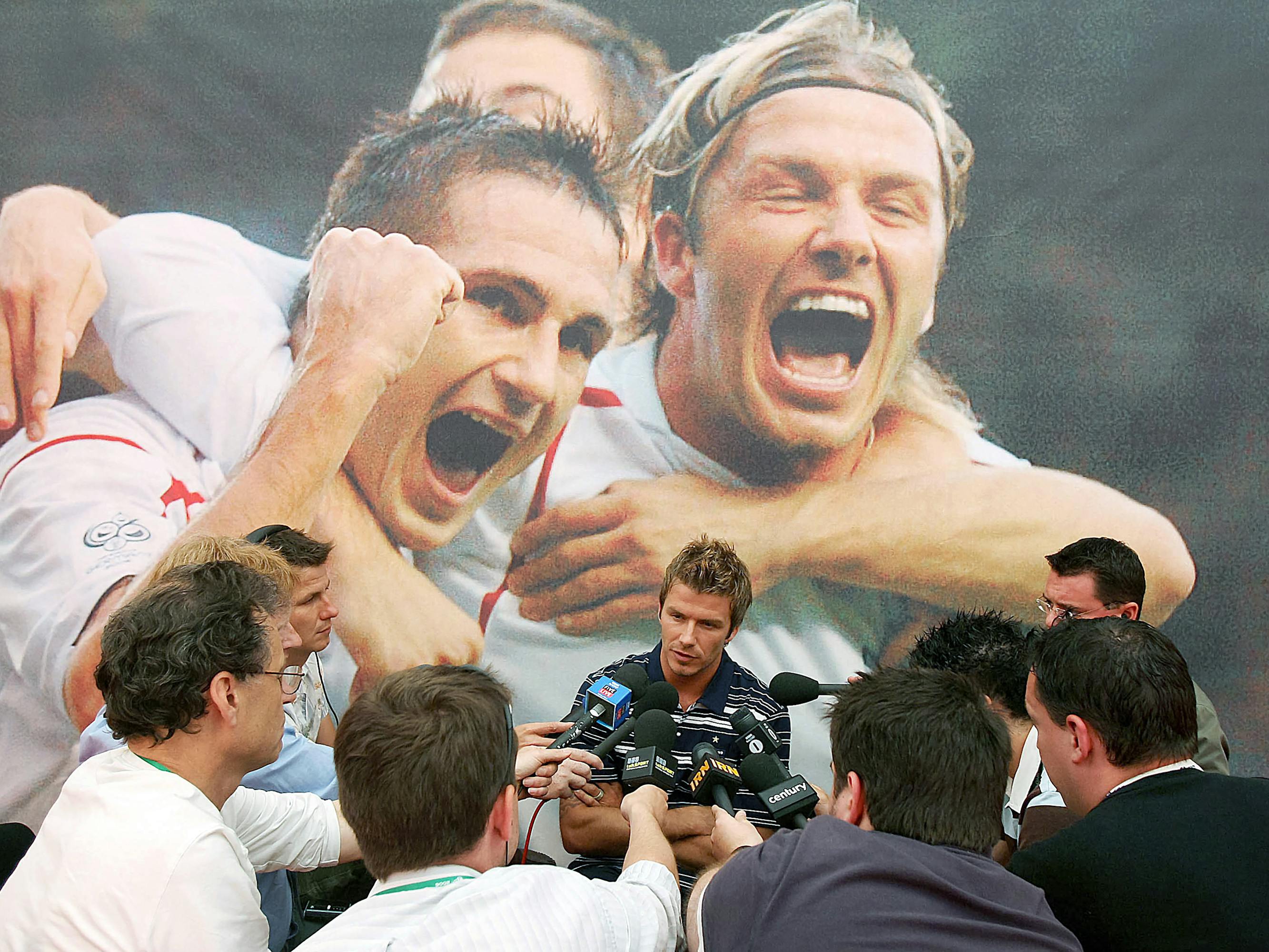 DPA Picture Alliance Archive / Alamy Stock Photo
Beckham returned to where he was loved at United, continuing to be a first-choice starting player because of his mastery of free kicks and the lengedary accuracy of his long crossfield passing. Even after a season-ending broken metatarsal injury in 2002, Beckham reemerged to redeem himself later that year, scoring the only goal in England's World Cup win against Argentina. Nobody could bend it like Beckham. 
Beckham left Manchester United for Real Madrid in his prime. United continued to flourish and so did Beckham. He settled among the Galacticos at Madrid where players were recruited for their star status as much as whether they'd gel as a team. Beckham's reputation was enhanced after playing four full seasons in Madrid, as few British players excel in Spain.
Another surprise move, this one to the United States, followed, with six years in Major League Soccer for L.A. Galaxy bringing 118 games and 20 goals. Cynics suggested that he was winding down, unable to compete among football's elite, but Beckham argued that he wanted to help soccer become bigger in America — and his success in that respect is indisputable. Beckham's whole life has been about proving doubters wrong, as he did when he embarked on a swan song playing in Europe's fashion capital, Milan, for two seasons and a final 14 games for Paris Saint-Germain. He was effective in both and praised for his performance, passion, and professionalism as his brand grew beyond football to endorsements and ambassadorships from Pepsi to Maserati. People who knew nothing about the sport suddenly knew about Beckham. He currently serves as co-owner of Salford City with his old United teammates and as president and co-owner of Inter Miami CF, where superstar Lionel Messi will be taking his talent this year.
Beckham's football résumé denotes his level: Manchester United, Real Madrid, AC Milan, PSG, winning four titles in four countries, and playing 115 games for England, captaining his country for over 50 of them. The world remembers Beckham as a cultural icon, but also as Beckham, the footballer.