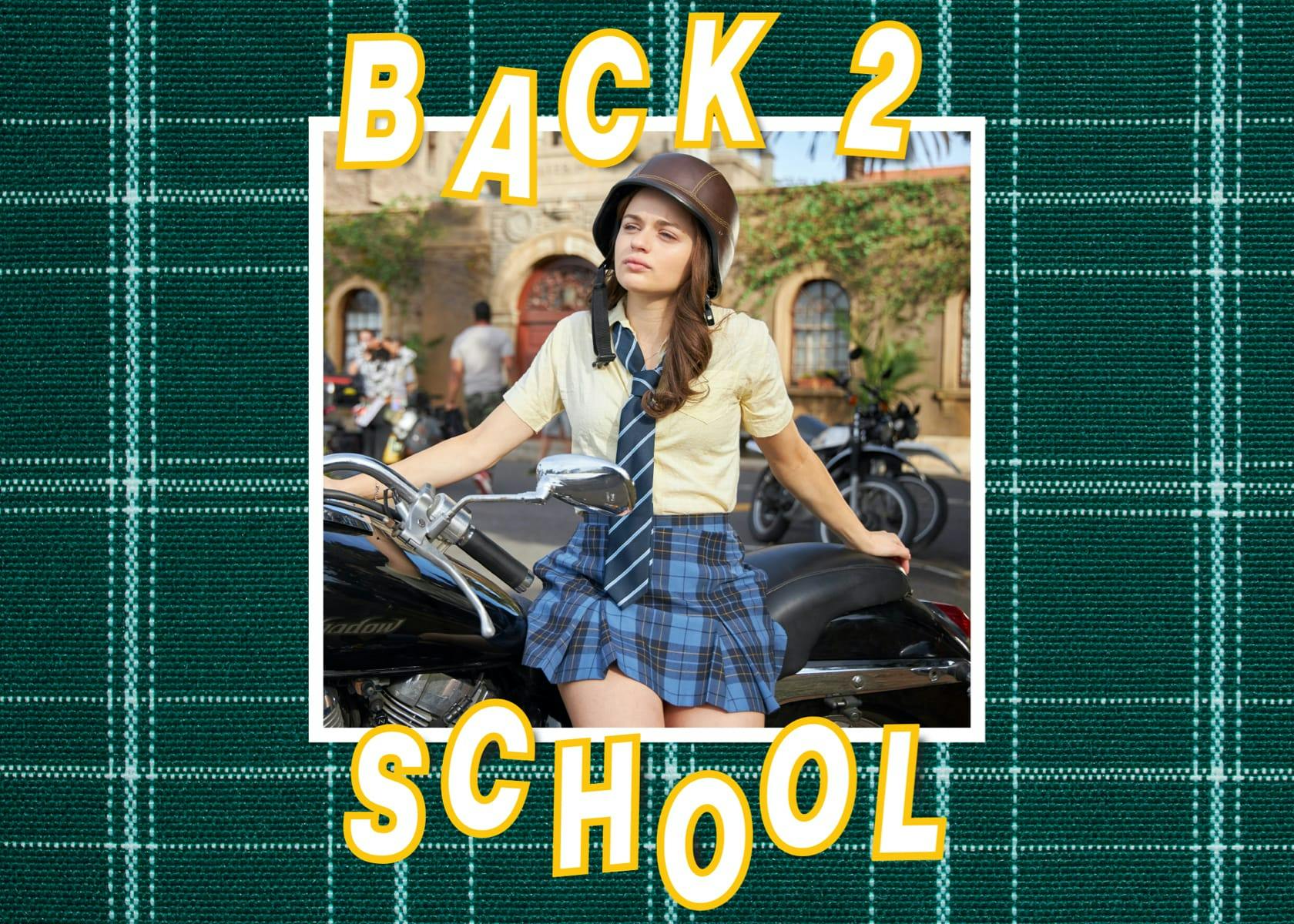 A love letter to the pleated plaid masterpieces, crispy poplin dreamscapes, and tailored piped blazers that are all the makings of a truly classic school uniform. Harness your inner prep and take some inspo from our friends who make looking this sharp incredibly simple.
Would there even have been a Kissing Booth 2 or 3 were it not for Elle's (Joey King) original uniform mishap of putting on a waaaaay too small skirt when her pants ripped on the first day of 11th grade? Luckily, by senior year, Elle manages to wear size-appropriate plaids, vests, and button-downs while studying subjects other than Marco and Noah's comparative hotness quotient. Maybe at Harvard or U.C. Berkeley she'll even learn how to properly knot a tie.
The Kissing Booth is not alone in its uniform-driven plots. Whether subtle or bold, from South Korea to South Africa, high school uniforms are always obsession-worthy. Here's a look at some of Netflix's finest tucked-in shirts, badly-knotted ties, and perfectly pulled-up knee socks.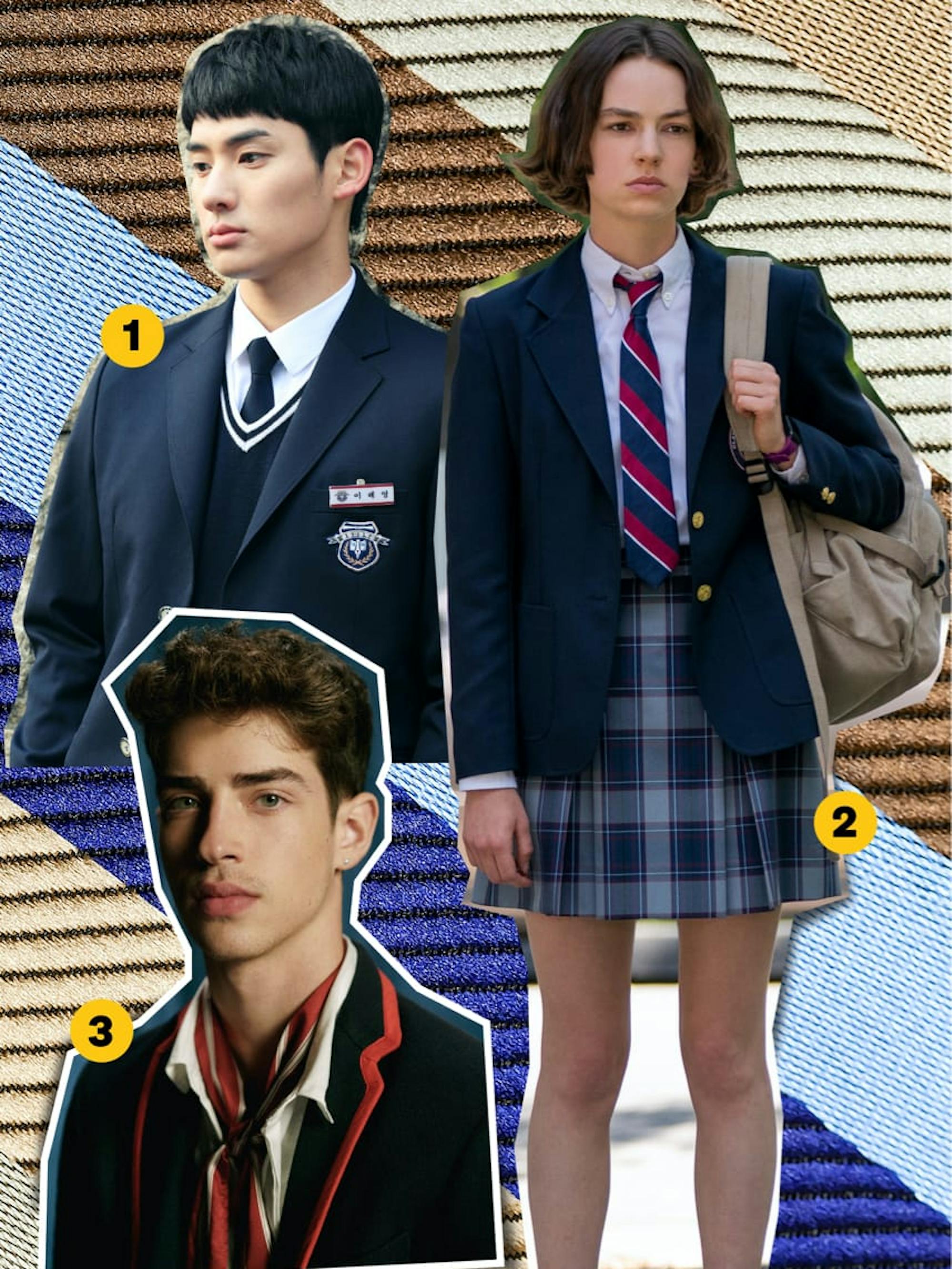 1. Jung Ga-ram – Love Alarm
Just maybe this writer took an online quiz about whether she should date Sun-Oh (Song Kang) or Lee Hye-Yeong (Jung Ga-ram) and obviously got Lee Hye-Yeong because who doesn't love the sweet, quiet friend who bikes to Korea's Choong Ang High School in his crisp navy, grey, and white uniform? The entire series may revolve around an app that lets you know if someone within 10 meters has romantic feelings for you, but maybe this writer thinks Kim Jo-jo (Kim So-hyun) already knows which fellow best wears his heart on his uniformed sleeve.
2. Bridgette Lundy-paines – Atypical
Clayton Prep School would be happy that Casey (Bridgette Lundy-Paines) is wearing the appropriate uniform socks here and not the track ones which got her in trouble in Season 4, and which prompted Casey and her girlfriend Izzie (Fivel Stewart) to lead a protest march of students wearing uniforms deemed by the administration to be gender-atypical. Girls in pants and boys in dresses? The giant smile on Casey's face, as she struts down the hall in "boy's" khakis, white button-down shirt, and a baseball cap says it all.
3. Manu Ríos – Elite
We're not privy to Patrick's (Manu Ríos) entire report card at Spain's fancy Las Encinas school, but let's just say he gets an A+ for creative uniform neckwear. Whether donning a scarf or a self-styled bowtie, Patrick brings something bold and fashion-forward to the otherwise traditional educational wear. (Props for that bright red-seamed blazer, which is way cooler than any school look in North America!) Even though we want to spend 10 more pages analyzing what goes on when Patrick is, uh, out of his uniform (we're looking at you, fellow thruple-mates Omar and Andrew), we'll stick to the clothes for now.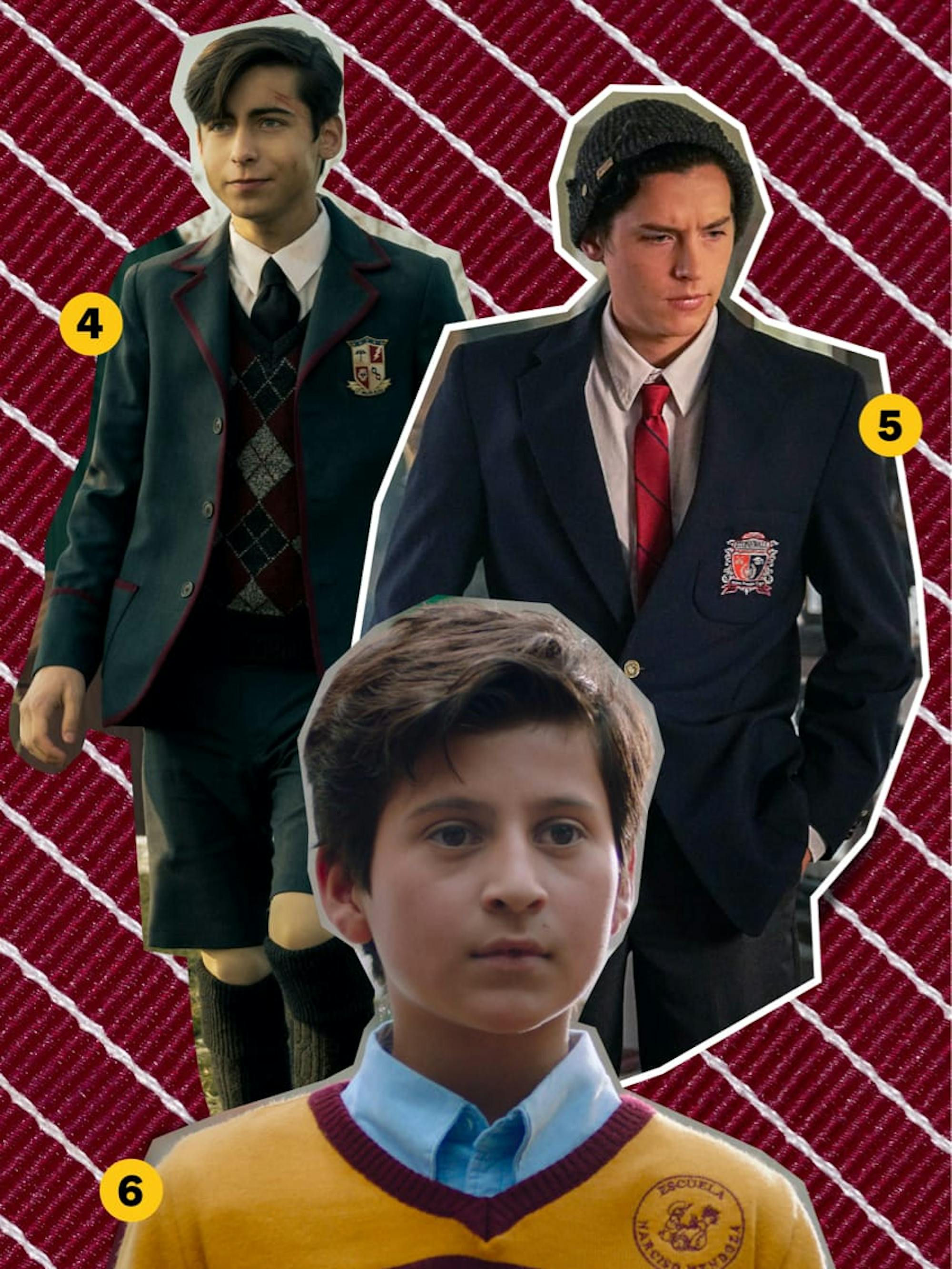 4. Aidan Gallagher – Umbrella Academy
Can you really fault Number Five (Aidan Gallagher) for looking a little disheveled in those torn Umbrella Academy uniform pants? He's gone through puberty twice, spent some time in Dallas in the 1960s, and, to be perfectly honest, a heavy synthetic blend isn't the best fabric to wear while teleporting. Besides, when you're stuck in the body of a 13-year old, even though you're decades older and trying to stop an apocalypse, you don't necessarily worry about coordinating your argyles with your academy crest.
5. Cole Sprouse - Riverdale
Forsythe Pendleton Jones III, aka Jughead Jones (Cole Sprouse), never quite fit in at Stonewall Prep, the prestigious boarding school that got him to leave behind Archie and the gang at Riverdale High. Maybe he never literally or proverbially tightened his tie because he knew he would be accused of plagiarism, or that someone might try to kill him, or even that he would never last at a boarding school that had a raw/keto/vegan section in the cafeteria. Murderous and horrible, yes, but at least the school was flexible enough to let him don his signature beanie.
6. Hanssel Casillas – All the Freckles in the World
The uniforms at Mexico City's Escuela Narciso Mendoza where José Miguel Mota Palermo (Hanssel Casillas) shows up smack in the middle of the school year, are pretty cute and colorful. (Who would think to pair pastel blue with mustard and burgundy?) Too bad he barely notices because he's too busy toting around a lunchbox, creating a soccer team to capitalize on World Cup fever, getting into fights with other suitors, and listening to mixtapes, all in the name of figuring out which freckled schoolmate, Liliana (Andrea Sutton) and Cristina (Loreto Peralta), he loves more.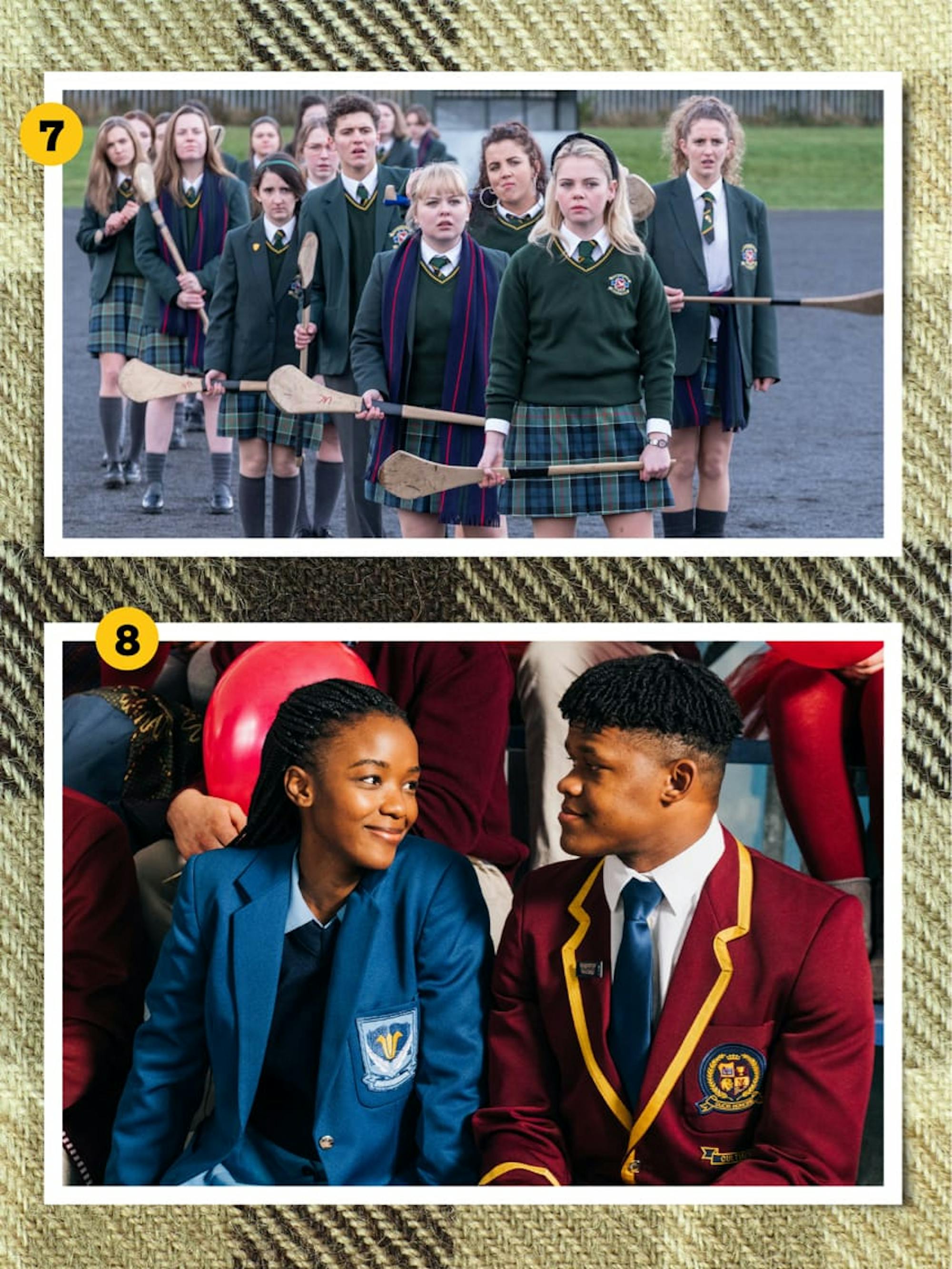 7. Derry Girls
The Our Lady Immaculate College blazers are a bit too big, the sweaters a tad lumpy, the ties oddly short, and everything is just so incredibly green. But no Catholic school uniform cliché can get in the way of our beloved Erin (Saoirse-Monica Jackson), Clare (Nicola Coughlan), Michelle (Jamie-Lee O'Donnell), and "wee English fella" James (Dylan Llewellyn), who are hilariously and endearingly figuring out teenage life in northern Ireland the mid-1990s. To put it in Irish slang this gang might use, this look is savage.
8. Ama Qamata and Dillon Windvogel – Blood & Water
Puleng Khumalo (Ama Qamata) looks like she fits right into the bold blue uniform for Parkhurst College, the Cape Town, South Africa school for overachievers where she manages to enroll while attempting to solve a family mystery. Complimenting her, both fashion-wise (a matching blue tie!) and friendship-wise is Wade (Dillon Windvogel) who helps Puleng figure out whether the school's star athlete is actually her older sister who was abducted as a baby. Luckily, these blazers have enough pockets to store plenty of secrets and look comfortable enough to do some serious digging in.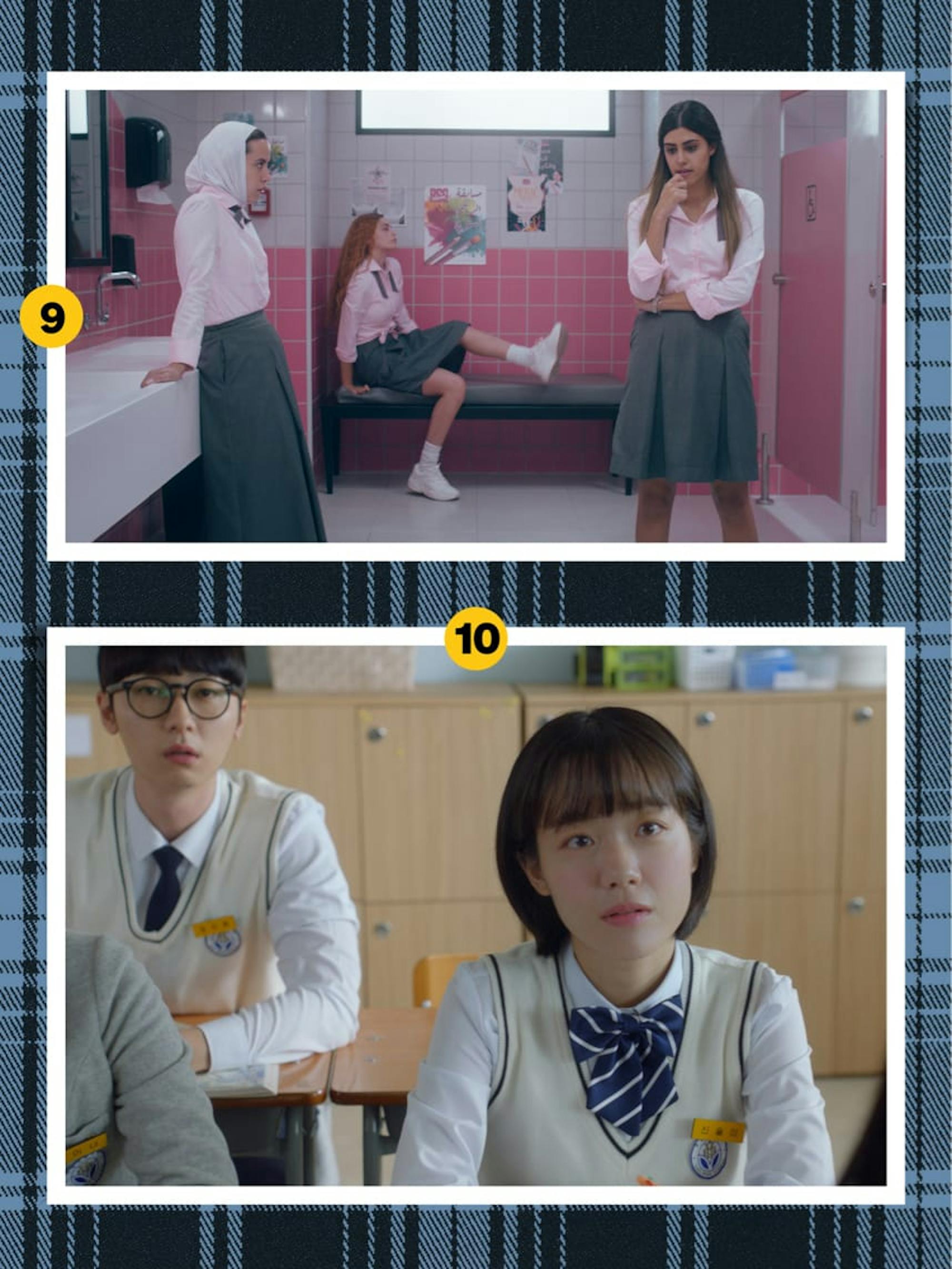 9. Rakeen Sa'ad, Joanna Arida, and Noor Taher – Alrawabi School for Girls
Think nothing bad can happen in a school with bubblegum-hued bathroom tiles and modest grey and pastel pink uniforms? Guess again. In this Jordanian drama, an Amman high schooler named Mariam (Andria Tayeh) is bullied and beaten up by a group of popular girls until she and her fellow misfit friends decide to take revenge on the popular girls, not the skirt hemlines, though who knows what a subsequent season could bring?
10. Jeong Jin-hwan and So Joo-yeon – A Love So Beautiful
Doesn't matter what uniform you're wearing or in what country, high school is all about unrequited love, and in Chun Ji High School in South Korea, Shin Sol-i (So Joo-yeon) has a crush on a guy who barely notices her. Then again, high school is also all about having a best friend who has your back, and in this coming-of-age drama, that's Jeong Jin-hwan (played by the actor/rapper of the same name). But high school is also about pens exploding and drinks spilling all over your clothing, which is why these lovely, but very light, uniforms make us a bit nervous.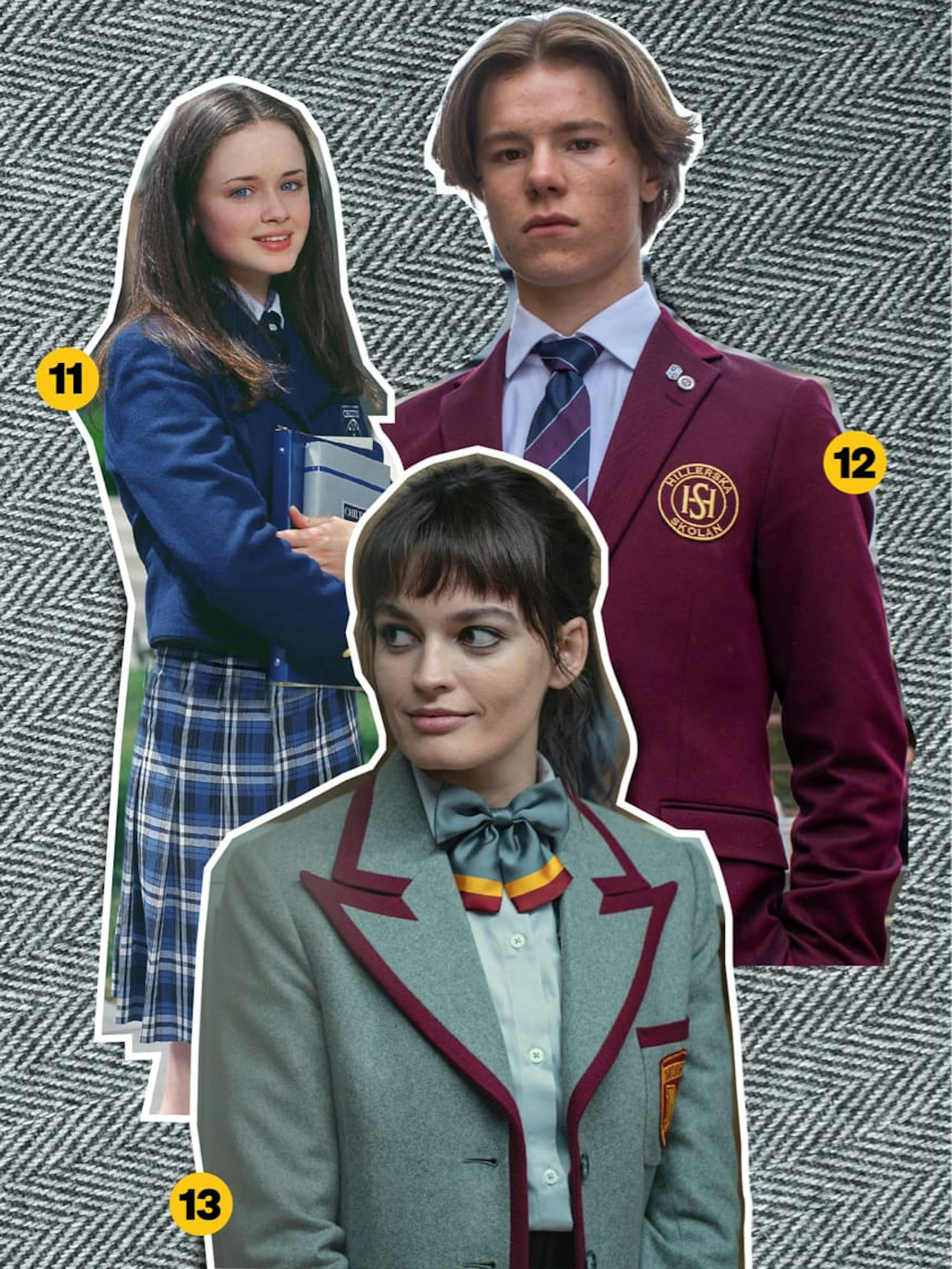 11. Alexis Bledel – Gilmore Girls
Long before Rory Gilmore (Alexis Bledel) was deciding between Harvard and Yale, Logan and Jess, or a cup of Luke's coffee and a second cup of Luke's coffee, she was the model student at Connecticut's posh Chilton Academy. The moneyed school and its conservative uniform of a blue-and-white checked skirt, navy tie, and some form of matching sweater, vest, or blazer is the perfect foil to Lorelei's (Lauren Graham) colorful wardrobe and Stars Hollow's general wackiness. We could say some other things about Chilton, but we'd never criticize any institution that introduced us to Paris Geller.
12. Edvin Ryding – Young Royals
The Hillerska Skolan bright burgundy blazer would stand out even if it didn't perfectly match the scar underneath Prince Wilhelm of Sweden's (Edvin Ryding) eye. Yes, the very scar that landed the heir to the throne in the boarding school to begin with. Sure, the school's uniform is buttoned up and the most daring sartorial deviation comes when Felice (Nikita Uggla) dons a headband, but who cares about fashion when you have a Simon and Wilhelm fan fiction to write? Er, um, what we meant was . . . a Simon and Wilhelm love story to thoroughly enjoy watching and become totally normally and appropriately invested in.
13. Emma Mackey – Sex Education
There's no designated look for a high school student who survived school-wide rumors about her, spews sarcasm for lunch, and runs a sex therapy clinic with her best friend to make money off classmates. But if there were, it might look a little something like the one Maeve Wiley (Emma Mackey) is wearing. On one hand, she's got her crisp white, perfectly buttoned shirt, and well-fitting grey blazer that screams Moordale Secondary School. But something about that whimsically tri-colored bowtie whispers, "I will take your cash and counsel you through Viagra abuse."