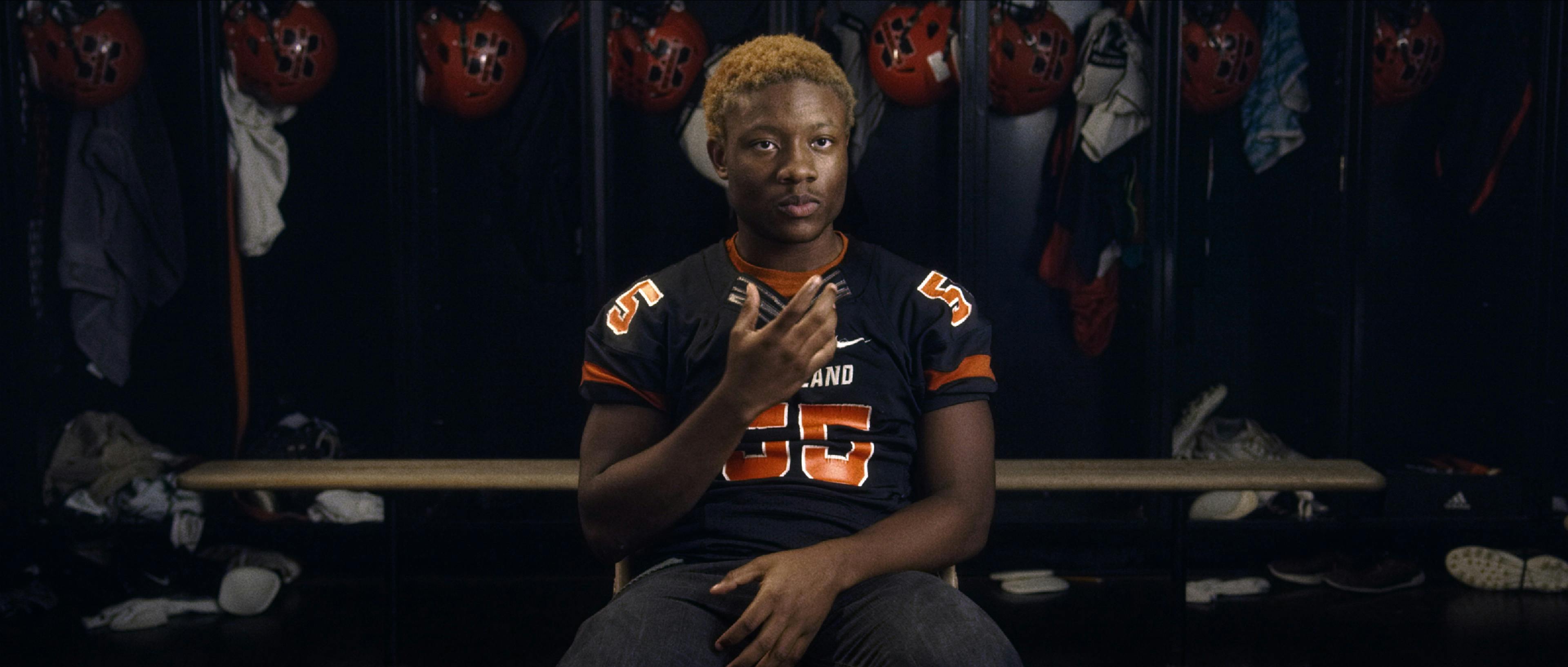 Seen and Heard: Amaree McKenstry-Hall
Amaree McKenstry-Hall shares his story in the Oscar-nominated short film, executive produced by Nyle DiMarco.
Upon watching the short documentary film Audible, which follows high school student-athlete Amaree McKenstry-Hall through a few weeks of his daily life, his family apologized to him. "They were crying; they were shocked," explains the now 21-year-old. The documentary, directed by Matt Ogens, presents a young person like many others who's juggling homework, commitments to teammates, teen romance, a strained parental relationship, and the impact of bullying, which results in one of his best friends taking his own life. But the apologies from his family were for another reason altogether: They'd never bothered to learn to speak McKenstry-Hall's language, American Sign Language. "They had the opportunity to learn A.S.L., but they didn't," McKenstry-Hall reflects. He pauses and continues: "As a baby, I was just trying to hear them."
In contrast to the pain of regret experienced by his family, the film is also downright joyous. McKenstry-Hall and his friends who attend Maryland School for the Deaf are living their best lives. Their closeness is on display at school cafeteria lunch tables, ice cream dates, and backyard dance parties (McKenstry-Hall, like many of his non-hearing friends, enjoys the vibrating bass of the music.) And they win on the football field, often beating hearing teams. Executive producer Nyle DiMarco explains his favorite part of the film is watching McKenstry-Hall and his teammates destroy competitors, "just crushing hearing people," he says. DiMarco, who is also Deaf (and famous for his turn on America's Next Top Model), wanted to ensure that the hearing world was able to experience McKenstry-Hall fully when reading the subtitles onscreen: "His voice has swag. During production, they had interpreters there, but most of the interpreters were white. We had to figure out how to match his whole essence." 
McKenstry-Hall approves of the filmmakers' vérité technique to capture the visuals and mind-blowing sound design to represent this world. The football player describes one particularly accurate moment in the film: "I put the headphones on and I'm sitting on my bed listening, and all of a sudden the music, the vibrations — that for me was a total 'yes' moment. There were no words, but just the feeling; the essence of who I am."
Going into the project, McKenstry-Hall admits that he was nervous. But he was confident he was in good hands with Ogens. "He really depended on his life experience," says McKenstry-Hall, referring to his director's own closeness to the Deaf community. Ogens's best friend since childhood is Deaf, his aunt taught at M.S.D. and is now an A.S.L. interpreter in the area; he never saw being Deaf or hard of hearing as a disability. 
Audible is not only a story about deafness. And yet McKenstry-Hall's immense empathy and rawness on display in the film made me wonder if perhaps growing up Deaf — or more generally as other — leads to some greater level of human compassion, and so I ask him as much. McKenstry-Hall is quick to reply, "Hearing and Deaf people are very skilled in different ways. Some people are excellent at basketball. Some people are excellent at being chefs. But we're all about the same." He then adds: "Check with your friends and your family and make sure that everybody's doing okay."